Best Single Sign-On (SSO) Solutions
A software-as-a-service (SaaS) essential, single sign-on (SSO) solutions are authentication tools that let users sign in to multiple applications or databases with a single set of login credentials. These solutions not only improve ease of use while navigating across apps but also centralize access management to reduce workload for IT admins and developers.
Here are our five best single sign-on solution recommendations that you should consider trying.
Ping Identity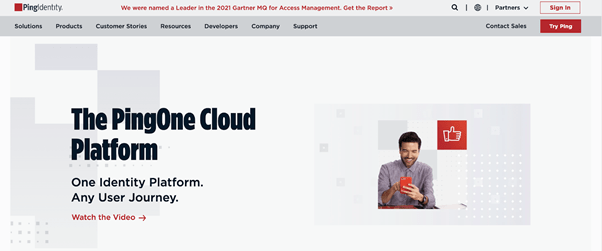 Managing more than two billion identities globally, Ping Identity combines a user-friendly platform with a comprehensive stack of solutions, including SSO, MFA, Directory, adaptive authentication policies, and an admin portal.
It offers customer identity and workforce services to global enterprises of each size (banks, hospitals, and other similar operations) and is designed for easy cloud deployment, and offers unlimited application integration. Ping Identity is compatible with cloud, hybrid, or on-premise environments for all partners, employees, and customers. 
This reliable SSO solution is built to scale and allows staff access to all workspace applications (enterprise, mobile, cloud, or SaaS) using a single set of credentials through their centralized employee dock. It can also work anywhere and from any device and offers users native support for identity standards like OpenID, SAML, and Connect tokens.
One of the biggest USPs of this single sign-on platform is it has separate platforms for customers and your workforce. Your IT admins can also use APIs to build simple automation to reduce workload.
Ping Identity leverages artificial intelligence to analyze anomalous login attempts, and on detecting suspicious behavior, requests the user to verify identity to safeguard your network from malicious agents. Admins can also configure these policies as needed via a centralized console to ensure only authorized users can access accounts.
Pros
Easy to use and integrate

Great interoperability with other apps

Prompt and efficient customer support

Stable and secure performance
Cons
Custom attributes cannot be added directly

Major upgrades have to be carried out at the same time, which can be a hassle

Confusing auth0 connection configurations
Pricing
Although Ping Identity hasn't published pricing details on its website, reports suggest the company's Cloud MFA and SSO solution costs about $3 per user per month. This includes a range of features in addition to single sign-on. 
You can also take advantage of a 30-day free trial.
Microsoft Azure Active Directory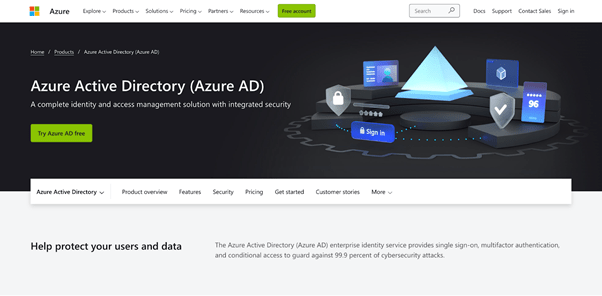 One of the most widely-used single sign-on solutions, Microsoft Azure Active Directory allows users to log in to multiple accounts with their Office 365 user credentials.
The cloud-based identity and access management provide users a frictionless experience for single sign-on and simplified app deployment, complete with a centralized user portal. Employees can sign in to Office 365, the Azure portal, and thousands of other SaaS applications safely.
IT admins can use this single sign-on solution to automate user provisioning onto cloud apps, helping them save precious time while ensuring easy access as they can use their Office 365 account to log into multiple apps. If needed, admins can also enforce multi-factor authentication and protect user identities using Azure.
Microsoft Azure Active Directory also enforces strong risk-based access policies with identity protection and conditional access—measures that further enhance your network security. In other words, it actively measures the user, location, and device risk to determine whether access should be allowed, limited, verified, or blocked.
Other features include self-service password reset and integrations with pre-integrated applications, such as Workday, Concur, Adobe, SuccessFactors, and Workplace by Meta.
Pros
User-friendly—provided you're familiar with Azure and Active Directory

Fast and reliable performance

Offers numerous security and reporting features

Multi-factor authentication to protect employees and mitigate risk
Cons
Not compatible with macOS

Longer synchronization time

Doesn't let you temporarily disable users
Pricing
Microsoft Azure Active Directory hasn't provided pricing information on its website, so you have to contact the sales team to obtain current pricing. 
You can opt for a free trial to test drive the solution's features.
Okta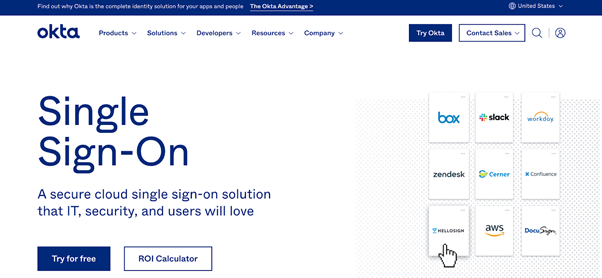 Okta is a full suite of cloud-based identity management solutions that's a perfect fit for large to medium-sized organizations, allowing users to manage identities with an always-on single sign-on platform that works across all corporate accounts. 
The platform offers multi-factor authentication, API access management, and universal directories—all of which are a part of a full integration network that enables organizations to improve their identity management and security. Plus, it allows users easy access to all of their accounts. 
Okta can be particularly useful to deliver a rich experience to admins. 
They can benefit from the insights generated across Okta's global presence while cutting down their workloads, thanks to the automation and self-service features. For example, the self-service password reset feature ensures users can quickly regain access to accounts, saving admins from the time-consuming task of creating password reset support tickets. 
The software is fully customizable and can integrate across all of a user's web and mobile apps. Also, because Okta runs on an integrated platform, organizations can implement the SSO service quickly at scale and with low costs.
Its list of features includes 7000+ pre-built integrations, OpenID Connect integrations, and connections to third-party legacy SSO solutions. Access to built-in security tools, such as Okta Insights, to automatically identify and block unauthorized login attention is another advantage.
Pros
Centralized governance and dashboards 

End-to-end cloud hosting, plus connects with on-premise apps and hybrid cloud

Offers strong, reliable security

Good integration capabilities
Cons
Has a steep learning curve

Limited customization compared to leading SSO solutions

Confusing SCIM configuration 
Pricing
Okta's single sign-on feature currently offers two plans:
SSO – $2 per user per month

Adaptive SSOM – $5 per user per month
You can also try Okta for free for 30 days before purchasing.
Duo Security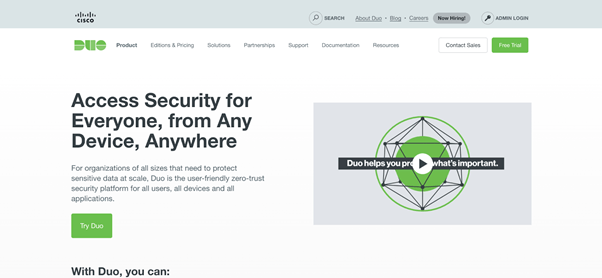 Duo Security is a leading provider of user-friendly authentication and access management solutions. Although the company was acquired by Cisco in 2017, its USP remains the same: helping organizations ensure secure access to all corporate accounts and providing greater visibility into this access at a granular per-user level.
It's a cloud-based single sign-on solution that makes deployment easier for organizations and gives them the flexibility to scale with your organization. It has a zero-trust platform architecture that employs MFA to protect each user session, plus offers FedRAMP authorized authentication.
With Duo Security's single sign-on solution, users can securely access all their native and cloud-based work apps through a single dashboard. Admins can easily customize granular access policies at an application level from the management console, as well as configure adaptive and risk-based MFA policies based on contextual login data (role, device, user location).
Another thing that we like about Duo Security is it generates a risk score for each login based on the above factors. In case of a high-risk login, Duo asks users to verify their identity through integrated MFA, ensuring only genuine users can access corporate accounts while streamlining the authentication process for the end-user.
Take advantage of its native integration with other identity provider tools to create a robust identity security stack for your organization.
Pros
Enhanced security through dual-factor authentication 

Streamlined user interface

Well-written and comprehensive documentation, plus efficient Duo customer support 

Quick and easy Duo mobile app
Cons
Tends to lose connection at times

Outdated dashboard 

Limited features when compared to the competition
Pricing
You can use Duo Security's single sign-on (SSO) solution by opting for the following plans:
Duo MFA – $3 per user per month

Duo Access – $6 per user per month

Duo Beyond – $9 per user per month
Duo Security also offers potential users a free 30-day trial of Duo Access.
ManageEngine Identity Manager Plus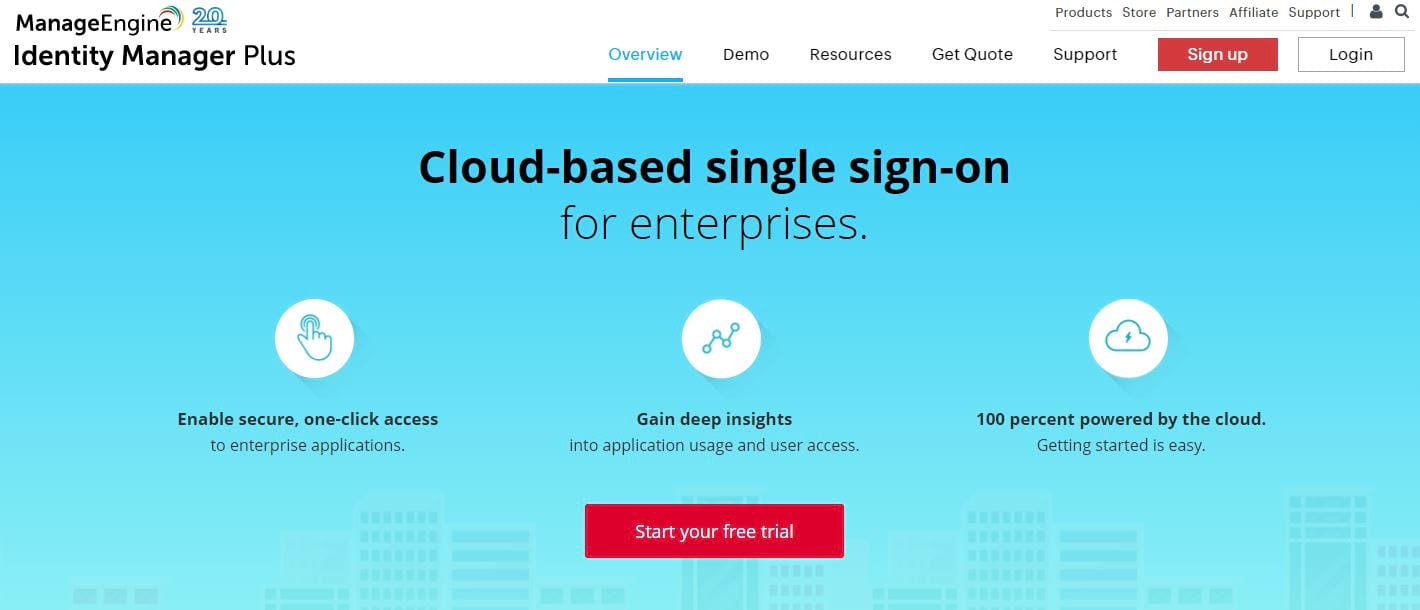 ManageEngine Identity Manager Plus provides users secure single sign-on access across an entire organization, along with supporting dozens of different apps and use cases. It allows users simple one-click access to their business apps with minimal fiction and steps.
Companies leveraging Office 365, Azure Active Directory, or GSuite can have users use their existing credentials for authentication—that too without changing passwords or enforcing changes to how users already work.
ManageEngine Identity Manager Plus also helps streamline maintenance tasks. You can apply centralized credential management to both in-house applications and SaaS tools from the same place, as well as modify, add, or remove users in bulk to allow organizations to scale the tools they use without slowing down onboarding and other critical processes.
What's more, ManageEngine Identity Manager Plus also supports multiple authentication types, including OAuth, SAML, and OpenID connect. This means the SSO tool can easily integrate with a wide range of apps on the market.
Admins can also review critical metrics recorded across all SSO services for better decision-making and even identify improper usage within their systems. These metrics include full use, user access, and administrative activities that can be viewed through a live dashboard or exported in report format.
Pros
Bulk user management across multiple apps

Supports multiple authentication methods

Extensive API library and integration

Key usage metrics for admins that can be easily converted to reports
Cons
User interface needs to be updated

Few attributes are consolidated into small fields that require multiple clicks to manage

Has a steeper learning curve
Pricing
ManageEngine Identity Manager Plus hasn't provided pricing information on its website. For more information and a customized quote, you'll have to contact the sales team. 
Plus, a 30-day free trial is available for users.
How to Pick Your Single Sign-On (SSO) Solution
In this section, we'll show you a step-by-step breakdown of how to choose the best option for your enterprise. Let's take a quick look.
Step 1: Understand Your Enterprise Requirements
There are several single sign-on (SSO) solutions on the market, which is why you have to understand your unique SSO requirements and decide what other capabilities you need based on your IT environment to identify the most suitable solution for your enterprise. Then prioritize these capabilities based on necessity, the structure of your IT requirement, and your organization's future objectives.
Doing the above will help you decide whether having a simple SSO solution would be enough for your enterprise or a more advanced option with all of the bells and whistles would be more fitting. Focus on the features you need right away to ensure you don't get overcharged for features you need the most or saddled with unnecessary features.
Step 2: Ask for Free Trials and Cost Breakdown
Every cloud service has a unique way of charging its customers, ranging from per user to per device to the number of application connectors. 
Some SSO solutions may seem affordable at first, but costs may quickly snowball to a point where you spend a lot more than expected to accommodate your enterprise requirements. Therefore, be sure to check whether specific features you need are built-in or considered à la carte as add-ons. 
In case you decide to maintain AD across your organization with an add-on SSO solution, you'll have to factor in the cost of hardware and client access licenses in addition to the SSO solution costs.
A good tip is to double-check whether a prospective solution offers specific features you require (SCIM provisioning, JIT) to ensure your solution includes the features you laid out as priority items in Step 1. Another good strategy to find the right solution is to check review sites to compare different SSO providers based on features and pricing.
Once you've narrowed down your list of prospects, only proceed with solutions that offer free trials. This will come in handy to test and assess whether a solution is a right fit within your systems.
Step 3: Consider the SSO Solution Within Your Existing Infrastructure
In addition to knowing what you have to work with, you should also understand what else you need before committing to a purchase. For example, if you want your SSO solution to apply to your on-prem apps, you'll have to ensure it can work with LDAP. Checking to see if a prospective solution charges extra for the service is important, too.
Another thing to figure out is whether you have an existing identity and access management (IAM) solution. If you do, think about what type of SSO solution will integrate best with it. If you don't, look into a comprehensive IAM solution that offers built-in SSO capabilities to save you time later.
Step 4: Factor in Your Security Requirements
The last step to choose the best single sign-on solution for your enterprise is to consider which security risks you're trying to solve and what level of security your organization needs. 
Figuring out the answers to these two questions will help guide your research to choose the most suitable solution. If you're only using web apps, a web app-based SSO solution would be appropriate. But if you have other systems in place in addition to web apps, you'll benefit from a core directory/SSO platform that can federate identities to your IT resources and not just web apps.
The above steps will help you narrow down your top choices, but looking out for appropriate features that get the job done is still important. We recommend selecting solutions that come with authentication via SAML, group-based control, pre-built and custom connections to SAML apps, and conditional access policies.