The 7 Best Server Backup Tools and How to Decide
Creating backups of your organization's files may not seem like it should be a priority … at least until you have a data breach or a server crash. Then you had better have a current backup, or you will face issues that could cripple your business for years.
When selecting among the best server backup tools, you may be able to survive with just the basics. For most entities, this includes data encryption and automatic backups. Compatibility with virtual servers is an extremely important feature to find in server backup software for quite a few businesses too.
Simplifying the process by which you are able to make copies of your data will give you a better likelihood of regularly using the backup software tools, gaining the most benefit.
Here are the seven best server backup tools, and we'll help you determine how to decide which server backup software to use.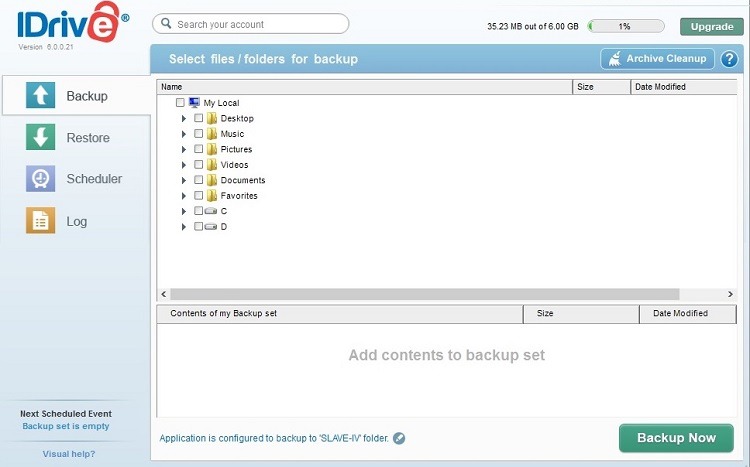 The IDrive server backup software tool has quite a few features that ensure you can use the product in the way that makes the most sense for your organization's needs, including backups from mobile devices and compatibility with Windows, Mac, iOS, and Android devices.
IDrive will give you quite a few advanced features with your account, including the ability to encrypt your data as it's uploaded to the backup server in the cloud, making your data as safe as possible. Its continuous backup feature is also extremely helpful, ensuring your backup files are always up to date.
Although IDrive has a variety of price points, you will not find one that provides unlimited storage capacity, which may be a significant drawback for an extremely busy business environment.
Pros
Plenty of pricing options, so you can find the perfect tier for the needs of your organization
Includes a continuous backup option for your data
Gives users the option of archiving and encrypting data
Cons
Does not offer an unlimited storage option
Costs can add up quickly
Pricing
Free version (5 GB limit)
Personal (one user): $69.50 per year (5 TB) or $99.50 per year (10 TB)
Business (unlimited users): $99.50 per year (250 GB) or $499.50 per year (1.25 TB)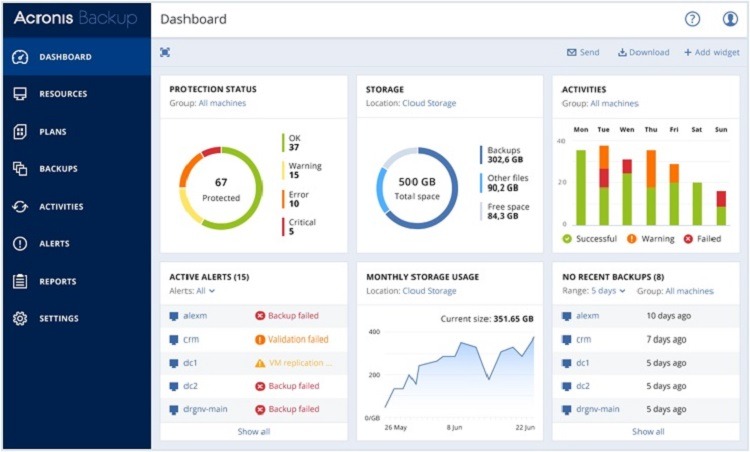 Acronis Cyber Backup
Acronis offers a variety of backup packages that will help organizations protect their data and avoid problems with ransomware. You have the option of creating backup copies across a range of hosts, allowing you to keep your data offsite to protect it from natural disasters, while also keeping a copy onsite for convenience.
When accessing backups on a single machine, it's easy to pick out single files or folders with Acronis Cyber Backup, almost as if you're using a Dropbox style of software. You even can use smartphones with the backup software, ensuring all of your organization's data has protection, no matter how your employees are using the data.
For some people, the numerous pricing and usage options are a little confusing with Acronis Cyber Backup. However, once you find your proper level of backup services, you will appreciate the wide range of features found with Acronis..
Pros
Restores your backup data quickly when needed
Supports a wide variety of business software packages
Extremely easy to install and use
Cons
Must pay extra to receive certain services
Does not offer support for Mac OS
Pricing
Workstation: $99 per year
Server: $839 per year
Virtual Host: $929 per year
Windows Server Essentials: $229 per year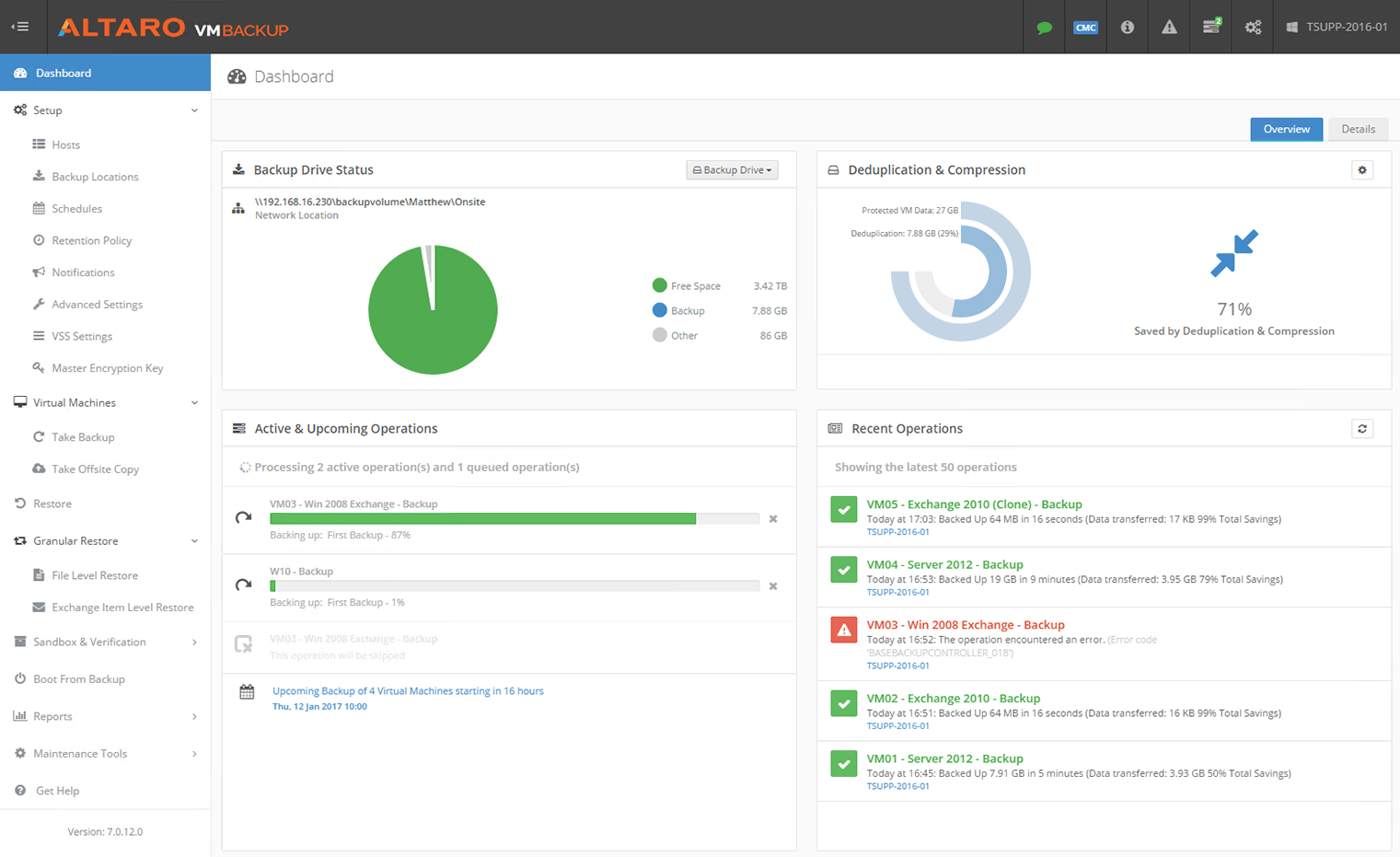 Altaro VM Backup
For those who make use of VMWare and Hyper-V virtualizations, Altaro VM Backup is an excellent choice, as it is primarily made to work with virtual servers.
There are plenty of strong features in this server backup tool, including a continuous data copying feature that checks for changes in your data every few minutes automatically. This is a great feature for the busy organization where file changes occur continuously.
Additionally, Altaro VM delivers compression and encryption features, which can be a significant advantage in managing your data. You also have the option of using a cloud server for your backup storage option with full compatibility.
Pros
Offers features aimed at virtual servers
Has a CDP feature that checks for data changes every five minutes
Strong customer service support personnel
Cons
Numerous pricing options, but this can be a little confusing for some people
Seems to generate more error codes than some others, which can be frustrating
Pricing
Free version
Standard: $4.98 per VM per month (minimum 5 VMs)
Unlimited Edition: $6.15 per VM per month (minimum 5 VMs)
Unlimited Plus: $7.43 per VM per month (minimum 5 VMs)
Perpetual License Standard: $595 per host (maximum 5 VMs per host)
Perpetual License Unlimited or Unlimited Plus: $695 to $875 per host (unlimited VMs per host)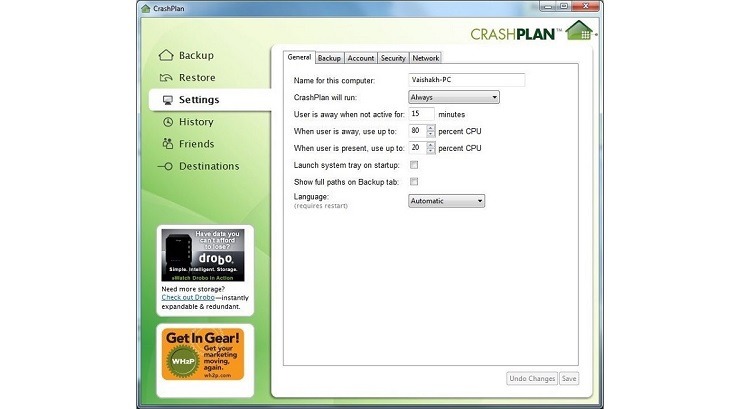 CrashPlan
If you find that the majority of the best server backup software packages create far too much complexity in what should be a simple process, CrashPlan was made with you in mind. This is one of the easiest server backup tools on the market to learn to use quickly. This software focuses on creating reliable backup copies of your data and little else.
As an additional advantage, CrashPlan is able to support Linux, Windows, and Macintosh users equally well, and it offers unlimited storage for users. Once you decide to use CrashPlan, you can be up and running within a few minutes of signing up for the service, including the ability to set up automatic backups.
By keeping things simple, CrashPlan may disappoint those users who need specific features or who need compatibility with common software applications aimed at business use.
CrashPlan carries its ease of use features all the way through its pricing plan, making it very easy to calculate how much you'll be spending each month for your server backup software services.
Pros
Pricing plan is extremely easy to understand
Offers continuous backup features
Does not take very long to learn how to use the software
Cons
Does not provide support for those running virtual servers
Some people will want more pricing options to gain extra features
Pricing
$10 per month per computer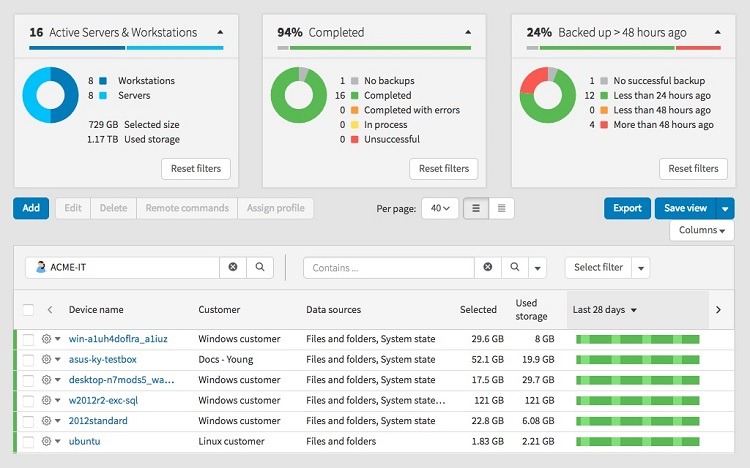 SolarWinds Backup
Don't let your server backup software be so complicated to run that you end up not using it as often as you should. SolarWinds Backup simplifies the process of creating backups, as it has an interface that's easy to understand, while working fast. And should you need to perform a restoration of your data, SolarWinds Backup can handle this efficiently too, giving you several different options for restoring your files.
For those who make use of other SolarWinds MSP products, adding the SolarWinds Backup tool to your collection of software is a smart idea, as you'll already be familiar with the interface.
SolarWinds Backup supports virtual servers, which is a nice feature. It also offers multiple features aimed at working seamlessly with Office 365.
Pricing may be a little difficult to understand, and its cost will be a bit above average versus other options, but it remains competitive enough to qualify for our list of the best server backup tools.
Pros
Provides excellent compatibility with Office 365
Customer service personnel respond quickly to questions
Provides an easy means of achieving backup copies of your organization's data
Cons
Pricing seems to be a bit above average
May not be as useful for those who aren't also using other SolarWinds products
Pricing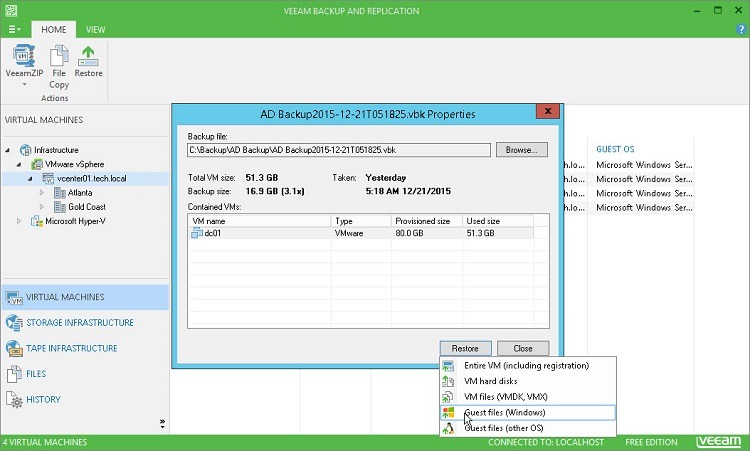 Veeam
Veeam is a nice choice as server backup software, as it gives users quite a few options for setting up the software to match the precise needs of the organization. It also provides compatibility with virtual servers, all while delivering reliable cloud backup storage for customers.
You should not require a lot of time to learn how to use Veeam and to set up its automatic backup features, as the interface is simple and clean. Should you need to restore your data after an emergency, this process is relatively easy with Veeam too.
It would be nice if Veeam's pricing tiers were a little easier to understand and weren't quite so expensive, but the versatility of this product ensures that it will generate a good value for several different types of businesses and organizations.
Pros
Has compatibility with virtual server options
Multiple pricing tiers, so you can find just the right option for your organization
Interface is clean and easy to learn to use
Cons
Limits the number of licenses you can have in the lower priced tier
May run a little slowly in certain situations
Pricing
Backup Starter: $400 per year for 10 licenses
Backup Essentials: $800 per year for 10 licenses
Backup and Replication: Call for a price quote
Availability Suite: Call for a price quote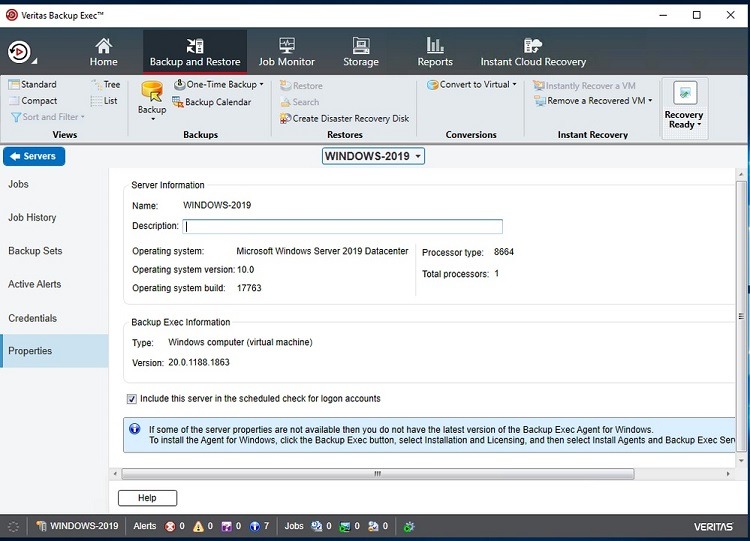 Veritas Backup Exec
If your organization needs to gain complete control over your data backup and storage options, and if you have the personnel to take advantage of its features, Veritas Backup Exec is an outstanding choice.
You may know Veritas Backup Exec better as Symantec Backup Exec, as this product had a different name until Symantec spun off Veritas as a separate company a few years ago.
Backup Exec runs on its own server, monitoring the other servers on the network and making backup copies of files and data as needed. It works with virtual servers, and it can access remote servers over an Internet connection. You will be able to completely control how backups work with this server backup software, but it may almost have too many configuration options for a small organization that wants a simpler tool.
Veritas recently made some changes to the pricing tiers and plans, which has created some benefits for users … but it also has created some confusion.
Pros
Has a long history of performance on its side
Works with virtualized servers
Gives multiple control options for data backups
Cons
Recently underwent multiple pricing plan changes, which may be confusing for some
May have too many setup options for smaller organizations
Pricing
Bronze: $39 per front end TB per month
Silver: $49 per front end TB per month
Gold: $69 per front end TB per month
How to Pick Your Best Server Backup Software
Here are some steps to follow for how to decide among the best server backup software tools.
Step 1 – How Much Spare Capacity Do You Have?
Any of the best server backup tools that you select are going to use resources on your network, including memory and processing power, so your network's ability to handle the software's needs is an important initial consideration.
You also may need to conserve storage space through the use of data compression. Altaro VM Backup and IDrive both have strong compression algorithms that allow you to dedicate more of your network's resources to day-to-day activities and less to running the backup software. Both products also have good data encryption features.
Step 2 – Do You Have Personnel to Handle Customization?
Next, think about who will be the administrator for your server backup software and who will be doing the majority of the setup and day-to-day tasks for it.
If you have personnel to dedicate to using software with extensive customization options, you may want to select a piece of software that offers some complexity for precise customization. Veeam and Veritas Backup Exec are two of the most customizable backup software tools on our list, but they do require some time to make the most of using them.
Step 3 – Are You a Smaller Organization?
Smaller businesses and organizations may need to keep things as simple as possible, as they do not have personnel dedicated to monitoring and customizing the software regularly.
Acronis Cyber Backup, CrashPlan, and SolarWinds Backup all are extremely easy to use, meaning you don't need to spend a lot of time configuring them.
Step 4 – Is Customer Service Ready to Help?
Finally, if you ever experience a major problem with your server backup software, you are going to want a quick response from the company's customer service team. All of the picks on our list have good customer service, but Altaro VM Backup and SolarWinds Backup are the two best options.