Best Secure Web Gateway Vendors
Installing a secure web gateway (SWG) enables you to prevent unsecured internet traffic from entering your internal network. It screens network traffic (eg: downloads, content), blocks incoming threats, and prevents data loss to protect your corporate networks from web-based malware.
But how do you find a solution that's worth your money?
The best security web gateway vendors have products that can easily filter or scan web content for viruses, spam, and other forms of malware on top of providing policy enforcement capabilities for compliant web browsing. They should also identify and block potentially dangerous URLs or web traffic.
To help you make the right choice, we've created a list of the five best secure web gateway vendors. Let's take a look.
Zscaler Internet Access (ZIA)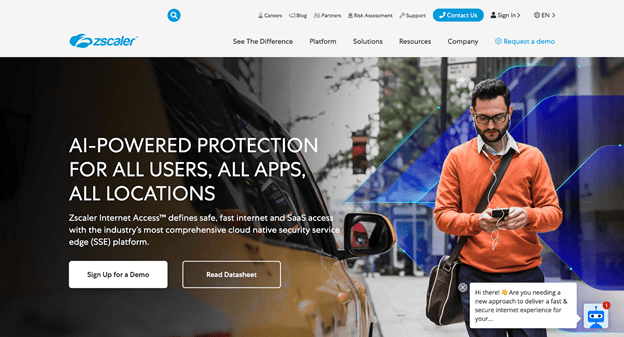 Zscaler Internet Access (ZIA) is an integrated component of the Zscaler Zero Trust Exchange platform that you can rely on for secure, fast access to the internet and SaaS for making the web a safe place for business.
It's a cloud-based web security gateway that comes with tons of useful features, including a firewall, URL filtering, cloud-based application control, antispam, DNS filtering, and antivirus. Moreover, the system undergoes over 120,000 security updates daily to detect and automatically block any threat detected for all customers.
Another useful feature is that Zscaler Internet Access can easily inspect SSL traffic that other platforms struggle—even fail—to analyze. 
With its comprehensive zero-trust approach, this secure web gateway can easily replace legacy network security solutions to prevent data loss and stop advanced attacks. For instance, you can use its Data Loss Prevention feature to protect user data and the Cloud Application Security Broker to keep a check on user access to applications.
Zscaler Internet Access's antivirus takes signatures from over 60 threat feeds to protect your network against the latest threats. In addition, you can use the tool to optimize your network performance via Zscaler Web Security, which allows you to prioritize important apps over less important traffic.
Pros
User-friendly and feature-rich web security solution

Cloud-based SaaS provides greater flexibility

SSL traffic inspection to detect malicious packers

Easy deployment and administration with 99% availability
Cons
Cumbersome setup

Limited resources to help users with troubleshooting

Latency issues
Pricing
Zscaler Internet Access hasn't uploaded any pricing information on its website. You'll have to contact their support team for a customized quote.
Cisco Umbrella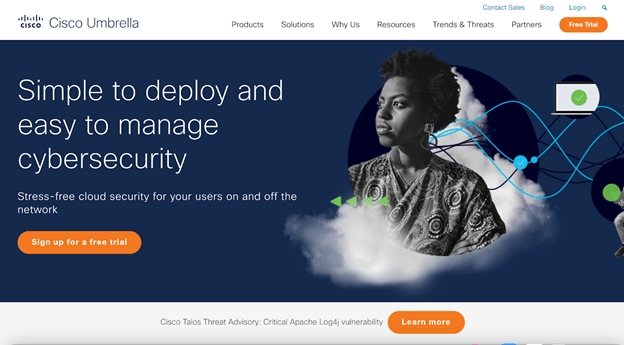 You can count on Cisco Umbrella for on-demand, cloud-delivered security that combines multiple security functions into a single comprehensive solution.
This secure web gateway vendor extends protection to devices, remote users, and distributed locations. It's why many businesses agree that Cisco arguably provides the easiest way to protect your users, regardless of their location, within minutes.
Leveraging machine learning, Cisco Umbrella can look up, identify, and even predict malicious domains. It auto-identifies the attacker infrastructure being staged for the next threat by learning from internet activity patterns, followed by blocking the domains to safeguard your network from potential compromise.
In addition to a secure web gateway, you can expect other functionalities like a firewall and cloud access security broker (CASB) delivered from a single cloud security service. 
What's more, to integrate its security enforcement and intelligence, Cisco Umbrella works with leading IT companies. Thanks to its bidirectional API, the tool can easily extend protection from on-premises security appliances to cloud-controlled devices and websites.
Cisco Umbrella is also one of the most flexible and versatile secure web gateway vendors. Regardless of whether you're a small business without a dedicated security team or a multinational enterprise with complex environments, you can trust Cisco to simplify security management and reliably report the complete picture of potential security risks to your networks.
Pros
Easy to set up

Reliable reporting 

Highly efficient support team

Good blocking policies to limit visits to unwanted sites
Cons
Likely higher-than-average prices

Can end up blocking everything until you allow access

Logs take time to appear on the dashboard
Pricing
Cisco Umbrella hasn't uploaded any pricing information on its website. You'll have to contact the support team to get a quote. Based on customer feedback, we can assume it's on the pricier end of the spectrum.
Symantec Web Security Service (WSS)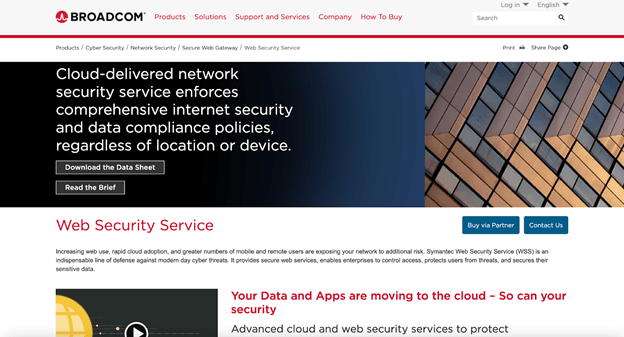 Symantec Web Security Service is an enterprise cloud-based web security gateway solution that will fit right into your security stack. It combines a secure web gateway with tons of other features, such as email security, data loss prevention, advanced threat protection, and a cloud access security broker to give you well-rounded threat detection capabilities. 
Symantec Web Security Service uses a diversified network of certified global data centers to deliver advanced web and cloud security. Its Universal Policy Enforcement (UPE) capabilities also allow admins to define protection policies and then distribute them to all of their gateways.
Another interesting feature of this web security gateway is it uses real-time threat intelligence from the Symantec Global Intelligence Network to keep your network on top of the latest threats. It uses machine learning and image analysis to detect cyber attacks.
Along with the gateway solution comes Symantec Integrated Cyber Defense Platform which allows users to automate threat remediation. This enables you to shut down risk factors as quickly as possible while also blacklisting threats to minimize your network exposure to threats.
Pros
One-stop-shop for all security solutions

Offers automatic threat remediation

Leverages a global intelligence network to update client databases

Suitable for businesses that use multiple cloud services
Cons
Limited and slow searching capabilities

Getting licenses synced from the cloud can be challenging

Limited compliance-based reporting options
Pricing
Symantec Web Security Service hasn't uploaded any pricing information on its website. You'll have to contact the support team for a customized quote.
Perimeter 81 Secure Web Gateway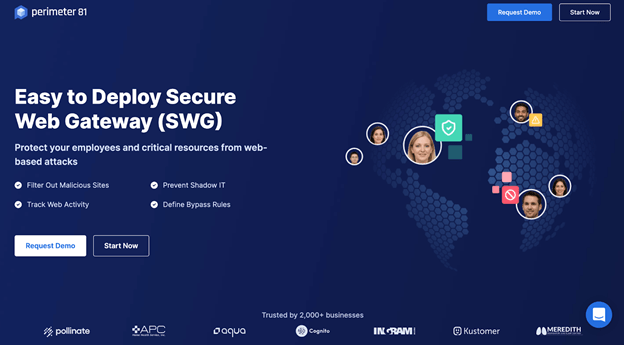 Perimeter 81 Secure Web Gateway has a web filtering system that protects your network and endpoints from malicious infections and threats that can be transmitted through unsafe web browsing. What's more, it can easily detect fake websites that impersonate its legitimate versions with login screens and get access credentials from victims.
Since Perimeter 81 Secure Web Gateway is a cloud platform, anyone can access the admin dashboard through any standard web browser. The fact it can enable system admins to set up custom filtering rules also comes in handy to enforce company policies on web usage at work. It also protects corporate accounts from malicious agents by making impostor sites hard to reach.
Additionally, the software isn't limited to protecting employees from a specific location and can be extended to protect the devices of home-based workers. How? The system installs a background agent on each protective device to extend web security protection to individual devices and not just those on the company network behind a firewall.
With Perimeter 81 Secure Web Gateway, you can strengthen protection against major types of cyberattacks—even those that most firewalls can't spot. 
Pros
Blocks access to inappropriate websites

Easily detects fake and infected web pages

Cloud-based service that provides always-on protect

Extend protection to devices of home-based workers
Cons
Doesn't cover email protection

Steeper learning curve
Pricing
Perimeter 81 Secure Web Gateway is offered as a part of a bundle of services that includes internet privacy and DNS filtering. It's an add-on service that you can purchase with one of the secure web gateway vendor's plans:
Essentials – $8 per user per month

Premium – $12 per user per month

Premium Plus – $16 per user per month

Enterprise – Request a customized quote
Barracuda Web Security Gateway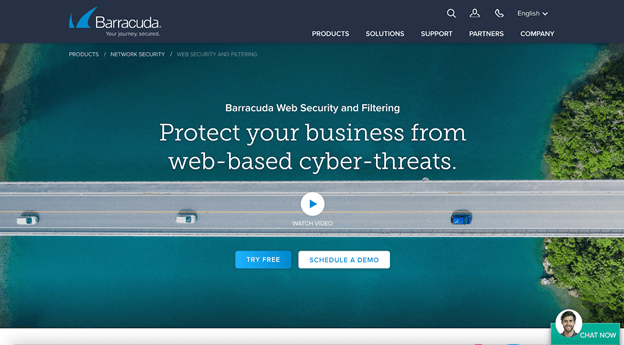 If you're looking for a web filtering tool to block sophisticated malware and viruses, look no further than Barracuda Web Security Gateway.
This web security gateway software can inspect SSL-encrypted traffic while remotely filtering content on the web. To effectively cover a range of online threats and block malware, Barracuda uses useful features like anti-spyware, threat intelligence, and antivirus. 
Next, Barracuda Web Security Gateway has an advanced threat protection (ATP) feature to check incoming files against a cryptographic hash database. This allows the software to block any content with malicious activities and eliminate risk factors as quickly as possible. 
Any files that don't match are automatically sent to a virtual sandbox for verification—all at no risk to your network. You also get unlimited remote user licenses to enforce content and access policies for mobile and desktop devices outside the corporate network.
We also like Barracuda's user-friendly dashboards that allow you to easily monitor threats and user activity. You can also use the unique Alert feature to receive notifications whenever a security event starts. Post-event follow-up is also possible, thanks to the reporting feature that lets you review the aftermath.
Combining advanced spyware, malware, and virus protection features makes Barracuda Web Security Gateway a comprehensive solution for web security and management that you can trust.
Pros
Flexible deployment options, including cloud, premise, and hybrid cloud configurations

Offers email encryption

Redirects DDoS attacks away from network infrastructure

Custom category filtering lets you block specific websites
Cons
Slow interface

Limited data visualization capabilities 

Complex port mapping feature
Pricing
Barracuda Web Security Gateway hasn't uploaded any pricing information on its website. You'll have to contact the support team for a customized quote.
How to Pick Your Secure Web Gateway Vendors?
Below, we've compiled a step-by-step rundown to help select the best secure web gateway vendor for your network. 
Step 1: Educate Yourself About Potential Threats and Vulnerabilities to Your Network 
Businesses that know underlying threats and vulnerabilities to their systems find it easier to state the trajectory and source of the threats and control any damage down the line. 
How? When you have in-depth knowledge about what you're dealing with, you plan better, which ultimately helps you come up with strong solutions. Therefore, before evaluating or opting for a specific secure web gateway vendor, find out what's happening in your network and why.
Step 2: Evaluate Existing Measures and Tools
Once you're finished analyzing potential threats and vulnerabilities to your network, review each tool you've already configured and the existing actions you've already taken to handle malicious traffic in your network.
If what you have in place isn't sufficient, crosscheck what it will cost to bring everything up to speed. If that number exceeds your budget, narrow down your options to cloud-based secure web gateway vendors. If it doesn't, you have more flexibility when choosing options.
Step 3: Find Out Your Infrastructure Bandwidth 
Unfortunately, you can't just buy a secure web gateway product and expect it to work within your existing infrastructure. You may need to upgrade your resources and infrastructure to make the most out of a prospective secure web gateway product. 
You need to understand your bandwidth before choosing a vendor. If you face any trouble, get in touch with the customer support team for answers. This will also give you a feel of the level of support you can expect from the developers.
Step 4: Check Product Alignment
In most cases, businesses choose cloud-based secure Web gateway solutions. If that's the case, you need to ensure you can meet your chosen tool's requirements.
This means your existing processes and methods should work properly with the prospective vendor. This includes having access to the required support for hassle-free cloud-centric deployment. 
In addition, you need to check whether the tool can integrate with your existing local tools. Opt for a secure web gateway vendor that fulfills all these requirements and can reliably eliminate cyberattacks and malicious traffic to your corporate networks.