Best Secure Email Gateways
Email attacks are on the rise, and they are an effective way for hackers to gain access to a company's private data. As a result, it's more important than ever for companies to invest in robust email security solutions. 
Email security gateways protect against spam, malware, ransomware, and phishing attacks. The problem is, how do you know which is the right one for you? 
Fret not, our guide details the best email gateways on the market today and shows you how to pick the right one for you.
Mimecast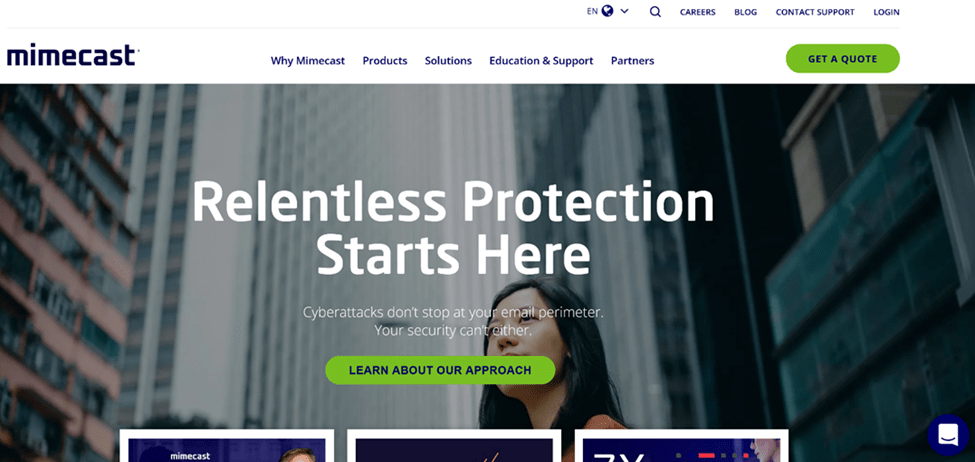 Mimecast is targeted mainly at enterprises and offers a vast number of features. The software protects against everything from internal security threats to impersonation attacks, with complete ransomware protection for your emails too. The ransomware protection is crucial for today's world—Mimecast is able to prevent these infections through a multi-layered inspection and can even automate a quick and easy recovery of affected emails and their attachments. 
You'll be able to find and examine delivered emails with detailed message tracking and analysis, and there's the ability to block emails that contain malicious malware within a few clicks too. It's a powerful tool that will guard private data and keep employees safe. That said, we think things could be a bit more intuitive, specifically when navigating the UI–the software isn't always the easiest to understand for beginners.
Mimecast doesn't list its prices, so you'll have to reach out for a custom quote.
Forcepoint Email Security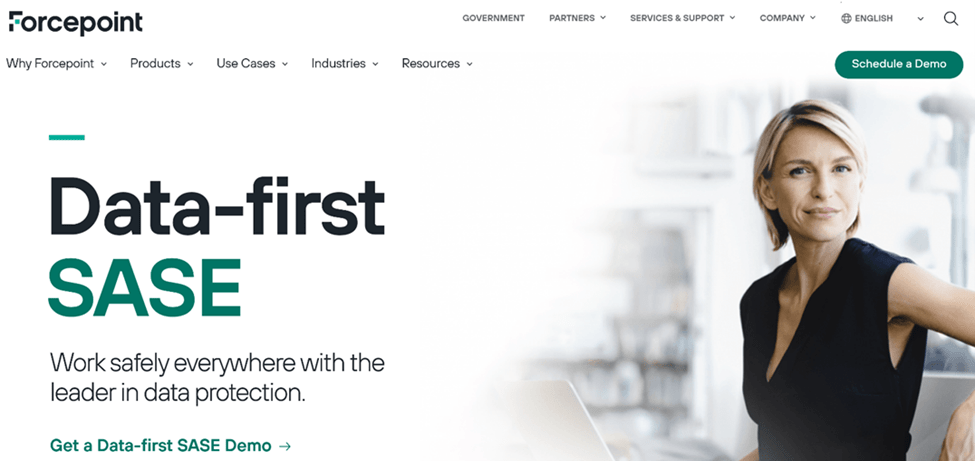 Forcepoint Email Security is particularly good at detecting incoming threats. It provides a range of features, from real-time threat detection powered by machine learning to cutting-edge email protection capabilities such as Optical Character Recognition (OCR), encrypted file detection, and drip data loss prevention. The software empowers users with a wealth of information, allowing them to make informed choices about the threats they face.
Users will receive automatic feedback should they make risky choices, teaching them what to do in specific scenarios to make smarter decisions. There's also granular level control for email attachments, which is customizable exclusively for the device you're using—it's an excellent all-around email gateway. However, the support team could be more responsive when fixing problems as they occur.
You can schedule a free demo of the software today. No prices are listed, so you'll need to request a custom quote.
Avanan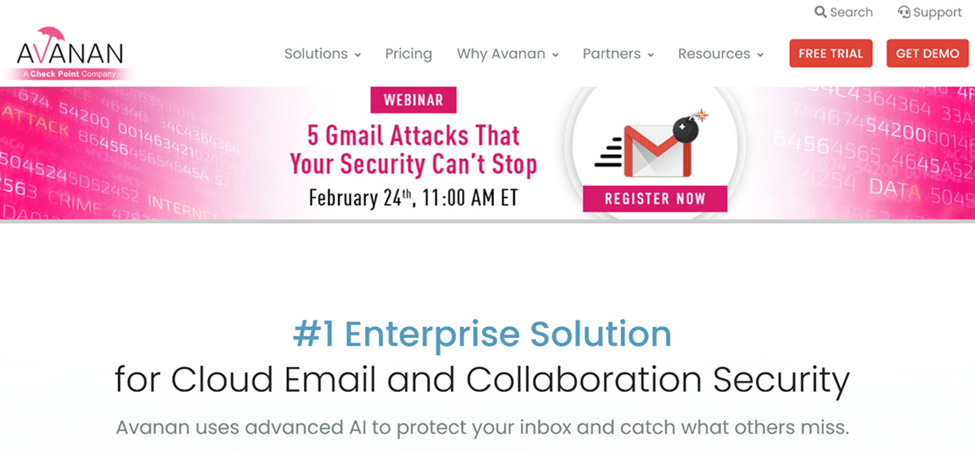 Avanan is a cloud-based security solution that protects companies against phishing emails, malware, and data loss. The software uses multi-layer threat protection inside your email inbox, securing inbound, outbound, and internal emails as required. Machine learning quickly identifies phishing attacks before they can infiltrate your emails—it analyzes over 300 indicators from location and domain to the time of sending.
Avanan also offers enhanced protection against malicious attachments and misleading URLs. The advanced reports display both real-time and historical data for users and email threats, giving you insight into where dangers are coming from so you can take action. The UI is clean and easy to understand too, and you can even attach Avanan to your existing Microsoft 365. That said, we do think the configuration process could be more straightforward.
Avanan comes in three primary tiers for small and medium-sized businesses: Basic, Advanced, and Complete Security.
The Basic tier costs $3 per user per month and offers anti-phishing for incoming and internal emails along with URL click-time protection. The second tier, Advanced, is $4 per user per month and offers everything from the first tier as well as complete zero-day malware prevention and attachment sanitization. The final tier, Complete Security, costs $6 per user per month and includes Data Loss Prevention (DLP) on top of everything else in the other tiers. Enterprise-level businesses will have to reach out for a custom quote.
A demo of the software is available, along with a 14-day free trial.
Ironscales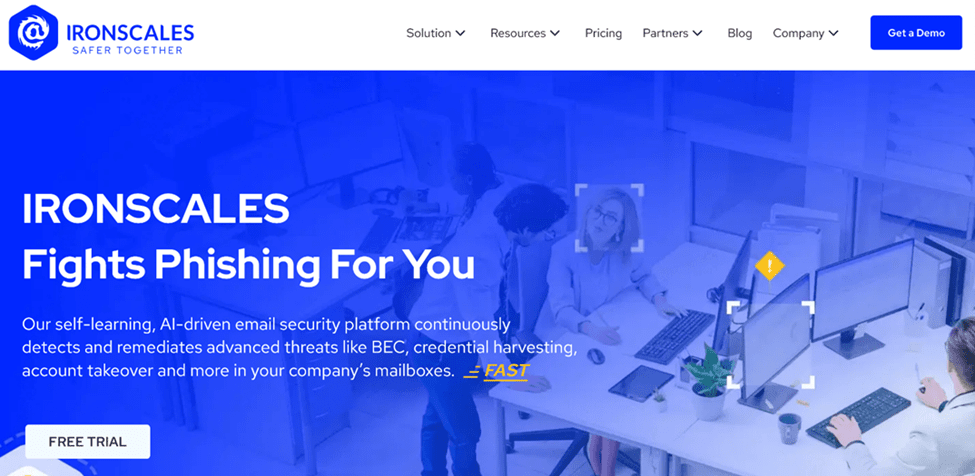 Ironscales provides fast and effective protection against threats inside email inboxes. The software uses a mixture of AI-driven tools and human intelligence from users to identify suspicious emails and then removes them automatically—it's ideal for those looking for a solution that works right away without a complex setup. Ironscales also delivers a complete security suite that includes additional awareness training, phishing simulation, and even customizable phishing templates.
The software has a complete and bug-free mobile app that allows users to stay up to date wherever they are, including the ability for security teams to triage notifications and alert users to threats when necessary—something of an exclusive feature that separates it from the pack. However, we would like to see some better dashboard customization options down the line.
Ironscales is available in three main tiers: Core, Core+, and Ultimate. Core starts at $4.50 per mailbox per month and offers auto phishing and collaborative threat hunting. The second tier, Core+, offers additional malware and URL protection and includes everything in that first tier for $6.00 per mailbox per month. The final tier provides gamified simulation, training, and everything from the former levels for $7.00 per mailbox per month.
Each tier notably comes with a 14-day free trial, and you can book a demo too.
SpamTitan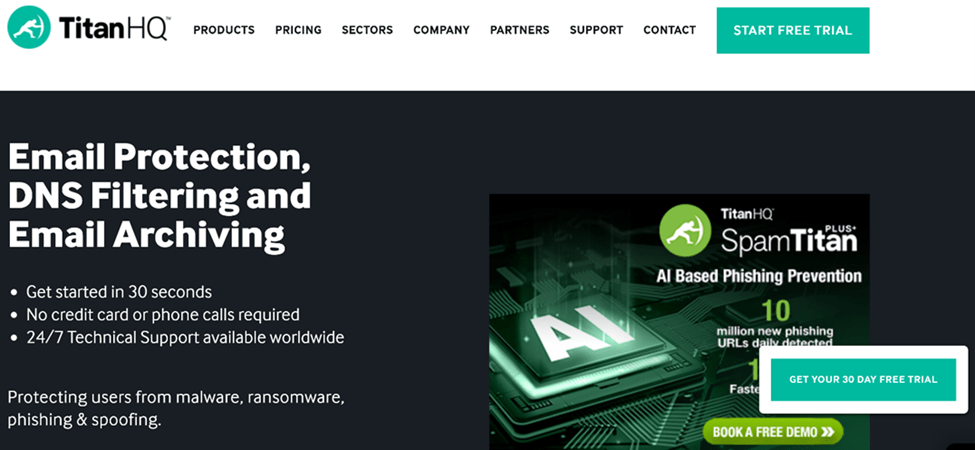 SpamTitan is an email security service provided by TitanHQ. It offers advanced spam protection and blocks viruses, malware, ransomware, and suspicious links to sites from your emails. SpamTitan is known for its easy setup and customizable interface, along with a support team that is both friendly and highly professional. In particular, the support team consists of experts that typically solve the majority of problems in a single call, even taking you through the steps they did to fix the problem.
On top of that, you'll find email content filtering that includes comprehensive filtering rules, robust data leak prevention rules to avert data loss and detailed quarantine reports. There's a lot to like here, and the software is relatively easy to use. However, the UI isn't always as responsive as it could be—we expect updates to address this down the line.
SpamTitan costs $1.27 per user per month for up to 100 users; pricing for over 250 users is only obtainable via a custom quote. A full 30-day free trial is also available.
How To Pick Your Email Security Gateway
You know our top picks, but choosing the right one can still be challenging, to say the least. We've listed some simple steps you can take to arrive at the best email gateway for you.
Step 1 – Review Which Threats You Need Protection Against 
While you want your email security gateway to keep you protected from a variety of threats at once, the truth is that each of them on the market tends to offer better protection against a specific type of threat.
These threats often get divided like so:
     

Phishing attacks

     

Malware

     

General spam

     

Ransomware

     

Data loss
For example, on our list, Mimecast is particularly good at preventing ransomware through its multi-layered inspection and can automate the recovery of affected emails and their attachments. While it's a good all-rounder, it excels in eliminating ransomware.
On the other hand, if phishing attacks are your biggest worry, Avanan is a solid choice as it offers advanced machine learning to tackle threats head-on. Avanan is also helpful for preventing ransomware, but its users have seen the best results against phishing attacks.
Forcepoint Email Security offers powerful drip data loss prevention—in other words, a more flexible solution that ensures only the attacks themselves get blocked when it comes to data loss. It's a smart choice for that alone. SpamTitan is also a good option for data loss concerns.
Ironscales offers out-of-the-box protection for malware that integrates with over 60 protection engines. It's a reliable solution for both malware and general spam that you can't go far wrong with overall.
Think about which of these threats you need to focus on the most, as they're the starting block to help make your decision easier.
Step 2 – Choose Which Features You Need 
We've thought about the types of threats you need to counter, but you also need to consider the key features you want to see in your email security gateway. The three areas which the features tend to align themselves closest with are the following:
     

Threat intelligence

     

Response capabilities

     

Outbound content control
For starters, some software is especially effective for threat intelligence. Threat intelligence is the ability to detect and typically block malware and is used to help your company understand how it's getting attacked in the first place—not all of the solutions will have equal threat intelligence capabilities. That said, the best options here are Ironscales and Forcepoint Email Security, although all of them are somewhat capable in this area.
Response capabilities are another area to think about; these decide what happens when a malicious email makes it to a user's inbox. Typically, the gateway can locate and remove these emails, although not all do, based on their design. What's more, some companies want to have the option of choosing what happens to a threat themselves, while others prefer the automatic removal approach. If you desire more control, great options on our list are Forcepoint Email Security and SpamTitan.
The final area is outbound content control, which concerns the encryption protections and controls available when an email leaves a company. This area, of course, is about preventing sensitive data from getting into the wrong hands. The best choices here are Mimecast, Forcepoint Email Security, and Avanan.
Step 3 – Determine the Level of Customization You Need 
The next step is to think about the level of customization you need in your email security software. This step isn't going to be essential for some companies, but for others, it will be. Of course, not all software offers the same level of customization either, so keep that in mind.
You might not be concerned about the level of customization on offer, but businesses that do spend time customizing their gateways see an improvement in their detection capabilities. 
For example, high-risk companies will need an increased level of customizability to make their detection as healthy as possible. In contrast, a company with lower risk might not need to give it as much thought. Which of these are you? 
On our list, Ironscales is a top choice with its customizable templates, as is SpamTitan with its customizable blocklist policies for each user and domain. If you're a high-risk business, it's worth opting for these two and spending some time with them.
Step 4 – Take Advantage of Free Trials and Demos 
Using the free trials and demos available for each email security solution is key to making that final, all-important decision. The best part is that you don't have to commit to anything if you don't want to and can simply move on to an alternative. Again, this is an area where there is little in common between the solutions on the market, although most of them do allow you to book a demo, even if they don't offer a free trial.
All of the email security solutions on our list allow you to book a demo, and it's more than worth doing. During these demos, it's also a good idea to ask any questions you have to help make an informed decision.
Free trials are even better. In most cases, you're able to try the software, sometimes, although not always, in its entirety, and can then decide whether it's worth investing in or not.
For instance, Avanan on our list offers a free 14-day trial, and you can try out all of its features for nothing. SpamTitan provides a 30-day free trial, and the trial is again fully functional from the start. Each tier of Ironscales' model also offers a 14-day free trial, with the respective features in each level fully available. Unfortunately, Mimecast and Forcepoint Email Security don't provide a free trial, although this may change in the future.
Use the trials and demos wisely and be sure to consult with your team. The more involved everyone is in the process, the better the result.