Best Rootkit Scanners of 2022
A rootkit is a type of software that conceals malware from standard detection methods—frameworks, infection projects, and chairman organizations—and gives a hacker privileged access to your computer. Think of it as a burglar stealthily breaking into your house under the cover of night.
But unlike a burglar who will rob you and leave, an efficient rootkit will stick around—sometimes for years—and continuously rob your computer or mobile device of data. That's why you need a rootkit scanner that can detect a rootkit on an infected machine through behavioral-based methods, memory dump analysis, or signature scanning.
In this guide, we'll discuss the seven best rootkit scanners that help individuals and security experts detect and remove rootkits from their devices and protect their data.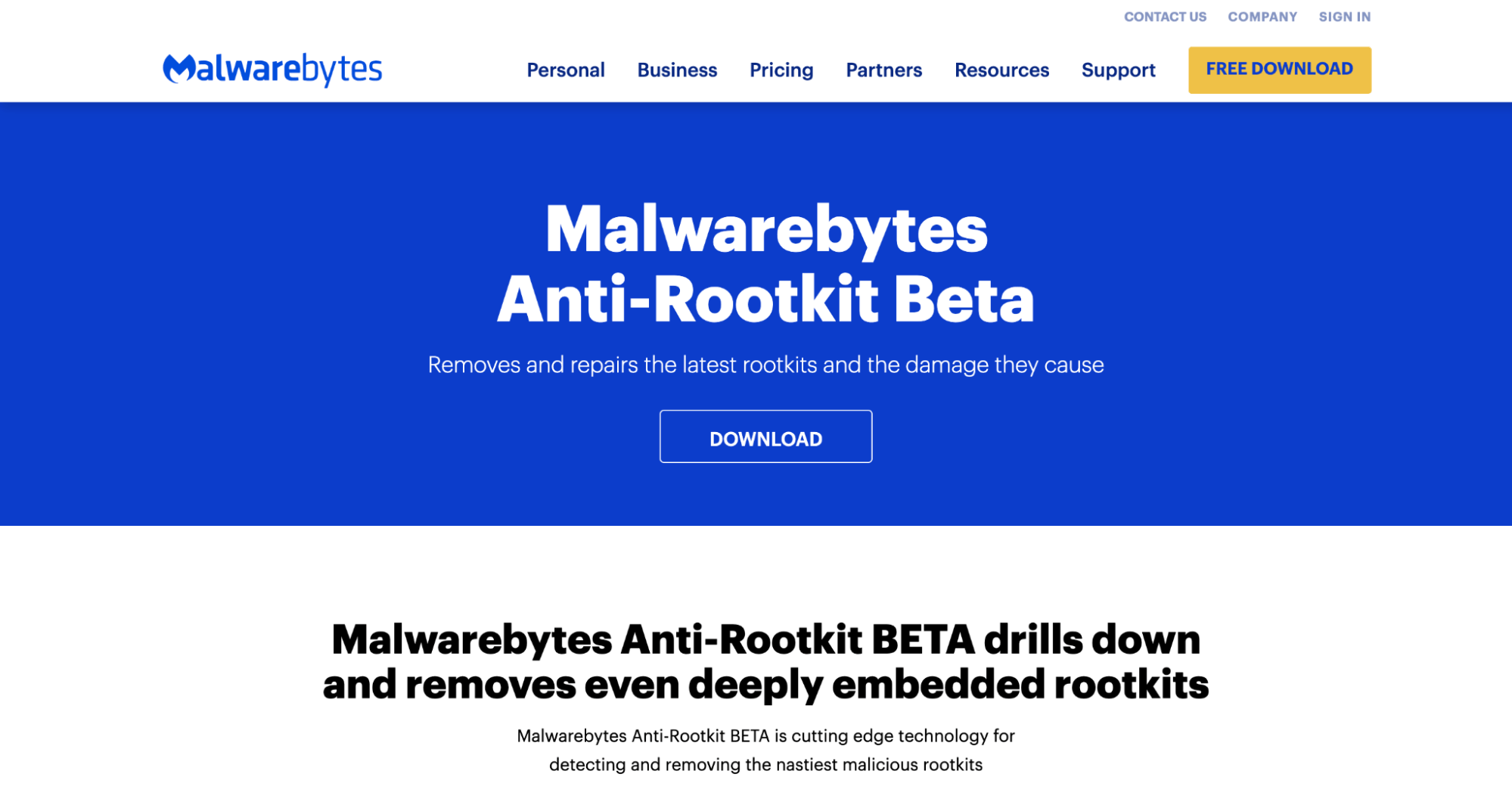 Malwarebytes Anti-Rootkit Beta is a free rootkit remover tool that can scan, detect, and block harmful rootkits concealed in your device.
The software has a rootkit detection technology that uncovers deeply embedded rootkits, eliminates them from your system, and then performs a system check-up to determine its security functionality. It has a user-friendly, wizard-like interface and ensures a quick yet thorough scan.
It scans sectors, drivers, and a system area by default, which are the common targets of rootkits. What's more, Malwarebytes Anti-Rootkit Beta can automatically update the software with the most up-to-date version after performing a scan. As it's portable software, you can run it from a flash drive, too.
Pros
Smart and fast scanning
Portable software
Creates a restore point before deleting any computer files
Efficient customer support
Cons
Currently in beta stage
No guarantee that all detected items are indeed malicious
Pricing
Malwarebytes Anti-Rootkit Beta is a completely free rootkit scanner and remover.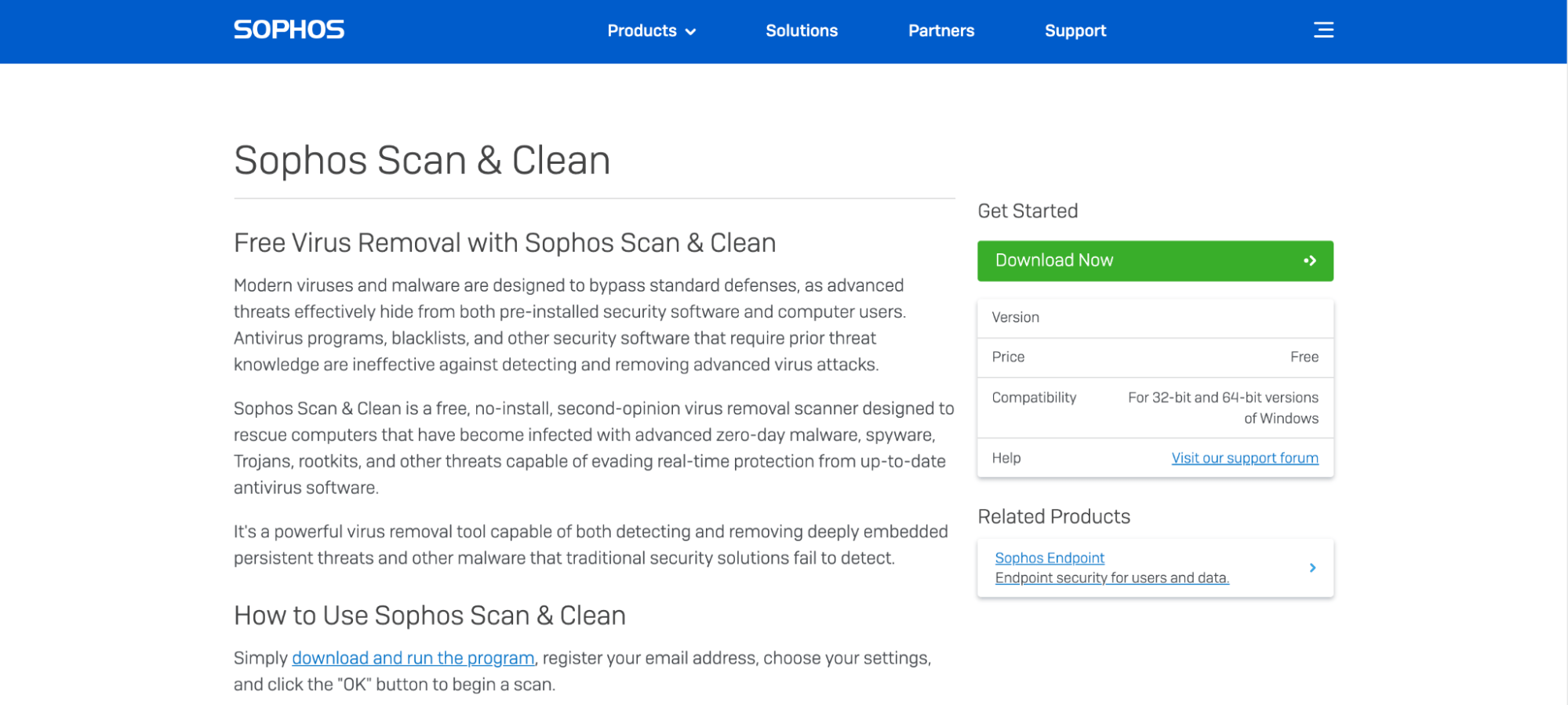 Sophos Virus Removal Tool is an all-in-one virus removal program focused on removing viruses and rootkits, and comes with a user-friendly interface.
To download it, Sophos requires you to provide your name and email address. Once you've installed the software, it will start scanning your computer to detect and remove rootkits, as well as other types of malware. For comprehensive results, Sophos's virus removal tool does a full system scan, including the system memory, system files, and program files. You cannot select any other scanning option.
Being an all-inclusive malware removal and scanning tool, the scanning and cleaning process takes longer with Sophos than other specialized rootkit removal tools. However, the longer scanning time means the tool can perform deep scanning and detect rootkits more accurately.
Pros
Easy to use
Efficient by this and privacy protection technology for deep scanning
Offers a wide range of useful features
Cons
Longer scanning time
User will always have to do a full system scan
Pricing
Sophos Virus Removal Tool is totally free.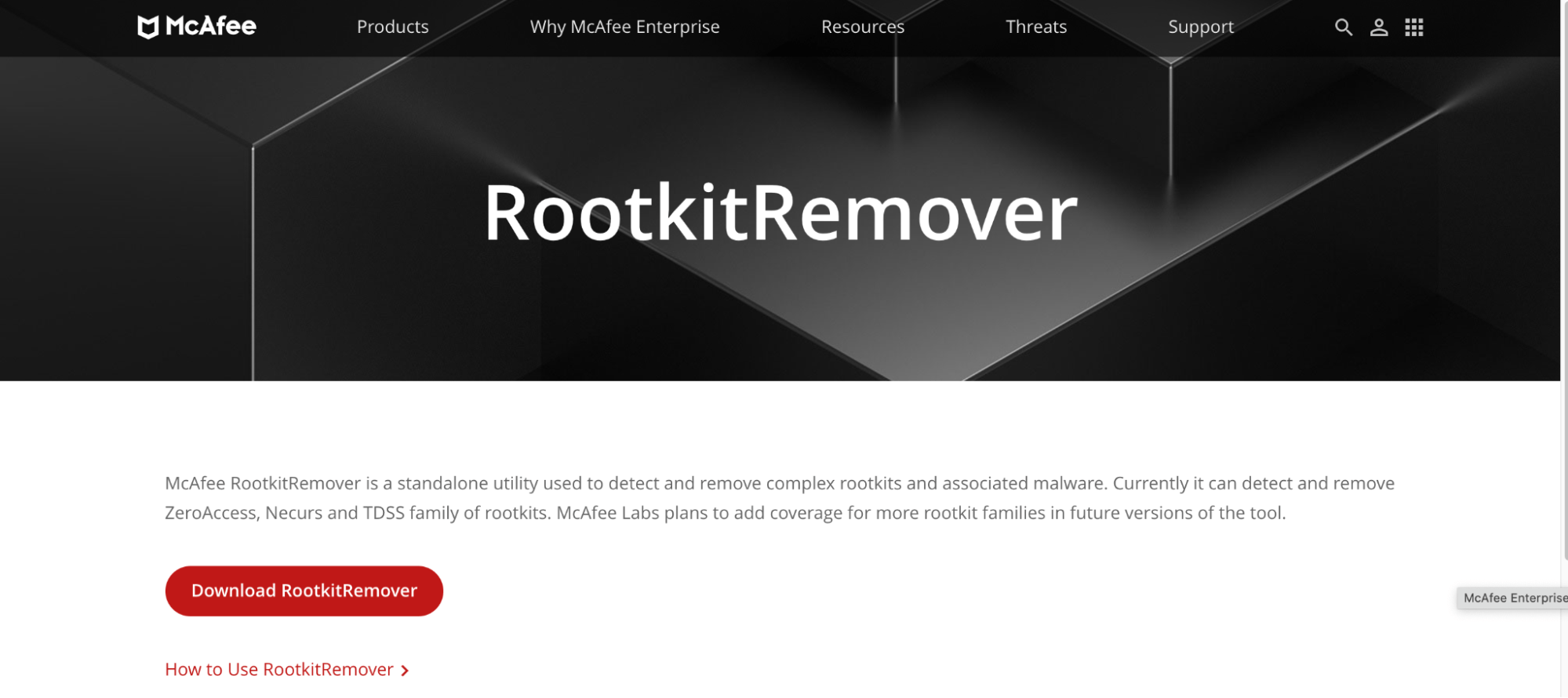 McAfee Rootkit Remover is an incredible rootkit scanner that can easily and efficiently detect and remove complex rootkits, including ZeroAccess, TDSS, and Necurs. While the user interface is still slightly old school when compared to other software on the market, the scan results are quick and accurate.
It has advanced technology that can easily detect malicious rootkits and remove them without burdening your system. All you have to do is launch the application after installing it on your device and on the system scanner. You can also customize and choose for scanning specific viruses or threats. After you get the scanned results, you can either repair the threats or remove them entirely.
What's more, McAfee Labs is planning to add more coverage for rootkit families in the future generation of this tool, so we can expect more exciting things for the McAfee Rootkit Remover.
Pros
User-friendly and simple to use
Doesn't burden the system
Offers great tools to detect and remove complex rootkits
VPN-enabled data encryption for anonymous browsing
Cons
Faster rootkit scanners are available
VPN needs improvement
Pricing
The McAfee Rootkit Remover is a free tool provided by McAfee Labs.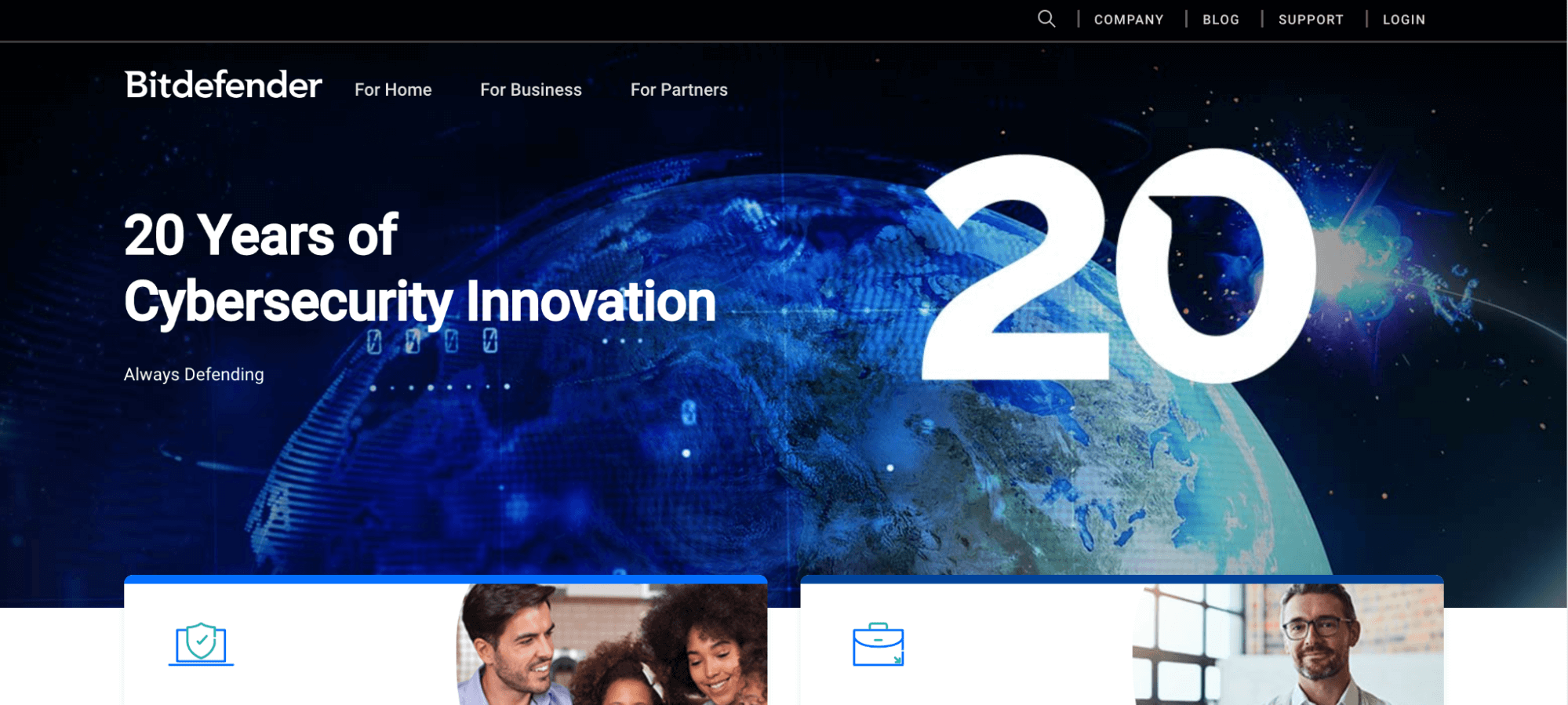 Equipped with the award-winning BitDefender malware removal technology, the BitDefender Rootkit Remover could easily detect and remove known rootkits and provide excellent protection and performance without disturbing other system files.
Full disclosure, this software has reached End-of-Life and isn't actively maintained anymore. But that doesn't mean you can't protect your machine with BitDefender—it has been integrated into Rescue Environment, which lets you scan and disinfect all existing hardware partitions inside and outside your operating system.
So how does BitDefender Rescue Environment work? When BitDefender detects a threat that cannot be removed, it notifies you to reboot the computer in Rescue Environment for cleanup and restoration. It'll start scanning your computer for viruses and all other types of malware, and once the scan is complete, BitDefender will remove the infection.
However, what sets this tool truly apart is that it never slows down machine performance. It keeps running in the background, allowing you to continue your work without having to worry about your computer's performance and security.
Pros
Can detect a wide range of rootkits, including boot-kits
Best-in-class malware detection
Lots of additional features
Reliable tracking protection
Cons
Paid options can get expensive
macOS support is only available with paid plans
Pricing
BitDefender Rootkit Remover starts from $23.99 for one device for one year.
A 90-day free trial is also available.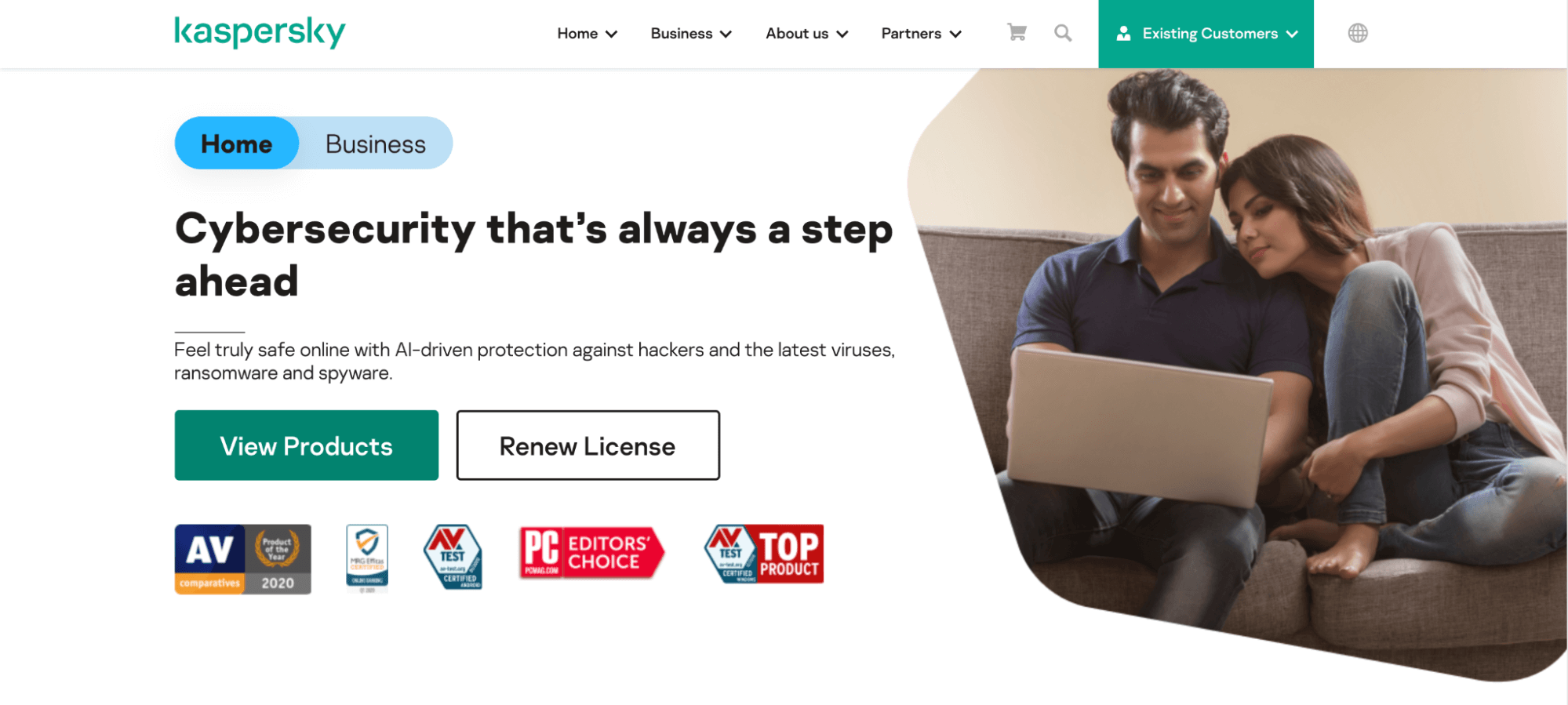 Kaspersky Lab developed the TDSSKiller utility to easily detect and remove rootkits and protect your data. It has a user-friendly interface, complete with a high rootkit detection rate, and provides quick scanning and removal of infected files.
The only issue with Kaspersky TDSSKiller is it only detects a limited range of rootkit types.
You see, the software was specifically designed to find and remove the TDSS rootkit type, which is only one type of rootkit. But this isn't a deal-breaker, as you can still use Kaspersky TDSSKiller to detect and remove other types of rootkits, such as ZeroAccess, SST, and Pihar, as well as other rootkit-like anomalies. Also, it has various settings to scan memory, drivers, services, boot sectors, loaded modules, and other additional objects.
Kaspersky TDSSKiller doesn't require installation, so you can start eliminating rootkits from your device right away.
Pros
Easy to use and set up
Regularly updated and maintained
Doesn't affect memory and system performance
Cons
Limited rootkit detection range
Pricing
Kaspersky TDSSKiller is completely free.
How to Pick Your Rootkit Scanner
After a rootkit infects a device, it gains administrative-level privileges that allow it to download and install other malware, such as antivirus disablers, stealers of passwords and sensitive credentials, and keyloggers, among others. And that's not it—rootkits also recruit the device as a bot and use it for performing Distributed Denial of Service (DDoS) attacks.
Luckily, you can use a rootkit scanning tool to detect and eliminate these hidden viruses. Below, we'll cover a list of questions to help you choose the best rootkit scanner for your system.
1) Does the Rootkit Scanner Protect You From Major Threats?
The first step is to understand the level of protection that a rootkit scanner offers.
Out of all the computer viruses and malware, rootkits are the most dangerous. What makes things even more challenging is there are five types of rootkits, each as dangerous as the other, that can mess up your device and steal data. You want to ensure your prospective scanner can detect and remove the more common types of rootkit, such as Firmware rootkit, Bootloader rootkit, Memory rootkit, Application rootkit, and Kernel Mode rootkit.
2) Does the Scanner Run Accurately and Efficiently?
The only way you can effectively detect and eliminate rootkit is when your chosen scanner works as intended.
The tool must provide comprehensive and deep scanning, followed by accurate detection and removal. False positives are a common problem with such tools, so be sure to choose scanners that don't report false positives—or at least have fewer false-positive cases.
The scanner should thoroughly check the common targets of rootkits, including objects like memory, boot sectors, services and drivers, and loaded modules. Keep in mind that accurate and thorough scanning shouldn't be at the cost of speed and losing resources—you want software that doesn't burden and slow down the system and works silently in the background.
3) Is the Rootkit Scanner Easy to Use?
Before zeroing on a rootkit scanner, always make sure you can use and navigate it easily. Look for a software tool with a user-friendly interface and a straightforward scanning process.
Here are the two features that will make your life easier:
Automatic updates: Look for rootkit scanners that can update, detect, and scan automatically after you finish configuring it as per your preferences and systems.
Simple user interface: As mentioned, you want a rootkit scanner that's easy to navigate and understand. This means you should be able to quickly determine if a rootkit or any other threat has been detected and remediated.
4) Do You Get Additional Bells and Whistles From the Tool?
This usually means looking at the overall software offering the rootkit scanner. Often, rootkit scanning is an additional feature of multilayered Web browsing protection. So when picking a tool of your choice, take a look at the other features on offer.
We highly recommend opting for software that offers firewalls and spam filtering, cloud backup services with encryption, secured addition of sensitive files, browsing history, credit monitoring, and other virtual bread crumbs. A VPN will also make an excellent addition to ensure comprehensive data protection.