Best Risk Management Software
Companies need to be aware of the potential threats they face. You make smarter business decisions when you understand what you're up against, after all. But how do you get access to that information in the first place? 
Risk management software is the answer. It provides dedicated risk monitoring and detailed analysis all in one place. The real issue is knowing which software to use with so many options available. 
Worry not, this guide lists the best risk management software and shows how to pick the right one for you.
LogicGate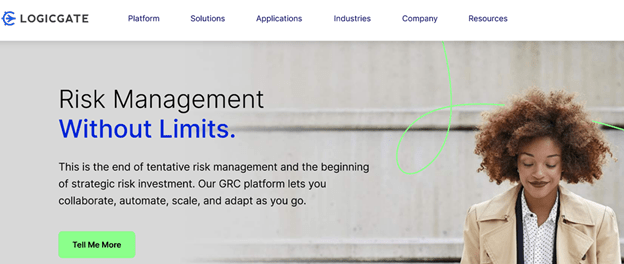 LogicGate is cloud-based software that can quickly automate critical processes and offers complete risk assessments and robust customization options. It's easy to use and provides users with simple drag-and-drop functionality to get things done. Best of all, the software comes with additional third-party risk management, custom analytics, and heat maps for real-time insights at every stage. 
LogicGate is relatively new, so it isn't as feature-rich as some of its competitors. That said, the software is continually updated, and has more features on the way. The friendly support team is particularly worthy of mention, too, with excellent response times, a high level of customer service, and a real willingness to listen to any problems you may have using the software.
You can request a free demo of LogicGate's Risk Cloud software for some hands-on time with it. Unfortunately, you'll have to reach out for a complete list of prices.
nTask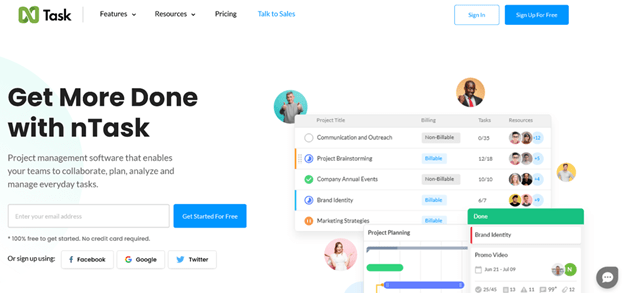 nTask is risk management software for those who need a fully-featured risk project management tool that isn't difficult to understand. nTask allows you to easily create new risk projects, with each assigned a separate owner to monitor them as they progress. Using the list view allows you to quickly view entire sets of risks, along with their status and the severity of the risk. There's also a self-generating risk matrix feature that offers a tabular summary of the probability of each risk and how often they occur.
There's no doubt it's a powerful tool with a lot to offer users, including the ability to import and export bulk risks, assign plan dates, and create custom fields with an impressive number of editable sections. However, attaching documents and photos isn't as easy to use as the rest of the software and could be improved.
nTask comes in three main tiers. The Basic tier is free to use and gives you a solid selection of features to use. The second tier, Premium, costs $3 per user per month and comes with 5 GB of storage and custom filters. The final level, Business, costs $8 per user per month and offers everything from the preceding tiers and custom roles and permissions. A 14-day free trial is available for both paid tiers as well.
TimeCamp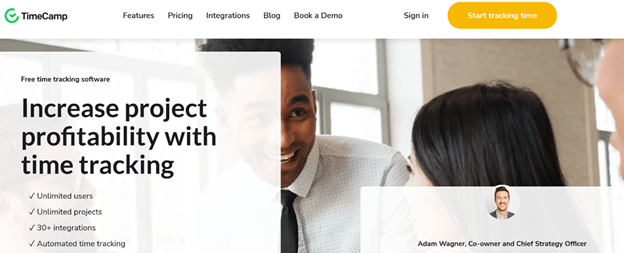 TimeCamp is a time tracking tool first, but it also offers risk assessment features and can significantly upgrade your workflows, too. Users can see when their project's budget is going off track, and easily control expenses with straightforward and easy-to-use editing options. Missing project deadlines is a risk in itself, but with TimeCamp your project managers can track and monitor the probability of a project getting completed on time.
It's a great package all around, though the mobile app can suffer from occasional bugs. However, updates and improvements to the app are on the way, and the software gets regularly updated.
TimeCamp comes in four main tiers: Free, Basic, Pro, and Enterprise. The first tier is naturally free and includes many features you can try before upgrading. The second tier, Basic, costs $7 per user per month and comes with unlimited integrations. The Pro tier costs $10 per user per month and includes custom user roles, while the final level, Enterprise, offers everything from the preceding tiers in addition to training too.
Prices are not available on the last tier, so you'll have to reach out for a custom quote.
CURA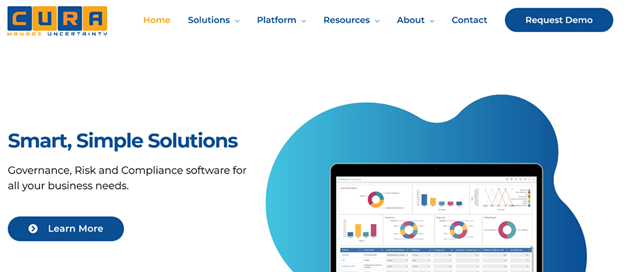 CURA is used by companies across multiple industries, from telecommunication to insurance firms. The software offers a risk identification feature that allows users to identify risks and see the regulatory requirements of a project from beginning to end. You can link your risks to ongoing projects, attach goals and objectives to them, and can even create risk reports in the form of lists, tables, and graphs to keep your team updated.
Project managers can also monitor each member's performance and see the actions taken to help mitigate a specific risk. It's a package ideal for both risk management and regulatory compliance. However, there's no mobile app to manage things on the go, although one is on the way.
You can request a free demo of CURA to try it out before committing. You can also reach out for a custom quote.
Integrum

Integrum is risk management software that offers some of the best customizations on the market. There's a fully configurable incident system, custom inspection and observation forms, and the ability to customize your meetings and assign actions directly. Integrum also offers a BI reporting system that lets users create as many dashboards, reports, and graphics as needed. You can even customize the interface to your exact liking, and data can be moved from one board to another via simple drag and drop functionality. 
Integrum also has a mobile app that allows you to use almost all of its key features while out and about. However, things could be a bit more intuitive using the software overall.
Integrum doesn't list its prices, and you'll need to reach out for a custom quote. That said, you can request a free demo of the software.
How To Pick Your Risk Management Software 
You know our top picks, but which one of them is the best for you and your team? We've listed some simple steps you can take to arrive at the ideal risk management software for you.
Step 1 – Review the Risks You Need To Manage 
No venture is entirely risk-free, and different companies have different risks they need to manage. Whether it's being able to monitor a financial risk or following regulatory compliance over time, it's important to be clear about the risks that directly affect you and pick the most appropriate software from there.
For example, on our list, CURA has a strong focus on legal and regulatory compliance and is a top choice for those that need real-time visibility into their business. If that's you, it's most likely going to be the right choice for your company.
If managing financial risk is more of a priority, TimeCamp is a smart time tracking tool that lets you see when projects have gone over budget, and you can view profit margins across them with ease—it's a fantastic tool all around. An additional option for covering financial risk is nTask which provides complete budgeting and financial summaries as well as resource allocation reports.
LogicGate is an excellent choice to help manage risks from cybersecurity threats and take care of vulnerabilities as they appear, offering top security risk management applications. If that's a direct concern, you don't need to look further.
Meanwhile, Integrum is great for managing health and safety and regulatory compliance across numerous industries. It's a suitable choice for companies that need to manage employee records and require additional HR management tools to boot.
Think about which is the most suitable for you.
Step 2 – Determine What Features You Need
Once you've reviewed the risks, you need to think about the type of features you want the risk management software to offer. The features available across software vary significantly, so getting this part right is key.
For instance, on our list, LogicGate offers powerful automation features which essentially remove the need for spreadsheets, emails, and file shares. If you need to save time and increase communication across your company, it's ideal.
CURA offers more of a focus on notifications, allowing you to create custom events that send email alerts to specific users and more. It's a good choice if upgrading your workflow processes is a much-requested feature around the team.
TimeCamp offers a top-notch time tracking feature set, with productivity measuring that leads the pack and is particularly strong with its reports. nTask's project management features are somewhat similar but are better overall for project planning and managing your project deliverables.
Integrum's customization features stand out against the others, and it has the best mobile app of the bunch—making it perfect for companies that value flexibility above all else. That's not to mention it offers pre-configured systems to suit your sector from the off.
Of course, budget is another decidedly individual factor here, and you need to think about how reasonable the price is—when you receive it—for the features you're getting. The most convenient features don't always have to break the bank, so take the time to think about which software offers what you need at a price you can do.
Step 3 – Decide Which Integrations Are a Must
When it comes to risk management software, integrations are often one of the most important considerations, if not the most. After all, having a system that works with the majority of tools your team enjoys using is essential. Not to mention that duplicating your risk management and compliance efforts is counterproductive, to say the least.
Integrations vary across the board, as you might expect, so it's worth taking the time to research which of your tools will integrate comfortably with risk management software.
For example, TimeCamp can integrate with a vast number of tools, from Airtable and Asana to GitHub, Jira, and Google Calendar. It's a good bet if you want as little change as possible and desire to keep using the same tools. nTask also integrates with over 1000 apps, including Zapier, so you're not short on choice there either.
LogicGate can integrate with Slack to create risk tasks directly or collaborate with teams over on Jira. What's more, you can request integrations for a bespoke tech stack too. LogicGate's open API also allows developers to use their own integrations too.
On the other hand, CURA and Integrum are light on out-of-the-box integrations, but you can request custom configurations for both of them, which somewhat mitigates things.
Step 4 – Use Free Trials and Book Demos and Then Review Your Findings 
Using the free trials and demos across all of the risk management software on our list is a must. There's no better way to experience the software for yourself—you don't have to commit to anything should it be the wrong choice either.
On our list, TimeCamp offers a version of the software for free, and despite being limited on features, it will give you a good idea of what the software is about overall. You're also able to book a demo showing you its setup and features.
LogicGate doesn't provide a free trial, neither does CURA or Integrum, but you can request a demo for each of them, respectively. Again, they're a helpful way of seeing what the software is like, and no commitments are necessary.
Being more of a project management tool with solid risk management features, nTask offers a variety of options. There's an entirely free tier and two separate 14-day free trials for you to try on the paid levels. You're also able to book a 45-minute-long demo of the software if required—during these software demos, ask about the implementation options too.
Once you've tried out a range of risk management software, be sure to review your findings with your team. They're going to be the ones using the new software on a daily basis, so it's crucial to convince them—especially veteran employees—that the change is going to be worth it and that the benefits speak for themselves.