The 8 Best Remote Work Software and How to Decide
Gone are the days when just a handful of industries practiced remote working. These days, remote work has exploded in popularity, and companies of all types and sizes have adopted it as the new normal.
However, to find success working remotely, you need more than just a good desk setup and a pair of noise-canceling headphones. To ensure your employees are doing their job and doing it well in the comfort of their own homes (or wherever they may be), you need to introduce the right software into the mix.
Keep reading to learn which remote work software you need for communications, conferencing, and project management so that you and your employees can enjoy the perks of working from home while still keeping your company strong.
This guide reviews eight top software tools available to make your remote team more productive. First, we will go over three communication tools, followed by two top tools for web conferencing, and lastly, three of the best project management tools available.
Communication: Slack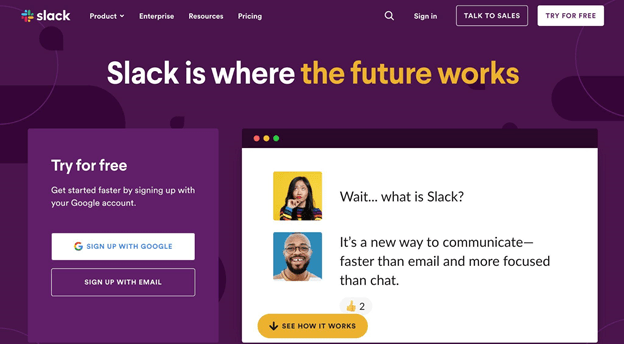 Communication is integral to the success of any company. Previously, communication came in the form of phone calls and in-person meetings. However, times have changed, and now communication happens in all sorts of ways.
Phone calls and in-person meetings are still used, but email, text, and communication platforms are taking over. This is especially true for those who are working remotely.
Thus, you need communication software that allows your remote workers to connect with you and with each other.
One of, if not the, most popular communication platforms for remote workers is Slack.
Slack provides employees with a place to send messages, share files, and even make video calls. You can create numerous different channels within Slack so that people only participate in chats (channels) relevant to them.
Often, companies will have one general Slack for all employees and then smaller sub-channels that divide employees into departments or projects.
Pros:
Easy to chat and share in real-time
Strong security features
Has a desktop version as well as a mobile app
Cons:
Conversations are only saved for 14 days, then get automatically deleted
Can be distracting for employees if used for things other than work
Pricing
Slack offers a free version that has limited features but serves as an excellent way for you to see if this software is right for you. The paid packages are:
Pro: $6.67 per month. Best for small teams.
Business+: $12.50 per month. Best for scaling businesses.
Enterprise Grid: Contact for price. Best for demanding enterprises.
Communication: Teams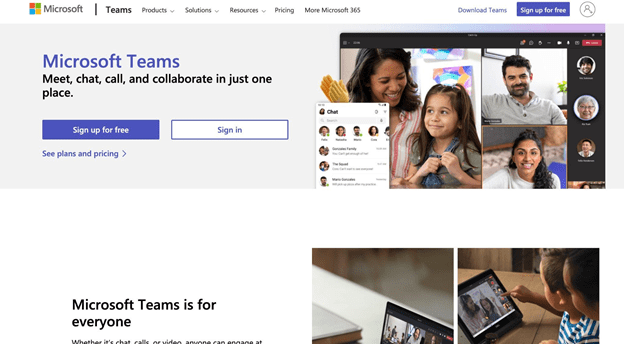 One of Slack's biggest competitors is Microsoft's Teams. It has a similar concept to Slack and allows employees to call, chat, meet, and collaborate. It makes communication with each other easy and accessible anytime, from anywhere. Users really like the easy scheduling features. While Teams is a solid tool, it lacks screen mirroring, and users have reported it sometimes crashes.
Pros:
Highly customizable
Works for many different industries
Provides a shared workspace for other Microsoft Office applications, including Excel, Skype, Word, and more
Cons:
Cannot add people from outside the organization to participate in a team
Most beneficial for those who are already using Microsoft Office
Does not have notifications
Pricing
Microsoft Teams offers a free no-commitment version that allows businesses to get started quickly. Below are the options for paid packages:
Microsoft 365 Business Basic: $5 per user per month. Best for businesses that need quick and easy remote solutions.
Microsoft 365 Business Standard: $12.50 per user per month. Best for businesses that require complete remote work tools.
Communication: Skype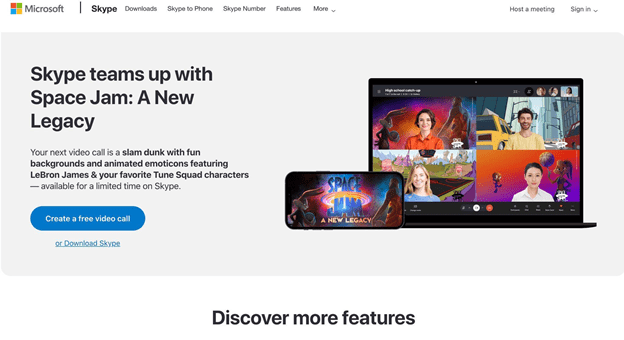 Skype is not new to the scene and isn't used exclusively for remote workers. However, your remote workers will benefit from adding this software to their toolbox.
Another Microsoft product, Skype is a bit different from both Teams and Slack in the sense that most people use the free version. This means it is more widely used, and more people are comfortable with it.
Though it doesn't have all the features that Slack does, consider trying Skype if you are looking for simple communication software.
Pros:
Easy to use
Can screen share and share large files
Can be used to hold a Q&A session
Cons:
Freezes up often
Not the best support
Takes up a lot of bandwidth
Pricing
As mentioned above, most people use the free Skype version. With this, you can make calls between Skype users. However, if you want to call a cell phone or landline in the U.S., you need a subscription that starts at $2.99 per month for 2000 minutes of calls within the US. If you don't need all the minutes that come with a monthly subscription, you can also opt to buy Skype Credit to make phone calls.
Web Conferencing: Zoom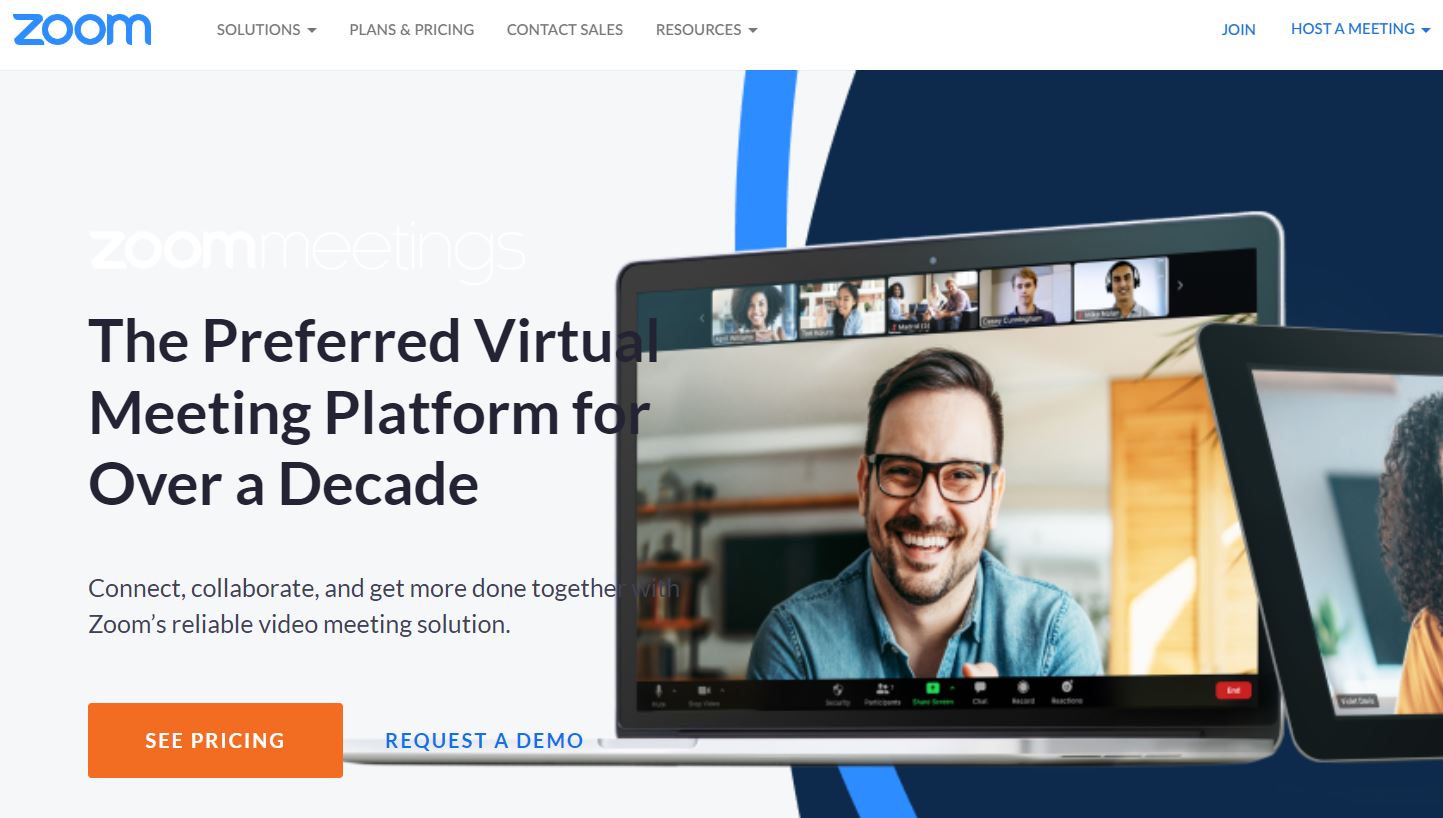 Though web conferencing may seem like it would fall under the "communication" category above, we separated it simply because it is more specific to video meetings for remote employees.
Zoom has been around for a while but exploded in popularity over the last two years. This cloud-based tool gives teams a place to chat about projects and hold meetings via video conferencing.
This software allows you to record any and all of your web conferences as full-length videos that anyone can view again at a later time. The free version has most of the features as the paid plans, but you can only do group calls for up to 40 minutes. One-on-one calls have no time limit.
Pros:
High-quality video and audio
Easy screen sharing and chat
The free version allows for up to 100 participants
Cons:
Weak customer support
The mobile app is not as easy to use as the desktop version
User experience could be stronger
Pricing
The personal meeting option for Zoom is free, which is why it's such a wildly popular software. To use with teams, you can choose from three different pricing plans:
Pro: $14.00 per month per license. Best for small teams.
Business: $19.99 per month per license. Best for small businesses.
Large Enterprise-Ready: $19.99 per month per license. Best for enterprises
Web Conferencing: Google Meet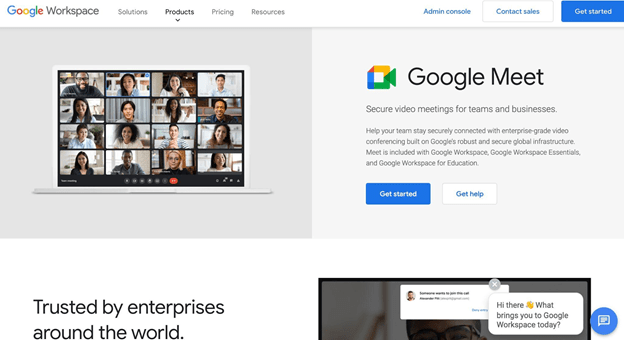 Part of Google Workspace, Google Meet is a cloud-based tool that provides your remote employees with a way to make voice and video calls, chat, send files back and forth, and more.
This web conferencing platform is easy to use and allows you to join meetings from your computer and smartphone.
With it, you can create a dial-in phone number for every meeting so that even if some of your team members are without wifi or data, they can still join the call.
Pros:
Cloud-based and accessible from anywhere
Integrates well with Google Calendar
Great video quality
Cons:
Not as many features as Zoom
Security isn't very robust
Meetings cap out at 100 participants for the basic package
Pricing
Google Meet has a free version with some features but does not include recording meetings, noise cancellation, dial-in phone numbers, or breakout rooms. When you're ready to upgrade, you can decide which package is best for you. Here are the options:
Business Starter: $6 per user per month. Best for small businesses.
Business Standard: $12 per user per month. Best for growing businesses.
Business Plus: $18 per user per month. Best for those who need larger meeting capacities.
Enterprise: Contact for pricing. Best for large enterprises.
Project Management: Asana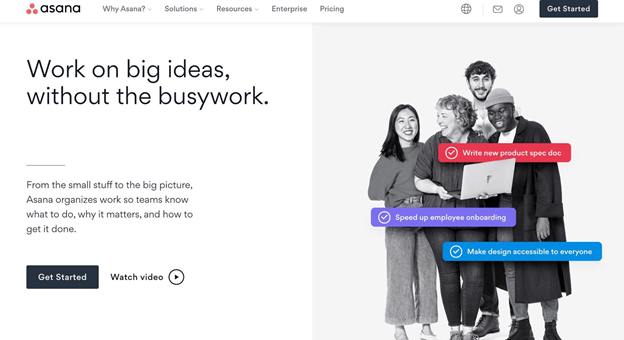 Keeping track of your team's progress is more important than ever when working remotely. Since you cannot pop into someone's office to see where they are, you need a way for the entire team to see how far along a project or task is.
One of the ways you can do that is by using the cloud-based software Asana.
With this tool, you can see every project's details, including timelines, progress reports, tasks to be completed, and more.
One of the best things about Asana is that you can view projects differently, including lists, calendars, portfolios, Kanban boards, and more. Thus, each person in your remote team can organize and manage their tasks in a way that works best for them. This does wonders for productivity.
Pros:
Easy to share files
Easy to assign tasks and create project/meeting schedules
Very versatile
Cons:
Has a learning curve
Can only assign tasks to one user
Too many email notifications
Pricing
Asana offers a free plan that you can use for as long as you need, and it allows you to take advantage of some great features. However, you may find that you need access to more features, so here are the other package options:
Premium: $10.99 per user per month Best for teams with 15 people or less.
Business: $24.99 per user per month. Best for mid-sized teams who need more features.
Enterprise: Contact for pricing. Best for large organizations that have scalable project management.
Project Management: Notion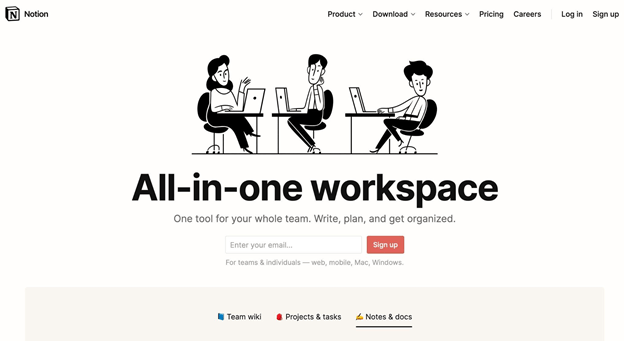 The Notion software is meant to be a one-stop shop for all things project management. Notion's features are vast and allow your remote employees to plan and discuss projects, keep track of ideas, create calendars, and much more.
This option is highly customizable and flexible, so it works well for most teams and companies. Notion acts as a repository to keep team and company-wide items all in one centralized location.
Pros:
Visually appealing
Templates available
Customizable
Great for note-taking
Cons:
Setup takes some time
Navigation is not intuitive
Lacks some customization and flexibility
Pricing
Notion offers a personal plan that is forever free for individuals. If you are looking to upgrade from that, here are the other plans available:
Personal Pro: $4 per month. Best for individuals who need more features
Team: $8 per user per month. Best for small teams looking to collaborate in one space.
Enterprise:
Contact for pricing. Best for large teams.
Project Management: Trello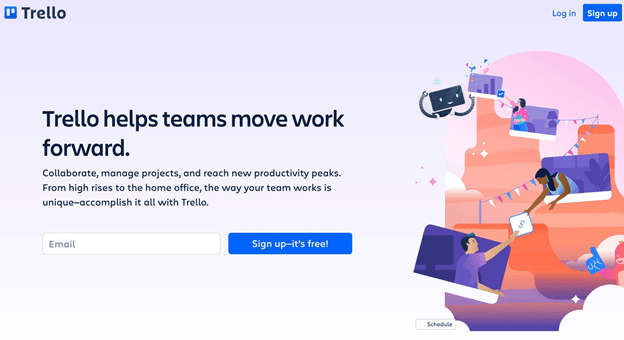 If you are looking for a web-based collaboration and project management tool all in one platform, you will want to consider Trello.
Trello uses a system of boards, cards, and lists to store all the information you need for projects. You can create lists in this software that can be dragged and dropped onto any board, and once completed, you can save them to your Trello profile or the cloud. Trello operates with the Kanban-style of project management and makes it extremely easy to see where all tasks are in relation to a larger project.
You can easily upload documents and images to cards, create checklists, add due dates, assign the card to multiple users, and more. Trello also has automations and additional functionality in the form of Power-Ups.
Pros:
Allows an excellent overall view of what you need to do in a given day
Has time tracking capabilities
Boards and cards are very flexible and can be customized to most projects
Cons:
No offline access
Limited storage
Not the best fit for larger, more complex projects with multiple dependencies
Pricing
Trello offers a free option with limited features. If you need more features, here are the other options:
Standard: $5 per user per month. Best for teams who are scaling collaboration.
Premium: $10 per user per month. Best for mid-sized teams with up to 100 people that need to track multiple projects.
Enterprise: $17.50 per user per month. Best for bigger organizations with many teams.
How to Pick Your Remote Work Software
As you can see, there are different types of remote work software you should consider adding to your company if most or all of your employees work remotely.
You want software that helps your team communicate better, web conferencing software, and tools that allow your team to manage projects no matter where employees are located.
Step 1 – Do Your Research
The above information serves as a great starting place for you to dig deeper into which remote work software is best for your company.
To get closer to choosing the right one, you need to dive deeper into the specific features each tool offers. If you just go with the most expensive or most popular option, you may pay for features you'll never use.
Look for reviews from real users to see what they have loved or found challenging about each of your top options. Make sure to compare functionality and integrations, too.
Adding remote work software to your company is not to be taken lightly, especially if this is your company's primary way of working. Take the time to look in-depth at the different options before you go any further.
Step 2 – Determine How Many Employees Will Be Using the Software
The different package options for remote work software typically vary based on the number of users.
Thus, the first step in picking your remote software, whether for a web conference or project management, is determining the number of employees that will need access to it.
If you have less than 50-100 remote workers, you can choose the smaller package options for all the software mentioned above. If you have larger teams that require more features, you likely want to go with the highest package options for each tool.
Because each specific product we reviewed has different package options for different-sized teams, you will want to look at each software option in more detail to determine the other features that make one more desirable to you than the others.
Step 3 – Understand Your Specific Needs
Not every remote team looks the same. You need to consider what your team actually needs and will use regularly.
If collaborating on projects is at the center of what your company does, then you must understand what features and tools you need from a remote work software that will allow your projects to run smoothly. For example, if your team does a lot of agile software development, Trello will probably not be a robust enough project management tool for you.
If your remote workers conduct daily internal meetings and work with clients on a virtual video basis, you'll want to focus your attention on web conferencing software.
Look at what your team needs to work efficiently and productively when remote. Don't just buy one of everything and hope it works well for their needs.
Step 4 – Test the Free Trials
Since each remote work tool on this list has options for all sizes of teams, we suggest that you use the trial or free versions of each to decide which works best for your team's needs.
Choose up to five remote employees to try out the software for two weeks or a specific project. Ask them to use it for their daily work and take detailed notes on the pros and cons.
Your employees are your best resource for testing products, as they will be the ones to use them.
Pick up to five employees to try out software in each of the three categories we covered and take their feedback seriously.
Step 5 – Introduce the Software
Once you have gone through the steps above and decided on which remote work software to use, it is time to introduce it to your company and your team.
You must practice patience. All remote work software has a learning curve, and it varies depending on the specific software and the abilities of your employees. Take things slowly.
Start with sharing how the new tool(s) will improve their work process and benefit the entire team.
Then, send out an email with all the necessary information on how your remote workers can begin getting comfortable with this software and make yourself available for any questions your employees may have. If the tool offers tutorials or resources, provide them.
Follow up with your team after a few weeks and months of using the tools and ask for their feedback.