The 5 Best Remote Access Tools and How to Decide
Remote tools that help you and your team work efficiently are vital to your company's success. One such tool is remote access software.
Why do you need remote access software? First, the need to access and either control or view another computer is an increasingly common need for companies, especially with a majority of employees working remotely. Depending on the demands of your business, it can prove useful in many ways, including:
Accessing any device, at any time, from anywhere
Accessing or managing files from your office workstation with your home laptop
Extending the capabilities or capacity of one device by connecting it with another
Supporting staff or clients by connecting remotely to their lap- or desktops
Understanding it's vital to productivity – even if it's for personal use and assisting family and friends with IT issues – which platform offers the best product? And how should you go about deciding which piece of software best services your particular needs?
Let's take a look at five of the best remote access software platforms and how to pick the product that works for you.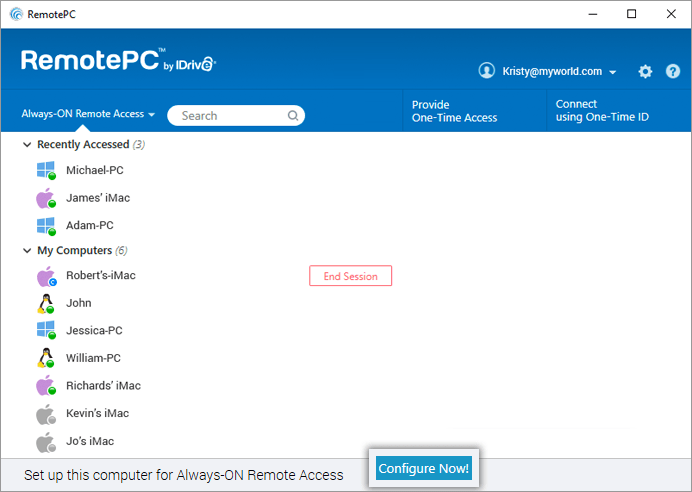 Arguably the most widely recognized name in remote access software, RemotePC is a robust platform designed with multiple users in mind. They also offer the popular HelpDesk platform used by numerous IT support teams.
Overall, RemotePC offers one of the best user experiences available. The platform is simple to install, deploy, and, most importantly, to learn. The interface is particularly user friendly, and file transfers between local and remote computers are simple.
The HelpDesk platform is great for enterprise IT support and features video and text chat communication. One minor drawback is that although it's tailored for large firms, file transfers can be limited and slow.
The RemotePC software is compatible with PC, Mac, and Linux as well as Android or iOS devices such as iPhone or iPad. It includes a relatively straightforward setup and remote-in process. A full list of features includes:
AES-256 encryption with Personal Key secondary password access
Privacy features including lock and/or blank the remote screen and option to require Windows or Mac password
Simplified installation process
Drag and drop file transfer between devices
Remote session recording and remote printing
View multiple monitors or a remote computer on a single screen at the same time
Chat and whiteboard capabilities
Remote access logs and reports available
Straightforward scalability by quickly adding remote computers to plan
Support includes FAQ, video tutorials, online chat, ticket submission, or phone support (24/7 email and chat support are available through the team and enterprise tiers)
As we noted, RemotePC can be advantageous for firms needing access for a lot of users, but they do have small scale pricing for single users or small or home office setups. Pricing for RemotePC:
Consumer (one user license, access two computers): $29.50 per year
SOHO (one user license, access ten computers): $69.50 per year
Team (unlimited user licenses, access 50 computers): $249.50 per year with a 7-day free trial
Enterprise (unlimited user licenses, access 100 computers): $499.50 per year with a 7-day free trial
HelpDesk (unlimited technicians): $499.50 per year with a 30-day free trial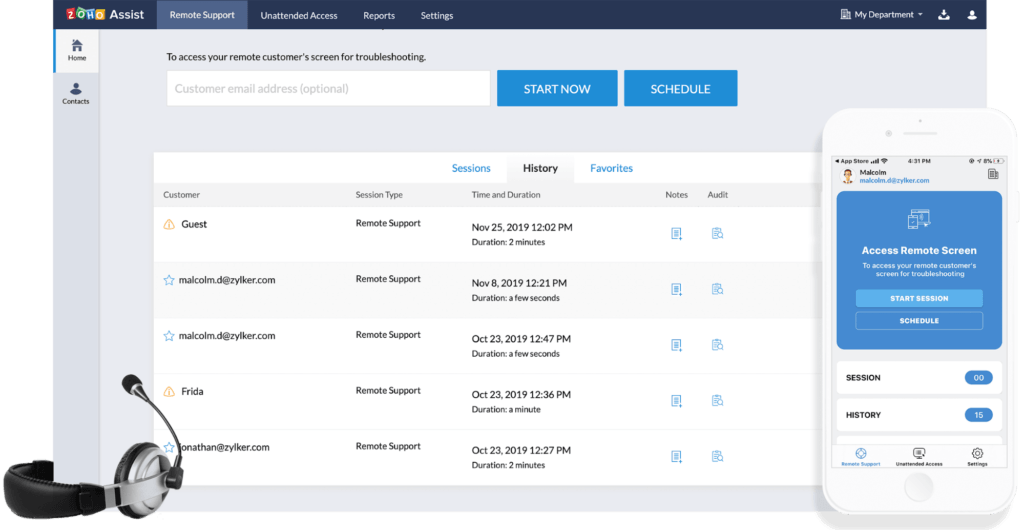 Zoho Assist features one of the most affordable, yet comprehensive remote access platforms available, perfect for small or medium-sized businesses aiming to get the most bang for their buck. Hitachi, Element, and the United Nations Foundation are clients.
The software takes a streamlined approach to remote support and unattended remote access options, making them very easy to onboard and learn – no installation is necessary. Cross-platform support includes PC, Linux, Chrome OS, Mac, iOS, and Android.
Zoho Assist also allows customization, an excellent benefit for those looking for consistent branding and messaging throughout their business. You can embed a customer access widget on your homepage, rebrand with your company name, logo, and branding scheme, and create custom email templates and reports. Another plus is the platform's straightforward setup and interface; it's simple to get onboarded and your team up and running in no time. A full list of features include:
SSL and AES-256 encryption with two-step verification and inactive session timeouts
Action log viewer to keep track of events
File transfer of up to 2GB from one PC to another
Instant chat
Remote session scheduling, confirmation, and recording
Multi-monitor navigation
Reboot and reconnect remotely, including unattended device access (wake and power down)
Voice and video chat capabilities
Web-based installation
Remote screen annotation
Screen swap
Support includes free training, an extensive knowledge base, user guides, and user community forums
Zoho Assist features two service levels – Remote Support and Unattended Access – and a 15-day free trial. There is a free plan limited to one user for one concurrent session and up to five unattended computers.
Pricing for Remote Support is:
Standard (two simultaneous sessions): $8 for one technician per month
Professional (four simultaneous sessions): $13 for one technician per month
Enterprise (six simultaneous sessions): $21 for one technician per month
Unattended Access
Standard: $8 for 25 unattended computers per month
Professional (twice the list of features from the Standard tier): $13 for 25 unattended computers per month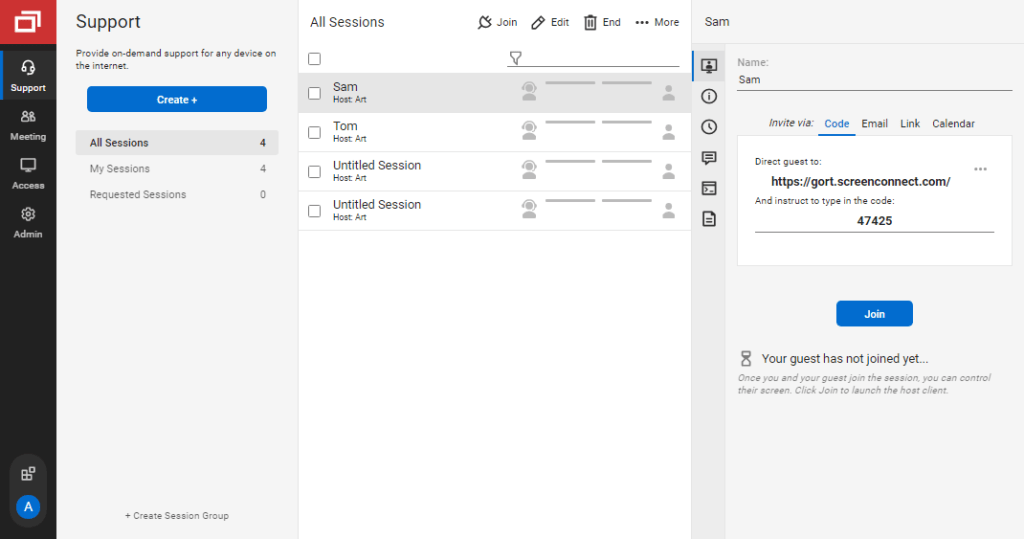 ConnectWise is a multi-platform software provider with a roster of products that include automation, cybersecurity, and backup and disaster recovery. They also feature remote monitoring software for remote automation and management.
Their remote access product, ConnectWise Control, offers two solutions – support and access. This remote access platform is currently used by well-known brands such as CBS and Dell and educational institutions such as Duke University and UCLA.
The installation-based software is extremely customizable and works across a multitude of platforms, including Windows, Linux, Mac, Chrome OS, iOS, and Android devices. ConnectWise Control possesses robust integration capabilities featuring over 100 partners such as Google Analytics, Slack, and ZenDesk. In a nutshell, the software is designed with enterprise groups in mind, those with a lot of tech-savvy who demand total customization. A full list of features include:
AES-256 encryption with two-factor authentication, self-hosting, server-level auditing, and IP login in restrictions and session timeout
Deep customization including personalization and branding, adjustment of over 1,200 settings, embedding control, and theme design
Remote meetings, printing, toolbox, and support
File transfer
Mobile technician support
Chat options
Remote command line
Wake-on-LAN
VoIP audio for meetings, support, and access sessions
Support iOS and Android mobile guest clients
Video auditing
Reporting dashboard
Remote diagnostics toolkit
Support includes knowledge base, user forums, educational and training resources, live 24/7 chat, ticket submission, and phone support
Pricing for ConnectWise Control Support is:
One (single license): $19 for one user for one connection per month, including one session limit and ten unattended access agents
Standard (per concurrent tech): $35 for one user for three simultaneous connections per month, including three-session limit and unlimited unattended access agents
Premium (per concurrent tech): $45 for one user for ten simultaneous connections per month, including ten-session limit and unlimited unattended access agents
Pricing for ControlWise Access is based on the number of unattended agents, starting at a minimum of 25 access agents for $30 per month. The maximum tier is 2500 access agents for $1,250 per month.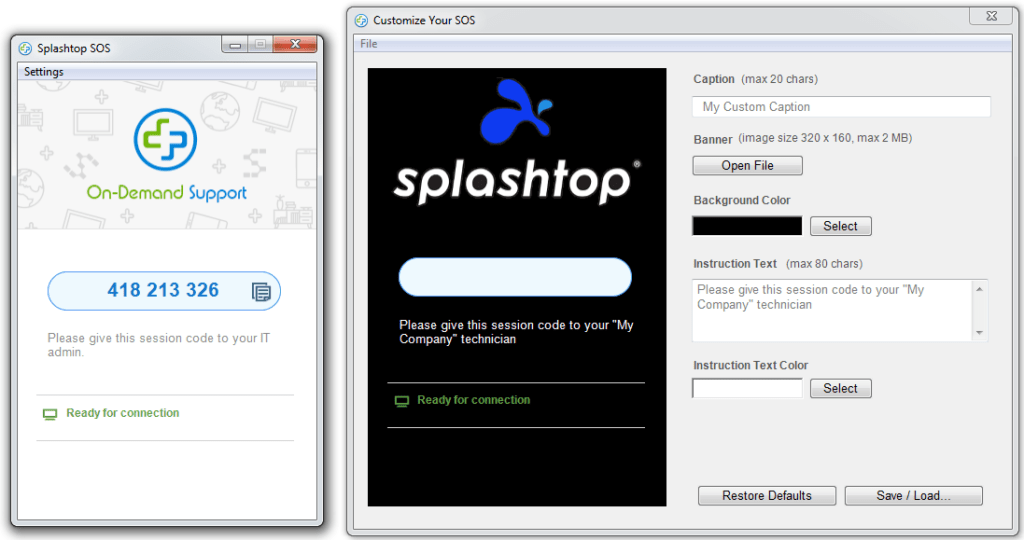 Splashtop is a multi-featured remote access platform that provides solutions for numerous business types, including small corporations, enterprise-level firms, and educational institutions. Splashtop's client roster includes AT&T, Harvard University, Toyota, and UPS. There are even options available for personal use needs.
Splashtop's biggest strength is in its features list – the sheer volume outpaces most other platforms. It also provides a business immense flexibility with its pricing structure. Similar to the features, there's a lot of service tiers to sort through to find the right fit for your firm, small startup, mid-sized institution, or an enterprise organization.
In addition, overall implementation is straightforward and easy to deploy. Its file transfer capabilities (up to 64GB) are the best of all providers. The mobile software is another highlight, with nearly as many features as the base platform and seamless performance.
Their remote access software is compatible with Windows, Mac, iOS, and Android devices, and includes a relatively straightforward setup and remote in process. A full list of features includes:
AES-256 encryption with two-step verification and device authentication
Privacy features including lock and/or blank the remote screen and option to require Windows or Mac password
Remote access for up to 10 computers and availability of stackable licenses
File transfer of up to 64GB, including transfers without remote session
Session recording
Scalability
Remote wake, reboot, and print
HD quality remote access and audio
Chat for both in- and out of session between devices
Whiteboard feature for use with Android and iPad tablets
Accommodates up to eight languages
Support includes a knowledge base, user guides, video tutorials, online chat, ticket submission, or phone support
They have four service tiers – Business and Individuals; Managed Service Providers; IT, Support and Help Desks; Education – each with multiple pricing levels, based on an organization's or individual's specific needs.
Pricing for the Business and Individual tier is:
Business Access Solo (for individual user, with access up to 2 computers): $5 per month
Business Access Pro (for individuals and small teams, with access up to 10 computers per user): $8.25 per month per user
Business Access Pro Volume Licenses: $4.54 per month per user
Pricing for the IT, Support, and Help Desk is:
SOS (support unlimited devices on-demand): $17 per month per technician
SOS+10 (anytime unattended access to 10 managed computers per tech license):$19 per month per technician
SOS Unlimited (unlimited number of computers): $34 per month per technician
The Business and Individual tier starts with a 7-day free trial.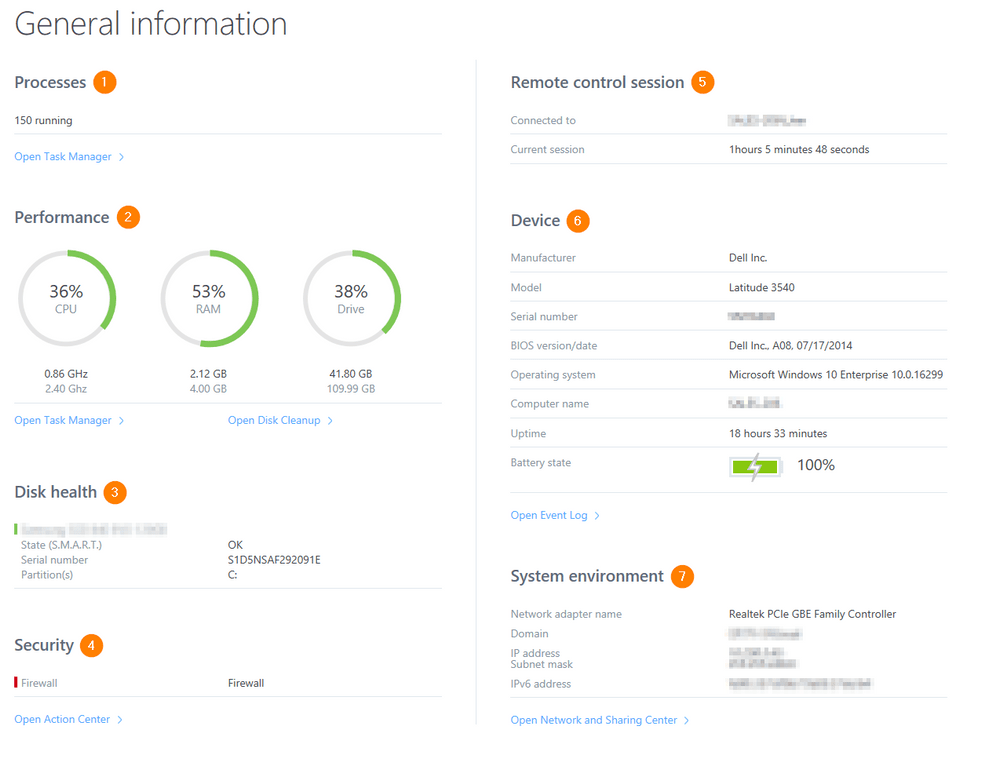 TeamViewer's remote access software is highlighted by it's all in one approach. Instead of individual remote platforms, the software provides an all in one solution with remote access, control, and support all built-in. Its software is easily accessible for both small firms and enterprise businesses in a variety of industries. For example, their client roster includes Philips (digital), Avaya (telecommunications), Lush (cosmetics), and Trimble (agriculture).
TeamViewer software provides one of the most robust security packages of any remote access platform. And although it offers the usual complement of device to device access – PC, Mac, Linux, Chrome, Android, iOS, Windows Mobile – it's particularly strong with mac OS and iOS devices, making it an excellent option for Mac devotees.
TeamViewer is also one of the providers that allow you to customize modules and client portals with your own branding. There's also a free option for single users. Other features include:
AES-256 encryption with two-factor authentication
Custom branding
Leave notes on remote computers (sticky notes)
Integrations for mobile devices and other apps
Permanent access for unattended devices
Wake up, restart, install, reboot sleeping devices
Black screen for private remote access
Remote printing for Windows and macOS
Share Your Screen on iPhones and iPads
Secure, drag and drop file transfer including video files
Secure, flexible file sharing
Mobile-to-mobile connections
View system diagnostics
Chat via text, take screenshots, or control processes on the supported device
Session recording
Support for 30 different languages
Support includes a knowledge base, training sessions, video tutorials, email, phone, or ticket submission
TeamViewer has three service tiers, in addition to the scaled-down free option, which represents some of the simplest, though somewhat limited, remote access pricing available. You can opt for additional add on services, including remote management and support for mobile devices. Pricing is:
Single User Business License (one seat, one session): $49 per month
Multi User Premium License (multiple seats, one session): $99 per month
For Teams Corporate License (multiple seats, three sessions): $199 per month
How to Pick Your Remote Access Software
More so than most other software, finding the right remote access platform comes down to specific needs. Are you a single user that simply needs to access a couple of computers? Or are you part of a large scale business that must provide IT support to hundreds of employees or engage with clients beyond office walls.
It matters a lot what your primary use of remote access software will be. Let's take a look at some specifics to picking the best remote access software for your organization.
Determine if Remote Access will Benefit You
Unlike most other software platforms, there's no great mystery to remote access software. It's a great tool to have for remote working situations, monitoring, or providing IT support to or collaborating with employees or clients. For small startups or those in a growth phase, you'll know when to invest in remote access software if:
You provide regular support to employees who work remotely or service clients in different locations
You require real-time interaction with a team or often collaborate on projects remotely across several different device types
You move beyond self-contained office space, such as opening a regional office
You have a large contingent of your employee roster working from home
Whatever the case, there is a remote access platform for your business needs.
If Yours is a Small to Midsize Business
For small and midsize businesses who aim to get the most out of their remote access software, TeamViewer and Zoho Assist are the two most fitting solutions.
If You Require an All-around Remote Access Solution
Regardless if yours is a small, midsize, or large business, if you're seeking a complete, all-around solution for support or unattended access or collaboration, choose RemotePC and Splashtop.
If Your Remote Access Requires Total Customization and Control
For large organizations with a commitment to heavy customization and integrating tech into their day to day operations, ConnectWise Control is the best option.