The 7 Best Property Management Tools and How to Decide
Using the right property management software can help you run your properties much smoother than without.
If you choose the right software, not only will the typical office duties be taken care of, but it can also cover your accounting needs and financial management. A great property management software will help automate all tasks related to accounting, tenant management, facility management, and all leasing functions.
In these times during this pandemic, a property management software can help you remove all manual efforts, labor, and in-person responsibilities which most people are avoiding now.
If you are handling multiple properties, you will want a property management software with adequate features that will improve your business process—from managing tenants and maintenance, screening rental applications, inventory tracking, advertising, and marketing. Some of the best software will provide you these features along with direct communication with tenants to provide updates and status notifications as required.
Finding the best property management software that fits your situation could be confusing and frustrating. There are so many options out there, and it would be good to get a glimpse of the 5 best that are currently out in the market. Well, I have done exactly that for you. See the top 5 choices below.
This article will help you make your decision by giving an in-depth review of each software listed above. You will learn about the pricing, top features, and pros and cons of each property management software. Let's get into it.
>> Compare Quotes
Buildium is a popular platform for real estate owners. It provides an abundance of accounting, property management, business operations, and leasing tools.
No matter how many properties you own, Buildium gives user-friendly and manageable features and software to expand and handle your real estate portfolio. Buildium also gives you the ability to market properties and finding tenants online.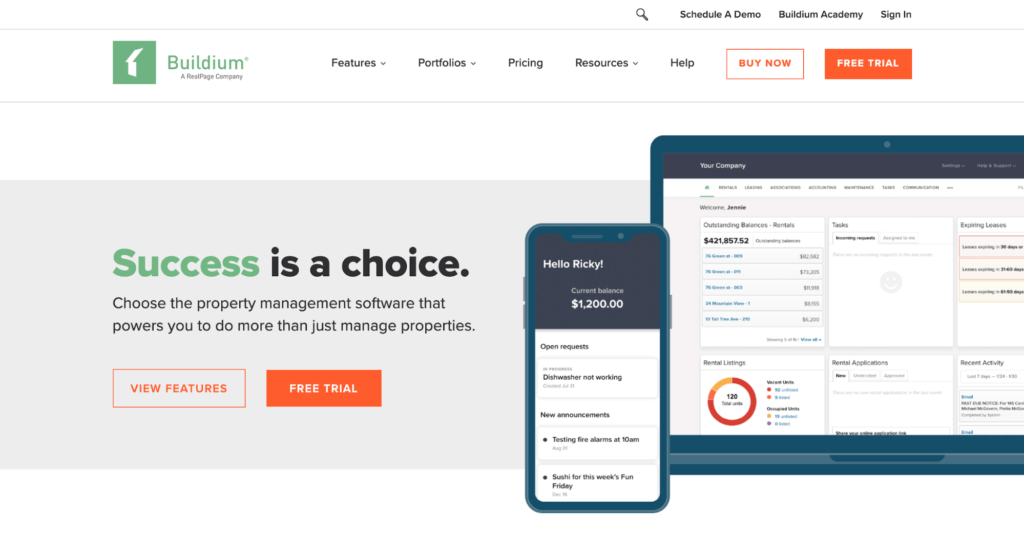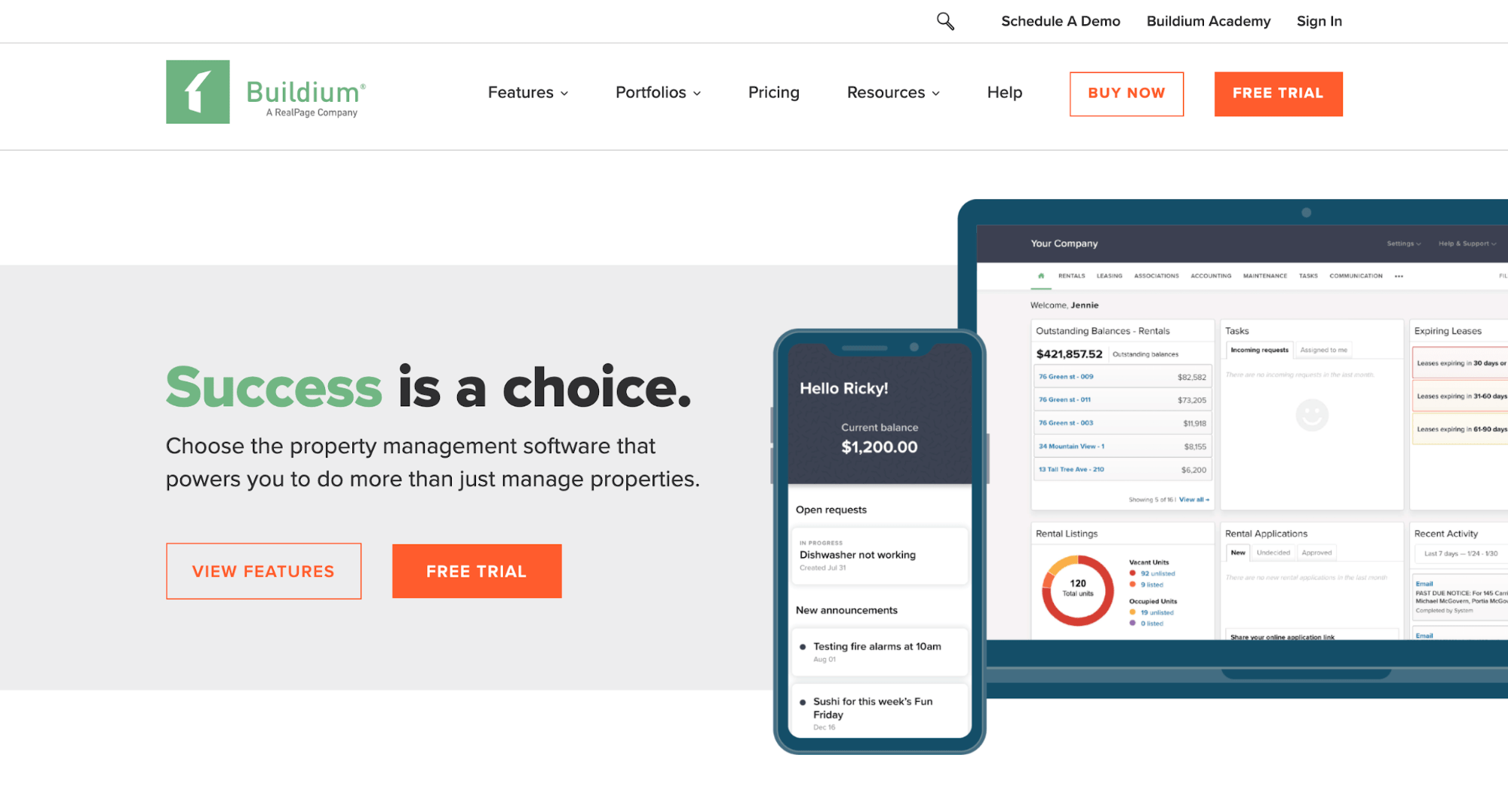 Buildium gives you the ability to accept online applications and screen tenants before drawing up contracts, and you can do this in the comfort of your own home or on the go, no need for in-person meetings. The software also gives you portals for homeowners and residents, allowing full communication access between parties.
Buildium has all the features you will need for property management. You cannot go wrong with choosing this software.
In regards to pricing, Buildium pricing plans are based on the number of units you have. The higher the unit number, the more affordable the price per unit will be. They offer three plans: Essential, Growth, and Premium.
Every plan will come with the following features and more:
Free marketing website
Client management
Reports and analytics
Automation features
E-Leases
Tenant screening
Property inspections
If you are interested in learning more about the many features Buildium has and going over prices per unit, you can find them on their pricing page. Buildium also offers a free trial to see how the software fits your needs.
Buildium is an excellent property management software, but it may not be for everyone. This software is made for serious property management owners and management firms rather than a landlord or part-time property managers.
>> Compare Quotes
TurboTenant is a free landlord and tenant screening software. It gives it's users the ability to advertise rental properties and manage online tenant applications.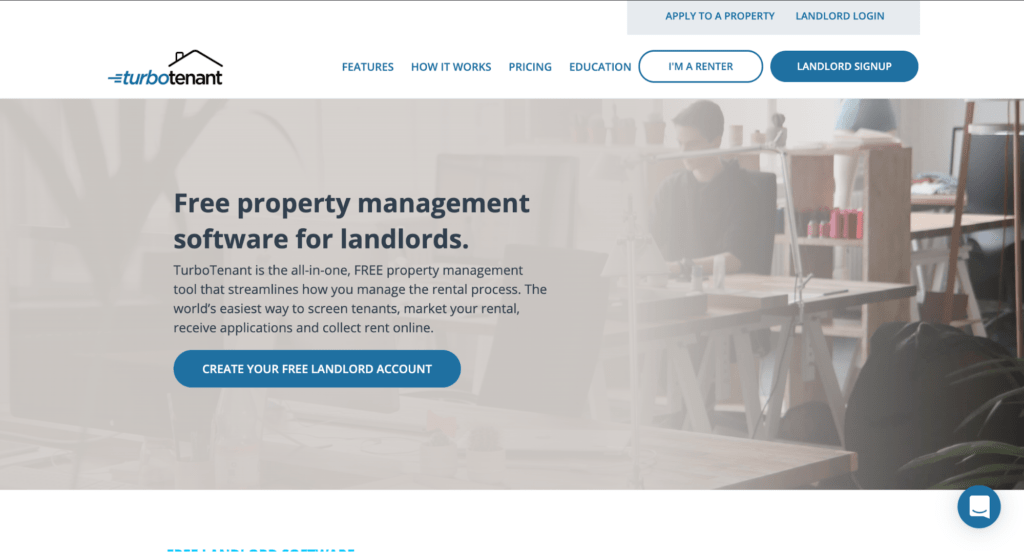 This software is considered a great all-in-one choice for people who are looking to streamline and manage the entire rental process from start to finish. TurboTenant considers itself the world's easiest option to screen tenants, market rental properties, receiving applications, and collecting rent online. Their tenant reports include anywhere from, past evictions, criminal history, and credit score.
TurboTenant is an excellent option for those who need instant tenant screening results and property advertising features.
TurboTenant's pricing plans for tenants will range from $35 to $45 per report, depending on what type of report you need. This fee will be charged to applicants as part of the application process.
Listing a few above, TurboTenant offers a wide range of features that will help landlords advertise and manage their rental properties. See below for a list of features.
Tenant screening
Rental marketing
Criminal background
Credit report
Online application
E-forms and documents
Eviction report
To learn more about their features and pricing, visit TurboTenant.
While TurboTenant is a good choice, it is limited in features compared to its competition. It lacks some of the necessary property management features you would typically see, like collecting payments online.
If you are looking for a free and easy software to gets set up and running, TurboTenant is a good choice for you.
>> Compare Quotes
Avail is recognized as one of the top property management software in the market. The software offers automated admin, management of rental properties, and tenant screening. Avail does a great job facilitating the publishing of listings on many platforms, rent collection, and possible tenants.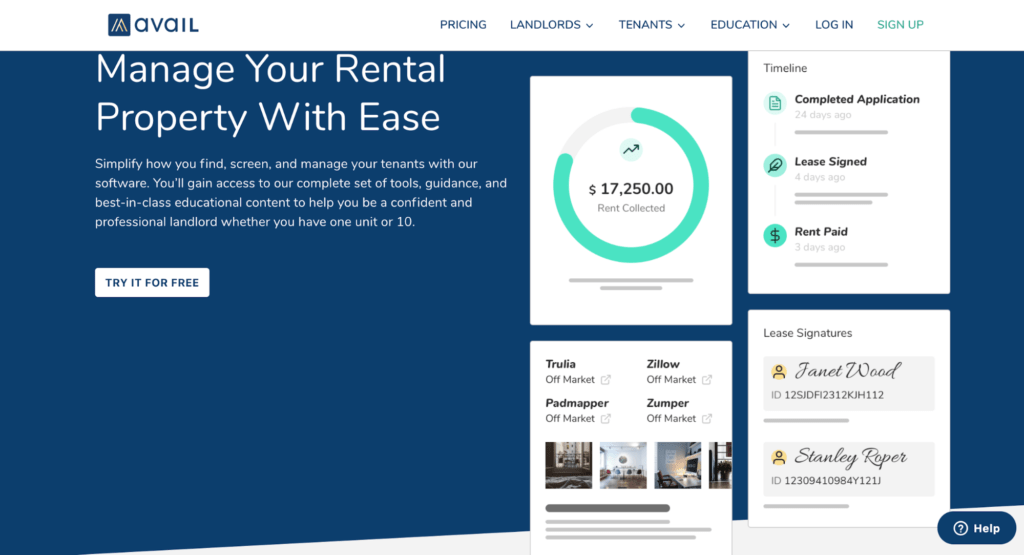 Property owners can manage as many properties as they have while using the software. Avail provides features that help promote properties, sign leases, collect payments, and address the tenant's needs. Avail stands out from most competitors because it offers end-to-end solutions for users; their software is trusted by 150,000 + landlords.
Another great thing about Avail is that it offers a free basic pricing plan. They also provide a paid Unlimted Plus Plan for $5/monthly per unit. The main difference between the plans is the premium automated features.
Although Avail offers a free plan, the paid software is the better choice. You will receive premium features like leases, custom applications, next-day rent payments, and no ACH transfer fees.
To learn more about their pricing plans, visit their pricing page.
Avail is a simple and pretty powerful solution. It is not filled with features, and best for landlords rather than property management companies, if you are looking for a DIY property management software, Avail is a solid choice.
>> Compare Quotes
AppFolio is a robust software that is built for managing more than 50 units. If you are a property managing who is looking to simplify the management process, this software is an excellent choice.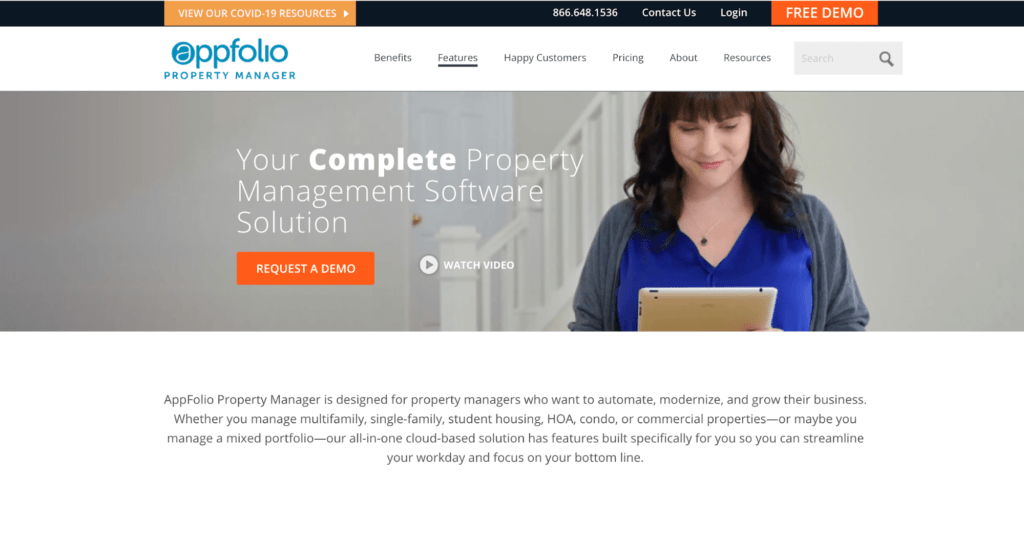 AppFolio has features that will help managers take care of single and multifamily homes, student housing, HOA, condos, and commercial property portfolios.
The main features that AppFolio focuses on are:
Marketing
Tenant Screening
Accounting tools
Leasing tools
Depending on the property type, AppFolio offers unique features dedicated to that property. If it's student housing, the software allows you to separate leases and tenant ledgers by the bed. For properties that have ties with HOA, the board member can manage automatic payments that are due.
In regards to their tenant screening, AppFolio offers built-in tenant screening software that is made accessible to the property managers with just one click. They also provide customization to the screening criteria, credit scores, income requirements, eviction notices, and criminal background checks.
If you need marketing, the software allows you to advertise your listing to tenants across multiple platforms using one-click syndication. Property managers can post one listing across various sites easily.
Unlike the other software listed above, AppFolio does not offer tiered pricing but instead charges a per-unit price for each property type. AppFolio has a minimum monthly fee of $250. To see an overview of pricing plans, see below:
Residential – $1.25/monthly per unit
Commerical – $1.50/monthly per unit
Community Associations – $.80/ monthly per unit
Student Housing – $1.25/monthly per unit
If you are a property owner of more than a few hundred properties, this pricing structure will make sense; if not, AppFolio may not be the best choice.
AppFolio also offers a free sign-up for a demo to try out. If you are looking for more information on pricing and features, check out AppFolio.
>> Compare Quotes
TenantCloud is another excellent property management software for landlords. A landlord created this software; its goal is to save time and money by offering a free plan.
TenantCloud specializes in managing properties for new landlords and property managers on a tight budget by offering tiered pricing and additional add-on options. If you are a landlord and property manager who is currently managing less than 500 units and looking for free software, TenantCloud may be one of the best selections.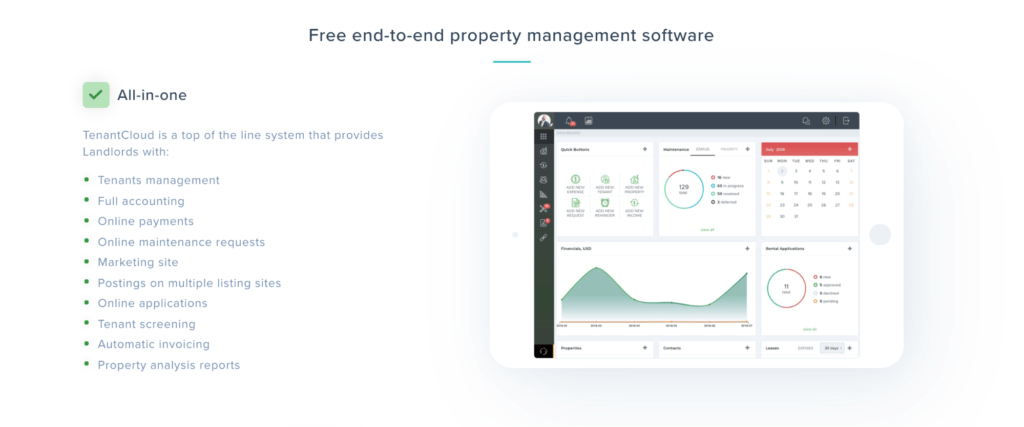 Along with the prices, TennatCloud offers features in tiers. Here are some of the features the software provides:
Cloud storage
E-signatures
Templates
Online payments
Tenant screening
Rental reports
Market Trend data
Unlike other software, TennatCloud does not offer an extensive amount of features, but they offer enough to get you up and running. For additional costs, some of those features and more can be purchased along with the pricing plans.
TenantCloud's basic service is free for up to 75 units. However, if you are looking for more features and an increase in units, you can expect to pay up around $9 to $35 per month. See more info on the pricing plans below.
Basic – Free for up to 75 units.
Standard – $9 for up to 150 units
Advanced $35 for up to 500 units
If you are looking for all extensive property management software, you may want to look Buildium or TurboTenant. This software is an excellent choice for landlords trying to save money and do not need premium features. If you want more than the premium features, the advanced plan will be the best choice but will cost $35/monthly but will come with many more options and features.
>> Compare Quotes
Propertyware has earned the top spot for offering the best property management software for single-family homes and communities. The software focuses on the main management needs for each property and offers cloud-based services.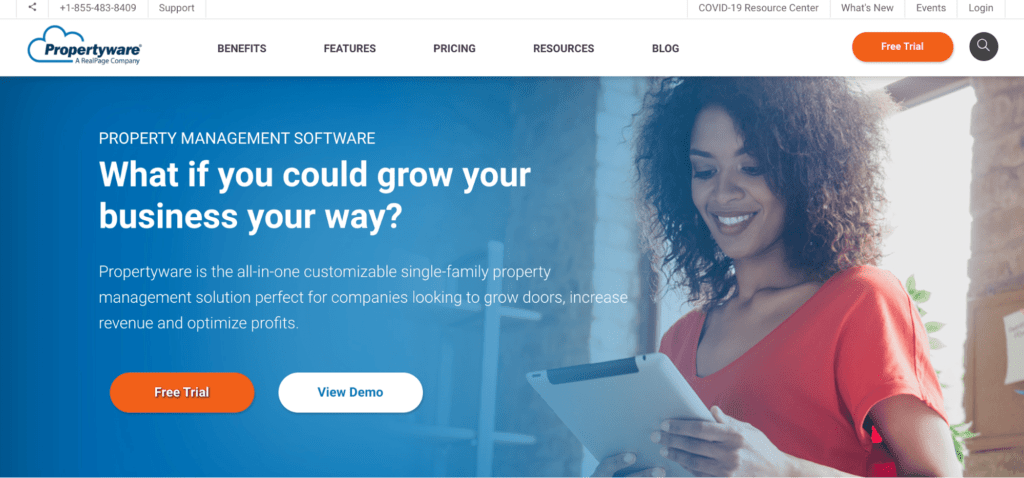 Propertyware is best suited for those owners managing a portfolio of 250 or more homes due to its minimum monthly fees.
This software is a great cost-effective tool and has been used to scale up to thousands of single-family properties. This is great for property managers. The software also offers a pretty good selection of features, like online rental payments, tenant screening, marketing tools, and maintenance requests. In addition, they offer advanced features like scheduling property inspections, and a portal for vendors frequently using and managing maintenance projects, scheduling, and timelines.
Along with those features, they offer tenant screening integrated features. It is powered by LeasingDesk and complies with all federal housing rules and regulations. They also provide the usual features of background checks, credit reports, eviction history, and more.
Propertyware also offers tier pricing, but the tiers come with a monthly minimum. The starting price starts at $1/monthly per unit, with a $250 minimum plus implementation fee of twice the mo the subscription. These numbers and features change due to the tier level: Basic, Plus, and premium. Propertyware also offers additional features if you need more advanced options.
To learn more about their pricing plans and features, go to their pricing page.
Propertyware is best for managing single-family homes at scale. If you're managing hundreds of these types of units, this software will work best for you. Unfortunately, this Propertywasre is not made for multifamily homes, commercial buildings, and apartments.
>> Compare Quotes
This property management software is excellent for handling mixed portfolios and property types. Whether it be mobile home parks, hotels, investment properties, single-family homes, and multifamily buildings, you can manage them through this software.
If you manage a variety of residential and commercial properties, this software will be the right choice for you. Property Manager Cloud offers a dashboard that will provide you details on property statistics and analytics.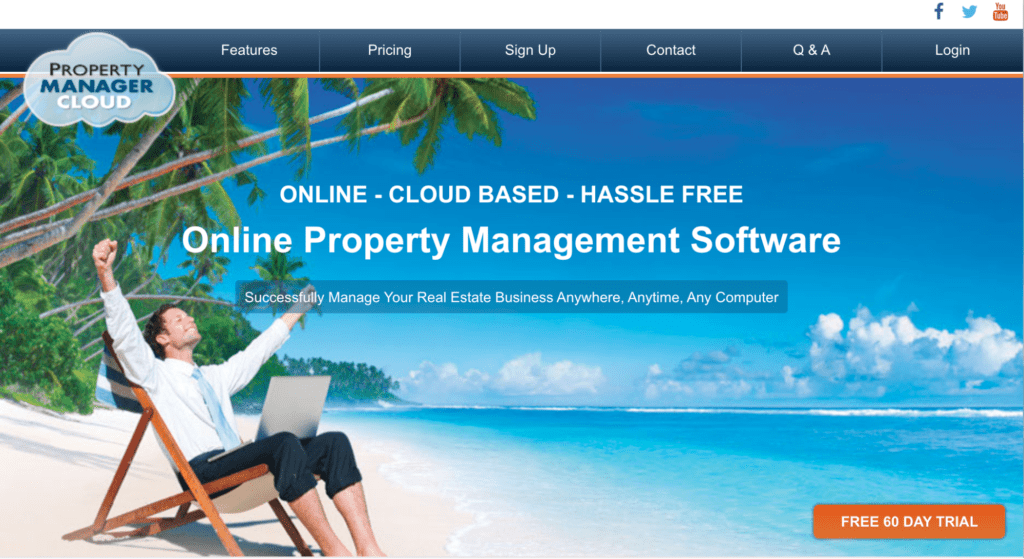 The software also includes extensive marketing tools. When the property information is filled in, it syndicates listings across Google, Facebook, Craigslist, and many more websites. Also, it can provide information to newspapers and flyers if you wanted other sources of marketing.
Unlike some of the tenant screening features that Property Manager Cloud's competitors offer, they do not provide income and employment verification. They provide other features like criminal reports, fico scores, and more.
One of the tools that users aren't impressed with is their leasing tools. Leases are handled online, but they are not paperless. You will have to handle all scanned documents coming from tenants; during this pandemic, that could be a bit tougher. That being said, landlords can set up automatic payments and accept credit cards, debit cards, and a few other options for online payments.
Property Manager Cloud offers 5 tier pricing. All tiers include features like:
Tenant Portal
Maintenance request
Income tracker
Advertising and marketing
Accounting tools
Property analyzer
They offer a 60-day free trial, so the user can test the software out and cancel anytime. The basic tier pricing starts at $15/monthly for up to 10 units. The pricing will go up to $75 for unlimited units from there. Unlike most property management software, Property Manager Cloud pricing is based on the number of units managed, rather than the features.
Basic – $15/monthly for 1-10 units
Professional – $25/monthly for 11-50 units
Premier – $35/monthly for 51-100 units
Elite – $55/monthly for 101-200 units
Enterprise – $75/monthly for unlimited units
If you require a software that will cover your wide array of properties and want easy access and user-friendly payment tracking, this will be an excellent selection for you.
How to choose a property management software
Property Types
When choosing your property management software, you should evaluate the types of property you have. Is the software you are looking into specializing in what you need. Is it made for single-family properties, or homes or apartment complexes? These are the questions you want to ask yourself.
Number of Units
How many units does the software manager? This is important, and it would be wise to even look at some providers that provide more than you may need if you plan on scaling soon.
Features
Every property management software will offer different features. With the software list above, not all of them were all inclusive with every plan, while some might be. If you are looking for advanced features, you will most likely need to upgrade or pay for additional add-ons.
Pricing
Just like features, all pricing plans will be based on multiple factors. They can be priced per unit or by the quality of features. But more than likely, all plans are billed monthly. Be aware that some plans may have low starting cost, but will have monthly minimum requirements that could start around $250 per month.