The 5 Best Project Portfolio Management Options
Managing projects as a team can be cumbersome, especially when you're working remotely. But even if you're back in the office, you're going to need tools to simplify the creation, scheduling, assigning, editing, and submission of projects.
Here's a quick look at five of the best project portfolio management software on the market today.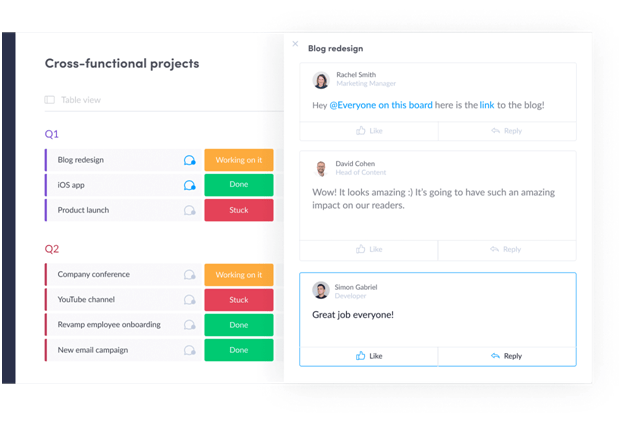 Best use case: Automating workflows
Monday.com is one of the best project portfolio management software out there. It's a simple and easy-to-use tool with visually identifiable layouts for handling workflows, which makes it ideal for companies looking to establish accountability.
The software assigns tasks with an option for varying views to provide quick insights into what everyone is doing and track their progress. The software encodes the information in columns, so it's easy to filter data to find pertinent information at any time.
monday.com is fully customizable to suit the needs of a company. It will also allow tracking of finances, including attaching dates and files associated with expenses and incomes.
Third-party integration for monday.com includes Zoom, Gmail, Google Drive, Dropbox, Slack, Google Calendar, GitHub, Trello, Jira, Typeform, and other apps accessible through Zapier.
Pros
Easy to use with an intuitive interface and templates for assigning and coordinating tasks
Ability to track, update, and monitor multiple projects at the same time
Includes an automation system to manage the web landing pages and forms
Timeline feature for tracking progress and due dates
Collaboration feature for people outside the organization
It provides a great timeline tool that alerts members on when tasks are due.
Web-based, so easy access
Cons
Pricing for full access to features such as unlimited storage, integration, and time tracking may be prohibitive for small companies
Poor Excel implementation when exporting time-based data
Poor technical support in English
Some difficulty in tracking expenses and resources
Recurring tasks need to be manually entered every time
No option to create sub-tasks
No team calendar
Does not integrate with Salesforce or Smartsheet
Poor notification customization
Does not include automated reporting and analysis
The base price for a monday.com subscription starts at $39 a month (billed annually) for 5 users with a storage limit of 5 GB and other limitations. The Standard plan at $49 a month (billed annually) also for 5 users might be a more practical choice with its 20 GB of storage and far more functionality.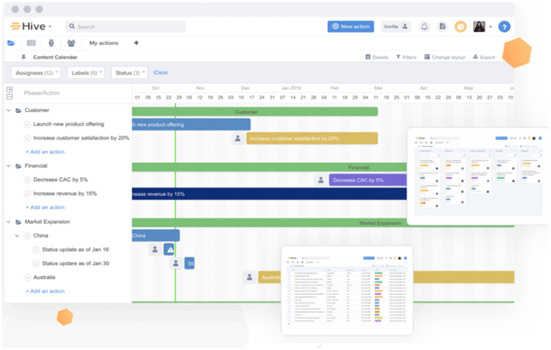 Best use case: Organizations of all sizes looking for an all-in-one project management solution
Hive is an AI-based collaboration platform that simplifies the workflow for many companies. It's an all-in-one solution for project management appropriate for organizations of up to 1000 participants.
With Hive, you can track time, view tasks and projects in flexible ways, and carry out analytics. It integrates easily with Gmail and Outlook, allowing users to send and receive emails within the app. Hive also has multiple third-party app integrations including Microsoft Teams, Google Drive, Dropbox, Marketo, Jira, Github, Salesforce, and Slack, and Quickbooks. Among its users are Uber, WeWork, IBM, and Starbucks.
Pros
Well-designed with an intuitive layout
Simple to use
Cost-effective with flexible pricing
Easy to create cards and organize tasks
Wide range of third-party app integration via Zapier
Supports Gantt, Kanban, tables, calendars, and other views
Robust editing, proofing, and review functionality
Includes video
Features easy-to-use update and collaboration tools
Cons
Mobile version is not as easy to use as the desktop version
No option to attach more than one file to a project request
No option to pin urgent tasks to the top of the list
Keyboard shortcuts need improvement
Categorizing tasks by an assigned person is cumbersome
Hive pricing starts from $12 a month per user (billed annually) or $16 a month per user (billed monthly) with all the most important functions already included. A user can have add-ons tacked on to the base plan such as Proofing and Approvals, Timesheets, and External Users. Each add-on would cost an additional $4, with the exception of Analytics, which is $6. This type of plan flexibility is unique to Hive.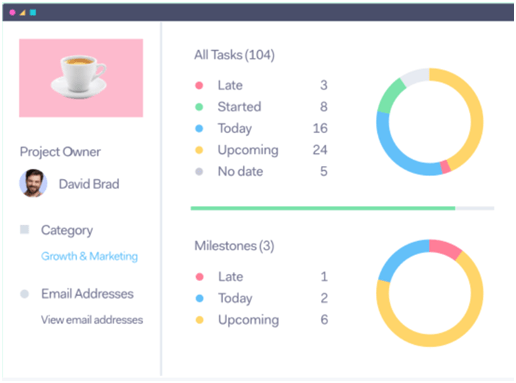 Best use case: Remote work collaboration
Teamwork is one of the best project portfolio management software for managing remote teams. It can help teams work more closely together from project start to end with transparency and flexibility. It has the Workload feature that gives users a world view of the capacity of the team.
Among its other features are task and subtask creation, due date assignment, and prioritization of tasks. Users can also provide descriptions, upload supporting documents, or mark up tasks with relevant information. It is also possible to collaborate with people outside the team, including clients. Teamwork works with third-party tools such as Dropbox, HubSpot, Gmail, Slack, Harvest, and QuickBooks.
Pros
Creating teams and assigning tasks to multiple people are intuitive
One-size-fits-all flexibility
Capacity to collaborate and give clients and team members updates on projects
Capacity to track feedback and comments
Option to add deadlines to tasks and time tracking
Includes the ability to create milestones, messages, billing options, user options, notebooks, useful links, task lists, etc
Customizable tasks and project interface
Option to receive email or mobile notifications
Option to attach files and tag specific users inside comments on tasks
Cons
User interface needs improvement
Lack of customizability of reports
Non-specialized approach limits functionality for specific industries
Too many options for customizing features without adequate instruction
No option to set a calendar to define timelines
Teamwork has a Free Forever plan for small companies with 5 team members with 2 projects with subtasks, but with a limited board view. Its Pro plan starts at $10 a month for 5 users but with much more functionality.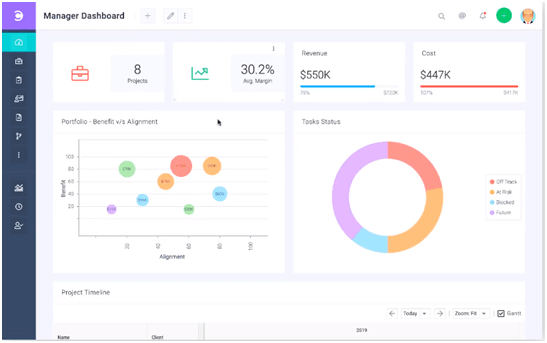 Best use case: Customer service
Celoxis is an all-in-one collaboration and project management platform based on the web. Among its features is Gantt Charts, with real-world schedules and interactive packs suitable for all types of teams, including remote work in various time zones, and projects. Its users include KPMG, Rolex, HBO, Deloitte, Singapore Post, LG, Virgin Care, and Del Monte.
As an all-in-one platform, users do all its communications and collaborations from a central source, making it easy to manage and monitor tasks. Celoxis enables users to report problems, create tickets, and manage time all in one tool. With its inbox notifications, comment feature, discussion board, file sharing, and activity stream, teams can work together seamlessly. It can also project and track finances, generate reports, make analyses, and manage risks for real-time monitoring of project status and profitability.
Celoxis is flexible and customizable, making it suitable for all types of organizations. It's available as a software as a service (SaaS) or onsite software. It integrates with many third-party apps including Google Drive, Excel, Microsoft Project, iCal, Jira, Quickbooks Online, Salesforce, Zapier, Slack, Evernote, Zendesk, Trello, and GitHub.
Pros
Easy to use
Features are easily customizable, making project management intuitive
Good customer support
Robust report capabilities
Web-based
Mobile friendly
Time tracking options
Cons
Inability to zoom
No autosave
Web-based software occasionally freezes
Some users find it difficult to navigate
Too many features can make the software cumbersome
Pricing for Celoxis starts at $25 per user a month for the cloud version, with a one-time payment of $450 per user for the on-premise version. Both versions require a minimum of 5 users for the subscription. It has a 30-day trial, no credit card required.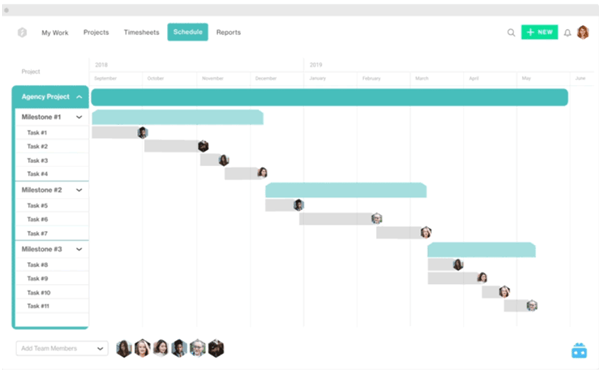 Best user case: Automating finances and operations workflows
Forecast.app is an AI-powered finance and resource management platform using project automation. It comes with tools for creating and sending quotes to capacity forecasts using automation software that learn as more data comes in.
Among its features is the Auto-Schedule, which automates scheduling, estimates, and resource assignments for each task. A drag-and-drop module enables team members to instantly customize task features and resources.
Forecast.app will also create a budget and track metrics automatically for a project as well as provide options for billing in real-time. Its retainer feature allows users to track financials on top of providing an overall view of workloads and time spent on a project. Users can generate custom reports as needed and fill up timesheets automatically.
Forecast.app integrates interchangeably with Jira. It also works with accounting platforms such as Xero and Quickbooks with project management capabilities.
Pros
Automatic allocation of resources per project
Identifies areas that need more resources
Works well with agile teams
Tracks work hours per team member visually and compare actual to the estimated time
Easy access to key data to inform on future project costs and estimates
Cons
Not cost-effective for smaller companies
Significant learning curve for new users
Focuses mainly on finances and not tasks
No hover functionality for previewing notes
Scheduling function needs improvement
Fewer integration with third-party apps such as Asana
Support chat does not entertain inquiries directly
The Forecast Lite version pricing is at $29 per seat a month (billed annually) with a minimum of 10 seats per subscription. The Pro version is $49 per seat a month (billed annually) with no indication of a minimum number of seats required. Onboarding for all versions involves an additional fee. All plans have a 14-day free trial with no credit card required.
How to Pick Your Project Portfolio Management Option
Project portfolio management (PPM) focuses on choosing projects which support the goals of a company and the necessary funding for their successful conclusion. If you are looking for PPM software, it should be in line with your company's expressed financial goals.
Step 1: Need
If you are choosing software for general project management purposes which also has PPM capabilities, you will do well to choose all-in-one software such as Hive, Monday, and Celoxis. If you work with remote teams, your best bet would be Teamwork, although all the software featured here have remote work capabilities. However, if you need software to manage your company's financial portfolio, then your best option is Forecast.app.
Summary:
All-in-one project management: Hive, Monday, and Celoxis
Remote teams: Teamwork
Financial management: Forecast.app
Step 2: Location
Most companies prefer web-based software for easy access, but not all. If you want web-based only software then consider monday, Hive, Teamwork, and Forecast.app. Celoxis provides a bit more flexibility by offering both cloud-based and on-premises solutions.
Summary:
Web-only: monday, Hive, Teamwork, and Forecast.app
Web and onsite: Celoxis
Step 3: Number of users
Three of the applications in this list bills a company per user or seat, while two include up to 5 users for its basic or free versions. Billing a company per seat gives it more flexibility, but does represent a significant investment. The applications with per-user plans are Hive, Forecast.app, and Celoxis. monday and Teamwork offer up to 5 users per subscription, with Teamwork even offering it for its Free Forever version with limited capabilities.
If you work for a small company with a limited budget with 5 or fewer users, you might be better off going for monday and Teamwork for your PPM. On the other hand, if you have the resources and you want to pay only for the number of users using the software, you can consider single-user plans.
Summary:
Single user: Hive, Forecast.app, and Celoxis
Up to 5 users: monday and Teamwork