Best Password Management Apps for Business
In a recent study, over 50% of people admitted to using the same password for both work and personal accounts. Some surveys show that the average person has over one hundred password-protected accounts. As you can imagine, this means many people reuse passwords. While convenient, unfortunately, this leaves both people and businesses vulnerable to hacking and other cyber security threats.
However, there is a solution that is both painless and secure.
Rather than using the same passwords over again, use a password management app. These applications will safely store all of your passwords so you don't have to memorize them. Not only will it increase security, but it will decrease frustration when it comes to organization.
There are a ton of different password management apps out there, so we've spent hours researching the best ones for businesses so you don't have to.
Dashlane
Dashlane is one of the most popular password management apps around for both personal and professional use.
Many people are attracted to Dashlane because of its highly user-friendly interface. Those who do not have tech backgrounds will be able to jump right into this password management app.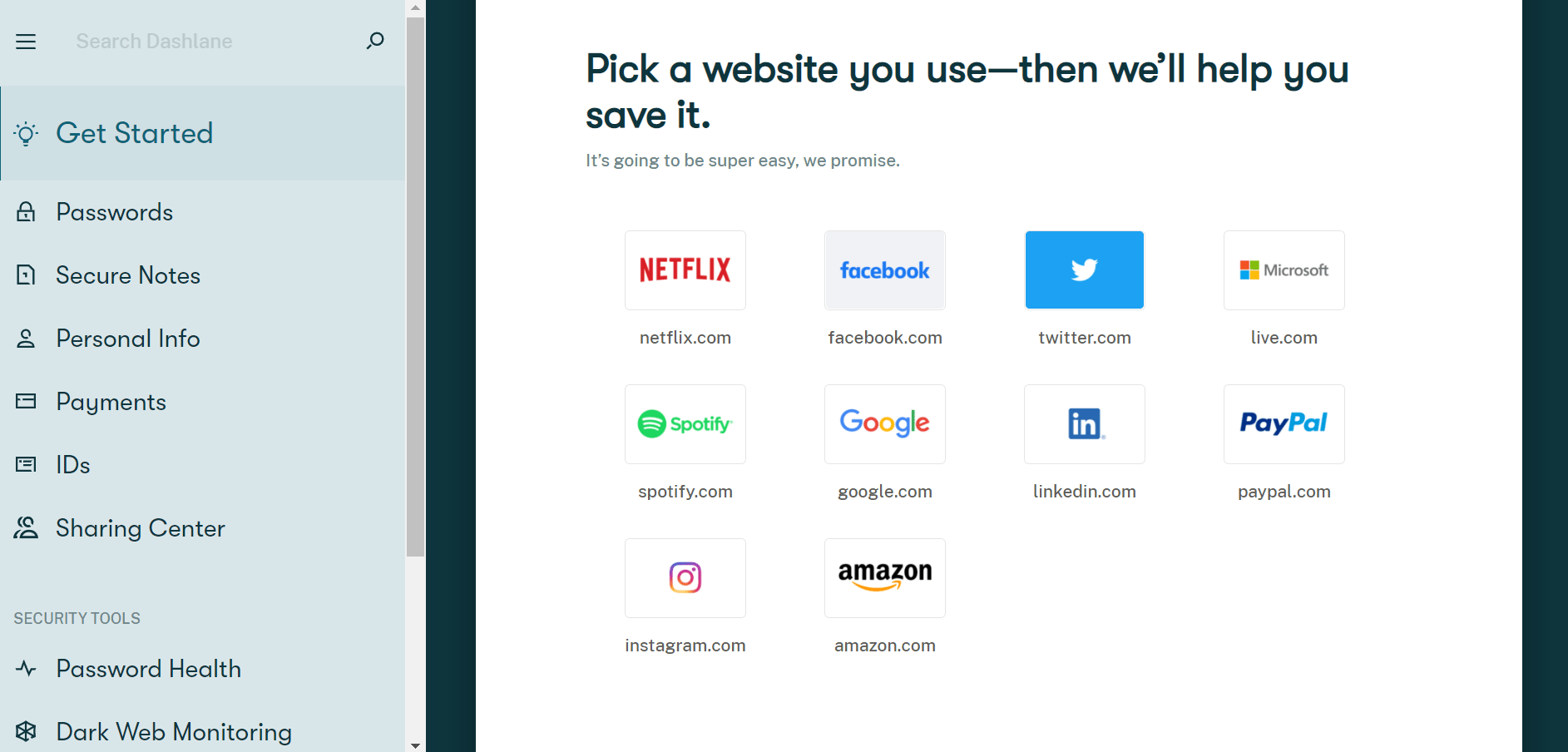 Furthermore, Dashlane has a wide range of security features including AES 256-bit encrypted password vaults and automatic breach alerts. So anytime a hacker is attempting to access the vault, users will get a notification and be able to run a scan on their accounts. This dark web analysis tool searches the internet for your stolen credentials. If the scan comes back positive, you can change your passwords and protect yourself.
Dashlane also offers many packages for users to choose from. It offers individual plans, family plans, and even business and team packages.
The free Personal account can hold up to 50 passwords. While this is not ideal for businesses, it is an excellent way to test out Dashlane before upgrading it to a more robust version.
If you're satisfied with your test run, you can choose to upgrade one of two business options. The first is called Team, which is priced competitively at only $5 per month per user. The Team plan offers a security dashboard, policy management, advanced reporting, group sharing, integrations, and two-factor authentication among its features.
The other option is the Business package, which costs $8 per month per user and is on the higher end price-wise. This package includes all the same features as Team but also allows for SSO and for every user to get a free family plan as well, which the Dashlane website points out is a $96 value per user. This could be a great bonus for your employees when considering which password management app would work best for your business.
To see if Dashlane is best for you, create a Personal account or try the business package for free for 14 days.
1Password
1Password is another strong password protector used by top companies like IBM, GitLab, and Edward Jones. One of the best qualities of this app is that users can access their data from anywhere. The information automatically syncs between browsers and devices.
1Password has a few different team and business packages. The regular Business account costs $7.99/month per user. This includes two-factor authentication, data encryption at rest, tamper-proof authenticated encryption, audit logs, and more. Furthermore, there are excellent integrations for users to connect, including ones with Slack, Azure AD, Okta, and OneLogin.
There is also an Enterprise package, which offers the same features plus some additional options, like an account manager and set-up engineer. It does not have a specific price. Instead, users will need to fill out their information to get a custom quote.
Finally, there is a Teams Starter Pack. This comes in at right under $20 monthly and supports up to 10 users. For small teams, this is the best value as it is a flat rate. This includes unlimited vaults and item storage, two-factor authentication, 24/7 email support, 1GB of document storage per person, and apps for Mac, iOS, Windows, Android, and more.
1Passwords brand is "simple and powerful." With practice, this is definitely the case, but the user interface can be overwhelming for some at first. Luckily, the company offers a free learning tool for users called 1Password University. Here, there are courses to help customers install the latest integrations or learn about how passwords are cracked.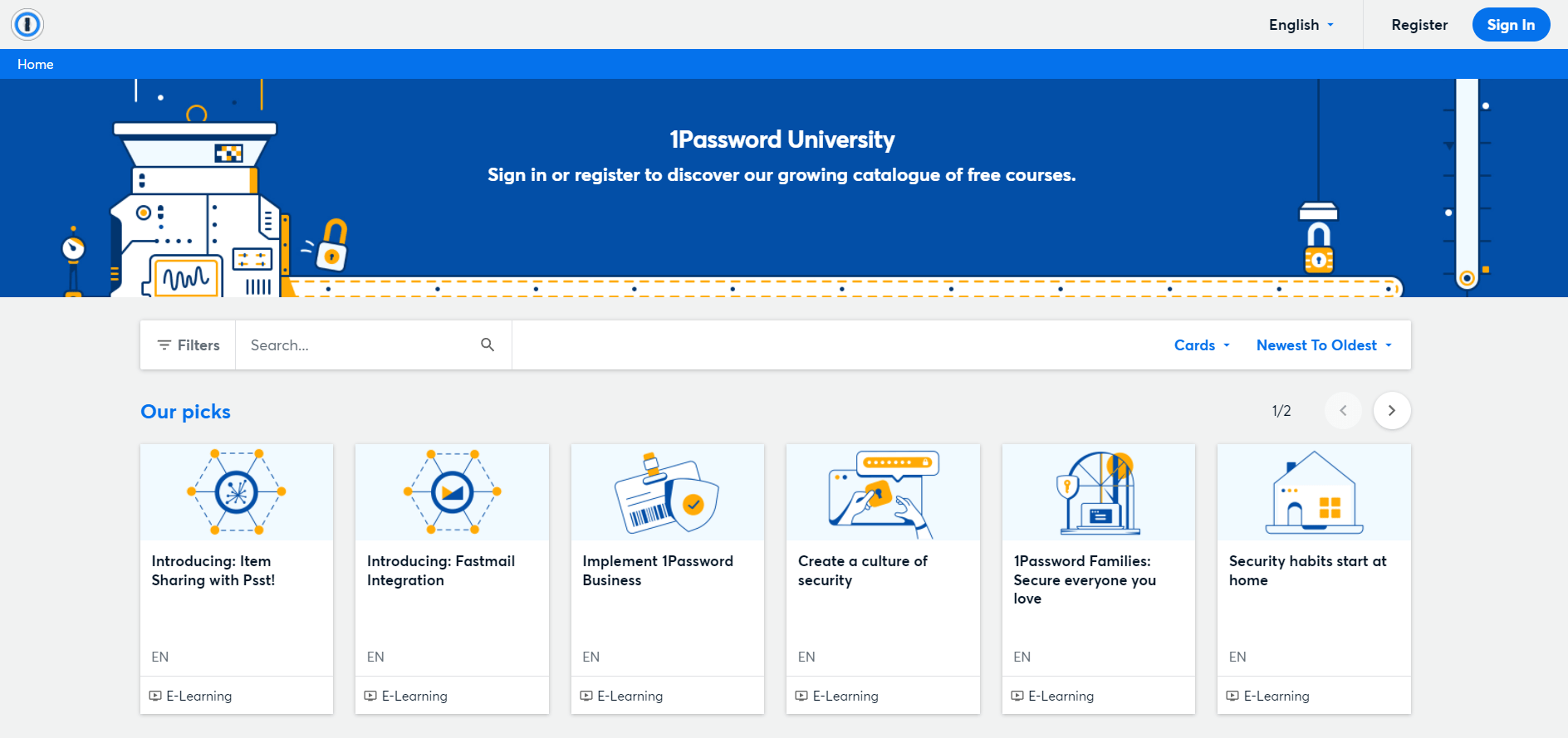 Furthermore, this password management app allows great resources for administrators. With 1Password, they'll be able to access activity logs and usage reports from their users. Managers also have advanced permissions which allow them to utilize recovery options if passwords are ever lost in their organization.
There is little not to love about 1Password. The main downside is that users cannot update all of their passwords with one click. So, in the event that there is a breach in security, users will have to reset each of their passwords one by one. For some people, this may mean 100+ passwords. Other than that, the autofill process is three steps, unlike other apps that only require one, and there is no free option for personal use.
Try it for free for 14 days here.
LastPass
Another strong competitor for password management apps is LastPass. It's simple and secure, leaving many customers satisfied with their experience. Lastpass is available anywhere and offers a browser extension, desktop app, and mobile app.



Similar to Dashlane, LastPass also offers a free account for personal use. Again, this is a fantastic way to try it without committing to buying a full month or year of a subscription. LastPass does not require a credit card to activate the free account. This may be a good plan because one downside to LastPass is that it can be a bit challenging to access all the features if you're not tech-savvy.
It also offers two different business plans. The first is called Teams and is very affordable, at just $4 per month per user. This plan is for 50 users or less, so it is ideal for small businesses or start-ups. It includes a vault for every user, two-factor authentication, a security dashboard, dark web monitoring, and more.
For just two dollars extra, at $6 per month per user, LastPass has a Business package. This has all the features from Teams, but instead of 50 users, there is an unlimited amount. Users will also get access to three different SSO apps with multi-factor protection. In addition, just like the Dashlane package, every user will also get the family package for personal use.
Try the free personal account or a 14-day free trial for either of the business accounts.
Keeper
Keeper is one of the most affordable options in the world of password management. Coming in at just $3.75 per month per user, it keeps up with the competitors in terms of ease of use and features. This can be a great option for people who want to get started with password management and aren't ready to buy a more expensive service yet.
Like 1Password, people with Keeper can access their passwords from anywhere. It is also additionally beneficial because people can store encrypted files, like documents or images, in their vaults.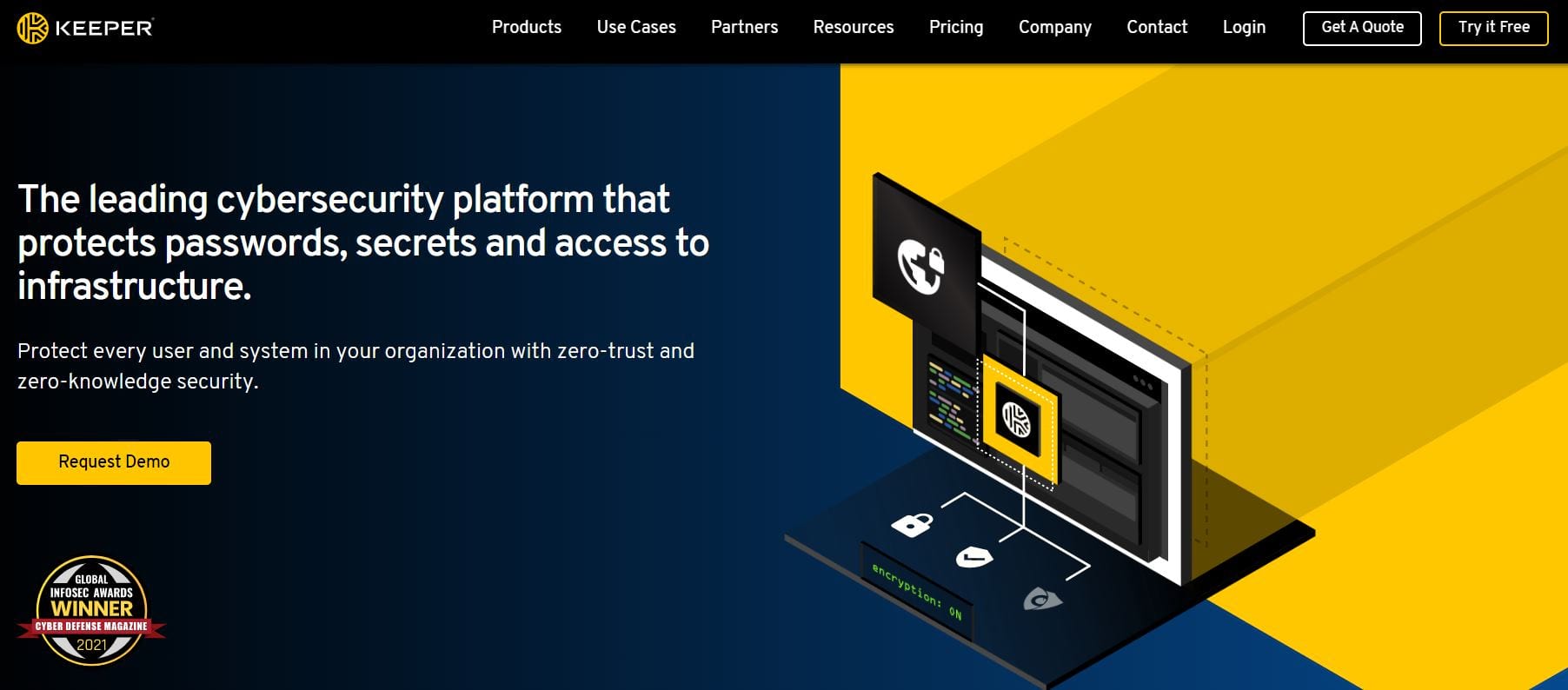 Furthermore, Keeper suggests passwords so you don't have to come up with them yourself. Once you decide on one, it develops a browser extension that allows automatic fillings when you go to sign in to a website.
In addition, Keeper allows users to integrate many different features such as Active Directory, SSO, SCIM, and developer APIs.
There are few cons to Keeper, besides the fact that there is no free option to use it. However, for business, the cost is pretty excellent. Furthermore, Keeper does offer an Enterprise package, but there is no published price online. Instead, companies will need to submit their information to get a quote.
You can try Keeper Business for free with a free trial by clicking here.
Securden
Although not as well known as some of the other products on this list, Securden should be taken into consideration when it comes to optimal security both within and outside of your organization.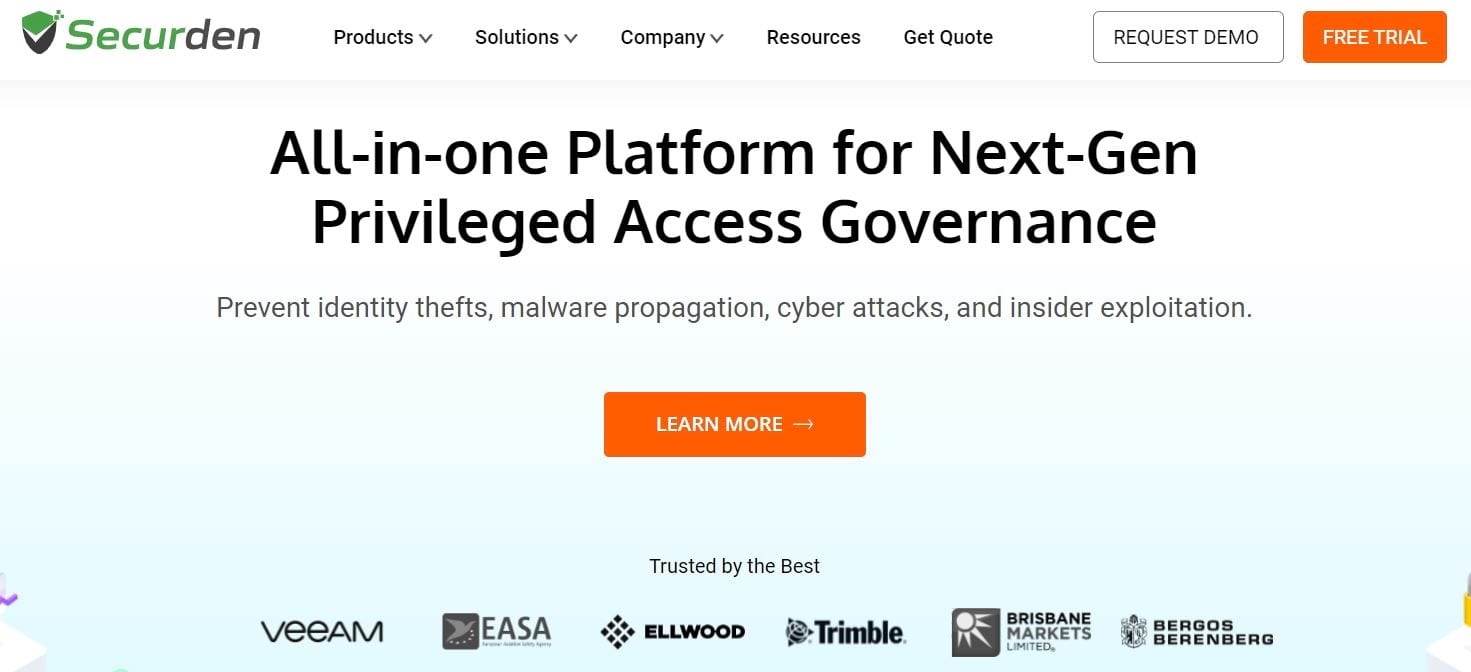 Like many of the other applications, Securden allows for sharing passwords between teammates. However, what sets Securden apart from the competitors is its ability to allow delegation. Managers control who gets access to what. In addition, users must request access to passwords and have that approved before using them. While this can become tedious over time, it does offer the most optimal security, especially for larger enterprises.
Unfortunately, Securden does not publish its prices online. Other than the free Starter packages, every other option requires people to get a quote. However, they do offer a 30-day free trial.
How to Pick Your Password Management App
Step 1 – Consider whether or not you need document storage, and how much you need
Most password management apps offer some sort of document storage. These can be excellent for business or personal use. For example, you could upload a photo of your driver's license to be able to access it at any time.
Every app on this list offers some sort of document storage, but their capabilities differ. For optimal storage, choose 1Password. It offers 5GB of storage and can process files up to 2GB in size. This far exceeds competitors like Dashlane and Lastpass, which only store up to 1GB in files.
Keeper allows file sizes up to 100MB for web vault, 5GB desktop app, and 100GB for iOS and Android, which is great. However, it does not specify how much storage users receive. Neither does Securden.
So, if you're going to be heavily reliant on document storage, go with 1Password. If not, Dashlane and Lastpass are good alternatives.
Step 2 – Determine how many users will be added to your password management app
To further narrow down your selections, consider the number of users you need. Although most businesses will have many people on their accounts, for small start-ups with less than 10 users, the 1Password Teams Starter pack is ideal. This selection is a flat rate, rather than being based on how many employees need to use it. At only $19.95 a month, this rounds out to be less than $2 per user if you fill up every spot on the account.
If your company is between 10-50 users, consider going with the LastPass Teams plan. This is just $4/month per user and has great capabilities. The only downside is that there would be no SSO included. For that, you'd need to upgrade to a more expansive business package.
For any businesses that will be sharing this account with 50+ users, consider investing in Dashlane, Securden, Keeper, or the business package versions of LastPass and 1Password.
Step 3 – Analyze your budget
For those with 50+ users who will be purchasing the "business" or "enterprise" packages and are not heavily reliant on document storage, it's important to consider the variations in price.
While most of the prices are under $8/month per person, over time the differences of a few dollars can add up, especially if you have many employees who will be using this service. For the most affordable option, select Keeper. At just $3.75 per user per month, this password management app is over half as expensive as Dashlane or 1Password. LastPass's business package is the next closest, at $6/month.
Bear in mind that some password management apps, like Securden, don't publish prices online, so you may need to request a quote or sign up for a demo to consider all potential pricing options.
Step 4 – Consider your tech background
Think about how familiar your employees are with software or how much time they will have to learn the software before jumping in. For the optimum ease of use for tech users and non-tech users alike, choose Dashlane. Above all else, people rave about the ease of use of this password management app.
If you do have a stronger tech background on the team, choose 1Password. There is a reason this password management app is used by so many top tech organizations around the country. It has a little more of a learning curve, but excellent capabilities for those who are ready to take advantage of them.