The 6 Best Online Fax Services and How to Decide
For your small business, the idea of sending and receiving faxes might seem as outdated as using a BlackBerry with its physical keyboard.
Still, some people continue to use BlackBerry smartphones. Along those same lines, some businesses might still need to fax. And that's ok.
The good news with faxing is you no longer have to put up with a bulky fax machine taking up space in your office. (That's for the giant coffee maker, after all.) With the best online fax services, you can send and receive faxes digitally, which greatly simplifies the process.
Here are the services we recommend choosing from.
The best online fax services of 2020
For those with minimal faxing needs each month, Fax.Plus has some of the lowest pricing tiers you'll find, including a free version (for sending faxes only).
You'll appreciate the clean interfaces you'll use with Fax.Plus, both in its web dashboard and its mobile app, allowing you to send and view faxes quickly.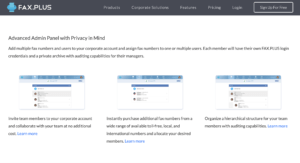 Fax.Plus does not have as many features as some of the others on our list, so it may be a little too simplistic for you if you have extensive faxing needs.
Pros
Very inexpensive for those who don't fax often
Easy to navigate mobile interface
Quick setup and faxing
Cons
Not a lot of advanced features
Pricing
Free version
Basic: $4.99 to $5.99 per month
Premium: $9.99 to $11.99 per month
Business: $14.99 to $19.99 per month
eFax
eFax is one of the oldest and most well known of the best online fax services. It doesn't quite give you the value of some other services, because of its higher-than-average price point, but it does deliver strong results and good versatility.
With eFax, you'll have the ability to electronically sign documents you've received by fax before resending them, so you don't have to print the document, sign it, and scan it again to fax it back.
We also like eFax's online storage options for your faxes, and you have great search capability to find them easily.
Pros
Stores your faxes in the cloud for easy search capability
Offers optional encryption for sending faxes
Easy to use mobile app
Cons
Higher-than-average price point
No ability to customize your cover page
Pricing
Plus: $14.13 to $16.95 per month
Pro: $16.63 to $19.95 per month
Corporate: Custom quotes only
(Accounts have a minimum $10 setup fee)
MetroFax
MetroFax gives users a significant amount of versatility in how they use the service. Need to use uncommon file formats? MetroFax supports more than four dozen of them, some of which are a couple of decades old.
No matter if you send multiple faxes every day or only a fax or two per day, you should be able to find a pricing tier that meets your needs and your budget.
Pros
Supports many file formats, including some rare ones
Very reasonable pricing in the lowest tiers
Strong mobile app for both iOS and Android
Cons
No ability to customize your cover sheet
Pricing
Essential: $8.30 to $9.95 per month
Best Value: $10.79 to $12.95 per month
Professional: $29.96 to $35.95 per month
mFax
If you have multiple people in your organization who need to be able to send and receive faxes at the same time, mFax allows you to do this, which is not common with some of the others on our list.
With mFax, you get an easy-to-use interface as well, which means anyone in your organization can begin using it with little-to-no training.
Pricing is a little on the higher end, so it may not be the best choice for those who don't need multi-user access.
Pros
Web interface and mobile app are both easy to use
Automatically stores all faxes sent and received
Administrator can customize the service for individual users
Cons
Pricing is a little higher than others
International faxing capabilities are still in development
Pricing
Solo: $7 to $9 per month
Team: $20 to $25 per month
Business: $40 to $50 per month
Infinity: $80 to $95 per month
RingCentral Fax
For companies with heavy faxing needs, RingCentral offers a great selection of features to speed up the process.
It's highly compatible with quite a few different types of software, meaning you won't have to change the way you run your business to begin faxing online. For example, you can use your usual email service to send and receive faxes, and all incoming faxes can show up as email messages if you wanted. Or you can use the mobile app.
For those who don't do a lot of faxing, though, RingCentral may be too feature-rich. Unfortunately it doesn't offer a cheaper option for less functionality.
Pros
Great feature set
Very easy to use
Strong mobile app for iOS and Android
Cons
Not made for low-volume users
Pricing
Fax 1500: $18 to $23 per month
Fax + Phone + Video: $25 to $50 per month
SRFax
Need highly secure data encryption at a reasonable price? This is what SRFax does best. SRFax uses SSL encryption for HIPAA compliant communication.
With so many pricing tiers⁠—including plans specially designed for healthcare organizations⁠—you'll definitely find one to fit your needs and budget. SRFax also differentiates itself for its versatility.
However, you do have to pay attention to add-on costs with this service, as things like searching your past fax messages and adding PGP encryption may bump up the price a bit.
Pros
Excellent interface that simplifies faxing
Wide range of pricing
Strong encryption features
Cons
No mobile app (though you can access the web interface on a smartphone)
Add-on costs
Pricing
Basic: $3 to $3.29 per month
Basic Plus: $5.50 to $6.95 per month
Standard Lite: $7.95 to $9.95 per month
Standard: $12.85 to $15.95 per month
Standard Plus: $23.95 to $29.95 per month
Standard Professional: $38.60 to $45.95 per month
Healthcare Lite: $6.50 to $7.95 per month
Healthcare Basic: $9 to $10.95 per month
Healthcare Basic Plus: $14 to $16.95 per month
Healthcare Standard: $26.20 to $30.95 per month
Healthcare Standard Plus: $42.50 to $49.95 per month
Healthcare Professional: $83 to $92.95 per month
Healthcare Professional Plus: $165 to $185 per month
Healthcare Professional Premium: $360 to $395 per month
How to pick your online fax service
When comparing the best online fax services, here are some of the criteria we looked at. Focus on how well each of these meet your needs as you narrow down options.
Pricing
Don't fall into the trap of paying for more than you need.
If you don't do a lot of faxing, you don't want to be spending a lot of money. Some services personalize their offerings for lower volume through lower pricing tiers that place limits on the number of pages you can send each month. If you're tight on budget, decide what you're willing to trade off.
An additional aspect to look into is how much you'll pay for international faxing, if you need it. Some services will provide you with an international phone number to receive faxes, which will be cheaper for global transactions.
Trial offerings
Some services let you try them out for free for a set period of time, which is a great way to figure out if the interface and feature set will actually fit your needs.
Make sure that the trial includes the features you really care about. If not, it never hurts to ask sales whether they can ⁠throw in any advanced features to try for free—they should be willing to bend to your needs.
Automations
For many businesses, especially as they scale, the main draw of online faxing is the ability to simplify and accelerate it through automation. For example, being able to:
Send a fax at a scheduled time
Send a fax to multiple recipients at once
Edit incoming faxes
Add electronic signatures
Of course, things can go wrong with automated services, so check reviews to see what customers think of the service's technological capabilities and support.
Cloud storage
If you pick an online fax service that stores copies of all your faxes in the cloud, you can access your documents from anywhere. This might be a deal-breaker for some companies.
Keep in mind that some services may limit the amount of storage space you receive, so think about how much you'll need in the near future (or how easily you can upgrade storage limits) before committing to a plan.
Customized cover sheets
Depending on your chosen service, you may be able to create your own cover page for sending faxes. This can be a nice touch, allowing you to add additional information or branding to make your faxes look clean and professional.
Data encryption
If you're looking to send and receive any faxes containing sensitive information, you will want the ability to encrypt it. Not least if you have guidelines like HIPAA to meet.
Mobile capabilities
Does your office spend a lot of time working remotely? Do employees need to be able to receive faxes on the go? If so, pay particular attention to the service's mobile capabilities: its ease of use, whether it includes all the features you need to be able to access remotely, and how well the app is developed and supported.
Ideally, the app is intuitive enough for employees to get on board and comfortable immediately.
Search capabilities
With some online fax services, you get the ability to search stored faxes. This is a very helpful feature for businesses with large volumes of faxes to reference. Make sure your chosen service includes strong search capabilities like keywording and filtering.
Why fax online?
I can't stress enough that it's important for all employees to be on board with your chosen service, for it to be a hit. So in case they need convincing…
Online fax services give you so many benefits that it really makes no sense to park a bulky fax machine in your office any longer. You won't be spending money on ink, toner, or paper for faxes that don't need printing. You don't have the extra expense of a hardwired phone line for faxing, either.
Online fax services also work faster than traditional fax machines, while ensuring the security you need without you having to worry about it.
With all these benefits, it's easy to see why faxing is becoming a popular option again. You'll want to have this type of service available for customers or vendors who need it.