The 6 Best Marketing Automation Tools and How to Decide
Anyone who runs a business knows, no matter how great your idea or product is, without customers, it won't matter.
You have to be able to find a way to alert potential customers about your products and services. Once they become customers, you want to keep them coming back. After all, keeping existing customers happy gives you a steady stream of income, which is a key part of growing your business.
Whether you are looking to entice new customers or motivate existing ones to make an additional purchase, the best marketing automation tools give you the ability to do both.
The best marketing automation software focuses on marketing, rather than on sales tracking. It can handle marketing campaigns and personalize contacts with clients, all in an automated, time-saving manner.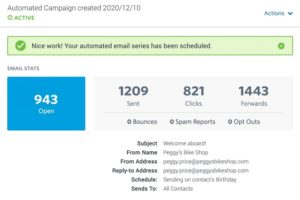 For businesses and organizations that don't have a lot of people or who cannot afford to dedicate a job position to running marketing, Constant Contact is made for you, as it attempts to simplify the process of creating marketing campaigns to the point that it only requires a little bit of time each week.
Although Constant Contact's primary function from the start has been focused on email, this tool makes our list as a best marketing automation software package because of its addition of features that include marketing campaigns through social media management.
Because these social media features are newer, they may not be powerful enough for some users, but they are undergoing regular improvements and upgrades. Constant Contact also has added the ability to integrate with numerous other tools that can help with your marketing and ecommerce goals, such as WordPress, Facebook, and Shopify.
Pros
Pricing discounts available for non-profit organizations
Interface is extremely easy to use, so you'll be up and running fast
Made for smaller businesses and organizations
Cons
Prices become expensive quickly for large numbers of contacts
Focuses primarily on email contacts, so it may not be powerful enough for someone needing wide ranging features
Pricing
Email: Starting at $20 per month (with final cost based on number of contacts)
Email Plus: Starting at $45 per month (with final cost based on number of contacts)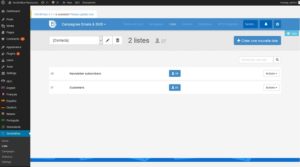 Although many of the best automation tools for marketing on our list are pretty expensive, SendinBlue bucks that trend a bit, giving users multiple price points, many of which are reasonable.
SendinBlue has been primarily an email marketing piece of software, but it now is adding SMS and CRM functionality, giving it a greater level of power and usability and making it more valuable for customers who need more than the basics. One downside, though, is that the feature sets are still being updated, which means you'll have to undergo a new learning curve as additional features become available.
For extremely small businesses looking for the basics, SendinBlue offers a free version that delivers up to 300 email messages per day, which is a nice option. This also is a tool that's easy to use, so you can pick it up quickly, reducing training time required.
Pros
Reasonable price points versus others
Automates quite a few aspects of developing marketing campaigns, saving you time
Interface is easy to understand, reducing the amount of time needed for learning to use it
Cons
May be too basic for some users' needs
Still evolving from an email marketer to a more comprehensive tool
Pricing
Free version (up to 300 emails per day)
Lite: $22.50 to $25 per month (up to 40,000 emails per month)
Essential: $35.10 to $39 per month (up to 60,000 emails per month)
Premium: $59.40 to $66 per month (up to 120,000 emails per month)
Enterprise: Request a custom price quote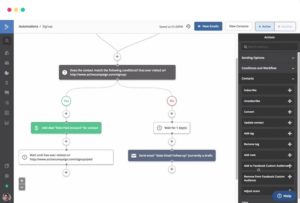 If you hate the idea of flooding your customers' social media fees and email inboxes with so many messages that they become frustrated with you, ActiveCampaign sympathizes. This ranks as a best marketing automation software option because it focuses on achieving higher levels of conversion with each message, meaning you don't have to send as many messages.
ActiveCampaign has the ability to deliver targeted messages for your customers, which helps with conversion too.
You will need to invest some time to make this marketing automation software work as efficiently for you as possible, and it's not a piece of software you can begin using successfully in the first few minutes after you install it. But it has some impressive features that will help you reach your marketing goals.
Pros
Easily automates many aspects of marketing
Keeps all of the information and options on one screen
Delivers clear reports, so you can see what is working and what isn't
Cons
Dashboard's interface can seem a little overwhelming to learn to use at first
Pricing can be a little high for those with smaller contact lists
Pricing
Lite: $17 to $29 per month for 1,000 contacts; $179 to $225 per month for 25,000 contacts
Plus: Lite: $49 to $70 per month for 1,000 contacts; $319 to $399 per month for 25,000 contacts
Professional: $129 to $159 per month for 1,000 contacts; $479 to $599 per month for 25,000 contacts
Enterprise: $229 to $279 per month for 1,000 contacts; call for custom pricing for more than 10,000 contacts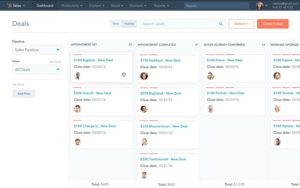 If you have the budget for it and the time available to spend learning how to use it, Hubspot Marketing Hub is easily one of the best marketing automation software tools around.
Hubspot can handle all aspects of creating marketing campaigns, reaching out to and following up with customers regarding your offers, while keeping your social media channels active.
For those who want complete integration with sales tools and CRM, Hubspot has this capability too. Additionally, Hubspot offers quite a few other tools aimed at helping you run your business effectively, so if you already use some of those separate tools, Marketing Hub will fit in with them perfectly.
As you might expect with such a feature-rich package, Hubspot is extremely expensive. And it's not made for the one- or two-person operation, as you're going to need to spend quite a bit of time learning how to use its various features. But it's difficult to argue with the results that Hubspot can help you deliver.
Pros
Extensive list of features, which is great for those who need more than the basics
Multiple reporting functions, so you can see exactly what is working
Outshines others in its social media management capabilities
Cons
Very expensive, so it's not made for small groups
To use its features fully, prepare to spend a lot of time with it
Pricing
Free version
Starter: Starting at $40 per month for 1,000 contacts
Professional: Starting at $800 per month for 1,000 contacts
Enterprise: Starting at $3,200 per month for 10,000 contacts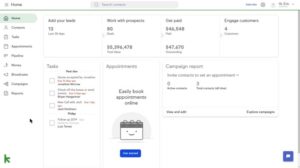 InfusionSoft by Keap
For those who want to maximize their marketing and customer relationship management (CRM) features in one of the best marketing automation software packages, InfusionSoft will deliver.
Understand that InfusionSoft is the priciest tier of this software, so it will definitely not fit into the budget of every small business. It also is weaker than some others on our list in terms of its social media marketing capabilities.
But if you plan to do most of your marketing through email, InfusionSoft is a powerful choice. It gives you multiple templates that you can use for setting up marketing campaigns. The software delivers quite a few reports that allow you to judge the success of each of your campaigns.
InfusionSoft has the ability to pull in your data from a variety of other places and tools, allowing you to make the most of your contact information without having to duplicate data entry.
Pros
Incorporates some of the best features of CRM and marketing in one package
Relatively easy to use
Offers multiple support and advice options (for an extra cost)
Cons
Very pricey, especially if you have a lot of contacts
Limited in its features for social media marketing
Pricing
Keap Grow: $79 per month for 500 contacts
Keap Pro: $149 per month for 500 contacts
InfusionSoft: $199 per month for 500 contacts
For more contacts, request a custom price quote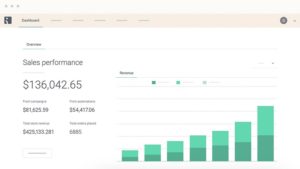 Omnisend
With Omnisend, you can create some impressive email marketing campaigns, many of which the software allows you to personalize toward individual customers, all with automated features that help you save time and money while keeping your customers engaged.
One of the top things about Omnisend as a best marketing automation tool is that it has a strong free version. For those who only need the basics in email marketing and newsletter creation, the free version of this tool is an outstanding choice.
For those businesses that need to tie their marketing campaigns in closely with ecommerce opportunities, Omnisend works nicely.
If you prefer to do social media campaigns versus email campaigns, you may be a bit disappointed in Omnisend, as its feature list is not quite as strong regarding social media. For example, you must enter all of the data from scratch each time you want to do another social media campaign.
Pros
Free version is available for those who primarily use email marketing, but there's also a high-end plan with extensive marketing features
Integrates nicely with multiple ecommerce tools and sites
Includes helpful reports, so you can determine the most successful campaigns
Cons
Pricing options are a little difficult to understand
Doesn't offer templates for special holiday marketing campaigns
Pricing
Free version
Standard: $16 to $20 per month for 1,000 contacts; $192 to $240 per month for 25,000 contacts
Pro: $80 to $99 per month for 1,000 contacts; $500 per month for 25,000 contacts
Enterprise: Request a custom price quote
How to Pick Your Best Marketing Automation Software
Marketing automation tools are so different from each other that it can be tough to figure out which option to select for your business. Here are some steps to follow for how to decide among the best marketing automation tools.
Step 1 – Do You Need Email Marketing … or More?
We're going to answer the first half of this question for you — yes. The majority of the best marketing automation tools started as email marketing software. Some have migrated into other areas of automated marketing, but nearly all of them still have email at the heart.
So as your first step, decide whether you want a basic email marketing tool, or whether you need more than email marketing. If you only need the basics, you may be able to save quite a bit of money. In fact, Omnisend and SendinBlue both have strong free versions that focus on email marketing.
Step 2 – Do You Need a Tool That's Easy to Use?
Some businesses and organizations don't have the ability to dedicate one person to handle running the marketing software, so they will want a very easy-to-use package with which they can be up and running in no time.
Some marketing automation software tools require quite a bit of time to set them up and to learn how to use them. Others, like Constant Contact, will save you time and money in setting up your campaigns, especially if one employee is trying to handle running the marketing software alongside other jobs.
If you have the budget for it, InfusionSoft allows you to request advice from coaches about your marketing plans, which may be the perfect feature to simplify using the software for your organization.
Step 3 – Do You Want Detailed Reporting Functions or Just the Basics?
Finally, determine just how many reporting functions you want from your marketing software. Some tools will let you see only the basics of the results of your campaigns, while others allow you to drill down for significant details.
If you need a high level of detail, we like the reporting features Hubspot and ActiveCampaign offer.