Best Managed Security Service Providers (MSSP)
Every organization is vulnerable to a cyber breach. Managed security service providers (MSSPs) offer a wide range of security solutions to strengthen and support IT security for midsize and enterprise organizations. 
Any company can outsource its security needs to an MSSP. These providers offer services like security monitoring, compliance reporting, patching, threat intelligence, vulnerability management, and so much more.
MSSPs also help reduce the burden on in-house IT resources, security experts, and security hardware. All of this, and more, can be outsourced with managed security services. 
We've narrowed down the top MSSPs on the market today with in-depth reviews and a step-by-step buyer's guide so you can find the best option for your business.
Cipher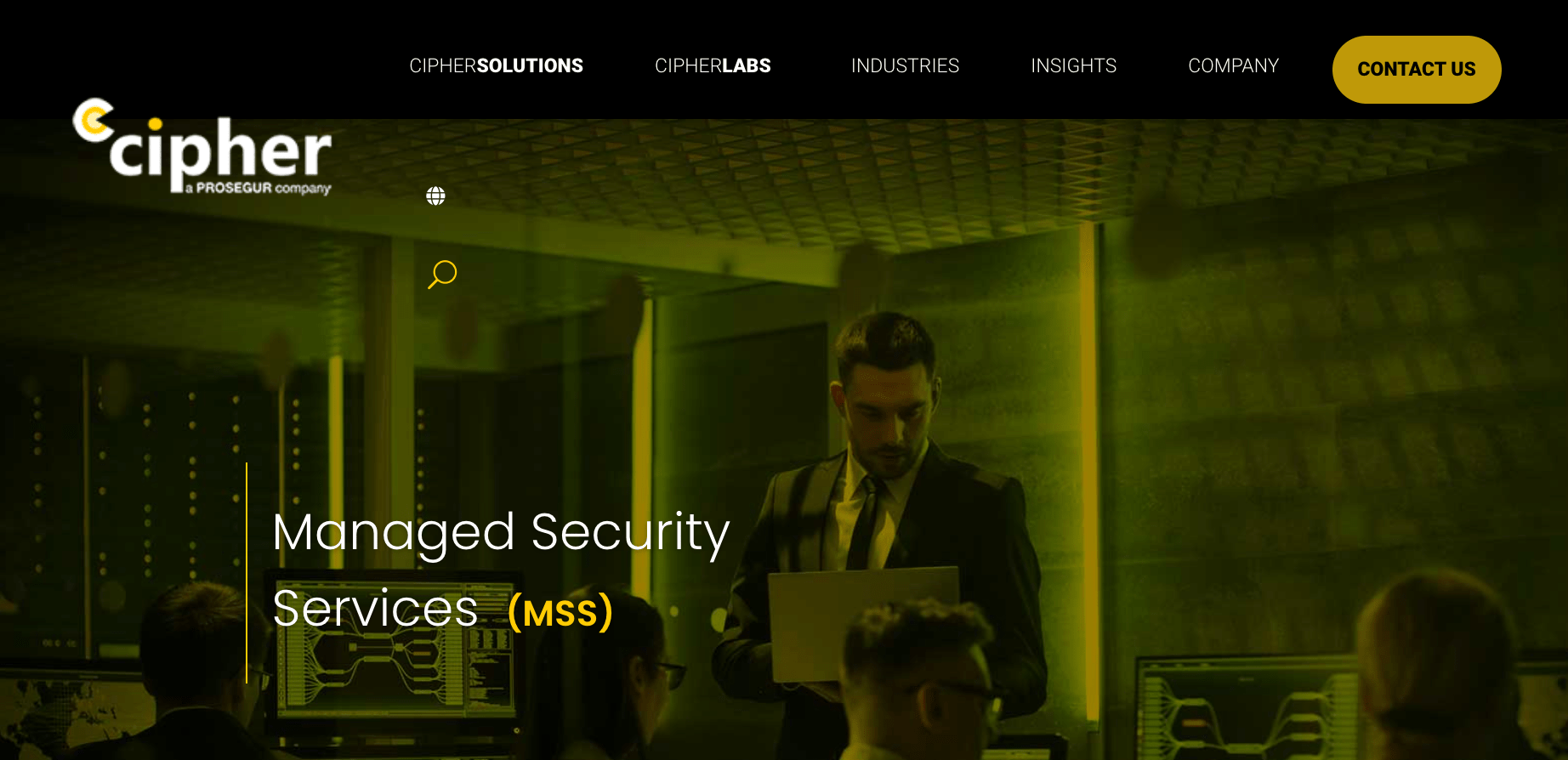 Cipher is a global cybersecurity service provider that's been offering a wide range of solutions to organizations for more than 20 years. In addition to managed security services, they also provide managed detection and response (MDR), cyber intelligence services (CIS), red team services (RTS), and so much more. 
This extensive range of service offerings makes Cipher a top pick for growing organizations that want to scale IT security in the future. You may start with a Cipher MSS solution but eventually, take that one step further with MDR or CIS.
Cipher's MSS solutions can support your existing security technology. Alternatively, they can help upgrade you from a legacy system to newer security technologies provided by Cipher.
Some of the noteworthy services offered from a Cipher MSS package include:
24/7 cybersecurity monitoring

SIEM (security information and event management) logs and management

Incident management and cyber defense

Vulnerability and compliance management

Managed application security
For organizations that need a solution for a secure software development lifecycle, Cipher is an excellent MSSP to consider. 
There aren't a ton of negative reviews or shortcomings related to Cipher's managed security services on the web. Most customers praise Cipher for its white-glove service. 
One customer was a bit critical of the lack of configuration options for the service. But beyond that, there aren't many cons to consider when you're comparing Cipher side-by-side with other MSS providers.
You'll need to contact Cipher directly for more information on pricing. They do offer a 30-day free trial, but not for managed security services. 
Alert Logic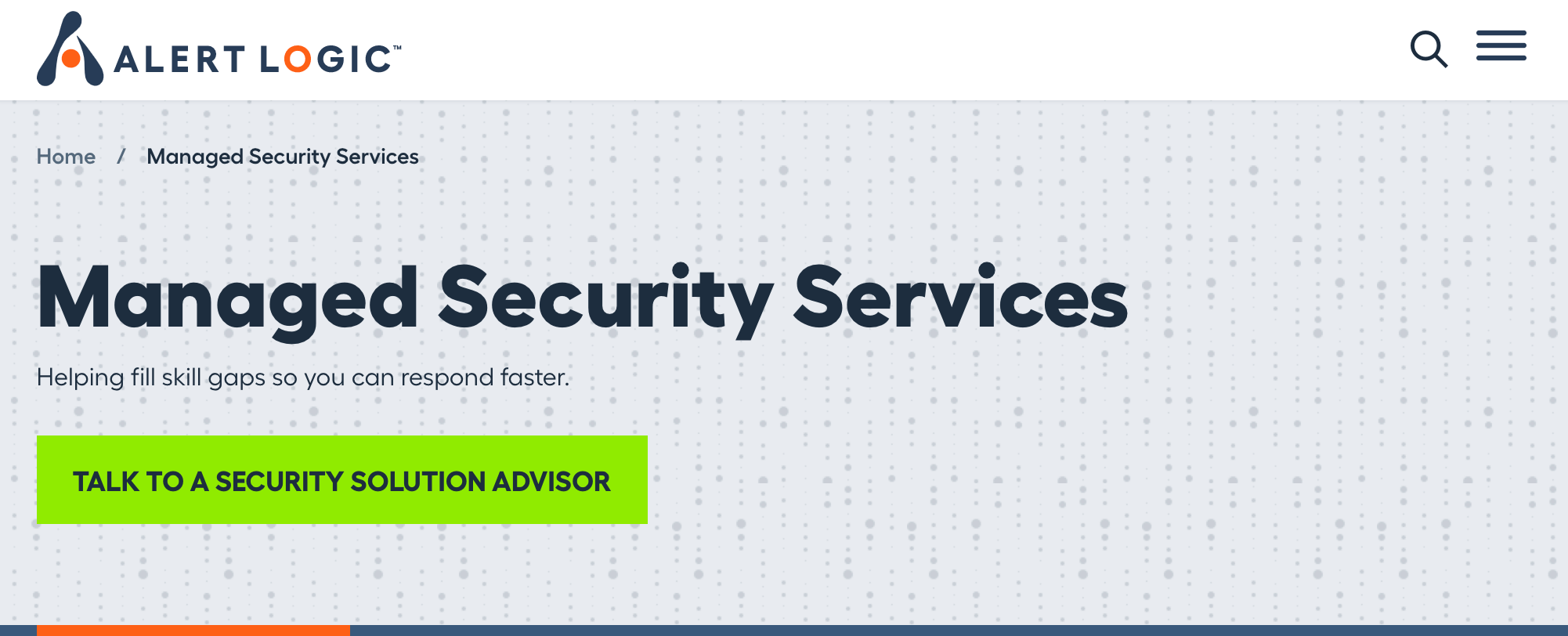 Alert Logic is best known for its extensive MDR services for any public clouds, hybrid clouds, on-premises environments, and web applications. But the company also offers exceptional MSS options for organizations across the globe.
This provider is trusted by more than 4,000 companies, and they analyze more than one billion security anomalies every year.
Alert Logic is another example of a company that can scale with you as your company grows. So if you start with managed security services from Alert Logic, you can confidently use them for managed detection and response as your IT security needs evolve over time.
Some of the MSS highlights from Alert Logic include:
Threat detection analysis and response

24/7 monitoring

WAF (web application firewall) management
You're essentially outsourcing an entire security operations center (SOC) to Alert Logic. In addition to the traditional managed security services, Alert Logic will also connect you with incident response professionals and infrastructure management advisors. 
Some clients struggled to get used to Alert Logic's technology. Others note that the UI is difficult to navigate, making it challenging to proactively look for issues. 
But overall, the general sentiment of reviews from real Alert Logic customers is positive. 
If it sounds like Alert Logic has what you need, request a demo and connect with one of their security advisors to get more information and pricing details. 
Accenture

With more than 674,000 employees worldwide serving over 7,000 clients in 120+ countries, Accenture is the epitome of a global cybersecurity firm. 
They offer versatile managed security services for organizations across a wide range of industries, including aerospace, defense, utilities, banking, energy, health, insurance, industrial, and life sciences—the list goes on and on.
Accenture has earned the prestigious AWS Level 1 Managed Security Service Provider Competency status. This program from Amazon Web Services makes it easier for clients to find MSS partners that are qualified to provide security solutions that have been validated by AWS.
The status spans categories like application and data security, cloud security best practices and compliance, endpoint security, network security, vulnerability management, and more.
Rather than offering broad versions of managed security services for clients, Accenture has five distinct solutions for MSS:
Managed application security

Managed cloud security

Managed security risk

Managed digital identity

Managed detection and response
Regardless of your specific security needs or industry requirements, Accenture has you covered. 
The biggest complaint from existing Accenture customers is its lack of agility. While the overall MSS implementation and service are successful, some customers noted that the process was a bit rigid, making the transition more difficult. 
Contact Accenture to learn more and get detailed information on MSS pricing for your company.
Lumen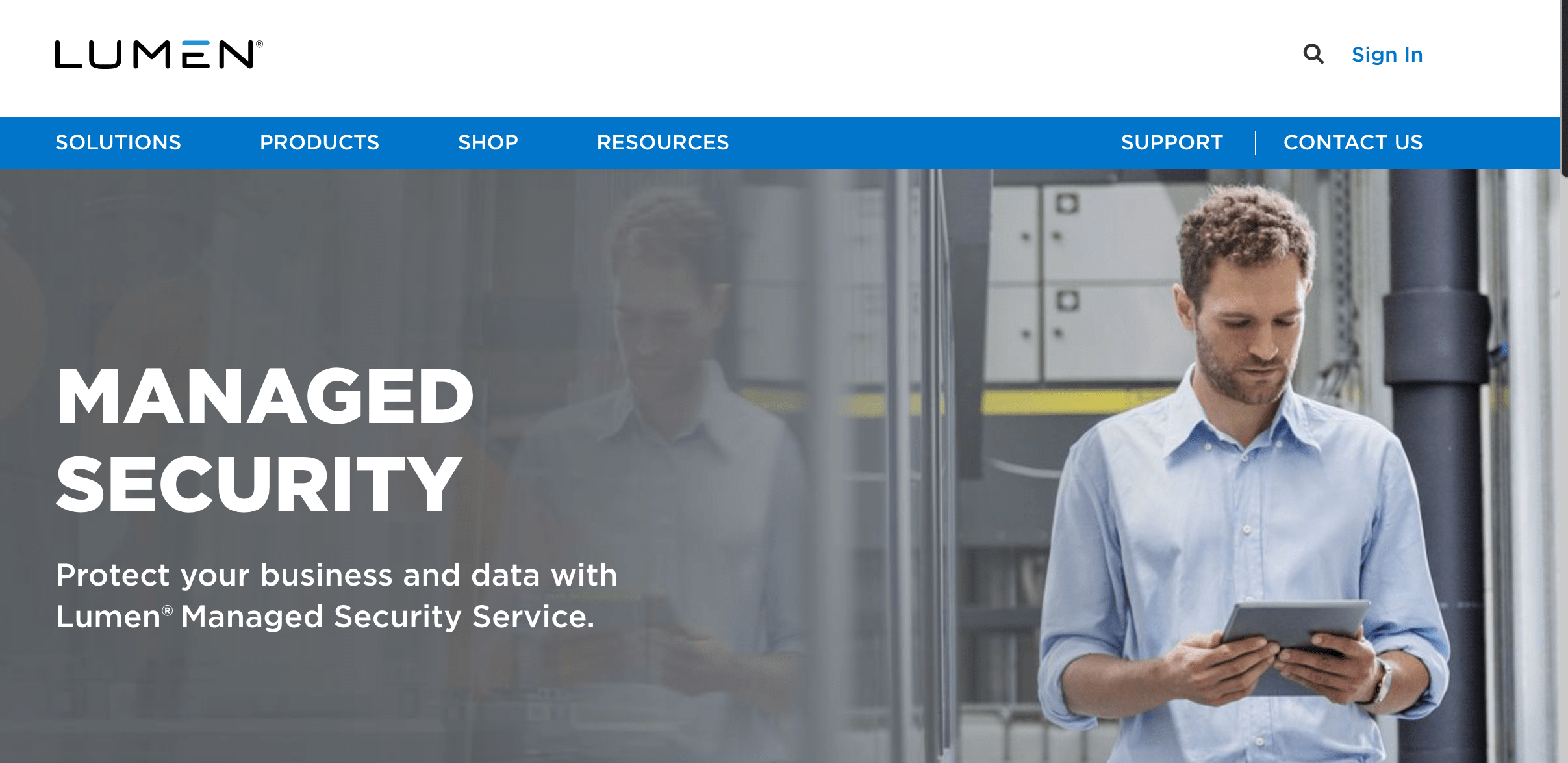 Lumen offers managed security services across industries like financial services, gaming networks, manufacturing, pharmaceuticals, retail, tech, wholesale, energy, and more.
It's a tech-forward company that helps provide guidance to your existing IT staff, lessening the burden of your internal resources for IT security. 
Lots of cybersecurity companies offer endless promises in terms that feel like a foreign language to the average business professional. But I commend Lumen's ability to keep things simple—they just want to protect your company from malicious threats. 
In addition to the managed protection services, Lumen also helps to put your capital resources towards more effective solutions. By reducing the need for in-house security, you can re-allocate those security funds towards other ventures or operating expenses. 
Highlights of Lumen's MSS plans include:
Device management

Managed firewalls and network firewalls

Intrusion detection and prevention

Endpoint security

DDoS mitigation

Threat monitoring and reporting

Log management

Malware detection and removal

SIEM (security and event management)
While Lumen has tons of positives, it's not perfect. One CIO of a midsize manufacturing company said the reporting was too complex. The reports were very technical, even when just the basics were needed. Another review from an enterprise construction company said that the implementation was difficult and had many delays.
These potential downsides might be anomalies, but they're still worth considering when you're evaluating the company.
Contact a Lumen representative in your area for information on pricing. 
Secureworks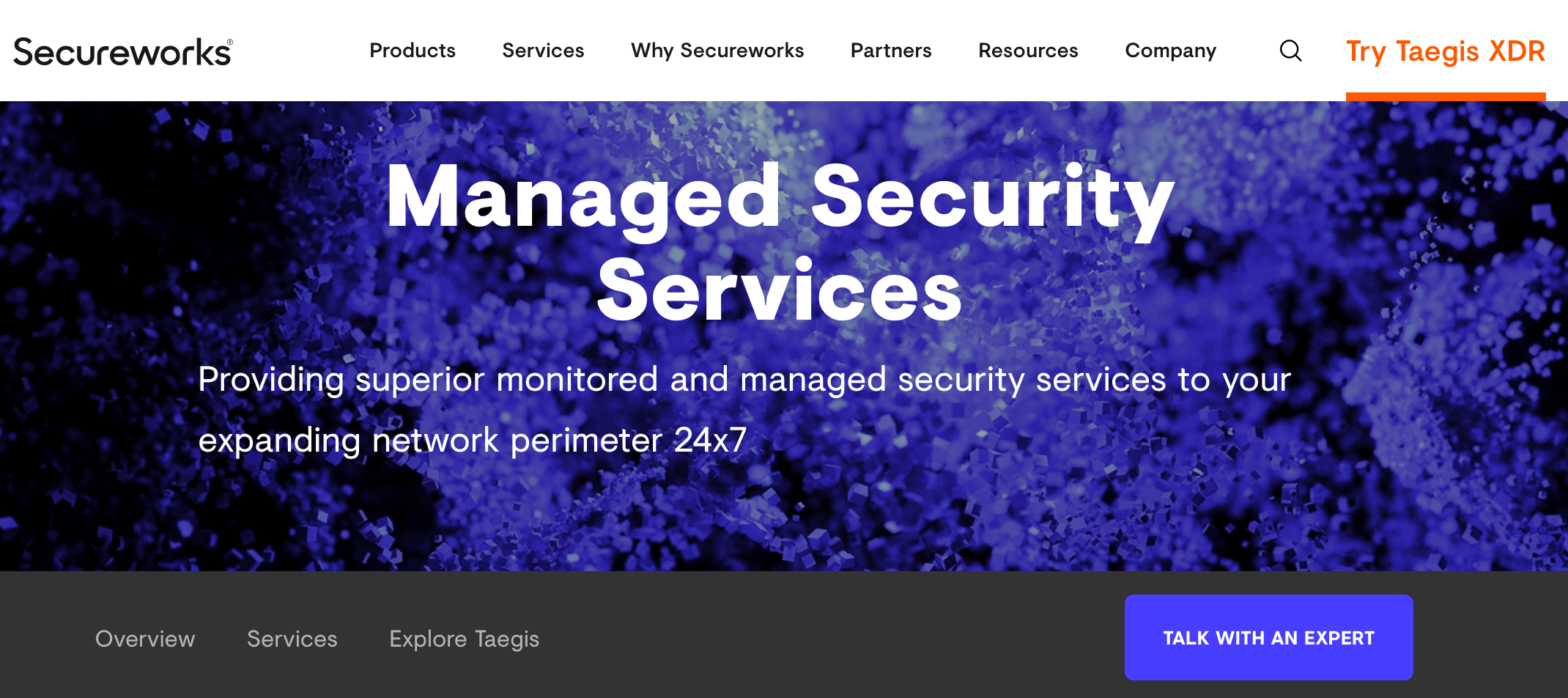 Secureworks is a global cybersecurity firm with offices in the UK, UAE, Japan, India, France, Australia, Romania, and Canada. Its headquarters are located in Atlanta, Georgia. 
The company is best known for Taegis XDR—its cloud-native security platform that uses AI and analytics to provide enterprises with a holistic security view across entire IT infrastructures. 
For the most part, Secureworks managed security services are geared toward enterprise organizations. Small or midsize companies should look elsewhere. 
Here's a quick overview of the noteworthy features of MSS from Secureworks:
24/7 monitoring with a proprietary IPS (intrusion preventions system)

Threat intelligence management and maintenance

Security event monitoring in real-time

Vulnerability management

PCI scanning

Web application scanning

Policy compliance
Some Secureworks clients say the company fell short when delivering customizable services. Another review said that Secureworks wasn't very engaging during the implementation process. There are even a few reviews that point to shortcomings in the admin portal.
With that said, the vast majority of online reviews for Secureowrks managed security services are positive. But as always, you can address these concerns with the provider as you're discussing your specific IT security needs.
Contact Secureworks for more information on managed security services. You can also request a demo or 14-day free trial for Taegis XDR.
How to Pick the Right Managed Security Service Provider (MSSP) For Your Business
Now that you've had a chance to see some of the best MSS options on the market today, it's time to start evaluating the best choice for your organization. 
Since so many managed security service providers offer similar features and benefits, narrowing down your options can feel a bit intimidating. Fortunately, this step-by-step buyer's guide process will make your life easier. Just follow the steps below, and you'll be able to find the best MSSP for your business needs.
Step 1 – Plan Your Long-Term IT Security Needs
It might sound strange to start with long-term planning. But this is a crucial step in the MSSP buying process.
That's because managed security services are just an entry point into a robust, secure, and scalable IT infrastructure. As your organization grows, your security needs will likely change. So it's important for you to choose an MSS provider that can accommodate scalability. 
For example, you might ultimately decide to expand from basic MSS into a full-service MDR (managed detection and response) service. If you can't get that from your MSSP, it's going to complicate your technology stack when you turn to another party for this service. 
Partnering with an MSSP that can seamlessly transition you from basic managed security services into MDR, RTS, CIS, and other advanced solutions will make your life much easier down the road. 
Cipher and Alert Logic are two excellent examples to consider if you think that you'll want managed detection and response within the next two to five years. 
Step 2 – Assess Your In-House IT Resources
The vast majority of MSSPs aim to reduce the burden and resources of your internal security teams. But the current state of your in-house team can definitely impact the choice of the right managed security service for your organization.
For example, some companies have a strong internal foundation for IT security. They just need some assistance with the big-picture overview, and maybe some additional technology to make things easier.
Others have an internal IT security system that's a bit more immature. In addition to standard MSS services, they'll also need some direction and guidance that goes beyond basic reporting.
Alert Logic can help connect you with infrastructure management advisors. But that's not really part of the basic managed security service. 
MSS solutions from Lumen are definitely geared towards organizations with a mature in-house security team. It's not really intended for building IT security from the ground up.
Step 3 – Evaluate Your Existing Security Technologies
Any organization seeking managed security services likely has some form of hardware and software for IT security. Take the time to assess those solutions and see if you're open to new options.
Are you firm on keeping your existing technologies in place? Or would you rather upgrade from legacy systems into something a bit more sophisticated offered by a managed security service?
There's really no right or wrong answer here. But it's important to know what you want before you start connecting with sales reps from MSSPs. 
Cipher is one of the more versatile options on this list. They can provide managed security services on top of your existing tools or help you start over with new technology.
Secureworks is another great option if you're looking for something new. The Taegis XDR technology is available in managed service options as well. 
Lumen also has technology for endpoint management, device management, firewalls, and more. 
So you should take this into consideration as you're comparing your existing technology against the solutions offered by service providers. Just understand that major changes to your technology stack will add to your total cost and extend the timeline of the implementation. 
Step 4 – Schedule a Demo or Sales Call
In the world of enterprise security services, you really can't just sign up or start a free trial. There's a high level of customization involved with these services. 
So once you've narrowed down your options to two or three contenders, you should take the next step and schedule a meeting.
Don't feel obligated to commit to anything on the first call. In many cases, it will take two or three rounds of calls to truly get on the same page with a prospective provider. Then you can really determine if they're a good fit for your security needs. 
Every sales pitch sounds good. But you need to look beyond the bells and whistles and see what they're actually offering you and how they're going to offer it. 
We recommend having members of your in-house security team on the call. They can help provide some insights for decision-makers and ensure the sales rep isn't just offering fluff. Your internal team will also have a better understanding of the gaps in your current system.