Best Managed Detection And Response (MDR) Services
Managed detection and response (MDR) services fill the cyber security gaps for organizations across a wide range of industries. These services typically include a combination of technology stacks, software, and human resources.
Modern MDR services make it easier for companies to quickly detect, analyze, investigate, and proactively respond to various cybersecurity threats. 
Whether you're a smaller organization that doesn't have the resources for an in-house IT security team or you're an enterprise-level company that wants to outsource and extend critical security needs, MDR services are the solution. After extensive research, we've identified and reviewed the top managed detection and response solutions on the market today—including a step-by-step buying guide to help narrow down your options. 
Sophos Managed Threat Response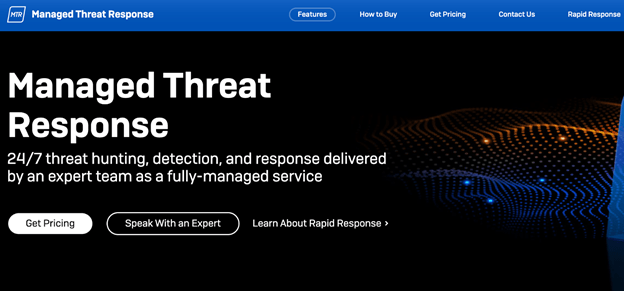 Sophos Managed Threat Response is a full-service MDR solution from an industry leader in the IT security space. While Sophos is best-known for its hardware and software products, its MDR services still deserve top consideration when you're comparing options in this category.
That's because Sophos truly stands out from the crowd with its "response" aspect of MDR. Other companies in this space brand themselves as an MDR service provider but lack when it comes to a threat response. 
Sophos has an elite team of threat hunters that quickly and actively neutralize threats on behalf of your company. There's no action required from you or your IT staff, truly making this a fully managed service. 
Another cool aspect of Sophos MDR is its flexibility. You can use these MDR services on top of your existing endpoint security systems, even if those solutions aren't coming from Sophos. 
Your admins can access all security stats and information directly from the Sophos customer dashboard. This gives you more insight into the types of threats your company is exposed to, and you can see how Sophos is mitigating those problems. Sophos will also send you customized weekly and monthly reports with detailed information about your environment.
Unfortunately, your company doesn't have direct access to the cybersecurity tools that Sophos is using for your MDR services. That's not part of the package.
That being said, if you need to add other cyber security hardware, software, or services to your own infrastructure, Sophos has no shortage of solutions that you can add to your MDR plan. 
Pricing is not available online, but it's based on a per-user and per-server model. You can request a no-obligation quote to learn more. 
CrowdStrike Falcon Complete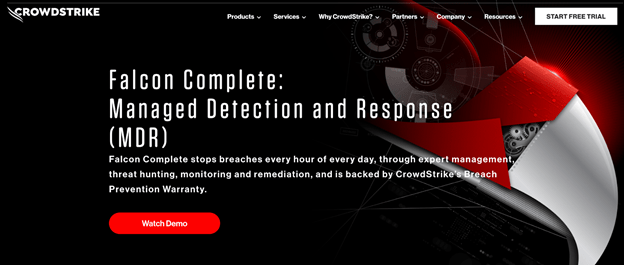 CrowdStrike Falcon Complete is the flagship product in CrowdStrike's IT security solutions. As part of the CrowdStrike Falcon line of products, this service comes with CrowdStrike's full endpoint security platform. 
So in addition to a full-service MDR solution, you're also getting one of the best enterprise-grade endpoint detection and response (EDR) systems and next-generation antivirus solutions on the market today. 
Lots of MDR companies promise this kind of multi-faceted protection. But CrowdStrike puts its money where its mouth is—offering a breach protection warranty of up to $1 million if an incident occurs in an environment protected by CrowdStrike Falcon Complete.
This warranty shows that CrowdStrike truly stands behind its service and is confident that it can protect your organization from even the most sophisticated threats. 
As a fully-managed MDR service, CrowdStrike Falcon Complete handles everything behind the scenes without bothering you. If an intrusion is detected, CrowdStrike will automatically stop active processes and surgically remediate the issue immediately. 
They'll handle this remotely, so you likely won't even know that something is occurring behind the scenes. You and your team can continue operating as normal while CrowdStrike handles the rest. 
The average response time for CrowdStrike responding to an incident is less than ten minutes. This quick action ensures that threats are neutralized before they become a bigger problem. 
Full disclosure: CrowdStrike's user interface isn't a customer favorite in this space. Users have noted it can take a while to learn how the system works and how to make it work for you. But overall, this is a minor flaw in otherwise excellent service. 
Pricing for Falcon Complete is based per endpoint on a subscription basis. They also have pricing options per managed workload or consumption of compute hours for requested workloads. Contact CrowdStrike to request a quote.
Mandiant Managed Defense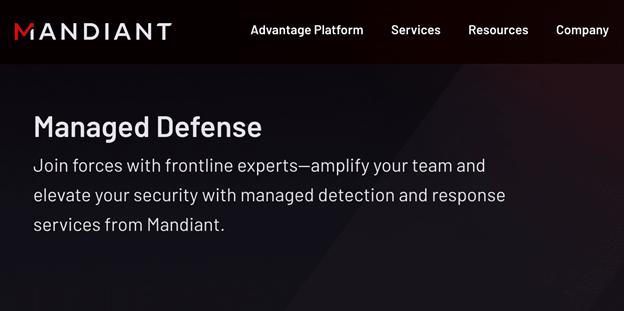 Mandiant is another industry leader and trustworthy name in the cybersecurity space. Mandiant Managed Defense stands out from other tools in this category with its rapid response time. 
On average, it takes them less than five minutes from alert to triage, and 99% of compromises are resolved without the need for incident response. 
Mandiant's MDR service protects organizations across endpoints, networks, cloud services, email, and other operational technology used throughout your company.
The service plays nice with a wide range of other software products and vendors in your IT security stack. This includes endpoint protection, cloud telemetries, and more. So you won't have to change anything about your existing infrastructure to benefit from Mandiant's MDR services. 
Another unique standout of Mandiant is its training services. They'll work directly with your team to train and advise them about various IT security aspects. 
The platform has a robust backend support system that includes malware protection and reduces your risk against ransomware. It's highly scalable and supports threats both large and small for any organization size. 
Mandiant provides a ton of context with its alerts, ensuring that you can prioritize high-level threats first. With that said, some online reviews from real customers say they wish Mandiant offered more support for alert types. So there's still some room for improvement here.
Contact Mandiant to get more information on pricing for the Managed Defense service. 
SentinelOne Vigilance Respond Pro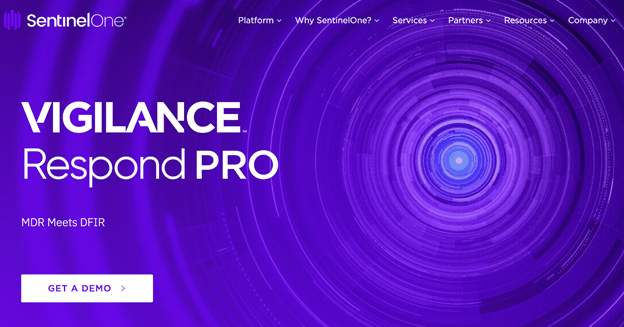 SentinelOne is a Silicon Valley-based cybersecurity startup that was founded in 2013. The company thrives in its ability to be innovative, using advanced automation capabilities with all of its products and services. 
They've landed on CNBC's Disruptor 50 list, and Forbes ranked them 14th on its inaugural list of the most promising artificial intelligence companies. 
So it should come as no surprise to see SentinelOne Vigilance Respond Pro make our list due to its technological advances compared to competitors in this space. 
The service is branded like no other solution in this category. It takes managed detection and response to the next level with DFIR—digital forensics analysis incident and response.  
This might be the coolest way of saying SentinelOne detects threats with AI, forensic investigations, threat hunting, malware reverse engineering, root cause analysis, and more. This process ensures that SentinelOne stays one step ahead of the most sophisticated threats in the cybersecurity world. 
SentinelOne Vigilance Respond Pro looks at things from the attacker's perspective, which helps them stay proactive in protecting your organization from threats and breaches.
Vigilance Respond Pro is the highest level of service offered by SentinelOne for threat hunting and response. It's the only package that comes with digital forensics investigation and malware analysis. 
You'll also get 24/7/365 monitoring, triage, and response. SentinelOne offers quarterly cadence meetings and a complimentary security assessment included with your service. 
Since the system is based on AI, you might experience some false positives when you're first starting out. This will get better as machine learning works with your company longer. It's also worth noting that at 18 minutes, the company's response time is a bit slower compared to other services out there.
Request a quote online to get started and learn more about the pricing of SentinelOne Vigilance Respond Pro.
Rapid7 MDR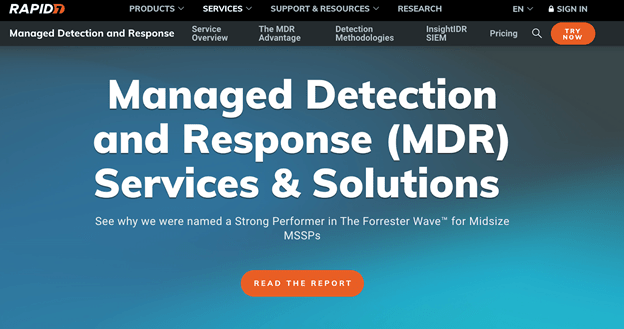 Rapid7 aims to simplify security challenges for organizations of different sizes across various industries. This goal is uniquely achieved in multiple ways with Rapid7 MDR services. 
First, every organization gets its own dedicated security advisor. So if you have a question or need help, you'll be working directly with a person who knows the ins and outs of your company and its security needs.
This is perfect for smaller or midsize organizations that need help filling security gaps, especially if they don't have a dedicated head of IT security employed in-house.
By taking the time to understand your company and its security needs, Rapid7 offers MDR solutions from the ground up. This means that they'll not only offer human assistance, but they'll also leverage the latest technology to quickly detect threats against your entire environment. 
Rapid7 offers proactive threat hunting, 24/7/365 monitoring, response support, and customized security guidance. 
There is no such thing as a cookie-cutter MDR service with Rapid7. You're getting unique and tailored security solutions based on your specific needs. 
As a Rapid7 MDR client, you'll also have full access to InsightIDR—Rapid7's cloud-based SIEM (security information and event management) system.  
In terms of shortcomings, some customers say they had problems using Rapid7's service with Microsoft Azure. Other customers want to see some improvements in Rapid7's dashboards and reporting. 
But overall, this is still a solid choice for anyone seeking a highly tailored MDR solution. Connect with a Rapid7 security expert to learn more and get a custom quote. 
How to Pick Your Managed Detection and Response (MDR) Service
Now that you've seen some of the top MDR services on the market, it's time to find the best option for your organization. This can be challenging, especially with so many excellent options to choose from. 
That's why we created this step-by-step buying guide that walks you through the MDR evaluation and purchase process. Follow the steps below, and you'll have a much better understanding of which MDR service above best fits your organization's specific needs. 
Step 1 – Evaluate Your Existing Cybersecurity Infrastructure
Before you start shopping around and comparing different MDR services, you need to take the time to assess your internal operations. What tools or services are you currently using to protect your company from external threats?
Look at everything from basic malware and antivirus software to more advanced tools for endpoint protection.
Are you happy with those solutions? Would you be open to the idea of using new systems for similar purposes?
Here's why this step is so important.
Many MDR services on the market work on top of your existing security solutions. So you won't necessarily have to eliminate your existing tools to work with an MDR service provider. But with that said, you need to make sure your existing system plays nice with a prospective MDR provider's technology. 
If you're happy with your existing cybersecurity systems and don't want to change anything, look at Sophos Managed Threat Response as a top consideration. It's super flexible and works on top of your existing security stack. 
For those of you who want more than just an MDR service, you'll need to find a provider that offers technology at your disposal. CrowdStrike Falcon Complete is an excellent option here. They offer EDR software in addition to managed detection and response services. 
Step 2 – Assess Your Need For Involvement
Some companies want to outsource MDR and never hear from the company. They'll receive a weekly or monthly report, but beyond that, they don't want to have much communication.
Other companies want to be more involved with the process. This is typically true for organizations with an existing IT security team. 
If your organization falls into the latter category, you'll have to assess the level of involvement and frequency of that involvement to narrow your options.
Obviously, every MDR service offers customer support. But you'll need to look beyond that to find a service that best fits your needs.
For example, if you want the highest possible level of involvement, consider a solution like Rapid7. They'll provide you with a dedicated security advisor. Not only will this be your go-to point of contact, but it will also be someone who can help tailor a custom security solution for your company.
If you feel like that's overkill, consider SentinelOne Vigilance Respond Pro. They offer a complimentary security assessment and quarterly meetings to touch base about your needs.
Step 3 – Set Up a Consultation With Your Top Two or Three Picks
Once you've narrowed the list to a few candidates, you should set up a meeting to get more information. The meeting will serve multiple purposes.
First, this will likely be the first chance you have to get more information on pricing. So right away you might be able to eliminate one of the candidates if the cost doesn't fit within your security budget. 
Next, you'll be able to see if their pitch aligns with your security needs. 
Make sure you have someone from your security team on the call. Beyond your chief operating officer (COO) or chief information officer (CIO), consider bringing in an IT security admin who handles the day-to-day aspects. This ensures that the big-picture goals align with your operations. 
MDR services are unique compared to software purchases. You can't really try it out or sign up for a trial. So this decision might come down to your gut feeling on this call. 
Try to look beyond the sales pitch and see what the providers are actually going to offer you. Go into the meetings with a good idea of what's most important to you. 
Do you want the most advanced technology? Or is it all about high-touch service? Maybe you prioritize the consultancy aspect of MDR beyond generic reports and dashboards.
When you find a service provider that hits the mark for your needs, you can proceed and sign on the dotted line. Don't rush. It may take a couple of calls with a single provider before you realize they're the winner.