The 5 Best LMS Tools and How to Decide
Online learning has experienced tremendous growth and adoption over the past half-decade. Long the domain of major educational institutions, such as colleges and universities, online learning has gone mainstream in light of the coronavirus pandemic.
From rural elementary schools or small startups to prominent colleges and major enterprise companies, remote learning and training have taken on a more significant role. To accomplish their learning goals, many of these organizations employ Learning Management Systems or LMS.
Not merely a platform for learning, LMS automates the teaching and administrative process. It supports online courses and tracks individual performance, highlighting current progress, or where improvement is still necessary. Most importantly, it reduces the cost of in-person learning, including lessening or eliminating the need for travel, meeting space, or physical materials.
Additionally, you can access LMS from anywhere, and bridge the gap between instructor and trainee who cannot meet face-to-face. LMS may never replace the genuine benefits of one on one learning, but it's a natural fit for educational institutions as they virtually expand their classrooms and business as they enhance and train their workforces.
Whether your needs are educational or business-related, there is an LMS to suit your needs. Let's review five of the best LMS platforms and pick the one that works for you.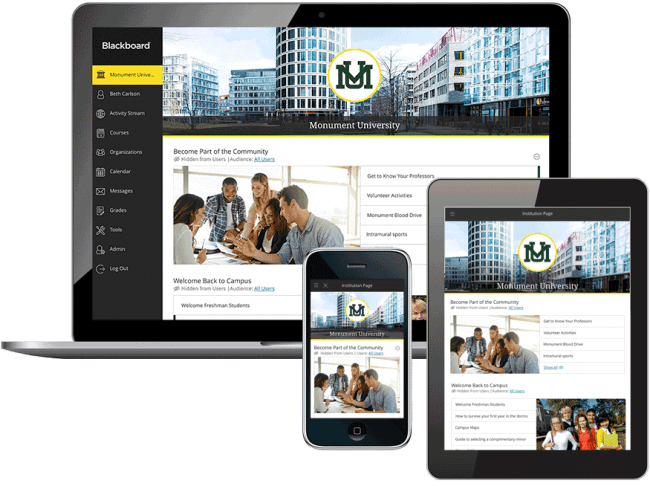 Blackboard is a comprehensive LMS with a diverse feature set that can serve educational, government, or business needs. From an educational standpoint, Blackboard offers services for both educators and students. It ensures all parties in the learning process get the most from the virtual experience. Tools include a mobile app, intuitive interface, virtual classroom collaboration, analytics, marketing, enrollment, and retention services, and 24-7 student support.
From a business perspective, the platform is just as powerful. It serves your company by helping you better organize training and employee development. The platform offers various tools ideal for expanding enterprises, including compliance and certification training, leadership development, and sales training solutions. Blackboard also supports its platform with consulting services, including those for strategic implementation, analytics, course or training design, and technical configuration.
A full list of features for both educational and business needs include:
Mobile app and learning
Virtual classroom collaboration tools
Enrollment and retention solutions
24-7 support for both teachers and students
Web conferencing and collaboration
Custom website and CMS framework
Mass notifications
Performance and certification tracking
Course design and implementation consultation
Registration capabilities
Reporting and analytics
Blackboard doesn't publish its pricing and requires direct consultation with one of their representatives to tailor a package specific to your organization. As an enterprise-level solution for business or education, expect to pay top dollar for its toolset; upwards of six figures for a full one year license. School districts, universities, or large-scale business organizations stand to gain the most from the Blackboard LMS.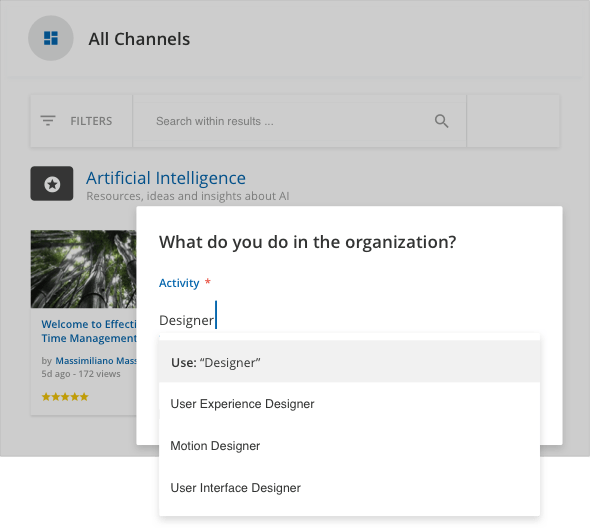 Docebo's LMS is a business-first learning platform. The cloud-based software employs AI to take your organization's training and performance initiatives to the next level. And it does this by not just engaging your employees, but anyone who might interact with your firm. Docebo's feature-set includes tools that enhance customer and partner training, baseline employee onboarding and development, compliance training, and sales learning and enablement.
Docebe also promotes alternative training through its Discover, Coach, and Share solution, which capitalizes on modern social learning tools and techniques. Want to connect your LMS to software your company already uses? The platform features an expansive list of over 30 integrations, including HCM/HRIS, CRM, Ecommerce, and Web Conferencing. If you need even more proof as to the completeness of Docebo's LMS platform, consider that Walmart, Thomson Reuters, and Bose all employ the software. A full list of features include:
APIs
Gamification
Mobile learning
Advanced and customizable reporting
Branding
Notifications
Course creation and importing
Multiple languages and customizable to locality
Scalability
Centralized training hub for both on- and offline training
Admin automation
Certification and retraining
Integrations include: ADP, Workday, Salesforce, Shopify, Stripe, PayPal, OpenID, GoTo Meeting, Cisco Webex, and Zoom
Support includes: 24/7 Help Tickets, Chat and Video Conferencing
Docebo utilizes a single pricing structure – tell them what you want, and they price out the solution to those specifications. While it's not the most transparent form of pricing, it grants you control over your company's training demands. The path to crafting your plan is relatively simple. Choose the Docebo LMS base platform and any add-on considerations (users, storage, integrations, and onboarding). Next, decide if ancillary tools are necessary (content streams, ecommerce, platform branding, reporting customization). Finally, determine what content level serves your firm – 50 courses, 150 courses, or premium unlimited.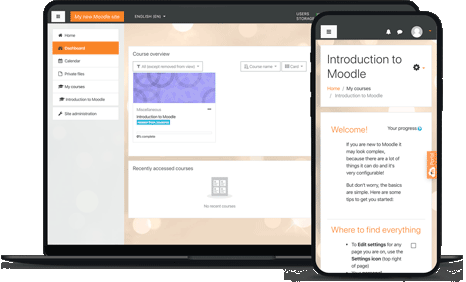 LMS platforms come in all forms. Some offer rigid, yet incredibly useful feature sets that take a one size fits most approach to virtual learning and training. However, open-source Moodle is an adaptable LMS with ground-up customization to suit whatever educational goals your organization might have. Best of all, as an open platform, the baseline service is 100% free.
While the platform generally targets education, businesses with technical knowhow will appreciate Moodle's extensive level of customization. Moodle allows you to craft direct learning paths, employ group learning, perform peer and self-assessment collaboration, and track your learners' progress. Of course, open-source software comes with a catch – a considerable learning curve with setup and administration.
Responsive, user-friendly interface
Personalized dashboards
Collaborative calendar feature
Easy to navigate file management
Automatic notifications
Forum posting and private messaging capabilities
Progress tracking
Multilingual platform with extensive localization capabilities
Bulk course creation
Security feature include user roles and permissions, security updates, and authentication
Extensive reporting features
Supports multimedia and social learning
Data-driven analytics
Basic community support (the user network, however, is massive)
Moodle is open-source and free, which is both blessing and curse. For DIYers with the latter concern, you can connect with one of Moodles Certified Partners to support your LMS platform build, training, and hosting. Moodle does offer "Start With Us" support plans starting at $80 a year. There's less guesswork than the DIY version, but these plans limit users, storage, and some theme and plugin packages.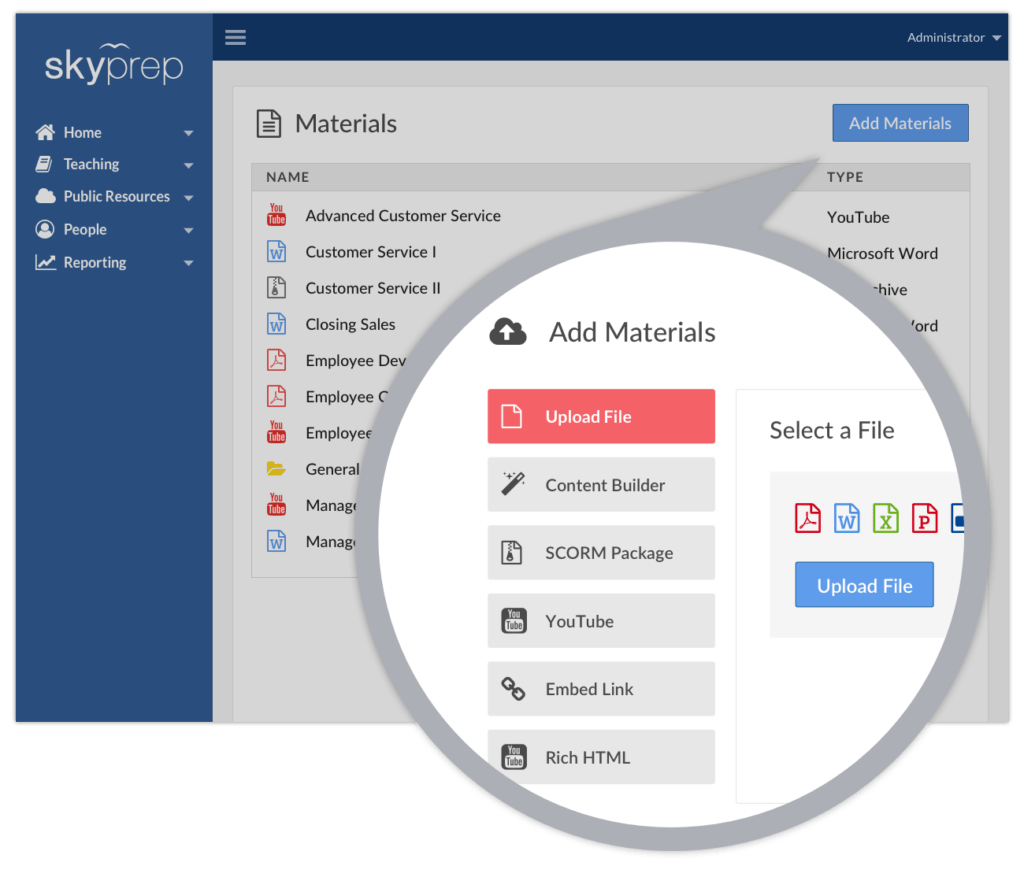 SkyPrep's platform is one of the most straightforward LMS services available today. Whether you're training new hires, improving compliance, or providing customers with an enhanced experience, SkyPrep features a user-focused UI that enhances the business learning environment. Course content is sourceable from practically any file type – Microsoft Office, rich HTML, PDF, PowerPoint, multimedia files, and videos, including those from Vimeo or YouTube.
The SkyPrep LMS focuses on automation as well. From notifications and reminders to permissions, uploads, and recurring training, the platform removes many admin duties that make training oversight tedious. Performance-minded firms will appreciate the in-depth reporting and analytics (including visual reports) and automated assessment and grading. A number of top firms apply the software, including Deloitte, ThyssenKrupp, Viking Cruises, and several NFL teams. Colleges include Georgetown and Oklahoma State. A full list of features includes:
Upload and Reuse Course Content
Direct in-app course creation
Test and surveys development
Customizable permissions (Admin, Manager, Learner)
User grouping
Automated notifications
Deadline reminders
Recurring Training
Gamification
Multiple reporting levels including visual reports
Automated assessment, grading, feedback, and certificate awards
User and course performance profiles
Custom branding including logo, colors, URL, notifications, certificates, and CSS
Integrations include: ADP, G Suite, Office365, OpenSesame, Shopify, Stripe, PayPal, OpenID, GoTo Meeting, Cisco Webex, and Zoom
Support includes: Email and knowledge base for Core package, add phone support and customer success manager for Premium price level
SkyPrep's pricing is straightforward – two paid tiers – Core and Premium – for up to 100 users and an enterprise solution for large organizations that need to train 1,000 or more users. For companies that fall in between, you can subscribe to either of the two price plans and add $100 per 100 additional users per month.
Core: $199 per month for basic functionality to create, manage, and track training
Premium: $499 per month for greater functionality including advanced security, reporting, and support
Enterprise solution features custom pricing, migration services and discounts for a multi-year commitment
SkyPrep does offer a 14-day free trial on either plan.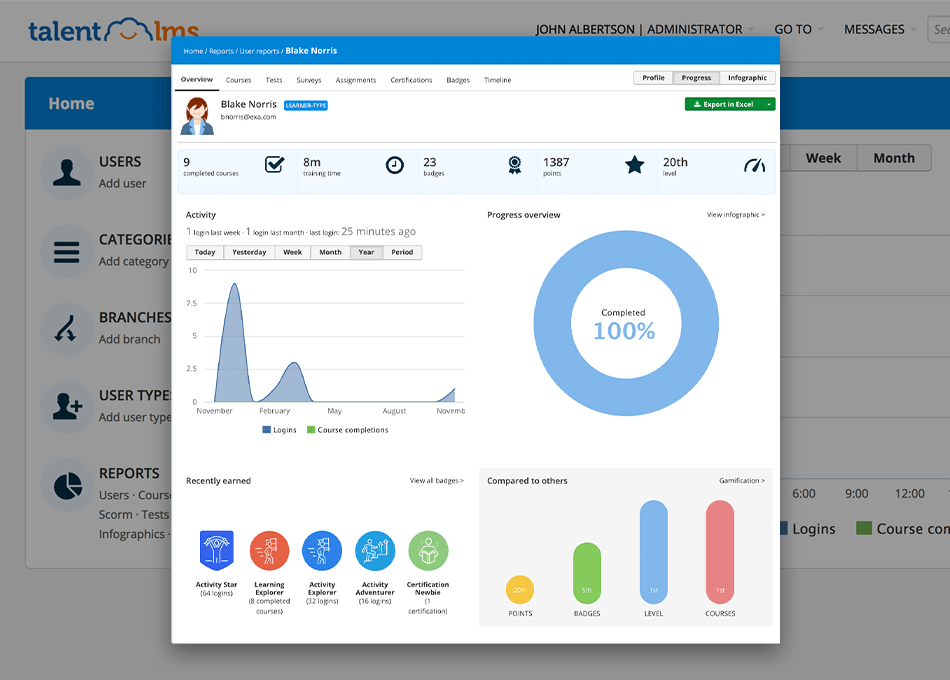 Similar to SkyPrep, TalentLMS provides users with an uncomplicated learning experience. From set up and access to training sessions to collaboration, gamification and certifications, the TalentLMS is an effortless platform for teaching and learning. The service allows you to upload existing material or create your training programs from the ground up in a remarkably short timeframe.
The learning side of TalentLMS is incredibly flexible. Taking a hybrid approach, courses can be delivered remotely or in-person or set up to promote self-registration and learning. Communication is another critical aspect of TalentLMS' success with personal messaging, discussion forums, notification and reminders, and a calendar feature. The full feature set includes:
Responsive, user-friendly interface
Mobile and multilingual platform
Customizable including company branding
Assessments and surveys
Learning path capable
Blended learning
Gamification and certifications
Support for video conferencing and ecommerce
Broad communication tools
Deep reporting and analytics
Course store
Segmented learning environments
Integrations feature over 200 different providers, including Slack, Zapier, Mailchimp, Shopify, Stripe, PayPal, OpenID, Calendar apps, SCORM, Google Analytics, API, SalesForce, LinkedIn
Support includes: Unlimited email support on all plans, success manager on upper tiered plans
Of the platforms on our list, TalentLMS pricing is the most complex and the most flexible. There are nine price tiers. Five standard plans have set users limits, and four active options have unlimited registration with pricing based on the number of users that log in each month. There is no free trial, but there is a scaled-down free option to acclimate you to the service.
Standard Tiers
Free: up to 5 users and 10 courses
Starter: $59 per month for up to 40 users and unlimited courses
Basic: $129 per month for up to 100 users and unlimited courses
Plus: $249 per month for up to 500 users and unlimited courses
Premium: $429 per month for 1000 to 40 users and unlimited courses
Active Tiers
Starter Active: $129 per month for up to 40 active users and unlimited courses
Basic Active: $239 per month for up to 100 users and unlimited courses
Plus Active: $349 per month for up to 250 users and unlimited courses
Premium Active: $479 per month for 500 to 40 users and unlimited courses
TalentLMS has an enterprise solution for 1,000-plus standard users or over 500-plus active users per month with custom pricing. There are discounts on all plans if you commit to a yearly subscription.
How to Pick Your Employee Monitoring Software
More so than many other software needs within your organization, LMS is a highly personalized decision. But it's not a particularly difficult one. Choosing the right LMS platform comes down to your team's educational needs, who's training, and how much training is necessary. The good news is that all of the LMS platforms on our list offer expansive feature sets and similar performance.
Except for the open-source Moodle (which is yours to craft how you want), LMS platforms are user-friendly, plug and play solutions that serve almost any company in any industry. There isn't a weak link in the bunch. As you evaluate your LMS options, it's critical to recognize what exactly you're trying to achieve. A few questions to consider:
How many users will you be training at any given time during a single month?
Do you need to connect your learning program with others beyond students or employees (parents, clients, or third-party vendors or partners)?
Is your company positioned to create a ground-up training solution, or is an out of the box solution preferable?
Will rigid pricing be an issue, or is flexibility with your LMS commitment a better match for your company planning?
Once you resolve the minor sticking points of which LMS proves the most natural fit to your training programs, you'll find the decision straightforward. So let's answer those above questions and see where each of the five highlighted platforms excel.
Large Educational Systems or Enterprise Organizations
Big business requires big solutions. Blackboard, as the sole LMS on our list designed for large school districts and major universities, also provides a powerful, premium learning solution for enterprise-level organizations. With tools that serve compliance, staff education, leadership enhancement, and professional sales training, Blackboard not only promotes education but also continued growth.
Training Solutions for Employees, Partners, and Clients
Every LMS on this list does well to train or certify your internal employees. Docebo, however, goes beyond that basic training tenet and offers tools specific to enhancing customer knowledge and engagement and strengthening the relationships with your most valued partners.
Institutions and Organizations Wanting Deep DIY Customization
As a free open source LMS platform, for customization, there is no other choice but Moodle. Every detail is changeable and provides an unlimited amount of freedom to create the learning or training program best suited to your organization's needs and goals. Technical knowhow is a must, although Moodle offers paid support plans and consultation services to help you get your LMS build off the ground.
For Simplicity and an Excellent User Experience
When it comes to learning, training, and the administration of both, few platforms offer a simpler, more user-friendly approach than SkyPrep and TalentLMS. Both services are remarkably similar and provide a vast array of features that will help any organization of any size fulfill their learning goals.
SkyPrep is the more polished of the two platforms and most suitable for larger or established organizations. TalentLMS is ideal for smaller firms, especially when factoring in their limited, but useful, free option, and companies that want flexibility with their LMS subscription pricing.