The 7 Best Live Chat Tools and How to Decide
Integrating the best live chat software for your business can increase your conversion rates.
Did you know that?
Well, the Stats DON'T lie!
A survey by Emarketer showed that 63 percent of consumers are most likely to return to a site that offers a live chat solution.
But the challenge here is: choosing the most suitable live chat software for your business.
Yeah, it could be a daunting task.
Luckily, we've put together an elaborate list—showing 7 of the best live chat tools in the market.
Also, you'll be seeing a well-structured buying guide that will help your buying decision.
So, let's kick-off!
Ignore the cliché name. LiveChat is one of the most prominent live chat solutions in the market.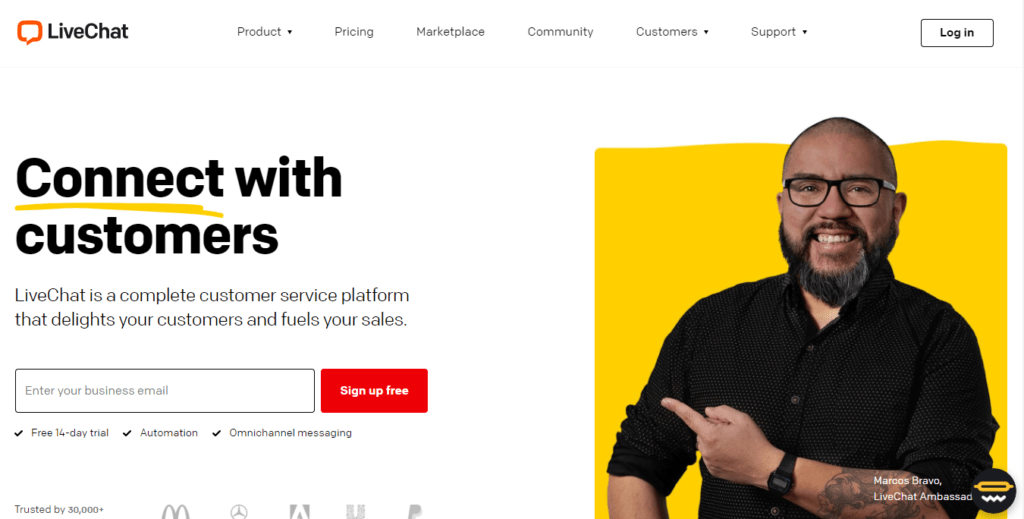 The company has its roots in Poland—where it first started in 2002.
Today, they have about 27,000 active customers using their platform.
It's not a surprise though! The developers of the product made it easy to fall in love with the tool.
How?
LiveChat comes with a slick interface and a ton of features that makes it SUPER easy to use.
That's not all.
The software is compatible with ALL popular devices; PC, Mac, Android, and iOS.
Also, their integrated help desk solution is on par. This feature is crucial in a situation where the live chat can't solve some requests immediately.
Hence, you can enjoy both telephone and chat support from this product.
But we recommend that you make use of their chat support more. It has more advantages.
Integrating LiveChat to any website is as simple as copying and pasting a few lines of code.
You don't want to touch any code? It's okay.
You can download plugins compatible with popular CMS like WordPress, Shopify, etc.
That way, you can handle its integration without worrying about lines of code.
The best part of this software is:
Its connectivity with Facebook Messenger. And your agents don't need to have a Facebook account.
Price
LiveChat has four price plans:
Starter – $16 per month (billed annually) or $19 per month – Best for small businesses
Team – $33 per month (billed annually) or $39 per month – For full-time support teams
Business – $50 per month (billed annually) or $59 per month -; For Customer Service departments
Enterprise – Contact them for individual contract billing – For Fortune 500 companies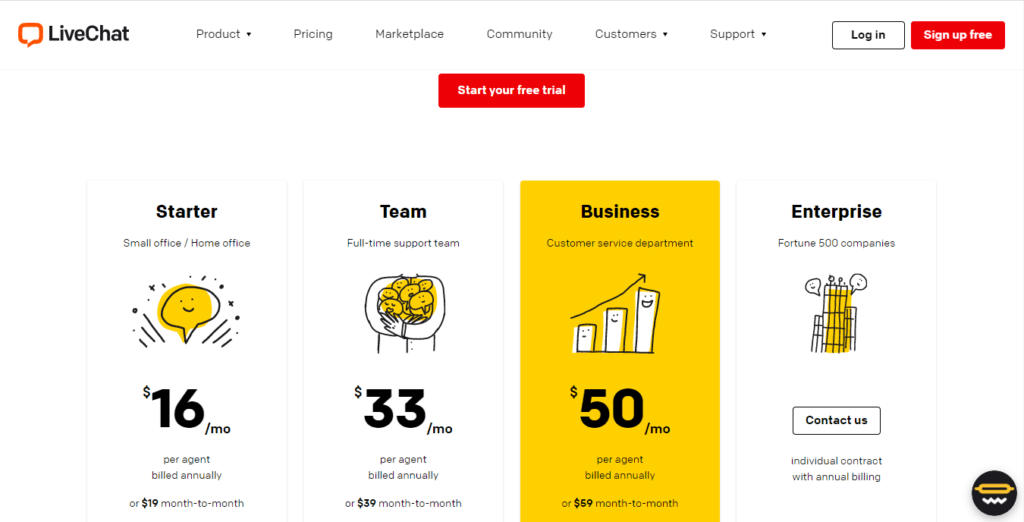 The "Team" package comes with a 14-day free trial. And it doesn't require a credit card.
Pros
User-friendly interface
Compatible with major devices
Comes with tons of features and apps
It has its helpdesk tool
Cons
It's a bit pricey
Automated greetings aren't sophisticated enough
ChatBot is a great tool to consider if you intend to scale your small business with the power of A.I technology.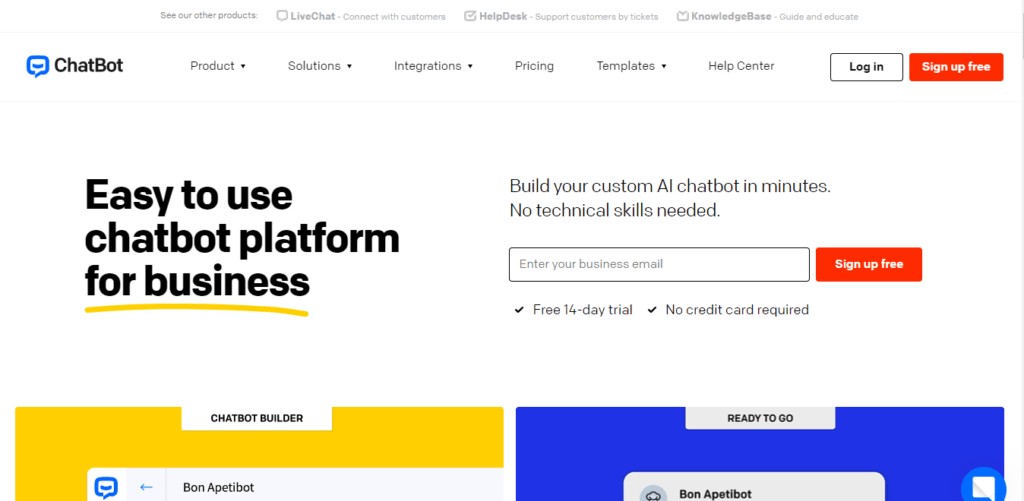 This tool makes customization super easy—since it has dozens of ready-made templates available.
If you want to create your personalized ChatBot, it's possible—thanks to its intuitive drag-and-drop user interface.
For instance, you can leverage the eCommerce bot template to help walk your users through the whole buying process.
The lead generation bot will come in handy if you plan on booking calls and boosting your sales.
With the sales bot template, you can sell your products directly from the chat window. And it's a powerful feature for making sales via social media profiles.
There are other bot templates like:
Restaurant bot
Recruitment bot
Coffee shop bot
Package tracking bot
And many others
One of the best features of the ChatBot is its templates. They give small businesses an excellent playing field to customize and automate their offerings.
Also, you can integrate WooCommerce and WordPress into Chatbot.
Pricing
ChatBot comes with four different packages:
Starter – $50 for 1000 chats per month
Team – $149 for 5000 chats per month
Business – $499 for 25000 chats per month
Enterprise – Comes with a fixed-price for large businesses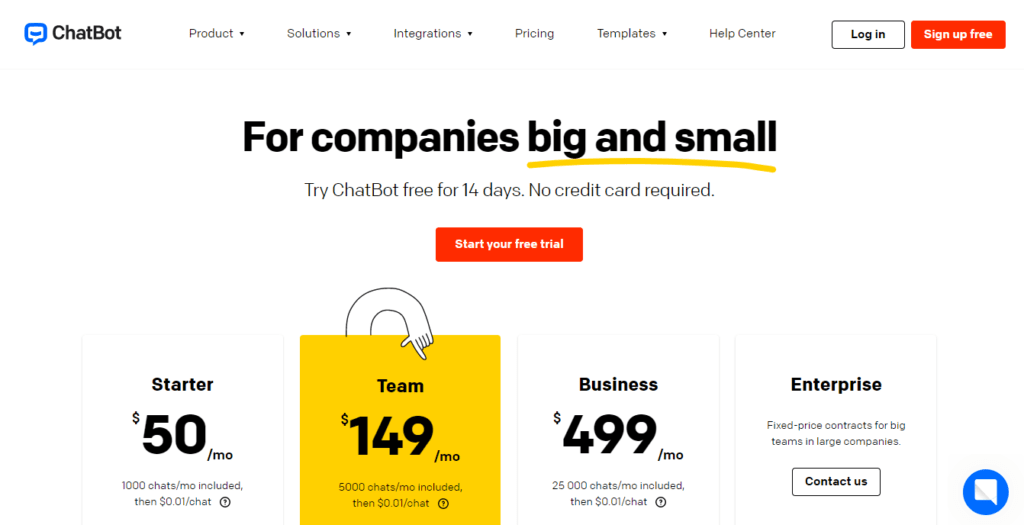 Pros
Great for interactive form filling
Captures user follow-up details
Social media integration
Cons
Setup is a bit difficult for small business owners
Are you looking for a robust yet beginner-friendly live chat software that's easy to install?
SendinBlue is an excellent choice to consider.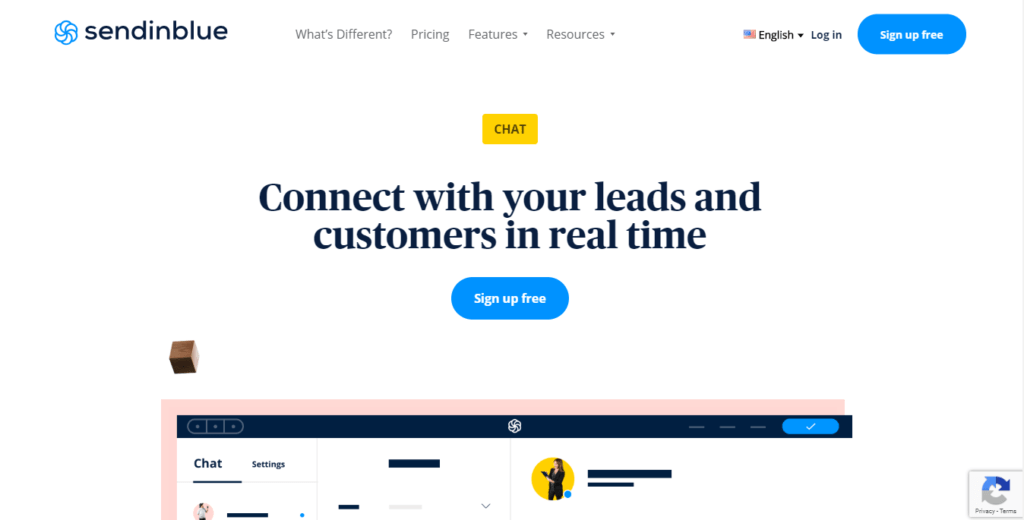 You can integrate it into your website using a WordPress plugin.
Converting your website visitors to customers is simple with SendinBlue. It helps to answer last-minute questions of your web visitors via live chat.
But that's not all.
The chat integration with SendinBlue market automation helps to capture more leads for your business.
Additionally, the app does more than live chat solutions.
It can help your business with:
Retargeting for Facebook Ads
Segmentation
Built-in email marketing
Complete marketing automation
To crown it all…
SendinBlue provides a full marketing solution with email marketing, landing pages, SMS, CRM, and more.
Pricing
SendinBlue has five different price packages.
But to access its chat feature, you'd have to subscribe to the "Premium" package, which is $66 per month. If you decide to pay annually, you'll get it for $59.40.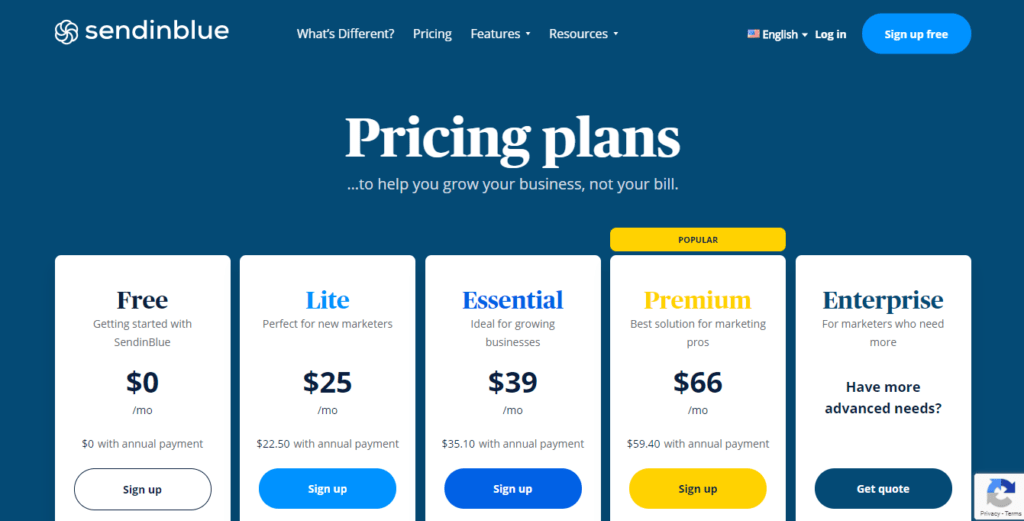 Pros
Easy to configure and setup
Price is highly competitive
It enables you to get a ton of customers
Handles all email types, from newsletters to receipts
Cons
The reporting view isn't good enough
If you're looking for a robust omnichannel live chat, then LiveAgent is a great place to start.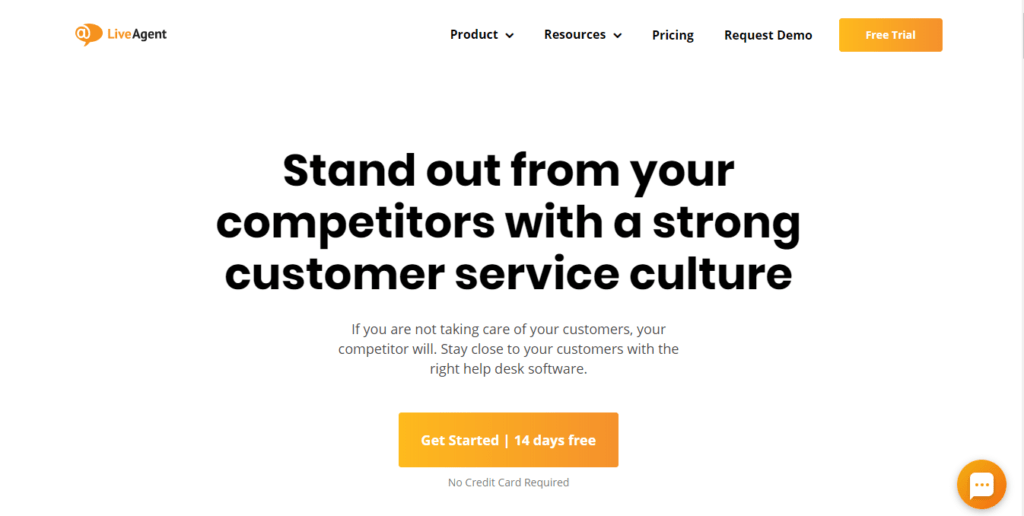 It comes with a suite of software that comprises of the following:
Live Chat
Email ticketing
Call Center
Time tracking
And many more…
LiveAgent provides a support desk system that's perfect for small businesses. Plus, if you're looking for an all-in-one system, this software will make things easy.
There's more.
LiveAgent provides seamless integration for WordPress and other popular CMS tools.
This tool also integrates CRMs, top email marketing services, SMS marketing, and other top marketing solutions to its platform.
Some packages of LiveAgent come with video calling.
Also, the software has visitor monitoring and excellent chat invitations—to create more relevant conversations.
LiveAgent has an excellent report system. You can check all your active chats, agent activity, and more.
Pricing
LiveAgent has four different price plans:
Free – It comes with limitations – $0 per month
Ticket – It's a full-sized ticketing solution – $15 per month
Ticket + Chat – Best plan for live chat solution – $29 per month
All-Inclusive – Houses all solutions – $39 per month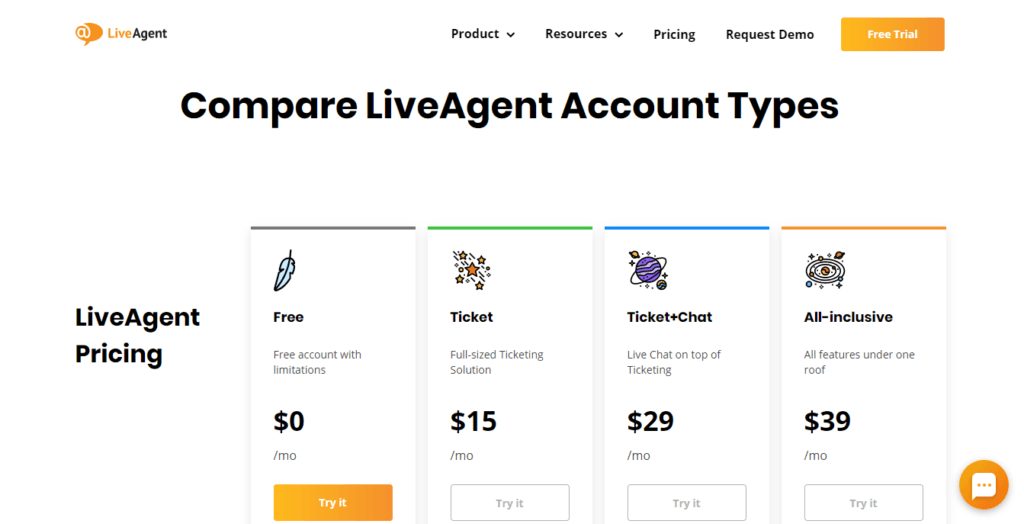 Pros
Awesome dashboards for monitoring
Flexible system
Simple and effective all-in-one solution
Customer support is up to par
Cons
5. Intercom
Intercom boasts of being one of the best all-in-one live chat tools for customer communication.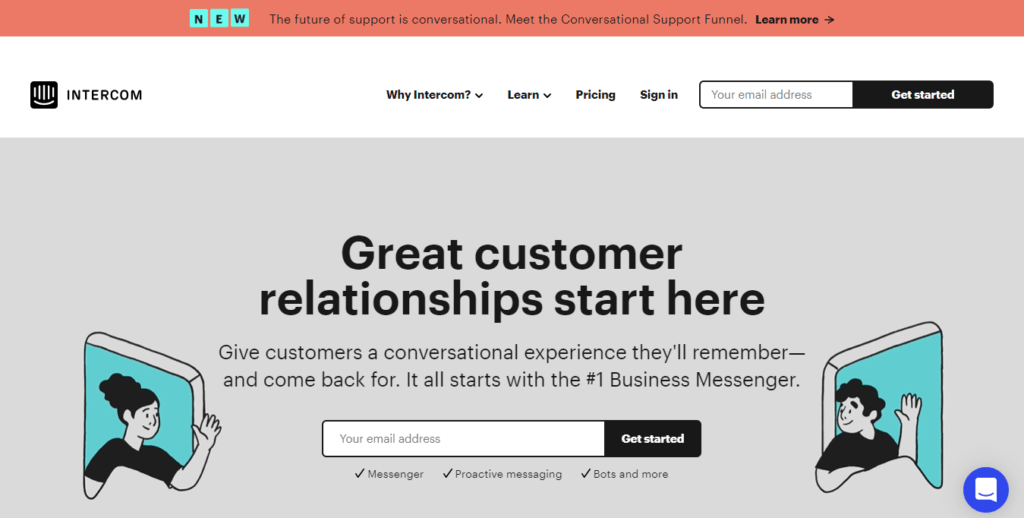 It comes with marketing, customer service, and messaging products in one package.
The striking thing about this product is its machine learning and AI function. This feature makes it one of the most innovative live chat software available.
However, we must warn that Intercom is not needed if you plan to run a basic live chat option. It may be too robust for you.
If you are looking for a sophisticated customer support platform, you should consider Intercom.
Price
"Essential," "Pro," and "Premium" are the three price plans of Intercom.
The "Essential" package goes for $87 per month. It's perfect if you plan to win your customers with messages and chat.
The "Pro" plan goes for $153 per month. And you'll love it if you plan to automate most of your processes.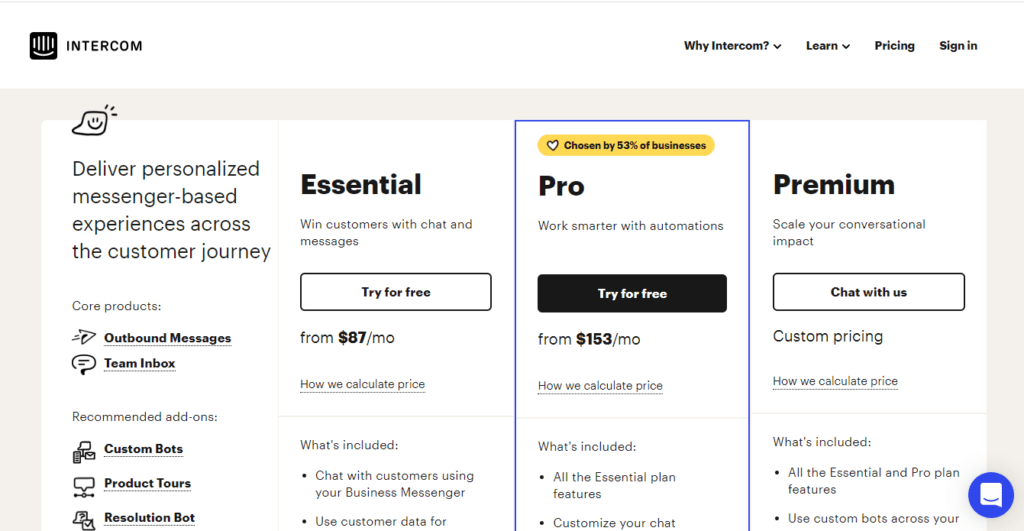 Premium is an excellent choice if you run a big business, or you plan to scale from a mid-sized business. You'd have to contact the team to get the customized price for this plan.
Pros
It comes with a ton of helpful features
Gives its users full control of the platform
A highly efficient platform for getting more conversions
Cons
Users may be limited to the platform's features because of its all-in-one tool feature
6. SnapEngage
The developers of SnapEngage had two goals in mind when producing it:
Customer retention
Sales amplification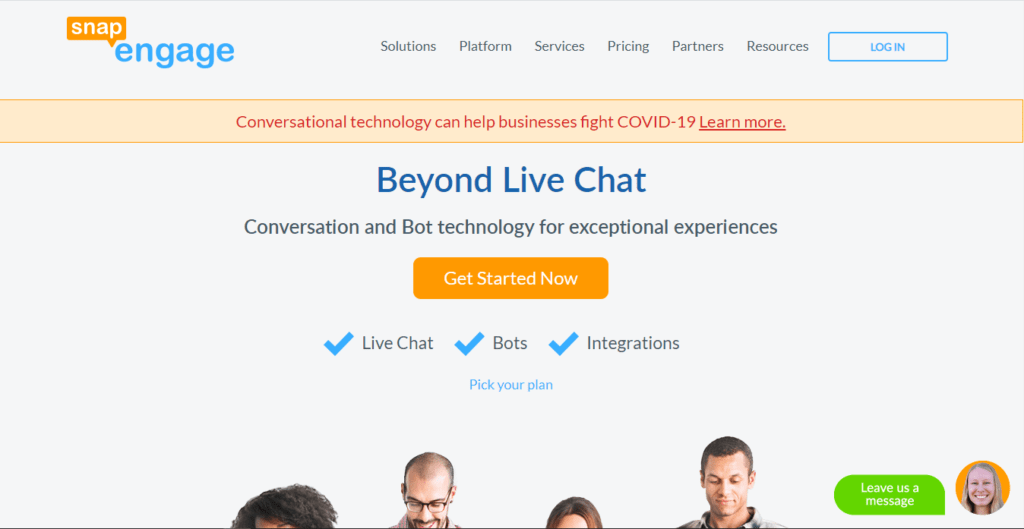 Moreover…
The striking feature of this software is its flexibility.
SnapEngage is all about "integration from anywhere."
In other words, it works seamlessly with basecamp, Salesforce, and other popular CRM tools.
This feature gives it an edge in the world of live chat.
But you haven't heard it all.
With SnapEngage, you can be sure of getting a fluid, responsive, and interactive chat—which are enterprise-grade. Plus, it automatically detects and optimizes for mobile devices.
There's more.
This live chat has a robust design studio that will help facilitate your business brand—with its customized features.
Price
SnapEngage has three packages.
Essentials – billed at $16 per month (This plan has everything you need to get your business started)
Professional – billed at $26 per month (This plan is perfect for a growing team)
Enterprise – Contact them to get a personalized price (Most suitable for large organizations)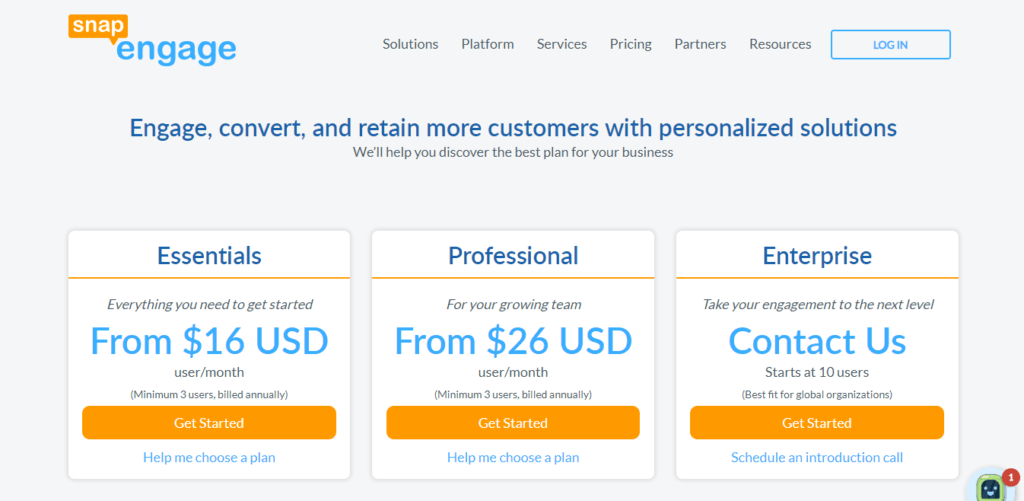 Pros
It comes with top-notch enterprise-grade features like Audit logs. SSO, etc.
It's HIPPA compliant
Helps with brand customization
Mobile responsive and optimized chat window for users
Comes with social discovery function (helps to find users' Social media profiles via email address)
Cons
You can't initiate a live chat manually
Data collection is limited to a submitted chat request
Olark's selling point is its ease of use.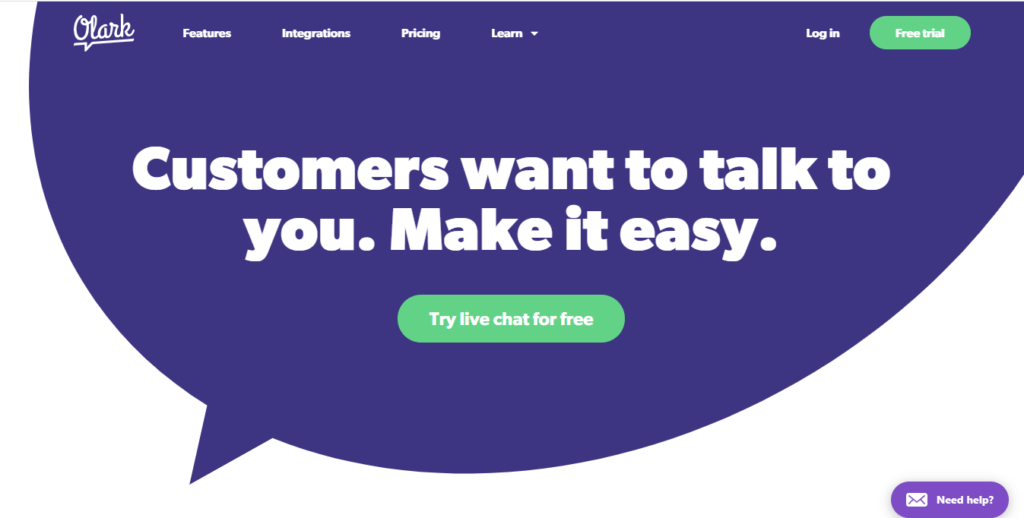 You'll find features like automated messages, upfront team management tools, and real-time reporting that confirms it.
The software is SUPER customizable. So, you can tailor your chat functions to your desired needs.
Also…
You can get real-time report metrics and create automation with this app.
It's not a surprise that they have over 12,000 active users from over 178 countries worldwide.
Overall, we recommend this product—if you're looking for straightforward live chat software.
Pricing
Olark's pricing system is very reasonable.
It gives you access to all its features, regardless of the plan you pick.
But you'd have to pick from their la carte power-ups if you need extra functionalities.
So, you have three subscriptions to pick from:
Monthly plan – $19 per agent every month (You can use this package anytime)
One year-plan – $15 per agent per month (You'll be saving 21% per year)
Two year-plan – $12 per agent per month (You'll be saving 37% per year)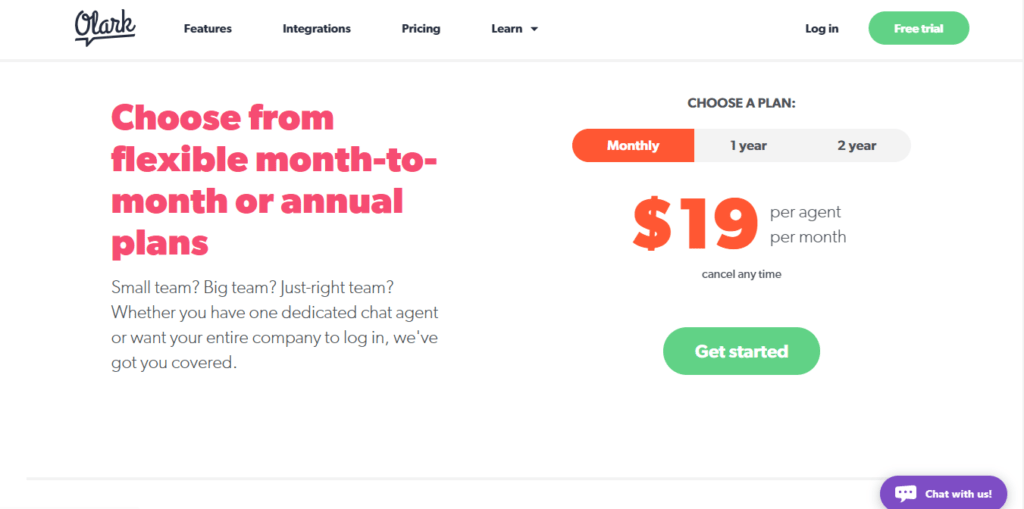 We recommend you start with the monthly package first. If you're comfortable with the product, you can pay for the one or two-year plan.
However, the 14-day trial is great for testing the product.
Pros
Live chat transcripts are searchable
It seamlessly integrates CRM tools like Salesforce, HubSpot, Groove, etc.
All features are accessible in all the plans
Affordable pricing
Cons
It lacks a ton of automation
Too many features sold as Add-ons
How to Pick Your Best Live Chat Software
Knowing how to choose the best live chat software can be easy—if you know the key things to consider.
Here's a step-by-step guide that can help your buying decision:
1. Know the Feature(s) Most Essential for Your Business
Why do you need a live chat on your website?
Evaluating the dire needs of your business is the first thing to do before making a buying decision.
By doing that, you'd get a clear picture of the features the live chat software should have—for your business.
Are you going to be handling Sales—like giving guidance to your potential buyers?
Is your website posed at reducing the cost of staffing expensive call center representatives to handle customer complaints?
Or you need a chatbot to provide support for consumers that need technical guidance to use your product?
2. Identify the Type of Chat Solution You Want
Next, make up your mind on the type of chat solution you intend to deploy.
Are you looking to get chatbots integrated with AI technology? Or you intend to have Live agent chat integrated with real humans?
If you run a small business with a handful of staff, it's best to go for AI-based chatbots.
But, if you have the resources, coupling a live agent to answer your customers' questions is perfect.
3. Is the Platform Easy to Customize?
One of the reasons for getting the best live chat software is to increase your conversions.
So, it's NOT such a good idea to go for a live chat software that's difficult to customize.
Why?
Customization works hand-in-hand with branding.
Hence, you need an easily customizable software that will help you market your brand image via:
Colors
Styles and designs
Fonts
Customized messaging
Chat Banners
4. Does It Allow Integration With Other Third-Party Tools?
Finding the best live chat software goes beyond providing top-notch functionality for itself.
The software must be able to merge with other apps and web services to improve its overall quality.
So, integrating third-party apps like CRM, social media, CMS, and email marketing tools should be possible.
But much more…
It should be easy to integrate.
5. How Compatible Is It With Mobile Devices?
Mobile compatibility is the next thing to look out for.
With the vast use of smartphones today, a live chat app may not stand a chance if it's not mobile-friendly.
Check that the software you intend to go for is available on the go.
6. How Is the App's Reporting and Analytics?
You need to be able to store and find historical chats when you need them—for your records.
Most returning users expect you to have a record of their previous chats. No one wants to waste their time recapping.
Also, you can have solid data from your customers by checking the following:
Location tracker
Background analyzer
Behavior analysis
That way, you get to understand your customers' needs adequately.
A quality live chat with excellent report and analysis should be able to do the following:
Manage sales planning based on the analytics report
Generate automated sales history
Store a substantial amount of information relating to your users' details
7. What Is the Cost?
Of course.
Price is the next thing to consider, once you've settled for a particular live chat.
The factor is tricky.
You have to be wary NOT to pick something affordable that doesn't meet your requirements.
It's ideal for you to stretch your budget a bit if you have to get something that works for you.
8. Is Customer Support Reliable?
Getting poor customer support for a live chat app is one of the worst things that can happen to you.
What an irony, right?
The best way to go about it:
Choose ONLY live chat systems that offer 24/7 quality customer support.
That way, you can get help if problems pop up with their app—anytime.
Also, the customer support should have all means of communication from emails, phone, to live chat.