The 5 Best Knowledge Base Tools and How to Decide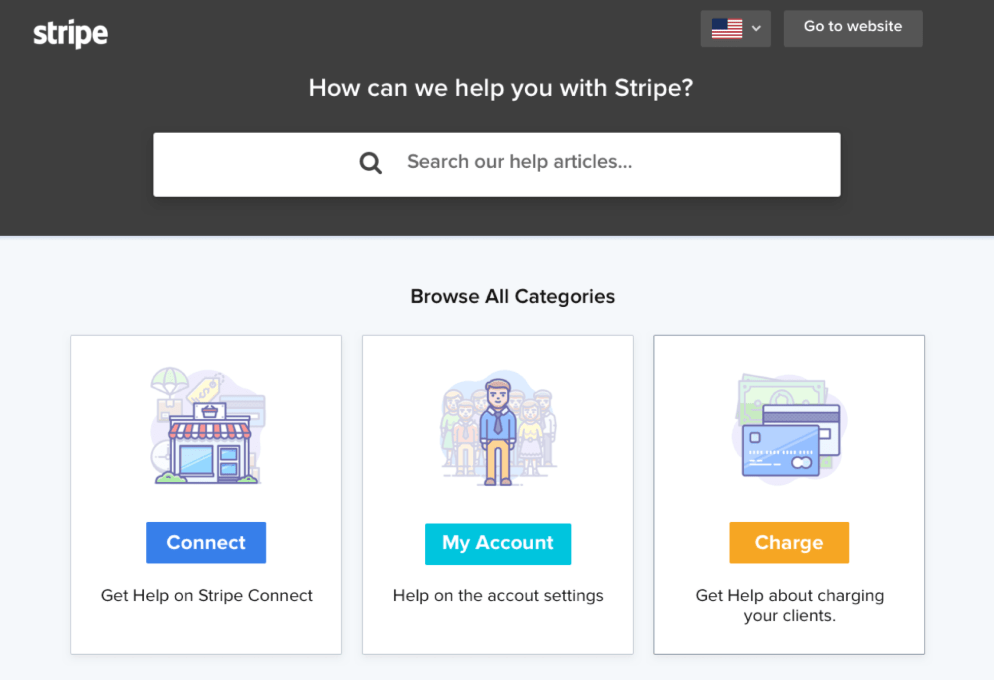 Let's face it. Choosing the best knowledge base software isn't easy.
And you probably have 432,059 things on your to-do list for today. Not to mention the million and one other things on your mind at any given moment. It's no secret you're busy. That said, one thought keeps creeping in… over and over again.
A thought that'll help your team save time, make customers happy, and reduce customer service calls (by as much as 5%!). Deep down, you know you need to create a comprehensive self-service knowledge base for your customers (and maybe one for your employees, as well).
But, you're stuck because you don't know how to choose the right software for the job.
They all claim to be easy to use. So, how do you tell them apart? How do you know which one is the perfect intersection of usability, functionality, customization, and most importantly… your budget?
If you're not sure how to answer those questions, you're in the right place. In this article, I cover the five best knowledge base software options as well as a step-by-step walkthrough on how to choose the perfect solution for your business.
So, let's dive in!
1. LiveAgent: Best Budget-Friendly Option
LiveAgent at its core is an all-in-one helpdesk software. However, every plan includes a knowledge base within its extensive list of features (even the free plan). But, there are quite a few limitations unless you upgrade to one of their paid plans (starting at $15 per user/month).
So, whether you need a full-scale ticketing system with live chat and social media messaging capabilities or not, LiveAgent is the best knowledge base software option for small businesses on a tight budget.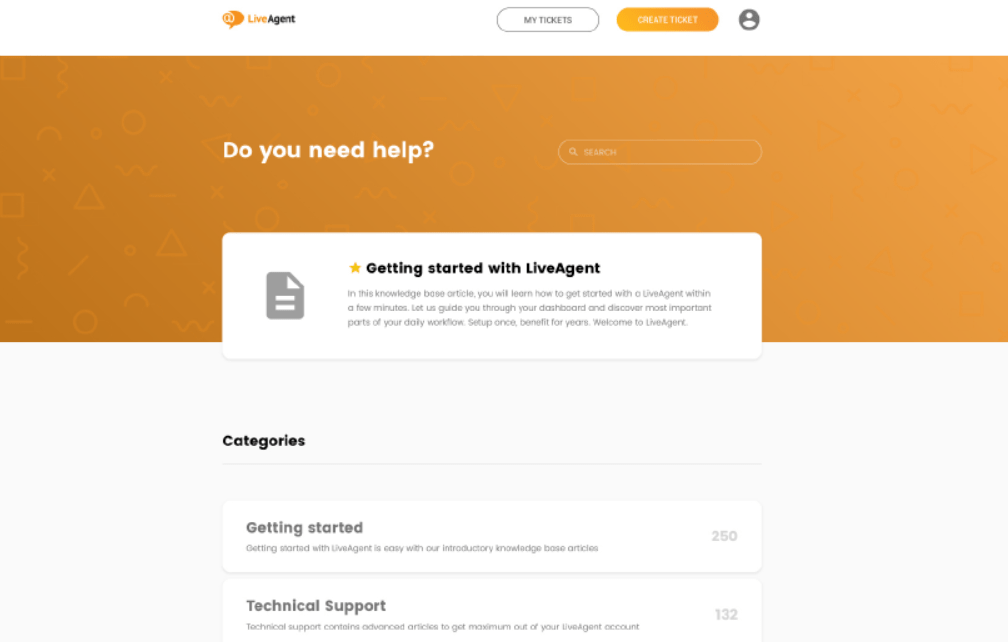 Their knowledge base includes basic customizations, categories to simplify navigation, and an easy-to-use user dashboard that makes building your knowledge base a breeze.
LiveAgent pros:
Free option with affordable paid plans
Ability to grow as your business scales
Design customization options on all plans
24/7 customer support
LiveAgent cons:
Robust platform with advanced features you may not use
Steep learning curve for advanced features (but using the knowledge base is easy)
Customer-facing knowledge base templates are very basic
LiveAgent Pricing
LiveAgent offers four different pricing plans depending on the number of customer support features you need. However, you can get started building a basic knowledge base using their forever free plan.

Note: you can add additional knowledge bases for an additional $19/month.
2. ProProfs: Best Affordable Option Up to 50 Users
ProProfs creates affordable tools and software that help businesses educate their employees and customers. One of those tools is the ProProfs Knowledge Base. Their knowledge base tool lets you create and store training documents, manuals, and more "in a matter of minutes".
Furthermore, they have several different templates to choose from and you can get started for free. Ten, when you're ready to upgrade, their payment structure gives you the freedom to pay for the number of pages you need (rather than the number of users).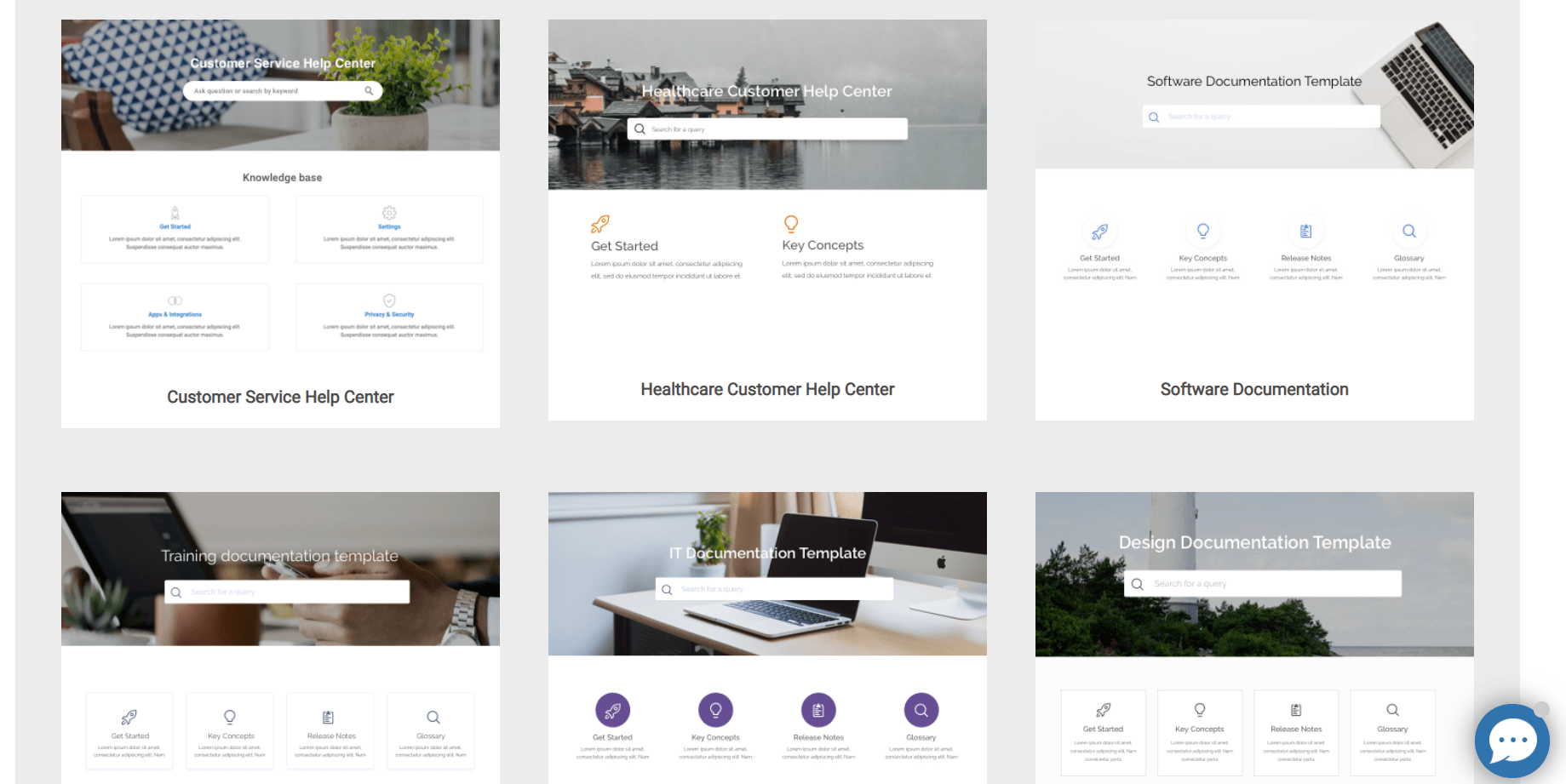 Their knowledge base tool includes basic customizations like your logo and color schemes, categories, the ability to import existing documents, and advanced control over user privacy settings.
ProProfs pros:
Free up to 20 pages (with one user)
Ability to add multiple bases on the Premium plan
Pay for the number of pages you need (up to 50 users)
Very intuitive and beginner-friendly
Tons of third-party integrations
Solely a knowledge-base software
ProProfs cons:
Limited design customizations (unless you're comfortable with CSS/HTML)
Gets expensive for large knowledge bases
ProProfs Pricing
Rather than paying for the number of users, ProProfs lets you pay for the number of pages you need. They offer a free plan for the first 20 pages and anywhere from $0.30 – $0.70 per page for their paid plans depending on whether you pay monthly or annually.
3. Document360: Best Team Collaboration Features
Document360 is solely for building knowledge bases rather than an entire customer service suite. So, if you're interested in a dedicated, high-quality knowledge base software with the ability to create multiple bases, Document360 is a good option.
They're known for their advanced team collaboration features so you can rest easy knowing everyone on your team can work together without costly errors and accidentally overriding other users' work.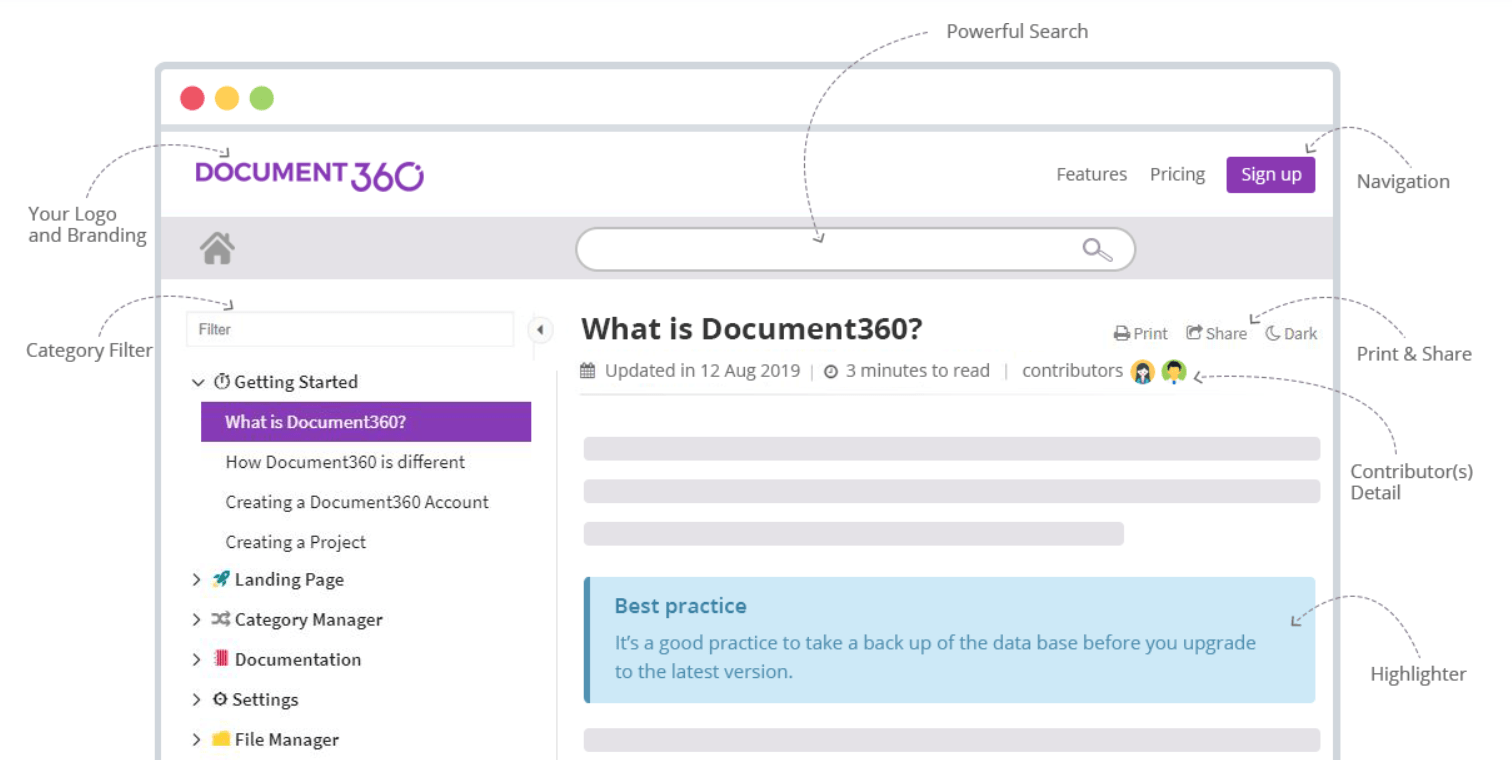 Their knowledge base software includes advanced version control, bulk operations, categories/subcategories, and a discussion section to empower even the most collaborative teams.
Document360 pros:
Tons of collaboration features
Advanced branding and customization
Unlimited articles and categories
Advanced search capabilities
Multiple knowledge bases
Document360 cons:
More expensive than other options
Limited software integrations
Document360 Pricing
Document360 offers four different plans depending on the features you need. You can add new users, more storage, and more page views for a few dollars a month as your business grows. Plus, you can get started and take their software for a test drive with a free 14-day trial.

4. Crisp: Most Affordable for an Unlimited Number of Users
Crisp offers a full suite of customer relationship management tools and software. However, their unlimited plan is much more affordable than all the other options on this list for unlimited users. And it includes all of their CRM tools plus their knowledge base software.
So, if you have a large customer service team or are interested in an all-inclusive tool that includes live chat, social media messaging, advanced automation capabilities, and extensive integrations, Crisp is a smart choice.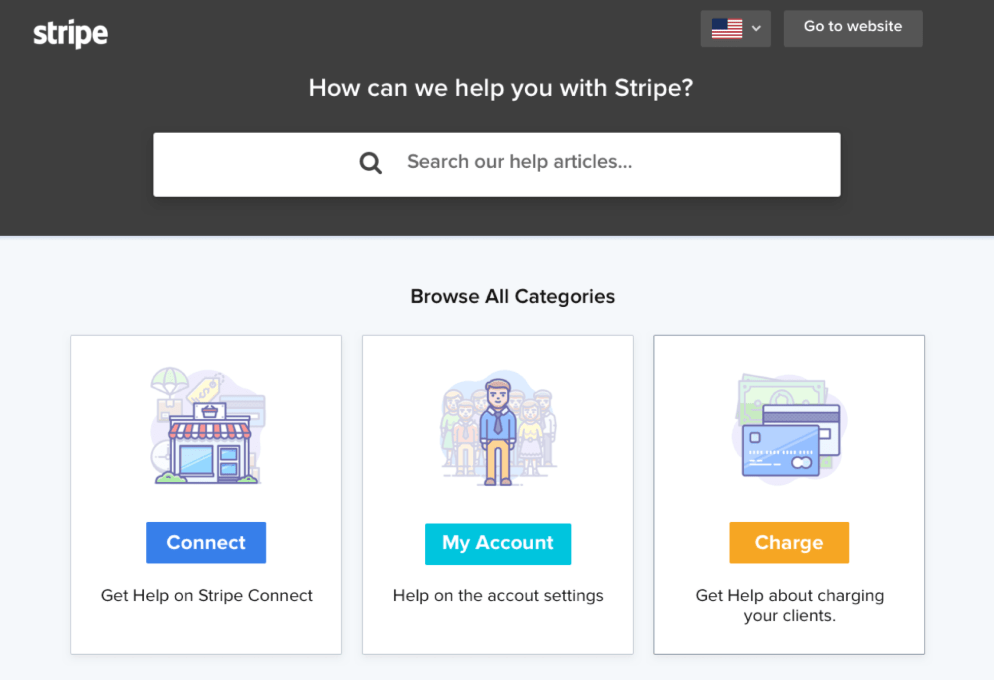 Their knowledge base features include colorful, human-first design options, unique branding and customization, rich and engaging content types, and SEO optimization.
Crisp pros:
Very affordable for unlimited users/features
Engaging, vibrant, and modern designs
200,000+ customer base
Intuitive and easy to use
Extensive integrations
Crisp cons:
Knowledge base capability is only included in the Unlimited plan
Crisp Pricing
Crisp offers a free forever plan as well as a 14-day free trial for both of their paid options. However, their knowledge base software is only included in the Unlimited plan. So, if you don't need an unlimited number of users, you may be better off choosing a more affordable option.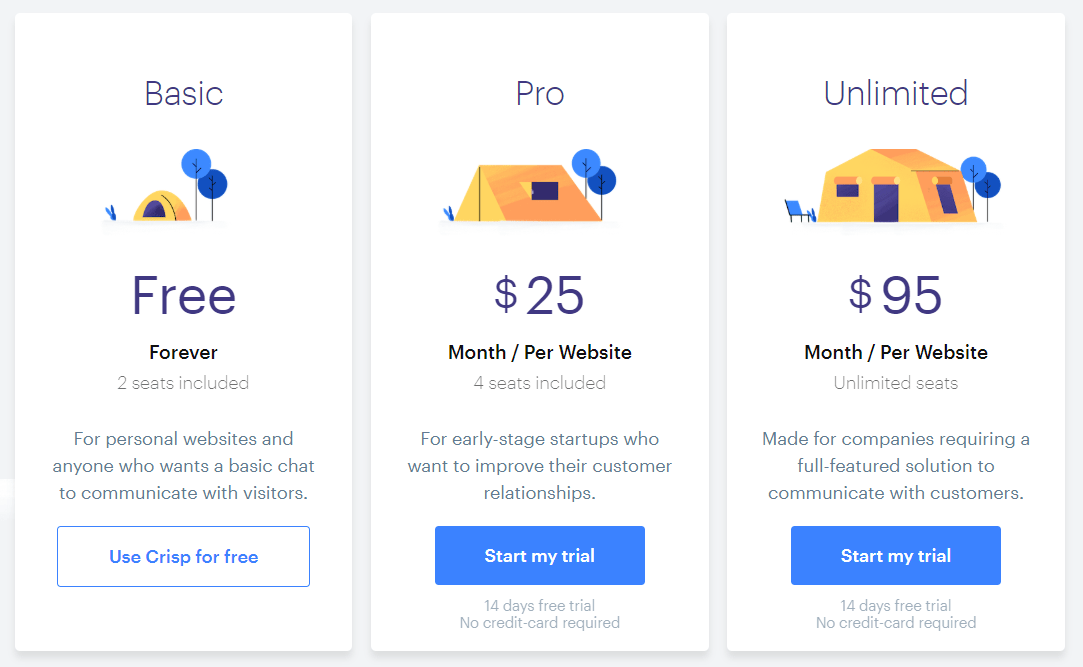 5. HelpJuice: Best for Large Businesses and Enterprises
HelpJuice is a dedicated knowledge base software with advanced features, analytics, customizations, and scaling capabilities for large businesses with large customer support teams.
So, if that sounds like you, HelpJuice is a smart choice. It's packed full of collaboration features, advanced search capabilities, role-based accessibility settings, and detailed analytic reports so you know how to best serve your customers.

They have several fully customizable design templates you can use or you can create your own layouts using HTML/CSS coding if that's more suitable for your business. Plus, the platform is very easy to use with a small learning curve.
HelpJuice pros:
Advanced customization options
Free expert customization (if desired)
Google-like search capabilities
In-depth analytics dashboard
Full-scale collaboration features
Easy to use
HelpJuice cons:
Premium price tag
Not affordable for small businesses
HelpJuice Pricing
HelpJuice is a top-notch knowledge management solution for larges businesses and enterprises. They offer four plans depending on the number of users you need with the cheapest plan starting at $120/month.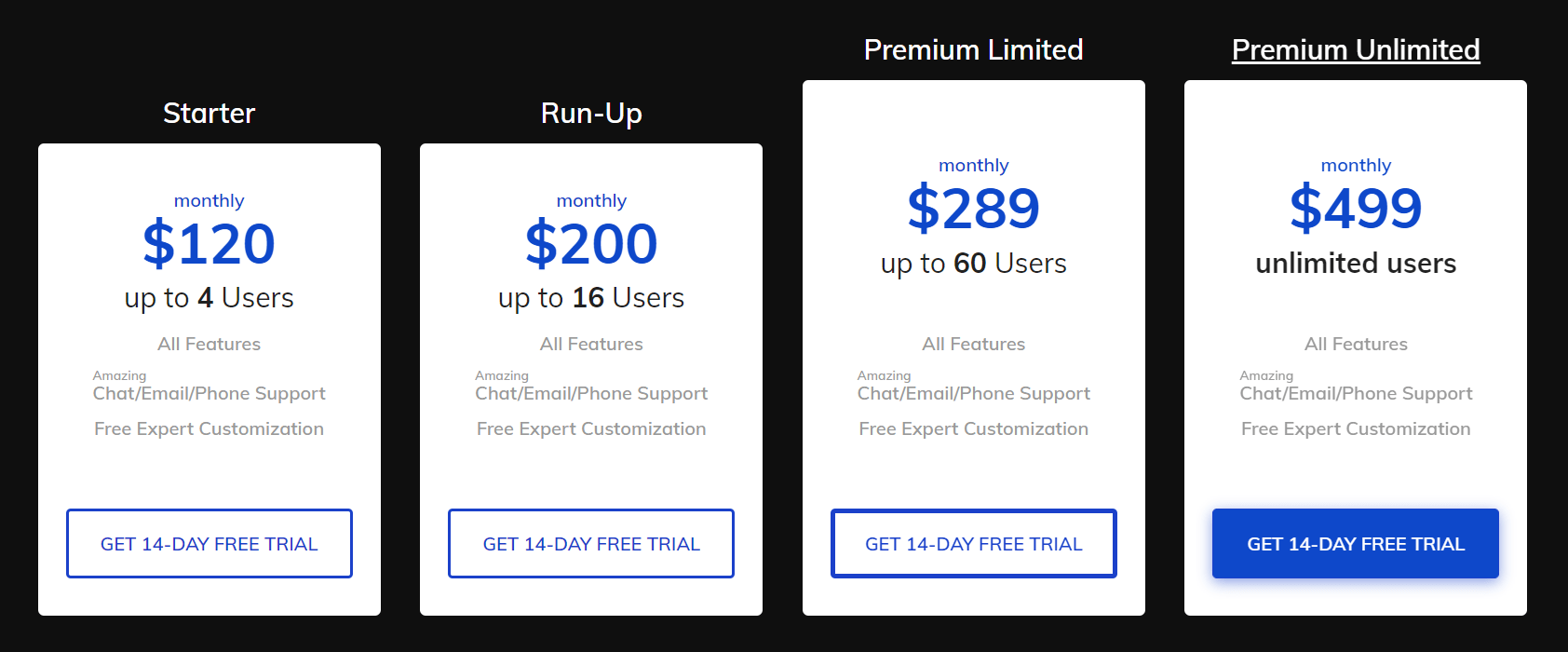 How to Pick the Right Knowledge Base Software
Now that you know the five best knowledge base software, it's time to walk through how to decide on the right platform for your business. We'll start by defining your requirements and monthly budget. From there, we'll talk about which software is best for different situations.
Let's get started!
Step 1: Understand Your Knowledge Base Requirements
Every business is unique as are their knowledge base requirements. So, it's important to take the time to understand exactly what you're looking for in a knowledge base software. This helps narrow down your list of viable options.
So, what requirements should you consider? I'm glad you asked! To help create your list of requirements, ask yourself the following questions:
Ease of use – how long does it take new users to learn?
Organization – is it easy to organize your content into categories?
Analytics – what types of reports do you expect to have access to?
Style – how important is customization? What design elements do you need to control?
Number of users – how many user seats do you need?
Languages – do you need multiple languages or translation capabilities?
Multiple bases – how many knowledge bases do you need?
Customer experience – how easy is it for your customers to find what they need?
Role-permissions – do you need to control who has read/write access to what?
SEO optimization – what SEO features do you consider must-haves?
Additional features – do you need other customer support tools like live chat or email?
Now, go through your answers and prioritize them so you know which features aren't negotiable and which ones have some wiggle room. Use this list as you go through the next steps to help you decide which knowledge base software is right for your business.
Step 2: Determine Your Monthly Budget
Next, you need to determine how much you can afford to spend on knowledge base software every month. Keep in mind that different platforms have different pricing structures. So, it's also important to align your expectations with your budget.
Determine a maximum budget you won't go over no matter what.
Then, weigh the importance of each requirement you listed in step one against your max budget. Some of your must-haves may not be realistic for the budget you have. And there's nothing wrong with that but it's important to understand.
Step 3: On a Tight Budget? Go with LiveAgent

If you're a small business with a tight budget, LiveAgent is the best budget-friendly option. They offer a free forever plan (with limited features) and their most affordable paid plan starts at $15 per user/month.
However, with this type of pricing, adding several admin users gets expensive… really quick. So, if you're on a budget and need more than a handful of users, move on to step 4. If you're not on a tight budget, move on to step 5.
Step 4: Need An Affordable Option with Numerous Users? Get ProProfs

ProProfs' Essential and Premium knowledge base plans allow up to 50 users (depending on how many pages you choose). And you only have to pay for the number of pages you need.
Interested in building one small knowledge base with a lot of contributors? Choose the Essentials plan with 200 pages for $48/month. Or maybe you need multiple knowledge bases. Choose the Premium Plan with the right number of users and pages starting at $50/month.
ProProf's pricing flexibility helps you save money and puts you in control. However, if you need even more users, move on to step 5.
Step 5: Need Unlimited Users? Choose Crisp

Crisp offers a much more affordable way to add unlimited users/contributors to your knowledge base. Their unlimited plan is $95/month and includes an unlimited number of users as well as a full suite of customer relationship management tools.
However, if you don't need unlimited users and want more advanced collaboration features (at a higher price point), move on to step 6.
Step 6: Interested in Advanced Collaboration Features? Get Document360

Document360 is a great option for highly collaborative businesses with a higher budget for knowledge base software. Their plans start at $49/month for two users and increase to $299/month for up to 15 users (with more storage space).
However, if you're managing a large business or enterprise, move on to step 7.
Step 7: Running a Large Business/Enterprise? Go with HelpJuice

HelpJuice is the perfect knowledge base solution for large businesses and enterprises looking to improve customer relationships. It's an expert-level knowledge base software including advanced (and highly customizable) features for large companies interested in a white-glove experience.
Their plans start at $120/month for four users and go all the way up to $499/month for an unlimited number of users.