Best IT Asset Discovery Tools
Businesses typically used Excel spreadsheets to keep track of their IT assets in the past, but these sheets were often unnecessarily complex and struggled with accessibility. IT asset discovery tools automatically collect and update information about your company's infrastructure with far greater ease. 
Asset discovery tools support the acquisition and optimization of IT and software assets. They help prevent lost assets and keep procurement costs down too. But with a crowded market, which one should you go for overall? 
Our guide details the best asset discovery tools on the market and shows you how to pick one. 
Cacti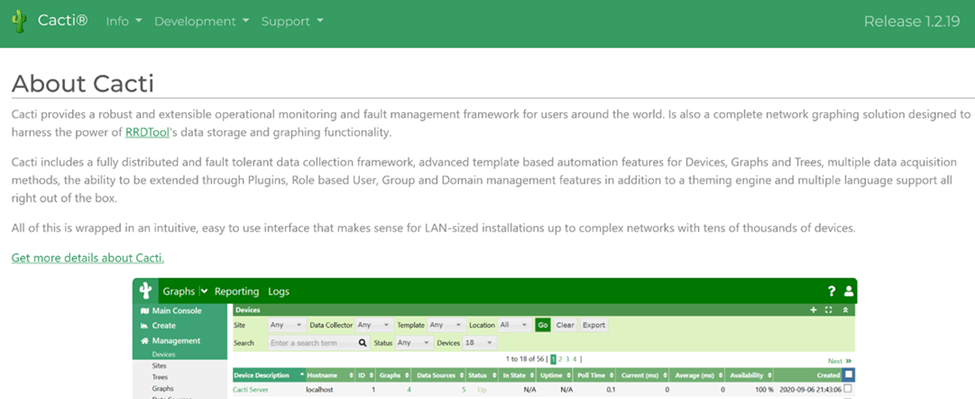 Cacti is an asset discovery tool that's best for small businesses and agencies. It's free and open-source software that can monitor multiple devices across an entire network. The polling process itself updates when equipment lists change, and there are advanced templates available for trees, graphs, and company devices, including a theming engine for holistic domain and group management. 
On top of that, Cacti provides remote data collection and graph aggregation, and you'll find an intuitive, easy-to-use interface to manage intricate networks with thousands of different devices. As it's free to use, Cacti serves as a good starting point before potentially moving on to other paid software with enhanced features. That said, there is a bit of a learning curve getting started—the setup could be more straightforward overall. 
OS requirements aside, you can download and get started with Cacti today.
Qualys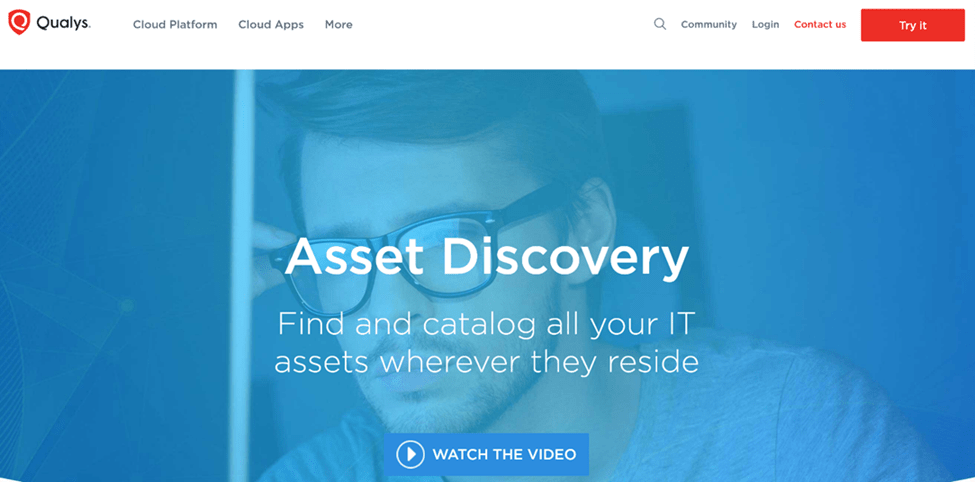 Qualys is ideal for startups and large enterprises looking for an asset management system that provides both IT compliance and a security solution. For example, the tool can detect serious misconfigurations and vulnerabilities and access alerts in real-time like network anomalies and other compromised assets. We particularly like the immediate visibility and compliance control of all your existing integrations in one place.
There are also six sigma accuracies for eliminating the possibility of false positives and data center security for vulnerability management. A detailed inventory of your IT assets gets provided no matter the location, including on-premise, cloud instances, or even mobile endpoints. For searching through data, the "ElasticSearch" engine lets you perform ad-hoc queries and refine them using different criteria—you can filter the list by device, location, OS version, and more.
It's a complete solution, although more consistency across the UI would be even better in future updates. A 30-day free trial is available, with all of the platform's main features open straight away. You'll have to reach out for a custom quote, though, since prices aren't publicly listed.
Invicti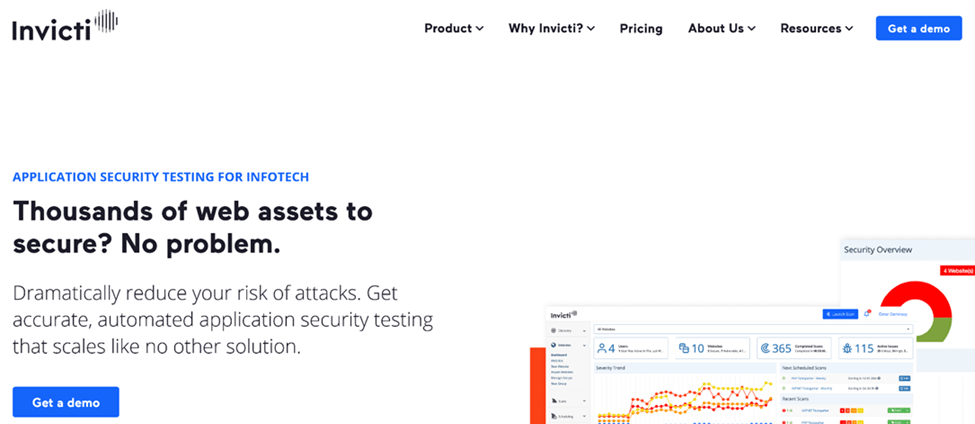 Invicti (formerly known as Netsparker) is a vulnerability scanning and management solution suitable for businesses small and large. While there's a stronger focus on security here, the tool gives you complete visibility into your apps and devices too, and you can quickly find your web assets, such as those lost or created by other departments.
You'll also be able to automate security tasks, identify critical vulnerabilities, and help development teams using the AppSec, DevOps, and DevSecOps programs. Combined signature and behavior-based testing mean that there'll be nothing you aren't aware of in day-to-day operations. That said, the tool is resource-intensive, and we'd like to see scans complete a bit quicker.
You'll have to reach out for a quote when it comes to pricing, but a free demo is available so you can see it in action for yourself.
NinjaOne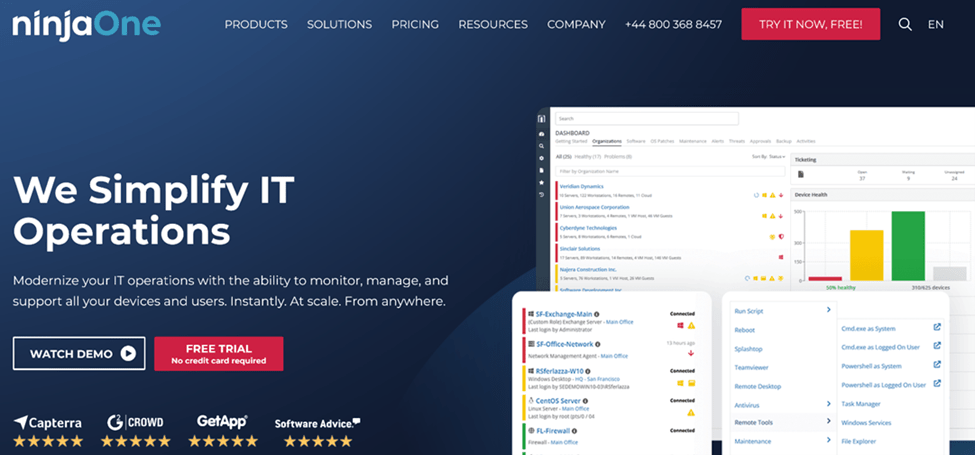 NinjaOne is a remote monitoring platform that allows you to discover assets with real-time insights. It provides automated IT asset management for servers, workstations, and laptops and supports Windows, Mac OS, and Linux. You can document and use contextual information about IT environments you manage as well—the tool successfully unifies endpoint management, ticketing, and documentation in one place.
You'll have access to powerful automation features and comprehensive visibility, with the capacity to identify the health and performance issues of assets. You can also schedule scans to determine unmanaged devices and deploy a management agent where necessary. The customer support team is known for its responsive and professional nature too. There's a lot to like here, but we think the reports could be better with more precise data.
You'll have to reach out for a custom quote, although a free trial is available with full access to features.
Lansweeper

Lansweeper is IT asset discovery software that offers a centralized IT inventory system covering hardware, software, and users. Companies will enjoy enhanced visibility into their IT environments, showing them which assets they own, their location, and who's using them. The analytics on offer are particularly impressive, and you can choose from over 400 pre-made network reports or build custom reports within a few clicks.
If you're worried about the setup, which can be notably difficult in the wrong tools, don't be—Lansweeper connects directly with your current technology stack and provides data to populate your CMDB. The platform can also check hardware warranty data, license compliance and establish asset relations for all users across the network. There are some issues concerning performance when a large number of devices get connected to a network, but the team is aware of this, and updates are regular.
Lansweeper is free to use, with all features open for up to 100 assets. After that, it costs $1 per asset, per year. For more than 5000 assets, you'll need to request a custom quote.
How To Pick Your IT Asset Discovery Tool 
Those are our top picks, but how do you decide which asset discovery tool is the best for your company? The steps below will help you determine just that.
Step 1 – Understand How Asset Scanning Works 
Asset discovery tools allow you to scan assets in your network. Yet it's important to understand the tech used in the scanning probes and how frequently the tool checks your assets. In an ideal world, a discovery tool shouldn't interfere with day-to-day operations when the scan takes place.
What's more, you should be able to schedule new scans, particularly during business downtime. Most tools offer this flexibility, but not all of them do, and it can catch businesses unaware when a scan proceeds and starts to disrupt systems without warning. For instance, operational delays are routine with tools that have extensive traffic overheads. So you need to understand the tech and the methods your tool uses for its discovery probes, even if it's at a basic level—after all, delays cost time and money that you can't get back.
On our list, Cacti allows you to choose how often you want it to scan a subnet for devices, and you can control everything from the runtime to how many processes spawn during it—for those that need a lot of flexibility, it's a great choice.
You'll find a similar level of flexibility in NinjaOne and Lansweeper. NinjaOne is overtly good at notifying you at every stage, so you'll rarely be caught out unaware. Lansweeper is better at managing how often specific data is scanned with simple-to-use controls.
Qualys is great for those that need precise scans at set intervals. At the same time, Invicti offers both full and incremental scans and one-off and recurrent scans—the latter also allows labels to be given to a scan to group or give additional context where necessary.
Step 2 – Determine the Scope of Discovery 
Another key area to think about is the scope of discovery your asset tool provides. For example, some asset tools only work on isolated environments such as a desktop, while others are useable across the entire company network.
The types of devices your tool can detect, like printers, mobiles, and laptops, also differs—some asset discovery tools will support intricate networks, while others simply can't or may suffer from performance issues. For larger companies spread across the world, an asset tool will need to work the same in all of your office spaces too.
On our list, Cacti is able to scan tens of thousands of devices across a network, and the devices can considerably differ, so there are few limitations. NinjaOne provides insights into workstations, laptops, servers, and network devices, with more in-depth data than Cacti, but you'll have to endure a slightly longer setup.
Lansweeper can discover many network devices, including cameras, firewalls, mail servers, music systems, NAS devices, printers, routers, UPS devices, VOIP phones, and web servers—perfect for large and dynamic networks. Each device Lansweeper discovers will feature its own webpage and details such as name, MAC, IP address, and serial number.
Meanwhile, Qualys spots vulnerabilities on servers, network devices such as routers, switches, and firewalls and covers IP-based printers and fax machines—it's better for those who need a strong focus on security.
Invicti is more suited to scanning web apps, services, and APIs, including first and third-party code.
Step 3 – Consider Integrations With Your Current Setup 
Monitoring assets works best—and saves time and money—when the tools work well with your current setup. The good news is that most asset discovery tools have integration features or dedicated add-ons that attach to your existing suite.
It's helpful to look for asset discovery tools that enable third-party integration with something like a data analysis tool, as this only increases the capabilities on offer. In most cases, they can work together to boost your insights.
On our list, Cacti, Qualys, and Invicti all offer respectable integrations, including data analysis tools—Qualys has a more robust line-up, with everything from Splunk and Bamboo to Azure and even bi-directional integration with Bugcrowd's platform. If you need more integrations, it's a solid bet.
NinjaOne and Lansweeper don't disappoint either. NinjaOne offers integrations with Accelo, SherpaDesk, and RepairShopr for better organization. While Lansweeper integrates with Mint Service Desk, Splunk, and QRadar—the QRadar integration enables event data to combine with contextual information.
There are a lot of great integrations on offer with the tools on our list. Think about what works best with your current setup and go from there.
Step 4 – Know the Difference Between IT Asset Discovery and Inventory Management 
Things can get confusing when it comes to "IT asset discovery" and "inventory management." While they're similar, the terms refer to different parts of a more extensive process, and understanding them can help you choose a more suitable tool overall.
IT asset discovery is the process that focuses on identifying and managing IT assets—this covers the combination of hardware and software inside your company.
Inventory management, instead, uses the data from discovery tools and then creates a record of them. It's best to think of inventory management as the unifier of many different sources into a bigger, more useful one—in other words, it's the resulting stage of using the tools in question. It builds a database out of the information.
The best asset tools on the market tend to combine these two processes into a single platform, making management straightforward and valuable.
On our list, Cacti is better for pure asset tracking and includes built-in support for attributes such as site and location—although the inventory management functionality isn't quite as robust as others on our list. For example, NinjaOne gives you an inventory of all the software installed, delivering complete visibility and extended management features. The trade-off here, of course, is that NinjaOne isn't open-source, so there are fewer customization options than Cacti.
Qualys can detect known and unknown assets and builds an inventory of what it finds—it's better for companies that want security-heavy features on top of asset management. The same is true for Invicti, with its automated application security testing and remediation efforts.
Lansweeper is better for keeping track of and managing users and permissions that interact with a generated database.
Think about which focus areas are more critical for your inventory and asset management. From there, be sure to use the free trials and demos available before committing to a tool and make your final decision with the involvement of your team.