The 5 Best Inventory Management Tools
Regardless if your business is online ecommerce, physical brick and mortar store, or a combination of both, properly managing inventory is critical to running a successful company. The simplest and most cost-effective way to do this is through the use of inventory management software.
You can't overstate the importance of inventory management software. The top platforms are capable of helping you:
Create a consistent, organized business
Automate inventory management and warehouse oversight
Promote efficient operations and supply chain management
Reduce errors or the possibility of theft
Provide better control of inventory levels and reordering
Improve customer satisfaction and streamline returns and exchanges
Most importantly, the right inventory management software will save you time and money. Yes, every business is different, and each possesses its own unique needs. But if you want your business to excel and be competitive, automating your inventory and supply chain management is a must – regardless of what you sell.
Let's take a look at five of the best inventory management software platforms and how to pick the product that works for you.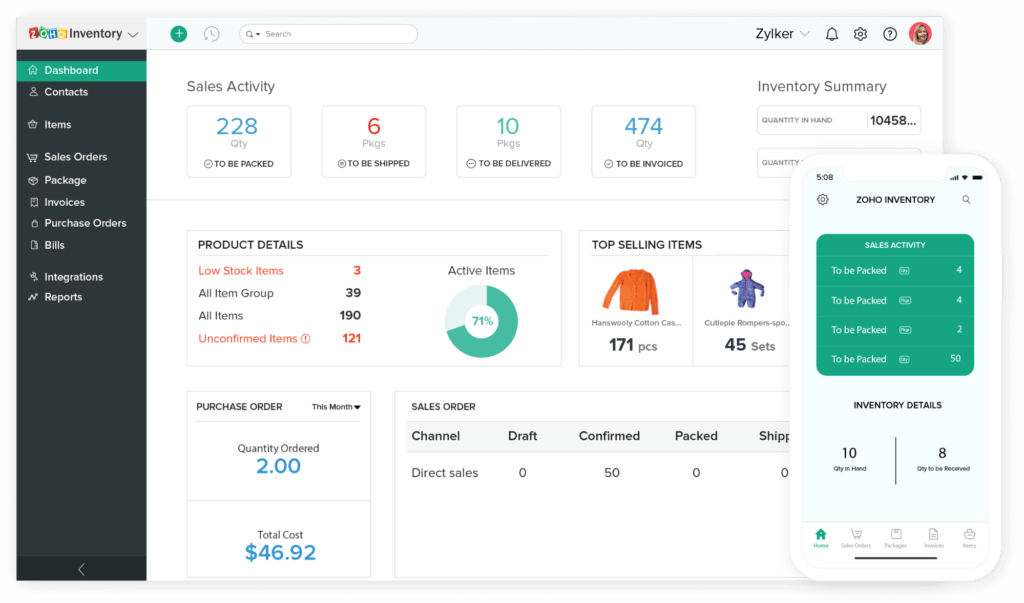 Zoho Inventory, part of Zoho's extensive suite of management software products, supports small to midsize firms with stock, inventory control, and order fulfillment. Their client roster includes companies from various industries, including retail, manufacturing, logistics, machinery, software, and food and beverage.
The cloud-based software is a full-service inventory management platform that automates the entire fulfillment lifecycle. From ordering to warehouse management to inventory tracking, Zoho takes the guesswork out of managing your whole supply chain. It also has seamless integration with third-party sales channels such as Amazon and Etsy and ecommerce powerhouse Shopify. That integration also extends to numerous points of sale and shipping partners.
More than just inventory management, the Zoho software gives companies better control of their customer service with advanced sales, invoicing, and packaging and shipping controls. Also, Zoho's vendor relation tools track your most important partnerships, and ensures you maintain healthy stock totals, keep pricing up to date, and can monitor purchase orders and unpaid bills. A detailed list of features include:
Item grouping and bundling
Multi-warehouse management
Serial and batch tracking
Sales order management
Invoicing
Packaging and shipping
Vendor price lists
Purchase order and billing solution
Backorders and drop shipments
Barcode scanning
SKU generating
Reporting and analytics
Integrations include: Shopify, WooCommerce, Magento, Zoho CRM, PayPal, Quickbooks, Xero, Amazon, eBay, Slack
Support includes: Phone and email, help documentation, webinars, community forums, and knowledge base with FAQs
Zoho Inventory features four service levels – one of which is free – based on a company's order and warehouse needs. There is also a free 14-day trial regardless of which tier you will ultimately need. You can supplement each tier with more services, including additional order and shipping labels or more warehouses. Pricing details include:
Free: $0 for 2 users, 5 workflows, 1 warehouse, 20 offline and 20 online orders, and 20 shipping labels and 20 shipment tracking
Basic: $39 for 10 users, 10 workflows, 2 warehouses, 1,500 offline and 1,500 online orders, and 150 shipping labels and 150 shipment tracking
Standard: $79 for 15 users, 10 workflows, 5 warehouse, 10,000 offline and 10,000 online orders, and 1,000 shipping labels and 1,000 shipment tracking
Professional: $199 for 20 users, 10 workflows, 10 warehouse, 30,000 offline and 30,000 online orders, and 3,000 shipping labels and 3,000 shipment tracking
There are also customized enterprise solutions available.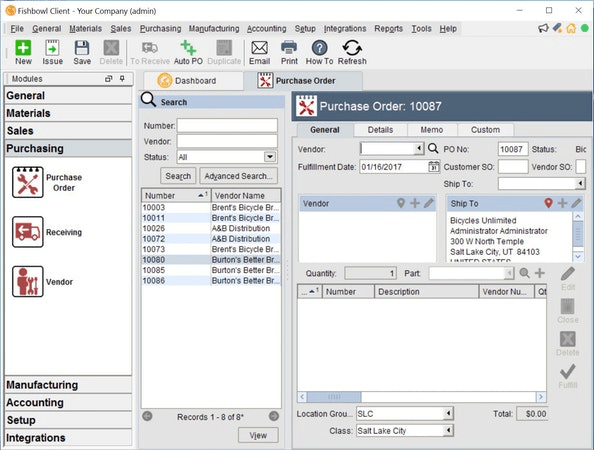 Funny name aside, Fishbowl is one of the most powerful and widely used inventory management software platforms available today. High profile clients include Lowe's, Nordstrom, Honda, Mercedes Benz, and NASA.
Fishbowl's greatest asset is its integration with QuickBooks. Designed with small to midsize firms in mind, the software aims to simplify ordering and purchasing and automate the quoting process. From an inventory standpoint, you can streamline receiving and warehouse management and improve your product tracking to customers.
Order management allows you to determine reorder points, which is great for retail products but even more so should your business deal directly with manufacturing. Fishbowl also features a stout reporting module that organizes your most critical data, including future forecasting. You can even present information through the use of graphs or pie charts. A full list of features include:
QuickBooks Integration
Inventory Management
Multiple Locations
Order Management
Part Tracking
Pick, Pack, and Ship
Barcode Scanning
Multi-Currency
Sales & Purchasing
Advanced Reporting
Integrations include: QuickBooks, Xero, Shopify, SalesForce, Amazon, WooCommerce
Support includes: Chat, email, phone, onsite, virtual, and video training, and a knowledge base and tutorials
Supported operating systems include Windows 10 Pro & Enterprise, Windows Server 2019, Windows Server 2016, Windows Server 2012 R2, Linux, Mac OS 10.12, or newer.
Pricing for Fishbowl is relatively straightforward if somewhat on the expensive side for smaller firms. The software itself starts at $4,395, which grants you full ownership of the software, regardless of the number of users you add after the fact. Beyond the basics, you will need to contact Fishbowl for customized plans, including yearly renewal packages for upgrades and ongoing support.
There is a 14-day free trial available.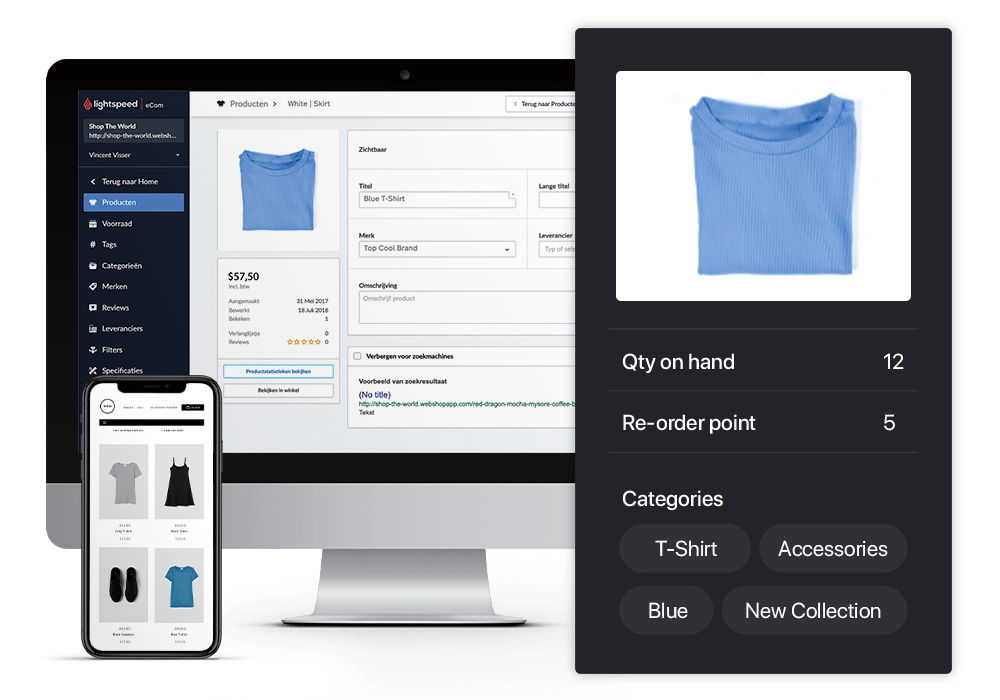 Lightspeed offers a comprehensive point of sale tool that joins together many aspects of your business to improve efficiency and increase revenues. Lightspeed lets users process transactions, manage inventory, including ordering, and better support employees and serve customers with intelligent CRM.
The most unique aspect of Lightspeed's platform is the industry-specific tools it provides based on business needs. With a dedicated focus on the retail, restaurant, and golf industries, Lightspeed delivers specialized solutions for those with a physical presence. For retail, it improves inventory management and multi-store capabilities. In the hospitality segment, you can manage menus, table placement, or delivery zones, are basic needs. With golf, it bridges the gap between scheduling, service, and inventory.
However, through Lightspeed's ecommerce platform, eCom helps extend a company's reach into the virtual space. High profile clients currently include Sony, Nobu, Five Guys, KemperSports, and Goop. A list of features include
Omnichannel selling
Integrated payment processing
Customer relationship management (CRM)
Inventory management including accounting, scheduling and warehouse management
Staff management
Multi-store management
Advanced reporting
Industry-specific solutions for restaurant and hospitality and golf club management
Integrations include: Major providers such as Stripe and MailChimp and industry-specific partners like Drizly and GolfNow
Support includes: Chat, email, phone, training videos, help center, and community forum
Pricing for Lightspeed starts at $69 per month for the Basic retail package. Their recommended Standard package is $119 per month and includes both the eCommerce and Accounting tools. If your physical store requires additional registers, it's an additional $29 a month per register. There is also an Enterprise solution and separate pricing structure for those needing either the restaurant or golf business platform.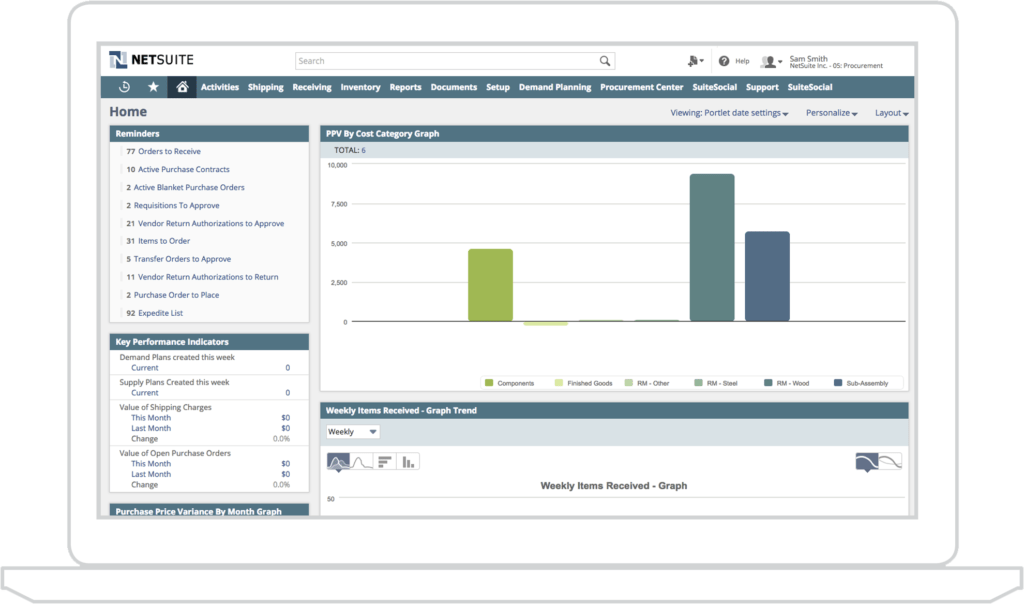 Oracle's Netsuite purposes to simplify the operations for those companies with a global reach. While Netsuite is a decidedly enterprise-level solution, small and medium-sized businesses stand to benefit, particularly if yours is a niche brand in a niche industry. The platform is built for customization and works for many industries, including retail, manufacturing, distribution and wholesale, food and beverage, and hospitality.
Netsuite's client roster includes over 20,000 brands across numerous industries. Some of the biggest names include Land O'Lakes, Lucky Brand, Roku, and Precision Disposables.
Taking on the tasks of better organizing distribution and supply chain management and manufacturing Netsuite's platform can help your firm optimize order management, pricing and promotions, production management, planning and scheduling, work order management, supply chain management, and warehouse and fulfillment including inbound-outbound logistics and inventory management across multiple time zones and countries.
Another benefit that sets the Netsuite platform apart is robust financial management tools, including billing, revenue management, planning and budgeting, and global accounting and risk and compliance. Additional features include:
Monitor your inventory, demand, and supply across your entire supply chain
Identify demand and supply imbalance both real-time and future
Historical demand analysis
Sales forecasting
Planned versus actual orders
Multi-location supply planning
Vendor management and performance tracking
Purchase order management
Simple order generation
Approval workflows
Integrations include: Netsuite integrations are based on a company's individual needs and can be customized to meet them
Support includes: Customizable support includes 24/7 phone support, knowledge base, online case submission, and managed support services tailored to a company's specific needs
Netsuite bases its pricing on the specific needs of a business, the industry you're in, and how it's licensed. In addition, pricing may increase should you choose to bundle the inventory software with Oracle's additional services.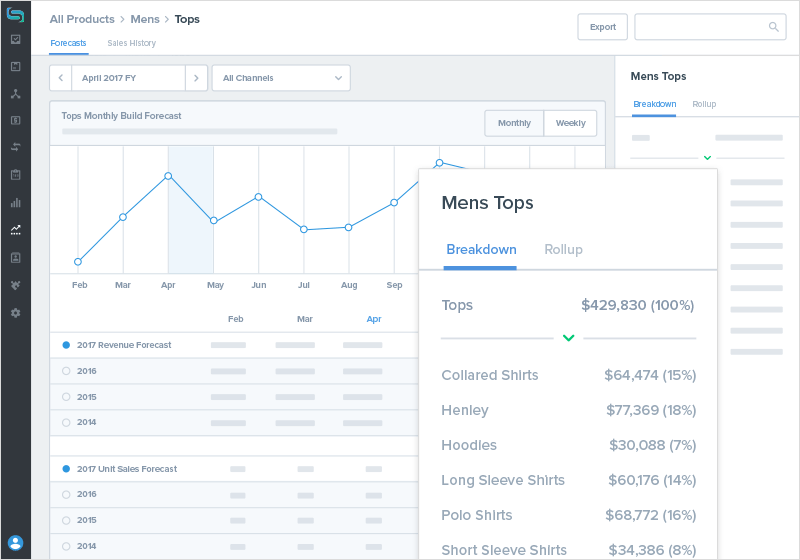 Stitch Labs inventory management solution is designed around the belief that you don't need a lot of separate add-ons to create the perfect inventory management solution. The provider takes a streamlined approach to inventory software and packs a lot of functionality into a single platform. This helps businesses maximize their potential by staying focused on their business and not the software they're using to manage it.
Stitch Labs' cloud-based solution is ideal for growing small to midsize brands that need help managing the increased demands on inventory. The software gives your business direct inventory insight. It includes optimizing your sales channels, improved insight into warehousing, making better purchasing decisions, and supporting better customer service through enhanced fulfillment practices.
Although the inventory software platform itself is comprehensive, Stitch Labs also offers service pieces to complement the software. Professional Services feature guided implementation, training, dedicated success managers, business reviews, and consultative services. Technical Services helps to simplify a company's integration and warehouse management needs. Other features include:
Purchase order management
Landed cost allocation
Low-stock alerts
Multi-location inventory
Multi-channel stock sync
Transfer orders
Bundling
Stocktakes
Inventory reporting
Integrations include: Shopify, WooCommerce, Magento, Square, PayPal, Quickbooks, Xero, Amazon Marketplace, eBay, FedEx Supply Chain
Support includes: Email, video, webinars, guides and ebooks, and knowledge base
Stitch Lab offers customized pricing based on an organization's annual sales order volume. It's tailored to scale as a brand continues to expand and grow. Their three pricing tiers and select features include:
Essentials: Multi-channel inventory and order management, streamlined purchase orders, over 50 prebuilt reports
High-Growth: Essentials features plus custom sales channels, 3PL ship notice and receipts, automated pre- and backorder management, overflow routing
Premium: Essentials and high-growth features plus automated splitting and geo-routing, FIFO costing and landing costs, and smart replenishment reports
How to Pick Your Remote Access Software
The importance of finding the right inventory management software most often comes down to your company's current and future needs in terms of sales and volume. Choose a platform that's light on features and functionality, and your growing business could quickly fall behind in meeting increasing demand.
The reverse is also true. Aim too high, and you might find yourself overpaying for a lot of bells and whistles you don't need. The key is recognizing where your firm fulfillment currently stands and where it needs to be as you continue to grow. Let's look at the specifics to consider when choosing the best inventory management software.
Determine Where You're At and Where You Plan To Go
Successful inventory management is a lot like the story of Goldilocks. You want management software that is neither too hot nor too cold, but just right – for where your businesses' fulfillment needs are and where they'll be as you continue to grow.
To choose the right inventory management software, you must make an honest assessment of your organization as it currently is and its most likely future growth.
For example, does your small firm have a steady five to seven-year growth plan? It may prove wise to steer clear of costly enterprise-level solutions in favor of scalable, cost-effective, feature-rich software.
Conversely, if your midsize company has inventory needs exceeding your current capabilities with rapid expanse on the horizon, consider long term, enterprise-level solutions.
Regardless of where you find yourself, there is an inventory management software platform that can get you where you need to be.
If Yours is a Small to Midsize Business
For small to midsize businesses to be successful, mastering inventory and fulfillment needs is critical to consistent, sustained growth. This means partnering with software that organizes where your business currently stands, scales upward with you, and does so without being cost-prohibitive. With simple, yet comprehensive inventory software solutions that easily scale, Fishbowl and Zoho Inventory are the perfect fit.
If You Require an All-around Inventory Management Solution to Support Your Growing Business
If your company is an already established brand on an upward trend – specifically exceeding annual sales over seven figures or high sales volume – then Stitch Labs is designed to help take your expanding retail organization to the next level of success.
If Your Business Requires an Inventory Solution Beyond Retail
Although inventory management software is most associated with traditional retail, be it brick and mortar stores or ecommerce, it benefits other industries just as much. Lightspeed and Netsuite can both serve multiple industries. Lightspeed is ideal for restaurants and organizations focused on the golf industry. Netsuite proves a good fit for a host of different ventures, including food and beverage, energy, manufacturing, media, transportation, in addition to restaurants and retail.