Best Incident Response Tools
While doing everything you can to prevent a security breach is critical, the truth is that incidents can and still do occur. When a company gets breached, they need an incident response plan to clean up the mess and prevent further damage. 
That's where incident response services come into play. These tools enable you to deploy and gain immediate visibility into an attack, provide virus and malware removal, and allow you to launch post-breach investigations.
There are many different tools available, so knowing which to go for can feel like a challenge in itself. Worry not; our guide lists the best incident response tools today and shows you how to pick the best for you.
Sygnia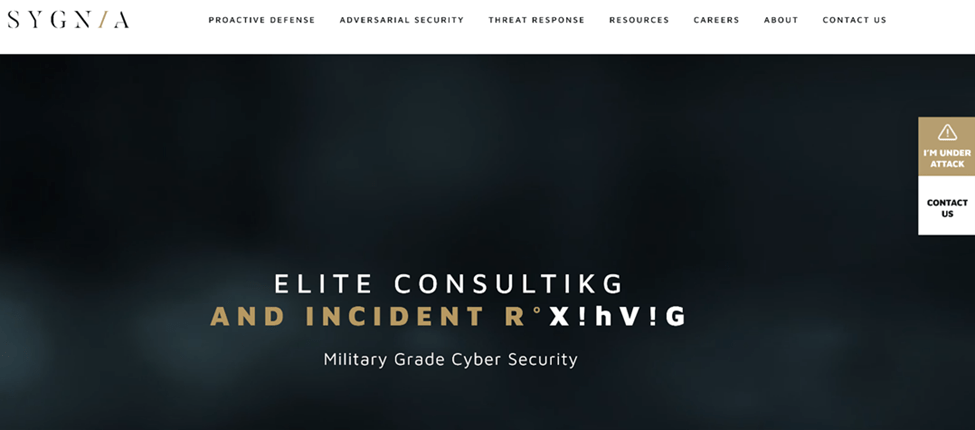 Sygnia is an incident response service that investigates and helps reduce the impact of attacks on small and large businesses. The tool can counter a wide range of incidents and supports forensic diagnostics and evidence preservation. It enables companies to stress test, assess, and build on their ability to detect and stop the worst of attacks while optimizing resource allocation and managing risk overall. 
One particularly impressive part of the service is its ability to leverage an attacker's perspective and use strategic simulations to advance security capabilities. The service covers real-life threats and existing vulnerabilities and then passes the information on to security teams—it even provides training experiences to enhance knowledge and awareness.
It's a comprehensive service provided by certified experts, although we think the response time could improve further. You'll have to reach out to get started with Sygnia, and no prices are publicly listed.
Secureworks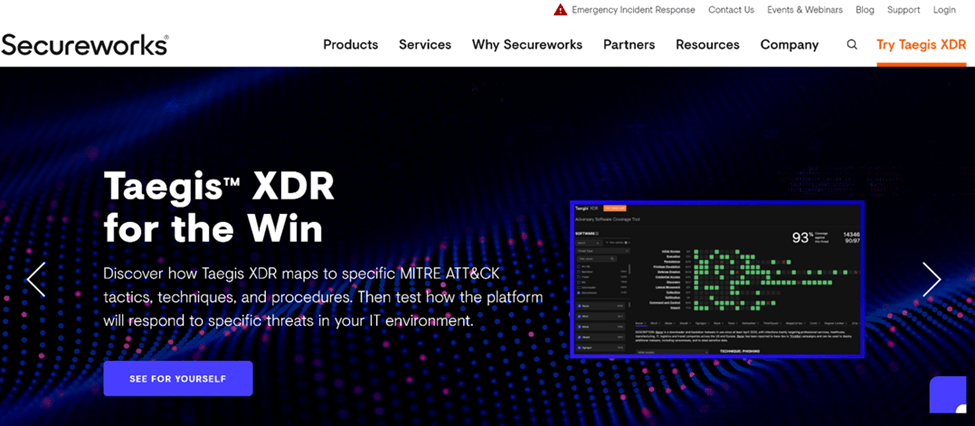 Secureworks is available via dedicated software or instead as a separate service. It enables companies to detect threats and automatically ranks the most consequential ones to provide better, more efficient outcomes. At the heart of it is the Taegis security analytics platform that uses cutting-edge data techniques to expose threats that typically go undetected. You'll be able to identify formerly unknown threats and speed up the investigations that take place afterward.
First and foremost, though, this is a cloud-native security solution that works best when it complements existing infrastructure across multiple security tools. Those who require a holistic view of their security infrastructure will find the ideal solution for them, and the award-winning detection and response capabilities are specifically worthy of note. That said, we think the initial setup could be more straightforward for quicker integration.
A guided 60-minute demo is available for the software, in addition to a 14-day trial of the platform. The free trial allows you to use your own data to see insights immediately.
Cynet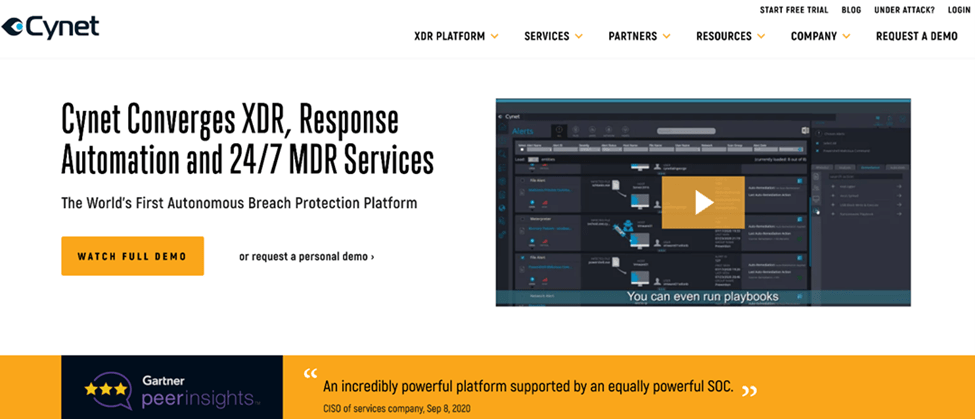 Cynet is an incident response service that uses the "Cynet 360 agent" to increase visibility across your environment, including everything from users and files to networks. The service is managed by a team of incident responders who work quickly to resolve problems and get a company back online and restored to normal. Even better is the executive summaries and reports that are exportable for use in other systems.
You'll be able to protect against incoming attacks, lateral movements, and data exfiltration, as well as decoy files, machines, and user accounts—you can use network connections to help lure and expose advanced attackers too. Using these pre-set behavior rules enables you to profile malicious anomalies and stop them before they cause serious harm. The tool also integrates antivirus, endpoint detection, and detailed network analytics into the package, so you're in safe hands. However, it could have more robust integration with other security apps.
You can sign up for a live demo to see what Cynet can do, and a 14-free trial is also available, which includes all of the features of the complete product.
SolarWinds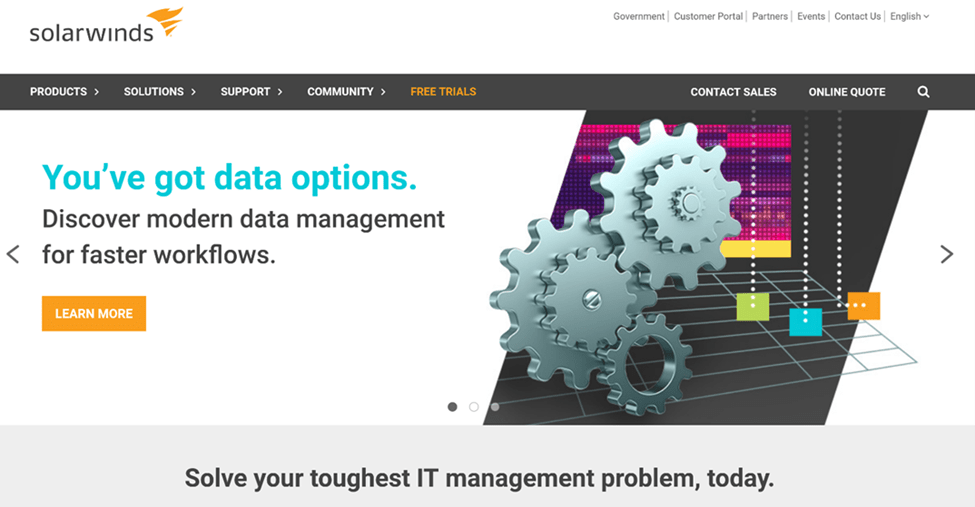 SolarWinds's security event manager offers complete reporting capabilities and real-time incident response, helping companies analyze and identify threats and remove them if detected too late. It provides log collection, automated threat detection, and built-in file integrity monitoring for peace of mind. The excellent visualization tools allow users to identify threats with ease, and the dashboard is simple enough to navigate while doing so. There's even the ability to monitor USB drives to ensure your system stays protected.
Support is available from the tech team 24/7 if needed, and there's advanced compliance reporting with pre-defined templates for HIPAA, SOX, and more. It offers on-premise and cloud deployment options and runs on both Windows and Linux, so you have choices. There's no doubt it's a complete package for businesses of all sizes; just keep in mind the tool can take some time to get up and running. The initial configuration isn't quite as easy as it could be.
An interactive demo is available for the security event manager, as well as a 30-day trial. The free trial includes every feature from the complete version.
Splunk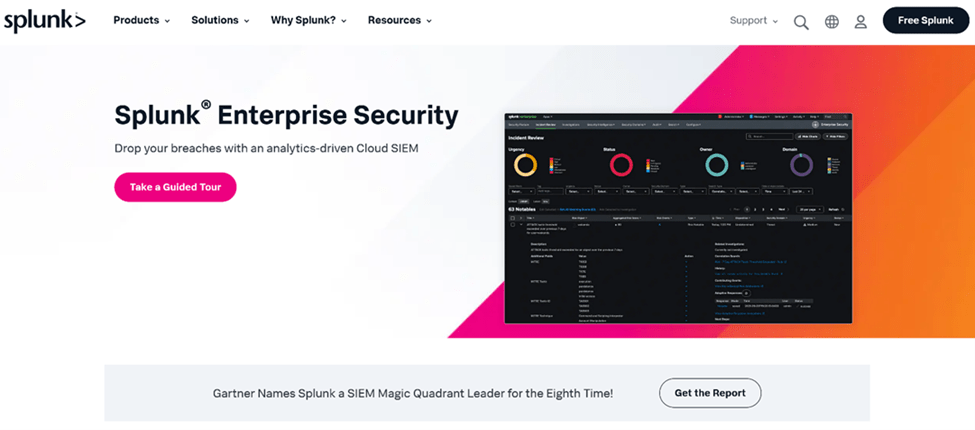 Splunk is an incident response tool that uses machine learning and AI to provide predictive insights and enhanced security features. There's a customizable asset investigator, you can launch total incident reviews, and threats are established with easy-to-understand threat scores so you can prioritize your security. Almost all types of companies will get something from Splunk, and it's suitable for SaaS and on-premise deployments. 
The ability to investigate and then correlate your activities across cloud and on-premise in a unified view is more than handy as it enables you to identify threats without fuss. There's also the option to attribute risk to specific users and systems. You can even trigger direct alerts when threats are detected, cutting down on your alert queues so you can take action as quickly as possible.
Add to that the full compatibility with AWS, GCP, and Microsoft Azure, and the power and flexibility speak for themselves. However, it's worth mentioning the learning curve will be steep for some users.
You can get started with Splunk for free using the cloud trial, as well as take a guided tour of the platform.
How To Pick Your Incident Response Tool 
You know our top picks, but how do you choose the best incident response tool for you? Below you'll find some simple steps you can take to arrive at the ideal solution.
Step 1 – Understand Your Security Needs 
The first step is to understand your security needs and how an incident response tool would improve things. You need to get a firm idea of what the biggest threats to your company are, how they come in, and the existing defense options available, if any.
To do this, start by making a list of everyday use cases and determine the areas where you already have suitable tools and others where it would be best to invest in security solutions.
From there, it's a smart idea to think about how those needs break down. Would compliance be a key focus for your company, or is your primary aim simply to reduce the risk of security incidents before they occur? Maybe it's both.
On our list, Sygnia is an excellent option for those that need to test their existing security before doing anything else. At the same time, SolarWinds offers great compliance reporting with pre-defined templates for HIPAA, SOX, and more.
Secureworks is a better option for those that prefer their solutions to be data-led, and Cynet has superb reporting features. Meanwhile, Splunk is perfect for risk assessment and intuitive threat scores that allow you to move quickly.
Step 2 – Create an Incident Response Process 
Creating a proper incident response process and mapping it out can help make the decision easier. Doing so will enable you to understand how each tool needs to be connected and, more importantly, whether you have both the technology and personnel to respond to security incidents.
Some key sections to focus on here are the following:
     

Audit trails

: Does your company have full visibility into the actions taken and the results achieved for your external and internal reports?

     

Alert management

: What happens when an alert comes in for your existing system? Is there a procedure and plan of attack?

     

Staff training

: Is your team adequately trained for security incidents?

     

Operations tool integration

: How are your operations tools connected to your incident response processes?

     

Visualization tools

: Is it easy to identify threats and understand where they are coming from overall?
On our list, the alert management features of Splunk stand out and allow you to trigger instant alerts as risks increase, cutting down on your alert queues. Splunk is also fully compatible with AWS, GCP, and Microsoft Azure.
Meanwhile, for enhanced visibility, Cynet's 360 agent allows you to see everything across your environment, from the users and files to the networks and hosts. You can see the results achieved for reports and easily export the information for use in other systems.
Secureworks complements existing infrastructure across multiple security tools, making things less complex. At the same time, Sygnia provides full training experiences to enhance knowledge and awareness for staff, and SolarWinds' visualization tools allow users to identify threats efficiently.
While all of the tools cover the essential areas of incident response, they typically specialize in specific areas, so keep that in mind.
Step 3 – Prioritize Your Integrations
By now, you'll have some idea of what you want to see in your incident response tool. That said, a large part of the process is understanding how these tools integrate and fit together with others. Few tools exist today in a vacuum—when they work together, it saves a lot of time and prevents stress for everyone involved.
To ensure your security processes work and are successful when needed, it's best to recognize the tools DevOps are using already and then tightly integrate them with your incident response tools.
For example, the use of Slack for chat ops and team communication is common, so it's wise to find an incident response tool that natively integrates with tools like it. On our list, Splunk integrates with Slack and allows you to post messages and attachments to channels directly.
Secureworks and Sygnia are light on the integrations front without requesting bespoke customization. On the other hand, SolarWinds integrates with Orion, JIRA, Zapier, and more, while Cynet offers easy Azure integration.
Take time to think about which integrations are the most important for you and your DevOps team.
Step 4 – Make Use of Demos and Free Trials
Using demos and free trials is an easy win—most of the time, you get to view and try out the software or platform for free without any further commitments. Some businesses neglect to use these free trials and demos and lose out on the insights they would have otherwise received.
The demos and free trials aren't hard to come by either; in fact, the majority of incident response tools and services offer them readily with the option of leaving at any point.
For instance, almost all of the tools provide generous trials or demos on our list. Secureworks offers a guided 60-minute demo with a member of the team and a 14-day trial of the platform, while Cynet provides a 14-free trial that includes all the main features of the complete product.
With Splunk, you can get started for free using the cloud trial and take a guided tour of the platform, while SolarWinds goes further and offers an interactive demo as well as a full 30-day free trial.
Only Sygnia doesn't offer either a demo or a free trial, although most of the time, you'll receive a demo once you've shown interest. It doesn't hurt to request a custom trial for your company either—there's little to lose.
Be sure to include your DevOps team in the process as well, as they'll be able to feedback directly to you about what they liked about the software and anything else they might want to see. Making them part of the process ensures the right fit for everyone and, ultimately, better protects your business in the long run.