The 4 Best Helpdesk Tools and How to Decide
How important is it to have the right tools to maintain a happy customer base?
Well, you have 47% of customers saying they'll leave a company due to a subpar experience. And another 62% say they'll share their bad experience with others. So not only are you losing customers due to bad experiences, but it'll cost you new ones as well.
One way to stop this is to improve your customer service tools. Let's review some of the top helpdesk software on the market today.
Best use case: SMB external use as a customer service platform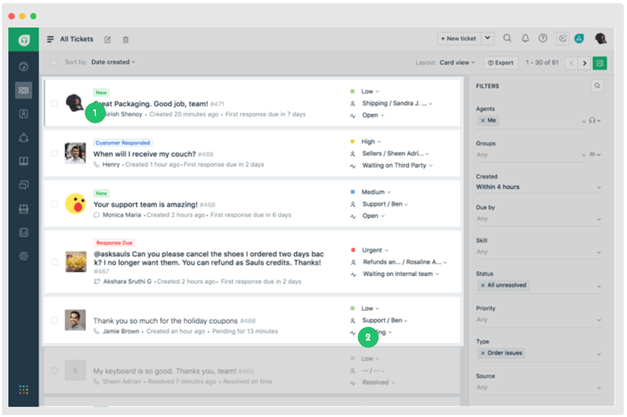 Freshdesk is highly effective in routing tickets submitted by customers and processing it by giving agents the information they need to address the issues or requests properly. The main purpose of this help desk software is to improve the workflow efficiency of managing service tickets.
Freshdesk has a few key features to help with that, including a team inbox that consolidates tickers coming in through different channels, such as email, social media, chat, and phone. Plus, it has the ability to match tickets to the proper departments in the organization.
This tool can also provide conventional responses to common problems or issues, providing you with an approved and quick way to respond to customers. The team huddle feature allows members to consult on more complex situations.
Freshdesk integrates easily with a wide variety of apps. These include Slack, WhatsApp, Freshsuccess, Microsoft Teams, Office 365, Zoom V2, Mailchimp, Salesforce, Zoho CRM, Skype V2, Shopify, Magento, and many others.
Freshdesk is excellent for small and medium-sized businesses because it has all the features they're likely to need at an affordable price. However, if a company needs software for internal uses, such as improving the IT infrastructure and addressing failures in management policies, Freshdesk might not have the reporting and analytical tools needed to do so.
Pros
Easy to use
High engagement tools for customers and agents
Presents scenarios to improve workflow efficiency
Multiple integrations
Affordable plans
Free plan for unlimited agents, ideal for small companies
Cons
Limited reporting flexibility
Limited access to key features such as team dashboards for Sprout, Blossom, and Garden plans
The pricing for Freshdesk is within reach of most SMBs. The free plan is called Sprout, which an unlimited number of agents can use, and includes basic features for receiving and processing phone calls (through Freshcaller integration), email, and social media (Twitter and Facebook) tickets. The next plan is Blossom, which costs $15/mo per agent (billed annually) or $19/mo per agent (billed monthly), and includes some useful advanced features such as SLA Management and Automations.
Best use case: Mobile-optimized for agents on the go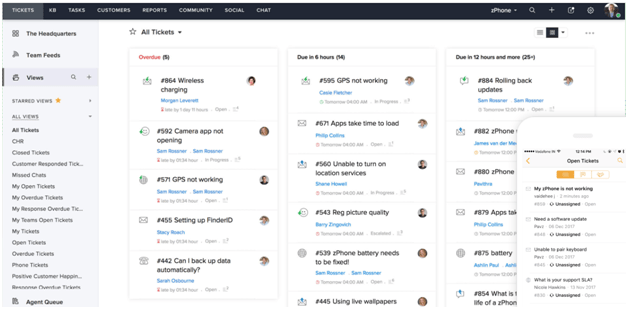 Zoho Desk is one of the few cloud-based helpdesk platforms available with the features needed to manage tickets effectively. Among its features is the ability to monitor quality metrics, prioritize important or overdue tickets, and create a self-service option for customers to address simple or common issues. Zoho Desk is also mobile-optimized, so agents can manage tickets on the go using iOS and Android devices.
Zoho Desk integrates with email, social media and has VoIP functionality, making it easier for managers to collect and analyze data from customer interactions (even if they don't happen on the company portal). It may not have the ITIL support needed to effect management change, but its customer-facing support is excellent.
Even the agent interface is highly customizable to reflect the needs of the user in terms of top-menu modules, field placement, field-level permissions, views, and other components. Managers can filter tickets by keyword, issue, agent, or customer for some form of asset management. The Headquarters dashboard also allows users to find key information quickly.
Zoho Desk can be very useful for SMBs in managing its technical support and helpdesk issues. It has a free plan good for three agents (and remote support for one user) that can familiarize them with the software and other Zoho products and services. It's also a good way to help companies understand the features they need and don't need. The free plan even has domain mapping, custom branding, and basic reports.
Companies can use Zoho Desk out of the box, or configure it from the start. With the Zwitch feature, it can migrate from Freshdesk or Zendesk Support if needed.
Zoho Desk integrates seamlessly with Zoho apps such as Zoho Analytics and Zoho CRM as well as Salesforce, Microsoft Office 365, Microsoft Teams, Zapier, RingCentral, Slack, Jira, and many others.
Pros
Easy to use and configure
Well-designed
Intuitive customer and agent interface
Cost-effective
Scalable
Cloud-based
Free plan
Cons
No onsite version
Limited asset management capabilities
Lack of direct phone support for any plan
Zoho Desk has a Free plan, which has some pretty good functionalities available to up to three agents. These are customer management, email ticketing, private knowledge base, macros, predefined SLAs, mobile apps, multi-language helpdesk, access to the help center, and email support.
The Pro plan starts at $12/mo per user (billed annually), which is not bad at all. It includes everything from the Free plan plus customer happiness ratings, advanced reporting, automations, multichannel support, integration with Zoho apps, integration with cloud telephony, and support for social media. The full featured Enterprise plan is at $25/mo per agent (billed annually).
Best use case: Medium-sized and large companies with a need for automation and self-service tools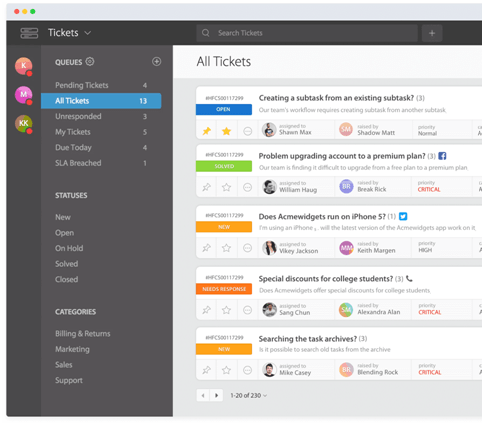 HappyFox is an intuitive and well-designed helpdesk software with nearly all features needed to assist customers. It makes it easy to configure it for a company's needs and enhances interactions with customers via email. This is possible, thanks to its support system that processes messages and system-generated email addresses by category according to the type of inquiry. Within each category, the company can choose how to handle each ticket for maximum efficiency of agent use.
HappyFox enables companies to customize its customer-facing interface to improve branding, as well as ticket management. Ticket creation can happen internally directly on the software, and through email and social media platforms like Facebook and Twitter. It also enables companies to give customers self-help options to handle common issues and problems with a knowledge base tool.
HappyFox allows the company to automate how the system will handle tickets, such as assigning it to the prescribed status and to the proper individual or team in round robin configuration. This ensures a balanced assignment of tickets for efficient workforce management. The software can also send automated messages and status updates to customers, relieving agents of the task of sending standard responses manually.
The HappyFox interface easily switches from a detailed view to a more compact view, depending on the needs of the moment. A user can pin tickets, as well as choose to receive notifications for specific tickets to keep updated on their statuses and to get alerts when another agent is interacting with a specific ticket. A user can also choose the Kanban view to filter the tickets according to assignee, priority, status, or due date.
HappyFox also has robust reporting and analysis tools, enabling a company to monitor and gain insights on staff performance, workforce efficiencies, and customer satisfaction. This is particularly important for large enterprises receiving a huge number of tickets.
HappyFox integrates with many third-party apps such as Slack, Jira, WordPress, MailChimp, SurveyMonkey, Zoho CRM, Hubspot, Stripe, GitHub, and BigCommerce. However, they are more limited than one would expect with an enterprise-level solution as HappyFox, especially for chat, SMS, and analytics apps.
Pros
Integrates easily with other services
Useful automation features for maximizing ticket management efficiency
Includes self-service tools to address common problems
Cons
No gamification features
Offers in-house SMS option only
Limited capability due to rule-based automation
Users are limited to single-role assignments
Limited integration in analytics, chat, and SMS tools
No free plan
HappyFox is relatively expensive, starting at $24/mo per agent (billed annually). Granted, even the entry level plan called Mighty includes key features to process tickets efficiently such as round-robin assignments and SLA management. However, it might prove too rich for the blood of many small businesses. That said, this full-featured help desk software is well worth the cost for larger companies for its value in improving human resource management and increasing customer satisfaction.
Best use case: All businesses needing integrated customer support interactions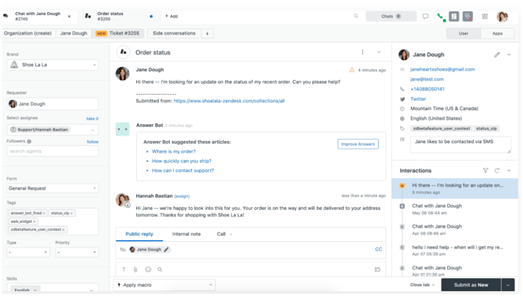 Zendesk Support has many features making it a great choice for integrating customer interactions. It consolidates customer tickets from a variety of sources into one place. Then it can make the workflow more efficient with its capability of searching the history of a customer and predefining responses for common issues. Zendesk Support can also integrate customer satisfaction scores and combine it with analytics to monitor performance.
Zendesk Support is part of the Zendesk Suite, and integrates seamlessly with its knowledge base platform Guide, call center platform Talk, and live messaging software Chat. That said, Zendesk Support as a standalone software has a lot of functionality suitable for many SMBs looking to streamline its customer support system both internally and externally.
A good feature of Zendesk Support is the ability of agents to include notes to tickets, which makes it easier to handle tickets managed by more than one agent. The Business Rules is also very useful, because this allows helpdesk agents to activate automated workflows according to updates made to a ticket. Users can even define macros to the process that may apply to common issues and problems, as well as route tickets to other agents when necessary.
A useful feature available as an add-on to any plan is the Explore Report tool, which builds reports and enables analytics of all available datasets. However, this would be most useful when used in integration with other Zendesk Suite apps.
Pros
Includes all the basic features of a helpdesk that most businesses will need
Integrates seamlessly with Zendesk Suite apps
Empowers agents to predefine ticket responses and collaborate with other agents
Cons
No free plan
Less cost-effective than other helpdesk software
Full functionality requires integration with other Zendesk Suite apps
Might not be suitable for select businesses
Pricing for Zendesk Support starts with the Essential plan at $5 per user a month (billed annually) and includes lite versions of Zendesk Chat, Talk, and Guide apps, email and social media integration, web widget and mobile SDK, Essentials card, Interaction history, and predefined Business Rules.
The full-featured Elite plan starts at $199/mo per agent (billed annually), but which may include extraneous functionalities. Most companies might want to consider getting the Professional plan that starts at $49/mo per agent (billed annually) instead. The free trial will include the features available for the Professional plan.
How to Pick Your Helpdesk Software
Picking out the best helpdesk software for your company depends on many factors. However, keep in mind that helpdesk software is not a necessity for many companies, especially smaller ones. The main reason you might want one is to improve your customer satisfaction ratings. In that case, the only criterion you really need is the ability to create, receive, and process service tickets from multiple channels.
Since all the options above have this ability, you now need to look at non-helpdesk factors to make your decision.
Step 1: The price
All the apps included in this review are excellent strictly in the helpdesk functionality sense, so it boils down to the price. The obvious choices for this are Freshdesk and Zoho Desk because they offer free plans. However, if there are particular features you want for your help desk platform, then you should take advantage of the free trials offered for the paid plans of all the software to determine which one suits your needs best.
Summary
Free plan, limited functionality: Freshdesk, Zoho Desk
Paid plan, more functionality: Free trials of Freshdesk, Zoho Desk, Zendesk Support, Happy Fox
Step 2: Number of users
All the paid plans in this review are per user, so you'll need to go through Step 1 before deciding which software is going to give you the most bang for your buck. Overall, Zoho Desk has the simplest, most affordable per user plan with the most useful functions, so you might want to start with that.
However, if you're only interested in a free plan, but have more than three agents using it, then Zoho Desk is out because it has a user limit. Freshdesk is thus your only option since it allows an unlimited number of users on its free plan.
Summary
Free plan: unlimited users: Freshdesk
Per user paid plan: Zoho Desk for general affordability
Step 3: Efficiency
Helpdesk software is about customer satisfaction, but from the company side, efficiency is the key. In terms of efficiency, you probably want software that has automation capabilities. All the apps here have some type of automation capability, but HappyFox might have an edge in that department. If budget is not a major factor in your choice and you handle a large number of tickets, then you might want to consider HappyFox as the best helpdesk software for your needs.
Summary
Basic automation: Freshdesk, Zoho Desk, Zendesk Support
Advanced automation: HappyFox