The 6 Best Free Cloud Storage Tools and How to Decide
We all used to have boxes or filing cabinets filled to the brim with documents for school or work. You may still have a suitcase full of photographs in the basement or attic. But nowadays, most people just use the cloud to store photos, documents, and other files.
You may already have some form of cloud storage in place. But perhaps you need more space. Or maybe you'd like to switch providers to a platform that's easier to use or more secure.
Thankfully, you don't have to pay for cloud storage unless you need tons of space. The only trouble is, free tools can sometimes be a bit, well, crappy.
That's why we put together this guide to free cloud storage providers that are actually good. We'll also help you pick the right cloud storage for you out of the pack.
1. Google Drive
Google Drive is, of course, one of the biggest cloud storage tools on the market. Many use the tool to easily store files as it's linked to Google Workspace. The great thing about Google Drive is that it comes with 15 GB of free storage for everybody, which is more than most providers give away.
All of your Google Docs, Sheets, emails in Gmail, etc., are automatically saved to Google Drive. Its integration with Google Workspace makes it a fantastic tool for collaboration.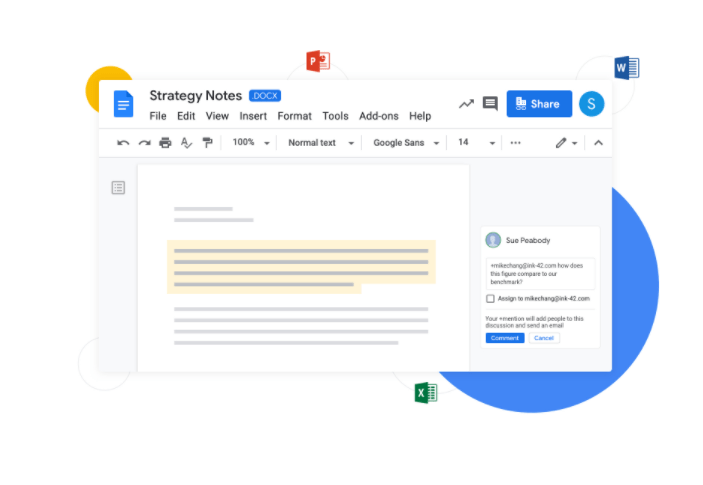 Google Drive also supports many other file types, including Microsoft Office, PDF, and CAD files.
Naturally being the tech giant that it is, Google offers a powerful search within Google Drive. It also uses AI to predict and recommend the most relevant documents for you each time you access the platform, thus providing a personalized experience.
But what about the downsides? Google is far from perfect. (Please don't punish us, Google Gods.) Google Drive has strong security features, but many still have privacy concerns when it comes to Google. The company is renowned for capturing, using, and sharing user data, all of which are done for financial gain.
At the end of the day, Google Drive and its accompanying tools are amazing and the fact that you can use them for free is also amazing. There is obviously a trade-off here when it comes to privacy, so you have to decide whether you're willing to accept that trade-off or not.
All in all, Google Drive is one of the best free offerings due to its ample free space. And it makes sense to use Google Drive for storage if you already work with Workspace tools often.
2. Microsoft OneDrive
OneDrive is Microsoft's answer to cloud storage. Windows and Microsoft 365 users will no doubt already be familiar.
As a standalone product, you can get 5 GB of free storage space with OneDrive. This doesn't seem like a great amount of free space. But it all depends on your needs.
What's fantastic about OneDrive, though, is that you get 1 TB of storage at no extra cost if you have a Microsoft 365 subscription. It's not necessarily a reason to go and get Microsoft 365. But if you already have it, you might as well take advantage of the storage space.

The fact that OneDrive integrates with Microsoft 365 means files are automatically backed up and that it's a great tool for collaboration. You're also able to share files easily and access them offline.
You can manage files with the OneDrive mobile or web app, and sync files from your device or desktop. Plus, you can set up automatic backups for your camera roll.
But perhaps the best thing about OneDrive is that it is famously reliable and easy-to-use.
In terms of its limitations, you can only place three files in your personal vault when you have the free version. Furthermore, there are tons more features that come with OneDrive's paid plans, such as the ability to restore files and an increased sharing limit, that you miss out on by only using the free plan.
As with Google, your files aren't 100% private when you opt for Microsoft. The company may access your data, for example, when required by government or law enforcement agencies.
Overall, Microsoft OneDrive is a great free option if you don't want anything complicated or don't need advanced features. And if you already have or plan to get Microsoft 365 you should absolutely jump on that 1 TB of free storage.
3. Icedrive
Icedrive is an excellent alternative to some of the big names in the cloud storage space. The service offers its cloud storage app across various platforms. Free users get 10 GB of storage space, which is a generous amount for a free service.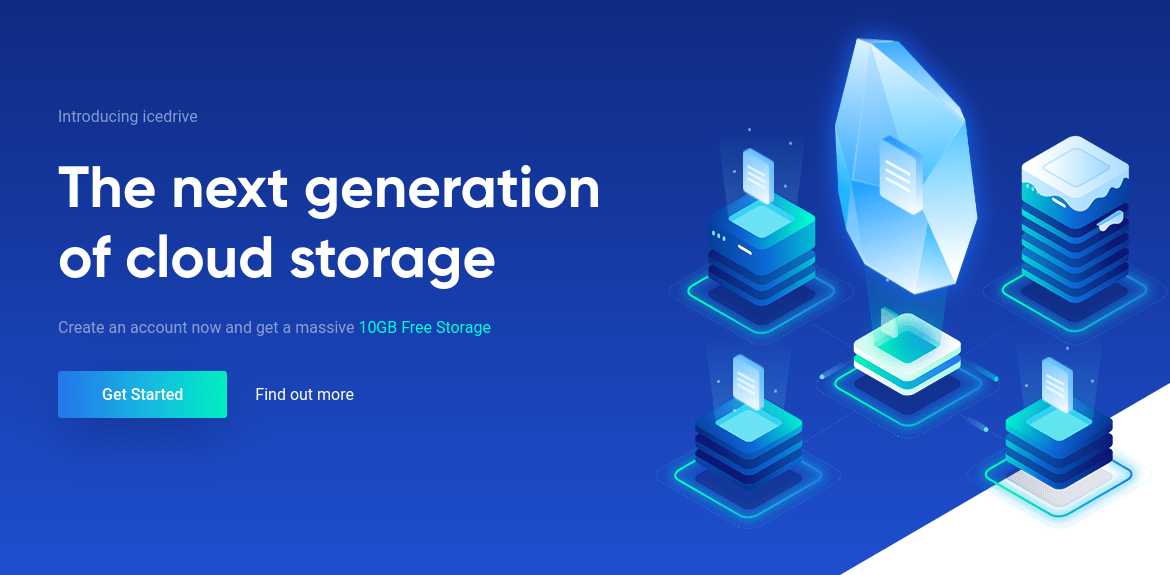 The first thing to note about Icedrive is its great usability. Icedrive provides mounted cloud storage, which means you can access the cloud and manage your files as if you were using a drive on your computer. The app feels like it's native to your operating system.
It supports both Mac and Windows, plus there are mobile and web versions of the app. And you can do a lot within the Icedrive platform. First, you can edit your files using one of its linked native apps. Also, you can stream files using its in-built media player.
Icedrive offers fantastic privacy and security measures. It's transparent, GDPR compliant, and uses encryption via the twofish protocol. Furthermore, its encryption is zero-knowledge, which means the company is unable to access your data.
The only downside of Icedrive is that it has fewer advanced features than some of the bigger cloud providers. But it is certainly a strong alternative to the big names if you have privacy concerns, and its 10TB storage capacity is definitely worth a look.
4. Mega
Mega is a New Zealand-based cloud storage and communication solution. It provides 15 GB of storage with a free account, which is one of the largest free offerings out there.
However, storage can get a little complicated when you look at the company's site. You'll see that it says you get 50 GB of free storage. But this comes with a catch: you only get 50 GB of free storage for one month. After that, your free capacity will go down to 15 GB.
To be honest, this doesn't make much sense. Why not just start everybody off with the free 15 GB that they'll end up with anyway?
Nevertheless, Mega is packed with useful features that still make it one of the best free cloud storage solutions. It provides easy automated syncing through its desktop and mobile apps. You can also get a browser extension for enhanced security and performance.
It's also private and secure with its zero-knowledge, end-to-end encryption. But, perhaps the most interesting and unique feature of Mega is that you can use it for secure, encrypted communications. This includes messaging, audio, and video chat on the platform.

So if you can get past the confusion of how much free storage you actually get, Mega is an excellent option. In particular, Mega is a good choice for you if you're looking to combine secure storage and secure communication in one app.
5. Apple iCloud
Apple iCloud is the integrated cloud storage tool for Apple devices. All Apple users get 5 GB of storage space for free.
If you need more space you can upgrade to a paid plan and it's fairly cheap. Or simply switch off automatic backups and be more selective in what you want to keep in the cloud.
Of course, one of the main benefits of using iCloud is its integration with iPhones, iPads, Macs, and the like. You don't have to do anything to get started, Apple automatically backs up your stuff to the cloud and syncs it across all of your devices.
iCloud is great for backing up your camera roll. It keeps your media in a well-organized and easy-to-use library within the cloud. You can browse, search and share media from your old and new devices easily.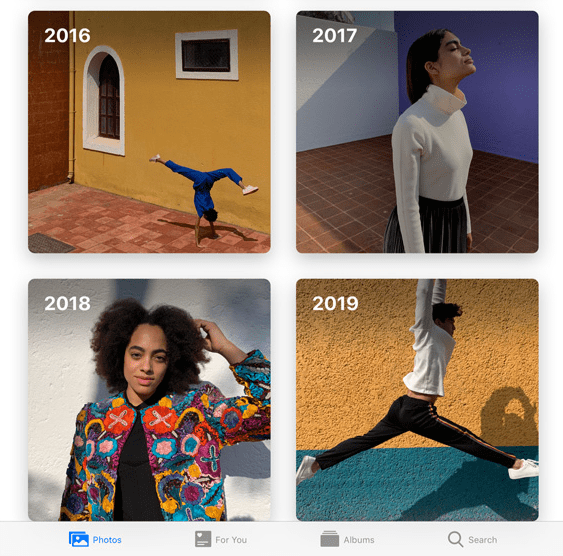 You can also share documents and folders via links. Plus, you have advanced controls over file sharing. You decide what the recipient can do with the file and whether they can view, edit or share it. This is useful for security reasons.
Speaking of security, your data is encrypted. Plus, there's two-factor authentication to keep your stuff extra secure.
However, you should know that Apple doesn't offer zero-knowledge encryption. As with the other big providers, Google and Microsoft, this may lead to privacy issues.
It's also difficult to use iCloud on non-Apple devices. So, it's worth noting that this solution is pretty much only for Apple users.
All in all, it makes complete sense to make use of iCloud if you are an Apple user. You can do more with it than you may have previously thought, so go ahead and explore your cloud.
6. Sync
Sync is a cloud storage tool that's great for sharing files. Its free version comes with 5 GB of storage. However, you can get 1 GB of extra free storage per referral up to a maximum of 20 GB, which is what makes Sync an interesting free offering.
Another standout feature of Sync is that there are no file size or data transfer limits. This means you can share various types of files of any size with anybody.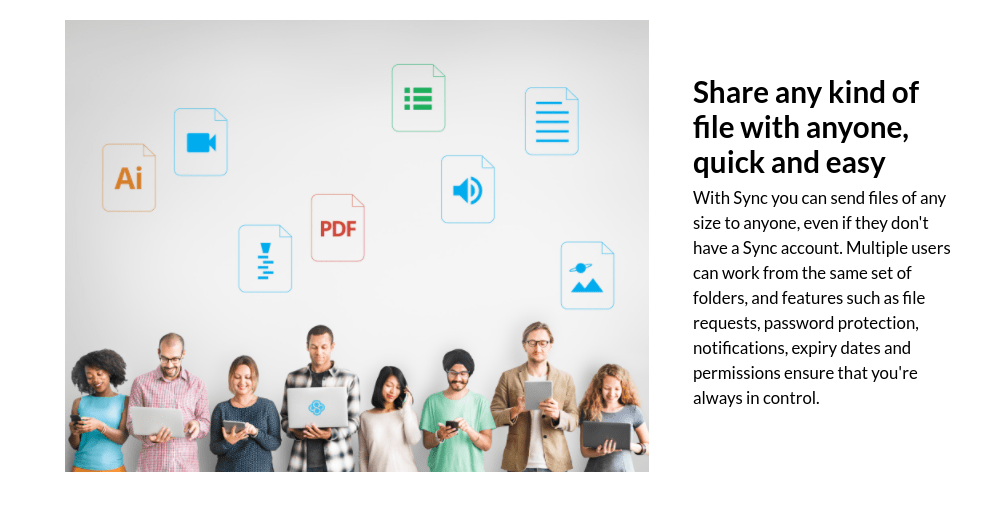 Furthermore, the service is particularly strong in terms of security and privacy. It offers end-to-end encryption and two-factor authentication. Plus, Sync is happy to make any accommodations to agree with regulatory compliance.
So this is yet another solid option for those concerned about privacy and security. And if you're willing to hustle and make referrals you get a considerable amount of storage (up to 25 GB) for free.
How to Pick Your Free Cloud Storage
Now that you know all about the best free cloud storage providers on the market, the only question left is which one is right for you. Here are a few aspects to consider:
Step 1: Consider Your Device, Tools, and OS
We all want things to be quick and easy in life. That's part of the reason why we use cloud storage in the first place, to automatically back up or save files.
It makes sense to go with a cloud provider that integrates easily with your operating system or the tools that you already use. Having to transfer files from, say, Google Docs to a different provider is time and energy you don't need to waste.
However, as mentioned above, you need to be comfortable with the potential privacy issues that may come with opting for Google, Microsoft, or Apple.
Step 2: Consider Your Security Needs
Following on from the above point, there are some great alternatives to the big players if you're concerned about security and privacy. Mega, Sync, and Icedrive offer zero-knowledge encryption, for example.
So if you've been stung by a data breach in the past and don't want it to happen again you may decide to opt for a smaller but more secure provider. Similarly, if you must back up lots of important, confidential files, choosing a solution such as Icedrive is the smarter choice.
Step 3: Work Out How Much Space You Need
The amount of storage space you need will obviously be a huge factor in deciding which cloud storage tool to go for.
First, consider what you need to back up. Look at your devices and how much space you're already using. Add some room for future files and you'll have a good idea of how much cloud storage space you need overall.
You may also wish to consider the type of files you'd like to store in the cloud. Video and other media files take up more space than documents. So, if you'd like to store a few movies, for example, then you should opt for a cloud storage solution with lots of space. But if you just need to save some documents for work or school then a smaller amount of space like 5 GB should suffice.