While antivirus software has significantly improved in the last few years, you still need firewalls to protect your business network. Antivirus software can prevent some malicious activity on a computer, that's true, but security gaps occur because of unauthorized network connections, typically due to apps altering their permissions. Hackers use this to their advantage to collect data and attack your business.
The good news is that firewalls prevent these attacks by monitoring software permissions and blocking incoming remote connections. There's a variety of firewalls out there, from software-only solutions to hardware-based firewalls as well as other extensive security suites that feature firewalls. The problem is knowing which one is best for you.
Fret not, we've picked out and reviewed the best firewalls of 2022 to help make your decision easier.
Sophos Firewall


For dedicated cloud firewall security, Sophos Firewall is a top choice. The firewall offers multiple security features, including an automatic threat response that will instantly identify and isolate compromised systems on the network in question. On top of that, users can manage their settings quickly from the control center, allowing them to view their network, applications, and other users and see centralized reports across multiple firewalls.
As a unified threat manager for business, it's a great solution, enabling you to tweak your firewall rules and giving you the level of control you desire. That said, the user interface (UI) could be a bit clearer and easier to use, and it does occasionally glitch. Sophos provides new users with a 30-day free trial, giving you access to almost everything from the full package, which isn't something you'll always find elsewhere.
Full pricing, including bundles for different business sizes, is only available via direct quote, so you'll need to reach out here.
Imperva WAF


If you're looking for a firewall that can do it all, the Imperva WAF (web application firewall) is one of the best options on the market. It's a cloud-based firewall that includes everything from advanced bot protection to DDoS mitigation and complete API security. Essentially, the firewall acts as the gatekeeper to all web traffic that heads your way, with anything suspicious rejected and sent on its way. The firewall does this through several layers of security policies to detect the right threats and keep things moving.
Best of all, the firewall has numerous uses. You can use it to secure active and legacy applications, third-party applications, cloud applications, containers, VMs, APIs, and more. In fact, the only problem here is the pricing, which could be more competitive, although this is mitigated somewhat by the generous free trial. The free trial includes Cloud WAF, DDoS, Advanced Bot Protection, and CDN, allowing you to try out almost everything before committing.
For a complete quote, you'll have to reach out and schedule a demo first.
Cloudflare WAF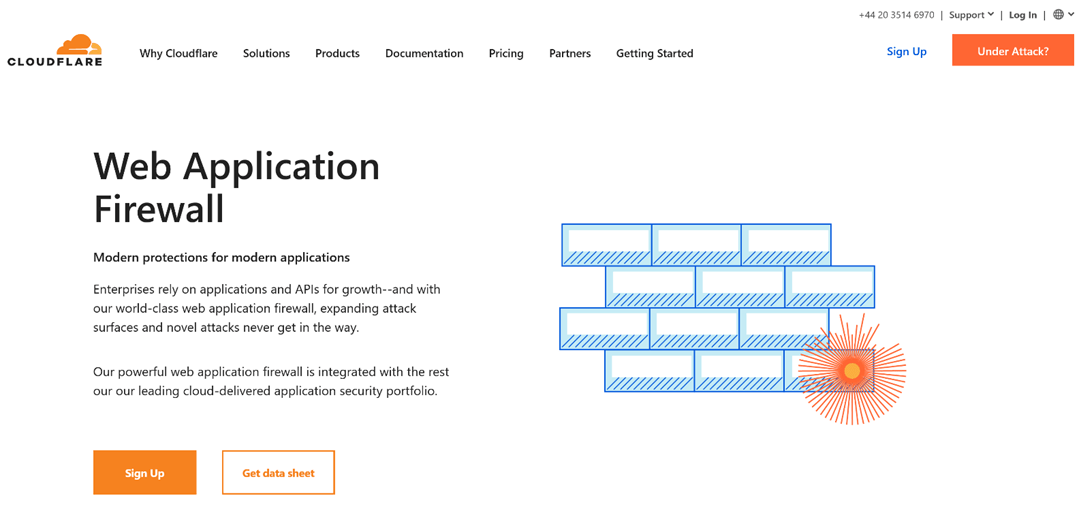 Cloudflare is known for its DDoS mitigation and internet security, so rest assured that you're in good hands. You get access to a market-leading firewall that can deal with a vast number of threats at once. The firewall relentlessly monitors the internet for new updates and vulnerabilities, so it's always getting better at protecting your business. We particularly like the custom rulesets that enable you to decide what should be blocked and where important exceptions are required.
All Cloudflare customers get shielded by 100 Tbps of DDoS protection, and there are zero-day protections in place with lightning-fast virtual patching. Cloudflare even provides a free tier for users that includes shared SSL certificates, three-page rules, and unmetered mitigation of DDoS. There's no doubt this is a feature-packed and powerful web application firewall you can rely on for business security, although the paid plans can be costly—the Business plan starts at $200 per month.
You can sign up and get started today.
Firewalla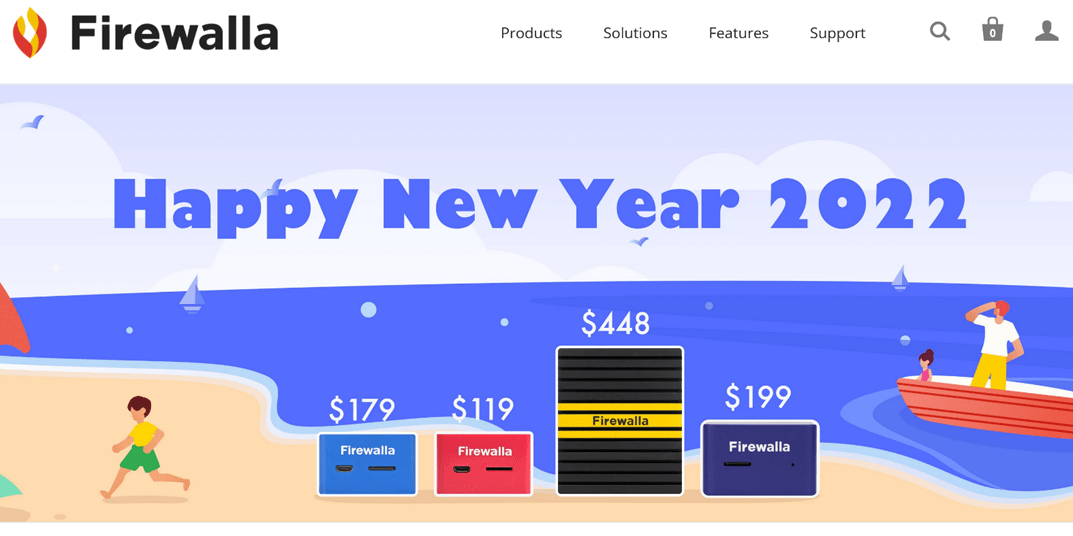 Firewalla is a solution best suited to businesses on a budget that still needs something more than just basic intrusion protection. It's a hardware-only firewall that connects to your router and WAN port, and from there, the device filters out and blocks malware and suspicious traffic from accessing your network. You can even control which sites users can access on your internal network; for example, you could block gaming sites to ensure your employees stay focused and on track.
The firewall also offers dynamic content filtering and monitors and controls internet usage as required. It comes with a built-in VPN server and VPN Client in addition to advanced network insights. An extra perk of being a hardware-only firewall is that Firewalla doesn't have subscription fees that need paying either—the $119.99 price includes all updates to your hardware, and that's it. Not to mention that hardware firewalls tend to be more secure overall.
With that said, this hardware-only firewall comes with some additional features that require a fair amount of technical knowledge to fully utilize, so be sure to keep that in mind.
SonicWall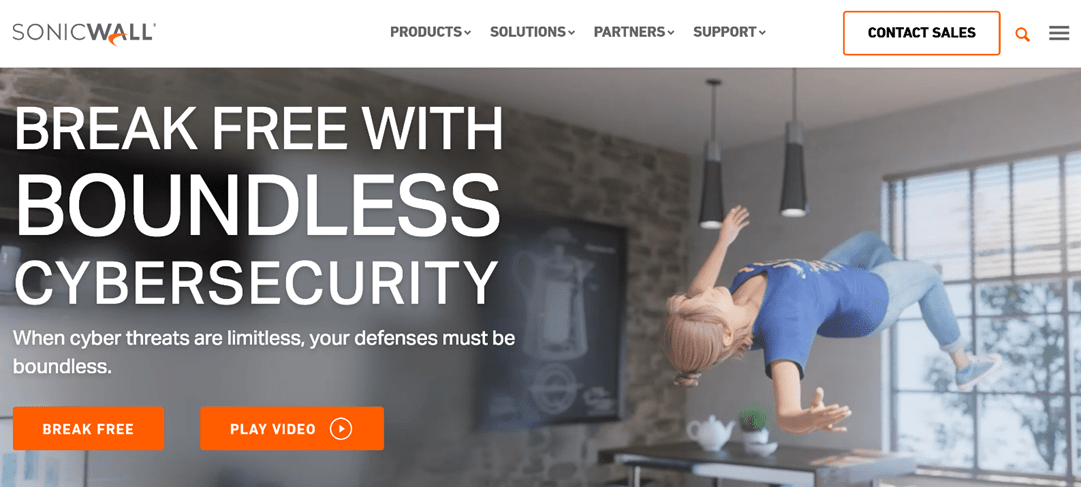 SonicWall provides both software and hardware firewall solutions. For instance, the TZ SERIES comes with an integrated security solution designed precisely how you want. All of the systems offer web application firewalls enabling you to control permissions, preferences, and access for each device that you need to access the web. In other words, you're looking at a high level of security with great customization options. Virtual private network capabilities are also available for added protection.
SonicWall also offers load balancing features that help balance incoming requests between your servers, ensuring your site can operate without the slowdown that can occur all too often. There's a lot to like overall, but we think the technical support available could be a bit better to help users get up and running—hardware firewalls aren't always plug-and-play in nature, after all. You'll also have to contact the team directly for a quote.
You can book a demo to see the firewall in action with no installation necessary here.
How To Pick Your Firewall
Now that you know our top picks for the year, it's important to determine the best firewall for your business before jumping in right away. We've listed some simple steps you can take to help arrive at the perfect firewall for you.
Step 1 – Determine the Number of Users
The firewall that's right for you will depend on the number of users you need it for, first and foremost. The more users, the higher the bandwidth use, which also means more devices and connections—more connections open up additional security risks. What's right for a small business won't always be the best pick for a larger one.
For example, suppose you're a small business with somewhere between 2-10 employees. You're not going to need a heavy-duty firewall that can process a significant amount of load with numerous different connections. In that case, something like the Firewalla Blue will be sufficient, offering fast data speeds and reliable security for your entire start-up. You'll be able to see per device bandwidth usage stats and can even block domains or activities consuming unusual levels of bandwidth. Sophos Firewall, a software firewall, would also be a good option here.
If you're a larger business, you'll naturally have more users, meaning you'll need a more powerful firewall to contend with the additional connections and increased activity.
For somewhere between 30-100 users or more, we'd recommend a firewall like Cloudflare's WAF—it has everything you need and will keep things running smoothly with 100 Tbps of DDoS protection. Imperva's WAF is another excellent option for larger businesses, as is SonicWall's range of firewalls.
Step 2 – Decide the Level of Control You Need
The next step is to think about the level of control you need. Some firewalls give you limited authority and a low level of visibility regarding the applications and number of end-users accessing a certain network. Others will provide you with far greater control, allowing you to apply policies to particular end-users, and even limiting access to specific parts within applications. Of course, you'll need to think about privacy here as well.
If all you need is a rudimentary level of control with limited visibility, the most basic Firewalla firewalls will be enough for you. You'll be able to monitor and control internet usage and don't have to break the bank for it, but you won't have extensive access and visibility.
For those that need a higher level of control, typically larger and enterprise-level businesses, Cloudflare's WAF is again a wise choice, along with Imperva's WAF. Imperva's firewall allows you to secure active and legacy applications, other third-party applications, cloud applications, and pretty much everything else in-between. You'll also be able to see detailed user statistics with attack analytics and policy control straight from the dashboard.
Take some time to think about this step carefully before proceeding to the next.
Step 3 – Choose Between a Hardware or Software Firewall
So by now, you've got a good idea about the level of control you need, and you'll be aware of how strong you need your firewall to be for your business and its users. The next thing to choose is whether you want a hardware or software firewall, or perhaps both.
This area is a hot topic in the firewall space, and for a good reason. Both software and hardware firewalls have their pros and cons. For instance, software firewalls are more flexible and more straightforward to use all around, but they often cost more in the long run and can be less secure.
Hardware firewalls are typically cheaper because they do away with subscription fees and offer enhanced protection with VPNs. They are also harder to get past because all traffic entering and leaving the perimeter gets monitored by a dedicated and separate device. Yet they also require more knowledge to get the best out of and might be too restrictive for some.
In fact, there's a solid case to make for using both software and hardware firewalls. Using both allows you to block malware before it enters your network, and you can inspect network traffic that makes it through the firewall on a secondary level. Larger companies with more security concerns certainly need to consider the use of both, although smaller businesses may be happy with one or the other.
If you're a small business, the Firewalla Blue—a hardware firewall—is likely all you'll need at the start. However, Sophos Firewall—primarily software firewalls—and SonicWall—primarily hardware firewalls—are also great options on their own.
Bigger businesses should ideally employ a combination of firewalls. In that case, we recommend a mixture of Cloudflare and SonicWall. It's worth noting that SonicWall also independently provides both types of firewall solutions.
Step 4 – Use Free Trials and Review Your Findings
You'll have a good idea of what you want out of your firewall at this stage, so the last step is about making sure you don't waste money unnecessarily. How can you do that? By using the many free firewall trials out there and then reviewing your findings with your team to determine the best one for you.
On our list, Sophos provides new users with a 30-day free trial that gives you access to nearly everything from the complete package, while Imperva's WAF free trial includes Cloud WAF, DDoS, Advanced Bot Protection, and CDN. Cloudflare provides an entire free tier for users that includes shared SSL certificates, three-page rules, and unmetered mitigation of DDoS. At the same time, SonicWall allows you to book a demo of its firewall too.
In other words, you don't have to spend anything but get to access many features, allowing you to evaluate your findings before making a final decision. It's best to do this—
where possible—by involving your team in the decision-making process. Doing so will allow them to inform your choice, they'll feel valued, and it's beneficial when it comes to privacy considerations that will affect everyone. Getting additional input can also save time for the whole business.
Using free trials helps you to pick the best firewall for you and prevents you from wasting both time and money—be sure to use them.