The 7 Best Field Service Management Tools
For small businesses with the majority of workers out in the field, allowing them to work cost effectively can be a challenge.
The best field service management tools give those technicians in the field the ability to estimate job costs and time required in real time while they're outside the office. They can order and check availability of parts on the fly, making them more efficient.
Those in the office can use the best field service management software to schedule technicians in the field and move them to new service calls, reducing wasted time.
If you have an organization that provides services in the field, such as plumbing, appliance repair, or lawn maintenance, you can use the field service management software to improve communications, avoid overscheduling technicians, and ensure the technician responding to a certain job has the skills needed to complete it. Here are the seven best field service management tools.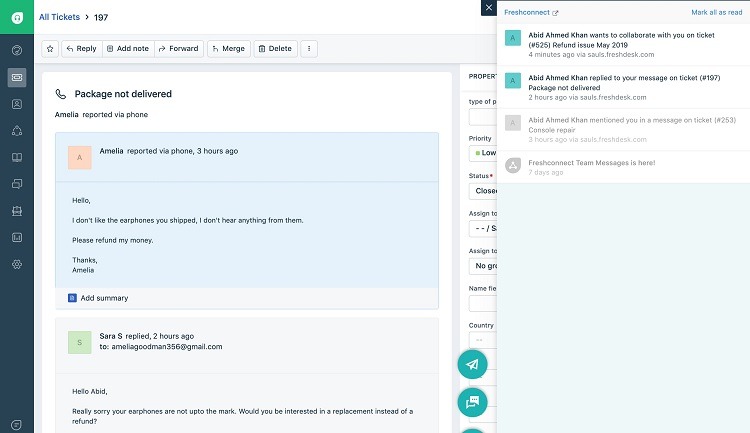 Freshdesk delivers a strong set of features aimed at helping companies that work with external customers regularly, and it's especially strong for those who already use some of the various apps from Freshworks.
It may not be the best choice for those companies with just a few technicians, as it has quite a bit of complexity. For bigger companies with a large workforce, though, it will give you the ability to schedule your technicians effectively, making the most of their abilities during the workday.
With the Freshdesk app, your techs in the field can do all of the work they need to do, while also collecting signatures from customers.
There is a free tier, so customers can gain a feel for the software before deciding whether to make a purchase, which is helpful.
Pros
Strong apps for both iOS and Android mobile devices
App has a feature that allows for collecting customer signatures
Scheduling interface is extremely easy to use
Cons
May have too many features for some smaller groups
Many of the best features are only found in the upper pricing tiers
Pricing
Sprout: Free version
Blossom: $15 to $19 per month per user
Garden: $35 to $45 per month per user
Estate: $49 to $69 per month per user
Forest: $99 to $125 per month per user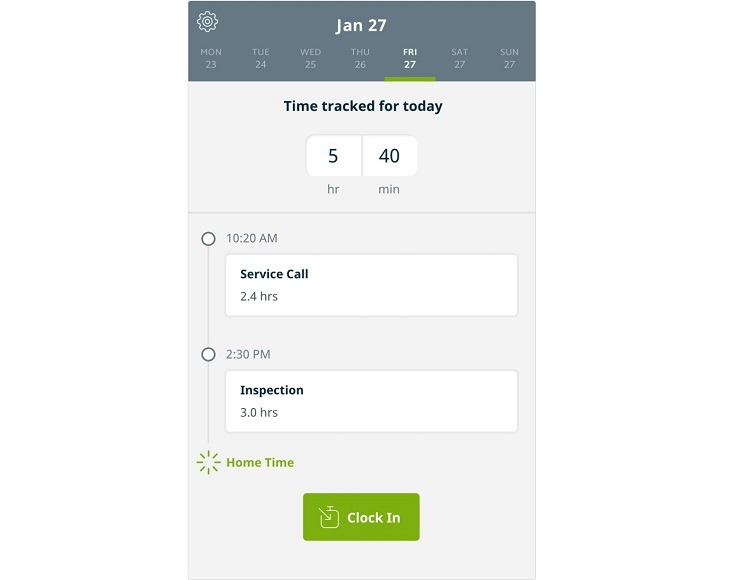 Jobber
For small and medium sized businesses with only a couple dozen personnel in the field, where ease of use is the primary consideration, Jobber is an outstanding choice. It does not have the ability to offer high end features that some large groups may need, but it is reasonably priced and extremely easy to use, which is ideal for an SMB that doesn't have the resources to devote significant learning time to its field service management tool.
Jobber's price point is easy to understand and is on the lower end versus the other best field service management software packages. Still, it hits all of the primary features that you need to simplify managing your in-field technicians. Jobber's customer service team is responsive, answering questions whenever you have them.
Those using it in the field will appreciate the strong set of features found in the Jobber app, which work with either iOS or Android mobile devices.
Pros
Strong mobile apps for both iOS and Android
Pricing is extremely reasonable
14-day free trial is available
Cons
Difficult to communicate with techs in the field through the software
Features not aimed at huge organizations
Pricing
Core: $29 to $39 per month for 1 user
Connect: $99 to $129 per month for up to 7 users
Grow: $199 to $249 per month for up to 30 users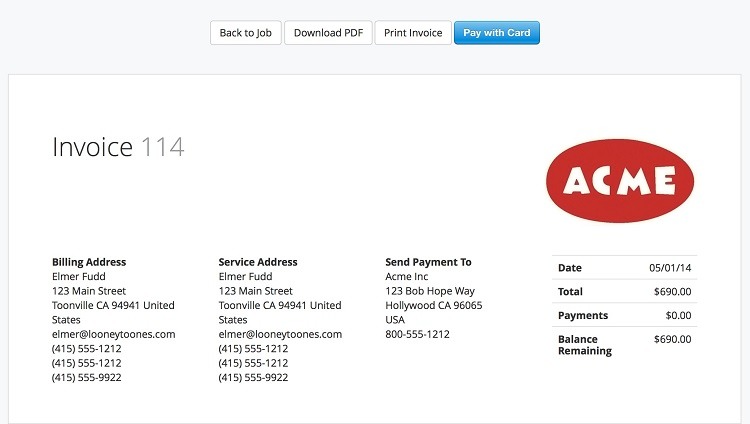 Kickserv
Kickserv is a strong choice for the small or medium business that has the need for scheduling technicians working in the field, but it also provides some marketing, sales tracking, and accounting features (the latter through an integration with QuickBooks).
It may not stack up as strongly versus the best field service management software tools that focus on scheduling and tracking the techs in the field, but its all-around features will be the perfect solution for certain companies. And its scheduling features are good enough to meet the needs of quite a few small and medium sized businesses, ensuring you can track the performance of each of your employees.
The Kickserv app works with both iOS and Android devices, and it is a strong choice for those in-field technicians who need to enter data in real time while they're working with customers.
Pros
Syncs closely with QuickBooks
Very good mobile app features
Highly competitive pricing structure and tiers
Cons
Lacks some accounting features found in others
Overall feature set does not offer the details of some pricier options
Pricing
Solo: Free version for up to 2 users
Starter: $79 to $99 per month for up to 5 users
Business: $159 to $199 per month for unlimited users
Premium: $239 to $299 per month for unlimited users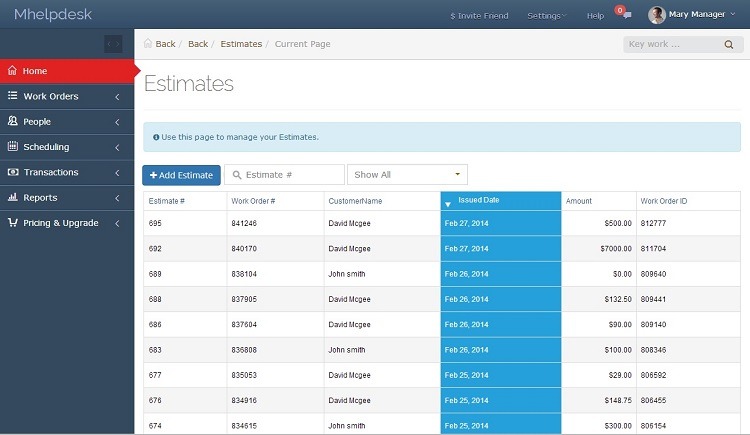 mHelpDesk
When you're seeking a classic field service management tool, mHelpDesk has a host of features to meet your needs. We just wish the software's pricing was a little easier to understand and that it gave better discounts for large organizations with several dozen or more users.
If your organization struggles with keeping your technicians in the field scheduled properly and using their time as efficiently as possible, mHelpDesk is a strong performer in this area. Those in the field can use the software to quickly find the best route from one appointment to the next one.
Its user interface is strong, whether you're using the desktop version of mHelpDesk or the mobile app. The app has versions for both iOS and Android, which is handy. Invoicing customers is an easy process, as techs in the field can take care of this in real time.
Pros
Feature list should fit the needs of many different kinds of service businesses
Interface is extremely easy to use
Helps technicians driving to the next site with finding the fastest route
Cons
Pricing could be clearer
May require some repeated data entry with certain aspects of the software
Pricing
Must request a custom price quote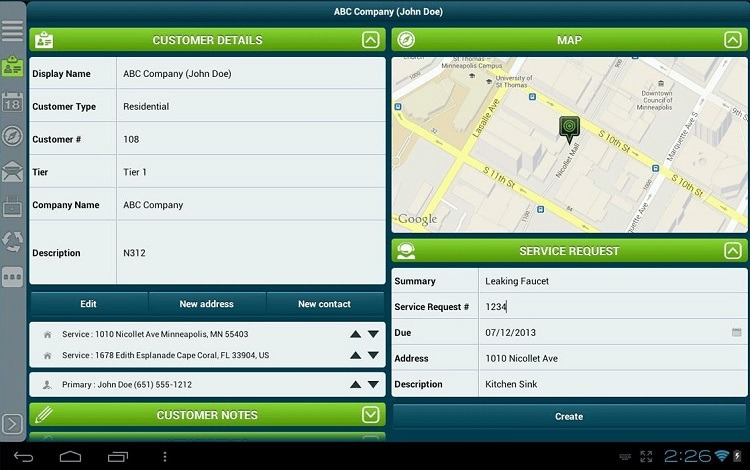 RazorSync
For small and medium businesses, an easy to use interface in field service management software is key, as you may not have a person dedicated to handling the software. RazorSync's interface is among the easiest to use in this category, as those working in the office and in the field can pick it up in very little time.
Those working in the field can find directions to the next job site, and schedulers can easily adjust schedules to account for last minute cancellations or emergency appointments. Once the job is complete, the tech working on site can generate an invoice easily, ensuring the software is updated in real time.
There's even a customer portal feature with RazorSync, meaning customers can make payments or make a request for service on their own without your employees having to respond, saving time.
Pros
You'll love the interface, which has plenty of information and is easy to use
Customer support functions are above average versus other best field service management software tools
Pricing is reasonable at any tier
Cons
Software seems to run slowly at times
Ordering inventory cannot occur within the software
Pricing
Solo: $40 to $45 per month for up to 2 users
Team: $115 to $135 per month for up to 7 users
Pro: $240 to $280 per month for up to 15 users
Enterprise: $630 to $725 per month for unlimited users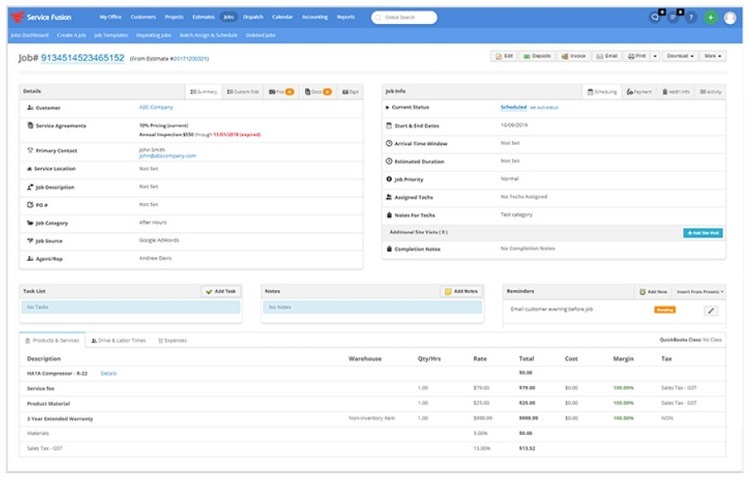 Service Fusion
When it comes to finding the best field service management software, sometimes basic is better. With Service Fusion, you'll receive a simple interface that doesn't rely on complex graphics to give you the information you need, which helps it run fast and deliver the information you need without distraction.
We appreciate the basic pricing structure with Service Fusion too, as it allows for an unlimited number of users at all pricing tiers. However, the software does have multiple features that require extra costs, such as GPS tracking of employees in the field, use of a customer portal, and transaction processing, so costs can add up quickly.
If you want to be able to track information about customers in your field service management tool, Service Fusion has strong features in this area, meaning you can handle quite a bit of your organization's work using only this interface, saving time.
Pros
Has a simple interface, so it's easy to start using immediately
Includes a GPS tracking feature for an additional cost
No limitations on the number of users at any pricing tier
Cons
Costs can add up quickly if you need add-on features
Mobile app could use an improved interface
Pricing
Starter: $99 per month for unlimited users
Plus: $199 per month for unlimited users
Pro: $349 per month for unlimited users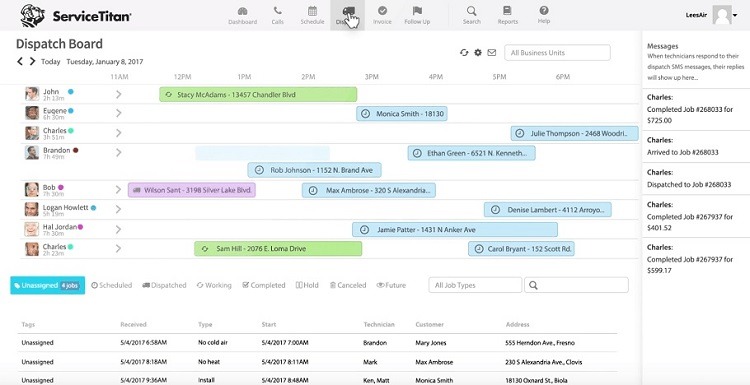 ServiceTitan
ServiceTitan is an impressive option among field service management tools, as it greatly simplifies scheduling of your in-field technicians, while also helping you operate your business more efficiently in a variety of other areas. We just wish the price point was a little lower to make it more in line with some of the others on our list.
The ServiceTitan interface serves your in-field employees well, allowing them to see everything they need to know about each customer on the app before they arrive. But there's also a strong customer portal, so customers can track the progress of the technician, send messages to the tech, or request appointment reminders.
You'll have access to marketing tools through ServiceTitan, as well as lead tracking and satisfaction score generation from customers. Should you need to send data to your accounting software, ServiceTitan integrates closely with QuickBooks.
Pros
Excellent all-around set of features to help with multiple aspects of your service business
Scheduler includes plenty of customer history information, so techs have the information they need when they arrive
Integrates with QuickBooks for accounting needs
Cons
App's interface works far better on a tablet than on a smartphone
Pricing is a little confusing and higher than we'd like to see
Pricing
Must request custom pricing quote
How to Pick Your Best Field Service Management Software
Here are some steps to follow for how to decide among field management service tools.
Step 1 – Who Will Run the Software?
Start your consideration of the best field service management tool for your organization by thinking about who will operate the software. Do you have one person in the office who always schedules techs? Or will multiple people schedule techs while performing other jobs?
If one person will run the software alone, a more complex and feature-rich package is a smart idea, such as Freshdesk. However, if your in-office people do not have a lot of time to dedicate to learning how to use the software, a simple interface will be more beneficial, such as is found with RazorSync or Jobber.
Step 2 – How Closely Do You Need to Track In-Field Technicians?
If you believe you are losing money because your technicians are not efficiently using their time, you will want to select field service management tools that help you keep an eye on their workload and progress throughout the work day.
For basic tracking, consider mHelpDesk, which helps techs find the fastest routes from one job to the next, while helping with assigning techs to jobs that fit their individual skill sets.
If you need active tracking, Service Fusion has an add-on feature that allows for GPS tracking of each technician in the field.
Step 3 – Do You Need More Than the Basics?
Finally, consider whether you want your field service management software to aid in other aspects of your business. Many service businesses need help with marketing and generating new leads, for example. ServiceTitan and Kickserv both have helpful features in these areas, so you can grow your business. Both sync with QuickBooks for integration of accounting features too.