The 5 Best ERP Tools and How to Decide
Running a business means managing a lot of moving parts.
Enterprise resource planning (ERP) software exists to help simplify and streamline those processes under one roof so you can focus on other things while the day-to-day of your business operates seamlessly in the background.
Now, if you're thinking "That all sounds great, but how do I choose the best ERP software for my business?" you're in the right place. In this article, I cover five of the top ERP tools on the market today as well as a step-by-step guide on how to pick the right one.
So, let's get started!
1. ERPNext — Best All-in-One Budget-Friendly Solution
ERPNext is an open-source ERP software available both on the cloud and as a self-hosted solution. All of ERPNext's plans include every module and feature they have to offer. So, it's an excellent option for businesses with a budget on the lower end looking for an all-in-one solution.
Furthermore, the SaaS version of ERPNext costs $50 per user per month. With this pricing model, you can add or remove users depending on what you need (with a minimum of five users).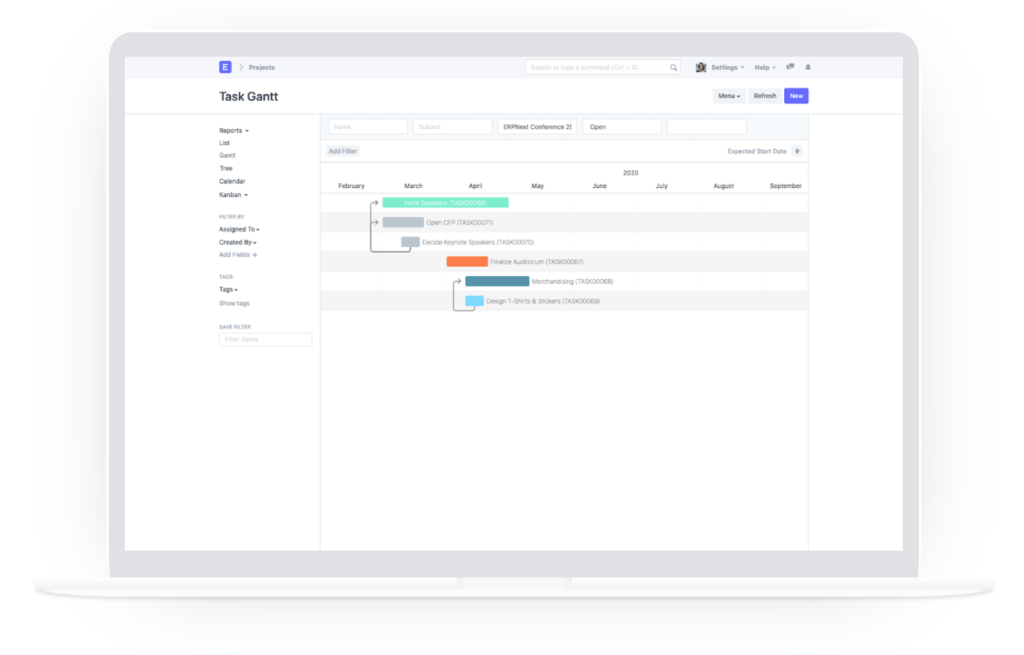 ERPNext includes modules for accounting, project management, human resources, customer service, and more. So, it's a great choice for smaller businesses interested in consolidating their tool stack to an all-in-one solution.
ERPNext pros:
Very affordable for small businesses
All-in-one solution with full access to every module
An advanced search feature to easily find what you need
Open source so everything is completely customizable
Active customer forum
ERPNext cons:
You may pay for features you don't use
Not the easiest ERP software to learn and use
Some modules have room for improvement (like POS and analytics)
Can be difficult to customize for your business
2. NetSuite — Best Overall Modular Solution
NetSuite offers numerous business management solutions, one of which is a powerful ERP SaaS solution. Furthermore, they have setups for businesses of all types and sizes so it's an excellent overall modular ERP solution.
You can use it on any browser and your phone so you always have access to everything you need regardless of where you are (as long as you have an internet connection). And you don't have to worry about manually installing updates — they're done automatically.

NetSuite's ERP software easily integrates with their other tools so you can create an all-in-one solution using their suite of business management features while only paying for what you need.
Furthermore, their ERP solution includes financial management and planning, procurement, order management, fulfillment, supply chain management, and more.
NetSuite pros:
You can access it anywhere (including on your phone)
Highly customizable for different users and roles
An advanced search feature to easily find what you need
User-friendly after you learn how everything works
A full suite of business management modules are available
NetSuite cons:
Extensive and difficult implementation process (3+ months)
Most likely can't implement even a simple solution on your own
Less-than-great customer service with inexperienced staff
A very steep learning curve for new users
3. Odoo — Most Customizable Solution
Odoo is a completely customizable ERP solution that lets you pick and choose what features you need (and the features you don't). This makes it an affordable and customizable option for companies that don't need an entire suite of business tools.
Furthermore, you can build your own solution on your own without having to speak to their sales team (if you opt for the cloud-hosted option) and it's easily customizable to match your business size and needs.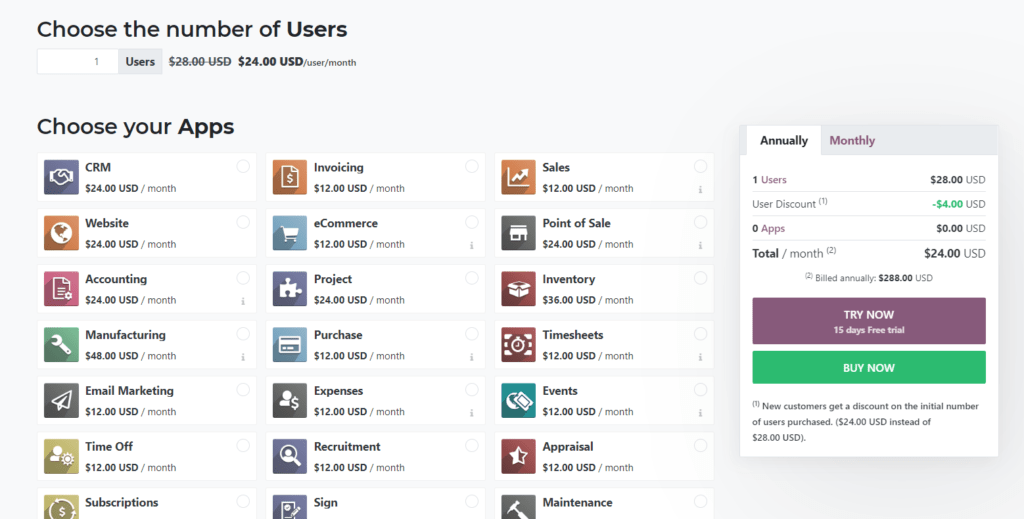 With their pricing tool, you can exactly how much you're going to pay depending on the modules you need and the number of users. Furthermore, you can purchase dedicated customer support to help during implementation if you need it.
Odoo pros:
Easy to use and each module integrates seamlessly
Simple implementation especially for basic setups
Seamless third-party integrations
Customizable to match your specific needs
Transparent pricing
Odoo cons:
Poor customer service
Limited user role customization
Reportedly gets slow for complex solutions
Several bugs and glitches reported
4. Tally — Best Windows Solution
If you use the Windows operating system, Tally.ERP 9 is an excellent option that helps businesses manage their financials, improve efficiency and productivity, and manage inventory all in one place.
Furthermore, they have a full suite of extensions, integrations, and connected services to enhance the capabilities of your specific solution as required. So, it's easy to customize everything to match your business's requirements.
You can also install the Tally.ERP 9 solution to try it out before buying a full license to see if it's right for you, your team, and your business.

With Tally, you don't have to pay a monthly subscription. Instead, you can purchase a license for one user (or for unlimited users) as a one-time fee. This makes it a very affordable solution for anyone using the Windows operating system.
Tally.ERP 9 pros:
One-time license fee rather than paying every month
Very easy to implement, learn, and use
Flexible to match your specific needs
Suitable for countries all over the world
A responsive customer service team
Tally.ERP 9 cons:
Some of the features are outdated
Basic accounting knowledge may be required
Not as customizable as other options on this list
Cloud service is not an option
5. SAP S/4HANA — Best for Enterprises
SAP S/4HANA is a cloud-based (or on-premise) ERP solution for small, medium, and large enterprises in any industry looking for a way to simplify and consolidate their resource management process.
Furthermore, SAP also offers an entire suite of business management tools that seamlessly integrate with SAP S/4HANA so you can effectively manage your entire business in one central location (if you prefer).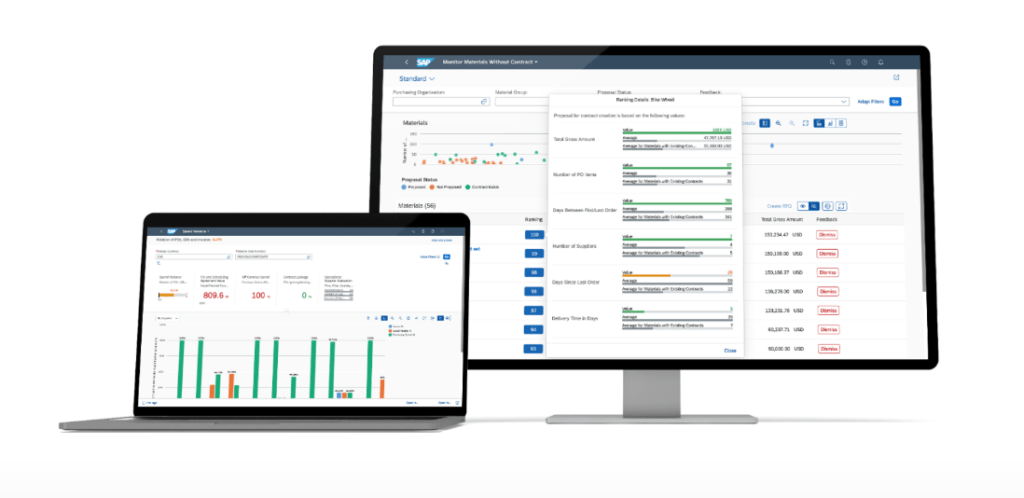 SAP has been around for almost 50 years (48 to be exact) helping tens of thousands of businesses — like Coca Cola — simplify and manage their business with custom solutions tailored to their industry and specific needs.
SAP S/4HANA pros:
Intuitive interface and easy to use once you get the hang of it
Seamless integration with SAP's other business management modules
Robust and powerful system best suited for enterprises
Ability to scale and expand with your business
In-depth training materials
SAP S/4HANA cons:
Dated user interface
Expensive implementation and maintenance
Extensive training is required to use it to its full potential
Advanced features are added expenses
Long implementation process
How to Choose the Best ERP Software for Your Business
Now that you know the best ERP software, it's time to walk through how to make the right decision for your business and current situation. We'll start by documenting and understanding your business processes. Then, we'll walk through defining your ERP software requirements.
And from there, we'll cover which software is best for different situations so you can make the right choice for you, your team, and your business.
So, let's dive in!
Step 1: Document Your Business Processes
Your business processes are as unique as your fingerprint so it's important to start by getting those down on paper and completely squared away. You should also take note of how you hope your business processes flow after implementing your new ERP software.
Understanding every detail about how your business operates helps make the ERP implementation process easy. And it also helps you define the specific requirements you need so you can come away with a customized solution that simplifies and improves the way your business operates.
This is going to take some time but be sure to sit down with leaders, decision-makers, and different employees to map out your processes for things like:
Inventory management
HR and payroll
Procurement
Your sales process from start to finish
Supply chain
Product lifecycle
Accounting
Finances
Risk management
Once you know how everything works, you can pinpoint the strengths and weaknesses you hope to address with an ERP tool. So, use these processes as we go into the next step of defining your software requirements.
Step 2: Define Your ERP Software Requirements
Now that you know your resource processes inside and out, it's time to define what you need in an ERP software. This goes beyond its features and modules to include how it's implemented, how long it takes, and how easy it is for your team to learn.
So, before you start looking at the different options out there, define everything (down to the last detail) you need your new software to do. Be sure to consider things like:
Your long and short-term business goals
System requirements (operating systems, storage space, etc.)
The implementation and transition process
Integrations with other essential tools
Training and customer support
The capabilities you need and don't need
Industry-specific solutions
Appointing a software "owner"
Off-site use
After you have a clear picture of your business processes and your ERP software requirements, you can start the process of live demos and speaking with sales teams to find the perfect solution for your business.
Now, let's walk through how to choose.
Step 3: On a Tight Budget? Choose ERPNext

If you're on a tight budget and want an all-in-one tool that's easy to implement, consider choosing ERPNext. It's $50 a month per user (with a minimum of five users). So, it can scale as your business grows.
They also offer both self-hosted and cloud-hosted (minimum of 20 users) options. So, regardless of which implementation strategy you prefer, ERPNext has you covered.
So, if you have a limited budget, check out their pricing packages and start your 14-day free trial. Or if you're looking for something more robust, customizable, and specific to your business, move on to the next step.
Step 4: Using the Windows Operating System? Go with Tally

If your company uses the Windows operating system, Tally.ERP 9 is an excellent option. It's a simple and flexible software designed to help you automate and simplify your business processes.
Furthermore, you can buy a single-user or multi-user lifetime license rather than paying a monthly fee. And you can try it out as long as you need to for free (in education mode) before upgrading to see if it's the right fit.
So, if you use Windows, grab your free demo and download the software to try it out for free. If you don't use Windows or are looking for a more modular and robust ERP software, move on to the next step.
Step 5: Looking for a Modular Solution? Get NetSuite

If you're interested in something a bit more robust and modular with tons of other business management tools at your fingertips, NetSuite is a smart choice. It's a cloud-based solution to help you streamline your resource planning processes.
Furthermore, it's available on any device and it's easy to use. Plus, it's designed to scale with your business so you don't have to worry about outgrowing the software. However, it's a robust system that takes a long time to learn and implement. So, be sure you have the resources in place to simplify the implementation and transition process.
If this sounds right up your alley, schedule a free consultation to get started. But, if you're looking for something a bit more flexible (and easier to implement), move on to step 6.
Step 6: Need a More Customizable Solution? Go with Odoo

Odoo is a flexible and completely customizable solution with transparent pricing and a massive suite of tools and modules to help you streamline your business processes. From eCommerce and shipping to marketing automation and CRM, Odoo is more than just an ERP system.
Their modules integrate seamlessly so you can use their tools to help simplify and consolidate nearly every aspect of your business. Furthermore, you can choose between cloud-hosting and on-premise hosting to best suit your specific needs.
If this sounds like what you need, check out their pricing page for more details, and to get started. However, if you're a large company or enterprise, move on to step 7.
Step 7: Looking for an Enterprise Solution? Choose SAP

SAP is an industry leader for business management software. They've been around for almost 50 years helping businesses of all sizes manage and streamline their processes. However, SAP S/4HANA is extremely robust (and expensive).
So, SAP S/4HANA is best suited for large companies with a generous budget interested in a complete one-of-a-kind business-specific ERP solution.
You can purchase it as a SaaS monthly subscription or as a traditional license that gives you complete control with the ability to use your own infrastructure and data centers. And you can start with a 14-day free trial to see if it's right for your business.
Request a custom quote and start your free trial to get started.