Best Enterprise Mobility Management (EMM) Solutions
The bring-your-own-device (BYOD) movement has brought more flexibility to the workplace. It makes it easier for employees to work from their preferred devices, makes it possible for people to work away from the physical office, and introduces more choices in device type. 
However, managing this influx of devices can prove a nightmare for IT security teams. Securing sensitive company data is more complex, updating multiple devices across different platforms is difficult, and deployment can be cumbersome. 
Enterprise Mobility Management (EMM) can solve these problems and more. With EMM, security teams have complete visibility of all the devices in their environment regardless of location. Similarly, administrators can remotely secure, manage, and distribute apps on these devices. 
We've put together this review to highlight our top picks of the best enterprise mobility management solutions. We've also included a convenient step-by-step guide to help you pick the right solution for your organization. 
Citrix Endpoint Management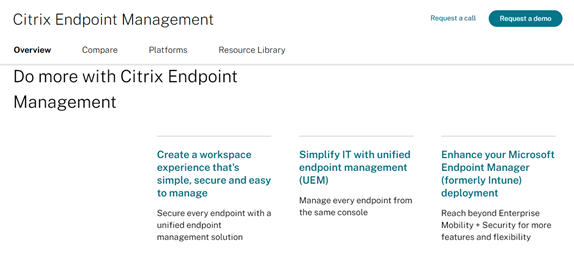 Citrix Endpoint Management is a unified endpoint management (UEM) system that allows IT teams to monitor and administer all types of hardware on a single platform. The solution offers robust Mobile App Management (MAM) in addition to Mobile Device Management (MDM) capabilities across all commercial operating systems.
The platform is handy for organizations with disparate workforces. Citrix does a great job serving the entire organization, including the IT department and individual employees. Workers get quick and easy access to their entire workspace regardless of their location and device. All the while, the IT department can create and implement stringent security and compliance controls remotely.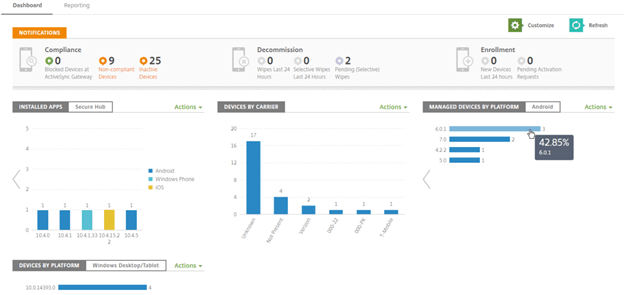 Some of the platform's primary features include:
Endpoint management

– IT managers can easily manage and configure bring-your-own (BYO) and corporate devices throughout their entire lifecycle.

Policy configuration

– Allows granular policy management down to platform-specific policies. Administrators can also manage multiple policies, including apps and device resources, device ownership, passcodes, encryption, and device status and location.

Workspace Environment Management (WEM)

– MDM Administrators can optimize hardware resources, including physical desktops so that employees can get better performance from their hardware. In addition, the WEM lets administrators lock down Windows devices right from the platform.

Security and Compliance

– IT managers can guarantee end-to-end security and compliance thanks to the platform's geofencing and tracking, pre-enrollment device checks, jailbreak detection, and complete or selective device wipes. This functionality is extended across all devices and platforms.

Device Decommissioning

– Citrix Endpoint Management offers automated device decommissioning based on the user status. This automation helps respond to potential data breaches when devices are lost or stolen.
Overall, Citrix Endpoint Management is easy to deploy. The platform's enrollment console has everything you need to add devices. However, Apple and Android hardware require some manual work such as issuing Apple Push Notifications and managing distribution or restricting apps respectively. AutoDiscovery is a handy feature for hastening the enrollment process.

The platform offers several pricing tiers.
Stand-alone:

 $4 per user per month or $3 per device per month. This tier gives you complete unified endpoint management across all your devices and platforms.

Workspace Premium

: $18 per user per month. In addition, it comes with Citrix Endpoint Management which gives employees access to their workspace from any location and device. This tier also includes intelligence and automation features.

Workspace Premium Plus

: $25 per month. It allows hybrid deployment options for the platform's desktops and apps. With this tier, you can also manage Citrix Virtual Apps and Desktops on the cloud.
On the downside, you can immediately tell that this unified endpoint management solution is designed to work with other Citrix tools. Therefore, it makes sense if you already use the Citrix Digital Workspace or Application Delivery solutions. Otherwise, implementing this solution from scratch can get expensive.
SOTI MobiControl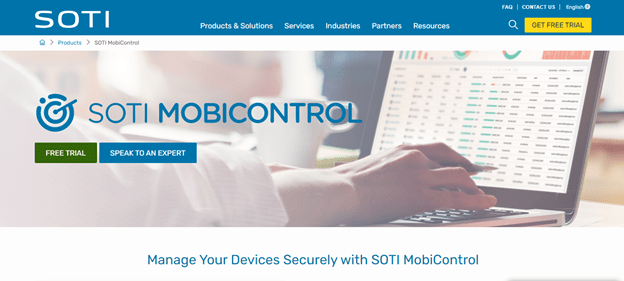 SOTI MobiControl is another noteworthy Enterprise Mobility Management (EMM) solution that lets you keep track of all your endpoints, including smart Internet of Things (IoT) devices like printers. In addition, you get the option to host its system on-premise or in the cloud.
SOTI MobiControl integrates seamlessly with major rapid enrolment solutions right off the bat. These include Apple Automated Device Enrollment, Android Zero-touch Enrollment, and Windows Autopilot to make your work easier. The platform also supports devices across all major operating systems.
The mobility management solution includes valuable content and app management features. For example, SOTI Surf allows employees to browse securely on mobile. In addition, the SOTI Hub offers a secure repository where MDM administrators can create and secure content directly on devices. Lastly, SOTI XTreme drastically reduces the time it takes to synchronize files and distribute data and apps from the central platform to employees' devices.
SOTI MobiControl has a clean, device-centric user interface to make life easier for MDM administrators. The Device Table neatly categorizes your devices for easy organization, such as "All iOS Devices" or "All Android Devices."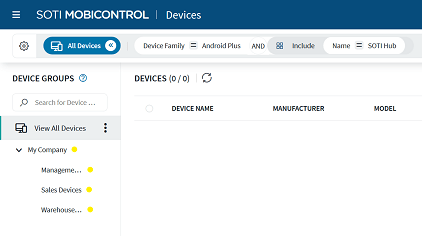 The main dashboard also has a handy search tool to find specific devices quickly. Alternatively, users can enter a compound query to search categories of devices. This layout also makes it very easy to apply one action to multiple devices in the same category is very easy.
Other noteworthy SOTI MobiControl features include:
Advanced IoT Management

– The platform supports Linux-based IoT endpoints and mobile devices. This capability is crucial given that Linux appears to be the preferred platform for IoT architectures. Nevertheless, MobiControl also supports Windows CE architecture.

Flexible Deployments

– MDM administrators can manage and support a comprehensive list of deployment scenarios, including Corporately Owned, Business Only (COBO), Bring Your Own Device (BYOD), Personally Enabled (COPE), and Choose Your Own Device (CYOD).

Performance Visibility

– Admins get real-time and 48-hour visibility into critical device performance metrics. These metrics include server health, processing times, CPU and BD performance, and queue lengths.
You'll need to contact a SOTI expert to receive your quote. However, the platform offers a free trial.
The platform has done a great job improving its user interface. Regardless, some tasks require you to use the older version, which can be confusing.
Sophos Mobile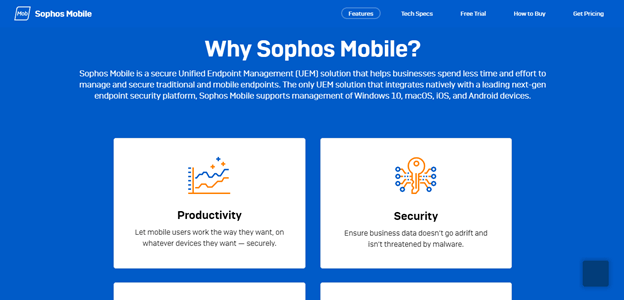 Sophos Mobile is a Unified Endpoint Management (UEM) solution that allows organizations to manage all their devices and endpoints from one convenient platform. In addition, Sophos Mobile integrates Mobile Threat Defense (MTD) for complete endpoint security. This threat defense solution is beneficial for organizations that want to automate restricted access and remediation in case of violations.
The platform offers administrators granular control of corporate content, which is crucial in BYOD scenarios. In this instance, Sophos Mobile provides the following apps for Android and iOS devices:
Sophos Secure Workspace,

where employees can decrypt and view encrypted files stored in the cloud. Additionally, users can safely store documents locally on their devices.

Sophos Secure Email

provides a secure container where employees can manage their email, contacts, and calendar.

Sophos Container

stores the settings for Sophos apps on mobile devices. The container also provides password rules and single-sign-on for all container apps.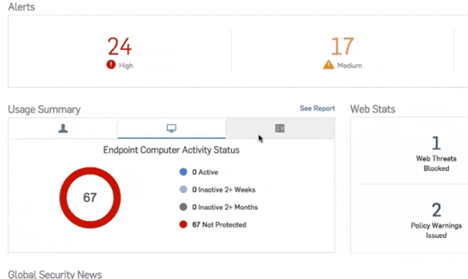 Additionally, Sophos Mobile offers admins complete control of employee devices. For example, admins can see which apps the employee installs and uses on their device. The administrator can also remotely install or update certain apps. Finally, the admin gets a notification if an employee's device is missing a required app or contains a forbidden app.
Other noteworthy features include:
Enterprise app store

Extended detection and response

Anti-phishing

Malware, ransomware, and PUAs

Web filtering and web protection

Container-only management
You'll need to contact Sophos to get your quote.
On the downside, Sophos Mobile plans to retire its on-premise solution on 20 July 2023. So this might not be the best choice for organizations looking for a self-managed, on-premise EMM solution.
IBM MaaS360 with Watson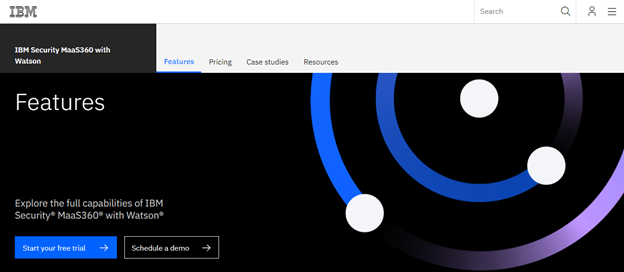 IBM MaaS360 promises to help organizations effectively manage their assortment of endpoints, including PCs and Macs, smartphones, hybrid devices, and Internet of Things devices. The platform is primarily a Unified Endpoint Management (EUM) solution. It supports all major platforms, including legacy options like Windows XP SP3, Windows Vista, and Windows 10.
The platform offers all the primary mobile device management (MDM) capabilities you'd need. Of course, these include deploying, managing, and protecting all your endpoints from a unified console. However, IBM MaaS360 has more complex features that you don't usually see on these platforms.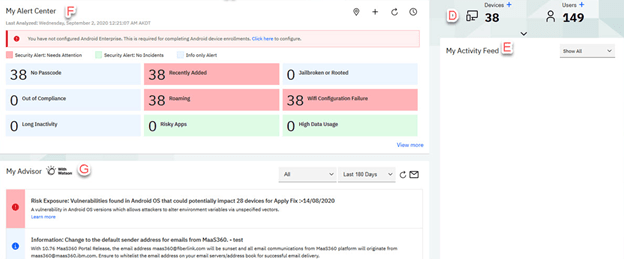 For example, the central console features the handy Watson AI-driven My Advisor panel. This panel offers quick and deep insights into your environment's security posture. For instance, you'll immediately tell if there are any unpatched endpoints, new risks, or unstable devices. The feed even offers actionable information to assist administrators with timely remediation.  
Similarly, the My Activity Feed feature on the main console keeps abreast of any changes in your environment. You'll be able to track changes such as policy changes and new devices in real-time. You can even sort your feed based on relevant criteria such as updates, compliance events, or recent additions.
MaaS360 also makes it easy for admins to take relevant actions. For example, admins can reset passcodes, wipe devices, refresh device information, and lock devices right from the home page with a single click.
Other notable MaaS360 features include:
Mobile Content Management

– Admins can set up encrypted containers where employees can access company data securely. In addition, administrators get granular control over managed documents, including implementing DLP policies for version control, auditing, and security.

Mobile Threat Management

– IBM MaaS360 comes packed with valuable features to secure BYOD devices. These include App Security, Secure Mobile Mail, Granular Patch Distribution, and Secure Browser.

Gateway for Documents

– Allows users secure access to documents without needing a VPN.

Identity Access Management

– Features include single sign-on (SSO) and multifactor authentication (MFA).

Policy Recommendation Engine

– This provides admins with industry-specific templates to help them create and configure security policies.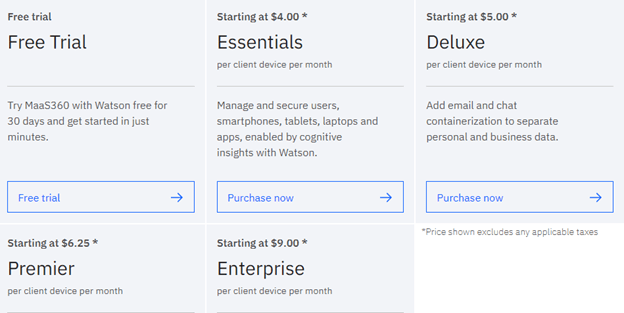 IBM MaaS360 has three pricing tiers. These include:
Essentials

: $4 per client device per month. You get all the essential EMM features, including device management, app management, identity management, and granular app management.

Deluxe

: $5 per client device per month. It comes with additional functionality such as an assistant and security-rich mobile mail.

Premier

: $6.25 per client device per month. This package includes additional capabilities such as a business dashboard for apps, gateway for browser, app security, and OS VPN.

Enterprise

: $9 per month. It includes advanced features not available in lower tiers, including mobile threat management, mobile document sync, and mobile document editor.
On the downside, IBM MaaS360 is only available in the software-as-a-service (SaaS) model. Additionally, it can be expensive for small businesses hoping for enterprise features included in the higher tiers.
ManageEngine Mobile Device Manager Plus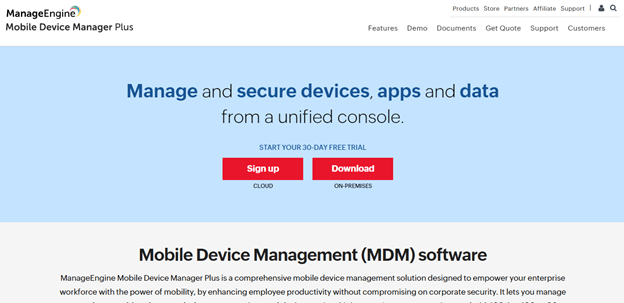 ManageEngine Mobile Device Manager Plus is part of the Zoho Corporation. The platform supports multiple scenarios, including corporate-owned, personally enabled (COPE), choose your own device (CYOD), corporate-owned, single-use (COSU), and bring your own device (BYOD).
The platform simplifies device onboarding to fit your organization's needs. There's even the choice for bulk enrollment with options like CVS, Apple Business Manager, Android Zero Touch, Windows Azure Enrollment, and Chrome OS Enrollment, among others.
ManageEngine allows granular control over device policies. For example, admins can lock down certain device features such as USB, Bluetooth, or Camera. This control extends to defining and enforcing policies for VPN configuration, mobile browser content, and WiFi policies.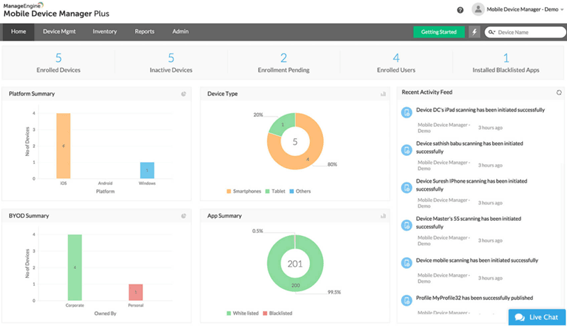 The main dashboard gives you a quick glance at all your devices, apps, and platforms. You can also customize the widgets to see the most important information first. Other noteworthy features include:
Sandboxing

– Admins can containerize BYOD and self-owned devices to separate personal and corporate data.

Mobile Application Management

– Admins have complete control of devices in the environment. They install and uninstall apps without user intervention, blacklist non-compliant apps, force devices to run on specific apps, and even create an enterprise-authorized app catalog.

OS Management

– Admins can silently update OS on mobile devices and restrict users from manually updating their OS.

Email Management

– The platform offers multiple email security features, including setting up device-specific email policies and containerizing email apps.

Integrations

– Mobile Device Manager Plus offers deep integrations with various tools, including Zoho CRM, ServiceDesk, Zendesk, Jira Servicedesk, and Analytics Plus.  

Asset Management

– Admins can track device details in real-time, including installed apps, certificates, and memory usage. Admins can also troubleshoot devices remotely and in real-time.
On the downside, self-enrollment can get confusing, especially for less technically-inclined employees. Similarly, generating custom reports requires some technical knowledge.
ManageEngine pricing starts at $795 annually for up to 50 devices.
How to Pick Your Enterprise Mobility Management (EMM) Solution
The market is packed with EMM solutions. Some provide bare-bones functionality, while others offer advanced features such as artificial intelligence. But the platform with all the shiny bells and whistles isn't always the top choice for your organization. The best EMM will be tailored to solve your organization's specific needs.
Here's how to go about choosing the best enterprise mobility management solution for your organization:
Step 1 – Identify Your Major Mobility Challenges
The first step in choosing an EMM solution is deciding what you want the software to do in the first place. This way, you'll have a clear picture of the features that best suit your use case. Some of the typical enterprise mobility management challenges include:
Data Security
Data security is perhaps the most significant mobility challenge and is at the core of mobility management. The modern workplace encompasses numerous endpoints, including employee-owned devices. This reality presents multiple avenues for data loss, including malicious app downloads, attacks on individual devices, unsecured connections, and data interception.
At the very least, the EMM solution that can deal with this challenge should have Mobile Device Management (MDM). Mobile Identity Management (MIM) and Mobile Application Management (MAM) capabilities.
Remote Access to Data and Apps
With the rise of remote working, employees require access to business data and applications on the go. However, maintaining corporate apps on employee devices can prove a challenge. It may be left to the employees to perform the relevant updates and maintenance tasks. However, EMM solutions with MDM and MAM capabilities allow IT staff to manage corporate apps remotely.
Regulatory Compliance
Employees losing their devices is an ever-present possibility. Sensitive corporate data can fall into the wrong hands, leading to many compliance issues. A good EMM solution should support mitigation measures such as wiping or locking devices remotely if they are lost.
Fragmentation
BYOD policies aim to give employees the freedom to work anywhere and with the devices they are most comfortable with. But managing multiple devices running on multiple operating systems and platforms can be difficult. A good EMM solution should allow the IT department to enforce security policies regardless of the device, platform, or operating system.
Get together with the IT department to brainstorm your major mobility challenge. Next, rank-order these challenges to determine your must-have mobility management features. For instance, remote device locking and wiping might be a crucial feature if HIPPA compliance is at the top of your priority list.
Step 2 – Take Inventory of All Your Endpoints
A good EMM solution should offer unified endpoint management. This simply means that you can visualize and manage all your endpoints from one unified interface. So it is necessary to create a comprehensive list of all the devices to make sure you cover all your bases. These endpoints may include PCs, tablets, smartphones, printers, wearables, and IoT.
While at it, take inventory of all the operating systems and platforms that these endpoints run on. This list will help you instantly identify the solution that best fits your purpose. For instance, not all EMM solutions support legacy OS like Windows Vista. Likewise, not all solutions support intelligent wearable devices like fitness trackers or body-mounted sensors.
Step 3 – Decide Between On-Premise and Cloud-Based EMM
You should have a reasonably clear picture of the EMM that's most likely to meet your needs. Considering your deployment options will help to narrow down your choices further. Cloud-based deployment works well for most organizations. It's cheaper, and the service provider is responsible for most maintenance work like security updates and patching.
However, some organizations have complex requirements that can only be satisfied with an on-premise solution. Therefore, the IT department should have a ready answer regarding on-premise vs. cloud-based. Still, some EMM solutions do not support on-premise deployment.
Step 4 – Try Before You Buy
Most enterprise mobility management solutions offer a free trial with only a few corporate details and no upfront commitment. This is a great time to test two or three solutions and decide which one works best for your organization. The mobility management administrator is the best person for the task. It's also worth getting input from other IT personnel.
During the free trial, some things to note include ease of deployment, usability, device enrollment, reporting and analytics, and support.