The 5 Best Employee Scheduling Tools
Employee scheduling might prove one of the most underappreciated and most challenging to manage aspects of running a successful business. Whether your company encompasses just a few hourly positions or a massive workforce, managing your team's time is critical to developing happy and productive employees.
Unfortunately, many businesses still rely on cumbersome excel spreadsheets to line up employee hours. Worse yet, many more manually scratch out a schedule on paper.
Aside from being highly inefficient, both methods are costly, not just in terms of time spent creating a schedule, but also in lost productivity. Automating the process, however, by using employee scheduling software, can help you:
Improve communication and transparency amongst employees
Enhance insight into employees individual availability
Simplify and promote collaboration between team members
End manual time management and add remote access capabilities
Drastically reduce or eliminate overtime
Minimize costs and increase productivity
More than anything else, employee scheduling software puts the focus back on your business. It gives you more time to grow your bottom line instead of wasting valuable hours figuring out who is working and when.
Scheduling software is flexible; many options will automate your time management, regardless of the business or industry. Let's review five of the best employee scheduling software platforms and pick the one that works for you.
>> Compare Quotes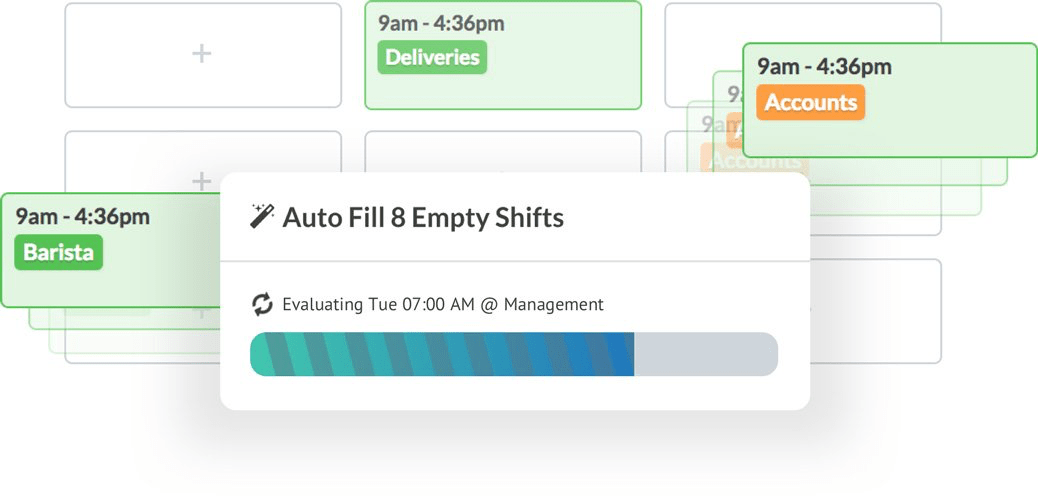 Among the platforms on our list, Deputy stands as the best, all-around scheduling workhorse. Their premium tier, which includes automatic scheduling, can comfortably accommodate over 20 different industries. That translates to a platform that understands scheduling needs regardless of the organization.
One drawback is that the Deputy is not the simplest system to set up and learn. However, once past the onboarding process, it delivers an intuitive experience and a straightforward drag and drop scheduling interface. For larger companies that require a tailored scheduling solution, Deputy has an excellent enterprise solution, especially if compliance is a requirement. A full list of features include:
Auto-scheduling
Open shifts management
Break planning
Remote work scheduling
Payroll syncing
Skill-set scheduling
Demand planning
Newsfeed and tasking on all tiers
Schedule limits (to avoid overtime or schedule part-time employees)
Smart scheduling to address unavailability
Compliance ready to meet local, state, and federal regulation guidelines
Attendance and break monitoring
Integrations include: QuickBooks, Xero, Gusto, ADP, Square, Revel, Lightspeed, Netsuite
Support includes: Unlimited 24/7 live chat and phone support at all tiers, help center, webinars
Pricing for Deputy includes three main tiers plus the enterprise solution for those that require deep customization. The first two tiers offer Deputy's Scheduling and Time & Attendance functions independent of each other. The third, Premium package, combines them both along with a reporting function. Their three main tiers include:
Scheduling: $2.50 per user per month includes only the scheduling function
Time & Attendance: $2.50 per user per month includes only the time and attendance functions
Premium: $4.50 per user per month includes scheduling, time, and attendance functions
Deputy does offer a 31-day free trial for any tier, including the Premium package, so you can try all features before committing.
>> Compare Quotes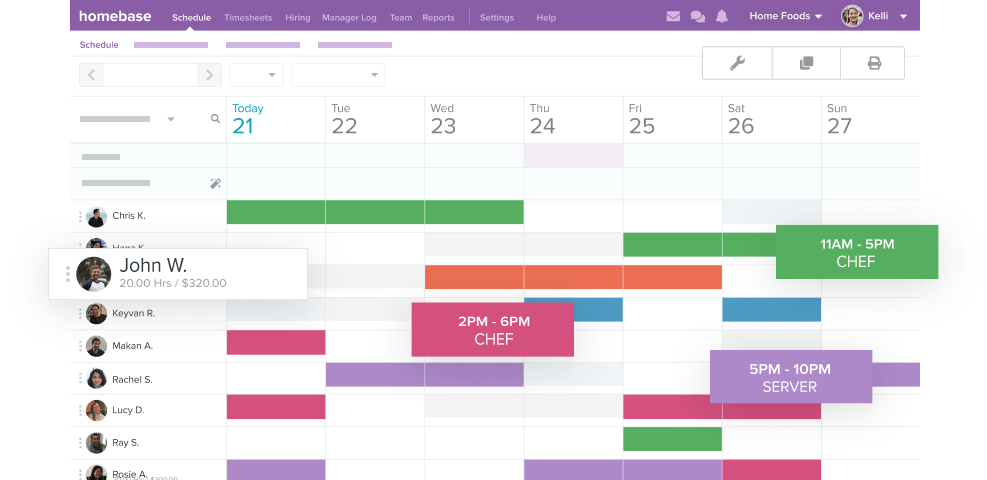 More than any other platform on our list, Homebase gears its employee scheduling solution towards small businesses. And not just any small organization, but those that most often comprise the bulk of retail and dining establishments in a city – single site brick and mortar shops or restaurants with more than ten employees (or even small office operations).
Homebase offers a feature-rich free version of its scheduling platform. It includes time tracking and attendance, scheduling and availability beyond ten days, team messaging, hiring, POS and payroll integration, and live support. It's an incredible value for those single-location businesses with limited resources.
Overall, the platform is easy to set up, learn, and manage. It's another significant aspect for those who don't want to spend time acclimating to scheduling software. Its priced tiers provide an excellent ROI for firms with multiple locations and lots of employees (pricing is per site) or require industry-specific integrations. A list of features include:
Automated scheduling
Shareable schedule templates
Labor costs forecasting
Mobile scheduling via text and email
Reduce errors and no-shows
Automated shift reminders
Availability, time-off requests, and approvals tracking
Sales data integration
Automatic calculation of overtime, breaks, and schedule conflict alerts
Integrations include: QuickBooks, Paychex, Gusto, ADP, Square, Revel, Lightspeed, Shopify, Toast, Restaurant 365
Support includes: Chat, email, phone, help guide
Beyond Homebase's robust free version, they offer three additional tiers:
Basic: Free version for single location with ten or more employees includes time tracking attendance, scheduling, and availability beyond ten days, team messaging, hiring, and POS and payroll, live support
Essentials: $14 per month per location includes health and safety screening, remote and fieldwork, productivity and communication, performance management
Plus: $35 per month per location includes budgeting and labor cost controls, departments and permissions, time-off policies, compliance
All-in-One: $70 per month per location includes: onboarding and E-signatures, document storage, HR Pro advisors and training, API access
>> Compare Quotes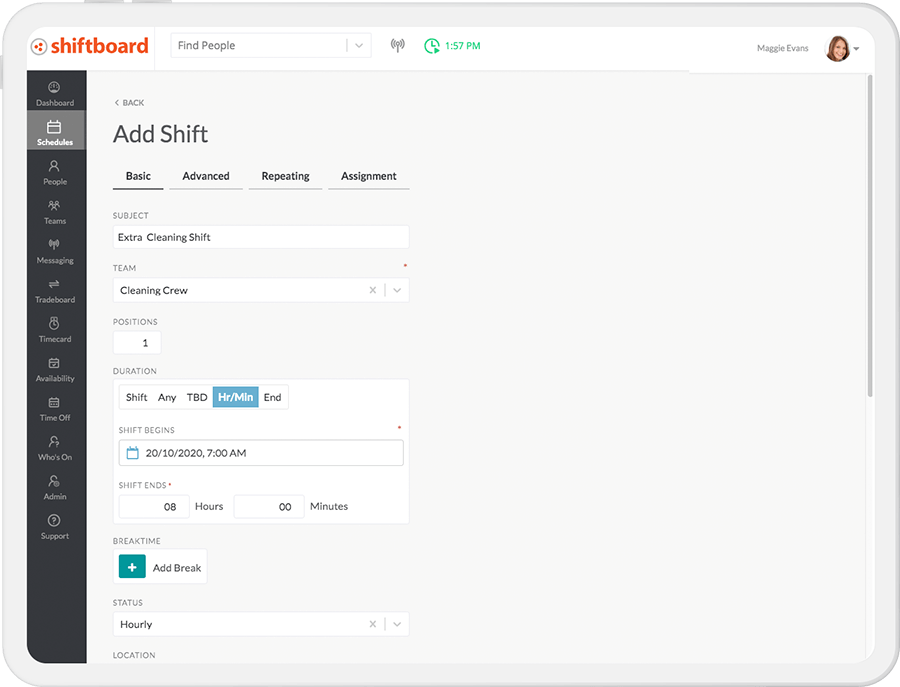 Shiftboard features two scheduling products – ScheduleFlex and SchedulePro. We will note that if you need a strong compliance component for your large scale or growing business, SchedulePro is worth checking out.
For this comparison, however, we focus specifically on ScheduleFlex. It's the more universal of the two solutions with a feature set that helps organize complex hourly scheduling needs. It also makes life easy for your employees with a mobile app, schedule preferences, self-scheduling, shift trading, and automatic shift reminders.
The Shiftboard platform promotes communication between team members. It has team-based scheduling and both targeted and SMS text communication. Additional features include:
Automated, advanced, and intelligent scheduling
Automated Notifications & Reminders
Team-based scheduling
Site branding
Configurable shift details
Mobile scheduling and employee self-service (including shift trading and time-off requests)
Automatic shift reminders
Standby lists and shift pickup
Seniority scheduling
Daily and weekly overtime thresholds
Compliance alerts
Timeclock with geofencing
Applicant and training tracking
Integrations include: QuickBooks, Paychex, Oracle Peoplesoft, ADP, SalesForce, Workday, Microsoft Dynamics, Kronos
Support includes: Chat, email, phone, help guide, and tutorials
Shiftboard pricing is not as transparent as the other platforms on our list. There are two primary subscription plans – Business and Enterprise. The Business level plan is aimed at single-site businesses across two tiers:
Basic: $3 per month per user for fundamental scheduling needs, capped at 20 users
Professional: $6 per month per user for more advance scheduling and includes site branding and custom profiles, for unlimited users
The Enterprise subscription level is for companies with multiple sites and is scalable to fit practically any organization. For the full scope of pricing, a company will need to contact Shiftborad directly as setup fees vary based on individual business needs. There is no free trial. Discounts are available for many non-profit organizations.
>> Compare Quotes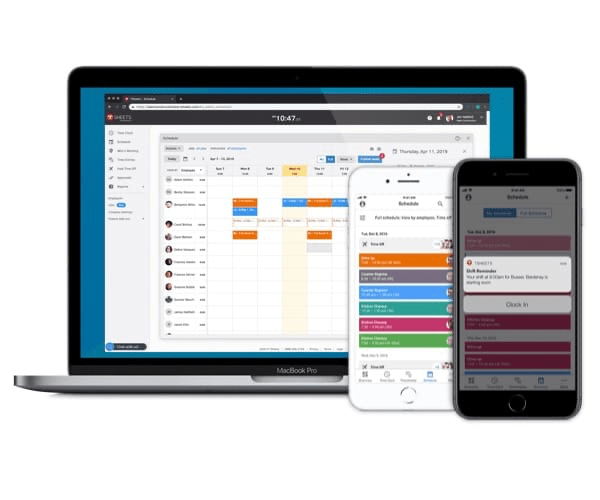 More so than any other provider on our list, TSheets is designed with a clear purpose – supporting service-based businesses. While businesses in other fields will find the platform more than capable, if you have employees in the field, TSheets allows you to stay on top of your team.
TSheets include project tracking, geofencing, job and shift scheduling, photo attachments (uploading from project sites), and time clock kiosks with facial recognition. One of its best features is "see who's working," so you can check in real-time, and see your team members during the workday.
TSheets is part of Intuit, the same group behind Quickbooks. While it does feature other integrations with big-name bookkeeping providers, the in-house connection is seamless. Other features include:
Automated scheduling
Drag and drop shift scheduling
Mobile app with GPS
Time tracking on any mobile device (including "see who's working"
Payroll and invoicing integration
Job and shift scheduling
Real-time reporting
Time-off management
Alerts and notifications
Photo attachments
Time clock kiosk with facial recognition
Project tracking including progress, estimates, actuals, and activity
Timesheet signatures
Geofencing
Integrations include: QuickBooks, Xero, Gusto, ADP, Square, SalesForce, Sage
Support includes: Chat, email, phone, help guide, and live webinars and tutorials
Tsheets offers two pricing tiers – Premium and Elite – which carry the familiar per user per month charge but also employ a base monthly fee for each plan. This additional billing (plus the higher user fees) make Tsheets a costlier option than the other services on our list. The additional fees cover unlimited customer service, including advanced webinars and tutorials, and account setup.
Premium: $8 per month per user plus $20 per month base fee
Elite: $10 per month per user plus $40 per month base fee which includes the project features
TSheets does offer a 14-day free trial.
>> Compare Quotes



Like Homebase, When I Work targets its scheduling solution to small businesses that need a reliable product with a high ROI. It's hard to argue when the product in question is free. When I Work caps its free service at 75 employees, and is an ideal solution for the vast majority of single-site retail stores or restaurants. It comes with team schedules, availability, messaging, shift trading, and time-off requests. One drawback is you can only schedule a week in advance.
The paid solutions are just as impressive – and inexpensive. Depending on your company's needs, you can employ auto-scheduling, ten plus day schedules, overtime insight, labor reporting, or shift and team task lists. When I Work's enterprise option is a viable choice for those needing personalization or high-level features like global privacy, labor tools, or a dedicated account manager. A detailed list of features include:
Auto scheduling
Team scheduling, availability, and messaging
Schedule templates
Shift trading
Self-scheduling
Time off requests
Scheduling over ten days in advance
Multiple schedules, locations, and remote job sites
Overtime visibility
Shift and team task lists
Shift bidding
Document storage
Labor reporting
Integrations include: QuickBooks, Paychex, Gusto, ADP, Square, Ultimate Software, Activehours, Onpay
Support includes: Chat and ticket submission, Knowledgebase and training guides, and live webinars
When I Work's free option is pretty stout, but two additional tiers – Basic and Pro – are ideal for multi-site businesses looking for greater functionality. The primary difference between the two being the Pro's shift specific features and labor reporting. For Enterprise tier pricing, contact When I Work.
Free: Free version for single locations (or teams) with up to 75 users includes scheduling, availability, shift trading, and templates
Basic: $2 per user per month per location includes advanced scheduling, multiple locations or job sites, and overtime monitoring
Pro: $2.50 per user per month per location includes auto-scheduling, shift features including bidding and tasks lists, and labor reporting
When I Work also offers two add-on features for an additional charge – time clock and attendance for $2 per user per month, and applicant tracking is a flat $50 per month.
How to Pick Your Employee Scheduling Software
When evaluating employee scheduling software, your primary focus, unsurprisingly, comes down to your workforce's needs. You'll want software that is easy to use and gels with your company's goals and identity. For example, scheduling for a single-store restaurant is different from a construction contractor assigning job projects or a medical sales group corralling client meetings.
Of course, picking software that helps you maintain ethical business practices is critical as well. Is your business reliant on shift work? Do you need to keep a fair hourly calendar amongst a large workforce? Are compliance and adherence to federal or local regulations a necessity? Or is it simply better management of overtime or time off requests.
Whatever the case, narrow down the items that are most important to crafting a better schedule for your business and your employees, then choose the platform that best fits those needs. Let's look at the specifics of how each service might fit your company.
For a Customizable Enterprise Solution
In terms of personalization and depth of features, few platforms can match Deputy's scheduling software. It should also be at or near the top of your considerations if your firm covers a vast territory with multiple sites – be it regional, national, or international. A strong set of compliance features also reinforce Deputy as a top enterprise solution.
For Single Site Brick and Mortar Store or Restaurant
If you manage a single site store or restaurant, non-profit with singular scheduling needs, or early growth start-up, Homebase or When I Work prove top options. Can't decide between the two? Choose Homebase for a single-site with more than ten users. Pick When I Work if you've got fewer than 75 employees across two or more locations.
For Organizations Simplifying Scheduling for Employees
Shiftboard could easily slot itself into many different "best for" categories. Overall, it's a reliable solution for compliance. Service-based companies will also appreciate how it simplifies complex calendar issues. However, Shiftboard is best when you put the power of scheduling back into your employee's hands with a platform that promotes communication and consistency.
For Service-Based Companies
Service-based companies, particularly those with a sizable workforce out in the field, have a specific set of scheduling needs. TSheets is uniquely designed to bolster the requirements to track employees and teams throughout their work. Considering its association with Intuit and Quickbooks, it's great for those wanting seamless accounting software integration.