The 5 Best Employee Scheduling Software Tools and How to Decide
It used to be that only enterprises could afford these time-saving tools, but today sleek and effective employee scheduling software is available for companies of any size, and any budget.
There are even two free-forever options on my list.
So, if you're considering employee software for the first time, or if your current system isn't getting it done, keep reading about the best options available today.
The 5 best employee scheduling software tools of 2020
To put this list together we focused on tools with an easy to use, consistent, modern UI, and a mobile app that people can teach themselves. For any employee scheduling software to work, everyone has to want to use it.
Another thing: these are all integrated with popular payroll/HR apps. You won't save time managing information between platforms manually.
I don't know what your constraints are, but these are the five products helping most employers around the world save money, limit mistakes, and reduce stress:
When I Work
Deputy
Humanity
Homebase
TSheets
As you read through these reviews of the best employee scheduling software tools, keep the specific needs of your vertical and workplace in mind.
Pro tip: SaaS pricing changes more than British royals change outfits. To get the most accurate cost and the best deal, contact sales. Never hurts to see what they can do.
Best employee scheduling software reviews
When I Work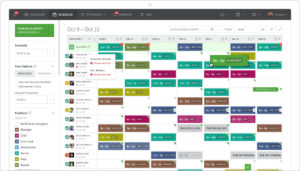 Along with affordable pricing, When I Work offers a pay-as-you-go service, which makes it an extremely low-risk option. It's less robust than some other tools on this list, but it has what you need to start saving time and money right away.
The free version of When I Work is more than enough for you to get a sense of how helpful this app can be. You get team messaging, time off requests, shift trading, and OpenShift management, which allows you to let employees pick up shifts without having to assign them directly.
At the paid levels, the scheduling features are much more powerful, allowing you to plan the work of multiple locations. You'll also have overtime visibility, 10+ day scheduling, shift bidding, and other tools to help you spot problems and build for efficiency.
For those in charge of scheduling shifts and projects, When I Work makes it easy to track employee requests, set reminders, and negotiate other constraints. Drag-and-drop time blocks update in real time as the schedule changes, keeping everyone on the same page.
Time-tracking is available at an additional $2 per user/month, which still puts When I Work below the price point of dual time-tracking and scheduling apps like TSheets (reviewed below).
Integrations with ADP, Quickbooks, Square, Gusto, and other top payroll services reduce the amount of time you have to spend transitioning your scheduling to billing.
Whether using an HR outsourcing service or keeping it in-house, When I Work will dovetail with your current business processes, giving everyone in the company a bird's eye view of the work ahead.
Interested? You can get up to 75 people onboard with the free version.
Pricing:
Free: 75 user limit
Basic: $1.50 user/month
Pro: $2.25 user/month
Enterprise: Contact sales
Pros:
Exceptional free plan
Constantly improving
Affordability
Cons
Deputy
Deputy is an invaluable tool for streamlining employee management. Both frontline workers and those in backend organization roles find the app easy to adopt and start seeing the benefits immediately.
The pricing structure is set up so that you can purchase scheduling, time-tracking, or both in the Premium plan.
I like the Premium plan because the reporting features are baked in. You can forecast wages against sales, track costs in real time, and make intelligent budgeting decisions before problems arise.
That said, both the individual products are excellent at what they do.
Employees can clock in from anywhere on their phone, or at a tablet kiosk with facial recognition that allows for no-touch attendance tracking. Supervisors get live updates about where everyone is and what they are doing.
On the scheduling side, the AI-powered automated rostering features in Deputy are very handy. You can automatically fill empty shifts with the most suitable workers based on factors like availability, cost, training, or employee health. With one click, you can fill more than 100 empty shifts with the right people.
You can also leverage Deputy's automated scheduling to create guardrails that keep workers compliant with labor requirements, or to make sure that overtime won't get out of control.
The Deputy Newsfeed lets people share information, and comes with confirmation features so that you can see who has read the important updates. You can also share documents, images, and videos on the feed to convey more detailed instructions.
For those in the event business, or another vertical that experiences major changes in staffing week to week, the Deputy Flexi plan allows you to pay for only active users.
Try Deputy free of charge for up to 31 days.
Pricing:
Free: Up to 31-day free trial
Scheduling: $2.50 user/month
Time & Attendance: $2.50 user/month
Premium: $4.50 user/month
Enterprise: Contact sales
Pros:
Flexible monthly plan
24/7 support worldwide
Cost tracking
Cons
Humanity
One of the hottest employee scheduling software tools on the market, Humanity ensures everyone knows when and where they need to be.
It empowers employees to manage themselves with an intuitive mobile app. Without having to call in, they can trade shifts, request time off, and see their upcoming schedule as changes are made.
The versatile shift planning board gives supervisors the freedom to view the schedule according to their preferences and needs. Focus on individual employees, teams, or view your workforce according to positions. Advanced filtering options let you peel away or add layers of information as needed.
Clicking on a shift opens the Shift Edit window, which lets you see who else is working and which shifts overlap. You can also fine-tune details, which will all be communicated to relevant employees by text.
You can copy shift schedules⁠—for a single employee, several, or every person that week⁠—and paste directly into new timelines.
Overstaffing and other issues automatically trigger conflict warnings. One click surfaces the problematic details, and another lets you fix the problem.
This saves a lot of time, but it's Humanity's machine learning that really pays dividends. The Schedule Wizard will automatically build new schedules based on old templates, and auto-fills empty shifts based on an extensive conflict avoidance system.
You can generate a schedule instantly, which is easy to view and edit before you publish.
If you are coming from a spreadsheet schedule, Humanity has tools to import all this crucial information so you're not starting from scratch.
Humanity offers a 30-day free trial that includes all enterprise-ready features.
Pricing:
Starter: $3 user/month, $80/month minimum
Classic: $4 user/month, $80/month minimum
Enterprise: Contact sales
Pros:
Flexible for employees
Detailed shift planning
Simple automated shift allocation
Cons:
Load time can be a problem
Homebase
If you are looking to try scheduling software for the first time, you can't go wrong with Homebase.
The free version is just a taste of what comes at the paid levels, but it works in a single location for an unlimited number of employees. This includes the mobile app and unlimited advance scheduling.
There's no risk, and you may discover why many other businesses consider it one of the best employee schedule software tools on the market.
At the free level, you get basic scheduling, time tracking, timeclock, and team messaging features that hold their own with products you pay for.
On top of that, there are nifty hiring tools included. You can create positions, post to the top online job boards, and monitor the entire hiring process, all directly in Homebase.
At the paid levels, you get more robust HR management features, such as employee performance tracking, as well as the ability to assign multiple role types and wage rates.
The price of Homebase is tied to the number of locations you have, rather than the number of users. This, along with an amazing freemium offering, keeps costs from ballooning before you are ready.
Pricing:
Basic: Free for one location
Essentials: $16 month/location
Plus: $40 month/location
Enterprise: Contact sales
Pros:
Unlimited users with free version
Location based pricing
Easy to fix incorrect information
Cons:
Limited customizability until Plus tier
TSheets
TSheets is a comprehensive employee scheduling and time tracking tool with a mobile app employees love to use. Its function is focused entirely in these two areas, where it excels as one of the top-rated pure-play options on the market.
It's incredibly intuitive. Employees will have no trouble getting set up, and immediately you will notice a reduction in employee-touch payroll tasks. Accounting can work faster and have a better idea of what's going on day to day with a clean dashboard that updates in real time.
It also ties right into Quickbooks (Intuit bought TSheets in 2017), and has integrations with the major payroll and bookkeeping apps you expect.
TSheets is a little higher in price, but in my opinion, it's a good buy for people who need advanced reporting and tracking capabilities. You can input a lot more detailed information on TSheets than some of its competitors, and this shows in the quality and range of reports you can pull.
You can create up to six fully customizable fields for employees to complete before clocking out. Prompt them to respond to questions like "Did you wear PPE," or "What was your temperature?" which may become standard practice in many verticals outside healthcare.
Now that TSheets is part of the Quickbooks family of products, it has an open API that you can use to build simplified workflows, saving your employees and customers time and hassle.
It's a forward-thinking solution. Try TSheets free for 14 days before making a commitment.
Pricing:
Premium: $8 month/user, plus $20 monthly fee
Elite: $10 month/user, plus $40 monthly fee
Pros:
Customizable fields
Intuitive project tracking tools
Detailed reporting tools
Cons:
How to choose the best employee scheduling software
You might not think of your employee scheduling software as being tied to company culture, but this is one of the most intimate touchpoints between you and your employees.
Paychecks and schedules have a lot to do with how employees conceive of their position and status within the company.
Moreover, every product on this list employs location tracking, facial recognition, push notifications, and other intrusive methods. You have to be thoughtful about finding employee scheduling software that's appropriate for your needs, but also those of your employees.
Done right, you put tools in their hands that give them more freedom, not less.
Take these four steps to make sure your chosen solution does just that.
1. Define the services you need
There are a few general services that fall under "employee scheduling software," such as:
Scheduling
Time tracking
Time clock (attendance)
Some of the products include all of these, as well as additional features like:
Hiring tools
Reporting capabilities
Team communications
The essential question is: what additional or improved services does your business need in order to stay on track?
Define the basic feature set and functionality you're looking for. You may already be invested in business systems that can pick up where the lighter-weight products leave off.
Unless it's unavoidable, only pursue products that have integrations with the services you plan to continue using.
Figuring this out ahead of time will eliminate products that don't fit the bill, and focus you on the appropriate pricing tier for the ones that do.
2. Map out your needs
Identify all of the work you think you can reduce with employee scheduling software, such as rostering, tracking, planning, allocating shifts, and so on. The goal is to automate these tasks, so you need to make sure that whatever option you pick can handle this at the required scale.
Do you have employees that receive bonuses or get paid at varying rates? Do you want to track by employee, by position, or by project?
Make sure all the options are robust enough to suit your specific needs. You don't want to make a purchase anticipating workarounds.
Be sure, too, to consider the regulatory side of time tracking and scheduling. What do you need to stay tax and labor compliant? How long do you need records kept?
3. Test the best candidate
Even though it's not a one-way street, truly testing employee scheduling software demands the earnest participation of everyone in the company. Roll it out with care and set up systems to collect feedback from people across the organization.
Employees are going to want to know about messaging and data rates. Are they seeing charges for company communications? Are people incentivized not to use the system?
Sound out the feeling from HR and other areas that should be seeing a reduction in tasks. Is scheduling quicker? Are touch-tasks down? Do they like using the product?
Keep an open line of communication with the vendor. They should be providing support and training, and can help you determine the optimal way to implement their product.
Use the trial to discover the real limits. If it's not going to work, better to find that out pre-commitment.
And if it works well? People are freed up to focus on growing the business. Enjoy the new and extended collective capability.
Final thought: Everyone wins with transparent scheduling
A real-time schedule makes business organization so much easier, but there are huge personal benefits for employees.
When life happens, they can manage their situation directly from their phone. They can see who's affected by their decision not to come in. They can offer their shift to a co-worker who wants to pick one up, even if they don't know one another.
The transparency also shifts the emotional burden off HR and others who manage the schedule. Employees request time off through an impartial system. They can talk with HR about how to minimize the chance their requests are denied by planning ahead, but finally, the blame game is over.