The 7 Best Employee Retirement Plans and How to Decide
When it comes to the types of benefits that are most important to employees, retirement benefits typically don't receive the respect they deserve.
After all, retirement benefits may not be of immediate concern to employees early on or in the middle of their working lives and careers. So what they want is an employee benefits package that they don't have to manage on a regular basis, but where they can easily track progress whenever desired.
Regardless of the size of your organization, you can make the process of monitoring employee benefits easy for your workers with the 7 best employee retirement plans software packages.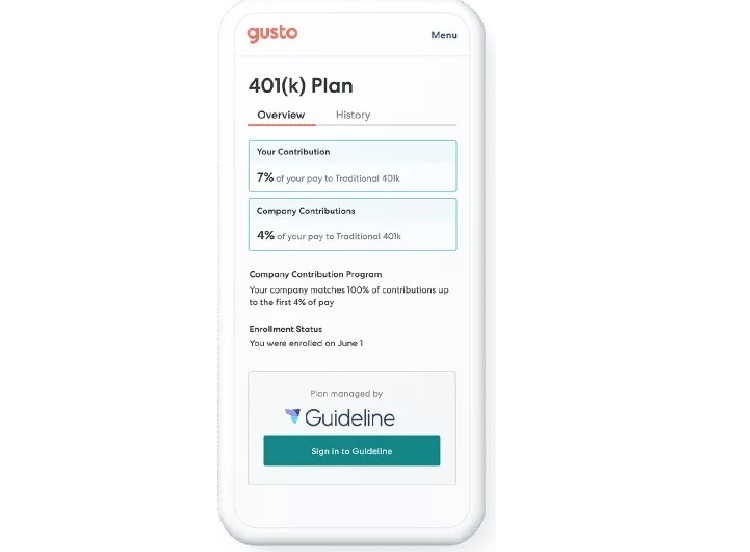 If you are seeking an ability to track retirement benefits for your employees as part of a solid overall HR software package, Gusto will be a popular selection.
However, this software does not treat retirement benefits tracking as its primary feature. Instead, 401(k) benefits and contributions are part of an add-on feature for Gusto. Because of this, even though the 401(k) tracking features work nicely, they feel tacked on to the main Gusto software package, which will be disappointing for those who are primarily seeking a retirement benefits tracking capability above all else.
Gusto's 401(k) features will give employees quite a few advantages, including advice on how to invest and on how to maximize their retirement account. For administrators, the 401(k) tracking tool syncs closely with Gusto's payroll management features, which is a time saving benefit.
Pros
Excellent all-around HR system
Employees are able to track their own retirement benefits through the mobile app
Even though 401(k) tracking tool feels tacked on, it has some impressive features
Cons
The base fee per month on top of the per employee cost increases the price too quickly for smaller organizations
Adding retirement benefit plan tracking requires an extra fee
Pricing
NOTE: You must add a 401(k) tracking feature to other plans for $8 per participating employee and a $39 per month base price
Concierge: $12 per month per employee (plus $149 per month base price)
Complete: $12 per month per employee (plus $39 per month base price)
Core: $6 per month per employee (plus $39 per month base price)
Contractor: $6 per month per employee
bambooHR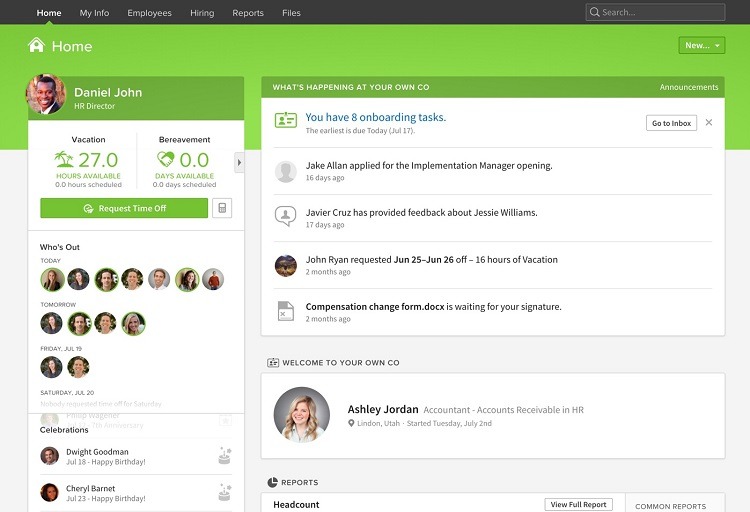 With bambooHR, you'll receive a multitude of tools you can use to help your employees fully track and understand their benefits, including retirement benefits. However, if you don't need all of bambooHR's other HR tools, and you're only seeking something to help with retirement benefits and 401(k) account tracking, bambooHR's features may be a bit much for you to use.
For administrators, this software's ability to generate a variety of reports is one of its best features, so you can see exactly how things stand with the progress of the retirement packages. Employees may use the reports function to closely track where they stand in terms of retirement benefits contributions.
This software is extremely easy to use, so both employees and administrators can garner the information they need in very little time. It's also easy to make changes to the status of benefits, in case an employee wants to increase or decrease the percentage of contribution being made to a 401(k) account.
Pros
Impressive human resources software package to cover multiple needs of an organization
Software is relatively easy to use
Allows users to generate a variety of reports to track progress
Cons
Pricing is higher than some others
Not focused as much on retirement benefits as some others on the list
Pricing
Must call for pricing quote
EverythingBenefits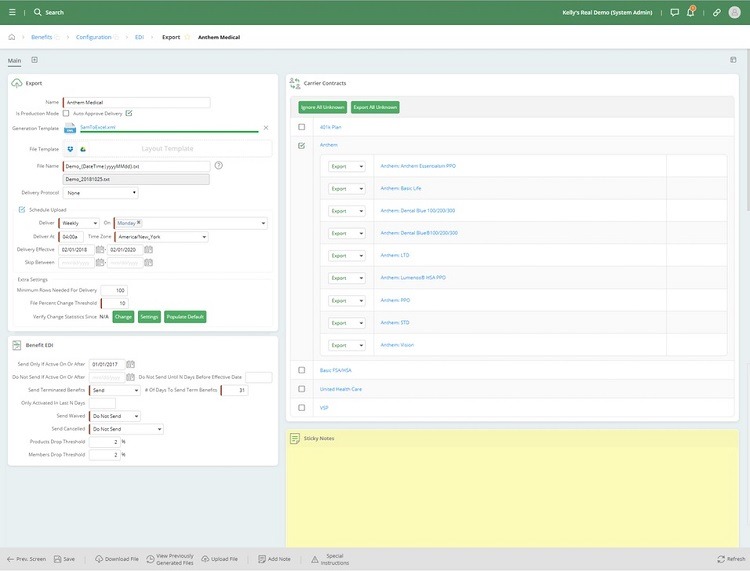 EverythingBenefits uses a streamlined process to create one of the easier benefits tracking and enrollment software packages available in the market. Once you are up and running with EverythingBenefits, you'll appreciate the amount of time you save in data entry and other aspects of tracking benefits for your employees.
Considering all of its time saving features once you're up and running, it's disappointing that one of the biggest downsides to EverythingBenefits is the difficulty and time required to perform the initial setup process for the software.
EverythingBenefits provides a few different types of tools that are beneficial for businesses, such as billing features, but it really shines when you're trying to track employee benefits, such as 401(k) account contributions.
You'll really appreciate how EverythingBenefits eliminates the need for duplicate data entry, copying data that you enter in one portion of the software into other areas that require the same data. This cuts down on errors in data entry, while also saving you quite a bit of time.
Pros
Outstanding features that make tracking retirement benefits easy
Provides a reasonable price for the feature set you receive
Does a good job migrating data you've entered in one section to complementary sections
Cons
Can be a little tricky to add new employees to the database
Time required to set up the software the first time is longer than we'd like to see
Pricing
Must call for pricing quote
GoCo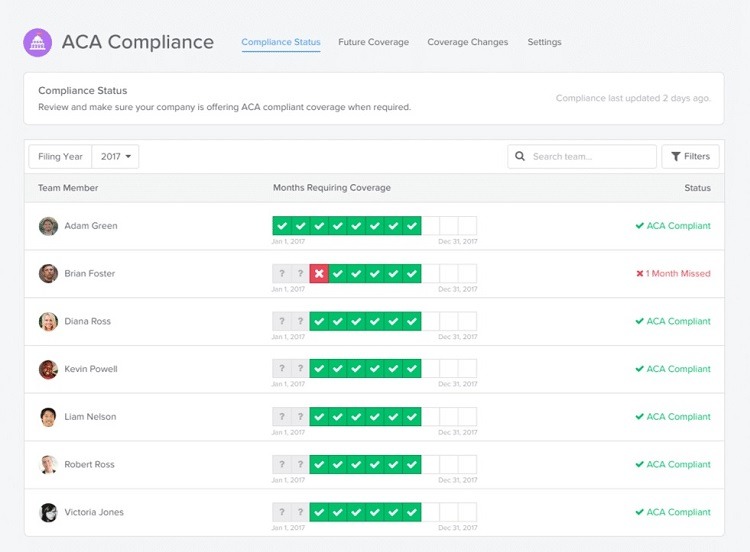 When using GoCo, it almost feels like the company developed a series of apps that have different features, putting them together to create an easy to use HR software package. With this type of design, it's easy to focus on the area of the software that you want to use the majority of the time, meaning you won't bog down trying to weave your way through parts of the software that you don't really need.
Customers will be able to set up new employees relatively quickly, allowing them to begin tracking their retirement benefits as soon as they're able to start earning them, which gives employees confidence about how your HR department runs. Additionally, GoCo has a self service feature that allows employees to check on their employment benefits status at any time.
Because GoCo is a newer type of software, some of the features are still being perfected and finalized, so you may be a little frustrated with the frequency of changes.
Pros
Will seamlessly collaborate with quite a few different software packages you may already be using
Setup goes relatively quickly
GoCo team will respond to your customer service requests in a short amount of time
Cons
Slightly newer software, so the feature set is still being finalized and improved
Pricing can be difficult to understand
Pricing
Starts at $5 per month per employee
Must call for pricing quote
Justworks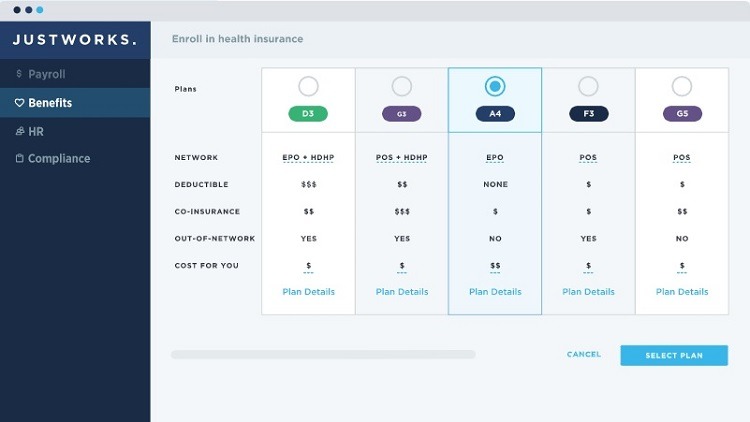 If you don't feel like you have the personnel or expertise to handle employee retirement plan tracking, as well as other HR services, you can outsource the work to a PEO, like Justworks.
Justworks is an impressive service, giving you the ability to track 401(k) contributions and other retirement benefits easily. You are able to use the Justworks recommended retirement plan, or you can continue using your current plan provider within Justworks.
It does cost a bit more than some others to subscribe to Justworks, but the service is a significant timesaver, and it's difficult to put a value on the time of your employees.
Pros
Allows you to make use of the 401(k) plan provider Justworks recommends or to bring your own plan provider
It's a PEO, so you'll be outsourcing the monitoring and tracking work, freeing up your people for other tasks
Retirement benefits represent a key feature of Justworks, rather than an add-on extra
Cons
It's a PEO, so it has a higher price than DIY software
Offers a wide range of HR features, so it may be more extensive than you need
Pricing
Basic (less than 175 employees): $39 to $49 per month per employee
Plus (less than 175 employees): $67 to $99 per month per employee
More than 175 employees: Must call for pricing quote
PTO Exchange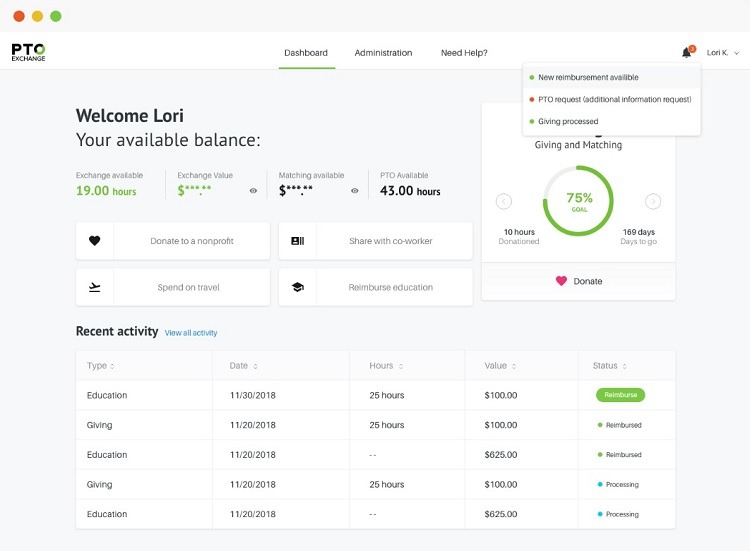 For out-of-the-box thinking regarding unique benefits to help you attract and retain employees, PTO Exchange has the solution for you. Through this software, your employees can choose to turn their unused vacation time into other types of items with a monetary value, such as contributions to a retirement account or charitable contributions.
The PTO Exchange software gives you the ability to customize the contribution levels and the ways in which employees can exchange their vacation time.
If you have no use for this type of specialized benefit for your employees, there are other employee retirement plan tracking software packages in our list that will give you a better level of performance. But for what PTO Exchange does, it's an impressive service.
Pros
Strong customer service team
Software is pretty easy to understand with a clean interface
Has a unique way to allow employees to make use of their paid time off
Cons
Not useful for those organizations that don't want to take advantage of the unique paid time off features
Pricing could be clearer
Pricing
Must call for pricing quote
ScalePEO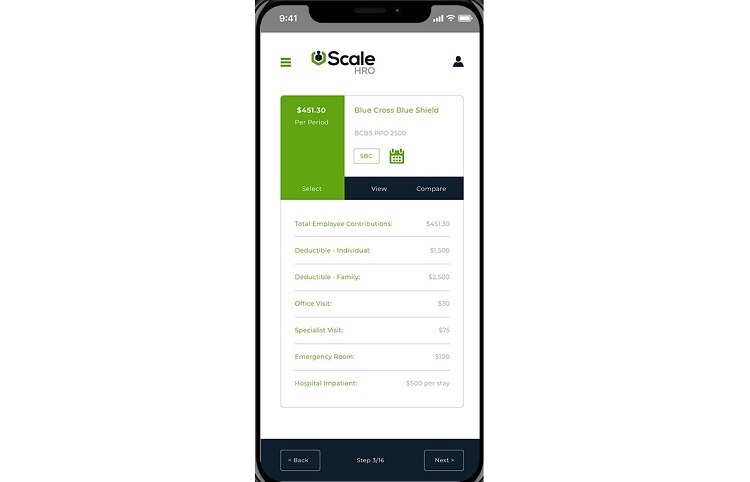 For those medium and large sized organizations interested in passing their HR work to a third party provider, ScalePEO is a strong contender. It has a significant number of human resources features that will keep your employees engaged about their benefits packages, allowing them to see exactly where they stand at any time.
ScalePEO has a large number of benefits tracking options for things like health insurance, dental insurance, vision insurance, and dependent care. It's also perfect for helping employees keep an eye on their 401(k) contributions and the performance of the account.
Because this is a PEO service, you will have to pay a bit more for this service than you'd pay for a piece of software that allows you to track employee retirement plans yourself. This can be a disappointment if you don't really need all of the other HR tracking features that ScalePEO offers beyond employee retirement plan tracking.
The customer service team at ScalePEO is strong, ensuring you are always up to date with your employee retirement plan features and answering any questions you may have. If you can fit this service into your budget as a small or medium sized organization or business, it will help you give your employees the kinds of benefits that resemble that of large organizations.
Pros
As a PEO, this service handles all aspects of HR for you
Strong customer service benefits
Has a review feature, so you can try to catch data entry errors quickly before they cause significant problems
Cons
Pricier than some others
Probably too many features for especially small organizations and businesses
Pricing
Must call for pricing quote
How to Pick Your Employee Retirement Plans
Here are steps you can follow to decide among the best employee retirement plans.
Step 1 – Do You Want Outsourcing or a DIY Package?
If you don't have the personnel in your organization or company to track and manage employee retirement plans on your own, you may want to outsource the work to a PEO, although this becomes an expensive proposition. Both Justworks and ScalePEO are excellent options for outsourcing.
For a less expensive option, you'll want to consider a self-service employee retirement plans software package.
Step 2 – Do You Want Other HR Tools?
Next, think about whether you are looking for multiple human resources tools to track with your software, or whether you primarily want employee retirement tracking capabilities.
Many of the software packages on our list have multiple HR features, such as Gusto and bambooHR. If you're looking for more of an emphasis on employee retirement benefits, consider GoCo or EverythingBenefits.
Step 3 – Do You Want Special Offerings?
As a final consideration, do you believe offering unique features in your employee retirement plans and other benefits will help you retain and attract great employees? If so, PTO Exchange was made with you in mind, as you can allow employees to swap their unused vacation time for additional 401(k) contributions and other things with monetary value.