The 5 Best Employee Monitoring Tools
The success of any company relies heavily on the performance of its employees. Hard-working, task-focused team members are a hallmark of American business. However, highly competitive marketplaces require organizations to take additional steps to ensure they get the most from their staff – and keep their workplaces safe. One way to achieve that is through the use of employee monitoring software.
At first glance, it may seem employee monitoring software is just a means to micromanage employees. While some employees might see the correlation, the opposite is true. Monitoring platforms are more focused on consistency, efficiency, and security.
Consider the following benefits your organization stands to gain by adding employee monitoring software:
Improve employee productivity and time management
Track internet, email, and social media usage on company time
Reduce non-essential communication or redundancies
Monitor or record activity for training purposes or to address employee issues
Enhance security by blocking unsafe websites or limiting internet usage
If that isn't evidence enough, we are in an age where remote work is no longer a luxury – it's a necessity. Monitoring software helps you protect your bottom line. You remain plugged into your team's activities while eliminating the need for costly office space (or, at least, puts you in a position where you need less of it).
Regardless of the type of organization you manage, there is monitoring software to fit your needs. Some platforms specialize in solidifying your security and protocols. Others can help you improve your time and project management. Let's review five of the best employee monitoring software platforms and pick the one that works for you.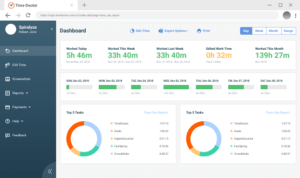 More so than the other providers, Time Doctor is a simple, easy to use monitoring platform aimed at smaller firms. The software comes with time and task and project tracking, which makes for an excellent multilayered solution. The employee monitoring features include websites and apps, social media, and keystroke and mouse activity. The reporting encompasses helpful insights that allow you to identify and correct time mismanagement to keep your teams on track.
Time Doctor also features several excellent integrations that serve to make your entire operation more efficient. A couple of drawbacks include a clunky interface and a minimal mobile app that pales compared to other providers. However, as Time Doctor puts most of its resources into its desktop solution, it's most ideal for in-office or remote at-home employees – whether individual users or those working in teams. A detailed list of features include:
Time tracking
Tasks and projects
Unlimited screenshots
Activity tracking
Workflow and productivity analysis
Track apps and URLs
Screen monitoring and alerts
Integrations feature over 40 different providers, including JIRA, Asana, SalesForce, Google Apps, Trello, Freshbooks, PayPal, Zendesk, Zapier, and Zoho
Support includes: Email, knowledge center, video tutorials, how-to guides
Pricing for Time Doctor is in line with the other providers on our list with single-user rates (up to 5) or team-based pricing in groups of five. There are three tiers available with integrations and support being the major difference between the three.
Basic: $7 per user per month includes time and activity tracking and unlimited screenshots, a single group or department and support is limited to 3 days with a single month of data storage
Standard: $10 per user per month includes integrations, up to 3 groups or departments and 24-hour support and 6 months of data storage
Premium: $20 per user per month includes unlimited groups or departments, VIP support, unlimited data storage, and client login access
Time Doctor offers a 14-day free trial and a month to month, cancel anytime subscription policy.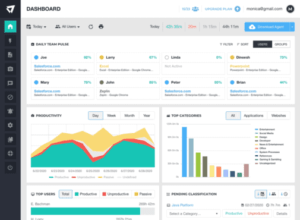 ActivTrak is ideal for start-ups or businesses with a minimal footprint. The service offers a free version that includes basic monitoring solutions such as user activity monitoring and website blocking. The cloud base platform is super simple to onboard, and the free option comes with excellent reporting and support. It's all accessed from an intuitive, easy to manage dashboard.
ActivTrak offers larger firms a stout, but still nimble monitoring solution as well. Premium tools include remote install, activity and user risk scoring, workforce analytics, USB and file transfer detection, and security audits. ActivTrak also features group classification, which draws a distinction between different roles or teams and the monitoring necessary based on those categories. Reporting is expanded at the paid tier, including group monitoring, with greater insight for larger firms.
Analytics dashboard
User activity monitoring
Website blocking
Remote install
Activity and user risk scoring
USB and file transfer detection
Single sign-on
Productivity
Reports include applications, websites, users, categories, productivity, working hours, group reporting
Support Includes: Email and chat for the free version and email, chat, phone, and diagnostic support for the priced tier.
ActivTrak's pricing is straightforward with a free tier for up to 3 users and 3GB of data storage. The Advanced tier, priced at $7.20 per user per month, provides unlimited users and storage and additional reporting, alerts, and support options.
If you're in healthcare, finance, legal services, banking, or insurance, ActivTrak offers industry-specific monitoring, security, and compliance solutions for an additional $11 per user per month.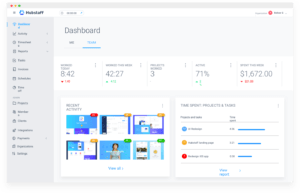 Hubstaff diverges a bit from the pure monitoring services that populate our list. It is a feature-rich platform that works best for large, remote employee rosters. However, its core capabilities are tied to time tracking, with monitoring thrown in for good measure. The software's greatest attribute is getting the most out of your team's productivity. Tracking, scheduling, timesheets, and the subsequent reporting are at the heart of this approach.
As for monitoring, Hubstaff provides insight into URL and app usage, captures keystroke and mouse activity, and allows you work in progress insight with available screenshot capture. Its location tracking features make it ideal if your remote staff is always on the move. With a robust mobile app, Hubstaff is suitable for businesses such as landscaping, cleaning, or construction. But office-based firms will appreciate its usefulness as well. A full list of features include:
Time tracking
Activity levels
Unlimited screenshots
Payments
Per-user settings
Track URLs and apps
Mobile GPS tracking
Time off and holidays
Scheduling and attendance
Expense tracking, invoices, and payroll
Client and project budgets
Auto-discard idle time
Timesheet approvals
Weekly limits
Fleet tracking
Unlimited teams
Integrations include: Quickbooks, Gusto, PayPal, Salesforce, Zendesk, Trello, Wrike, Zoho Projects
Support includes: Email, ticket submission, video walkthroughs, knowledge center
Hubstaff offers four price tiers, one of which is a limited free version for 1 user. One drawback to the software is its limited support, which includes email and video walkthroughs. VIP support and concierge account setup are available with the Enterprise tier.
Free: Free version for a single user with time tracking, activity levels, and limited screenshots
Basic: $7 per user per month includes a single integration and per user settings
Premium: $10 per user per month includes unlimited integrations and full feature set listed above
Enterprise: $20 per user per month includes VIP support, unlimited job sites, and higher limits on public API
Hubstaff does offer a 14-day free trial.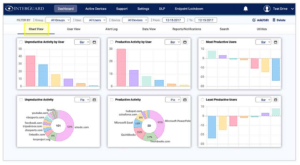 With a full range of components at an attractive price point, InterGuard is an outstanding, all-around solution for organizations seeking robust employee tracking without breaking the bank. The tools are particularly helpful for those with a remote workforce. Included features track time and productivity, monitor web and social media usage, and help identify and protect against fraud and data theft.
One of InterGuards more unique options – should you require it – is a silent and remote install function to help with investigations without the target knowing. The platform also features one of the better, more comprehensive, and easy to navigate dashboards. From here, you have quick access to the platform's most essential tools. You can compare over- and underperforming users, view individual user activity, tracking issues, data sorting, reporting, and alerts. Additional features include:
Employee idle vs. active time tracker
Video playback and screenshots
Real-time alerts
Email and file activity monitoring
Internet usage and social media monitoring
Access restrictions
Keylogger Software
Lockdown feature
Support includes: Chat and email
InterGuard offers extremely straightforward pricing – it's just a single, cloud-hosted option that runs $9 per user per month. There is a 7-day free trial. Should you need an on-site enterprise solution, you can contact InterGuard directly.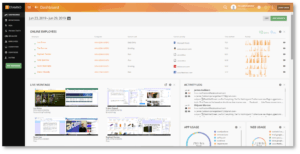 Top to bottom, Teramind is the most complete monitoring software on our list. It does, however, come at a price, which might be impractical for smaller organizations on tight budgets. What you get for your money, though, is impressive. The cloud-based service includes tools for monitoring user activity and analysis of user behavior (available on every plan). Each plan comes with policy and rules management. You control what activity warrants concern along with an audit and forensics piece.
Focusing solely on the direct employee monitoring aspect, Teramind has everything you'd expect from a best in class service. It allows access for URLs, apps, instant messaging and social media, keystrokes, and searches. The analytics portion covers aspects like insider threat detection, abusive or malicious behavior, and features dynamic risk scoring in the upper-tier plan. There are even capabilities to cover third-party vendors that may need to access your company programs. A full list of features includes:
User activity monitoring includes URLs and apps, email, console commands, and keystrokes, file transfers, searches, and clipboard activity, printing, instant messaging and social media activity, and activity blocking
User behavior analytics including insider threats, abusive and malicious behavior, workforce productivity, active vs. idle analysis, and productivity reporting
Policy rules and management
Audit and forensics including video and audio recording
Cloud hosting on all plans
Data loss prevention on uppermost price tier
Support includes: Chat, phone, email, knowledgebase, tutorials, and user guides
As noted, Teramind is one of the priciest monitoring software platforms available – not just on our list but anywhere. There is no free version, and the service requires a five-user minimum regardless of the subscription option. Its entry-level tier – the Starter – works out to $12 per user per month.
Starter: $60 per month per every 5 users ($12 per user per month)
UAM: $125 per month per every 5 users ($25 per user per month)
DLP (Data Loss Prevention): $150 per month per every 5 users ($30 per month per user) includes the full complement of data loss prevention tools.
Teramind does offer a 7-day free trial on each plan and a two-months free discount for annual billing. There are also on-premise versions of each plan available.
How to Pick Your Employee Monitoring Software
Employee monitoring software can be a slippery slope. You want to ensure you get the most from your employees without sacrificing their trust. That trust can quickly erode if they believe you're micromanaging them or looking over their shoulder without cause.
When evaluating employee monitoring software, it's crucial to get buy-in from your team. You want to make the case that the software is for practical and ethical purposes and to ensure:
All employees are focused on their assigned tasks and projects
Everyone is pulling their weight and doing their fair share
Improved job accuracy and minimization of mistakes and errors
Identification of time and resource mismanagement
Spot and correct potential risks
Single out and investigate situations of fraud or theft
Promote a harmonious work environment where harassment is identified and addressed
Ultimately, you want your team to view monitoring software as an enhancement to their working environment. If employees see monitoring as an accepted part of doing business and a tool that creates a better workplace, it will become a win-win situation for everyone.
Once you gain that buy-in, picking the right monitoring platform simply becomes an exercise in determining where your organization stands and what best suits its needs. Let's look at where each of the five highlighted platforms will prove a good fit.
For Small Organizations Needing Simple Cost-Effective Monitoring
If your organization needs dependable monitoring services but isn't ready for the broader, and pricier features of InterGuard or Teramind, the two standouts are ActivTrak and Time Doctor. That isn't to say the tools themselves are lacking – far from it. But their simplicity in both features and pricing is hard to beat for smaller firms looking to make the most of their resources. Need help deciding between the two? If you require integrations, choose Time Doctor. If you don't, ActivTrak is the viable alternative.
For Organizations Needing Monitoring and Time Management Tools
Although every provider on our list provides some form of time or project tracking, none make it a central piece of their platform similar to Hubstaff. Considering it's excellent time tracking tools include scheduling, timesheets, and reporting, Hubstaff is better described as time tracking software with great additional monitoring features.
For Any Organization Needing a Solid, All-Around Monitoring Solution
While there is no genuine, one-size-fits-all option, InterGuard comes closer than most. The feature-rich platform and competitive, no-frills single tier pricing provide a viable solution for a multitude of companies regardless of their size, industry, or specific monitoring needs.
For Large Organizations Needing a Robust, Feature-Rich Enterprise Solution
Hands down, no other provider fits this description better than Teramind. Its feature set is nearly triple that of any other provider. Although pricier than any other option, the savings generated from increased productivity, reduced downtime, fraud, or theft justifies the cost for Teramind's sophisticated monitoring solutions.