The 5 Best Email Marketing Tools and How to Decide
Email marketing is alive and well. While some may think it is an old trick in the book, it has shown that it is king when it comes to marketing. There is no other distribution channel that will provide more results, engagement, and build customer relationships like email marketing.
If you choose the right email marketing tool for your business, you will see results and growth while remaining extremely cost-effective. Studies have shown when selecting the right email marketing tool as a marketing strategy for your business, it's possible to receive up to a 4,400% ROI.
Email marketing is quite simple. It exists solely to provide you with features and capabilities that will enhance and streamline your business's email communication to help you identify quality leads, and nurture those leads into deals. While there are many benefits to email marketing, businesses usually use them in functions related to; subscription, automation, email communication, campaigns, and notifications. Also, these functions can be integrated with other marketing, sales, service software, and analytics.
Choosing the right email marketing tool can have a significant impact on the success of your marketing strategy and business. Check out the five best email marketing services listed below:
In this article, we will review the five best email marketing services, highlight their features, prices, pros, and cons, and provide you with the knowledge to make the right decision when it is time to choose yours. Let's get started.

Constant Contact has been recognized as one of the largest and fastest-growing email marketing services today. It also may be one of the easiest to use and beginner-friendly email marketing services, which is a huge plus.
You can create a great marketing strategy to manage your email lists, contacts, marketing calendar, email templates, and more. Their email marketing tool gives you easy access to tracking and reporting, built-in social media sharing tools, list segmentation, and Facebook ads integration if your business desires it.
When it comes to customization and email campaigns, Constant Contact makes the process a breeze. You can choose from more than 100 pre-built and mobile optimized templates, and customize your message with a drag and drop builder tool. Adding text, images, and more is simple and straightforward.
Constant Contact makes automation key. You can create welcome messages for new subscribers and set up campaigns based on their actions. To go along with the automation, they offer easy integration with platforms like WordPress, Gmail, Salesforce, and many more.
Pricing
When it comes to pricing, it is straightforward. Constant Contact offers two plans: Email and Email Plus. Monthly pricing is based on the size of your contact list.
Email Plan
Unlimited emails per month
Customizable templates
List segmentation
Sign-up forms
0 – 500 Contacts — $20/month
501 – 2,500 Contacts — $45/month
2,501 – 5,000 Contacts — $65/month
5,001 – 10,000 Contacts — $95/month
Email PLUS Plan
Everything the Email plan has including email automation.
0 – 500 Contacts — $45/month
501 – 2,500 Contacts — $70/month
2,501 – 5,000 Contacts — $95/month
5,001 – 10,000 Contacts — $125/month
Constant Contact has a 60-day free trial (no credit card required). After that, their pricing starts as low as $20/month.
Constant Contact Pros
Online training offered. Constant Contact provides live seminars across the United States, allowing small business owners to quickly learn the basics of email marketing and start using it to grow their businesses.
Constant Contact's email creation and UI is smooth and powerful. This makes creating new emails, and newsletters fast for even non-technical users.
Constant Contact offers one of the best drag and drop builder tools in its class, which is a great feature for beginners.
Constant Contact Cons
If you are looking for more customization capabilities, Constant Contact may not be the best choice as they are not as customizable as it's competitors like HubSpot.
Users have said that Constant Contact's notification ability isn't the greatest. Businesses have received new subscribers, and Constant Contact has failed to notify them.
The automation for the least expensive packages lacks the performance and proper workflows their competitors provide.
If you are a small business owner or a beginner looking to invest in an email marketing service, Constant Contact will be a great choice due to its easy to use and beginner-friendly marketing services.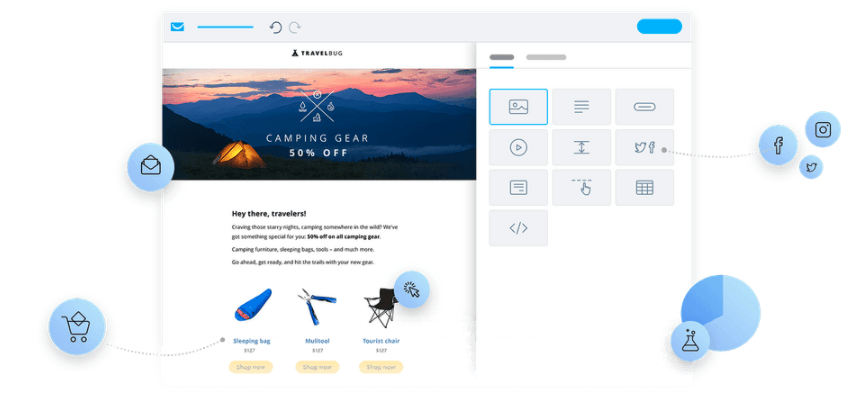 GetResponse is a powerful email marketing software that offers professional email templates and easy design tools. They are also known as an all-in-one solution that specializes in automation.
While providing the traditional email campaigns, GetResponse does a great job in helping you build high converting landing pages for lead generation, which is huge for email marketing.
With their drag and drop builder, you can create campaigns, send emails designed for specific groups, and segment contacts. These tools can help you create efficient email campaigns to boost your profits.
Furthermore, GetResponse comes with great responsive forms, landing pages, A/B testing, unsubscribe tracking, and autoresponders. It also integrates with third-party lead generation software like SalesForce, Google Docs, ZenDesk, and more.
Pricing
GetResponse offers three pricing plans, all of which are based on 1,000 subscribers. The rate will increase as your list grows. All plans come with over 200 email templates, 180 landing page templates, 40 auto funnel templates, and 150 integrations.
Basic — $15/month
Autoresponders
Unlimited landing pages
One sale funnel
Unlimited lead funnels
Sell e-products
Plus — $49/month
Automation builder with five workflows
Five sales funnels
Contact scoring capability
Webinars with up to 100 attendees
CRM software
Professional — $99/month
Automation builder with unlimited workflows
Paid webinars with up to 300 attendees
Unlimited sales funnels
Unlimited webinar funnels
Their best-recognized plan is their Plus plan. The base rate is slightly higher than some of its competitors, but you benefit significantly from all of the features and automation you receive.
GetResponse Pros
Email creation. GetResponse offers a simple interface and a variety of tools to create attractive emails quickly.
Strong customer support. Their customer support team provides quick and helpful support via email and chat.
Ideal list building. GetResponse is a great email marketing software for using several segmented lists.
GetResponse Cons
Some users believe the drag-and-drop interfaces for creating landing pages and forms need improvement.
Customer support. If you are into customer support by phone, this is where GetResponse is lacking. For some users, this is a huge factor.
If you are looking for an all-in-one solution, you can't go wrong with GetResponse as they provide many features and advanced automation for email marketing.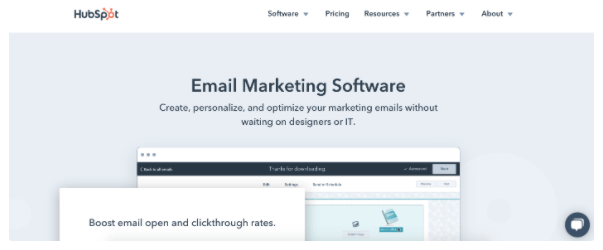 HubSpot is user-friendly and offers many practical tools to deliver a successful marketing platform. It is excellent for beginners because they allow you to easily create, personalize, and optimize your emails without web designers' needs.
If you are into customization, they allow full freedom to customize your layout, add images, calls-to-actions, and options to modify your content and backgrounds. If you are someone who just wants a template to get the job done and provides simplicity, they offer dozens of pre-made templates, with the ability to make your own using their simple drag and drop editor.
If your business lacks the proper voice from automated robotic emails, they offer advanced personalization tools to personalize your emails to boost your open and click-through rates.
In addition to their email marketing functions, they offer a smart send feature that will ensure recipients receive your messages at an ideal time. One of the best features they offer is an A/B test, which measures your engagement for different versions of the same email with your recipients' sample. If you are into analytics and details, this feature will come in handy.
Pricing
HubSpot's email marketing service is free for up to 2,000 email sends per month with upgrade solutions starting at $40 per month.
If you decide that the free plan is not enough, they offer three Marketing Hub Plans.
Starter Plan – $40/month
Email marketing
Lead flows
Collected forms
Contact management
Lead Analytics
Professional Plan – $800/month
Marketing automation
Smart content & Reporting
A/B testing
Calls-to-actions
Etc.
Enterprise Plan – $3200/month
Everything in Professional plan plus:
Adaptive testing
Custom events
Predictive lead scoring
Advanced reporting
Etc.
HubSpot may look very pricey, but they stack up well against their competition. There are more affordable options available, though they generally do not include the same capabilities that HubSpot does. If you want basic email marketing capabilities, the starter plan will do.
HubSpot Pros
HubSpot Email marketing service is straightforward to use. It is designed beautifully with a user-friendly interface. Despite sophisticated marketing automation tools, Hubspot does a great job of making it easy and intuitive.
Excellent customer service. If you purchase an email marketing plan with HubSpot, they are sure to provide you with stellar service and a community of marketing and sales professionals who can help you out. They are available through live chat, twitter, and by phone.
Customizable templates and reports. HubSpot provides you with many free templates to help you through your marketing strategy journey. There are templates for social media, blog posts, emails, infographics, and more. They also offer reporting tools and add-ons which allow you to create standard and custom reports on a single set of data or across data sets.
HubSpot Cons
While HubSpot offers flexible pricing, it is a little on the pricer side. That being said, they provide many capabilities; some of their competitors will not provide.
Many configurations. Email marketing automation tools are great, but they require a lot of manual work to get the automation going. You will need to configure the system to your needs and business to get it working correctly.
If you are looking for the best one-stop-shop for inbound marketing management and automation, HubSpot will be your best choice.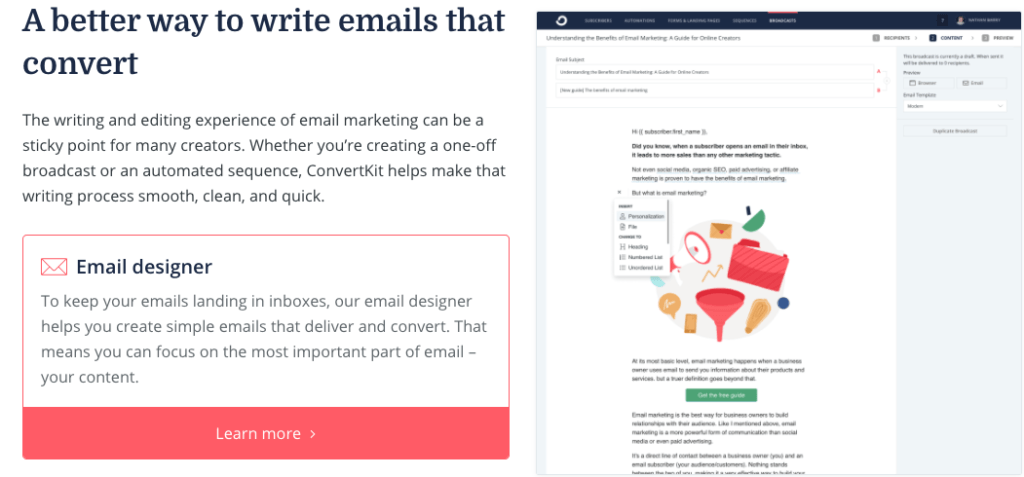 ConverKit is a powerful email marketing platform that is extremely easy to use and provides excellent results. If you are a professional blogger, author, or marketer, you will enjoy ConvertKit the most.
Their email marketing tool offers unique features that efficiently manage auto-responders and drip emails or email marketing campaigns from their emailing services.
ConvertKit also allows you to segment subscribers into those interested in and those who have already purchased, which will come in handy when your list continues to grow. This will aid in increasing conversions with automated emails that feel more personal, which is considered targeted email marketing.
If you are looking for a drag-and-drop builder with a ton of pre-built templates, you will be better off choosing another email marketing service. ConvertKit only has a few pretty basic templates.
This is why this platform is geared more towards professional bloggers and creators selling products. This platform focuses more on building integrations with landing pages, e-commerce platforms, and membership sites.
Pricing
Like most email marketing services, ConvertKit pricing is based on the number of subscribers you have. See their pricing below:
Automated email subscribers
Premium support
Free migration from another tool
Integrations & API
Visual automation funnels
0 – 1,000 Subscribers — $29 per month
1,000 – 3,000 Subscribers — $49 per month
3,000 – 5,000 Subscribers — $79 per month
ConvertKit also a free plan to up to 1,000 subscribers with limited features to get your email marketing strategy up and running. They also offer a free 14-day trial to test it out.
ConvertKit Pros
Ease of use and integration. ConvertKit offers a straightforward interface with easy UI. They also provide easy integration with software like WordPress, which is excellent for bloggers.
ConvertKit is continuously updated. They have new features being rolled out regularly almost every month, with an actively managed roadmap page.
ConvertKit Cons
Lack of template customization. To make serious changes, you will need to dig into HTML and create new templates yourself.
ConvertKit offers limited A/B testing. If you are looking for more than two subject line variations, ConvertKit will not be the best choice for you.
Most ConvertKit features are specifically designed for creators and professional bloggers; if you are not in those fields, the email marketing service will get the job done but may not be as effective as you need it to be for your business.

Mailchimp is a popular email marketing service that provides an all-in-one integrated marketing platform for businesses, and the ability to grow your business on your terms.
They have become widely popular because they offer a forever free email marketing service plan. Mailchimp offers features like; easy drag and drop email builder, contact segments, autoresponders, and simple tracking for analytics.
Mailchimp also allows easy integration with WordPress, Magento, Shopify, and many other platforms. But if you are big into marketing automation features, Mailchimp is quite limited compared to its competitors.
While competitors may have Mailchimp in the automation field, not many can say they offer an email list without paying a monthly fee early on. This free cost will give you time to grow your list and get the most of it before you have to pay.
Mailchimp also does a great job of offering specific design templates for each message's goals, which makes it a top choice for building and managing relationships with your customers.
Pricing
Mailchimp offers a forever free plan which allows you to send 12,000 emails for up to 2,000 subscribers. While there are a few restrictions and limitations with this free plan, it can help you get the ball rolling if you are a small business. See there other pricing plans below:
Essentials — $9.99/month
Up to 50,000 contacts
Three audiences
Access to all Mailchimp templates
A/B testing
Custom branding
24/7 support
Standard — 14.99/month
Up to 100,000 contacts
Five audiences
Event-based automation
Retargeting capability
Custom templates
Premium — $299/month
Up to 200,000 contacts
Unlimited audiences
Advanced segmentation
Multivariate tests
Phone support
If you are a small to medium-size business, the standard version may suit your business needs just fine at a great price.
Mailchimp Pros
Award-winning customer service. Mailchimp is well known for providing stellar customer service. They also offer extensive knowledge while providing tutorials for learning and self-help.
Generous free plan. Some of the tools and features are offered on the free plan, which is a great deal if you are just getting started on the marketing side of your business.
Mailchimp Cons
They have limited email automation. Even though Mailchimp offers autoresponders, they lack advanced automation features like it's competitors.
Not enough options and customization. While Mailchimp is excellent because it offers basic setup and practices for the beginner, it lacks the advanced features, automation, and metrics.
Due to Mailchimp's affordable pricing and easy setup, they are an excellent option for beginners and small businesses. Users that desire more advanced automation features will enjoy Constant Contact, ConvertKit, and HubSpot.
How to choose your email marketing service
Step 1 – Pricing
When choosing an email marketing software, take an in-depth look at their pricing page. It should be transparent, fair, and understandable. They should offer options to pay annually or monthly.
Step 2 – What will you be using the email marketing software for?
Ask yourself what features you need and what you cant do without. Usually, every email marketing service will allow you to send bulk emails, analyze analytics, and segment your subscribers.
What kind of design do you want? Are you looking for a software with drag and drop builder capabilities? These are some of the questions you should ask yourself.
All email marketing services tend to serve the same purpose. But some will offer advanced automation features and all-in-one marketing solutions which can come in handy in the long run.
Step 3 – Customer Support
The email marketing software you choose should have a reliable, responsive, and exceptional documentation behind them. The best email marketing services will offer 24/7 live chat and email support, and some plans will even include phone support as well.