The 7 Best Electronic Signature Tools and How to Decide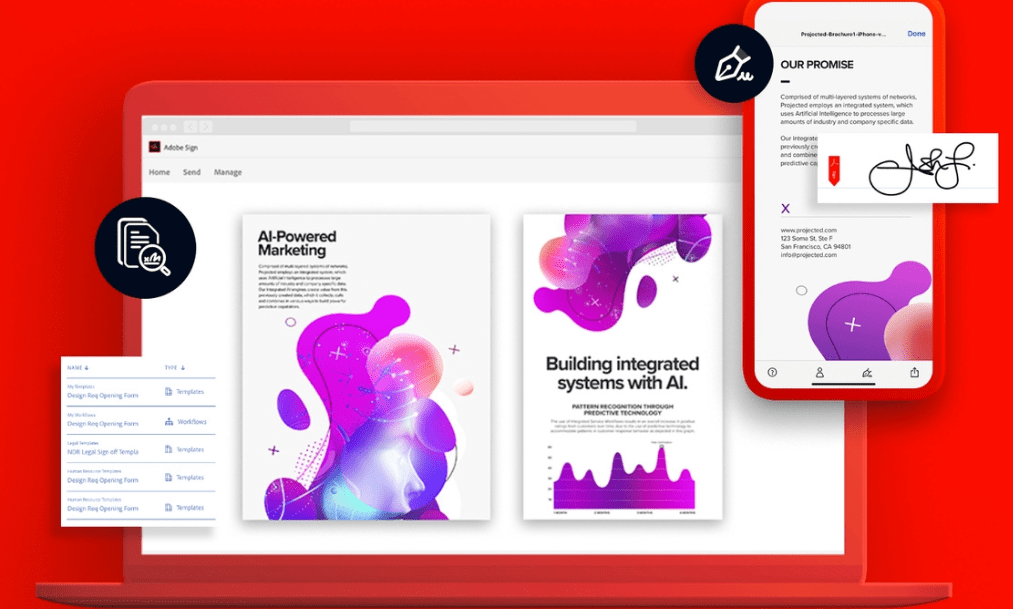 Paperwork — it's what makes the business world go 'round. But now that most organizations have undergone digital transformations, we're finding more companies using digital signature software.
Maybe you're thinking of doing the same?
Whether you're looking for the best electronic signature software for personal or business use, we've got the tools for you.
Let's check them out.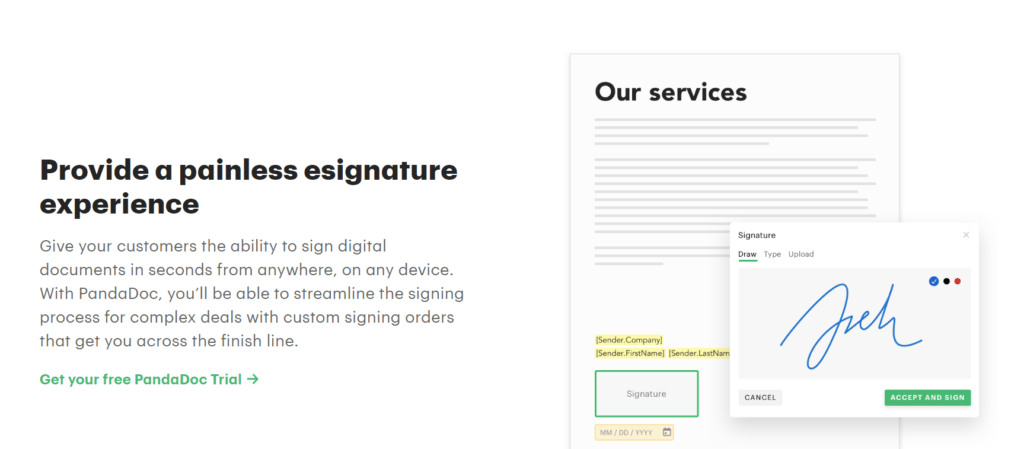 PandaDoc is more than an electronic signature software. It's a document management platform that focuses on sales (although it does have an e-signature feature with the capacity to collect all types of e-signatures). It's a valuable asset for enterprises since it incorporates a wide variety of templates specific to the sales cycle, such as sales quotes, proposals, and contracts.
Pros: PDF creation, editing, tracking, and e-signing of sales documents, essentially automating the workflow of sales. It makes it easier and more efficient to make new sales, renew contracts, and retrieve documents.
Cons: some users have had some issues learning to use PandaDoc, particularly when it comes to customizing and editing documents.
PandaDoc integrates with some of the most popular CRMs around including Salesforce, Pipedrive, HubSpot CRM, Zoho, and Stripe. It also integrates with payment platforms such as PayPal, Authorize.Net, Square, and QuickBooks Payments. And you can also use it with Google Docs, Dropbox, and Box.
You can get started with eSignatures from PandaDoc using a free account where unlimited users can collect unlimited e-signatures and upload an unlimited number of documents (as well as accept payments). If you need to create documents and access templates, prices start at $13 a month per user or $9 a month per user on an annual plan.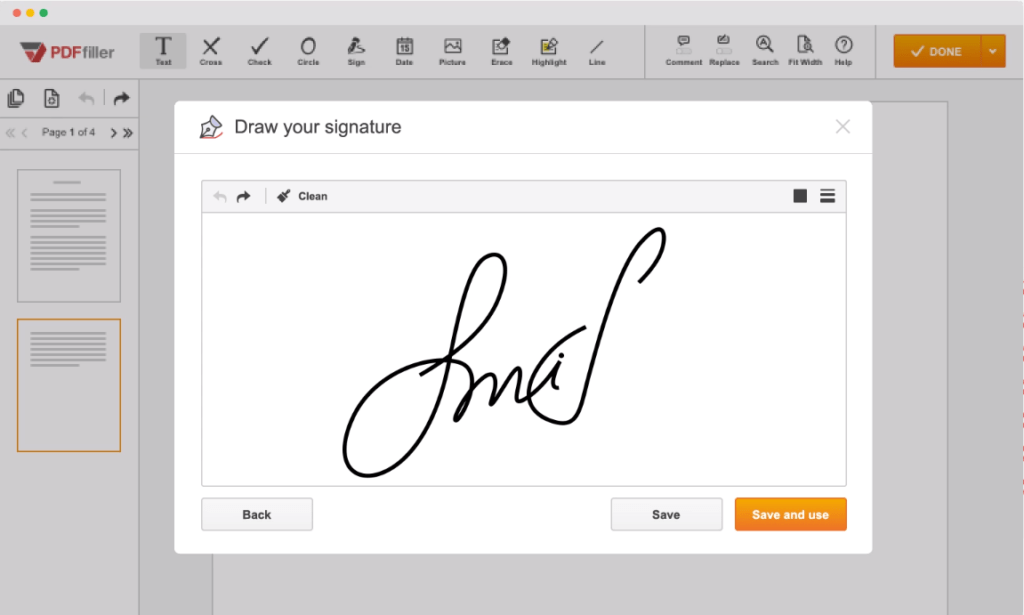 If you're like most, you prefer to send and receive PDF documents for signatures. In this case, you need a PDF editor.
PDFfiller is the best electronic signature software for this purpose. It's GDPR compliant, and it's accessible online (in other words, no need to download any software).
All you have to do is edit and sign a PDF document sent to you. Or create your own editable PDF form to send to others via email or social media to sign via the web app. You can also choose to host it on your website.
PDFfiller has a ton of features, allows you to add text, add logos, draw shapes, and highlight text. You can send several documents in specific signing orders when amassing e-signatures and you can specify custom permissions for editing.
You can extract data automatically from signed PDF forms and store the data in your CRM, an Excel file, or a database. You can use this editor in iOS and Android, and integrate it with apps such as Dropbox, Salesforce, MS Office Slack, and Google Docs.
Pros: Most users find PDFfiller very easy and simple to use, particularly when it comes to organizing the digital files.
Cons: However, there have been some issues when it comes to document size limits.
The Basic Plan is $8 a month (with a one-year commitment) for one user. The Premium Plan is $15 a month (with a one-year commitment) for 5 users.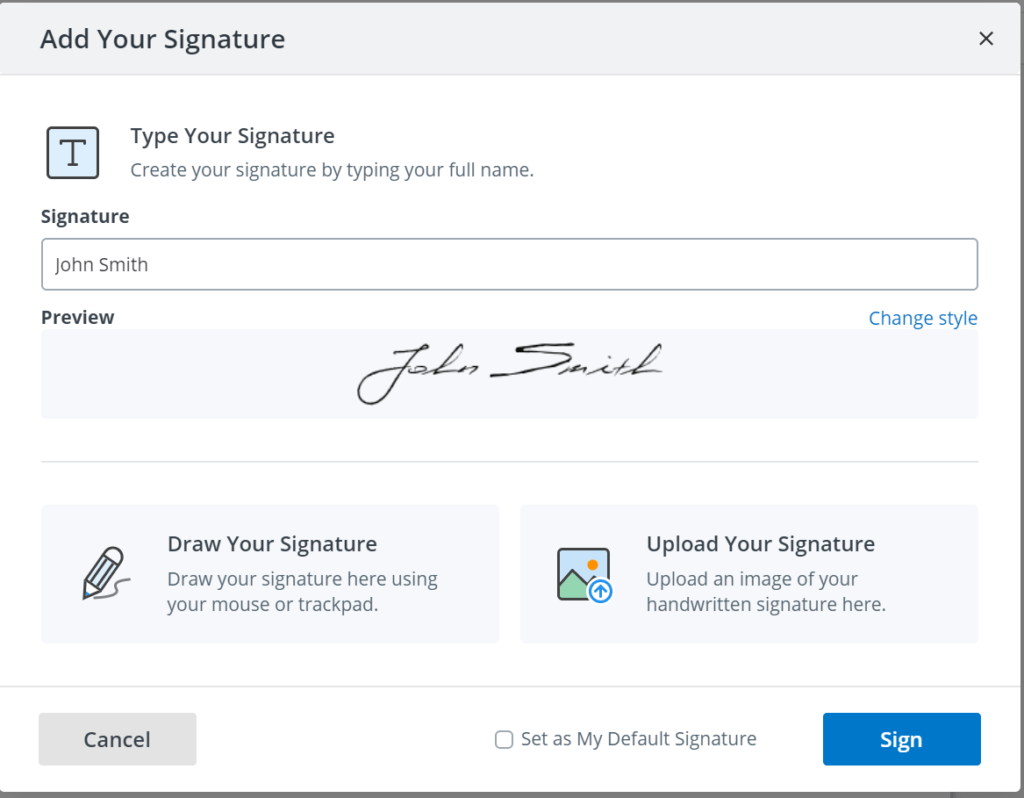 Document management can be useful. But if you're looking for the best electronic signature software specifically for signatures, then SignNow is worth consideration. Focusing primarily on the e-signature aspect of doing business, SignNow makes it easy and efficient to sign and send documents, as well as monitor and manage them.
SignNow is particularly useful for businesses that need to collect e-signatures quickly and efficiently. You can use it on Android and iOS mobile devices. Plus, you can integrate it with Office365, SharePoint, Salesforce, Google Apps for Work, Netsuite, Oracle, Dropbox, Box, and other platforms.
You can also choose to deploy SignNow as a SaaS or on the cloud, and still benefit from security features. SignNow also offers templates and PDF editing, so it is truly a one-stop e-signature shop.
Pros: Offers great security and a simple solution (no other features to get lost into).
Cons: Doesn't allow you to edit PDFs, no way to look up document dates, and can be difficult to learn in the beginning.
SignNow prices start at $20 a month per user (maximum of 10 senders) for its Business Plan. You can save a bit on its annual plan, which comes to $8 a month per user.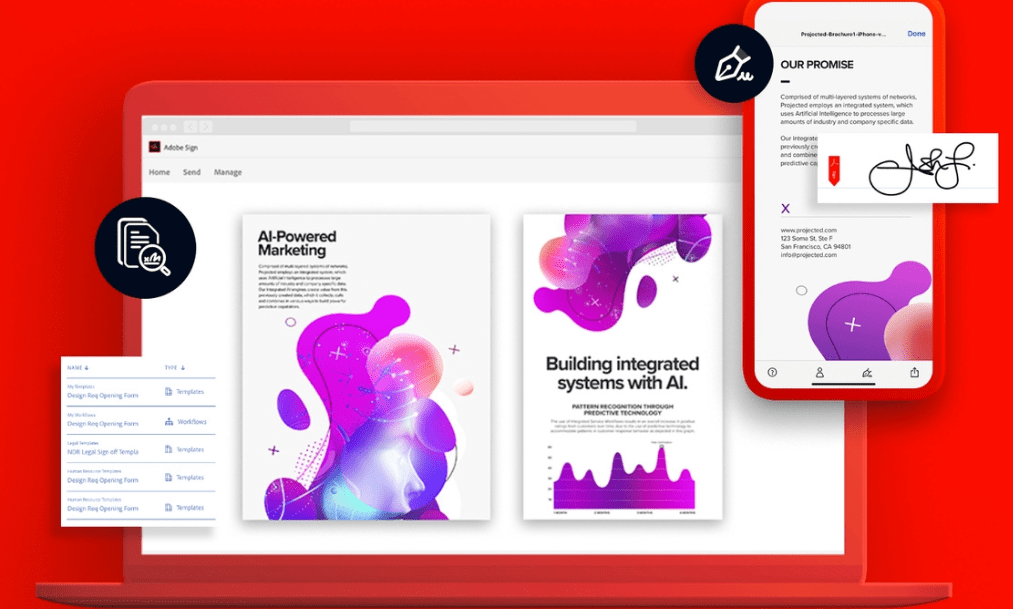 Adobe Sign is one of the more popular features in the larger document management platform Adobe Document Cloud. Adobe Sign enables a business to easily send and collect legally binding e-signatures.
It reduces the wait time for getting approvals within an organization by automating the signing process, which in turn improves responsiveness and mobility within the business.
Pros: Documents created and signed using this software automatically goes into storage for easy management and retrieval.
Cons: Some customers complain about bad customer service and bait and switch sales tactics.
Adobe Sign is compatible with all devices that can view documents. The Adobe Sign app for mobile is free to use to collect e-signatures. It also integrates with apps such as Dropbox, Microsoft, and Salesforce. The starting price for a small business is $20.99 a month (billed annually), suitable for 1 to 9 users. It comes with a free trial, so try before you buy.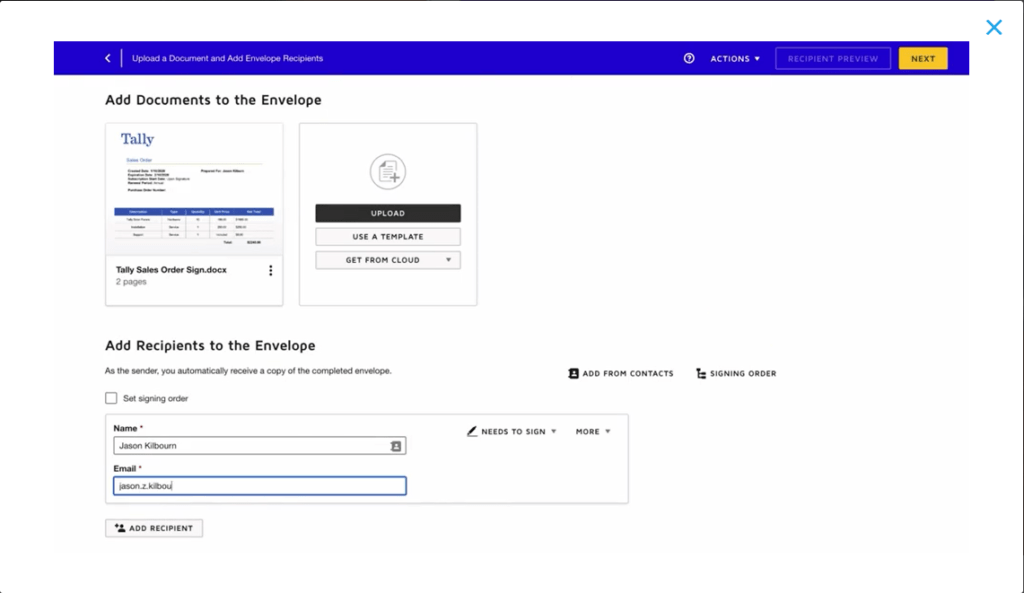 Most people that handle digital documents are familiar with DocuSign more than any other electronic signature tool (likely because of the free version). It's easy to use and integrates easily with more than 350 third-party apps, such as Google Suite, Salesforce, and Box.
If you need an end-to-end solution to the document signing process from creating the agreement to signing, you need the application suite Agreement Cloud. This will handle everything you need to get that offer, contract, or proposal signed.
If you only need software to sign documents, you might want to consider the DocuSign Free Edition, where you can sign an unlimited number of documents and access them from the platforms cloud storage.
However, if you need to have others sign your documents, you will need a paid plan.
Pros: Fast and efficient, streamlines contract approval process, and catches initials and signatures that are missed.
Cons: Some complain it's harder to use on mobile devices, such as tablets.
The Personal Plan starts at $10 a month billed annually (or $15 a month with no annual subscription) for a single user, with a maximum of 5 sends per month (unlimited recipients and documents per send).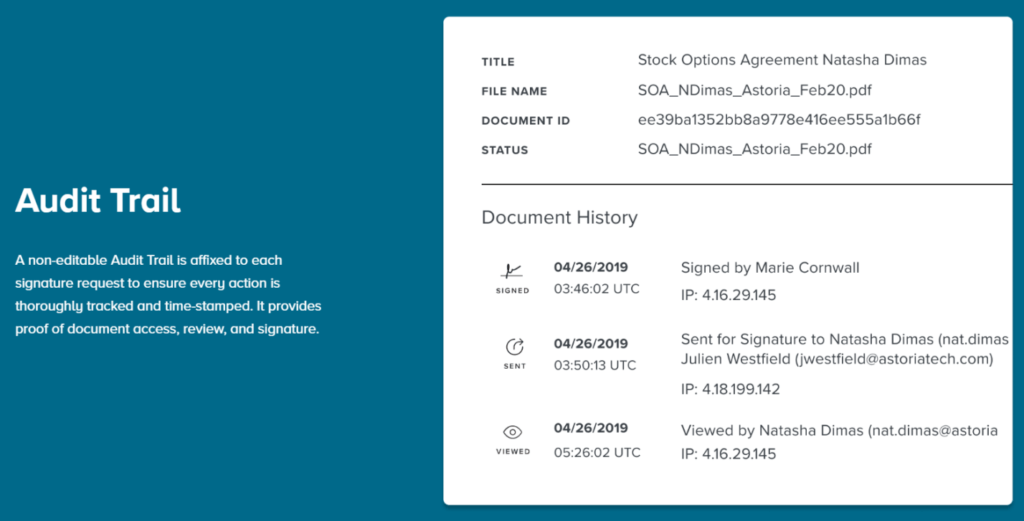 HelloSign is quite easy to use. It's cloud-based, so users can fill out, sign, send, save, and retrieve documents without having to download software. You can use it on any computer or mobile device.
You can also have in-person signing, using your mobile device. When you send documents for signing using HelloSign, you can get status notifications and an audit trail, which is very useful for document management.
HelloSign integrates with Dropbox, which acquired the software, as well as Google Drive, Box, Evernote, and One Drive. You can integrate it with Google apps such as Gmail and Gdocs. HelloSign also works with multiple file formats, including Word docs, Excel spreadsheets, Powerpoint slides, and PDFs.
Pros: Makes signing docs simple on any device, easy to upload docs and add fields, and you're notified when the PDF is opened.
Cons: Only signs in black ink, can be a bit technical, and difficulty sending to mass recipients.
HelloSign has a free version with a limit of 3 signature requests per month. The paid versions start from $15 a month ($13 a month billed annually) with unlimited signature requests from one sender.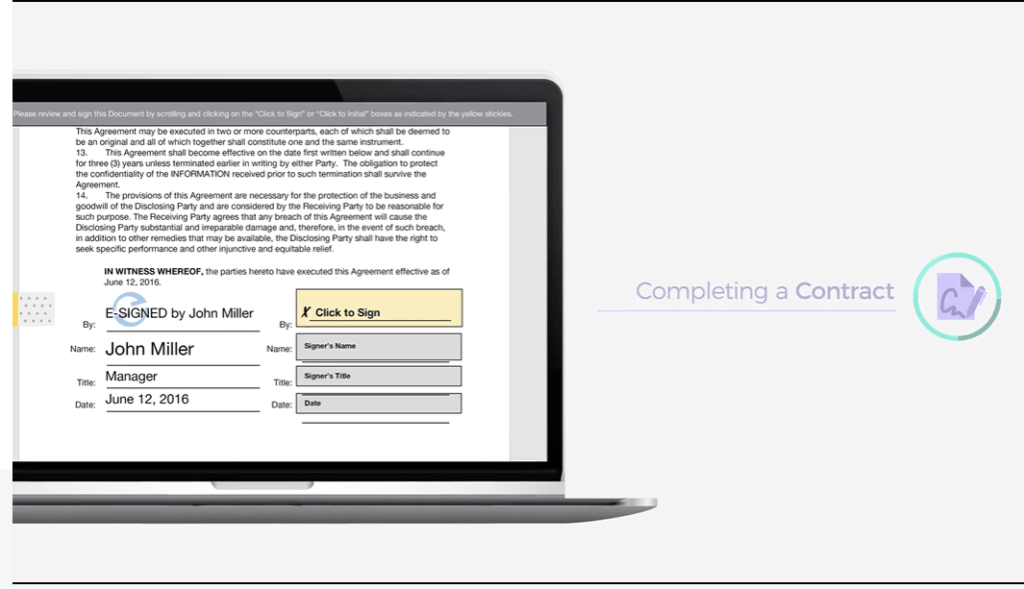 OneSpan Sign, formerly known as eSignLive, takes security very seriously, with both ISO/IEC 27017 and ISO/IEC 27018 certification. This makes it a favorite with large institutions including US Bank, Wells Fargo, NASA, and IBM.
OneSpan Sign uses advanced security tools including audit trails to prevent problems with compliance, fraud, and legalities. If you're in a security-sensitive or heavily regulated industry, or you have major concerns about your personal security, then OneSpan Sign is a good option.
Despite its emphasis on security, OneSpan Sign is relatively easy to use when ensuring the delivery and collection of e-signatures. You can use it on the cloud or on-premises. It's compatible with desktop, laptop, and mobile devices, and offers integration for third-party apps, such as Pegasystems, Salesforce, SharePoint, LaserFiche, Box, Office 365, and Dynamics CRM.
Pros: Secure, efficient, and available to use on the go.
Cons: Has search limitations in User Groups and is a bit on the pricier side.
OneSpan Sign goes for as low as $20 a month per user with no contract. You can try it for 30-days without having to give your credit card details.
How to Decide on Electronic Signature Tools
The tools described above all have one thing in common: they allow secure digital signing of digital documents. However, deciding on one over the other will depend on your circumstances. Below is a step by step process for selecting the best electronic signature software for your needs.
Step 1 – Consider your needs
The main purpose of these tools is to allow you to provide or collect a legally-binding digital signature on a document. The first thing to consider is the number of documents you'll need to digitally sign monthly.
If you have to sign two or three documents a month, then free options are a better choice. You can use DocuSign Free Edition or the free version of HelloSign.
If you send out many documents to collect signatures, the free version of PandaDoc can come in handy. However, if you need to create documents or access templates, a paid version of these tools might be more appropriate.
You also need to consider at this point how much security you need for your transactions. While all these tools use security technology to protect its users, they're not all on the level of OneSpan Sign. But if you simply want to track and audit your documents, HelloSign might be more your speed.
Summary:
Send only: Free versions of Docusign and HelloSign
Create, send and collect: Paid versions of PDFfiller, SignNow, PandaDoc, Adobe Sign, Docusign,HelloSign
High-security create, send, and collect: OneSpan Sign
Step 2 – Consider the number of users
The next step is to consider the number of people that'll use the software. In a small business, it's common for one person to handle all the sending of documents for signing.
In this case, you want to choose a tool priced the lowest per user, such as Docusign, PDFfiller, or HelloSign.
On the other hand, a larger business with multiple users can get the most bang for your buck with Adobe Sign, which allows up to 9 users for $20.99 a month. The only exception is if you're managing a sales team — in this case, you might have to bite the bullet with a paid plan on PandaDoc.
Summary:
Single user: PDFfiller, SignNow, PandaDoc, Docusign, HelloSign, OneSpan Sign
Multiple users: Adobe Sign
Step 3 – Consider integration
Choosing an e-signature tool for personal use allows you to choose any of the software discussed in this article. But if you need one that integrates with business tools you're using, you'll need to pick more carefully.
The good news — most of these tools integrate with major platforms, such as Microsoft, Salesforce, Google Drive, and Dropbox. If you're using CRM, payment, and storage platforms, you need to check if the tool you're eyeing can integrate with them.
Summary:
Personal use: PDFfiller, SignNow, PandaDoc, Adobe Sign, Docusign, HelloSign, OneSpan Sign
Business use: Check for integration with third-party apps
Step 4 – Consider ease of use
The last consideration for choosing the best electronic signature software is the ease of use. The tools discussed above have varying levels of intuitiveness, and those that have a bit of a learning curve is primarily due to the e-signature feature being a part of a bigger platform. This is true in the cases of PandaDoc , Docusign, and Adobe Sign, which are actually document management suites.
On the other hand, tools that are primarily e-signature software are easier to use, but with limited document management capabilities. If you simply need a tool to send and collect e-signatures, then PDFfiller, SignNow, HelloSign, or OneSpan Sign will fit the bill nicely.
Summary:
Easy to use: PDFfiller, SignNow, HelloSign, OneSpan Sign
Not so easy to use: PandaDoc, Docusign, and Adobe Sign