The 5 Best Electronic Medical Records (EMR) Software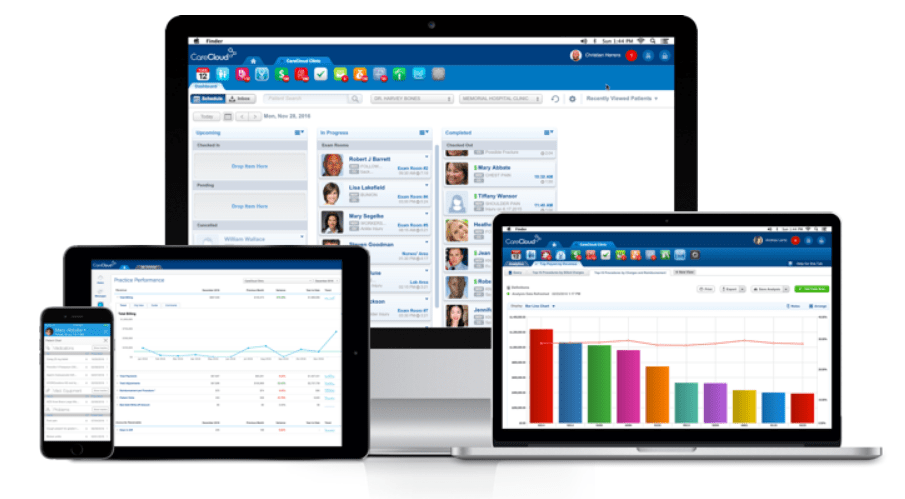 Managing a healthcare facility (regardless of the size) can feel chaotic and unorganized, especially if you don't have the right electronic medical records (EMR) software running behind the scenes.
So, whether you're starting a new practice or interested in switching to different software, it's important to know what's out there. With that said, choosing the best electronic medical records software for your business… is much easier said than done.
Where do you start? What features do you really need? Do I really have to spend THAT much to get high-quality software that does everything I need it to do?
If you're feeling overwhelmed, you're not alone.
To help clear things up, this article covers the five best EMR software options as well as a step-by-step guide on choosing the perfect solution based on the size of your practice so you're not stuck paying an arm and a leg for advanced capabilities you don't actually need.
Let's dive in!
1. Kareo — Best for Independent Practices ($)
Kareo is a web-based SaaS tool designed to help improve workflows, management, and the overall organization of small, independent medical practices with 1 – 10 total employees and one physician. With Kareo, you can do things like:
Insurance confirmations
Manage overdue accounts
Store and retrieve patient records
Prescribe medications electronically
And schedule patient appointments
Their software is meaningful use stage 2 certified so you can rest easy knowing you're practice is compliant with local, state, and federal laws.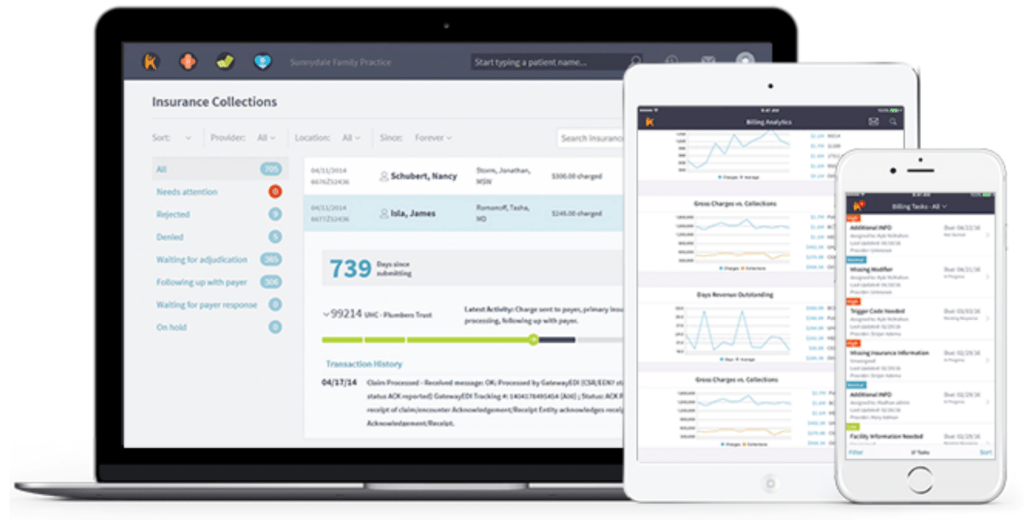 Furthermore, you can get your entire system up and running in a few days. It's easy to use and they offer an affordable monthly subscription with no contracts or start-up fees. Plus, it's completely cloud-based so you don't have to worry about software updates.
Kareo pros:
Easy to use even if you have little technical experience
Requires very little training to get started (plus you're up and running in a few days)
Professional design, user interface, and client portal
Flexible for virtually any specialty
Affordable for small practices
Kareo cons:
Numerous dated features that aren't as efficient as they could be
Can feel a bit clunky compared to other options
Software slowdowns happen on occasion
Limited customization
2. NextGen Office — Best for Small Practices ($$)
NextGen Office is a cloud-based EMR software built for small medical practices with 1 – 10 physicians. It's customizable for any specialty and includes a wide variety of fully-integrated features that help make your practice as efficient as possible.
With NextGen Office, you can use any operating system and device you're comfortable with. Furthermore, you can create electronic prescriptions, connect with testing labs, and safely store patient records while simplifying the entire billing and reporting process.
Their software is ONC certified and HIPPA compliant so you know your small practice complies with sensitive medical data best practices and legal requirements.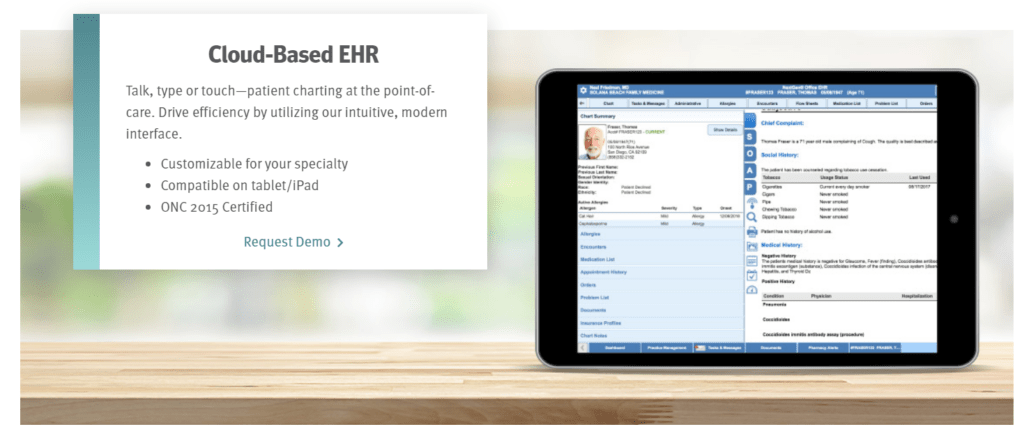 Today, over 155,000+ medical practitioners trust NextGen to help them deliver a seamless and secure experience for their employees and patients. Additionally, they receive numerous awards every year for their excellent customer service and innovative healthcare solutions.
NextGen Office pros:
Easy to set up, learn, and use on a daily basis
Navigation is simple making it easy to find past records and patient information
Continuous product updates and improvements based on customer feedback
Friendly and responsive customer service
Works on any platform across all devices
Highly customizable across specialties
NextGen Office cons:
Frequent bugs after product updates or maintenance
Licensing can get expensive for larger practices
Reporting features have room for improvement
Dated interface
3. CareCloud Charts — Best for Mid-Size Practices ($$)
CareCloud Charts is an excellent choice for mid-size practices with more than 10 physicians but fewer than 50. It's known for being easy to use, intuitive, and flexible as well. This software is built to help mid-size practices be more productive and profitable.
With CareCloud Charts, you can:
Manage and optimize the entire patient flow
Access essential patient information in seconds
Configure custom templates you can use over and over again
Collaborate from physician to physician with sharable content and customizations
Leverage real-time intelligence to provide exceptional patient care
Schedule patients with a drag-and-drop scheduler
A patient portal that encourages physician to patient engagement
The CareCloud Charts software is ONC-ACB certified so you can rest easy knowing your practice complies with medical regulations and requirements.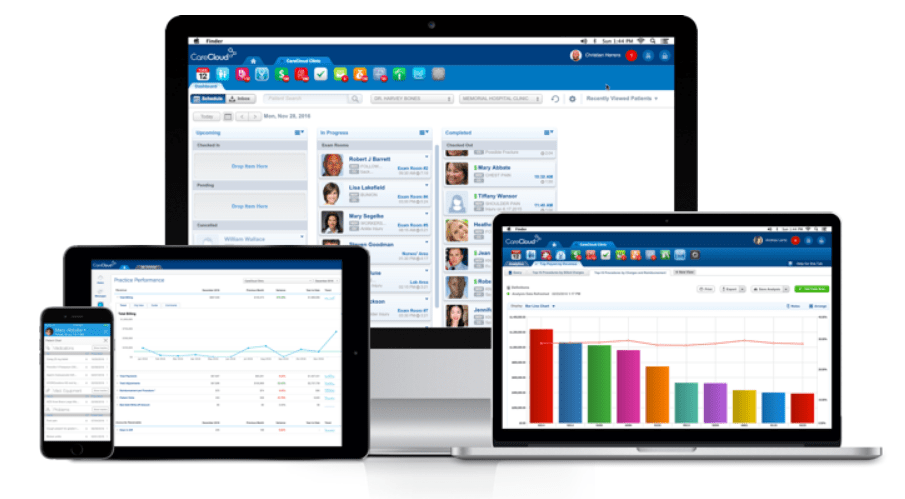 Furthermore, CareCloud also offers a mobile app for iOS and Android devices so physicians and patients can access and manage their medical records from anywhere in the world.
CareCloud pros:
High-quality customer service and support
Extremely intuitive, user-friendly, and easy to implement
Various views so you can see the information that matters most
Customizable templates make documentation quick and easy
Navigation is simple
CareCloud cons:
Analytics and reporting features could be improved
The setup and implementation process can feel clunky and dated
Customer feedback and suggestions aren't implemented in a timely manner
Mobile apps offer limited features
4. EpicCare — Best for Large Practices/Hospitals ($$$)
EpicCare is specifically built for large practices and hospitals with more than 50 physicians and hundreds of employees. It's completely customizable and supports various specialties within the same implementation to suit large healthcare facilities.
Some of the most notable features of EpicCare include:
A feature-rich patient portal (called MyChart)
Curated templates, modules, and content for specific specialties
A suite of mobile apps for use on any device
Extensive telehealth features
Revenue cycle optimization
Smart AI and advanced analytics
Collaboration across organizations for best-in-class patient care
Plus, their software is meaningful use stages 1 and 2 certified plus they offer tools and support to help your practice stay compliant with a wide variety of regulatory programs like PI, ACOs, and MIPS.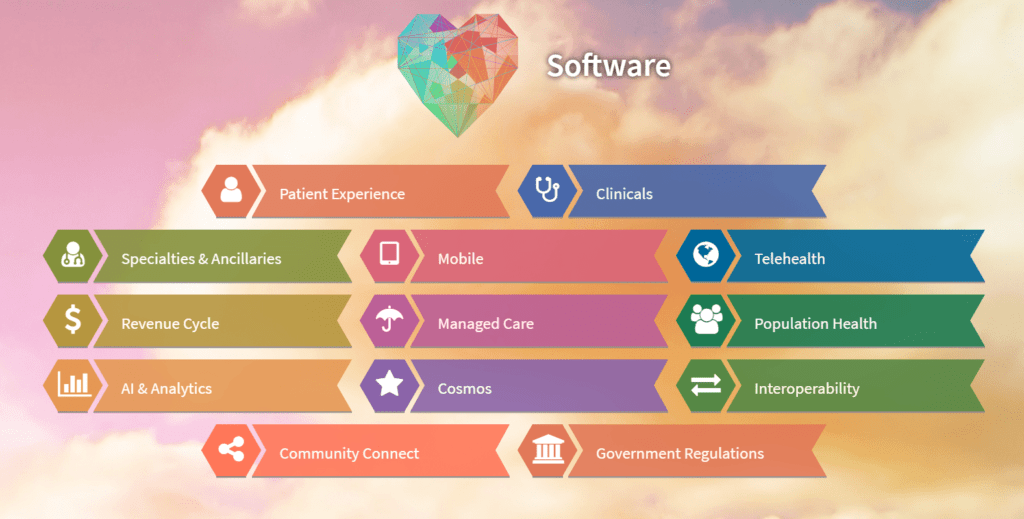 Today, EpicCare's database has records from over 250 million patients around the world. They're also the proud holder of the #1 spot for Best in KLAS overall software suite for over 9 years.
EpicCare pros:
Versatile and customizable for large facilities and hospitals
Lifetime training, implementation, and technology services
Continuous product updates based on user feedback
Vast personalization capabilities for different user roles
Aesthetically pleasing interface
EpicCare cons:
Very expensive
Frequent downtime and product slowdowns reported
Not easy for anyone who's not tech-savvy
Extremely feature-rich making it difficult to find what you need
Extensive training required
5. AdvancedMD— Best Build-Your-Own Solution ($$$)
AdvancedMD is a complete practice management and EMR solution. They offer plans for practices of virtually any size so it's a great choice if none of the other options feel like the perfect fit.
With AdvancedMD, you can build your own bundle of products so your EMR solution is custom-fit to your specialty and practice. Plus, you don't have to pay for features and tools you won't use which simplifies the software so it caters to your specific needs.
Furthermore, they offer a customizable implementation and training process so you can seamlessly switch from one software to another in a way that best suits your needs, timeframe, and constraints.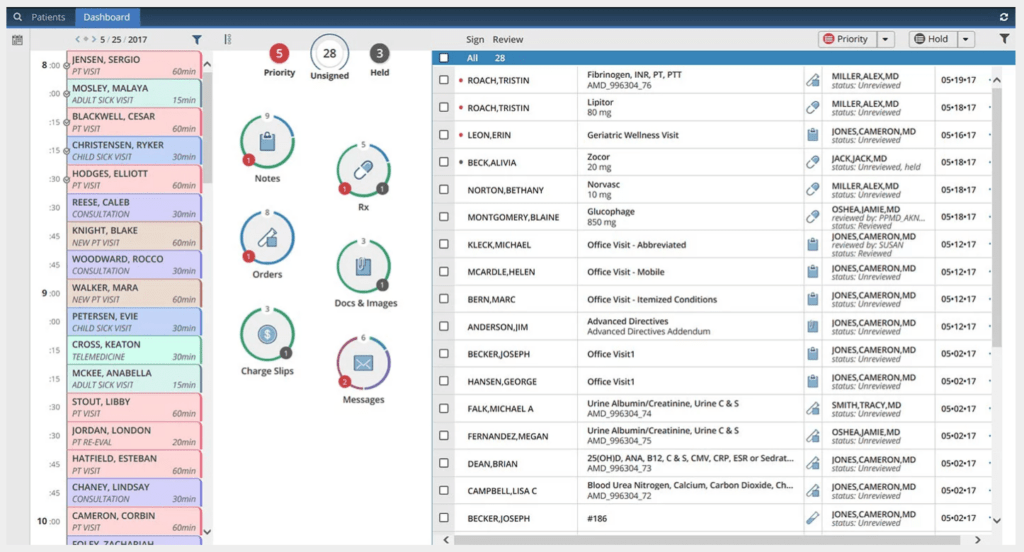 You can use AdvancedMD on any device and both Mac and Windows operating systems. Furthermore, they're one of the most secure systems out there so you don't have to worry about securing your data.
AdvancedMD pros:
Choose the features you need without paying for the ones you don't
Easy to implement via whatever method works best for you
Feature-rich software with a lot of advanced capabilities
Customizable templates to speed up workflows
1-1 training sessions as required
Excellent customer service
AdvancedMD cons:
Can get expensive if you need multiple modules
Limited customizations unless you go through their support team
Some essential features and capabilities are missing (or cost extra)
Steep learning curve
How to Choose the Best Electronic Medical Records Software
Know that you know the best electronic medical records software, it's time to decide which one is right for you and your business. If you're not sure how to choose, we'll walk through it together.
We'll start by defining your EMR software requirements so you know exactly what you need. Then, we'll talk about which software to choose based on the size of your practice and your specific requirements.
Let's get started!
Step 1: Define Your EMR Software Requirements
Before you decide which electronic medical records software to go with, it's important to understand your specific requirements. So, the first step is to make a list of practice-specific requirements you need your ERM software to have.
So, carefully consider:
The size of your practice
Your goals and the purpose of implementing a new EMR
How easy it is to switch to a new system
Documenting your current workflows
Understanding your software integration requirements
Privacy and security measures of the new software
Software pricing vs your budget
Prioritizing your requirements
Legal documents and contracts required
After that, you'll have a better understanding of what you're looking for and you'll probably be able to immediately cross a few options off your list. Then, move on to the next step where we'll start talking about the best options for different sized practices.
Step 2: Running an Independent Practice? Choose Kareo

Kareo is the top choice for solo independent practices because it offers an affordable and simple EMR solution. You can get started in just a few days and the software doesn't take much time to learn so you'll be on your way to a more efficient practice in no time.
As with most EMR software, you have to get in touch for a custom quote. So, you can do that here if you're interested in learning more about everything Kareo has to offer.
However, if you have more than one physician, move on to step 3.
Step 3: Operating a Small Practice? Go with NextGen Office

If you have more than one physician but fewer than ten, NextGen Office is a smart choice. You can use their software on any device and any operating system. So, regardless of the systems you currently have in place, you don't have to worry.
It's an easy-to-use solution that's flexible and customizable for most specialties. So, if you have between 1 – 10 physicians, request a demo to learn more about NextGen Office's pricing and features.
However, if you have more than ten physicians, move on to step 4.
Step 4: Have a Mid-Size Practice? Get CareCloud Charts

If you have more than ten physicians but fewer than 50, CareCloud Charts is a popular and smart choice for your practice regardless of your specialty. It's famously known for its ease-of-use, flexibility, and customization capabilities.
Their advanced features make them a top choice and their mobile apps ensure your physicians and patients never miss a beat regardless of where they are.
If you're interested in learning more, you can schedule a live demo with one of their EMR software specialists to hear more about CareCloud's pricing plans and features.
However, if you have more than 50 physicians or are interested in a solution for hospitals or other large care facilities, move on to step 5.
Step 5: Managing a Large Practice or Hospital? Go with EpicCare

EpicCare is a well-known EMR software for hospitals and large practices (with more than 50 physicians). Their advanced customization features make their solution one of the most flexible options available on the market today.
So, if this sounds right up your alley, get in touch with their team to learn more about EpicCare's extensive list of features and pricing plans.
Step 6: Haven't Found the Right Fit? Try AdvancedMD

If you've made it this far and don't feel like you've found the right solution, AdvancedMD may be the perfect choice for your practice. With AdvancedMD, you can build your own suite of features and tools (without all the things you don't need).
So, you only have to pay for what you're actually going to use. If you're interested in learning more, check out their pricing page. From there, you can take a look at their pre-built packages or start building a custom package tailored to your business.