The 7 Best Ecommerce Tools and How to Decide
Having the best eCommerce platform for your business is the REAL deal.
Plus, it's the PROPER THING to do if you want to scale your business online.
Of course.
Using the best eCommerce tools can increase your ROI 10X more than you can imagine.
But how can you get the best fit for your business?
Well, the guesswork is over!
In this post, we'll be showing you 7 of the best eCommerce software in the market.
You'll also see detailed steps that can help you make the right choice.
1. Shopify
Do you need a tool that can help you start your eCommerce website from scratch?
Then, consider Shopify.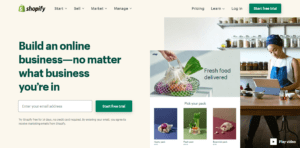 It's an excellent solution for creating websites and integrating shopping carts.
You don't have to be technically skillful to set up Shopify. In other words, it's a no-code app—right out of the box.
No wonder—it's one of the most popular eCommerce tools in the market today.
Also…
With Shopify, you can sell to a wide range of users from anywhere.
The app also allows third-party integrations, like in-person sales with Shopify POS and social media sales.
The website builder has a drag-and-drop function—which adds to its ease of use.
And for its users' convenience, it comes with a mind-blowing feature—a user-friendly dashboard.
This dashboard manages everything from orders, payments to shipping.
Price
Shopify comes with three packages;
Basic Shopify – $29 per month (Perfect for startups)
Shopify – $79 per month (Excellent for growing businesses)
Advanced Shopify – $299 per month (Perfect for scaling your business)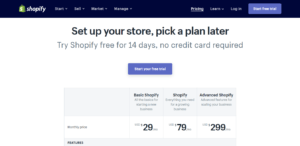 It also has a 14-day free trial—with no credit card required.
Pros
Site performance is excellent
Allows third-party integrations
You can sell everywhere-from your eCommerce store, social media to online marketplace
Cons
Its advanced features are expensive
2. WooCommerce
You'll find WooCommerce handy if you run a WordPress website.
This plugin will turn your WordPress website into a robust online store.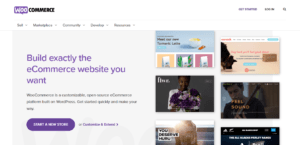 So, it isn't surprising that it's one of the most popular WordPress plugins—when it comes to eCommerce.
WooCommerce does a great job of handling subscriptions, memberships, and product sales.
But that's not all.
The customization feature of this app will impress you. You can tweak your online store to have a personalized look that resonates with your brand.
Also, it allows third-party integrations of popular payment platforms like PayPal, Stripe, Amazon Pay, and others.
The best part:
You enjoy these benefits without paying a dime.
Price
WooCommerce is an open-source platform. So, it's completely free.
Pros
Top-notch security
Large Support community
Very flexible
100% customizable
Cons
3. BigCommerce
BigCommerce has proven to be one of the best eCommerce tools for growing online stores.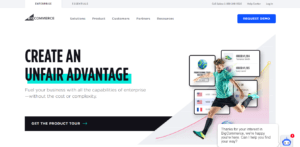 Thus, it offers a ton of features and opportunities that helps to innovate, grow, and develop your eCommerce business.
So, what are the features that make BigCommerce a great option?
Its flexibility to work with any open SaaS platform.
Fortunately, that's not the only feature that makes it stand out.
It offers easy integration for third-party apps.
Customization is another area where this app shines. It comes with unique drag-and-drop design elements that can help your company branding.
This software can help to increase your conversion rate.
How?
It comes with storefront features like digital wallets, coupons, and more. These tools can assist your business to gain new customers and retain recurring users.
Moreover…
The analytics feature of BigCommerce is on par. With it, you can get powerful consumer insights.
Thanks to its Google cloud platform, it has an excellent uptime and server response.
Price
BigCommerce has four different packages to choose from.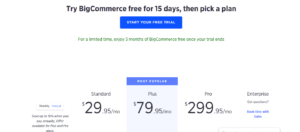 They are:
Standard – $29.95 per month (Best option for small online stores)
Plus – $79.95 per month (Most popular package with tons of marketing tools)
Pro – $299.95 per month (Excellent for growing businesses)
Enterprise – Call for customized pricing (Full-service option)
Pros
Selling in multiple currencies is easy
Drag-and-drop page builder helps customization
No transaction fees
Excellent SEO features
Cons
There are limits for your company's annual online sales
The blog doesn't integrate RSS feeds
4. Magento
Offered by Adobe, Magento is an all-in-one eCommerce tool that specializes in creating unique features for its users.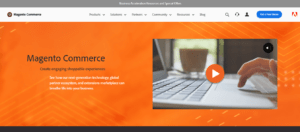 So, it's not surprising that the software grosses more than $100 billion in merchandise sales yearly.
With Magento, you can do more than build a store. You can also track and manage your orders.
Also, optimizing your store is easy with this app.
How?
It gives you access to a detailed analytics report of your website—which is vital data for optimizing your eCommerce website.
The best part:
The platform cuts across all business spheres—it supports small, medium, and large-scale businesses. B2B online sales aren't left out as well.
There's more.
Magento has unique features for customer personalization and segmentation.
So, improving your customers' shopping experience is possible with the Magento features.
They are:
Order history
Customer gender
Prices based on user's location
Automated product displays
Promotions
Content for blogging
Price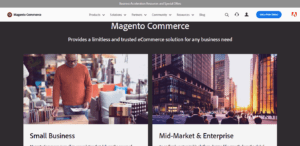 Magento comes with three different versions:
Magento Open Source – Free Version
Magento Commerce – Starts from $22,000
Magento Commerce Cloud – Customized pricing
Pros
App is scalable
Great SEO
Easy customization
Large support community
Cons
Plans are SUPER expensive
5. OpenCart
If you're looking for a free and open-source robust eCommerce tool, consider OpenCart.
With this tool, you can run your eCommerce website without spending a cent.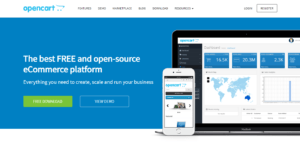 Hence, we're not surprised that more than 342,000 eCommerce sites across the globe use it.
There's more.
OpenCart comes with a ton of free downloads and updates that help to optimize your website.
But you may have to download a few paid extensions if you want to increase your store's functionality.
The most striking feature of OpenCart is its marketplace. It gives you access to over 13,000 themes and modules.
Integration with a wide range of shipping providers and payment gateways is possible with this app.
The community support of OpenCart is outstanding, with over 550,000 posts from over 110,000 members.
Price
Open Cart is another open-source platform that's absolutely free
Pros
Excellent reporting and metrics
It's easy to manage the online store
Dedicated technical support
Most add-ons are free
Allows third-party payment integrations
Cons
Hard to import inventory list
Slow checkout process
6. Easy Digital Downloads
The name—Easy Digital Downloads already gives you a hint.
The idea behind the platform is to sell digital products.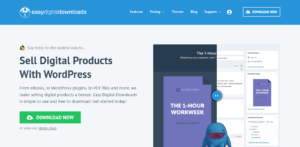 Plus, it's quite similar to WooCommerce.
How? It's a WordPress plugin.
Over 2.4 million users have downloaded the plugin on the WordPress library.
That means it's sought after by many people—which is a good sign.
With EDD, you can easily restrict file access, create discount codes, and track download activity.
It also has fully integrated shopping carts that enable customers to buy multiple downloads simultaneously.
But it doesn't end there.
EDD doesn't limit the number of digital products you can sell on its platform.
Plus, you don't have to worry about integrating your existing third-party tools.
It allows you to integrate popular apps like Slack, PayPal, Stripe, Dropbox, Zapier, Authorize.net, Amazon Weber Services, and Aweber.
Price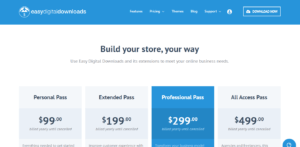 EDD has four price plans:
Personal Pass – $99 per year
Extended Pass – $199 per year
Professional Pass – $299 per year
All Access Pass -$499 per year
Pros
User Friendly
Affordable price plans
Impressive add-ons
A ton of themes to pick from
Cons
You can only sell with WordPress
Integrating payment gateway add-on isn't free
7. Ecomdash
Last but not least is Ecomdash. This eCommerce tool is a multi-channel inventory management app that can help your product sales report.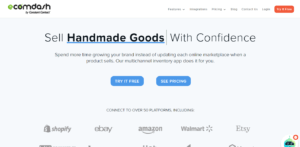 Handling tasks on your online store can get more comfortable with Ecomdash—thanks to its ton of features like order management, inventory sync, etc.
With this software, you can run automated drop shipping for your eCommerce business. That way, it saves you the stress of manually sending sales orders.
Like many eCommerce tools in this post, Ecomdash comes with a ton of integrations.
And you can integrate it with most of the popular eCommerce tools like Amazon, eBay, etc.
Price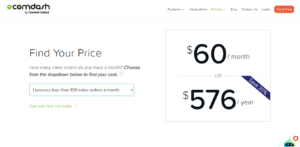 Ecomdash pricing works based on the number of orders processed in a month/year.
For instance, processing less than 100 sales orders per month will cost you $60 per month or $576 per year.
On the price page, you can choose the number of orders you plan to process within a month or year. Then, you'd get your customized price.
And for people that aren't sure of the product, a 15-day free trial is available.
Pros
Product inventory management is easy and flexible
Centralized product listings
Scalable and affordable sales solution
Support team responds quickly
Works with online QuickBooks
Cons
It runs slow sometimes
The interface is a bit chunky
How to Pick Your Best Ecommerce Platforms
Getting the best eCommerce platforms for your business could be tricky.
It's even worse if you're just starting.
But it shouldn't be like that!
We've listed a comprehensive step-by-step guide to help your decision making.
1. What Type of Ecommerce Platform Are You Settling For?
There's no problem if you're ready to start up your eCommerce store today.
But you just need to answer the above question.
In total, there are five different eCommerce platform types.
Customized Ecommerce Platform – This platform requires you to contract a developer to build it.
Traditional Ecommerce – This option requires you to pay a license fee in advance. Afterward, your internal team builds and customize the app to your company's brand.
Cloud Ecommerce – This platform type is common amongst many people. Why? It hardly poses any threat to security or loss of files. For example, we have Salesforce, Demandware, etc.
Open-source Ecommerce – This platform is similar to the traditional platform. Why? It involves the same development method. The major difference is the cost incurred for buying a license—which isn't the case for Open-source platforms.
SaaS Ecommerce – This type of platform involves building on a single codebase. Also, you have to pay a fixed monthly subscription to cover maintenance, upgrade, server use, and security.
So, in the end, your choice matters. The main thing is to find a platform that meets your company's full potential.
2. Pricing and Payment
The pricing should be the next thing to consider. You need to know what you'll be paying for, whether you're a small, medium, or large-scale business.
Most eCommerce platforms come with a monthly fee, depending on the type of platform you choose.
The processing fees aren't left out. You should know what applies to the platform. While you're at it, don't forget to check for hidden costs. Some platforms are good at hiding costs, so tread cautiously—especially if you're on a budget.
Finally, it's not so wise to negotiate the features you need for a meager price. That's why we recommend you weigh your options and PLACE quality before price.
In terms of payment, confirm that the platform makes it easy for users to pay for products and services. If it doesn't, that's a RED flag.
Our best advice is:
Look for an eCommerce platform that integrates Apple Pay, Stripe, PayPal, and other popular payment gateways.
3. How Easy Is the Shop Setup?
Finding a platform that is easy to design and set up should be the next thing to consider after concluding on the price.
For most people, no-code tools always stand out because they don't require a lot of technicalities. And it's crucial if you're a new business that can't afford the services of a web developer.
So, here's our recommendation: go for something that doesn't require rocket science to operate.
Oh yeah! Even if you're a professional coder, you should also look for a no-code software that can make things easier for you—at first.
But if a pre-controlled no-code tool isn't your thing—then you can opt for a tool you're comfortable with.
In any case, ensure to focus on ease over sophistication.
4. Is It Easy to Navigate?
You don't want you or your potential customers to get frustrated with your eCommerce platform?
Of course, who does?
First off, don't confuse sophistication with complexity. What you need is a platform that eases the process for you and your customers.
Every online shopper today wants a seamless experience that's fast and stress-free.
These potential customers want to spend their money. Give them the opportunity and freedom to do so. Don't let them climb Mt Everest and fly over Pluto to purchase your product.
So, how do you handle this situation?
Test your proposed eCommerce website as a customer. If you get stressed by navigating through the platform, DITCH IT and find something else.
5. Does the Platform Allow Third-Party Integrations?
Third-party integrations are the next thing to consider.
So, when making your choice, think of the tools you already use or plan to use for your business.
Would any of these work with the eCommerce platform you intend to choose?
6. How SEO Friendly Is the Platform?
Running an eCommerce business doesn't exempt you from working on your SEO.
Your company needs it. Or how do you think your store will rank high on Google search?
If you plan to expose your business to a ton of new users frequently, then SEO should be crucial to you.
Your eCommerce software should be able to do the following things to certify its SEO readiness:
Able to use your personalized domain name
Open for your customers to leave comments and reviews
Able to add a blog to your site
7. Mobile Compliant?
Nowadays, most people do a lot of internet searches on their mobile devices. It validates the report that stated 60 percent of search queries come from mobile devices.
And a large number of these searches lead to an eventual purchase.
So, we can't underestimate the power of mobile-responsive eCommerce platforms.
The best thing to do is to:
Go for eCommerce platforms that are mobile friendly and support payments via mobile devices.
8. Is the Platform Scalable?
Most businesses scale at some point—as long as they keep doing what works and remain consistent.
So, you should choose an eCommerce tool that can handle more traffic as your company grows.
9. How Secure Is the Platform?
Security is a crucial factor to consider if you want to be a successful eCommerce owner.
If your security is faulty, you may lose the trust of your customers and, eventually, your business.
The first litmus test is to check if SSL or HTTPs secure the platform.
Next is to check if the eCommerce platform is PCI-DSS compliant. It's a standard for secure payment processors.
Google captcha is another feature you should be able to integrate into your eCommerce tool. It helps to limit hackers from your website.
10. Customer Support
Do terms like JavaScript, CSS, and HTML seem like gibberish to you?
If your answer is yes, you need reliable customer support for your eCommerce platform. That way, you'd avoid unnecessary disruptions.
It pays to get a 24/7 support team that has multiple communication channels to respond to customer queries.