The 7 Best Data Loss Prevention Tools and How to Decide
Data breaches are increasing at an alarming rate. Cyberattacks were up 69% in 2019 over 2018, and there have been more documented attacks in 2021 than ever before. While fewer customers are being affected by these breaches, they wreak havoc on new industries and small businesses. According to Verizon's 2019 Data Breach Investigation Report, 43% of data breaches in 2019 harmed small businesses, and 40-60% of small businesses didn't reopen after these attacks.
Data loss prevention tools, also called DLPs, are critical for businesses of all sizes to prevent cyberattacks, data loss, and the loss of time and productivity while investigating data breaches. This software helps prevent and quickly detect potential data loss, destruction, and violations of secure data. It also protects companies from both internal and external data threats.
To address these challenges, most high-level DLPs offer some form of contextual analysis. They also provide automated workflows, data privacy compliance, and features that prevent data loss on the cloud. A great DLP should also be compliant with complex fast-changing regulations, including GDPR, PCI, and HIPAA.
Effective data loss prevention software will make the complex data silos of any business easier to scan and watch. It can help the business stakeholders understand how it is using technical resources. DLPs also ensure continued access to critical data both in the office and in the cloud.
These are the seven best data loss prevention tools for businesses.


This respected and comprehensive DLP solution protects businesses from data exposure and theft. It focuses on the areas where there is the most risk:
Cloud apps
Endpoints
Networks
Data centers
This solution is a highly-ranked choice because of its scalability and skill in protecting data in the cloud. Symantec's DLP has extensive tools to detect and isolate data breaches. There are also features that speed up the investigation and resolution process. This tool includes sophisticated analytics and user-activity tracking. Another helpful feature is the pre-made templates for major industry compliance standards.
This tool is mainly used by medium and large businesses, so it may be a maintenance challenge for small businesses. For example, it doesn't offer native Linux installation, so your team would have to do a manual setup on Linux. Mac-centric offices may also have some challenges with this product.
Pricing for this product will depend on the number of licenses your business will need. You can purchase these tools either through local Broadcom Authorized Distributors or contact their sales team here.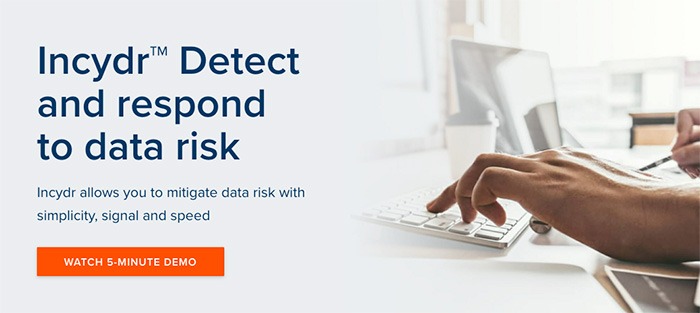 This DLP focuses on inside threats, which comprised 34% of data breaches in 2019.
With the pandemic hastening the transition to remote work, more businesses are at risk. This tool helps companies detect and respond to inside data risks quickly. It monitors data sharing across endpoints, the cloud, and email. It uses many forms of analysis, and its search function allows businesses to search the last 90 days of employee activity quickly and efficiently without losing important data.
Incydr can be set up within a few days. It allows companies to assess risk in just a few weeks, making it a powerful addition for remote teams. It integrates easily with industry-standard security information and event management (SIEM) systems like Micro Focus ArcSight ESM, SolarWinds Threat Monitor, or Splunk Enterprise Security to make investigations even simpler.
This tool has a specific use case, so it may not be a fit for businesses looking for a single comprehensive tool. Price is by the number of computers in an organization, so it can get expensive. That said, companies that store extensive valuable information like corporate finance or government contractors should strongly consider this option.
You can see a demo or start a four-week free trial on the Incydr website.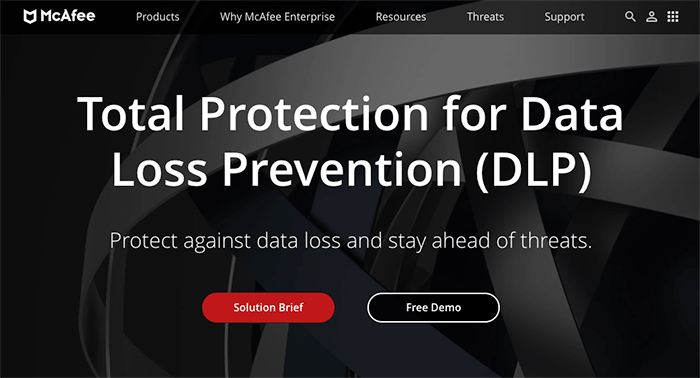 McAfee is another excellent comprehensive DLP solution. This tool prioritizes sensitive data while also offering detailed forensic data analysis. Other highlighted features include:
Encryption
Access control
User-behavior monitoring
McAfee has a long history and presence in security, and this tool is a package that combines the following McAfee products:
McAfee Data Loss Prevention Discover
McAfee DLP Prevent
McAfee Data Loss Prevention Monitor
MVISION ePO
Each tool is specially designed to focus on a problem area for data loss prevention. These tools help organize and protect sensitive data, execute security policies across platforms, and analyze data to secure endpoints, cloud apps, and email.
While McAfee security has resources for small and large businesses alike, it can be complex to set up. This DLP may require extra staffing to get the full value from this solution. This tool also offers more resources for data loss than data breaches. It scales to meet the needs of your business, so review your technology plan and priorities before committing.
McAfee doesn't offer a free trial. You can view a demo here, and an accurate price estimate requires a quick conversation with their team.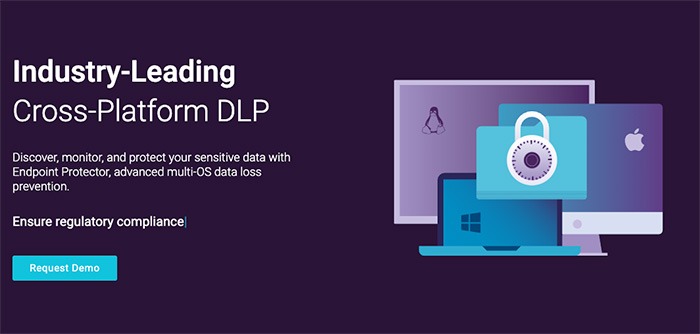 This endpoint-focused data loss prevention solution takes care of data leaks and theft and helps control complex remote systems.
This tool is another excellent comprehensive solution for a variety of businesses, and their focus is on user needs. They offer customizable modules for advanced data loss prevention across multiple systems and access points. You can also personalize Endpoint's DLP by industry. They have deep experience in education, finance, and manufacturing–areas where data breaches are increasing at an alarming rate.
Endpoint's highly sophisticated tools and features are simple to understand, but the volume of data they collect can be difficult for businesses to process and use effectively. Their level of support can also be a challenge for some customers.
Endpoint offers a quick form to assess pricing and bases their initial estimate on the number of users and platforms you're using. You can also request a demo from their team.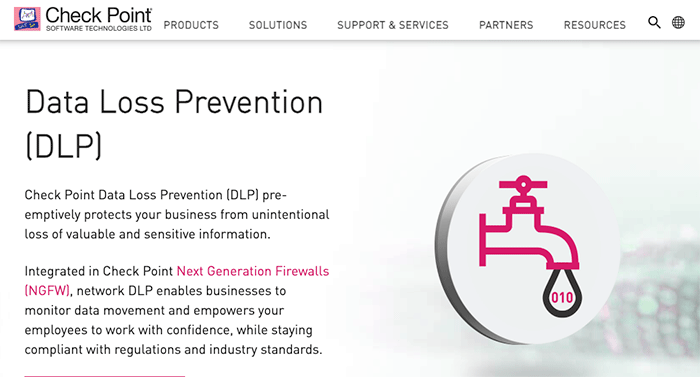 Check Point's DLP is a simple tool for businesses starting to look at data loss prevention. This tool focuses on education and user autonomy rather than user monitoring. In addition to industry-standard features that help prevent data loss and help investigate breaches, this tool offers instructional features on data handling.
This tool is from a trusted provider with a strong reputation in cybersecurity. Their solution comes with already-built policies, which is helpful if your business doesn't already have a data strategy. If your team has specific requirements for data already in place, you'll want to look carefully at this solution to ensure that it can meet the complexity and detail of your individual business needs.
This tool offers a free demo, a detailed buyer's guide, and custom pricing.
This is another DLP tool that is helpful for businesses that haven't developed a defined data loss strategy. It gets positive reviews for its 70+ pre-written policies and useful range of predefined settings. These tools can help DLP beginners outline a sensible approach that covers details that can be easy to miss. At the same time, the volume of settings can make the interface challenging to use and maintain.
This tool easily integrates with SecureTrust's SIEM tool for intruder detection and blocking. It also effectively scans channels for privacy violations and has options that automatically block some threats.
Reporting tools are another important feature for DLPs. While this tool's comprehensive reporting and auditing features are useful for compliance, they can also be a challenge to use, especially when your team needs custom reports.
SecureTrust offers a variety of product bundles, so it's best to discuss pricing with their team.

This is a data-tracking-focused DLP solution that covers Windows, Mac, and Linux endpoints. It tracks sensitive data in on-premise, cloud, and hybrid environments effectively, focusing on endpoint security. They offer a separate tool to protect against data breaches and loss.
This solution covers internal as well as external activities, with comprehensive data monitoring. It can automatically block unauthorized actions, preventing users from transferring, destroying, altering, or copying data. This tool requires a clear data loss strategy before implementation. If your team has a detailed plan in place, Endpoint DLP offers a high degree of personalization for data categorizing, data-based protection policies, and encryption.
This interface is easy to use and offers clear insights, but plugins can cause issues, and reviews show a high level of false alerts from this product. That can be challenging to manage internally.
This product has custom pricing, so you'll want to connect with a member of their sales team for details and to see a demo.
How To Pick Your Data Loss Prevention Tool
As you can see from the reviews above, each of the best data loss prevention tools takes a slightly different data loss and protection approach. The features that will be most valuable to your business will depend on:
Your industry
Operational processes
Work locations
The scale of your team
The steps below will help your business find the right DPL for long-term security.
Determine your business's needs
Different DLP tools offer varying levels of insight into business operations, so it's a good idea to involve the entire leadership team. Start the process with a conversation about how installing a data loss prevention tool will impact how the business operates.
This is an important conversation that can go in many directions, so begin the discussion with a clear structure and outcome goals.
Stakeholders need to be aware of the management requirements of any DLP product to avoid challenges down the line. For example, Code42 says that 66% of companies experienced DLP solutions blocking employees from accessing data despite following company policies.
Most businesses add a DLP to:
Protect sensitive customer, client, and employee information
Comply with regulations
Protect intellectual property
Improve data visibility
Secure and enforce security in remote work environments
Secure cloud data
Many businesses operate in function-based silos. Installing a data loss prevention tool will impact operations for every department.
This initial outreach will help your team understand the data the business handles daily and the potential security risks for that data. It will also make your team more aware of how user-monitoring and access policies can impact departmental operations and avoid slowdowns after installation.
Decide how your business wants to handle, label, and organize data
Data classification is at the center of what any data loss prevention tool does. Most DLPs will automatically scan your information to classify data according to risk or sensitivity. Some tools will also add labels to data while scanning.
To get a sense of how you would like to label data, look at the different ways your business uses data. Consider:
Data you have stored in databases, computers, and on the cloud
Data that your team is actively working with
Data coming in and out of your organization during transactions and other communication
Your sensitive data strategy will need to include rules for how you will handle each type of data and how individual users should store this data. Make these decisions early and think about rules for:
Business processes in applications, for example, email storage
Modifying confidential data
Copying and printing, especially in remote locations
Determine industry compliance requirements
Many businesses add a DLP to help with regulatory compliance. As you assess your business operations for compliance, consider which standards impact your business daily.
It's also possible that your business doesn't regularly interact with compliance standards like GDPR or HIPAA. In this case, do some research to confirm that the data loss prevention tools you're considering align with the most common standards in your industry.
Look at your current tech stack
Your team may work remotely but have one person on-site half the time. You may use local email storage but keep documents in the cloud. Most businesses use over 600 SaaS tools alone! Your current tech stack and your DLP tool need to integrate with or have access to every endpoint.
Before launching a DLP, do a comprehensive audit of your tech stack and test each app, platform, and tool. Some might have native DLP features, and others may collect sensitive data that isn't obvious. Your team should also create a process to check new tools in the future. This is important to how their approach to data aligns with your internal policies.
Check the bandwidth and makeup of your team
It doesn't matter how powerful a data loss prevention tool is if your team doesn't have the time and resources to use it properly. 80% of businesses increased security spending in the last few years, but only 17% indicated that information security spending would increase.
While securing all data is ideal, the scale of your organization will have an impact on the amount of priority data. It will also affect how your team will manage data for security purposes. Your organization's size will impact how many devices to monitor and the amount of training required. Employee turnover is another factor. If your business is high-risk with a high turnaround, you may want to prioritize tools with robust internal monitoring.
Create a data strategy outline
Once you've done an initial review of your business, tech, compliance, and employee needs, it's time to move to the next step. When choosing a DLP, it's essential to have goals and an initial strategy in place.
First, decide what problems are most important for your business to solve. Is a DLP needed to address compliance issues, protect your intellectual property, or prevent data theft? The answers to these questions can help you decide which DLP features and use cases you want to focus on first.
A strong data strategy will include your decisions about:
How to control access to information
What activity to track on workstations, networks, and servers
How to check workflows, including information from mobile devices and remote workstations
Exactly which data needs protection
What the conditions are for access to different types of data
What actions your business will take when a breach occurs, including specific steps and ownership of each step
When and what information to archive
Possible data leak scenarios and steps to take in that event
Determine what reporting will you use to tell whether your chosen solution is effective
Reporting is essential for evaluating whether your data loss prevention tool and strategy are meeting your business goals. A DLP tool needs clear reports to ensure that your team is aware of changes at the moment. This way, your team can quickly respond to attacks, data breaches, and internal risks.
The best tool should provide easy-to-read insights about user behavior and data use. These reports should also help you understand areas where your data is vulnerable. They should make it easy to understand what steps your team needs to take to secure your informational assets.
Create a checklist of requirements for your ideal DLP
Your final step to secure the best data loss prevention tool for your business is creating a unique checklist of requirements for your ideal solution. This checklist should reflect the research you completed on your team, business processes, compliance requirements, reporting, tech stack, and data strategy.
It should also include:
Details on your ideal timeline
What resources do you need in place to install the new solution
Whether you might need more tools to meet all the needs of your business
Make sure your list includes the features your team needs in order of priority. Each solution has different names for similar features and will bundle features in a unique way. The more precise you are on the needs of your business, the more likely you are to find the most effective DLP tool.