Best Cybersecurity Podcasts of 2022
In today's always online and hyper-connected world, it's become essential to keep up to date and stay on top of new security threats. Keeping your systems and data safe isn't optional anymore, and knowing where the next cyber threat might emerge from and how to counter it is key to business success.
Podcasts are great because they easily integrate with our busy lives, typically when we're doing something else and have them on in the background. Cybersecurity podcasts are an efficient way to stay informed, protected, and ahead of the game.
Our guide lists the best cybersecurity podcasts of 2022 and shows you how to decide which one is the best for you.
Down the Security Rabbit Hole
With a name like Down the Security Rabbit Hole, you'd expect this cybersecurity podcast to be obsessive about developing threats, and we're pleased to say that's true in the best possible way. Hosted by Rafal Los and James Jardine, the podcast focuses explicitly on the vulnerabilities that SMBs (small and medium-sized businesses) face, including cybersecurity-related laws. It's a business-first cybersecurity podcast through and through.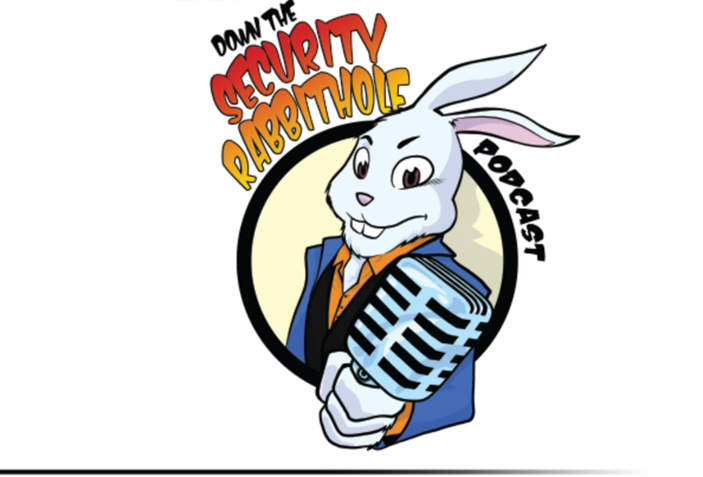 Down the Security Rabbit Hole balances entertaining its viewers and educating them simultaneously in a work-safe environment, making the content more digestible. It features governmental leaders, industry experts and details the latest security trends all in one place. That said, some listeners may prefer more structure, with the free-flowing conversation being particularly prevalent during episodes.
The average episode length is around 45 minutes, and a new episode is released every Tuesday on a reliable and consistent schedule. Best of all, it'll cost you nothing. Each week, you can tune in via RSS, Apple Podcasts, and Google Podcasts.
BarCode
BarCode is a cybersecurity podcast like no other, and that's because each episode features Tony, a virtual bartender who greets listeners and shows them how to make a new drink each week while they brush up on security trends with Chris Glanden. Chris Glanden himself is a cybersecurity professional with years of experience that spends most of his time interviewing other security experts.


This podcast is another that's easy-going, as you might have guessed, but don't let that fool you; there's plenty of valuable advice available each week. The average episode length is around 45 minutes, and each gets packed with tips and tricks. New episodes are released each week, too, although there isn't a dedicated day when you can expect new content like some podcasts creators offer.
On the plus side, you can tune in via multiple platforms, including Apple Podcasts, Google Podcasts, Spotify, Amazon, Stitcher, and TuneIn, giving you more choice. You can listen to as many episodes of the podcast as you like for no charge.
Task Force 7
The Task Force 7 podcast aims to interview a comprehensive range of experts within the world of cybersecurity, allowing everyone to have input in the discussion. Not only that, but its primary focus is explaining complex security terms more simply—this is an obvious highlight as newcomers can often quickly be put off and miss out due to industry jargon.



With that said, the priority on providing streamlined knowledge to novices means more experienced cybersecurity listeners may want to find information elsewhere—although this will vary per person. Each week, industry-leading specialists share their views on topics such as phishing scams, data security, and incident response retainers, to name but a few. Task Force 7 is broadcast every Monday at 8 PM Eastern and 5 PM Pacific.
You can tune in for free via a considerable number of platforms, too, including iTunes, Google Play, Player.FM, Stitcher, TuneIn, Overcast, Listen Notes, Spotify, Castbox, iHeart Radio, Backtracks.FM, PodBean, PodBay.FM, and Himalaya.
The 443
The 443, also known as "The 443 @ Secplicity," is another cybersecurity podcast that wants to make the industry more accessible. Hosted by Marc Laliberte, it's an informative podcast owned by security experts Watchguard. The show focuses on ongoing security threats, how to deal with them, and the areas in which you need to stay up to date. Secplicity provides daily video and editorial content about IT security, so it has little to prove when it comes to expertise.



With a healthy blend of facts, opinion, data, and expert analysis, the podcast doesn't avoid discussing multifaceted security issues and offering recommendations to its listeners. New episodes are typically available every week, although the exact day can vary. Those looking for super serious content may also prefer other podcasts, although there is no short supply of knowledge and wisdom here.
You can tune into The 443 for free via the site, Apple Podcasts, the Google Play Store, Stitcher, RSS, Overcast, and TuneIn.
Hacking Humans
Hacking Humans, hosted by Dave Bittner and Joe Carrigan, typically examines important cybersecurity areas such as social engineering scams, phishing schemes, and criminal exploits. A lot of the content centers on the week's key headlines, but there is also room for opinion and data analysis. The podcast is part of The CyberWire network: an independent voice delivering cybersecurity news briefings, newsletters, and more.


Of particular note is the podcast's emphasis on the connection between cybersecurity and psychology, making it a popular podcast for those that want to understand why cybercrimes get committed and how you can use that knowledge to prevent damage and loss to your business. It also offers shorter episodes that look at specific industry terms and concepts and then expand on them. The podcast tries to balance serious discussion and fun, although the style won't be for absolutely everyone.
The average episode length is around 40 minutes, and episodes come out weekly for free. You can tune in using Apple Podcasts, Google Podcasts, Spotify, RRS, Overcast, and Stitcher.
How To Pick Your Cybersecurity Podcast
We've listed the best cybersecurity podcasts of the year above, but it can be challenging to pick the best one for you without listening through hours of content beforehand. Below we've listed some simple steps you can take to arrive at the podcast that's best suited to you.
Step 1 – Decide Which Specific Topics You Want To Learn About
It's tempting to think that all cybersecurity podcasts cover the same topics, but there can be a substantial difference in their focus.
Some podcasts may specialize in vulnerabilities and malware, while others may focus on anything from general cybersecurity news to industry analysis. What's more, there are hundreds of podcasts available, and even though we've picked the best, more are constantly appearing.
That's why it's necessary to think about which topics you want to be covered overall. On our list of general cybersecurity topics, we recommend Down the Security Rabbit Hole above the rest. While Hacking Humans offers a specialist focus on psychology and criminal exploits, Task Force 7 centers more on the cloud, quantum computing, and blockchain cybersecurity. The 443 mainly offers actionable information on emerging viruses, while BarCode's focus is typically on hacking and malicious code.
Step 2 – Choose a Podcast Based on Your Knowledge Level
Once that's done, you need to think about and then choose a cybersecurity podcast based on the knowledge level required to get the most out of it. There are podcasts available to all different skill levels, from newcomers to somewhere in-between to cybersecurity experts who do it for their day job. In fact, it's usually a crucial part of how these podcasts market themselves and try to get ahead in the busy space.
On our list, both The 443 and Task Force 7 have a strong focus on keeping things simple and explaining terms and concepts wherever possible, making them ideal for newcomers just getting started in the industry. If that's you, go for these.
Hacking Humans is also good at expanding on concepts and terms that people may find difficult to understand, although it's not the primary focus. It's a good choice if you want more on cybercrime psychology, with some digestible content.
Both Down the Security Rabbit Hole and BarCode require a bit more knowledge to understand, and while it's still possible to get value from these podcasts, it's worth keeping in mind that they aren't going out of the way to keep things simple.
The best cybersecurity podcasts should keep things understandable. Still, there's always a difference in the required knowledge level, and that's fine—think about if you're the right audience before getting started.
Step 3 – Check Episode Duration and Frequency
We all have different time schedules and how occupied we are varies across the board. Podcasts are designed to be something you can put on and then absorb while accomplishing other tasks in the background. They can be an excellent way of enhancing your knowledge in an area.
With that said, it's still worth knowing the duration, and more so, the frequency of your podcast episodes to help you decide. Some cybersecurity podcasts aim for 20 minutes or less, while others run well over an hour, if not multiple hours. The frequency, for example, weekly, biweekly, or monthly, is also an important factor in choosing what's the best for you. After all, we all tend to have preferences here as well.
On our list, most of the podcasts, including Hacking Humans, BarCode, The 443, and Down the Security Rabbit Hole, hit the 40-minute mark, or thereabouts—a pretty standard amount of time for each episode. Task Force 7's episodes can be longer than this.
In terms of frequency, most aim to get episodes out each week, but while some have a specific day, others may change this quite frequently. Task Force 7 aims at getting episodes out every Monday, for example, while Down the Security Rabbit Hole is available every Tuesday. The others on our list offer weekly installments, but they don't always stick to a single day of the week.
If you want reliability, we think Task Force 7 and Down the Security Rabbit Hole are the ones to pick. Of course, if you don't need dates set in stone, and some people will care more about this than others, then any of the other podcasts on our list are a solid option too.
Step 4 – Check the Platforms the Podcast Is On and Pick One
The final step is to think about if the podcast you want to listen to is available on your preferred platform. With so many different podcast platforms available today, it's only natural most of us have a favorite place to consume them.
While some cybersecurity podcasts will only be available on platforms like the Google Play Store or Apple Podcasts, others will be available on platforms such as Stitcher, Spotify, Pocket Casts, Buzzsprout, PodBean, Libsyn, Simplecast, or Megaphone.
The convenience factor here is more significant than you might first think. If you have to sign up for a new platform to listen to your preferred podcast, this can be off-putting, certainly when you have limited time and don't want to fill in forms and check your emails.
The good news is some cybersecurity podcasts don't require any platform registration at all, and you can listen to them directly on the website. The 443 podcast episodes are available straight from the website; the same is true with BarCode and Down the Security Rabbit Hole. These are great choices without logins or sign-ups so that you can jump in without barriers.
Hacking Humans and Task Force 7 are available across multiple platforms, but you'll need to sign in if you want more than a preview in most cases. If that doesn't bother you, these podcasts are well worth a listen to as well.
By now, you will have thought about or at least have some idea of the ideal cybersecurity podcast for you. All of the podcasts on our list offer valuable security tips and tricks, but with most of us having limited time, thinking about each step can help you make that final decision, allowing you to pick the best podcast for you.