The 5 Best Customer Service Tools and How to Decide
Excellent customer service is a must for all businesses who want to be successful. Happy customers usually bring on more business, loyalty, and an excellent reputation.
COVID-19 has put a damper on providing the best customer service, but a good help desk and customer service software are vital.
The right customer service software can assure business satisfaction and happy customers by providing service solutions, positive interactions, and fast response times.
Since there are so many different customer service software options, it can become overwhelming for first-time buyers. I have researched the best software and have put together a list for you to consider when purchasing the software for your business.
In this guide, I will go in-depth on each software, reviewing its top features, pricing, benefits, and more.
Zoho Desk is an excellent choice for smaller companies looking for a solution that can help them grow and excel. This software does an excellent job of updating and adding new features, and it is priced affordably and easy to manage.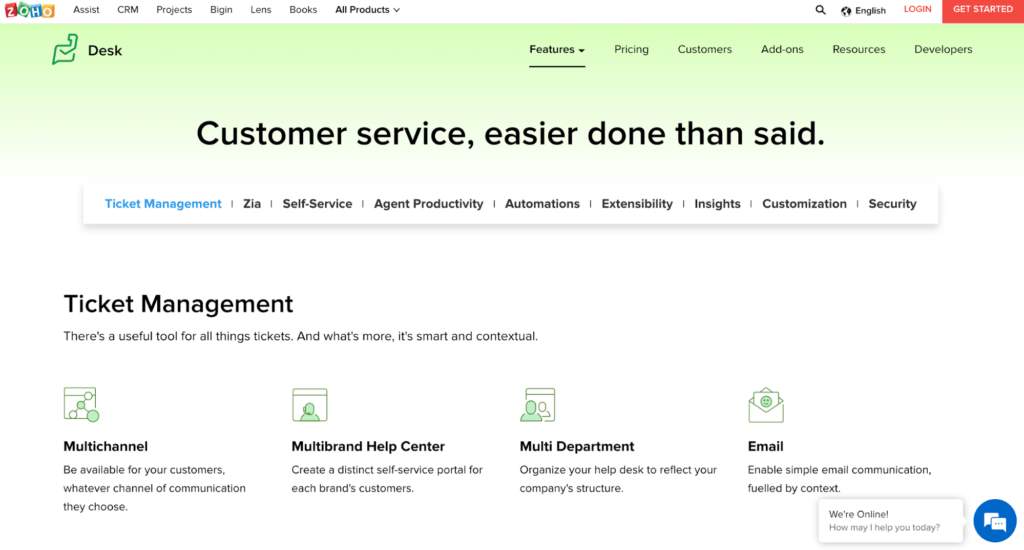 Out of all the customer service software solutions on the market, Zoho Desk is seen as the most complete IT support and helpdesk solutions for small to midsized businesses. Unlike most, they also offer a free plan for up to three agents and offer products from Zoho's vast array of options.
While being recognized as one of the best solutions for IT, ticketing, and help desk, they offer excellent tools like marketing, email, sales, collaboration, and much more.
Zoho does a great job of adding on features to improve its already rich system. They always are looking at improving there ticket management system. Their UI system provides simple ticket aggregation through social media or directly through the company portal. They allow you to sort open tickets based on when they were created, overdue, and to come up. Tickets can be prioritized, which is essential if you are integrating your system into a CRM.
As stated above, Zoho Desk offers a free plan, but let's take a look at all of the plans they offer.
Free – up to 3 agents
Email ticketing
Help center
Customer management
Mobile apps
Multi-language help desk
Predefined SLAs
Standard – $12/monthly per agent
Public based knowledge
Escalations
Workflow and assignment rules
Product-based ticket management
Customer happiness ratings
Supervise rules
Professional – $20/monthly per agent
Telephony
Team management
Ticket templates
Ticket sharing
Multi-department ticketing
Mobile SDK
Enterprise – $35/monthly per agent
Live chat
Customized help center
Schedule reports
AI
Validation rules
Role-based data sharing
Though Zoho is the best small and midsized business, it has the tools and pricing plans for larger-sized companies. To learn more about their plans and features, check out Zoho pricing page.
Freshdesk is another software that's popular amongst users with excellent help desk features. It is trusted by more than 150,000 businesses, including HP and American Express.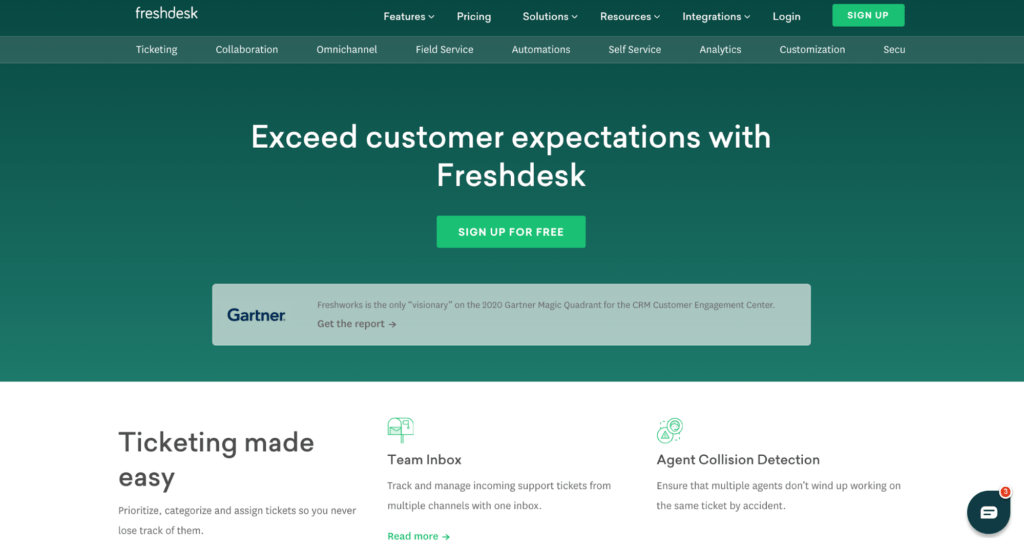 They offer friendly prices and an easy interface that serves as an easy picking choice for any business.
Freshdesk is geared toward serving external customers as opposed to being deployed only in an IT department. This solution has about just anything your business will need when it comes to providing excellent customer service. Check out some of their best features below:
Ticketing
Automation
Reporting
Multi-channel support
Collaboration
Field Service
Customer self-service
Freshdesk offers streamlined solutions that connect all your customers in one location, collaboration and automation become easy with Freshdesk. Like Zoho desk, they also offer a free plan, and if you are switching from another customer service software, Freshdesk does an excellent job of simplifying this process.
In regards to pricing, see below for a more detailed view along with features.
Sprout – Free/unlimited agents
Email & social ticketing
Ticket dispatch
Knowledge base
Ticket trend report
Datacenter location
Blossom – $15/monthly per agent
Automation
Collision detection
Marketplace apps
Helpdesk report
SLA management
Garden – $35/monthly per agent
Time tracking
CSAT surveys
Performance reports
Custom apps
Multilingual knowledge base
Estate – $49/monthly per agent
Round-robin rating
Custom roles
Portal rebrand
Custom reports and dashboards
Ticket forms
Customer segments
Forest – $99/monthly per agent
Email bot
Agent shifts
Audit log
Skill-based routing
IP whitelisting
Agent scripts
Approval workflow
Freshdesk is a capable easy to use software with robust features and integration. Though it lacks some features such as change management and project management, it can provide your business with what it needs with an efficient solution.
HubSpot offers an all-around full customer service software that provides a wide array of tools into one consolidated platform. They offer a solution that aims to build organization and efficiency within your customer service teams.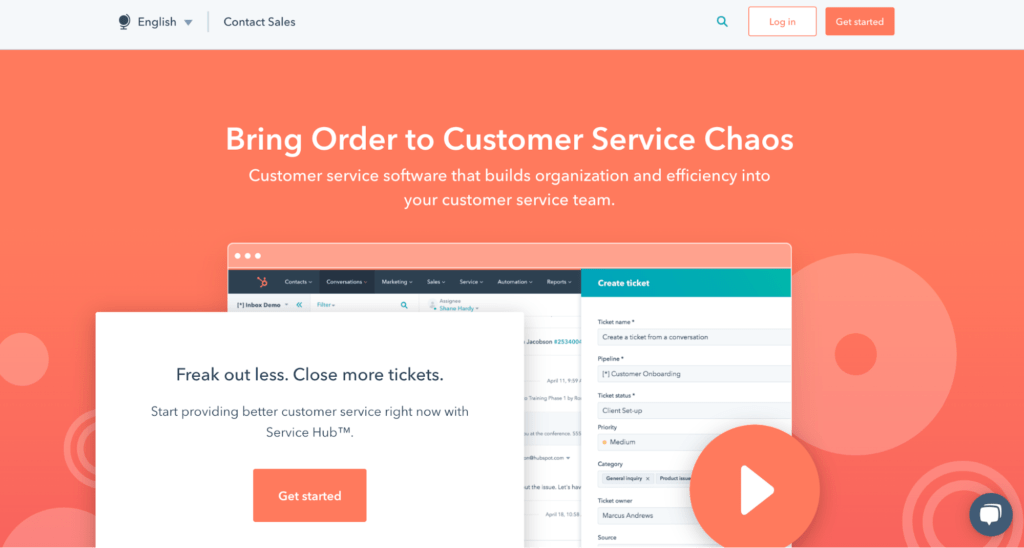 HubSpot is well known for being one of the best CRMs on the market. Their service serves best in three categories: sales, marketing, and customer service. For their HubSpot Service Hub, which we will be talking about, as some of its competitors, it also offers a free plan and others with advanced features and benefits to help your business.
One of the features favorited by users is their live chat tool. You can install chatbots on and expand the bandwidth of your customer service team. These tools can also be synced with HubSpot CRM, so if you are already plugged into HubSpot, you can align your sales, marketing, and customer service together.
Some of the main features they offer are:
Ticketing
Live chat
Chatbots
Team email
Integration
Help desk software
Knowledgebase software
You can receive all these features and additional add-ons for a pretty reasonable price tag. To see a more in-depth look into their pricing plans and features see below:
Starter – $40/monthly
Ticketing
Simple automation
Conversation inbox
Tickets closed reports
Conversational bots
Live chat
Professional – $320/monthly
Ticket status
Ticket routing
Task automation
Ticket pipelines
Customer reporting
Customer support and experience surveys
Knowledge base
Enterprise – $1,200/monthly
Slack integration
Playbooks
Goals
Field-level permissions
User roles
Hierarchial teams
All free CRM features
Not only can you purchase these plans, but HubSpot does a great job of offering product bundles for their CRM categories in a single solution. If you require software that will provide customer service, sales, and marketing on one platform, HubSpot will be the best option.
Zendesk is a well-established software with robust features that are proven to improve your business overall customer experience. They take on a marketing approach when it comes to help desk solutions. Aimed for larger enterprises and small to midsized businesses, they focus on experience management rather than just desk operation.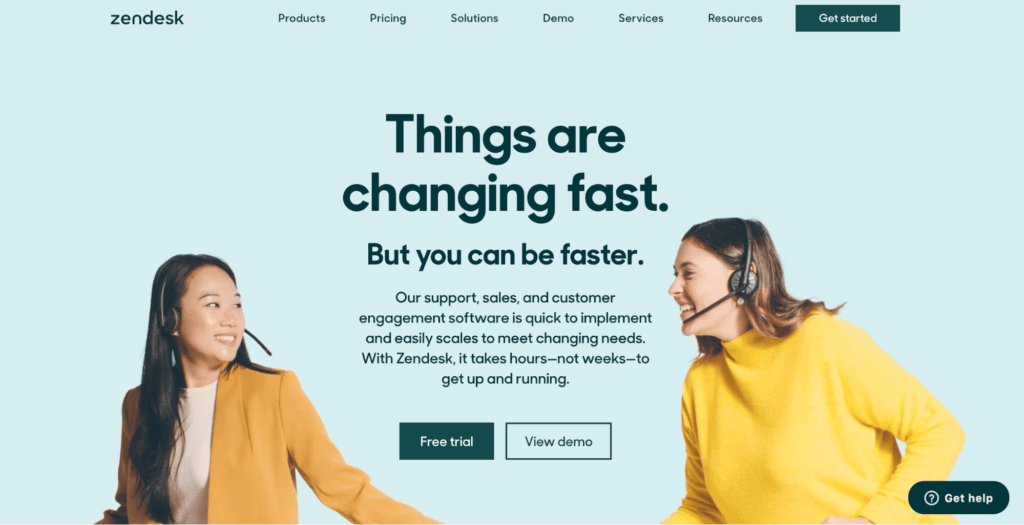 Although Zendesk software has a higher price tag than others, they offer excellent features and service. They provide business to big brands such as Uber, Shopify, Venmo, and more.
Zendesk offers a great ticketed system and can come from many sources such as; email, chat, social networking, website, phone, and web. Agents can also add internal notes to tickets, and the software can send outbound messaging for agents.
Zendesk also makes your agent's job easier by connecting all data to one location; when contacting a customer, their information will be displayed automatically. You can provide customer support through the web, but through email, live chat, Facebook, Twitter, WhatsApp, and more.
See below for a quick overview of Zendesk pricing and features. For larger businesses, they offer higher price plans; see below:
Professional Support Suite – $89/monthly per agent
Self-service knowledge base
Talk partner edition
Multiple ticket form
Dashboards and reporting
Social messaging
Omnichannel support
Enterprise Support Suite – $149/monthly per agent
Multi-brand support
24/7 live chat and phone support
Roles and permissions with skilled base routing
Chat widget and web SDK
Satisfaction prediction
Contextual workspaces
Other than the full-service support suite, Zendesk also offers more affordable option for smaller businesses, see below:
Essential – $5/monthly per agent
Team – $19/monthly per agent
Professional – $49/monthly per agent
Enterprise – $99/monthly per agent
Elite – $199/monthly per agent
Zendesk offers excellent features for its price tags, while they can be expensive, they do a great job providing affordable options for the smaller companies. For solid ticket management options and good integration solutions, this is an excellent customer service software that could make your business more efficient.
Groove is another cloud-based help desk software that is best for small and midsized businesses. The software helps it's users communicate with customers via email, live chat, social media, and by phone.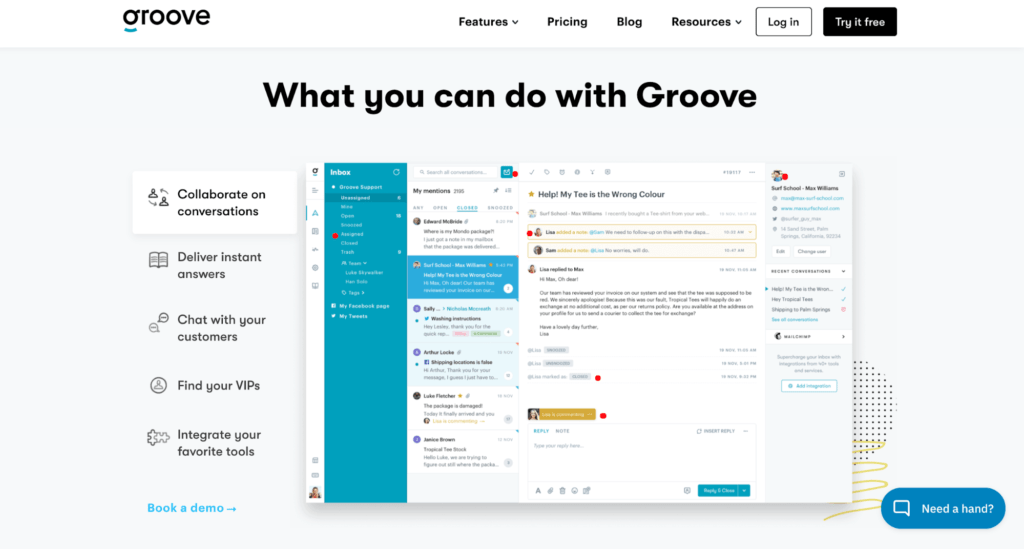 Users can converse through multiple channels on one platform. They also offer a reporting dashboard that displays customer support metrics.
Groove also offers an excellent knowledge base feature. It has nice looking themes. It is a fully customizable and responsive desktop platform with mobile capabilities. This tool is very crucial for those who want to offer customer self-service tools.
The key features Groove offers are:
Ticketing
Live chat
Knowledge management
Reporting tools
Customer self-service
Users can set up an online knowledge base for customers, and Groove does an excellent job of offering support widgets such as contact forms, live chat, and various integrations, including Facebook, Twitter, and more.
Groove standouts from the pack also with their collaboration tools, you can add internal private notes to discussions, and loop in teammates with assigning specific tasks to members on your team.
To get a better look into Groove's pricing and features see below:
Starter – $9/monthly
1 mailbox
Knowledge base
Web widget
Live chat
Assignments and mentions
Plus – $19/monthly
5 mailboxes
Reports
Rules
API access
40+ integrations
Pro – $29/monthly
25 mailboxes
Teams
WhatsApp and SMS
Software Integration
Groove also offers custom pricing for companies that require custom features. You can contact their sales team for a quote.
As stated above, Groove is best for small and midsized businesses, specifically startups, due to them offering special start-up rates online.
How to choose the best customer service software for your business
There are many features and considerations to keep in mind when choosing the best software for your business. Check out these few recommendations below before you purchase your software.
Size of Customer Service Team
Depending on the size of your team should dictate how big of software you will need and features you require. Smaller teams won't need advanced features, just simple ticketing. At the same time, larger businesses may need integration, collaboration, and advanced ticketing functions.
Ease of use
The implementation of your customer service software should be easy and user-friendly for your team. Will, your customer service team, be able to pick up the software quickly, or will it require much training and configuration.
Features
Every customer service software will offer lists of features and tools. While looking for software, you should consider your team needs, like live chat, CRM, automation, and integration.
Does your software offer essential features like:
Ticket management
Multi-channel support
Email integration
Automation
Customization
Reporting and analytics
Identify the feature you will need and choose the plan that will offer them. Some customer service software providers will offer customized plans for you.
Integrations
Do you want your software to integrate with CRM, social media, and other platforms you are currently using? Be sure to study up on the software plans to see how good their integration features are.
Price
The price for customer service software will be based on many factors. Many software providers will charge based on the number of customer service agents on your team. You can usually find this information on their pricing page.
The features in the provider's pricing plans will also have a significant impact on the price. If you don't need advanced features and tools, look for plans that just offer the features you need.
When it comes to customer service software, pricing plans can be pricey, but they are worth the purchase for what they can bring your business and team. No matter the size of your business, your customer service team can benefit from what this type of software offers.