The 5 Best CRM Software Tools You Can Actually Afford⁠—and How to Decide
There is a ton of excellent software dedicated specifically to customer relationship management (CRM). With so many great choices, you owe it to yourself to be happy with your CRM tools.
And no, they don't have to be expensive. In fact, some of the most powerful solutions are free forever⁠. Read on for five of our favorite affordable options.
The 5 best CRM software tools: reviews
Quick note: if you're an enterprise, we'd also recommend Salesforce and Microsoft Dynamics, two long-standing titans of CRM. All the bells and whistles, but at considerable cost.
If you're not looking at large-scale deployment or breaking the bank, you're in the right place.
Each of the five options below equips you with tools that are simple enough for immediate use, and are scalable when needed.
1. Nutshell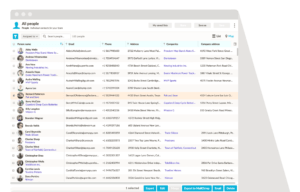 Want CRM software that everyone can start using quickly, no matter their technical proficiency?
Try Nutshell for its lack of startup costs, transparent pricing, and ease of use.
It's a lightweight SaaS CRM that works well on web and mobile. The feature set is flexible enough to accommodate a variety of sales strategies, and is highly extensible through integrations with Zendesk, Quickbooks, Slack, Constant Contact, and the like.
Setup is quick, usually less than a day, and you get free data importing support for the transition.
Nutshell isn't intimidating for first-time users, though it is very customizable. You can learn about the more powerful features as you go, and the customer support is great.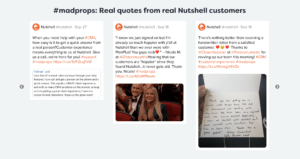 As most users bring themselves up to speed pretty quick, there's no need for an in-house expert. This separates Nutshell from Salesforce and other heavyweight CRM tools where you're going to have to budget in time for deployment and training.
In short, Nutshell is a low-risk starter home for small to mid-sized companies that have recognized the need for tighter customer relationship management.
Pricing:
Free version: 14-day trial
Starter: $19 user/month
Pro: $35 user/month
Pros: No hidden fees, unlimited contacts, no data limits
Cons: Sales automation features not available with Starter
Mobile app? Yes
Deployment options: Cloud
2. HubSpot CRM
HubSpot CRM is free forever and perfect for any company that wants to begin taking control of their customer data. Unlimited users, one million contacts, and it never expires.
Once it's installed, HubSpot hooks up to every point in your existing sales, marketing, and customer service processes. Deep integrations with the business systems you already use automatically import customer data from disparate sources into a centralized, always up-to-date database.
Customer email, phone, social, and chat conversations are all stored and curated for users whenever you search a contact. From Outlook or Gmail, you get relevant information about leads without having to dig around. It's all behind the scenes, so there is minimal initial disruption to your workflows.
In short, you get better control and more data to support your decision-making within the tools you're already using.
HubSpot also provides great dashboards and visualizations for your pipeline, sales reports, and a host of free templates to choose from.
Even better: it levels up your company website and mobile end-user experience. You get live chat, conversational bots, and ticketing capabilities so you can capture great information and look more professional doing it.
And the platform is designed to support inbound marketing, making it the perfect choice for companies that are onboard with that strategy and mindset.
Pricing:
Free version: Free forever, unlimited users and contacts
Sales Hub Starter: $40/month, includes 2 paid users ($50/month w/o annual contract)
Sales Hub Professional: $400/month, includes 5 paid users ($500/month w/o annual contract)
Sales Hub Enterprise: $1,200/month, includes 10 paid users
Pros: Powerful free CRM, ease of use
Cons: Costly to add paid seats to access advanced features
Mobile app? Yes
Deployment options: Cloud
A sales-focused CRM software, Pipedrive is either just what you're looking for, or not at all.
It's more than simply sales tracking software, but don't expect a full CRM solution, especially at the Essential and Advanced tiers. Group emailing and team management, for example, only come at the Professional tier and higher.
The tradeoff is that the sales-oriented tools are fantastic. Even at the Essential tier, you can build an unlimited database of contacts, capture sales data in custom fields, and build as many pipelines as you need. The deal rotting, duplicate merge, and deal management features keep you focused on the right leads at the right stage.
Integrations with Slack, Google, and Microsoft help you migrate important data and keep everyone on the same page. Full email and calendar syncing means you don't have to switch windows.
The interface is uncluttered and refreshingly simple. Users can quickly customize their pipeline to capture the information they need and then get back to their customers.
And it's available for Android and iOS. The app provides a summary every morning with a look at the day and week ahead. The functionality is great if you want to initiate, track, and close deals on the go.
The ultimate caveat with Pipedrive⁠ is that you don't need to spend much time getting it up and running, but it lacks the deep database capabilities of more mature tools like Salesforce or Zoho CRM.
Pricing:
Free version: 14-day trial
Essential: $12.50 user/month (or $15 user/month w/o annual)
Advanced: $24.90 user/month (or $29 user/month w/o annual)
Professional: $49.90 user/month (or $59 user/month w/o annual)
Enterprise: $99.00 user/month (or $99 user/month w/o annual)
Pros: No user limit at any level, ease of use, good mobile app
Cons: Lacking integrations
Mobile app? Yes
Deployment options: Cloud
4. Zoho CRM
Zoho is one of the fastest-growing providers of SaaS business solutions because their products are innovative, affordable, and deliver serious value.
One of their products, Zoho CRM, is a fantastic tool that will help you take control of your business processes and nurture customer relationships. You get integrations with Microsoft 365, G Suite, Mailchimp, and more than 300 other apps to customize that experience to your needs.
As with any mature CRM, it takes some time to find your way around, but Zoho's design is intuitive enough to get started on business-critical tasks right away.
Each tier of Zoho CRM includes a competitively priced suite of features that empower your management of the entire customer relationship lifecycle. The dashboard centralizes your calendar, contacts, leads, deals, into a 30,000-foot view of your pipeline. The collaborative features are strong too, with direct messaging, status updates, and tagging.
You can even host digital sales meetings and report feedback from within Zoho CRM.
Overall, the extensibility and pricing structure make this a long-term but cheaper alternative to Salesforce.
Pricing:
Free version: Free forever, 3 user limit
Standard: $12 user/month (or $18 user/month w/o annual)
Professional: $20 user/month (or $30 user/month w/o annual)
Enterprise: $35 user/month (or $45 user/month w/o annual)
Ultimate: $100 user/month
Pros: Budget-friendly, robust, extensible
Cons: Hard for some users to find their way around at first
Mobile app? Yes
Deployment options: Cloud
5. SugarCRM
What makes SugarCRM unique is its no-touch, time-aware customer experience (CX) platform. Data from millions of customer touchpoints are automatically aggregated, screened, and turned into useful insights.
You can capture critical information from every channel with minimal data entry, then deliver real-time information to your teams that helps them nurture leads and visualize opportunities.  
SugarCRM works seamlessly with many of the apps you already use⁠—for example, leverage your customer database in Outlook or Gmail to send messages in context. Sales managers can make sure clients are assigned the same reps for consistent communication and relationship building.
Sugar Professional and Enterprise can be deployed in the cloud or on-premise, and have tools to support sales, marketing, and customer service. Additionally, SugarCRM has advanced solutions for specific needs, including:
Sugar Market: Marketing automation platform, starting at $1,000 month/10K contacts
Sugar Sell: Sales automation platform, starting at $80 user/month, minimum 10 users
Sugar Serve: Customer self-service portal starting at $80 user/month, minimum 10 users
Perhaps a major plus: SugarCRM supports 30 languages and provides a language-pack framework that allows developers to add more.
Pricing:
Free version: 7-day trial
Sugar Professional: Starting at $52 user/month, minimum 10 users
Sugar Enterprise: Starting at $85 user/month, minimum 10 users
Pros: Excellent automation and multichannel data collection, easy on-premise solution
Cons: Costly to add mods for advanced reporting
Mobile app? No
Deployment options: Cloud or on-premise
How to Decide on the Best CRM Software
The people who use CRM software have to see the benefits⁠—or else they won't use it. (Trust me.)
And shouldering additional monthly per-user costs is nothing to take lightly.
So, follow these steps to ensure you're choosing the right product.
1. Identify your needs
Reach out to all key stakeholders⁠—depending on your situation, that might not only be users⁠— and see what features they want. Get a sense of both the UX and the capabilities they're looking for.
What about needs at the business level? Be specific about the customer interactions your business needs to capture in order to reach your goals, optimized for your sales cycle and customer journeys. If sales are important to you, a sales-focused product like Pipedrive would deliver the key data you need to steer the business. If nurturing is important to you, you might prefer something like HubSpot.
2. Contact sales for a quote
CRM pricing can be hard to pin down, and companies are constantly updating available features. The best way to find out the true cost of implementation is to get a quote.
Tell them everything you're trying to do and have them price out a few options. Don't forget to ask about add-on costs for things like data usage and support.
Also, see if they are willing to let you try advanced features not included with your trial. And never be afraid to ask for an extended trial (14 days is shorter than you think).
3. Prep for your trial
Once you've chosen a CRM software you're excited to pilot, set a time to get everyone on board. Make sure they know what to expect and why. As a team, focus on what you want to accomplish and develop concrete metrics to measure your progress.
Even the most intuitive products take some getting used to, so schedule your trial to begin when people aren't already overloaded.
4. Get feedback
Do people like using the new software? Why?
Get feedback early and often. Empower your power users. Some people are exceptional with new software and might have insights to offer their coworkers when they're stuck.
If you're using a free forever version, you may be able to get by for quite some time without having to make a financial commitment. You should still be getting feedback, though, to make sure it's worth the investment.
5. Be honest
Best case scenario, you choose the perfect CRM tool for the job. Your employees and customers thank you for improving their experience.
What happens if it's not a perfect fit?
Go back to identifying your needs and contacting sales. At this point, you have a much better sense of what works for you and your team. As long as you've been getting feedback, you know the time has not been wasted.
6. Commit
Once you have a product that is working for you, why not figure out how to make it work even better?
Try instituting training and build company-specific knowledge about how to get the most out of your CRM software. This is good for new hires and helps create a seamless experience for your customers during employee turnover.
Final thought: you're the customer when it comes to CRM software
Maintain an honest relationship with your vendor. Let them know what's not working and be candid about features you want to see. They should want to help. It's a red flag if the software is not supporting you the same way you want to support your customers.