The 5 Best Content Management Tools and How to Decide
Finding the best content management systems for your business could get REALLY tricky.
And the large number of CMS tools in the market, today, doesn't make things easier.
So, the REAL puzzle is:
Knowing how to pick the best content management system most suitable for your content strategy.
With that, you'd be publishing QUALITY and ENGAGING content in no time!
The good news;
In this post, we'll be taking you through the top five content management systems.
Also, you'll be seeing a detailed step-by-step guide that will likely make your buying decision easier.
Let's begin.
1. WordPress
Over one-third of all websites globally use WordPress. So, it's one of the most popular content management systems today.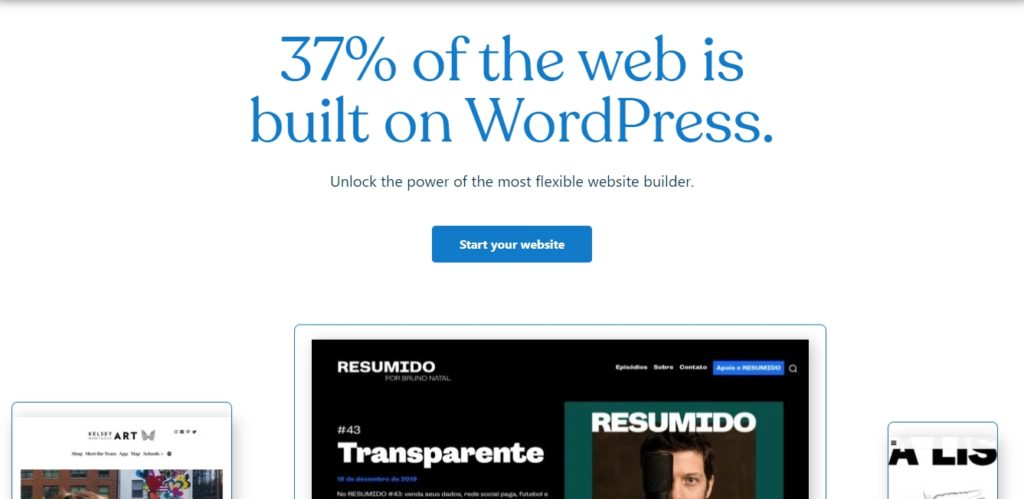 Who Is It For?
After launching in 2003, WordPress grew from a mere blogging platform to a full-scale CMS.
Moreover…
Many bloggers and e-commerce merchants began to use it because of its design and user-friendly framework.
But how did it become so popular?
Two major reasons:
It's a free and open-source platform. You can build your website for free with WordPress and STILL modify its code to fit your requirements. But this has two sides to it—which we'll be talking about later here.
The platform gives you the freedom to customize your website's aesthetics and user-interface.
But you must know this:
There are two versions of the CMS:
WordPress.com: there's a free version with some limitations or you can upgrade to a paid version that gives you a complete website. For instance, you can't pick your own URL when using the free version here.
WordPress.org: this is a completely free, open-source version of WordPress. The easiest way to get access to this version is to sign up for any major web host and they'll let you install it on your hosting server with a few clicks.
Price
As long as you use any standard web host, you'll never have to pay anything to install WordPress on it. That means you'll have full control of your site and content management platform. You can literally customize the code and do whatever you want with it.
Many web hosts charge as little as $5 per month and that includes everything you need for your website, including a free domain.
If you want WordPress.com to run your entire website for you, plans start at $4 per month.
Features
WordPress features thousands of different plugins that you can install. That allows you to add pretty much any feature you could ever want.
It's also built for SEO right out of the box. You'll have a much easier time ranking for whatever keyword you're going after.
But WordPress has its concerns.
Earlier, we spoke of the openness of WordPress. Well, it's time to expose its dark side.
WordPress faces a lot of security vulnerabilities and hacks. And it happens more often than other content management systems.
Why?
It's an open-source software, and a lot of developers have access to its source code. So, it's more exposed to malicious attacks.
But there's a way out.
Update! Update!! Update!!!
Oh yes! We can't overemphasize.
By updating your theme, add-ons, and plugins regularly, you'd become more hack-proof.
Pros
WordPress.org has a wide range of themes
A great option for eCommerce websites, thanks to WooCommerce
It's SEO ready
The sites are mostly mobile-friendly
Less expensive compared to hiring a professional
Cons
Security is a significant challenge
Some updates may require additional coding knowledge
2. Wix
Wix could be a great choice for you if you're on a tight budget.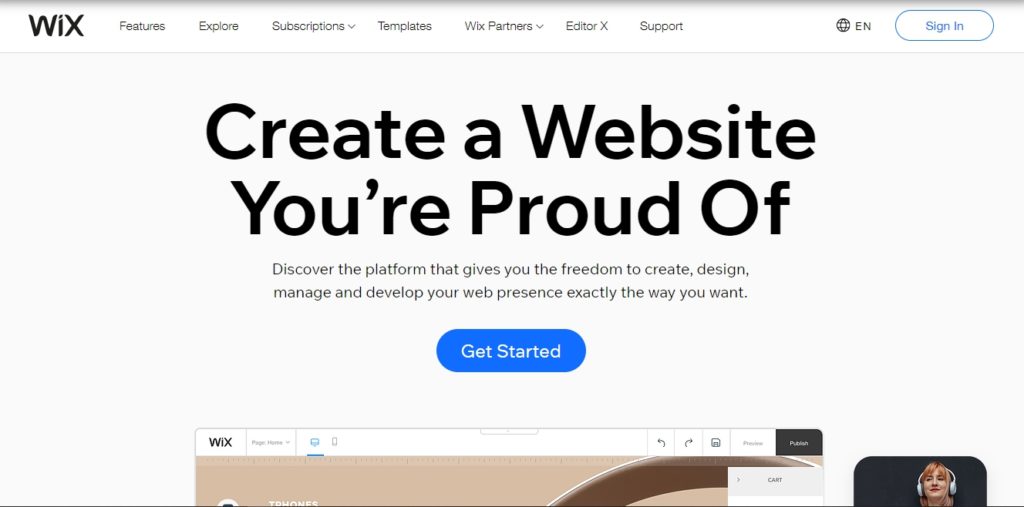 Who Is It For?
It's an easy-to-use drag and drop website builder designed for:
Small businesses
Religious organizations
Portfolios
Restaurants
eCommerce
Consider trying Wix if you can't STAND the sight of codes. And you don't want to get overwhelmed by your website's backend.
Wix has no pre-built template limitations. It adapts to a wide array of industries. So, you're most likely to find a pre-built template suited for your business.
But here's the thing.
You may get stuck if you're looking for a CMS that comes with a wide range of options. Based on its model, you won't get as many add-on options as WordPress.
Price
The most affordable plan is the "Connect Domain," which costs $4.50 per month. It also has the "Combo," "Unlimited," and "Pro" plans, which are $8.50, $12.50, and $24.50, respectively.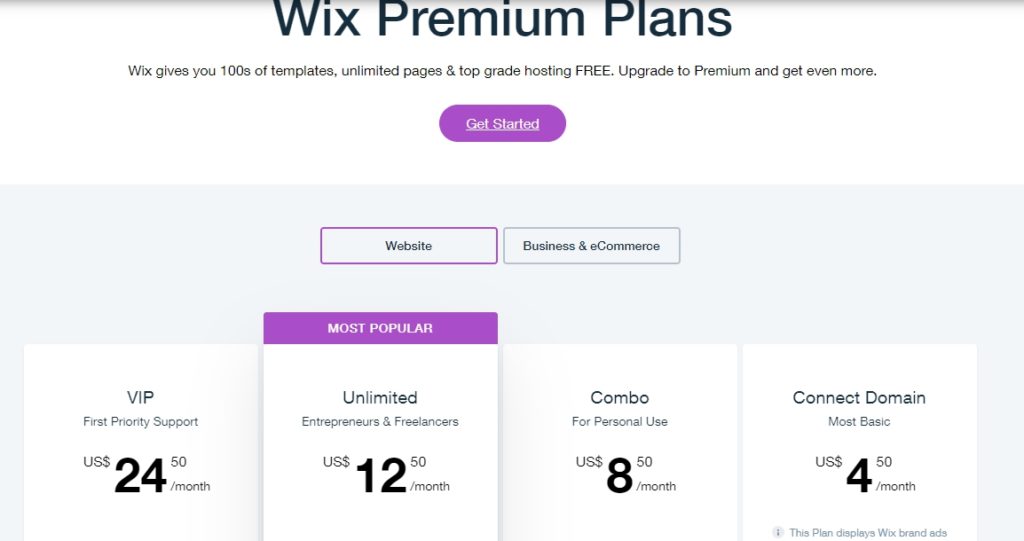 The most popular plan is the "Unlimited" designed for entrepreneurs and freelancers.
For businesses and eCommerce, the price plans range from $17 to $35 per month. The "Business Basic" and "Business VIP" are the cheapest and most expensive plans, respectively.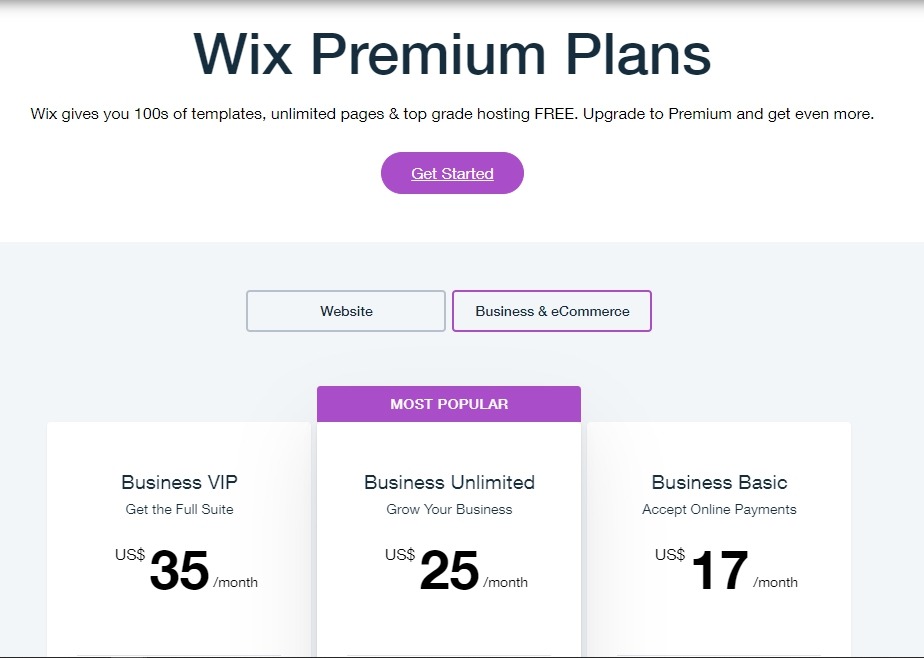 Wix markets the "Business Unlimited" as the most popular plan designed for growing businesses.
Features
Wix may not have a ton of features like most content management systems. But it does a great job when it comes to customizing your site.
With Wix, you can create animated texts and images on your website to engage your audience more. You can also tailor your site to meet your brand requirements.
There's more…
Navigating around the platform is easy. Plus, you can manage multiple sites with one account.
The eCommerce automation of Wix is SUPER simple to set up. You won't have to bite the bullet!
Pros
Animation abilities
The site editor is user-friendly
Affordable prices and excellent value
Easy navigation of pages
Cons
Page loading speed is slow
Not open source—limited to few options
HubSpot CMS is the Holy Grail for marketers and salespeople.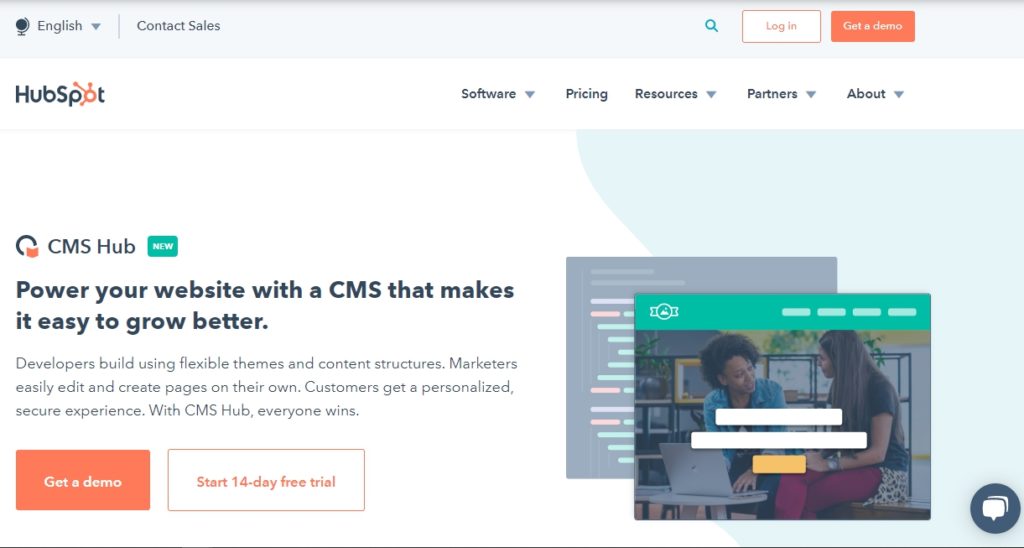 If you're going to be creating content-focused pages, you should consider HubSpot.
Beyond website building, HubSpot CMS comes with a range of marketing tools that helps to grow businesses.
Who Is It For?
Designed with a marketing edge, HubSpot is an excellent choice if you are a:
Marketer
Content creative
Newbie web builder
eCommerce Startup
HubSpot comes in handy when you need to implement inbound marketing for your eCommerce business. This tool is great for generating leads, reporting web analytics, nurturing sales, and customer retention.
But that's not all.
With this CMS tool, you won't be touching any code. So, don't freak out!
Also, HubSpot's dashboard is user-friendly. Editing and publishing are SUPER easy with this tool.
Price
HubSpot is a bit pricey. But, if you have to consider its all-in-one marketing solution, the cost may mean nothing.
It has three price plans; "Starter," "Professional," and "Enterprise" going for $40, $800, and $3,200 per month, respectively.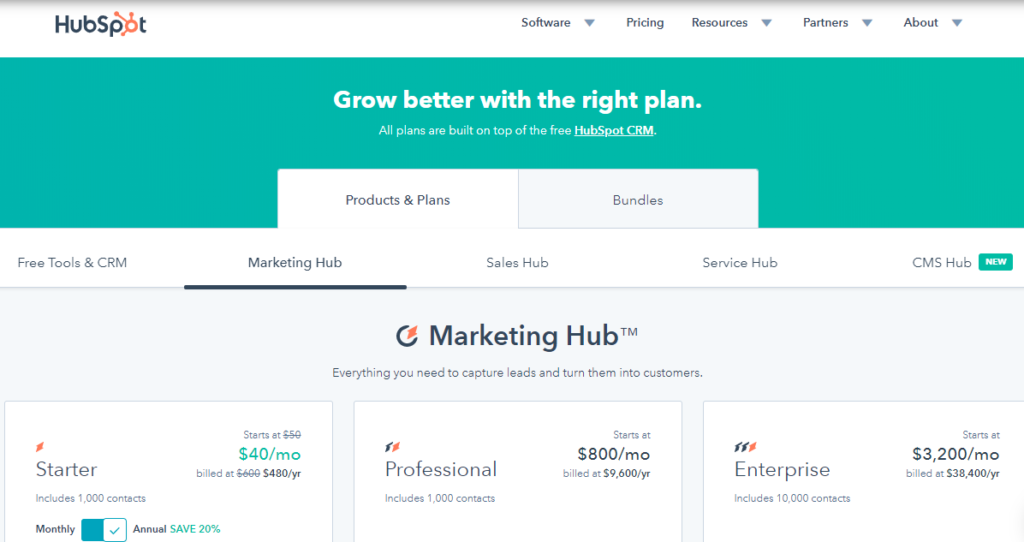 It also has a special package called the "Starter + CMS Hub Professional," priced at $350 per month.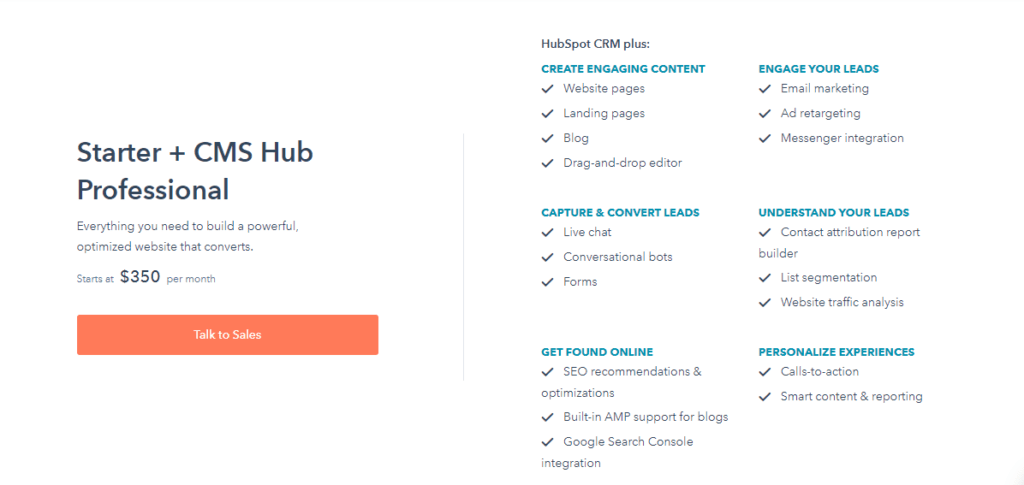 HubSpot's claim: "this package has everything to build a powerful website that converts consumers."
Features
HubSpot CMS has a robust list of features that creates a smooth customer experience.
You'd like the HubSpot CMS if you aim to work with an easy website builder. But you may not be impressed with its small selection of templates.
With HubSpot, you can carry out A/B testing—which is one of its strengths. Also, it will help you with your site's SEO.
There's more…
The transition from an existing to a new website is smooth with HubSpot CMS.
One more thing.
You don't have to stress about sourcing a third-party hosting. It has a standard hosting—which comes with your subscription.
Pros
Comes with robust marketing tools
Helps with lead management
Mobile optimization
Integrated Hosting
Cons
Limited to a few templates
You don't completely own your site
4. Bolt
Bolt is the ideal CMS tool for creating streamlined content.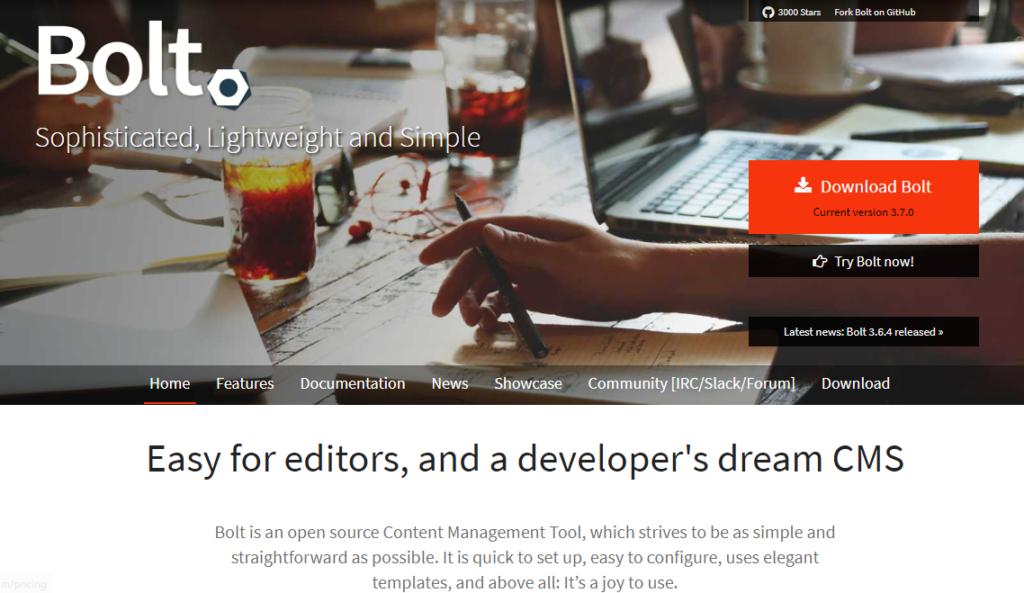 Yes, the CMS tool may not be a household name. But the creators had non-coders in mind when they built it.
Bolt gives you the power to customize your website as you choose. And it's an open-source platform like WordPress.
Who Is It For?
Bolt is a great CMS tool designed for small businesses that focuses a lot on web-page curation and content strategies.
It's also a great tool in the hand of web developers that like to tweak a few lines of code.
Price
Bolt is ABSOLUTELY free! Yeah, you read right.
And the creators have no plans of changing that in the future.
Features
The basic Bolt package may not cut it for you.
Hence, you may have to settle for the available extensions of the tool. But that doesn't mean the CMS tool doesn't deliver.
Bolt has a slick interface design. And all the functional buttons are quickly accessible.
The interface hides options that aren't available to avoid clutter.
But here's the kicker.
Image uploading on Bolt is easy. Plus, uploaded photos get cropped and resized to the perfect size automatically.
Similar to WordPress, you can assign multiple roles on Bolt's dashboard.
That way, you can perform specific tasks like:
Giving your editors access to certain content
Allowing the admin to handle all frontend actions
Letting your developers view the backend and make edits to the template
Pros
Open-source CMS
Mobile responsive
Clean and sleek interface
Cons
Resources are fewer
May require a bit of coding
5. Squarespace
Squarespace CMS has the edge over some of its competitors—thanks to its customer support and aesthetics.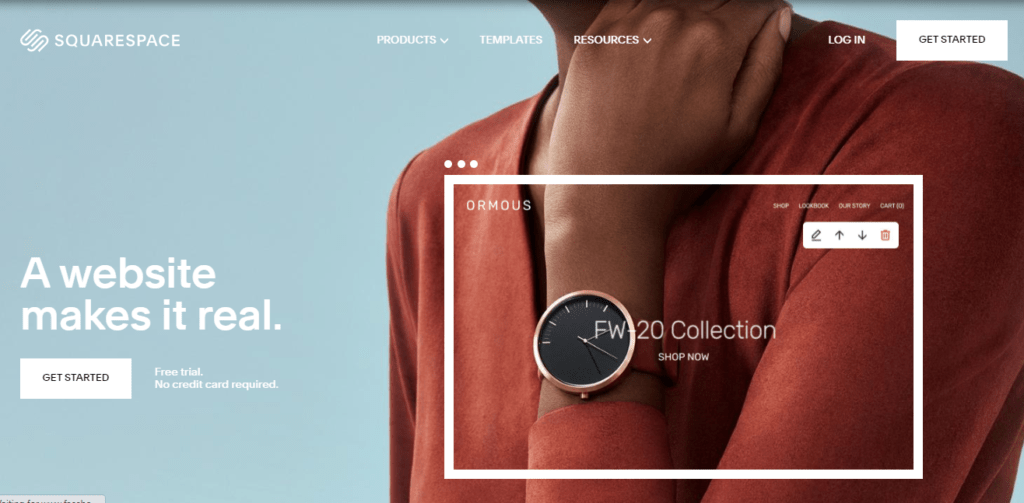 But those are not its only strengths.
Squarespace is an earnest choice for people who want to create beautiful websites without coding.
Who Is It For?
Squarespace is ideal if you're a creative that wants to build your portfolio.
With the CMS tool, business owners can build eCommerce stores—without knowing how to code. And it's an excellent choice for bloggers.
The best use of Squarespace is to showcase creative work. Hence, it's an ideal go-to for photographers, artists, etc.
However, Squarespace lacks apps or widgets. But it makes an excellent option for modest site builds.
Price
Squarespace comes with a 14-day FREE trial that DOESN'T require your credit card.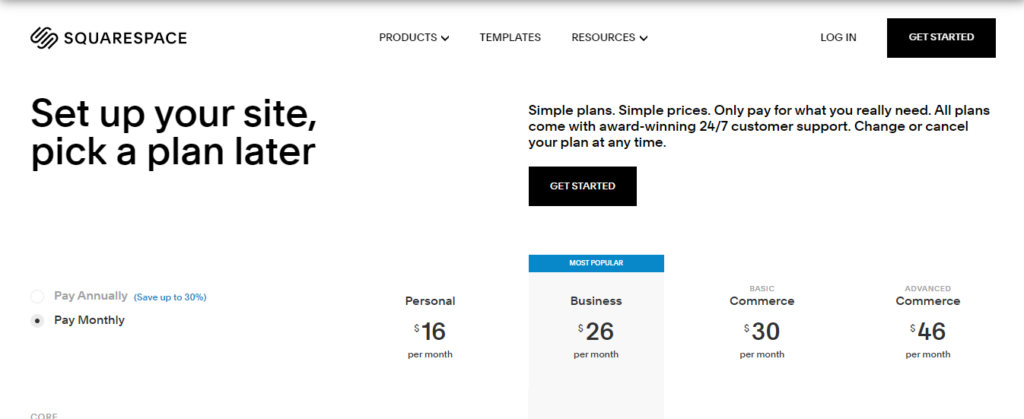 It comes with four price packages:
Personal – $16 per month
Business – $26 per month
Basic Commerce – $30 per month
Advanced Commerce – $46 per month
Features
Squarespace has over 100 website templates, which gives you a wide range of options. Depending on your industry, the tool has cool and smart themes that can help you represent your brand.
You can integrate third-party extensions into your Squarespace website.
There are extensions for:
Automating returns
Account syncing
Boosting your social media traffic
Tracking shipments
Also, you can monitor your site performance with Squarespace's web analytics.
That way, you can view your traffic and keyword ranking.
But here's the big one.
Squarespace has got an integrated blog system that manages and schedules posts.
Sounds interesting, right?
Of course. Blogging made easy!
You can also assign multiple users to edit the content on your platform.
Pros
Efficient support via 24/7 live chat
Tons of professional templates available
Great tool for creating portfolios
Cons
No third-party integrations
How to Pick Your Content Management System Tool?
Choosing the best content management systems suitable for your business is quite sensitive.
So, picking something that works ISN'T enough! You need a tool that's MOST suitable for your needs.
In this section, we're going to look at a few factors to consider when picking the perfect tool for you.
1. Define the Goals of Your Website
It's the perfect way to start.
You need to understand the reason behind the website.
Are you creating the website for your eCommerce store? Do you intend to ONLY post your portfolio online—as a creative? Are you planning to build a simple company info website? Or you're just a blogger looking for a platform to share your passion?
It's crucial to answer any of these questions before moving on.
That way, you will get a CLEARER picture of your website goals.
Then, you can choose a CMS tool based on its functionality regarding your goals.
So, if you're a photographer that needs a website to upload your portfolio, you can't go wrong with Squarespace or Wix.
If you're into marketing, especially in a sophisticated way, HubSpot CMS can do the job.
WordPress will be a great choice if you're planning to start an eCommerce store or restaurant.
Or better still, you can go for Bolt CMS if you're running a non-profit organization.
2. The Usability of the CMS Tool
Knowing the usability of the CMS tool you intend to get is crucial.
So, you need to ask these questions.
Is it user-friendly for a newbie with no knowledge of coding? Do you have to be a coder to use the CMS tool?
Fortunately, you don't have to be a coder, primarily, to use the content management systems listed in this post.
But, if you like to make a few tweaks at the backend, as a coder, you can go for WordPress or Bolt. They are open-source.
If you want a controlled system, go for Wix, Squarespace, or HubSpot. They are 100 percent controlled by the creators. No tweaking of any sort!
3. How Customizable Is the CMS Tool?
The next thing to check is the customizability of the CMS tool in question.
You need to know if you can add third-party extensions or integrate plugins to improve your business productivity.
For instance, if you run a business or an eCommerce store, it's most likely that you're already using an email marketing tool to reach your subscribers.
And it's annoying if you can't integrate your pre-existing email marketing tool to your new CMS.
That's where open-source platforms like WordPress and Bolt outshine others. They allow you to add existing extensions and integrate plugins.
If you're going to use a tool like HubSpot that is an all-in-one marketing solution, then you may have to ditch your existing tools.
It can be frustrating if you're used to your old email marketing tool.
So, you've to be sure of what you are doing before making your choice.
4. Can You Afford the Price of the CMS Tool?
Of what use is a CMS that meets your site goals—with its user-friendliness and customizable features—but it's STILL above your budget?
Do you want to know the answer to that?
Simple! Get a CMS that offers you the above features at an affordable price.
For starters, if you're looking for a completely free CMS, Bolt is the perfect go-to.
Wix CMS is affordable, especially if you're a startup on a lean budget. To save more cost with this tool, subscribe to the annual plan. Squarespace does a similar thing too.
WordPress is another free tool—but not entirely unless you want to use the limited WordPress.com.
If you're going to enjoy the best of WordPress, go for the WordPress.org version—which requires you to buy premium themes, plugins, and suitable hosting.
HubSpot may cost you a fortune, but they will handle everything for you.
5. How Is the Technical Support of the CMS?
Now, you've ticked all the boxes for website purpose, usability, customizability, and pricing.
The next thing is to look out for the support provided by the CMS.
If you're going for SaaS content management systems like Wix, Squarespace, or HubSpot, you can get 24/7 customer support.
For open-source CMS like WordPress or Bolt, you'll have to rely on their community forum to get help from other experienced users.