The 5 Best Construction Management Tools
There are many excellent construction management software tools out in the market right now. The best ones will come with a well suited ERP software that provides financial accounting and operational modules designed with construction management contractors in mind.
Construction management software is usually a combination of applications that help contractors, engineers, project managers, and architects improve decision making and strategies when planning, building, and directing tasks management in construction projects. These software applications will usually include contractor management, job cost accounting, project organization, and estimating and bidding.
If your projects require commercial, residential, or industrial work, the right construction software will help you plan specific tasks and objectives, gain control of job costs, and create better estimates.
When it comes to construction management software, general contractors and subcontractors are offered a wide range of features. While some contractors may only need basic bookkeeping software that will calculate simple tasks, others may want an all-in-one ERP software with advanced features.
With so many construction software options, it can be confusing to decide which option is best. To help you find the best solution, I have researched and put together a list of the best construction management software currently on the market in 2020.
To find out more about construction management software features, pros and cons, and which software will best fit your needs, continue reading.
This construction management software is the best for companies that are consistently growing and need an integrated ERP software to manage their business. Companies that are growing to the point where they can no longer oversee every job personally usually find that Sage is a great software choice.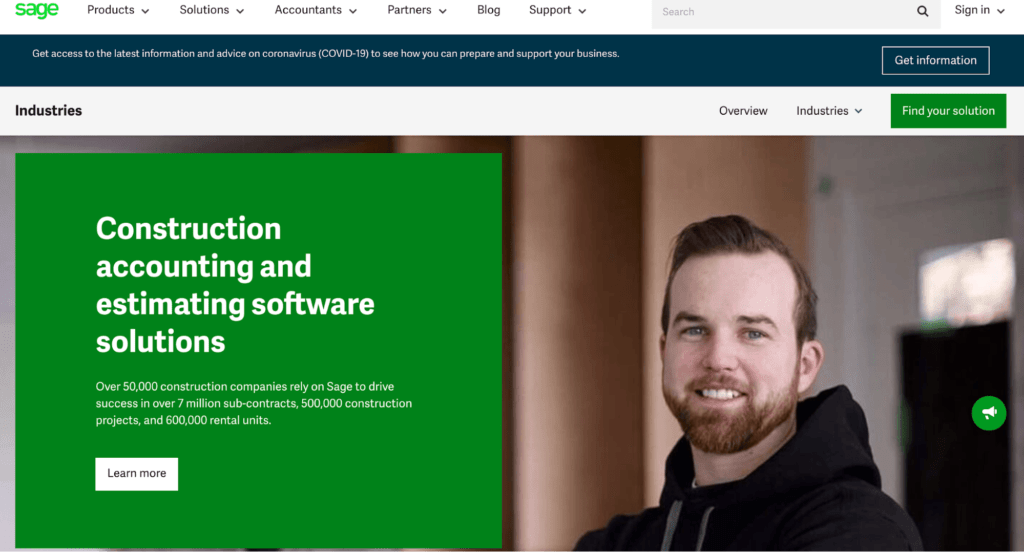 Sage is an all-in-one solution with all the information you may need to manage your construction company and employees, and accessible on the go. This cloud-based software allows you to manage all projects, estimating, service operations, and accounting duties.
This software was meant to help you handle the most critical aspects of your business, like job costing, payroll management, and project management.
When creating a Sage 100 contractor account and access the dashboard, you will receive the data you need to manage and monitor your business. Some of the most essential functionalities and features are listed below for you.
Estimating
Job costing
Inventory management
Project management
Accounting & Bookkeeping
Time tracking
Integration
One of the features users favors the most is the project management module. It immediately gives you access to documents and task lists, operation status, daily field reports, and correspondence. You can also share and access documents, collect and approve employees' times.
The estimating module is also a favorite. It gives you easy access to manage budgets and complete bids. You can also export budgets, estimates, subcontracts, and purchase orders.
Sage Contractor has a wide range of integrated modules, and It has a user-friendly interface to make it easy for you to learn the software. It also accommodates unlimited simultaneous users, which cannot be said about other construction management software choices.
When it comes to pricing, Sage Contractor is sold on a per-seat basis. It's fees start around $115/monthly per user, if you desire a plan for other users or need more add-on modules, you must contact the provider to request a customized quote.
Like most ERP software, you will have to contact Sage to get a quote based on your needs.
Although this software is a bit more expensive than its competitors with its add-on modules, and features that are sold separately. Sage Contractor is the best overall construction management software that can meet your business's needs.
If you need an ERP with QuickBooks and Bookkeeping integration, this software is right for you. A great thing, this software is risk-free to try with a 30-day money-back guarantee.
BuilderTrend is another cloud-based construction management software that will help you manage projects, track billing, create estimates, and more. Some of the most important features of this software include purchase orders, payment processing, and accounting integration. This software tends to be best for homebuilders, specialty contractors, remodelers, and commercial contractors.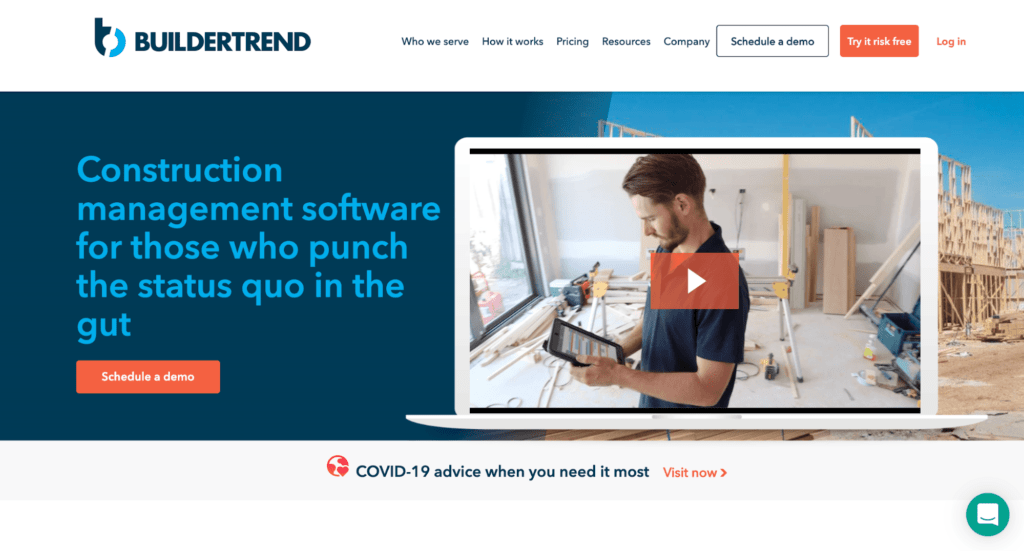 BuilderTrend serves as a platform that combines accounting, financial management, project management, and presale management all in one. After registering, you will quickly receive all of the features and programs associated with your pricing plan.
This software integrates well with QuickBooks, Dropbox, Google Calendar, iCal, Cadsoft, Clear Estimates, and more.
While it does integrate with many types of software, users have spoken on negative reviews that the software does not integrate with many accounting software options.
See below for a list of features and additional add-ons that BuilderTrend offers.
Invoicing
Payment processing
Bid management
Accounting integration
Data reporting
Bid requests
Estimates & Proposals
Leads/CRM
Email marketing
BuilderTrend offers three plans, Core, Pro, and Premium. The fees will start at $299/monthly and go up from there. The differences between the plans are the advanced features and add-ons it comes with. Some advanced features that will costs extra are online surveys, bid requests, and change orders management.
Like Sage 100 and other construction management software, you will have to contact the provider to get detailed pricing and specifics on features. You can find that information by requesting a demo at BuilderTrend.
BuilderTrend is excellent when it comes to project collaboration, especially linking the builder and the client. It is a great entry-level construction management software for small to medium-sized construction companies. The interface is straightforward, but some users think it is too basic for larger enterprises, for users with novice technical skills, this software is the best choice.
Fieldwire is a construction management software for small to large construction teams. This software allows you to coordinate efficiently and collaborate in real-time. Fieldwire is said to have a great mobile application as well. One of the best things about this solution is that they offer a free plan to get started.
Fieldwire also allows foremen and engineers to collaborate with the mobile workforce and share files, blueprints, and RFI's as needed.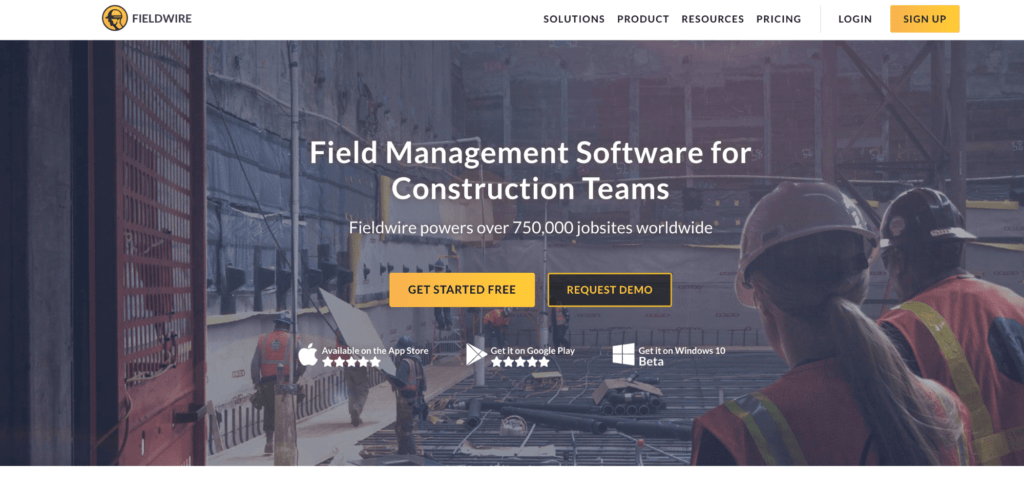 The software also offers task management functionality that gives you the ability to track project timelines and progressions on-site and daily. You can manage all quality control and inspections through the solution, this allows you to record updates with comments and hyperlink attachments.
See the list of features that Fieldwire offers below.
Task management
Scheduling
Inspection management
Plan viewer
As-built drawings
Custom Construction forms
Punch list
Fieldwire is best for general contractors, specialty contractors, construction project owners, and Architects and designers.
Fieldwire offers transparent pricing with three plans.
Basic – $0/monthly (5 user limit)
Pro – $29/monthly per user
Business – $49/monthly per user
Premier – $89/monthly per user
If you need custom plans, you can contact the Fieldwire sales team.
Fieldwire is another reliable construction management software. Their free version allows up to 5 users and 3 projects; if you are a smaller company, it is excellent to test the features and solution.
Jonas construction management software is a customizable solution for small and midsized service contractors. The software offers accounting, work orders, scheduling, communication between dispatch and technicians. Jonas construction provides more than 40 modules to help manage every aspect of your business.
This software stands as a fully integrated cloud-based software that allows it's users to manage projects effectively. You can collect and track job costs, automate accounting tasks, and much more. Some of the features include inventory management, mobile solutions, and job scheduling.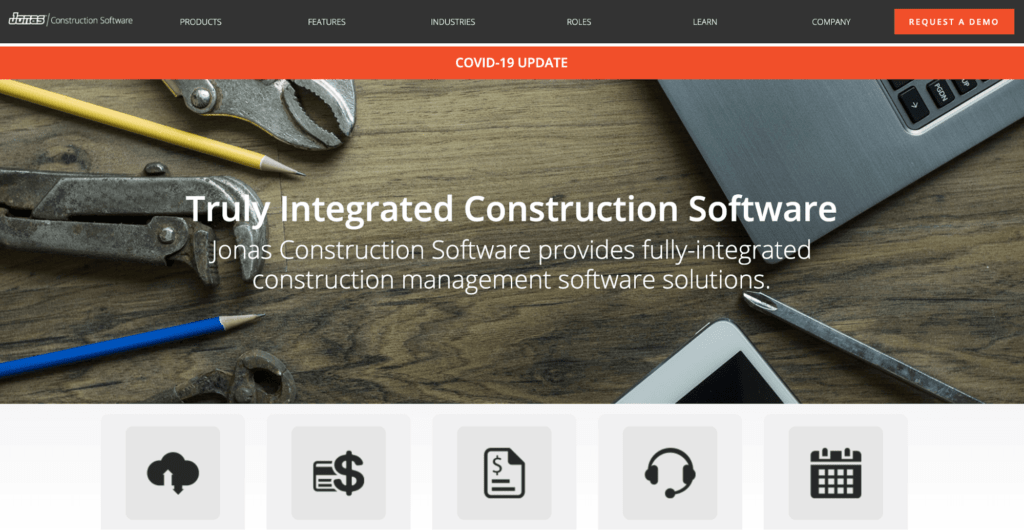 Their dashboard or project scheduler is a user-friendly module. It gives you a real-time view of your project's timelines and progresses. It is built-in scheduling software that displays the start and finishes dates of your projects, percentages complete, slack time, and critical and non-critical activities.
One of the best features of Jonas Construction is their customer support. They offer unlimited customer support by phone or email and, emergency support is 24/7. They will provide expert guidance on job costing, accounting, service contracts, etc.
Jonas Construction has a pretty good amount of features, see the list below.
Over 40 modules
Accounting
Job costing
Dispatch scheduling
Track time
Equipment management
Service contracts
Just like most of the construction management software providers, Jonas Construction does not display any pricing information on their website. You will have to contact their team for a quote.
Jonas Construction is best for established businesses or contractors; with its vast amounts of features, it could be overwhelming to smaller businesses or contractors with not so many properties. It is powerful software that can improve the efficiency of your business.
QuickBooks offers a desktop contractor edition and an online plus version, which both are great for small construction companies and self-employed contractors looking for less expensive cloud-based software.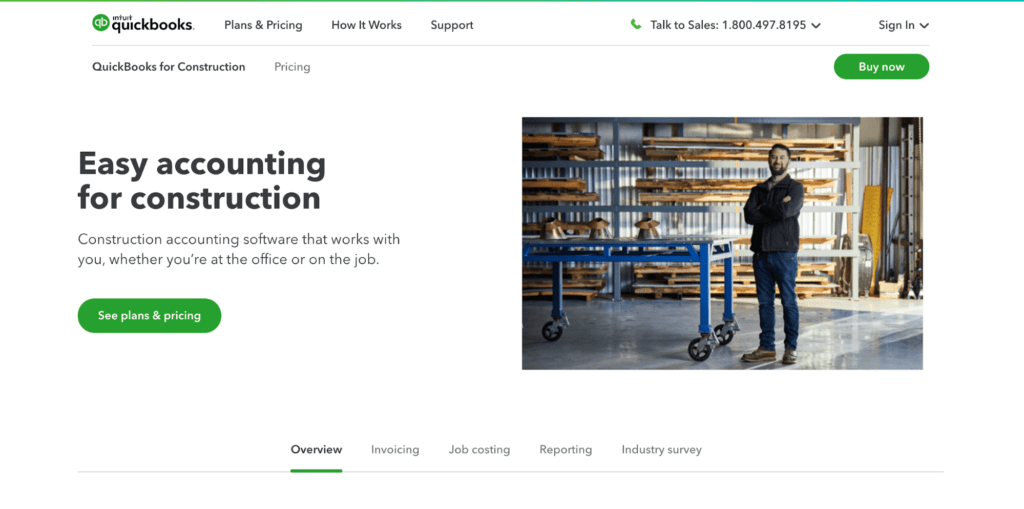 QuickBooks Desktop Contractor
Though this solution is very affordable for smaller construction companies, it does not offer the integrated features of ERP software. The ERP software option is not a great need for smaller companies when the owner personally oversees the operations.
The best module of this software choice is job costing, along with excellent accounting features. This software was specifically made to tailor the construction industry. It includes features like reporting to help budgets and accounts and cost for larger jobs, also all of the features that are offered come at no additional costs.
QuickBooks Contractor is best for general contractors and subcontractors that struggle or spend too much time tracking the costs of individual jobs if finishes projects efficiently. See below for a list of features this software offers.
Accounting
Time tracking
Budgets
Job costs
Reports
Estimates
QuickBooks Contractor is industry-specific, you can either pay a one-time fee or an annual "Plus" subscription. The costs are $499.95 one time fee for a program that is supported for three years.
To receive more information on this plan and premier contractor edition features, you will have to contact the QuickBooks team.
QuickBooks Online Plus
QuickBooks Online Plus is best for small companies and self-employed contractors that are looking for less-expensive cloud-based software.
QuickBooks has received many awards for their excellent accounting software. While there are other less-expensive versions of QuickBooks Online, contractors need the Plus edition to track costs by job.
With the user-friendly dashboard and effortless accounting integration and share books, this software does not allow estimates to be converted into invoices. Also, there are no customized workflows. Again, this software is best for smaller companies and contractors with no need for advanced features the other construction software providers may offer.
You can expect the same amount of features as the QuickBooks Contractor edition.
In regards to pricing, there are two plans offered.
Essentials – $40/monthly up to 3 users, no job costing included.
Plus – $70/monthly up to 5 users.
For more information on pricing plans, benefits, and additional features, visit QuickBooks.
How to Choose a Construction Management Software
Define your business needs
One of the essential factors is considering what your business may need before purchasing construction management software. By doing this, you will be able to weed out which features you will need that support your activities. Do you need ERP? Are you in need of integration, consider your needs and then make a decision.
Intuitive interface and user-friendly dashboard
Construction management software could be confusing and filled with advanced features that may be hard to understand. You will want a user-friendly solution with an easy to use interface that you and other users can be comfortable with. It would be wise to choose software that has easy to use or has excellent customer support that will guide you through the features.
General accounting
The construction management software you choose should have excellent accounting features. It should be able to invoice customers, manage unpaid bills, import and handle bank account activities.
Integrated job costing
Understanding your profit or loss you or your business makes on particular projects is important. This feature should be able to identify inefficiencies and decide how to bid future jobs. Integrated job costing features ensures that every expense on your books is assigned to either a job or overhead.