The 5 Best Compliance Software Options & How to Decide
Living in the world of Big Data, we have tons of digital information to keep track of, manage, and make sense of before putting it to proper use—none of which would be possible without a dedicated software program.
Compliance software, for one, allows compliance teams to operate at maximum efficiency. It simplifies compliance terms for employees, which is particularly helpful considering the ever-looming threat of serious fines, penalties, and sanctions.
While there's no doubt these tools can help mitigate these risks, you must ensure to choose the right compliance software based on your requirements.
Keep reading as we discuss five of the best compliance software tools that will help you get the right information to the right people at the right time.
VaultCore is the go-to option for the federal, state, and local governments. But it can also be a useful tool for businesses operating in the health, automotive, telecom, IoT, banking, transportation, and education niches.
This compliance software is the world's only encryption key management solution designed to automate the key lifecycle process. It can also deliver the capacity to support tons of keys and offer seamless network integration to protect assets from sudden attacks on devices and infrastructure.
In addition to compliance management, VaultCore comes with several useful tools including audit management and audit Trail, encryption, endpoint management, HIPAA compliant, ISO compliance, and financial data protection to name a few.
Moreover, the software leverages interoperability through vSAN and VMware vSphere to encrypt virtual machines by using a policy engine to regulate cybersecurity via customizable policies.
Pros
Value for money
Discreet operation
Simple interface
Cons
Setting up SSH keys can be difficult
Tends to hang at times
Pricing
VaultCore offers a 30-day free trial. However, pricing information isn't listed on its site, so you'll have to contact the sales team for more information.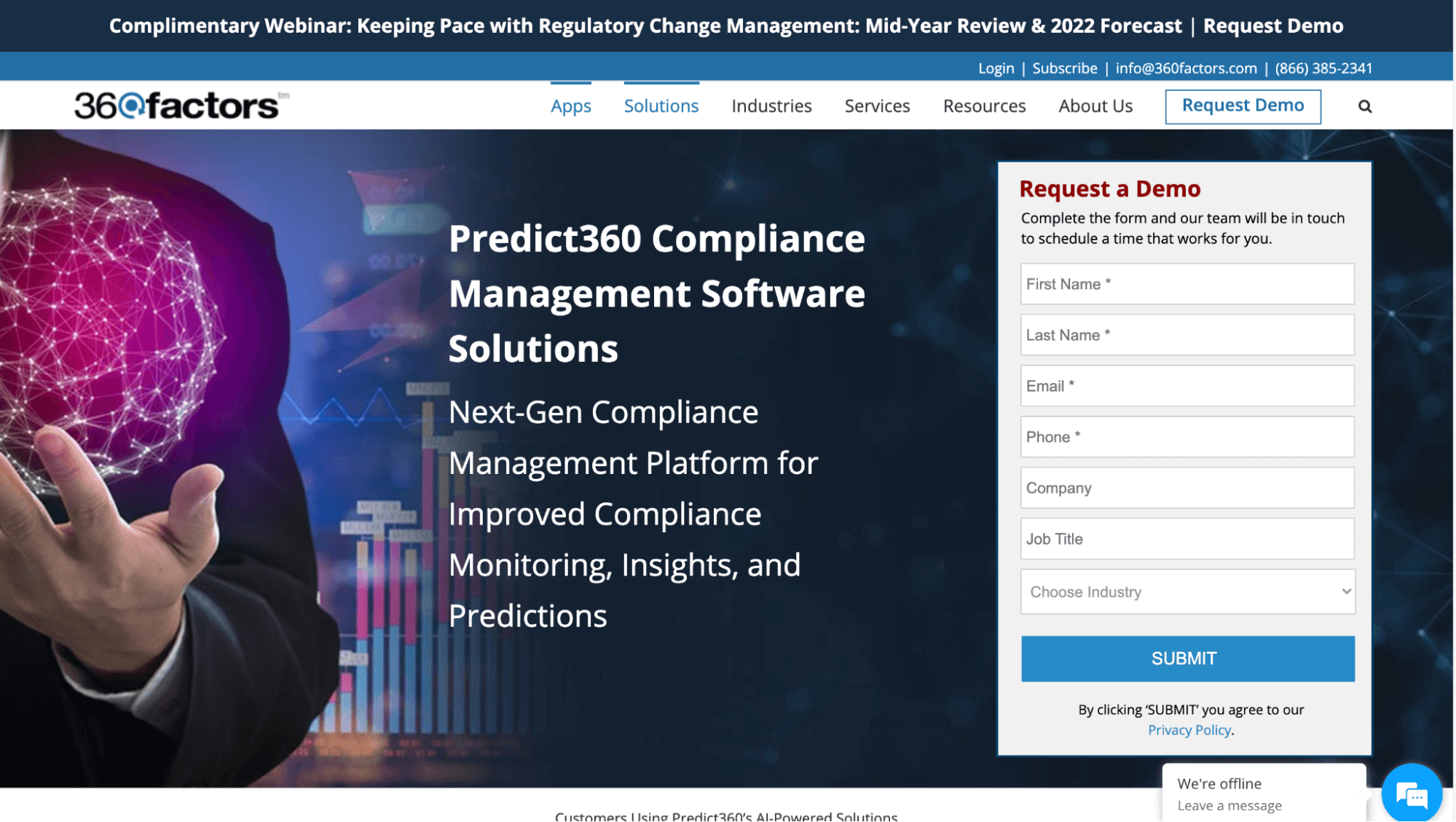 Predict360 is a reliable and robust risk and compliance intelligence platform.
It has been developed by 360factors, a popular enterprise risk and compliance technology and services company. Interestingly, the company is also the only solution provider exclusively endorsed for compliance management by the American Bankers Association (ABA).
The platform is AI-powered and integrates several aspects in a unified, cloud-based system. This includes risks and controls, policies and procedures, KRIs, audits and examinations, regulations and requirements, and training.
Predict360 can also deliver predictive analytics and data insights for predicting risk and streamlining compliance for users.
Pros
Easy-to-use user interface
Offers configurable reports and dashboards
Robust risk management platform
Integrated Language Processor (NLP)
Cons
May overwhelm users at times
Pricing
360factors hasn't provided any pricing information. You'll have to contact the sales team to learn more.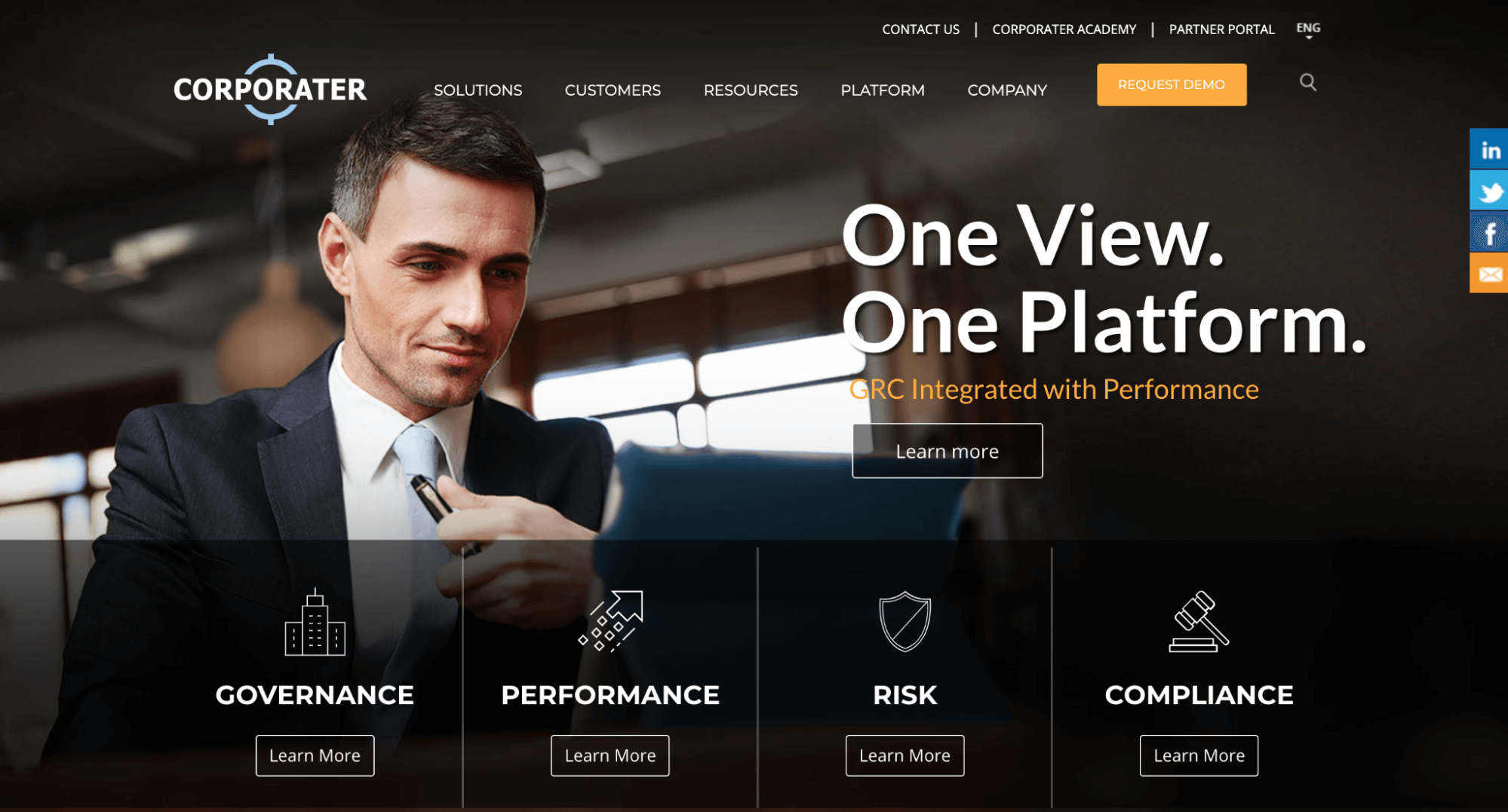 Corporater Compliance is another efficient cloud-based solution that gives you insights and visibility into compliance activities.
As a Corporater Compliance user, you get access to specific controls and information concerning compliance reporting, workflow and process support, auditing, and notifications of exceptions and deviations. You can use the tool to establish, centralize, and automate regulatory and organizational compliance processes.
Basically, this software tries to provide continuous oversight into an organization's status with regard to compliance framework and controls. This way, you'll never have to worry about whether your organization adheres to government standards and regulations necessary for your industry.
Pros
Excellent UI
Incredibly fast change management
Easy to customize and deploy
Cons
Dated graphical interface
Graphs and charts need to be improved
Pricing
Corporater Compliance hasn't provided any pricing information. You'll have to contact the sales team to learn more.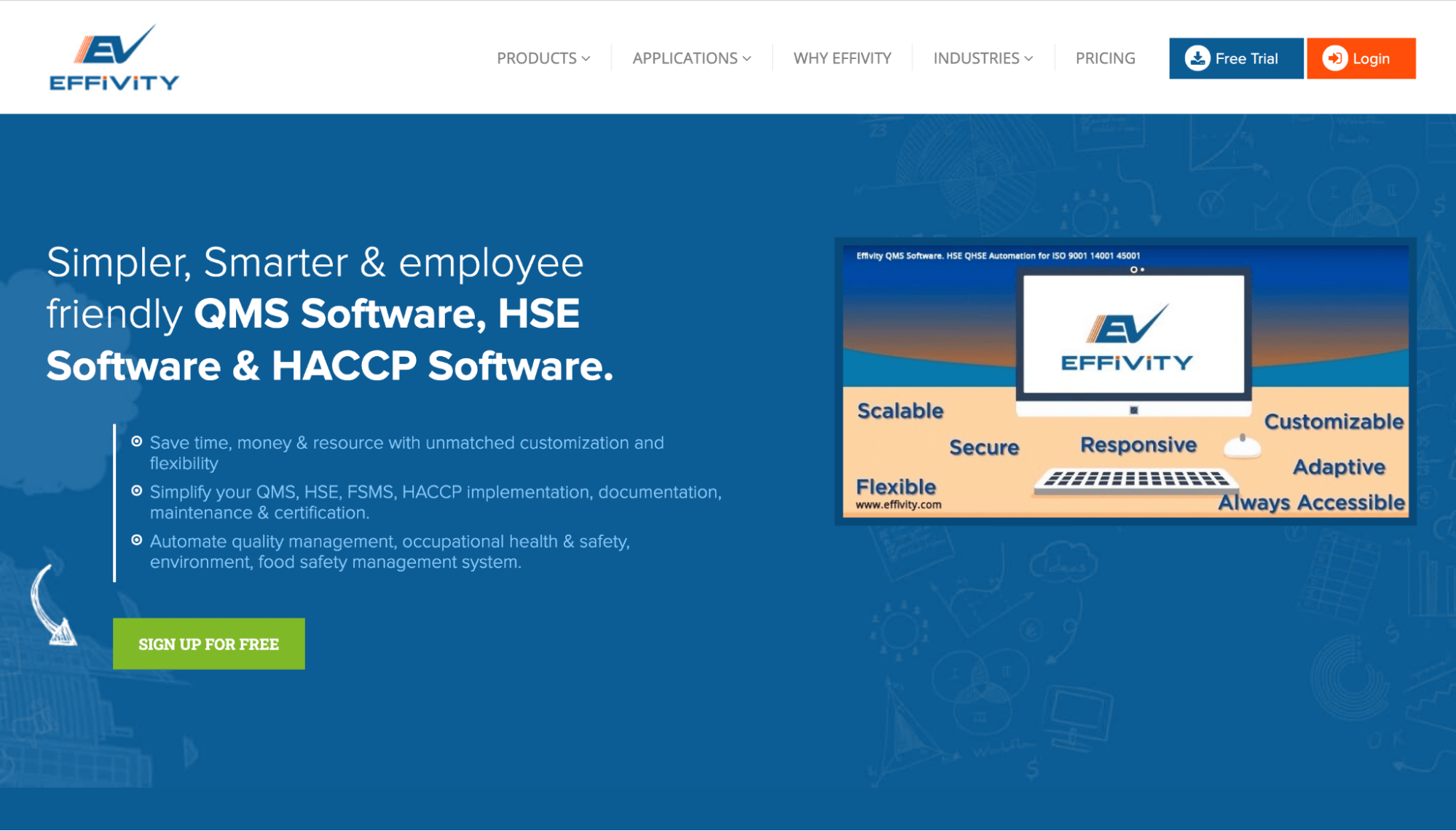 Developed by Effivity Technologies, MyEasyISO is a cloud-based software product that tries to simplify ISO compliance as much as possible by making it value-adding, collaborative, and result-oriented.
It lets organizations define and improve different processes to ensure optimal business performance. MyEasyISO ensures to eliminate multiple parallel systems, which interestingly has always been a phenomenon associated with ISO compliance globally.
This compliance management software is the perfect solution for businesses aiming for ISO certification that goes over ISO 9001, ISO 14001, ISO 22000, and 0HSAS 18001 implementation requirements.
You can use MyEasyISO to plan, execute, control, audit, and enhance your business, thanks to the 12 comprehensive modules covering various aspects like document management, incident management, knowledge management, audit management, corrective actions (CAPA), and so on.
Pros
Suitable for small business organizations
User-friendly
Efficient customer service
Cons
Limited customization
A few functionalities are difficult to configure
Pricing
MyEasyISO offers various subscription packages, starting from as low as $29 per month. The highest package goes on to $135 or $274 per month depending on the plan you choose.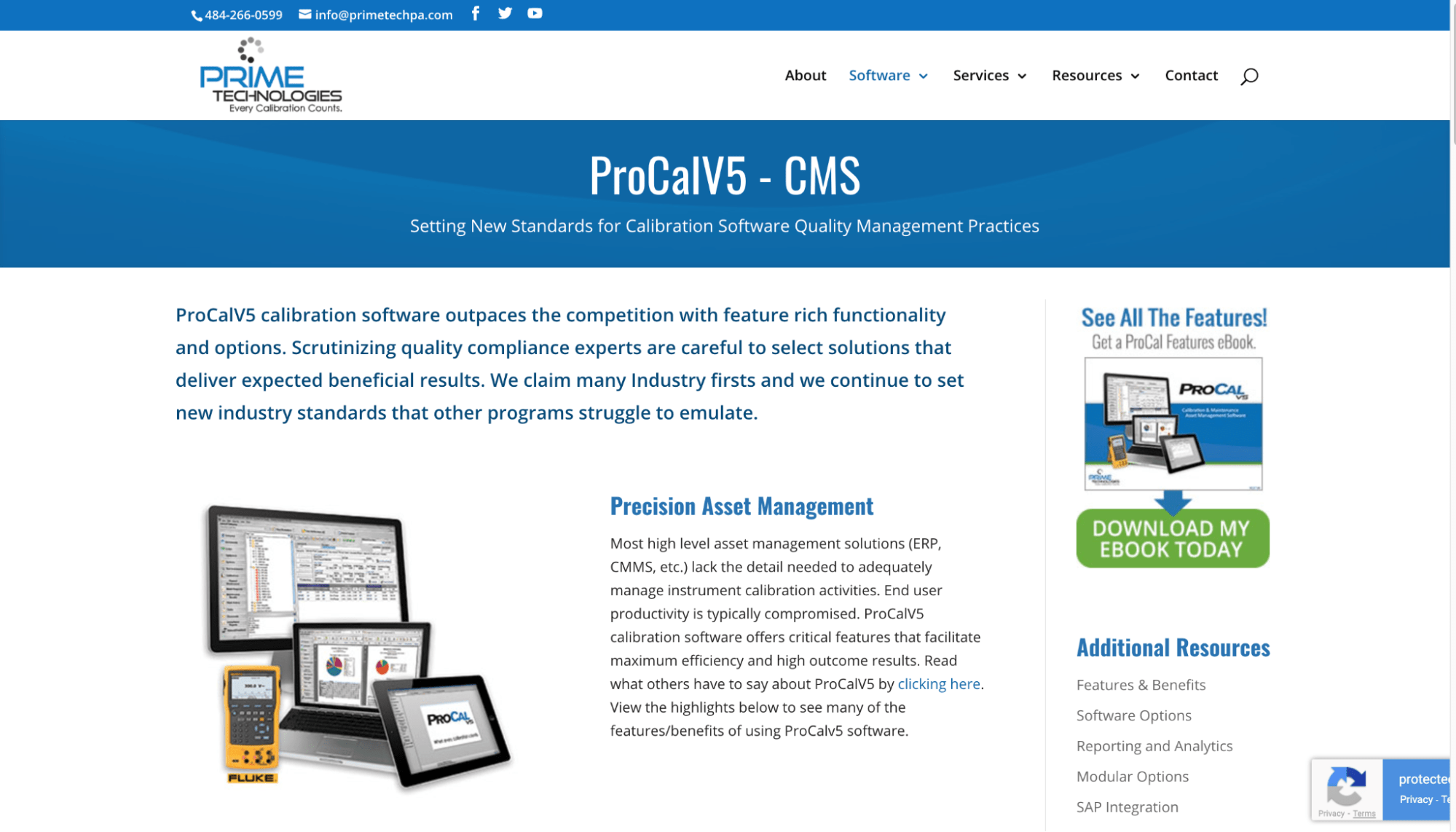 ProCalV5 is essentially a computerized maintenance management (CMMS) solution designed to solve common issues faced by medium-sized to large-sized businesses.
This compliance software comes with many useful features to streamline daily operations, such as asset management, quality management, inventory tracking, and predictive and preventative maintenance.
Users can use the tool to store asset information in master instrument asset records while simultaneously allowing users to explore data from the production system directly to a Windows device. Once the calibration is complete, the updated data can always be exported back to ProCalV5.
You can choose between cloud-based and on-premise deployment options.
Pros
Easy to use and intuitive
Feature-rich
Suitable for medium to large companies with offices in multiple locations
Offers search and printing auditing reports
Cons
Has a steeper learning curve
Can be refined further to ensure smoother operation
Pricing
ProCalV5 hasn't provided any pricing information. You'll have to contact the sales team to learn more.
How to Pick Your Compliance Software
The process of choosing the best compliance software for your organization doesn't need to be difficult. All you need to ensure is clear communication and access to accurate knowledge with regard to your compliance requirements.
With the right approach, you're likely to get an efficient solution that will meet your present and future requirements perfectly.
Step 1: Conduct a Meeting With All Stakeholders
A business has various aspects, where governance, risk, and compliance tools integrate together to facilitate compliance. Precisely why you must consider various groups and departments related to your business, such as IT, audit team, security, corporate compliance, and disaster recovery.
Ensure the active participation of all the above departments in the selection process if you want your organization to benefit from a compliance tool.
Step 2: Understand Your Objectives and Carefully Assess Your Requirements
Outlining compliance specifications is another crucial step to select the right compliance tool for your organization.
You should know whether the compliance software meets all of your company's requirements and is simple enough to be used by your staff. But before you do this, start by taking a long, hard look at your compliance requirements and business objectives.
Raise any questions you may have in the stakeholder meeting and make note of what everyone says. At the end of this, you should have a clearer picture of your requirements.
Step 3: Choose a Deployment Option
Every company has unique software deployment needs.
An on-premise solution is hosted at your company's location, whereas a cloud-based deployment puts your entire system on the cloud, meaning all data is stored via the internet, thereby eliminating the need for a hard drive.
So which deployment is better? There's no correct answer, you see. It all comes down to preferences and use cases.
An on-premise solution is better for companies with internal IT teams and maintenance, whereas a cloud-based system is suitable for those who don't mind putting maintenance in your service provider's hands. The latter is also cheaper.
Step 4: Reach a Consensus
You know your requirements and the kind of deployment you want. Next up is to search for suitable software tools that fit these to the T.
Consider the following questions to ask yourself and everyone else involved:
Can the software generate data-driven reports?
How difficult is it to create and modify user accounts?
Is it easy to upload photos and documents to the software?
What kind of security does the developer assure? Does the app share data with a third party, and what type of data encryption does it use?
Is the software scalable?
All the above are valid questions that can significantly boost your chances of making the right choice.
More often than not, you'll find several software tools that meet your requirements efficiently. If that's the case, shortlist your top candidates and discuss them with the stakeholders. Select a compliance software tool that has the consensus.
Step 5: Do a Test Trial Before Making the Final Payment
Sign up for the chosen compliance software's free trial to test-drive its features. This will also give you a better idea of how compatible your employees are with the tool.
If you find everything works well at the end of the trial, take the leap and make the final payment. If not, you can sign up for a free trial of another prospective software to give it a go.
Be sure every department is satisfied with the selected software tool and vendor you decide on before making the final payment.