The 5 Best Collaboration Software Tools and How to Decide
Over the last few years, remote work has increasingly become part of life. From advancements in technology to the shifting work landscape during the COVID-19 pandemic, having excellent collaboration software is more crucial than ever before.
Whether you're in the office, working from home, or traveling around the world, collaboration software can streamline your communication process. These options allow you to have an all-in-one hub of correspondence, often including instant messaging, video conferencing, document sharing, task assignment, and more.
With many great options to choose from, I'm here to help you narrow down the list. First, I'll give you some quick overviews of some of my favorite software options, then I'll show you how to select the best one for your business.
By the end of this article you'll have a plan to get the right software, whether you're looking to help you and your team facilitate ideas, divide and conquer tasks at ease, or have an efficient remote work set-up.
Monday.com
With a beautiful interface and incredibly robust features, monday.com stands out among the rest. The software has a sleek UI design, smooth functionality, and a substantial amount of features. This may be why companies like Coca-Cola, Hulu, and Adobe all use it.
The software contains some standard options, like document accessibility, automations, and real-time data dashboards. However, it also has many extra features that set it apart from the rest. It is highly customizable with no coding required, allows full email integration, and has enterprise-grade security, just to name a few.
Monday.com also has Kanban built into it, which shows your team's progress and each individual's workload. This will help you get a more accurate picture of who is doing what, how fast they are doing it, and their capacity to handle new projects.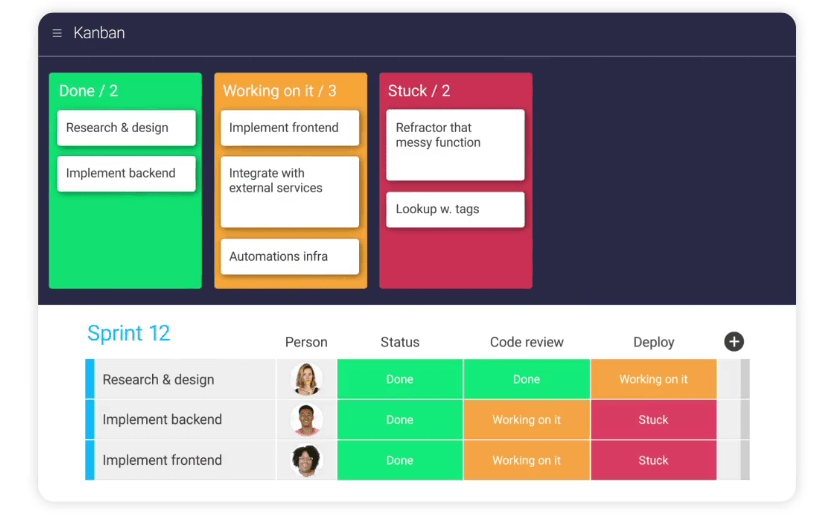 It also includes Gantt, a service that allows users to see real-time data about their business, and Excel imports.
Beyond the communication technology, Monday.com also prioritizes a variety of accessibility features. This means that more people in your organization will have better ease of use than ever before. Some of these features include keyboard shortcuts, screen-reading technology, resizable text, and color contrast settings.
All of this is offered at competitive pricing rates. There is a free plan for individuals to use to keep track of their own work, and the team pricing starts at just $8 per month per team member.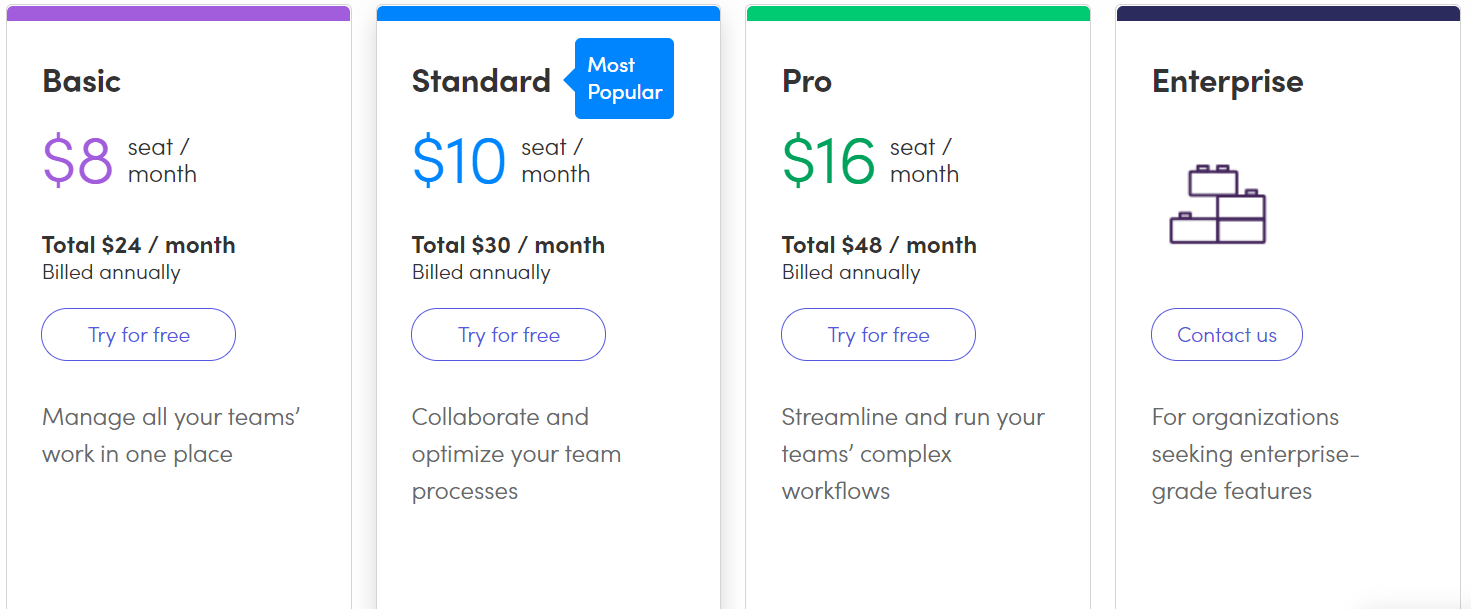 Although Monday.com is an excellent, affordable software chock full of different options, that doesn't mean it's for everyone. The large number of components can feel overwhelming if you don't want to use them all. Smaller businesses who don't need all of the bells and whistles that monday.com offers may be better off with a different, more simple option instead. In addition, some users have reported a learning curve with these features, as well as some lagging during use.
Still not sure Monday.com is right for you? Try it for free for 14 days (no credit card required).
Slack
Slack is one of the most popular collaboration software tools for a reason. With an easy-to-use interface, affordable pricing, and opportunities for countless integrations, it's one of the best in the business.
Whether you're a freelancer or a large enterprise, Slack could be for you. The main feature that Slack offers is a multi-channel messaging system. Users can subscribe to different topics within their organization, such as the marketing channel or IT channel. There are also options for direct messaging or replying to messages within the main channel.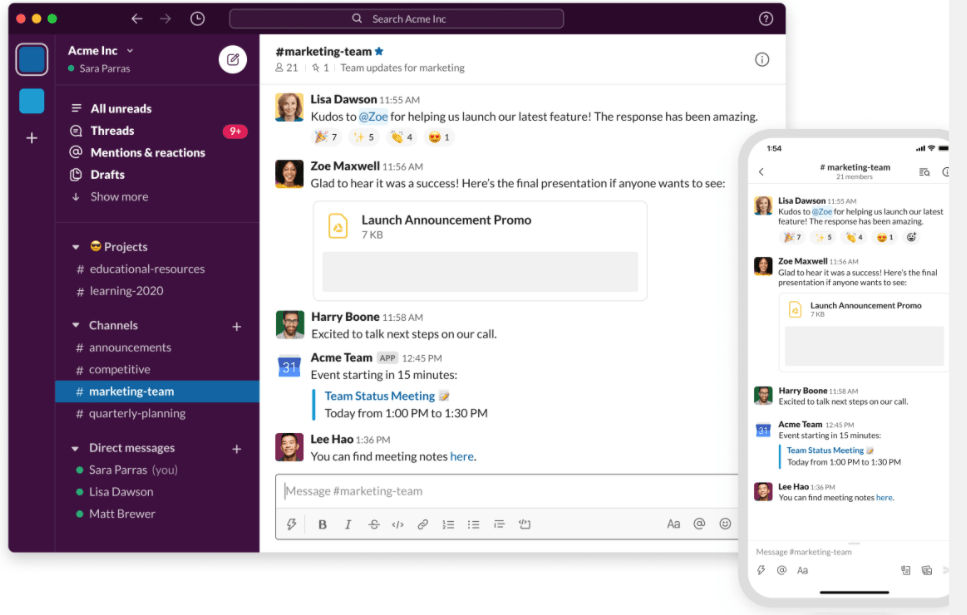 In addition, Slack offers both public and private text channels. Your organization may invite you to a private channel, but you can also check in on the public ones to see what else is going on in your organization.
Slack offers a free plan, as well as a few different packages available for purchase. The free plan is highly usable, with 10k searchable messages, 10 apps and integrations, 1-to-1 video calls, and two-factor authentication.
However, by paying just over $6 per month per person, you get unlimited searchable messages, several more integrations, and screen-sharing capabilities for video chats. If you're in search of even more capabilities, the Business+ or Enterprise package may be for you.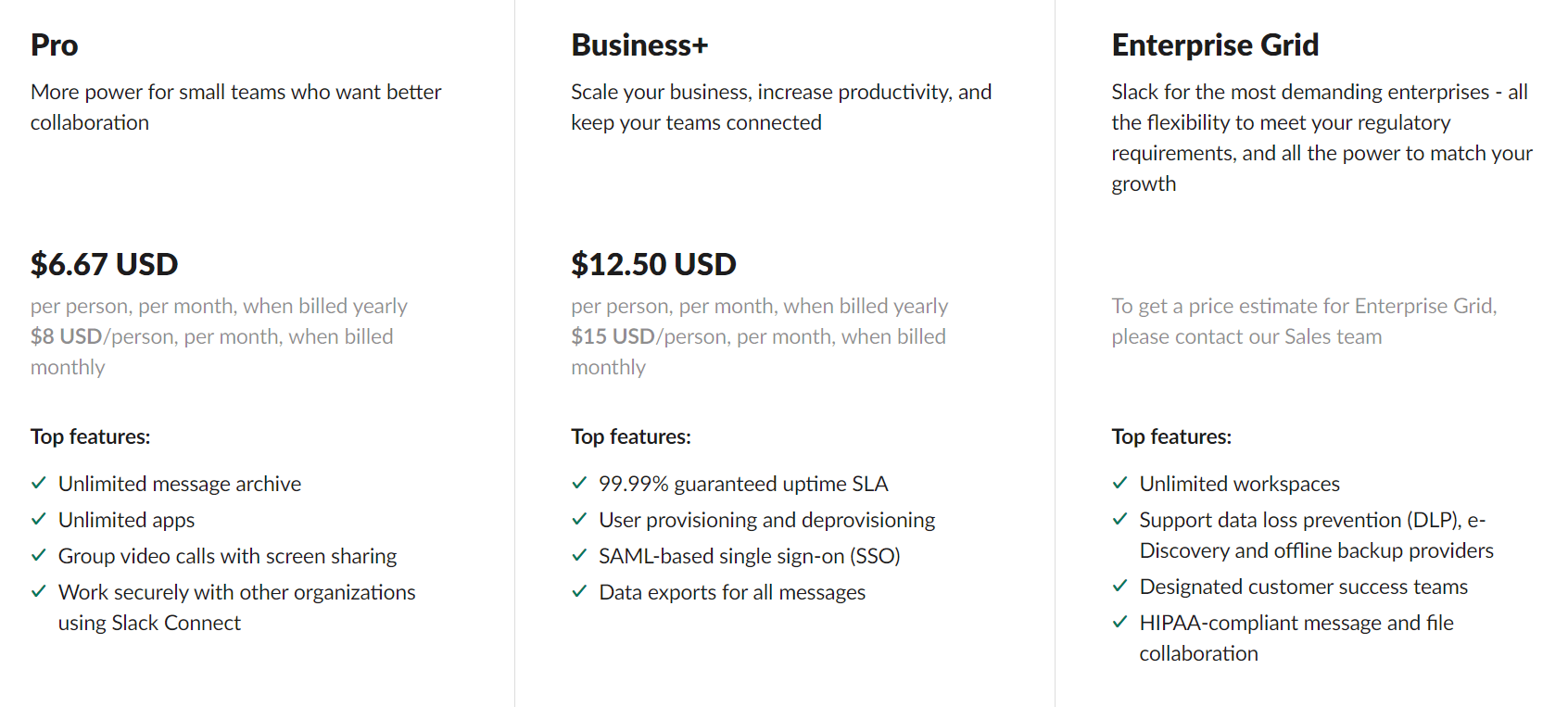 There are minimal downsides to Slack. Many complaints are minor, such as not being able to make private groups public after you have created the group. Some employees have reported feeling worried that their messages could bother others in the Slack channel, but this could easily be resolved with the private messaging feature.
However, Slack is generally a more casual form of communications software. It is excellent for quick communication and community building, but not as great for people trying to visualize complex projects. In addition, some features, such as document management, must be used with integrations. For example, Slack offers the ability for users to connect their devices to Google Drive, but you will have to add that to your Slack account yourself.
Ultimately, Slack is a solid collaboration software–at least Target, Uber, and Netflix seem to think so. Sign up for a free plan to see if Slack could be right for you.
Miro
If you're a visual learner, no collaboration software beats Miro. This digital whiteboard allows users to brainstorm and collaborate just like they would physically and is perfect for remote group collaboration.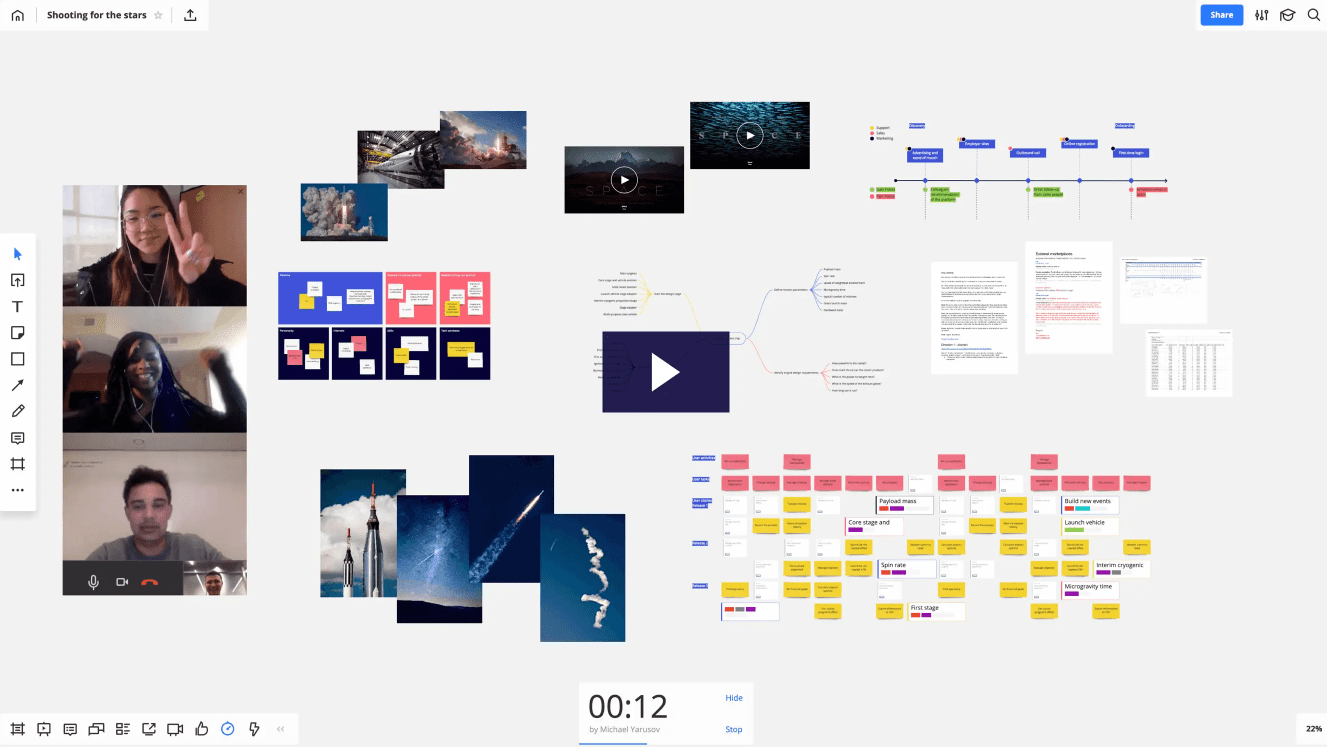 Users can brainstorm with digital sticky notes, plan and manage agile workflows, and discuss products and ideas in chats. For more in-depth collaboration, Miro also allows teams to jump on voice and video calls at the push of a button.
With Miro, you can get a full picture of your team's progress through a combination of text, documents, images, wireframes, and more. Overwhelmed by the big picture? All you have to do is zoom in to focus on one specific section of the whiteboard.
Unfortunately, all of these options do come at a price. Miro can sometimes be slow and the controls can lag, which can become frustrating at times. However, Miro's setup is completely unique, and the company is always looking for ways to improve.
When it comes to pricing, Miro also offers a free version, but most teams will likely need to upgrade to the Team or Business plans, which cost $8 and $10 per month respectively. In addition, as the pricing goes up, Miro adds additional features to your account, like SSO or specific integrations.
Try the free version to see if Miro is the best choice for you.
Trello
For simplicity, ease of use, and efficient planning, look no further. Trello is an excellent, affordable software to help you and your team stay on task.
This software is a perfect alternative to some of the more "heavyweight" communication software options and offers a clean, user-friendly experience. Trello is a project hub of cross-team collaboration and allows your team to plan content with ease.
Not only that, but you can easily make Trello your own. With over 100 choices for integrations, using Trello means that you can highly customize your experience. The only downfall is that you will have to figure out which integrations you need and build them yourself.
As far as pricing goes, there is a free version of Trello, as well as the Standard, Premium, and Enterprise packages. In addition, it allows users to try their Premium package for free for 14 days.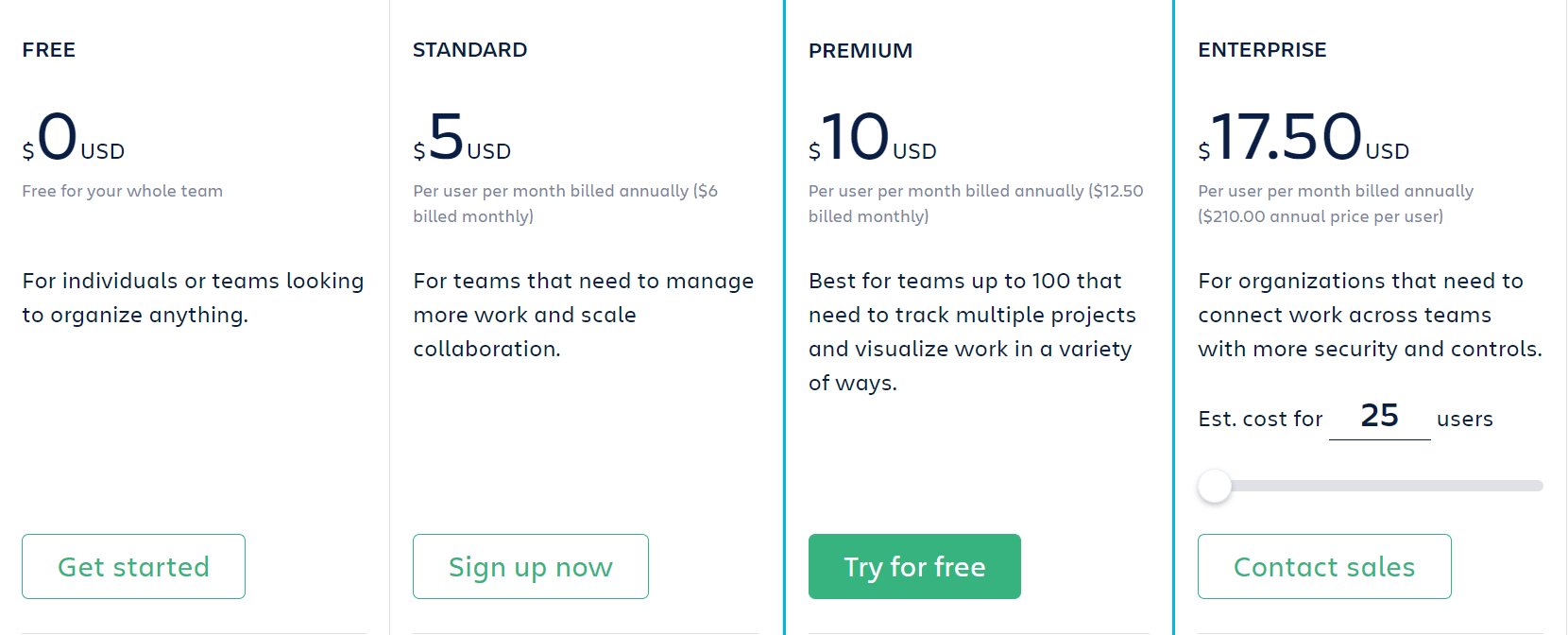 Asana
Asana is a beautiful task management tool that can help your business with all things from daily tasks to long-term initiatives.
Used by over 100,000 companies in more than 190 countries, Asana allows users to create lists, boards, calendars, Gantt charts, and much more. If you're looking for a central hub for all of your information, Asana could be for you.
With Asana you can delegate tasks to members of your organization, track progress, and converse with your team members. Not only that, but Asana has some sleek features to optimize efficiency that other software options lack. For example, Asana allows for cross-indexing, which means that you can assign the same task to multiple projects, rather than having to manually enter it multiple times.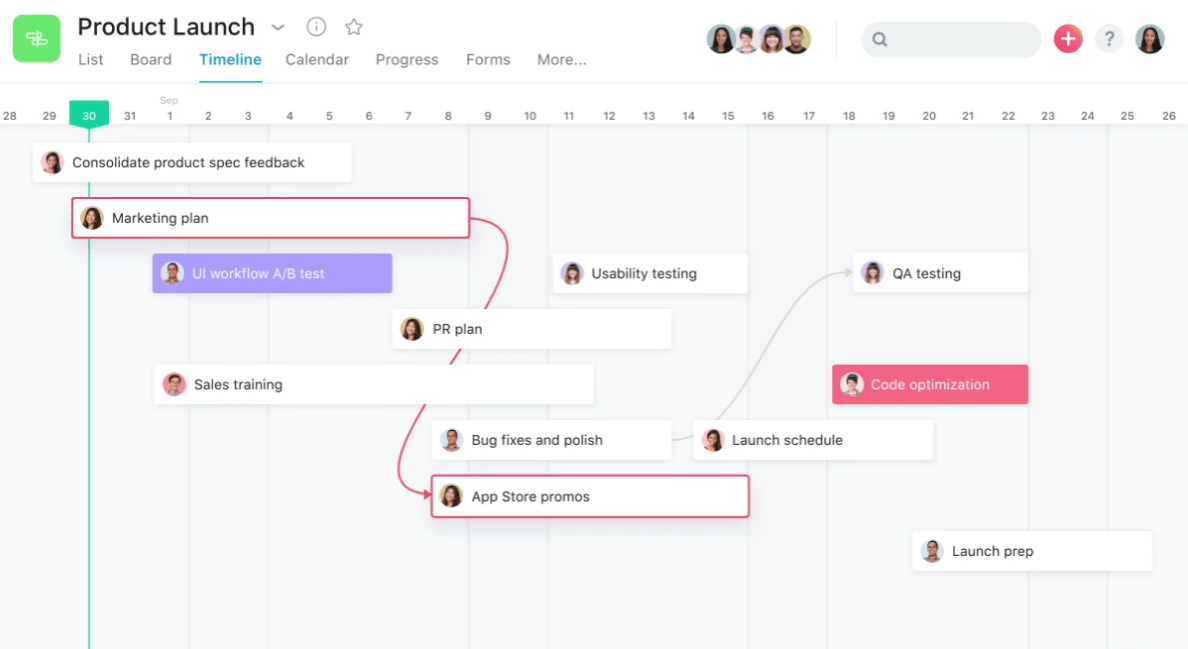 Some limits to Asana are that it does not include flowcharts like Miro or a project budgeting feature like Monday.com. However, Asana does include universal reporting, CSV importing, universal reporting, custom fields and templates, and more. It all depends on what qualities would best suit your business.
Asana offers a free plan, as well as two more advanced plans that cost $10.99 and $24.99 a month respectively. This is slightly more expensive than some of the other options, but is still in a similar price range.
How to Pick Your Collaboration Software
With so many great options for collaboration software, it's important to know how to pick the best one for you.
Step 1 – Prioritize messaging vs. visual collaboration
If your company is primarily focusing on the messaging aspect of communications software, it would be best to invest in Slack. While you can share documents and have video calls on Slack, the main dashboard is definitely focused on instant messaging.
On the flip side, if you want a dashboard of your progress and future project planning, a more visually-based platform like Miro, Asana, Trello or Monday.com would be better for you. Generally, these platforms have less of a concentrated focus than Slack does, and are more all-in-one hubs of information.
Step 2 – Consider your business size
For freelancers mainly looking to manage their own tasks or work one-on-one with clients, programs like Slack or Trello would be the most beneficial. Trello in particular allows users to have a sleek interface and easily organize their tasks and goals.
For mid-sized teams, Miro takes the cake. Of all of the options, Miro is the most visual choice and the best for group collaboration. However, with the large volume of features, Miro could be less beneficial with larger teams. The interface could become cluttered, overwhelming, and slower with more people, but with a mid-sized team it would work excellently. Miro could be perfect or a team of employees or students coming together to create a group project.
Finally, for large teams and enterprises, Monday.com and Asana are the best choices. Monday.com has a huge volume of features suitable for any need you can imagine. Monday.com can grow with you, and even if you don't use all the features at first, if you know your business is growing, it may be worth it to invest so you don't have to re-learn a new software later. Asana's excellent design and efficiency allow it to work for small and large teams alike.
Step 3 – Use the free trials
One of the best parts about these software tools is that all of them offer free trials, and many of them offer free versions as well. While I can give you my recommendations, the most advantageous way to find the best one for you is to make accounts and test them out yourself. By doing that, you can see which ones feel the most intuitive for you and your team before investing a lot of time, money, and logistics into one. Once you've tried a few and gotten feedback from your team on which works best for them, you can confidently purchase the best one.
Step 4 – Learn the software
Every software is different, which also means each software has a different learning curve. If you need to jump into your remote collaboration software quickly, or if you are consistently adding many new members to your organization, either Slack or Trello is the best option. Both programs are user-friendly and can support unlimited numbers of users, even on the free version.
Like I mentioned before, Monday.com definitely has the steepest learning curve of the bunch, but if you're willing to put in a little extra time upfront, you'll be able to utilize a whole host of features that you wouldn't have access to otherwise.