The 5 Best CMMS Tools and How to Decide
The best CMMS software eliminates hundreds of manual tasks from the workday of each employee, adding up to thousands of hours saved each year. It streamlines the flow of critical information, and helps a company transition from away from on-demand, reactive maintenance toward a preventative plan where all assets get the timely attention they deserve.
CMMS, that is Computerized Maintenance Management Software (or Systems) used to be expensive and cumbersome, but today's CMMS software comes in all shapes and sizes.
Whether you are a small business looking to go paperless, or a manufacturer tracking inventory across facilities on multiple continents, there is a CMMS tool that can help you meet the challenges you face.
I've put together a list of the best CMMS software on the market that meets a wide range of needs. After the reviews, I've outlined a step-by-step guide on how to find the right product for your specific situation.
Say goodbye to organizational headaches and hello to the 5 best CMMS software options on the market.
#1 Limble
Plans & Pricing
Starter: $40 user/month
Professional: $70 user/month
Business+: $105 user/month
Enterprise: $185 user/month
Limble is an increasingly popular CMMS solution with an EAM module that makes the tool effective across the entire asset lifecycle. Track up to 100,000 assets on Limble's Custom Dashboards that let you create your own KPIs and automatically generate the reports you need to stay ahead of costs.
We like Limble because it centralizes all of the various interactions that go into maintenance, giving each user a clear picture of what needs to happen.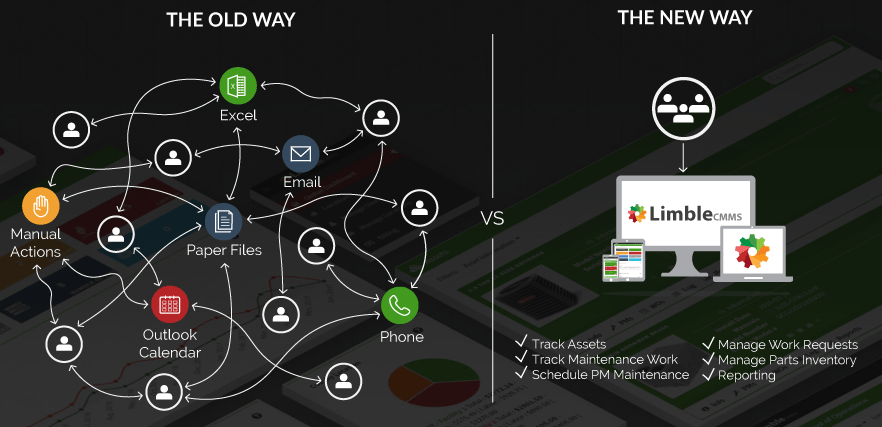 Limble automatically backs up your data every hour, which can't be said by every CMMS, and comes with a comprehensive feature set. There are very few limits, even at lower tier plans.
Limble Starter includes:
Unlimited Preventive Maintenance
Unlimited Work Orders
Unlimited Custom fields
Unlimited Work Requests
Mobile App
Data Importing
Advanced Features:
Multiple Locations
Parts Inventory
Downtime Tracking
Barcode and QR codes
Workflow Automation
API Access
Offline Mode
Limble strikes a good balance between robust reporting and ease-of-use. They've built a system that is fairly easy for non-technical users, yet captures all of the critical information businesses need. If people are having trouble adopting Limble, their customer service is on point and ready to help you get the most out of their product.
They have a 30-day free trial, volume-based pricing, and specialized packages for nonprofits. Give Limble a shout and see what they can do for you.
#2 UpKeep
Plans & Pricing
Starter: $35 user/month
Professional: $60 user/month
Business+: $100 user/month (min. 5 users)
Enterprise: $180 user/month (min. 25 users)
UpKeep is a mobile-first CMMS solution that helps those in the field stay on track of their work and those in the office make data-driven decisions.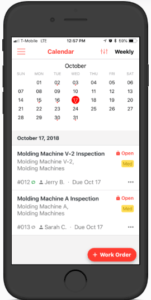 The best thing going for UpKeep is that people like using it, which is imperative for the success of any CMMS. Management gets better information from engaged employees who can communicate accurately, uploading media and messages within work orders. With @mentions, users can make sure updates reach their target.
The lack of limits on locations, assets, requesters, and work orders sets UpKeep apart from other top CMMS software. With other products, you may have to purchase higher-tier plans in order to have more than one location, track a large number of assets, and so on.
Features with UpKeep Starter:
Work Orders
Inventory Management
Preventive Maintenance
Data Importing
Checklist Items and Templates
Checklist Templates
Shared Work Orders
Chat Support
Advanced features:
Request Portal
Reporting Dashboard
PDF and Video upload
Signature Capture
PM Scheduler
Workflow Automation
Offline Mode
Advanced Asset Tracking
API Access
Workflows are easy to build and follow, whether you are working in the app or the browser. It's not hard to tailor UpKeep to your specific needs, which minimizes the disruption during implementation and as you grow.
That said, getting everything out of UpKeep will take some time, and the deeper your use of the product the better.
The support is there to help you learn, with webinars, documentation, and a Quick Start Implementation package that is worth the price for organizations that are trying to bring over a lot of data from multiple locations. All Business Plus and Enterprise plans come with a Dedicated Account Manager.
UpKeep Sensors offer plug-and-play solutions for reliability engineers who need a real-time view of how their assets are performing. With pricing based per sensor, UpKeep elevates your ability to engage in predictive maintenance without breaking the bank.
#3 Hippo CMMS
Plans & Pricing
Hippo Starter: starting at $39 user/month (min. 2 users)
Hippo Plus: starting at $69 user/month (min. 2 users)
Hippo Pro: starting at $99 user/month (min. 3 users)
Hippo CMMS is an affordable, uncluttered, and time-saving solution that has already delivered massive ROI for thousands of companies. It's easy to navigate for frontline workers, regardless of technical skill, yet it's robust enough to function as an all-in-one CMMS for companies in a range of verticals.
Most people's experience with the system is that it's fairly easy to get up and running, but it takes some time to understand how to use all of the features to good effect. Hippo CMMS offers a variety of onboarding packages, which allows organizations to take advantage of the entire system immediately.
The calendar dashboard displays all work orders and lets you alter the schedule with drop and drag. Set up automatic triggers to generate work orders by date or meter reading. Cut down on manual tasks and ensure that your equipment gets the attention it deserves on time, every time.
Features with Hippo Starter:
Work Order Management
Preventive Maintenance
Equipment Management
Parts and Inventory
Reports and Insights
Calendar Dashboard
Advanced features:
Multiple Facilities/Locations (with Plus and Pro)
KPI Dashboard (with Plus and Pro)
Interactive Floor Plans and Maps (with Plus and Pro)
Custom UI (with Plus and Pro)
Hippo Mobile app (with Plus and Pro)
Work Order Templates (Pro only)
API Access (Pro only)
E-signature for Work Orders (Pro Only)
Hippo CMMS has pared its interface down to the essential features, making for a clean and simple experience. This means that the customizability is somewhat limited by comparison to some of the other best CMMS software on the market.
If you need robust asset tracking features, this may not be the tool for you. If, on the other hand, employees are complaining about how many clicks it takes to work through a basic issue, Hippo CMMS can streamline the experience for all involved.
The mobile app is phenomenal, though it's only included with Hippo Plus or Pro. It's got barcode scanning, offline sync, time tracking, image upload, and commenting features designed to keep everyone up to date no matter where they are.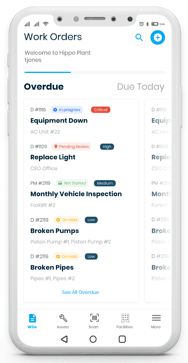 Requestor and equipment caps are something to consider. Hippo Starter is limited to 25 unique requesters and 100 equipment items, and Hippo Plus comes with caps at 100 and 1000 respectively. Hippo Pro allows unlimited requesters and equipment items.
#4 Fracttal
Plans & Pricing
Users
View Only: $9 user/month
Technicians: $19 user/month
Manager/Engineering/Warehouse: $29 user/month
System Administrator: $49 user/month
Feature Pack
Basic: Free
Standard: $25 per month
Professional: $75 per month
Enterprise: $175 per month
Fracttal is a cloud-based CMMS solution with a flexible pricing structure that lets you tailor the product to the specific needs of your team or facility. Depending on the setup you are looking for, it may wind up being less expensive than competing products that are not as deep or extensible as Fracttal.
Like some of the other robust CMMS options on the market, Fracttal is easy to use, hard to master. While it takes some getting used to, the benefits are worth it.
Your admins will have the ability to automate thousands of manual tasks, and your technicians will be empowered by a mobile CMMS that lets them share and receive critical information no matter where they are.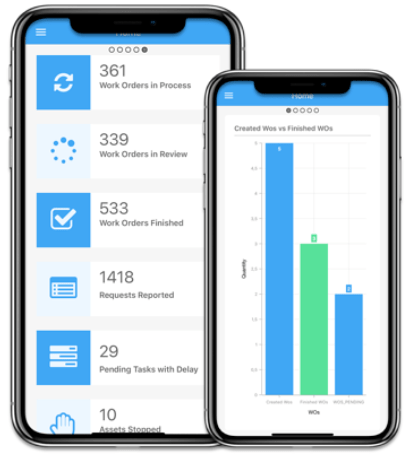 Users can view their tasks on a calendar or Kanban board, which is really great for technicians in the field who have to coordinate without any direct oversight. Everyone can see what's done and what needs to be done, updating in real time within the app. Combined with the plentiful reporting features, your teams will have a detailed, consistent picture of progress.
Fracttal's Basic feature pack includes:
Work orders
Asset tracking
Maintenance scheduling
Equipment, tools, and parts catalogs
KPI monitoring
GEO Tracking
Barcode & QR Code scanning
Advanced feature packs include:
Automation
Calendars
Advanced Business Intelligence
Mass Export
Batch edits
Machine Learning
Clone Assets
Multi-Site
Artificial Intelligence BOT
User and Technicians Certifications
API access
This is an excellent choice if you are investing in Industry 4.0, or are thinking about heading that way. Fracttal has affordable sensors to help you harness the power of the IoT, and supply your teams with comprehensive real-time information about your assets. These are true plug-and-play devices that you can get set up in under 5 minutes.
The pricing structure for Fracctal is unique among the best CMMS software. You purchase a feature pack that governs the system capacity, and then you purchase however many user plans you need to outfit your teams.
This two-step process ends up saving you a ton of money, especially as you scale. With other plans, you get stuck paying $50-$100+ for each user. Fracttal lets you pay an extremely low per-user price for technicians and others who may only use 10% of the software. And if you need more admin seats, the cost is very competitive.
#5 MicroMain
Plans & Pricing
Technician license: starting at $39 user/month
Admin license: starting at $89 user/month
Contact sales for more exact pricing
MicroMain is a longtime player in the CMMS/EAM game. They offer both hosted and on premise deployments of their software, which is some of the most highly customizable and feature-rich on the market.
It is not the easiest CMMS software to implement and use, but it is capable of handling a lot more than it's lighter competitors. To help you get set up, MicroMain's implementation teams take care of the heavy lifting — whether you are importing data or starting from scratch — and provide training to ensure that your teams are using the system properly.
If you are looking for a powerful CMMS that can grow with you in any direction, MicroMain is a very attractive option.
Some of the core features included with MicroMain are:
Work Order Management
Preventive Maintenance
Predictive Maintenance
Asset Management
Parts & Inventory Management
Workforce Tracking & Management
QR Code & Barcode Scanning
Some of the advanced features include:
Mobile Maintenance
Events, Metering, & Triggers
Single or Multi-Site Configurable
Service Request Portal
IoT Ready
Industry 4.0 Ready
User Role Permissions
KPI Tracking
Advanced Reporting
Mass Import/Export
Multi-Language Support
API For Easy Integrations
Compliance & Safety Audits
As one of the deeper, more comprehensive CMMS options on the market, you might think that MicroMain is only suitable for larger teams or bigger budgets. Fortunately, the pricing structure allows for small teams to take advantage of the full product at a relatively low cost.
This is great for companies who want a single product across multiple departments. MicroMain has the extensive features and customizability necessary to serve a wide range of needs, and you only have to pay for the seats you need.
How to pick your CMMS tool
To pick the best CMMS software for your specific situation, you need to have an idea of what you need and where you want to go.
Assemble a selection team so you can get feedback from all the people who will be using the product in every capacity. A tool that the admins love and the technicians hate is not going to work.
Follow these steps to assess your situation and find the option that is going to deliver the highest ROI.
Step 1: CMMS or EAM?
All of the options on our list of best CMMS software will help you take care of the essential tasks: work orders, asset tracking, preventive maintenance, and so on. Some double as EAM (Enterprise Asset Management) tools, or come with an EAM module. Decide early on if this is something you want.
The difference between CMMS and EAM, which are incorrectly used interchangeably, is that CMMS tools track assets during operation, whereas EAM tools cover the entire asset lifespan, from planning to retirement: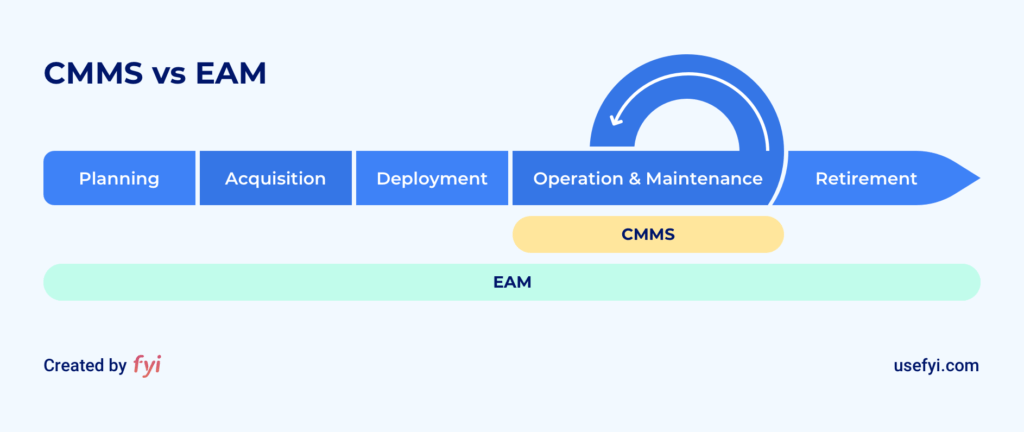 EAM is a huge boon to finance, HR, and other departments that need to forecast and track maintenance costs beyond an asset's operational lifespan.
The reason people choose dedicated CMMS over EAM is that the latter tend to be more heavy-weight programs that are less-friendly to non-specialist users.
If you are entirely focused on bringing order and consistency to your maintenance operations, any of the tools on this list of best CMMS software will work.
If you want to track maintenance operations and see how they fit within the larger organization, I would choose Limble, Fracttal or MicroMain based on their EAM solutions.
Step 2: Hosted or on premise?
The need for on-premise deployment will narrow down your selection quite a bit as most of the best CMMS tools are entirely cloud-based.
In general, these SaaS products are easier to get set up, more affordable, and less of a headache to operate. Unfortunately, these won't work for companies that need everything on their own server for security, compliance, configurability, and so on.
If you can't avoid the responsibility of hosting your CMMS, MicroMain is the only option on this list that will work.
One last thing: Regardless of deployment, companies with regulatory requirements should make sure that the CMMS you choose captures and securely stores all of the documentation you will need for an audit.
Step 3: Full feature and cost comparison
With your selection team, discuss and draw up a list of the essential features the CMMS software needs to work for your company. Then figure out what plan from each vendor best matches your needs. Contact sales to get an exact price that includes everything you want with room to grow.
Determining actual costs early on is crucial when you are choosing the best CMMS software as the pricing structures are so different between products. It may be the case that a more expensive product per user ends up being cheaper once you look at the price at scale.
If you need API access, for example, Fracttal is a competitive option. Once you purchase API access with their top-tier feature packs, you can keep adding seats at an extremely low price. With other plans, you may have to purchase the API access for each user.
Step 4: Field test
Every tool on this list handles the core functions of a CMMS. How they address each task, however, is different from platform to platform. What is the experience going to be like for your technicians, managers and admins?
Use the free trial period to run a field test. By putting the products to work in your specific work conditions, you will get a much better sense of how people will use these products.
Listen to their feedback. Was one system more enjoyable to use? Were there features lacking? Did the products perform as intended?
You'll also want to consider potential implementation during the field test. How much training do you anticipate will be necessary based on people's experience?
Step 5: Prepare your teams for a more organized future
After the field test, you will have done everything you can to weigh options ahead of time. It's time to implement the new system.
At this point, your selection team should have a comprehensive understanding of the new CMMS. As you roll out the new platform, these colleagues will serve as resources in each department, helping to onboard their teams and smoothing the transition.