The 5 Best Cloud Storage Tools and How to Decide
Most people are familiar with cloud storage these days. It's generally just your granny who thinks of those white, fluffy things now when you mention "the cloud."
So you probably already have some form of cloud storage in place whether it's for personal use, work, or your business. But perhaps you're ready to upgrade your cloud storage to a premium plan, or you're researching alternatives to your current provider. You want the most effective solution, after all.
Well, there are tons of cloud storage tools on the market. To make your decision easier, we've put together this guide to the best of the best cloud storage tools, along with step-by-step instructions to help you make the right choice for you.
1. Google Drive
Google Drive is perhaps the best option for free users. It comes with a generous 15 GB of storage for free, compared to Dropbox's 2 GB and OneDrive's 5 GB of free storage.
It's also the best choice if you're a regular user of Google Workspace, formerly known as the G Suite. Google Docs, Sheets, etc., automatically save to Google Drive. Why would you want to complicate things by adding another cloud provider to the mix?

Furthermore, Google Drive is already integrated with Android devices, which makes it super easy to save files to the cloud using your Android phone or tablet. Similarly, Google Drive is the cloud storage solution for Chromebooks. And Chromebooks are rapidly increasing in popularity as low-cost laptops.
Google Workspace Essentials is also a solid choice if you're looking for a cost-effective solution for your business. For $8 per user per month, you'll benefit from 100 GB of storage per user and 2 TB of pooled cloud storage plus advanced admin and security controls.
2. Dropbox
Dropbox is the best cloud storage solution for companies of any size, because there's so much more to Dropbox than cloud storage. It has an abundance of features that allow for easy collaboration and project management.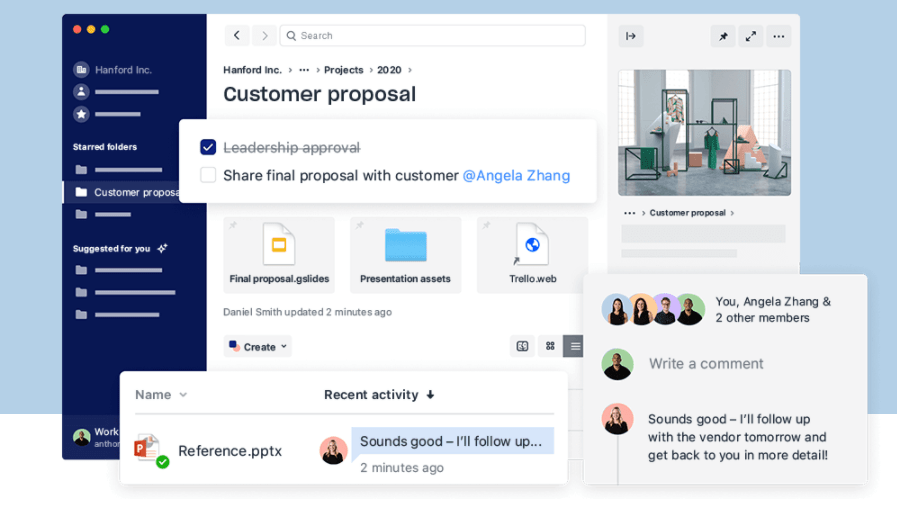 For instance, it integrates with tons of other collaboration tools, such as Zoom and Slack. Further integrations enable you to create and streamline workflows directly within the platform. Also, admins have advanced tracking and monitoring controls which is great for managing files and keeping an eye on security and productivity.
Intelligent features make searching for files fast and simple. Plus, Dropbox is personalized for every user which makes the overall user experience off the charts.
Dropbox Business has different plans to suit businesses of different sizes. The Standard plan offers 5 TB of storage and costs $12.50 per user per month. The Advanced plan comes with unlimited storage at $20 per user per month. Finally, the Enterprise plan also comes with unlimited storage, but you'll need to inquire about pricing, which isn't listed publicly.
3. Microsoft OneDrive
Like with Google Drive and Workspace, it makes sense to use Microsoft OneDrive if you and/or your team use Microsoft tools. Microsoft Word, Excel, OneNote, and the like are all already integrated with OneDrive.
Plus, if you're already subscribed to Microsoft 365, it comes with a significant amount of storage at no extra cost. For example, Microsoft 365 Personal and Business Basic come with 1 TB of storage via OneDrive.
OneDrive has a great reputation. It's the best choice if ease of use and reliability are important to you. It also has strong features, including powerful search and real-time collaboration capabilities.

If you were to purchase OneDrive as a standalone product, OneDrive for Business Plan 1 comes with 1 TB of storage per user and costs $5 per user per month. Business Plan 2 costs $10 per user per month and offers unlimited storage.
4. IDrive
IDrive is one of the most popular online backup services and has stellar reviews across the web. It's easy to see why. The cloud storage tool is excellent value for money for both individuals and businesses. Plus, it offers automatic backup for your devices which saves you time and energy.
Moreover, IDrive is a great choice for the security-conscious. It offers advanced encryption and only you have access to your unique encryption key, as the company doesn't save it on their servers.
The Personal plan comes with 5 TB of storage for $69.50 per year. That's pretty solid at face value, but the best thing about this plan is that you can connect an unlimited number of devices, which can't be said for all cloud providers.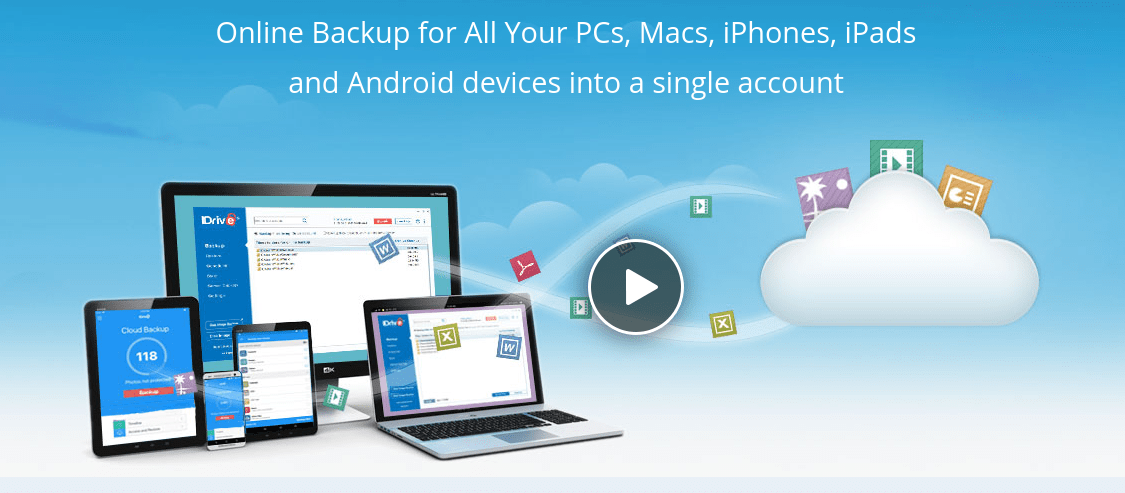 IDrive Business also differs from other business-level subscriptions in that you don't pay a per-user fee. Rather, it's a set fee depending on the amount of storage you need. For example, $499.50 per year for 1.25 TB of pooled storage. But this comes with an unlimited number of users and unlimited devices. So when you do your calculations you may find that this is a more cost-effective option for you.
5. Sync
There are many reasons why Sync is one of the best solutions for businesses. First of all, it has a range of excellent security features, such as end-to-end encryption and two-factor authentication. Plus, there are advanced device and user management features that make working with several users or teams more secure.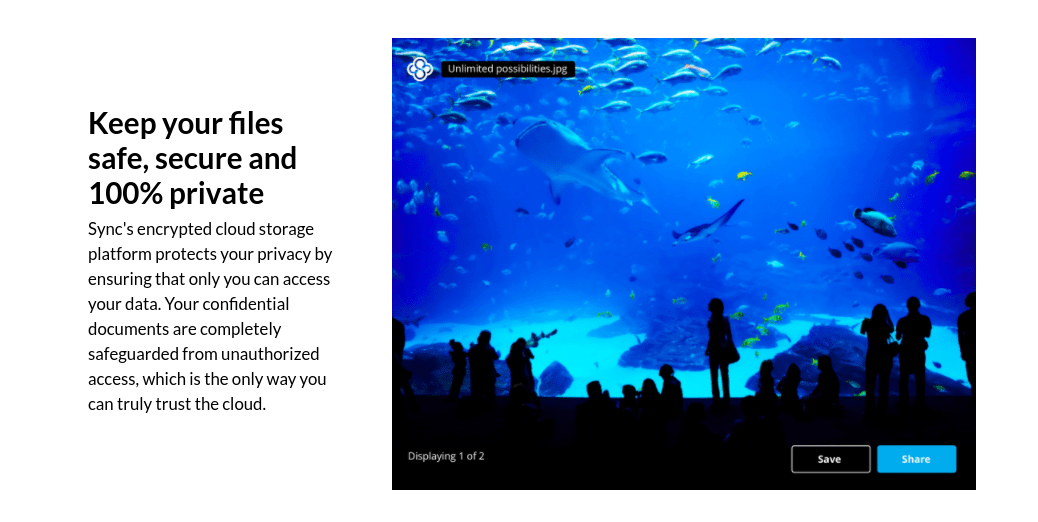 It also complies with various regulations, which is important for certain industries, such as banking.
Like Dropbox, Sync is a highly collaborative tool. Multiple users can share and work on all types of files. And all packages offer unlimited data transfer which is a stand-out feature for Sync.
It's also super affordable. There are three main business packages: Standard at $5 per user per month with 1 TB of storage per user, Plus at $8 per user per month with 4 TB per user, and Advanced at $15 per user per month with a whopping 10 TB per user.
How to Pick Your Cloud Storage Tool
As you've probably already seen, there isn't a one-fits-all cloud storage tool. There are some excellent options but what might be right for one person or business may not be right for another.
The tool you pick should have the best features and integrations for you. It should provide the level of security and customer support that you need. In other words, this is an entirely subjective decision.
So, here are some vital aspects you need to consider or research further to help you decide which cloud storage tool is best for you:
Step 1: Determine the Number of Users
Obviously, the first big question is whether you'll be using the cloud as an individual or a business. For individual use, Google Drive is likely the best option due to its large amount of free storage.
Businesses must consider the number of users to work out the most cost-effective plan. Cheapest, of course, does not mean best.
But knowing the number of users will help you estimate how much storage you need. With that estimate, you can figure out what kind of plan makes sense for your company and whether plans from different providers fit into your budget.
For instance, you may think that the cost per user for a certain provider is low. Yet when you add up the number of users it might be more cost-effective to choose a cloud provider with a set fee like IDrive.
Step 2: Determine Which Features You Require
There are certain features you may wish to look out for when choosing a cloud storage tool. Here are some examples:
Files are retained for a certain period of time in case of accidental deletion.
Backup is continuous and automatic.
You can share files with people who don't have the tool.
It's easy to restore previous versions of documents.
You can edit and work on files within the platform itself.
It's a good idea to list the features you require to see which cloud storage tool ticks the right boxes.
In terms of features, Dropbox will likely win hands down. If you're looking for a highly advanced cloud storage tool for your business then choose the appropriate Dropbox Business plan.
But Dropbox isn't right for everybody.
If you don't require all of those advanced features, it makes more sense to go for a lower-cost solution. There's no point paying for features you don't need.
Furthermore, you should take into consideration how tech-savvy you and/or your team are. Advanced features might make things more complicated and require a lot of training. Thus, you may opt for a simpler, easy-to-use solution that integrates well with the tools you already use, like OneDrive.
Step 3: Consider Integrations
Whether the users of the cloud storage tool are tech-savvy or not, it helps if your provider fits in with your existing tool stack. It makes the adoption of the cloud much easier.
First, you need to know if the cloud storage tool works on multiple operating systems. Some users may be on Windows, others may be on Mac, etc. Plus, does the tool have a mobile app so you or others can share or work on files while on the go?
Next, consider what types of files you will be uploading to the cloud. Perhaps you need a provider that supports large media files as well as documents, for example.
And finally, what other integrations do you need to make sure you get the most from your cloud storage tool? If integrations are important then you need a tool that supports APIs (application programming interfaces).
Step 4: Check Out Security Features
Security is of the utmost importance for both individuals and businesses. As an individual, you may back up personal photos and documents to the cloud, so you need to know that your private files will remain private.
If you're looking at cloud storage for your business, you also have to think about protecting customer data, financial records, and any other private company information that others shouldn't be privy to.
Thus, it's vital you research how secure a cloud storage tool is. Even those that are seemingly secure have their pitfalls. For example, Dropbox has some super-advanced security features like high levels of encryption and advanced user controls. Yet, they store your encryption key on their servers which, though it's highly unlikely, could hypothetically leave your files vulnerable to attacks.
So, you have to carefully consider which security features are most important to you and/or your company and do your due diligence.
Step 5: Consider Industry Regulations
Do you work in an industry that must adhere to certain compliance regulations? Financial services and healthcare industries, for example, are heavily regulated.
You may be unsure whether you're able to use cloud storage at all due to compliance issues. Yet, you'll find that lots of cloud storage tools take the steps to comply with common regulations these days.
As for the cloud storage tools mentioned here, Sync is a great choice if you work in a heavily regulated industry as their service is GDPR, HIPAA, and PIPEDA compliant. Dropbox also complies with many regulations, such as HIPAA, HITECH, SOC, and GDPR.
The best way to check if the cloud provider meets your specific regulatory needs is to search the name of the provider plus the specific regulation in question.
Step 6: Scrutinize Their Support Channels
As with any form of tech, things can and do go wrong with cloud storage tools. It could be particularly detrimental if you have a problem with the cloud. For instance, if you're unable to access an important file for a few days it could have severe consequences for your work or business.
Thus, you need to choose a cloud provider that offers high levels of customer support. Ideally, you'd be able to contact them easily and 24/7, and of course receive a quick response.
It's also great if the cloud provider has a help center with tutorials or articles that you can use to solve more minor issues yourself. When you're shopping around, look out for useful aspects like this.