The 6 Best Photo Cloud Storage Services and How to Decide
Thanks to smartphone cameras, everyone's a photographer these days.
Around the world, smartphone users and professional photographers collectively took more than 1.4 trillion photographs in 2020 – a number that will only rise in the coming years.
But where do you save all these pictures without compromising your privacy and data security so that you can still view and enjoy them a decade later?
Physical hard drives or memory cards? No, not safe.
A secure cloud storage service designed for photographers is your best option.
In this article, I'll share some of the best photo cloud storage services that'll help you save, find, and manage your images easily.
Let's get started.
1. Google Photos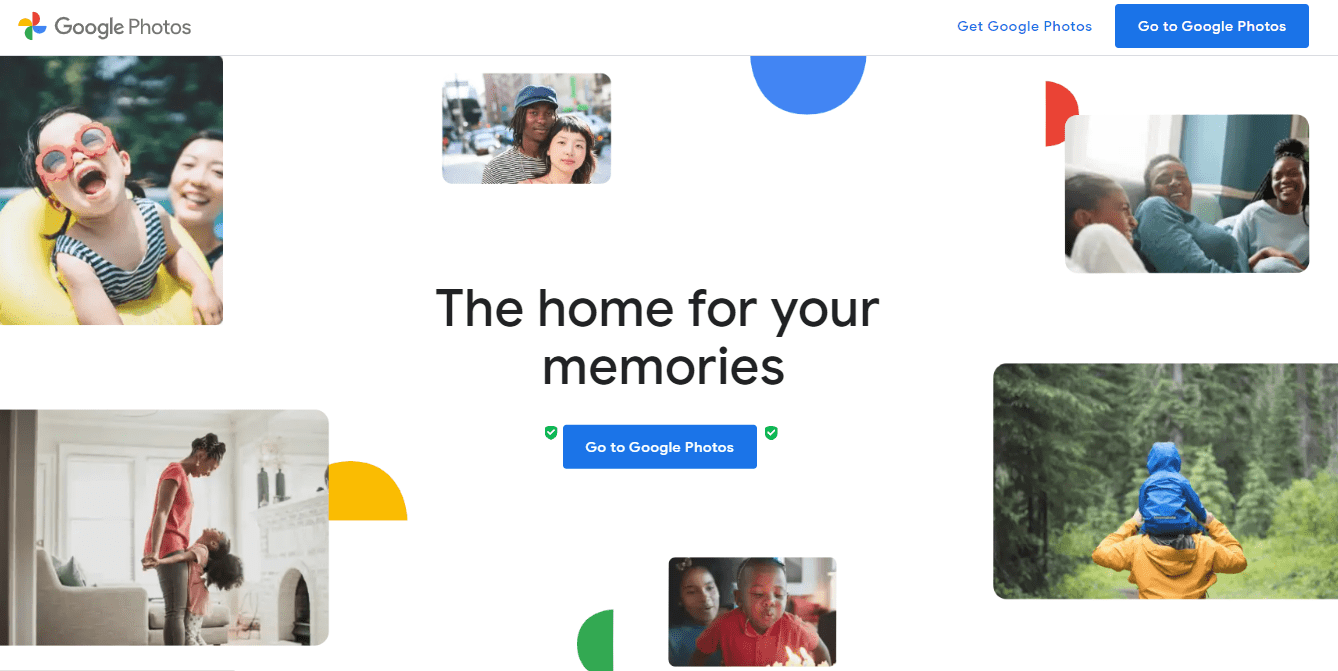 With one billion+ active users that upload more than 28 billion images and videos every week, Google Photos is one of the world's most popular photo management and storage apps.
It syncs across all your devices and automatically backs up your images (scaled to 16M) and videos (scaled to 1080p.)
Google Photos offers some of the best image management features in the world. It automatically organizes your images and videos into different categories using AI and gives you complete control over image categories.
Google's search capabilities also come in handy while using Google Photos. You can find images by merely describing them in the search box (for example, pictures with sunglasses, outdoors, sailing, etc.)
Until recently, Google Photos offered free unlimited photo storage and only charged a fee if you wanted to save images in their original format higher than 16M.
That size should be enough if you're a casual photographer but might not be enough for professionals who want to save raw and higher-definition image files.
But from June 1, 2021, your content on Google Photos will count toward your Google Account storage. Once you reach your storage limit of 15GB, you'll need to purchase more storage from Google One to continue using Google Photos or delete unnecessary photos to free up space in your free account.
Google One storage packages start from $1.33/month for 100GB and go up to 2TB for $6.62/month.
The Pros And Cons Of Using Google Photos For Cloud Storage
Here are some of the main advantages of using Google Photos for cloud storage.
Very easy-to-use interface.
Automatic image backup and syncing across devices.
World-class image management features.
Here are some disadvantages.
Free space only up to 15GB
Many users have expressed concerns about the privacy o their images and how google uses their image data.
2. Smugmug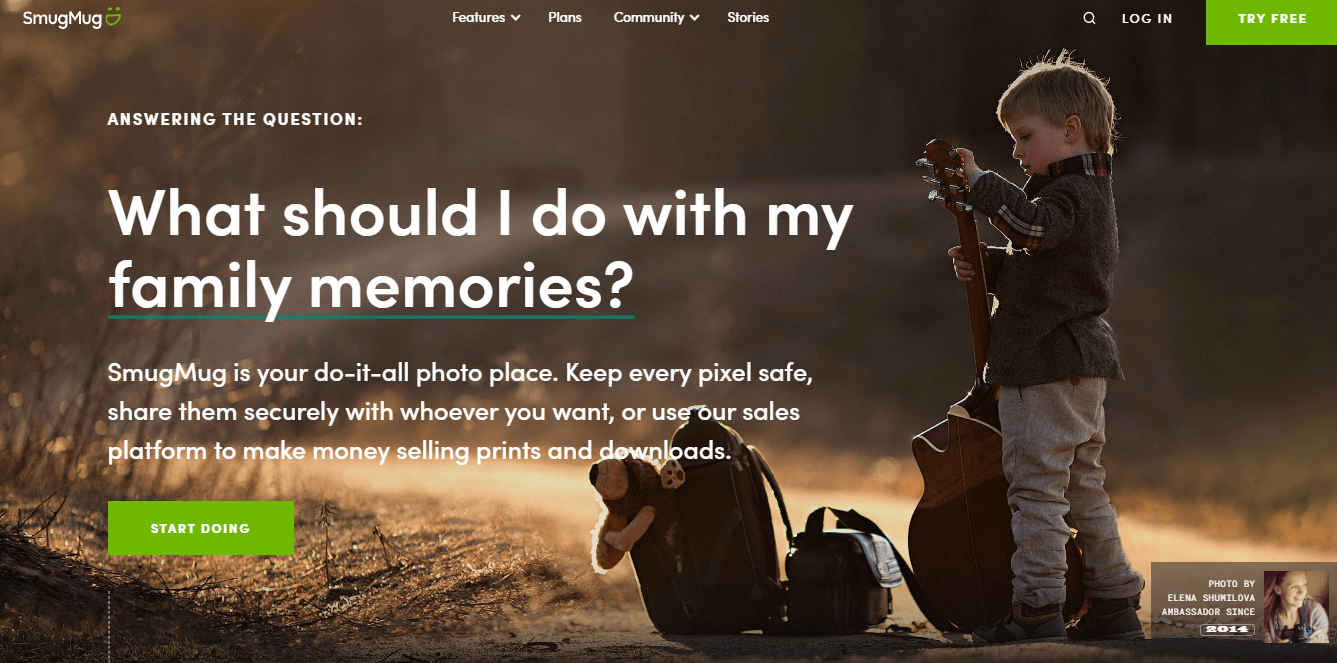 Smugmug is a lot more than a simple photo cloud storage service.
It's a complete platform for photographers to save, manage, share, and even sell their images online.
It has four different pricing plans, all of which offer unlimited full-resolution storage for your images and videos.
However, there are some restrictions on file uploads.
For example, you can't upload images larger than 150MB. You can only use it for uploading web-friendly image formats like JPEG, GIF, PNG, and HEIF. There's no support for Raw or Tiff formats, either, which is a big turn-off for professional photographers.
Plus, your videos need to be shorter than 20 min with a max resolution of 1080 and max file size of 3GB.
Their basic plan starts from $7/month and offers a professional photo website and 24/7 support along with unlimited storage.
You can choose one of their advanced plans (up to $42/month) to get a fully customizable website with your own domain name, image editing tools, watermark protection, client management tools, and marketing features such as coupons and packages.
Their drag & drop website builder makes it easy to display your pictures and comes with several templates using which you can set up your site easily.
You also have the option to create password-protected galleries and host special events on your site.
Apart from standard storage services, Smugmug also integrates with popular image editing tools for Android and iPhone.
The Pros And Cons Of Using Smugmug For Cloud Storage
Here are the advantages of using Smugmug for cloud storage
Unlimited storage for images and videos.
An excellent feature-rich website builder
Wide range of app integrations
eCommerce features to help you make money from your images.
Comes with a free 14-day trial
Here are the disadvantages
Limited image format support, not ideal for professional photographers
Limitations on video resolution and file size
3. Amazon Photos

Amazon Photos is not as frequently discussed as some other options on this list, but it's an excellent photo cloud storage service.
If you're among the 150 million Amazon Prime members around the world, you'll get unlimited full-resolution photo storage and up to 5GB of video storage with Amazon Photos. Non-Prime users get up to 5GB of free storage for photos and videos.
Unlike Google Photos, Amazon Photos allows full-resolution images in raw formats along with popular web-friendly image formats like JPEG, PNG, GIF, etc.
Amazon Photos is primarily designed for personal use and does not cater to the needs of professional photographers who're interested in using this platform to sell their photos.
But it does offer several advanced image management and search capabilities. Plus, it also allows you to create albums and invite up to five friends or family members to join your Photos account and access your storage quota.
You can back up your photos across devices using manual or automatic backups, and disable backup on mobile data.
In case 5GB isn't enough, you can get 100GB of space for $1.99/month to store around 50K photos at 2MB or 14 hours of 1080p HD video.
The Pros And Cons Of Using Amazon Photos For Cloud Storage
Here are the main advantages of using Amazon Photos for cloud storage.
Unlimited full-resolution storage for Prime users.
Raw image format support
Reasonably cheap storage for paid users.
Here are the disadvantages of using Amazon Photos for cloud storage
Not designed for professional photographers or commercial use.
Only 5GB of free storage for regular users.
Image file size limit of 2MB.
4. Adobe Creative Cloud Photography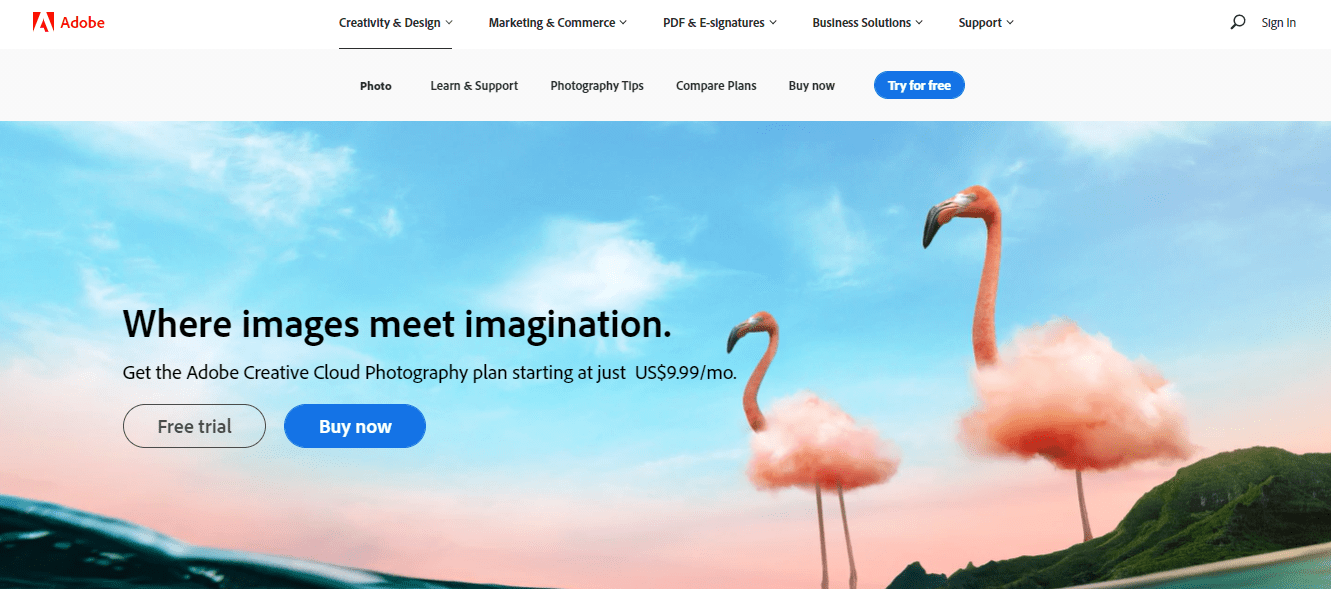 Adobe Creative Cloud is heaven for photographers, designers, and anyone who loves to edit and process images.
As a paid user, you get 100GB of cloud storage and access to 20+ Adobe desktop and mobile apps for photography, design, video, web, UX, and more.
But if you don't need all those apps and just want a dedicated cloud storage account for your photographs, Adobe Creative Cloud Photography is the more suitable option for you.
It offers three different plans for different levels of photographers.
The basic photography plan offers 20GB of cloud storage and access to Adobe Photoshop, Lightroom, Portfolio, and Spark at $9.99/month.
If you want the same features with more space, you can go for the 1TB pricing plan that costs $19.99/month.
But if you're solely interested in cloud storage, go for the Lightroom plan that offers 1TB of cloud storage along with access to Adobe Photoshop Lightroom for image editing and processing. No other apps are included in this plan.
Whatever plan you choose, you'll be able to sync the images on your desktop and mobile devices with your Adobe Creative Cloud account on the go.
You'll also be able to access your account using Adobe Android, iPhone, and desktop apps.
Overall, Adobe Creative Cloud is an attractive option for professional photographers in particular.
The Pros And Cons Of Using Adobe Creative Cloud Photography For Cloud Storage
Here are some of the main advantages of using Adobe Creative Cloud for storing your images.
Access to some of the best Adobe image editing apps and products.
Data-syncing across desktop and mobile devices.
Turn your photos into a portfolio website.
1TB plans ideal for professionals
Here are the drawbacks of Adobe Creative Cloud Photography
Expensive 20GB plan
Not as useful for non-Adobe users
Limited support for video files
5. Flickr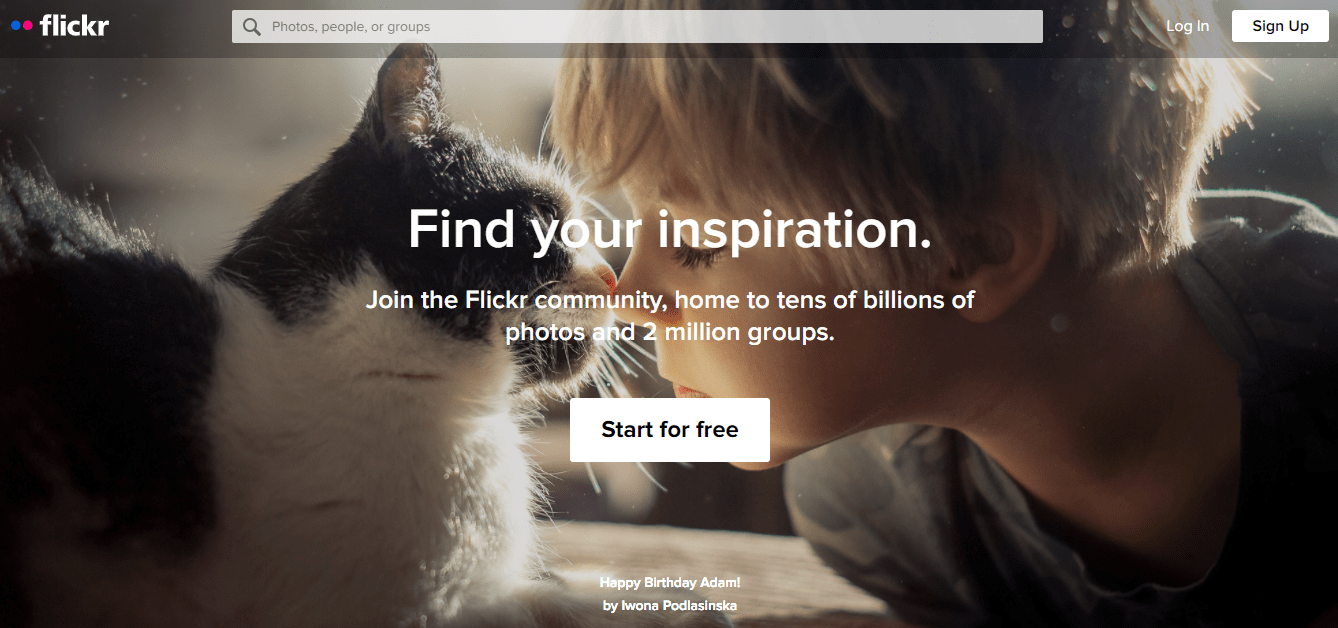 Flickr is among the world's most popular photo-sharing platforms that also offers cloud storage for images and videos.
As a Flickr user, you can upload up to 1000 images and videos to your account for free. However, it only supports JPEG, PNG, and non-animated GIF formats at the moment. All other image formats are automatically converted to JPEG. There's no support for RAW images and photos larger than 200MB.
As for videos, it supports all the popular formats for a file size of up to 1GB. Video playbacks are limited to 3 min for Free members and 10 min for Flickr Pro users.
You will also have to deal with banner ads as a free user.
If you want to go for unlimited image and video uploads in an ad-free environment, go for Flickr Pro. It comes at $5.99/month (billed annually) and gives you unlimited image and video backup via Flickr's desktop app along with advanced statistics and discounts on Smugmug (Flickr's parent company).
The image size and format restriction apply to the Pro accounts as well.
The great thing about Flickr is that once you upload your images, you can view and share them as a cool image gallery. Plus, you can sell your image usage license and make money from your photography on Flickr.
The Pros And Cons Of Using Flickr For Cloud Storage
Here are the main advantages of using Flickr for cloud storage.
Unlimited storage for Pro accounts and up to 1000 images for Free accounts
Option to monetize your images
Images displayed in an attractive photo gallery format
Publicly searchable photos (if you want)
Here are the disadvantages of using Flickr for cloud storage.
All images scaled down to JPEG format.
No support for RAW image formats.
Image size limit of 200 MB even for Pro users
6. Dropbox For Photos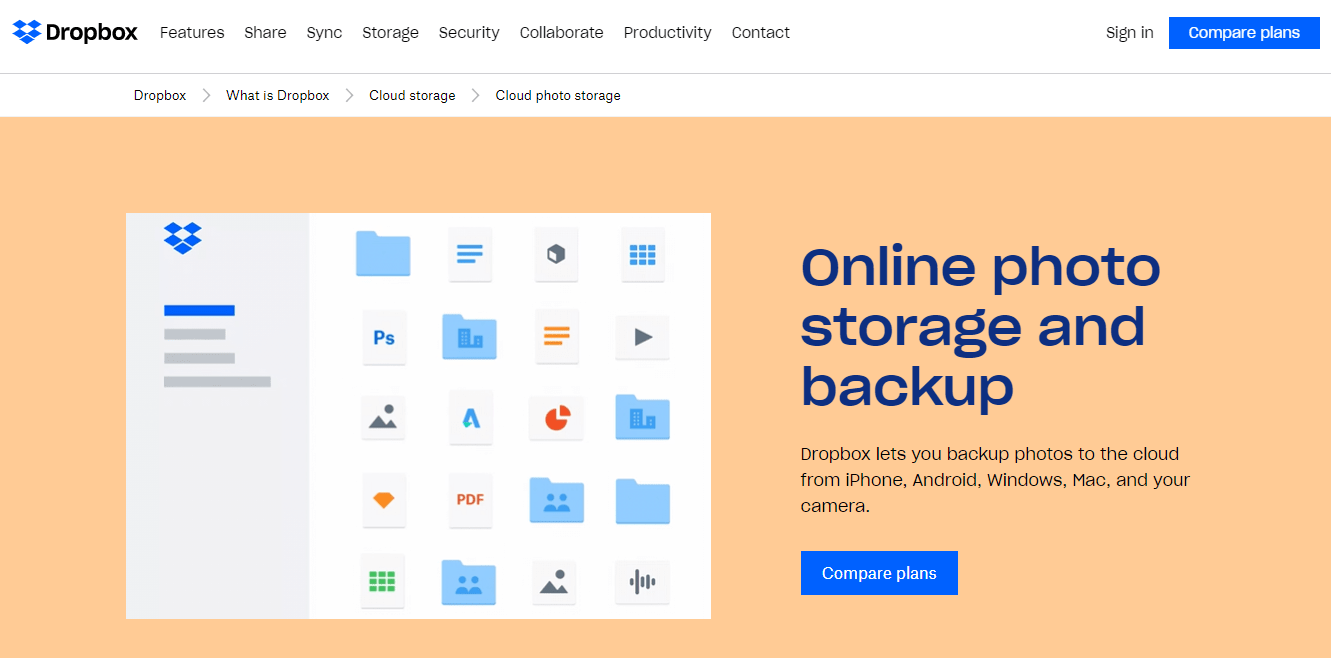 Dropbox is not a dedicated cloud hosting service for photos like Google Photos or Amazon Photos.
But it's still one of the world's premier cloud storage companies that offer free and paid online photo storage and backup services.
As a free Dropbox user, you get up to 2GB of cloud storage for your images, videos, and other files. If you want more space, you can go for paid plans that offer 2, 3, and 5 TB cloud storage plans starting from $9.99/month (billed annually).
Dropbox supports all the popular image formats along with full-resolution and RAW images. Plus, it is ideal for users who want to backup or share large files.
There are different file size limits depending on how you transfer your data, but the min size is 50GB and goes all the way up to 2TB per file as long as your account storage allows it.
Backing up your photos and videos is also very convenient with Dropbox. You can use any of its desktop, android, or iPhone apps to sync your data automatically with your cloud storage.
The Pros And Cons Of Using Dropbox For Photo Cloud Storage
Here are the main advantages of using Dropbox for image cloud storage.
One of the world's premier cloud storage companies
World-class backup features
Support for all kinds of images and videos
Here are some of the disadvantages of using Dropbox for storing photos
Very limited photo-specific features
Very limited space for free users
Expensive paid plans for casual users
How to Pick The Best Photo Cloud Storage Service For You
I've shared some of the best photo cloud storage services in this article. But you can't use all of them at once.
Here's how you can choose the storage service that's ideal for your needs.
Step#1: What Is Your Objective?
Are you a casual photographer looking to store personal images or a professional artist who wants to showcase his work, store high-definition photos, and even sell pictures online?
What is your objective for using cloud storage services?
This question should primarily determine your choice of service because the needs of a casual user and a professional photographer are drastically different.
Step#2: Free Or Premium Services?
The second thing you must consider is the cost of the service. Are you willing to pay for a cloud storage service or only interested in free options?
In case you don't want to go for premium services, using Google Photos or Flickr makes the most sense for you.
Step#3: Consider Your Storage Space Requirements
Will you be uploading large and high-definition images or stock photos captured with your smartphone?
How many images and videos do you want to upload, and are you ok if they're scaled down to lower quality?
If not, you'll need to consider paid storage options only because all the free options compromise storage space.
Step#4: Consider Any Extra Features You Need
Are additional features such as image editing, portfolio websites, and ecommerce vital to you?
If you're only interested in cloud storage and don't want any fancy features, Dropbox or Google Photos are great options.
But if you want advanced image editing features as well, consider Adobe Creative Cloud Photography.