The 6 Best Call Center Tools and How to Decide
The lifeblood of any small business is its customer base. Keeping customers engaged and informed, while responding to their needs as quickly as possible, is key.
You work so hard to gain a customer that you do not want to lose the customer because of a glitch in how you communicate with them.
To streamline your ability to maintain communications with your customers, consider employing one of the best call center tools. Call center software, also called contact center software, helps you manage your inbound and outbound communications and sales work.
For a small organization, call center tools can help you appear to be bigger, which may give your customer confidence in expanding its business relationship with you. Here are our picks for the six best call center tools.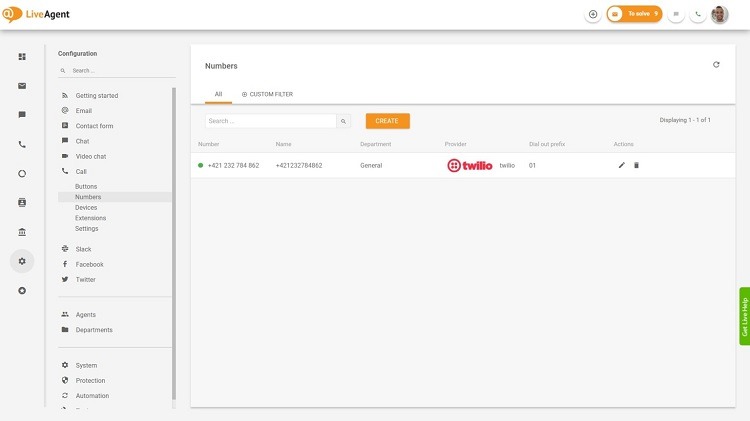 For smaller and medium sized organizations that primarily need help with managing customer support, LiveAgent is tough to beat. It has a few different pricing tiers that all carry a reasonable price point, so you can find the perfect version to fit your budget.
Smaller organizations appreciate LiveAgent because it is extremely easy to use, meaning they can spend less time and money on training.
If you prefer to handle customer support interactions through phone, chat, or social media, LiveAgent has you covered. The software is especially effective in helping your customer support personnel find the information they need at the right time, as it integrates closely with your knowledge base.
For an organization that handles customer support requests through the generation of support tickets, Live Agent does an excellent job in helping you organize your tickets, ensuring none of them end up in limbo, leaving the customer frustrated and wondering why your organization has not responded.
Pros
No per minute usage fees, unlike the majority of others
Works nicely for smaller organizations that mostly need customer support help
Reasonable pricing structures
Designed with ease of use in mind, meaning you spend less time on training
Cons
Not quite as powerful as some others on our list
Not the ideal solution for larger businesses that need extensive sales features
Pricing
Free version
Ticket: $15 per month per user
Ticket + Chat: $29 per month per user
All-Inclusive: $39 per month per user
14-day free trial available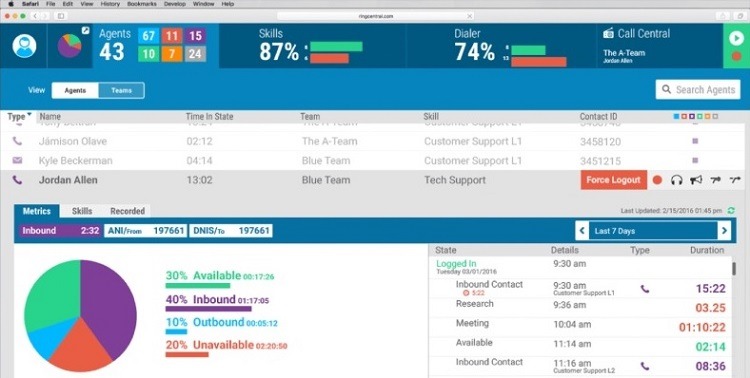 For those organizations that expect to grow in the near future and will need to add features to the call center software over time, Freshcaller is a smart choice, as it has multiple pricing tiers and feature sets that allow you to match the exact features you need to the price you pay.
Freshcaller includes tiers ranging from a basic free tier to a high end tier that helps you manage phone calls, social media communications, and texting.
Unfortunately, at first glance, all of the pricing tiers that are available may overwhelm you. It does take some time to go through all of the options to find the perfect tier for your needs.
With sales calls, Freshcaller will use popup windows on the screen to give employees responses and suggestions they can make that will help the call run more smoothly.
Freshcaller is part of the Freshworks business software suite, so if you're already using some Freshworks products in your organization, learning how to use Freshcaller will take no time at all. Crazy Egg has a deeper breakdown of Freshcaller here, including why they believe it's best for customer support teams.
Pros
Fully runs in the cloud, reducing the need for extra hardware
Has a free tier as well as 21-day free trials for other tiers
Very easy to use
Upper versions include monitoring texting and social media communications with customers
Cons
Almost too many pricing tiers to easily make the best selection
Upper tiers are extremely pricey
Pricing
Sprout: Free version
Blossom: $15 to $19 per month per user
Garden: $29 to $39 per month per user
Estate: $45 to $59 per month per user
Forest: $69 to $99 per month per user
Estate Omnichannel: $79 to $99 per month per user
Forest Omnichannel: $139 to $169 per month per user
21-day free trial available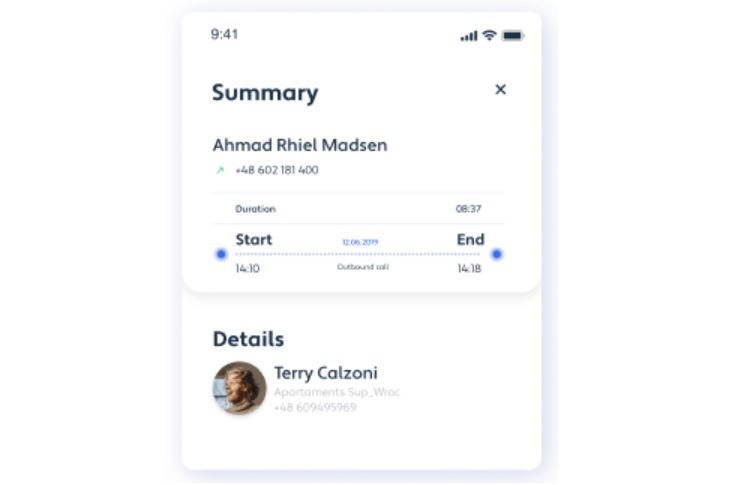 channels
Organizations that need to manage their inbound and outbound calls from anywhere will greatly appreciate the strength of the app found with the channels call center tool. You can have calls forwarded to mobile phones, meaning your employees who are at client sites can also answer sales calls and seek conversions.
For those who need extensive customer service features in their best call center tool, channels may not be the best selection for your business. The majority of channels' features focus on helping your agents make sales conversions. You can track the conversion rate for each agent through the reporting functions in channels.
With channels, you can choose to order local phone numbers for a variety of locations, which may make some of your customers more comfortable with your organization as you'll appear to be locally based.
You can select from a few different pricing tiers with channels, giving you a better chance of matching your feature requirements with a tier that stays within your budget.
Pros
Reasonably priced tiers
Offers local numbers from dozens of countries and cities that you can use
Gives you plenty of features aimed at helping you improve your sales performance
Easy to manage all aspects of this software through an app
Cons
Free trial period is available, but it's only for seven days
Not quite as strong for fulfilling customer service needs
Pricing
Lite: $15 to $19 per month per user
Basic: $24 to $29 per month per user
Pro: $39 to $49 per month per user
Enterprise: Must request a custom price quote
7-day free trials available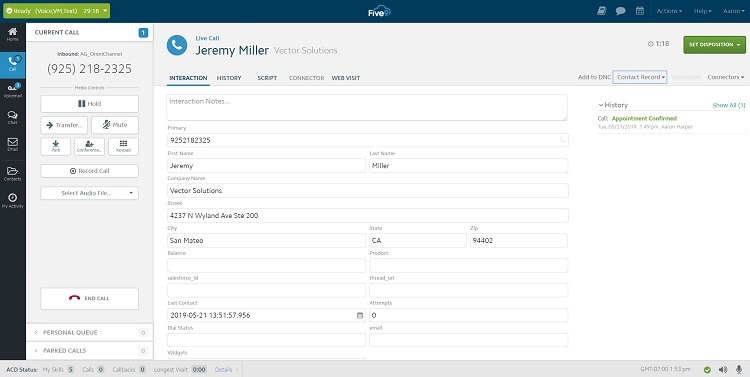 Five9
Organizations that want to use the same call center software interface to handle inbound customer service calls and outbound sales calls will appreciate the simplicity of Five9.
This interface becomes an even more effective tool when your organization wants to share people between its inbound and outbound service teams. The software uses artificial intelligence to anticipate surges in call volumes, using members of the sales team to handle the overflow from customer service and vice versa.
As an offshoot of this technology, the software will make suggestions on the screen when the person handling the call has a chance to expand a sales opportunity with add-on products. These popup windows are ideal for organizations that may have a huge product catalog, where the call center personnel might not know everything that's in it.
We'd like Five9 even more if the pricing structure was a little easier to understand and geared more toward smaller organizations. Five9's features and pricing probably will give better results for larger organizations and businesses.
Five9 can help you with scheduling, and it has workforce management tools that ensure you have enough people ready to handle communications with customers based on previous call volumes for certain days of the week and times.
Pros
Simplifies managing customer support and sales from a single interface
Software's AI predicts surges in calls, adjusting routing as required
Integrates with popular CRM software selections
Because it is cloud-based, you do not need significant hardware investments
Cons
Pricing is difficult to understand
A bit more expensive than some other competitors
Pricing
Must request a custom price quote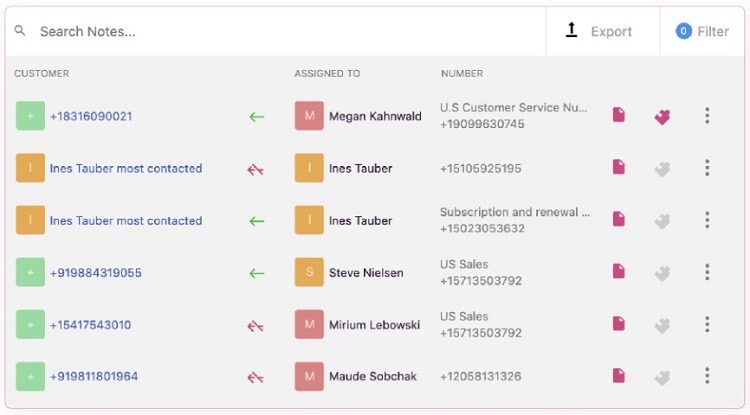 RingCentral Contact Center
One of the biggest strengths a business or organization can have is flexibility, allowing it to handle whatever situations pop up suddenly. If you want to maintain this idea of flexibility throughout your organization's call center tool, RingCentral Contact Center is the answer.
This easily ranks as one of the best call center software tools, giving you the ability to monitor your customer service contacts and sales leads in many different ways. This flexibility ensures you can find a method that meets your needs.
When you need to have agents out in the field answering customer inquiries, you'll appreciate that RingCentral's mobile app has plenty of functionality, so they can work as efficiently away from the office as they can sitting at a desk.
Because RingCentral Contact Center used the cloud from the beginning, it gives you seamless performance. It avoids some of the hiccups vendors have who are trying to migrate a legacy software package to the cloud.
You may already be familiar with RingCentral's phone system software platform. If so, you'll appreciate how its contact center functionality integrates nicely with the main RingCentral product.
Pros
Integrates nicely with RingCentral's cloud based phone system platform
Offers extensive reporting functions
System made exclusively for the cloud, so it runs seamlessly
Has equally strong desktop and app interfaces
Cons
Pricing tiers could be a little easier to understand
Pricing
Basic
Advanced
Ultimate
Must request a custom price quote for all three tiers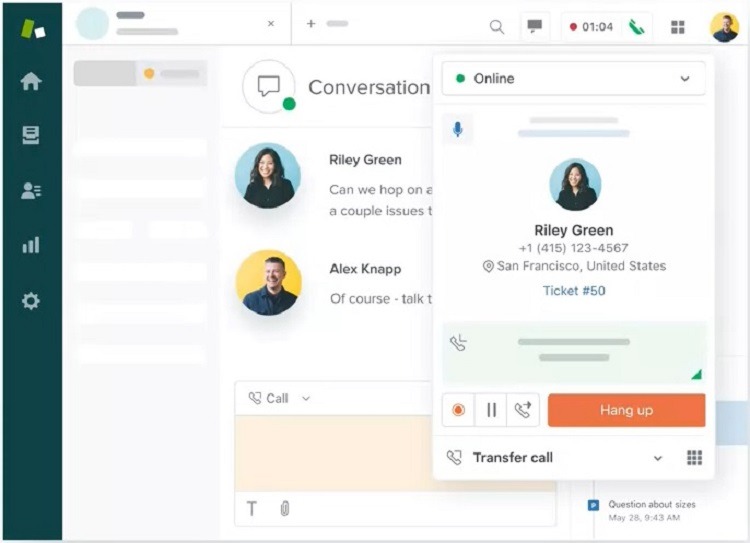 Zendesk Talk
With Zendesk Talk, you'll receive strong customer service features and customer relationship management (CRM) features first, with the call center functionality built on top of it. This is the opposite of the other best call center tools on our list. But Zendesk Talk still delivers a strong software package that ensures your customers' needs are met at every turn.
Zendesk Talk simplifies the process of tracking customer service tickets, ensuring they will remain active until someone solves them, rather than becoming lost in the shuffle, leaving customers frustrated.
Another strength of Zendesk Talk is how easy it is to use, meaning your agents will spend far less time trying to learn how to use the software and more time making sales and helping customers. As they are on a call, the software will give them real time information about the customer on the other end, helping them personalize the conversation and tailor it to each customer.
With the call recording feature in Zendesk Talk, administrators can keep an eye on the work of individual agents, ensuring they are performing their jobs properly and giving customers the type of service they need.
Pros
Excellent choice for those who need excellent CRM functionality
Can give agents specific information about each customer while they're on the call
Offers multiple pricing tier choices
Easier to use than some others, reducing training costs
Cons
You may not need the CRM features
Upper pricing tiers are expensive
Pricing
Lite: Free version
Team: $19 per month per user
Professional: $49 per month per user
Enterprise: $89 per month per user
Partner: Must request a custom price quote
How to Pick Your Call Center Tools
Here are steps you can follow to decide among the best call center tools.
Step 1 – Do You Need Sales Help Over Customer Support?
Some of the best call center tools give businesses more help with sales, while others have a primary strength in customer support. You'll also find quite a few options that excel in both areas. Start your search by thinking about the area in which your organization needs the most help and focus on those packages.
Channels is a package that has strong sales management features, while LiveAgent places more emphasis on customer support functionality than on sales. RingCentral and Five9 offer equally strong features in both areas.
Step 2 – Do You Need a Strong Mobile App?
Next, think about how and where your agents will need to use the call center software. Some call center software package designs work best from a desktop interface in the office, while others add a strong mobile app that ensures strong performance anywhere.
We like the channels mobile app, but this tool does not function as well when your agents will be working out of the office primarily. RingCentral is another tool with an excellent mobile app.
Step 3 – Think About Your Budget
Call center tools are available in many different price points, so your final step should involve setting a budget. Understand that many of these tools charge customers per user per month, but they also may have charges per minute of usage. (LiveAgent does not have per minute charges.)
Zendesk Talk and Freshcaller both offer quite a few different pricing tiers, giving customers multiple options for finding the perfect match between a desirable feature set and the budget that is available.