The 5 Best Business Security Systems and How to Decide
Your employees and clients depend on your security systems to keep everyone safe and sensitive information secure.
The best business security systems protect the entirety of your physical location and give you tools to monitor the situation, whether you are on site or not.
Take control of the premises and provide peace of mind to everyone at work with one of the 5 best business security systems on the market today. Along with a review of each system, I've included a step-by-step guide for how to pick the right one for you.
1. ADT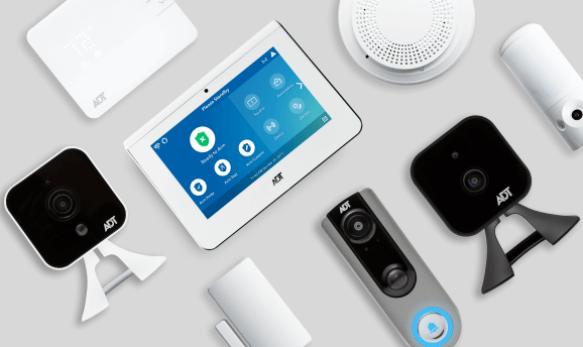 Pricing:
Starting at $28.99 per month
ADT has been a major player in the security game for more than a century, consistently incorporating the latest technology in order to keep their customers' lives and assets protected at all times.
Whether you have a single office or multiple locations, ADT will work with you to customize the best business security system for your particular situation. They have state of the art cameras for doorbell, indoor and outdoor locations, as well as DIY security cameras with two-way talk.
In addition to every product their competitors offer, ADT has keycard readers, intercoms, and the ability to install smart locks on your doors in compliance with local regulations. With risk assessment and cybersecurity solutions, ADT offers businesses more ways to protect themselves.
For small business, ADT offers three packages. The standard option is Premise Control, and it comes with:
Intrusion detection
Hold-Up alarm monitoring
High/Low temperature monitoring
Flood detection
Event history
Alerts & notifications
Customized scheduling
Remote access
Remote arm & disarm
The next tier up is Enterprise View, which comes with interactive video, in addition to everything that comes with Premise Control.
Total Productivity, the top tier package, comes with small appliance management, climate control, and lighting control.
For large companies with comprehensive and complex security challenges, ADT Commercial is a dependable option that's got everything necessary to protect your worksite in the post-COVID era.
They offer Elevated Skin Temperature (EST) systems, which use thermal imaging to screen people who enter the premises, and occupancy management tools to keep with social distancing and contact tracing protocols.
You'll have to get in touch with ADT to get an exact price of what your package and equipment will cost.
2. SimpliSafe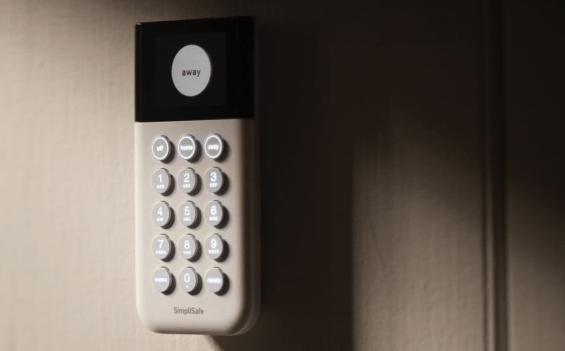 Pricing:
Starting at 14.99 per month
SimpliSafe is one of the more affordable business security systems on the market, often half as expensive per month as its competitors. With SimpliSafe, customers get top-quality products without having to sign a contract. Purchase for what you need, adjust as necessary, and never pay for anything you don't use.
The basic monitoring plan is $14.99 per month. When alarms go off, SimpliSafe will try to reach you on the two primary numbers associated with the account. If they can't reach you, they'll alert police, fire, and medical.
You can also choose the interactive monitoring plan, which is $24.99 per month. This gives you remote control access to your system, a secret alarm mode, and free video recording with up to 30 days of motion capture video.
There are two items that form the foundation of every SimpliSafe security system: the base station and wireless keypad. These cost $185. From there, you can build your system completely à la carte. Some of the equipment you can select include:
Entry sensor
Motion sensor
SimpliCam
Smoke detector
Carbon Monoxide sensor
Temperature sensor
Water sensor
Glassbreak sensor
Panic button
Key Fob
There is only one camera option, the SimpliCam, but it gives you HD video and audio with an ultra-wide field of view. Each SimpliCam is $99 for indoor use. Outdoor kits cost an additional $19.99, and will keep the camera operational during any kind of weather or extreme temperatures.
Your SimpliSafe system is shipped free of charge and installation is something that many people can do on their own. No wires, no drilling, no headaches. If your situation requires professional installation, SimpliSafe will schedule a technician for $79.
3. Vivint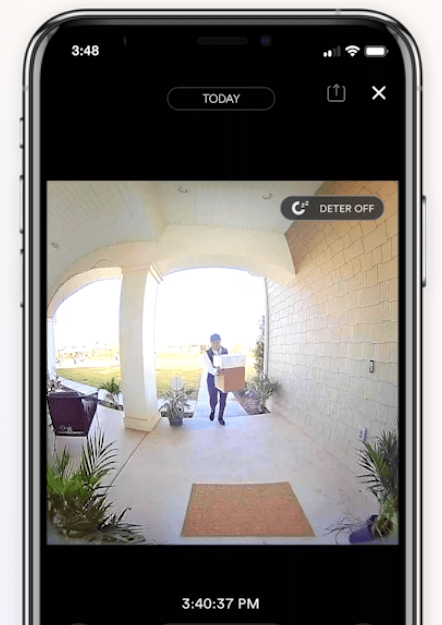 Pricing:
Starting at $29.99/month, plus $99 installation fee
Vivint is a trusted company with decades of experience guarding homes and businesses. Their equipment is easy to control from the intuitive Vivint mobile app, which has a 4.5 out of 5 star rating.
The first step is choosing a package. Vivint's basic plan, Smart Security Monitoring, includes all of the essential elements to keep property and people safe, including:
Entry, smoke, and CO detection
Medical pendant support
Mobile access
Professional 24/7 monitoring
With the next tier up, Smart Home Monitoring (starting $39.99/month, plus $149 installation fee), you get smart home integration. This lets your system interface with your equipment, as well as other products from Amazon, Google, Nest, and other vendors. Security devices include:
Door and window sensor
Recessed door sensor
Motion sensor
Tilt sensor
Glass break detector
Key fob
Medical pendant
Carbon monoxide detector
Smoke detector
Temperature/Flood sensor
Lamp module
Their top tier plan, Smart Home Video Monitoring (starting at $44.99/month, plus $199 installation fee), includes video monitoring in addition to everything that comes with other plans. Vivint has several different types of cameras to choose from:
Doorbell Camera
Motion Detector Camera
Outdoor Camera
Pan & Tilt Camera
Ping Camera
Small Cameras
Wireless Security Camera
Your cameras can be connected to a Vivint Smart Drive, which will give you 30-day continuous playback on 4 cameras. As you review video on the app, you can skip to motion clips where the camera detected movement, and easily email clips as needed.
All of their equipment connects to a central panel that doesn't need WiFi to operate. If an intruder takes out the panel, every other piece of equipment will remain functional, sending an alarm to Vivint's Central Monitoring Station. Even during a power outage, Vivint's cellular backup gives you continuous security. It's like a CCTV system, without the wires.
Panels have two-way talk, so if an alarm is tripped, anyone with a unique security code can disarm it from there and communicate directly about the issue.
You can issue as many unique security codes as you need. Granting couriers, cleaners, and maintenance on-demand access to specific parts of the building and always know who's there.
You can pay for your equipment up front, or in monthly installments over 42 or 60 months.
4. Frontpoint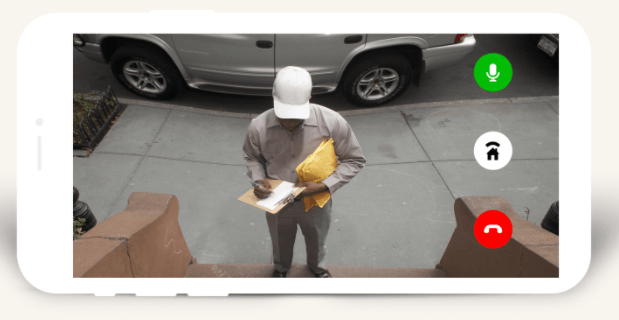 Pricing:
Frontpoint is competitively-priced and totally DIY. It's definitely one of the best business security systems for companies that don't want to wait or pay an installation fee.
Frontpoint offers Interactive and Ultimate monitoring plans. Interactive, which runs approximately $45 per month, comes with:
24/7 Professional Monitoring
Automated System Check
Crash and Smash Protection
Expandable and Portable
Geo-location Services
Mobile Alert and Notifications via Email and Text
Remote Access and Control
Sensor History
Unique User Codes
It's a really full selection of features, but if you want to include cameras as part of your system, you will need an Ultimate monitoring plan. It's only about $5 more per month than Interactive, at approximately $50 per month, and you get:
Motion Triggered Alerts
Night Vision Enabled
Light Contro
Live Video Streaming
Smart Lock Control
Video and Image History
You can purchase as much cloud storage as you need to back up your video through Frontpoint, which you will be able to access directly from the mobile app.
In terms of equipment, the heart of each Frontpoint system are the Hub and Keypad, which are $249.99. All devices run on a 100% cellular connection with 24-hour battery backup, and WiFi backup. You can locate the wireless Hub anywhere in your space, and control it from the Frontpoint mobile app.
Any other equipment you order is pre-programmed exclusively for your home, so it is ready to connect out of the box. For businesses, Frontpoint offers:
Touchscreen
Door/Window sensor
Motion sensor
Glassbreak sensor
Carbon monoxide sensor
Flood sensor
Doorbell camera
Indoor camera
Outdoor camera
Wireless light control
Smart LED light bulb
Keychain remote
Panic pendant
Other than the equipment and monthly monitoring cost, there are no additional fees from Frontpoint. Their products have an excellent reputation for privacy. You won't find stories about Frontpoint microphones or cameras getting hacked.
5. Shield Security Systems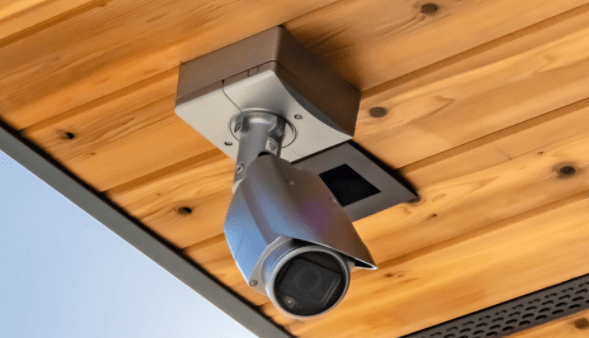 Pricing:
Shield Security Systems is a full-service company with no annual contracts. They can handle any job, but you will have to call them to get a price, regardless of the scope of your needs.
Shield employs security professionals around the country, so you always get someone who understands the city or neighborhood where your business is located. They will come out and inspect your site and address any security concerns you have.
Every commercial plan includes:
Cellular connection
24/7 professional monitoring and police dispatch
Mobile app
Supervised smoke, fire, and carbon monoxide detection
Power outage protection
Secret alerts
Text and email alerts
Auto disarming
They have many options for video, which you can review using a smart search feature. With Shield, it takes minutes to find a clip that would have taken hours in the past.
If you are running into trouble with regulations, Shield may be the best business security systems for you. They are qualified to install and service alarms, locks, and fire protection in compliance with local codes.
How to pick your best business security system
There's a lot of overlap among the best business security systems. That said, there are differences in the pricing structures and package options. Since you are always going to need security, a small difference in monthly price can make a big impact long term.
Follow these steps to figure out the perfect system for your specific situation.
Step 1: Understand codes and regulations
The last thing you want is for an inspector to find something wrong with your security system. That means the first step is to learn of all the pertinent codes, permits, and regulations that your new system needs to accommodate.
If you are renting or leasing the building, be sure to speak with management in order to surface any issues with a potential installation.
ADT, Shield Security Systems, and SimpliSafe can install smart door locks for businesses that comply with all local regulations. Vivint and Frontpoint, on the other hand, will install smart door locks for homes, but not businesses.
Door locks are just one example. Some companies will install smoke detectors in homes, but not for business. If you are responsible for fire protection, ADT and Shield Security Systems are the only two vendors on this list who will be able to help.
Should you run into trouble figuring out the regulations, feel free to contact the security system sales team. They will usually be able to help.
Step 2: Scope out your security needs
Businesses require different security systems depending on the nature of their physical address and the type of protection they need.
Some companies lease space in buildings that already have some security measures put in place, such as reception, keycard entry, and so forth. They may only need to equip and monitor their space, whereas others have an entire building and premises that they need to protect.
No matter what you choose, your system will be composed of:
Equipment: these are the sensors, alarms, locks, cameras, panels and other devices that you will have to purchase in order to outfit your building.
Monitoring: this is the service that ties all of your equipment together in a central system. When motion is captured on camera, or an alarm is tripped, your monitoring service ensures that the event is recorded and a warning is dispatched to you or the authorities.
You want to have an idea of both the range of equipment you need and the type of monitoring service that will support all of your devices.
Step 3: Price out the total security system
Once you have a good idea of what you are looking for, make sure your potential system is aligned with your budget.
If you need cameras as part of your security system, it will most likely bump you into a higher price-tier monitoring package. You also need to identify the number and types of cameras you need.
With SimpliSafe and Frontpoint, outdoor cameras are more expensive than indoor cameras, though the price difference is more pronounced with Frontpoint. These companies also only offer static cameras.
With Vivint, you can get a pan and tilt camera that gives you more flexibility about what you can see. It's going to cost more, but it may be the only tool that works for the job.
Besides camera type, you also want to think about your video storage needs. For some companies, their cameras will only record motion capture, whereas others provide continuous coverage. Since the best business security systems use HD video, you want to ensure that you have the space necessary to keep surveillance footage for an appropriate length of time.
Cameras are just one element. You want to make sure you have enough of the right type of sensors to make sure that access to your space is limited to the right folks. Do you need additional keypads to ensure that the cleaners can get in after business hours?
Step 4: DIY or Pro Install
All the best security systems for business have switched over cellular service. This is way more secure, as the system will work even when the phone line is cut.
Cellular devices also mean that there are no wires. A full DIY installation is within reach for people with no technical experience, especially if you choose a system like Frontpoint.
DIY is great because there is no installation fee, and you will be able to move devices as necessary. If you move valuable property from one room to another, there is no need for a service call.
For some businesses, however, having a pro installation is a much better idea. Especially with larger, more complex systems, you can rest assured that everything is connected properly.
Step 5: Regularly reassess your system
Once your security system is in place, make it a point to routinely test your equipment and monitoring platforms to ensure that they are working the way you expect.
All of the vendors on this list make it easy to add more security tools as you expand or encounter unforeseen threats.