The 6 Best Business Plan Tools and How to Decide
When starting a new business, it's easy to get ahead of yourself, thinking about the success you'll have and the various products and services you'll create.
However, as with most things, the devil is in the details. If you don't have a good business plan at the start, you could make mistakes in the early days that will magnify as you go along.
Additionally, without spending some time creating a strong plan, it's difficult to convince investors about the vision you have for your business.
You'll have a better shot at putting your business on solid footing from the jump when you make use of one of our 6 best business plan tools, along with our advice for deciding on the best one for you.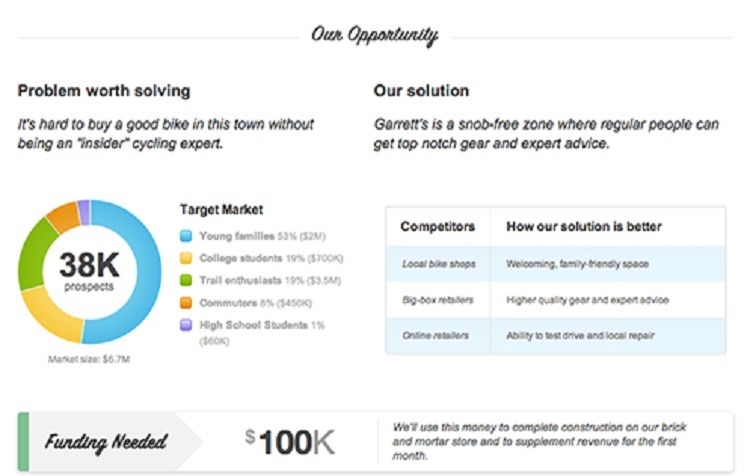 For those who need a strong all around business plan tool, LivePlan is easily one of the best on the market. It has tools aimed at helping you launch your business, at setting up a growth plan, and at creating documentation and reports that make your business appealing to potential investors. LivePlan's monthly price is also reasonable, meaning there's a lot to like for this business plan tool.
If you expect to have multiple people collaborating on the business plan at the same time, some plans will charge you extra. LivePlan does not place any limitations on the number of users, though.
If you need some extra help in building your business plan, LivePlan has excellent step-by-step instructions to ensure you hit every key point that potential investors will want to see. This simplifies the process of creating your business plan, letting you move through the process at a pace that suits your needs, while remaining thorough.
Pros
Strong all-around business plan software tool
No limit on the number of people who can access the software for your monthly subscription price
No limit on the number of simultaneous business plans you can have in progress
Excellent guidance on building the business plan step by step
Cons
Does not have a mobile app (but you can access the cloud software on a mobile web browser)
Pricing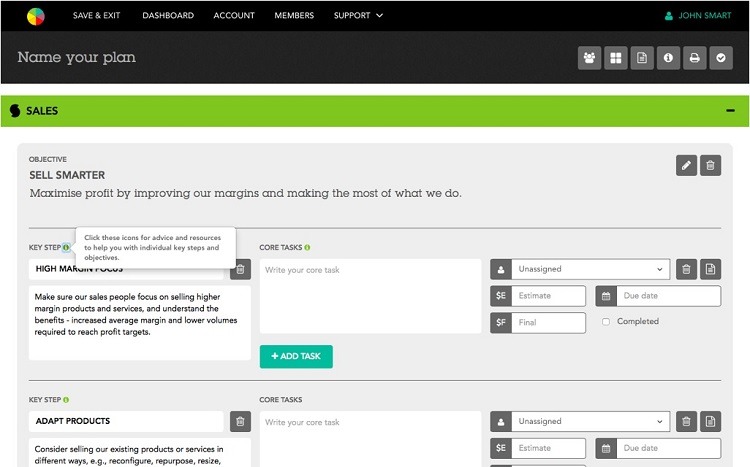 Business Sorter
With Business Sorter, those new to creating business plans are able to start quickly, using prewritten cards that give you a head start. You then can edit the information on the cards to make it apply to your particular situation.
If you will have several people working on your business plan at the same time, Business Sorter simplifies this process, offering multiple pricing tiers to handle the varying number of users you will have. If you will be working on your business plan alone, though, these pricing tiers may be confusing for you.
Business Sorter breaks down your business plan into six areas that help you figure out how to move forward effectively. You may not have given much thought to a few of these areas, so Business Sorter will help you create a well-rounded plan that's appropriate to show to potential investors.
Pros
Extremely easy to use, even for novices
Offers a 14-day free trial period
Includes prewritten cards to cover a variety of business startup situations
Sharp looking interface
Cons
Pricing tiers may seem a little confusing
Does not offer educational video tools
Pricing
Free trial for 14 days
Small Team: $7 to $10 per month (up to 3 users)
Medium Team: $20 to $30 per month (up to 10 users)
Large Team: $54 to $80 per month (up to 30 users)
Enterprise: Contact for custom pricing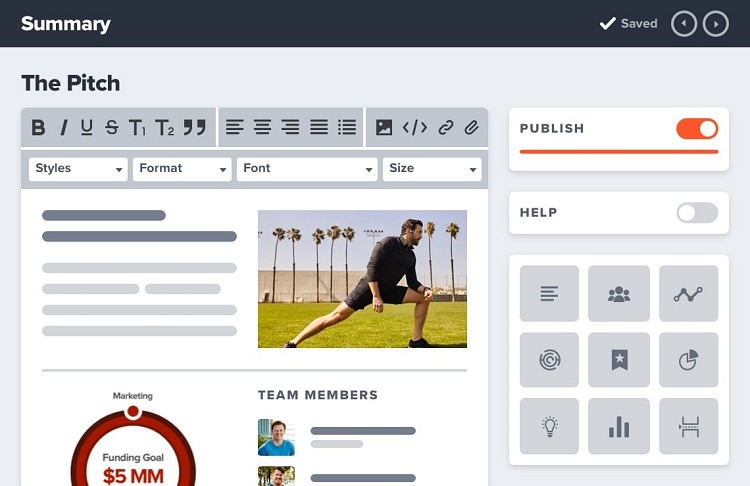 Bizplan
Bizplan is a nice selection as a business plan tool for those who have big goals for starting the business and raising capital, yet it's not too complex to pick up and begin using immediately.
Bizplan simplifies the process of building your business plan, allowing you to focus on completing small tasks along the way, rather than trying to tackle the entire process at once. It also shows you clearly when you complete small projects, ensuring you can see exactly what you need to do in the future.
One of Bizplan's greatest strengths is its ability to help you raise the funding that you need. It offers avenues to find funding, while helping you create a well-rounded plan to impress those investors.
You'll appreciate the variety of templates included in Bizplan, which help you see different ideas for items you can include in your business plan.
Pros
Extremely easy to begin using immediately
Excels in helping you raise capital
Generates a variety of reports that you can use to see progress
Has detailed tools that allow you to show financial projections for the business
Cons
There is no option for a free trial
A little pricey for smaller startups
Pricing
$20.75 to $29 per month
Lifetime Access: $349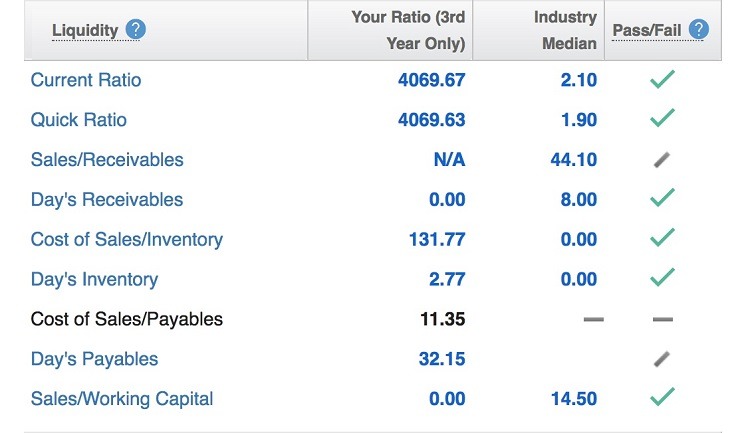 enloop
If you are struggling with starting a business plan, enloop is the answer, as it is one of the easiest business plan software packages to begin using immediately. It even helps you by auto-entering text into various sections of the software, giving you a head start on some ideas about what to write. (You can later edit the text if desired.)
One of the best reasons to put together a business plan is to show potential investors how the financial projections look, and enloop excels in this area. It offers users the ability to enter impressive detail regarding the financial projections, which should help you deliver the most realistic numbers.
An interesting aspect of enloop is the formula it uses to give your business plan a score, with higher scores yielding a better chance of success for the startup. You can see in real time how changes you make to your plan will affect your score.
Pros
New users can begin using it immediately
Extra guidance for each section through a "help" link on the screen
Great for those wanting to start multiple businesses at once
Ranks your potential level of success, based on what you've entered into the plan
Cons
No option to access customer service by phone or live chat
Tricky to tailor it to a non-traditional type of business
Pricing
Free trial for 7 days
Detailed: $11 to $19.95 per month
Performance: $24 to $39.95 per month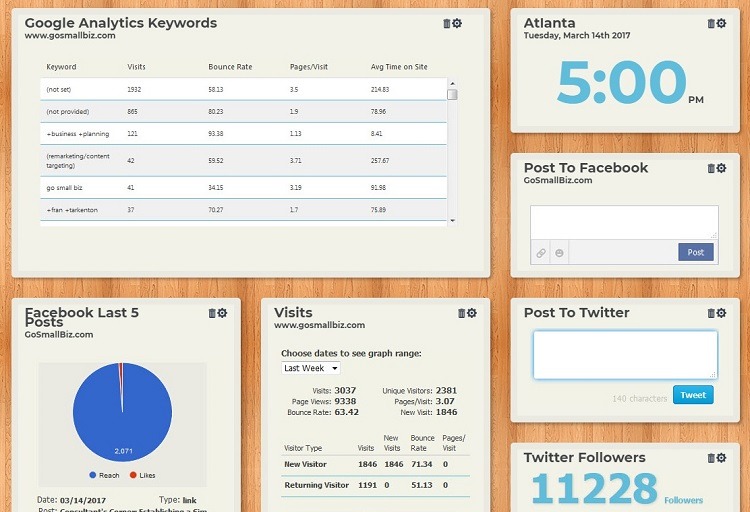 GoSmallBiz
For those who have little to no experience with starting or running a business, the process of building a plan by itself can be extremely daunting. But things like building a marketing plan and finding advice can be just as difficult. GoSmallBiz provides advice for all of these areas in one package, which makes it a strong contender, even though it's price is higher than others.
As you work through the various aspects of setting up your business plan in GoSmallBiz, you'll find links to videos from experts that will help you make smarter choices about the information to include. This feature is ideal for someone who does not have the experience of building a business.
For those who want a simple business planning tool, GoSmallBiz may be a bit of overkill, as the extra features may not be necessary for you. But those extra tools are so strong that for those who need them, the higher cost is going to be well worth it.
Pros
Especially helpful for someone who is truly starting as a novice
Includes added services to help newcomers build a website or begin marketing
Plenty of advice options built into the software
Simple monthly pricing plan that you can cancel at any time
Cons
Other features may overwhelm the actual business plan software
Pricing per month is a little higher than some others (but you're receiving extra services)
Pricing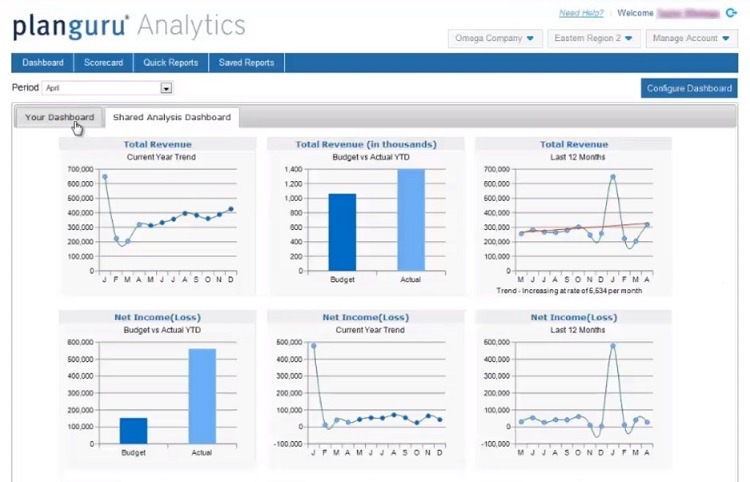 PlanGuru
PlanGuru's biggest strength is its flexibility, as it works nicely for both extremely small startup businesses that need only the basics in business planning, as well as for larger startups that are looking to raise significant capital to get the business idea off the ground.
When creating financial projections, PlanGuru does an excellent job of taking the historical results your business has accumulated and applying them to the future, resulting in projections that potential investors will be able to trust. In fact, one of PlanGuru's strengths is its ability to help you use your past financial results to create budgets and manage the performance of the business.
There are aspects of PlanGuru that will confuse those who don't have a lot of business startup experience. Additionally, it's pretty expensive compared to others on our list. But if you need multiple financial tools to go with business planning software, this is a strong contender.
Pros
Works for a variety of sizes of startups
Includes quite a number of educational tools to help you find advice
Has a number of financial reporting tools to help you budget and forecast
Includes a mobile app
Cons
Far more expensive than other business plan tools
Only one user per account, but you can pay extra for more users
Pricing
$75 to $99 per month for one user
$25 to $29 per month per additional user
How to Pick Your Business Plan Tools
To help you have more success with picking the best business plan tool for your needs, here are some steps to follow.
Step 1 – Consider Your Level of Expertise
If you have started businesses in the past, you may be able to go with a business plan tool that has advanced features and less step-by-step guidance.
For the novice, though, a piece of software with clear steps to follow is the way to go, so you don't forget about anything along the way. We like enloop as one of the best business plan creation options for a novice.
We like LivePlan as a business planning tool that can help novices start quickly, while also working for those who have some expertise with creating business plans.
Step 2 – Do You Want Help From Experts?
If you find the process of building a business plan daunting, the next step is to garner advice from experienced business people on creating a business plan that actually helps you start and grow successfully.
GoSmallBiz has a series of educational videos from experts in the business world, giving you advice on creating a top notch business plan and finding funding for a better chance of success.
Step 3 – Determine the Number of Users
Next, figure out how many people will be involved. Picking a business plan tool that can accommodate your entire team is important, so everyone feels like a part of the team.
Some types of software limit you to one user, only allowing you to add extra users for an additional price. Other business plan software packages allow for multiple users or an unlimited number of users.
Business Sorter has numerous pricing tiers paired with user limits that allow you to match the price of the software to the number of users who will be accessing the software.
Step 4 – Set a Goal for Investment Capital
Part of the reason you are building a business plan may be because you're seeking investors to provide you with startup capital. After you do some of the initial legwork on your plan, you may be ready to set a goal for the amount of investment capital you want.
Bizplan has a number of tools that will help you build a business plan that will appeal to investors of all types. You need a detailed business plan that covers all of the bases to help you convince investors to give you money, showing how you will help them earn a solid return.
Step 5 – Do You Need Other Business Management Tools?
As you approach the conclusion of building your business plan, you may find you need help with developing a marketing plan or forecasting sales. Or, as you begin presenting your plan to potential investors, you may discover that the investors want to see your plans in these areas.
PlanGuru allows you to move seamlessly from the business plan tool into marketing and budgeting tools, as they're all combined in one interface.