The 5 Best Business Intelligence Tools
Collecting data about your customers and prospects is no longer a struggle. In fact, most businesses today are dealing with data overload.
Big data is a gift that can quickly become a curse without the right tools. After all, how else will you wade through mountainous volumes of data and analyze it in a way that makes sense?
So here are five top business intelligence tools you'll need to make big data management a breeze.
Best use case: Any business with multiple data channels looking to consolidate data and create reports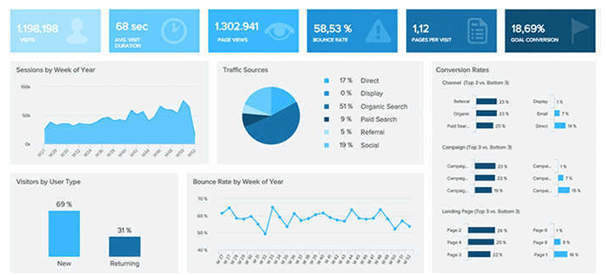 Datapine is primarily an analysis and reporting tool for business data. It focuses on consolidating data coming from multiple sources and in multiple formats to extract any insights they contain by creating easy-to-understand dashboards and reports. Users will be able to see instantly if the business is hitting key performance indicators (KPI). It's appropriate for many industry types and businesses of any size.
Datapine can also help businesses make predictive analysis using its advanced features, alerting business managers to potential issues or targets in real-time based on the data. In SQL mode, advanced data analysts will be able to make their own queries to customize reports based on the organization's needs. Visually presenting the data can help decision-makers make better and faster decisions on how to make the most of any situation and increase efficiencies.
datapine produces dashboards with many potential features to help users discover and process detailed data. These features include filters, drill-downs, widget linking, and chart zooms. Aside from deep data discovery, the software offers many options for reporting, including standard reports and user-created custom ones. These reports are sharable using a URL, automated email delivery, or giving access to viewers on the platform.
Datapine integrates with numerous third-party apps and platforms. These include Amazon S3, Dropbox, Google Adwords, Facebook, Instagram, Magento, SugarCRM, Zendesk, Microsoft SQL Azure, Oracle, and Google Analytics.
Pros
Consolidation of multiple data streams and formats
Drag-and-drop interface for inexperienced users
No need for coding knowledge for main features
Customizable predictive analytics for forecasting
Custom and standard reporting portions
Predictive analytics using artificial intelligence
Option to include white-label services from embedding and branding
Cons
No direct access to dashboards through mobile devices without the mobile app
Advanced reporting and analysis requires coding (SQL) knowledge
Datapine has price plans for all types and sizes of organizations based on their needs for data analysis and visualization. The Basic plan is ideal for SMBs with limited data for one user at $272 per month. The Professional plan might be a better choice; however, if there are at least two users as it is only $496 a month for two users. For businesses with high data analytics needs, the Premium plan includes all professional features for three users (and three with viewing access) at $869 a month.
Best use case: Large organizations seeking to improve business performance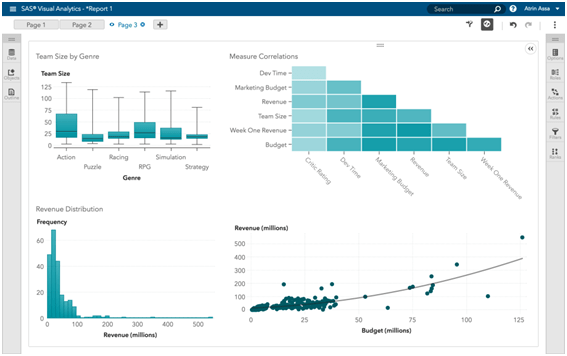 SAS Business Intelligence is a cloud-based data analysis and visualization tool. It uses data and its analysis to create interactive dashboards, monitor metrics, and manage reports.
It's ideal for organizations anticipating significant growth as part of their business goals. It offers several data solutions for data analysis, forecasting, optimization, and economic predictions.
SAS BI carries out data exploration and automated analysis using machine learning to address key customer concerns such as market research. This includes text and location analytics, which gives it the capacity to extract insights from social media as well as geo-specific data.
Added features include association discovery, statistical simulation, multiple data sources consolidation, and web services.
SAS BI dashboards and reports are available on desktop as well as mobile devices (iOS or Android) for users on the go.
Non-mobile-users can deploy it on the cloud or install it on a desktop or laptop running Windows. It integrates with Microsoft Office Suite using its Office Analytics product to help team members collaborate on enhancing business productivity and knowledge.
Pros
Fast processing
Immediate visualization of data
Easy to use for people with coding knowledge
Powerful and scalable
Collaboration is easy
Mobile-optimized
Integrates with open-source platforms
Cons
Steep learning curve for many users
Requires some coding knowledge to access advanced features
High price
Dated interface
Pricing is available upon request and depending on the needs of the organization. The starting annual price for the service is around $8,000 per user. It doesn't have a free version, but it does offer a free trial.
Best use case: Organizations looking to manage the business on one platform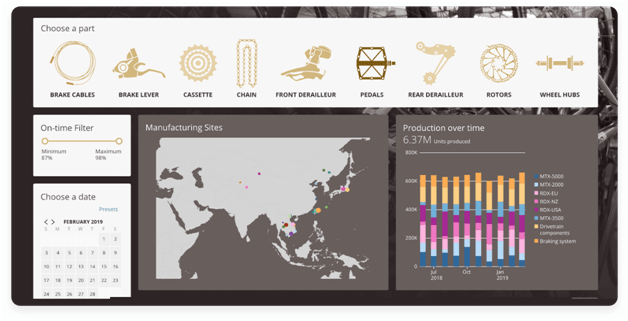 Domo is a cloud-based business intelligence platform with various systems capable of consolidating data and extending it using apps available on its App store. It uses artificial intelligence and machine learning via its Mr. Roboto AI engine to mine and use data to monitor KPIs for business advantage.
Domo is useful for data lakes, databases, and extract,-transform-load (ETL) tools, as well as using Python or R scripts to process data to enable predictive analytics. Users don't need to know SQL to access ETL features. It's mobile-optimized, so users can access data, create and navigate tables and charts, and connect to multiple data sources onsite or from a mobile device.
Domo automatically creates and suggests visualization for any data uploaded to the platform. Users can filter and refine data, add notes, and apply restrictions to access in real-time.
Pros
Flexible
Mobile optimized
Drag-and-drop interface for data management
Easy data consolidation
Automatic reporting and analytics features from raw data
Open-source app store to build and share apps
Cloud connector apps to access data from potentially any platform
Magic ETL tools
Predictive analysis using AI
Training provided
Cons
Steep learning curve
Advanced features come with additional costs
Domo no longer offers standard prices on its platform. Interested parties will have to request a quote based on the number of users, data volume, storage, and refresh rates.
Best use case: Businesses with mobility and deep analytics needs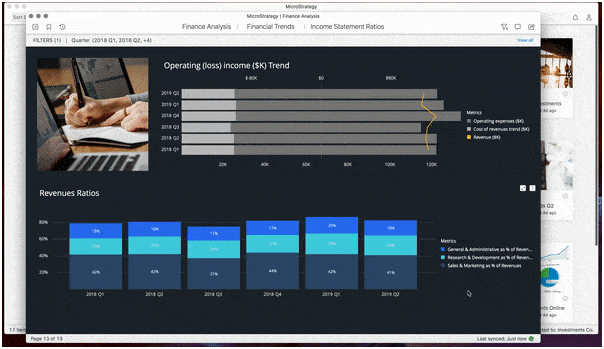 MicroStrategy is a cloud-based, mobile-optimized data analytics platform focused on building interactive content for use onsite or on mobile devices operating on iOS or Android platforms.
It has hyperintelligence and federated analytics features to collect data from multiple sources and automatically process them into insights that the software will contextualize on demand.
Tech-savvy mobile users have the option to extend the content using JavaScript or Xcode. Domo also integrates with voice technologies, such as Google Home and Alexa using natural language processing (NLP).
Pros
Mobile optimized
Custom reports
Hyperintelligence feature for deep and contextual insights
Federated analytics
Voice technology integration
Scalable and flexible
Cons
Initial setup may be complicated
Proper scaling may be spotty
Significant learning curve
Requires some coding knowledge to deploy
High cost
Slow and/or inadequate customer support
Like many BI tools, pricing for MicroStrategy isn't transparent. It invites interested parties to contact the company to discuss the features a business might need before being offered a custom plan.
Best use case: Any business needing to create visualizations using self-service analytics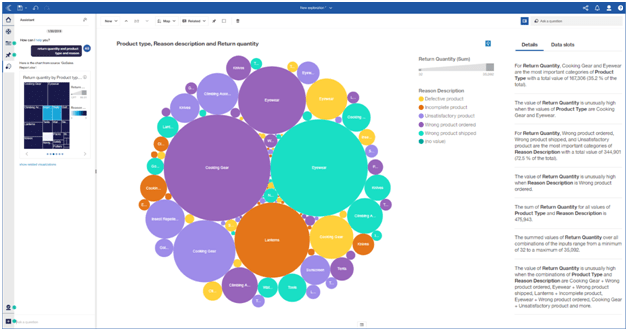 IBM Cognos Analytics is a Microsoft cloud-based platform for business intelligence using artificial intelligence analysis. It creates interactive dashboards and dynamic reports using geospatial features to contextualize data in the physical world.
Users are able to communicate with the software without having to know coding language through its AI assistant.
Cognos Analytics consolidates data from multiple sources into one and generates insights, which are common and essential features for any good BI software.
However, it also has a search mechanism that allows users to filter, find, and access data within the app and the ability to save those searches.
As fitting for a Microsoft product, Cognos Analytics has an extensive knowledge base and integrates with many IBM products. It also has Excel functionality, which is an important feature of financial management.
Pros
Standard and custom report generation
Search function
Data consolidation
AI assistant to help users navigate the software
Geospatial mapping
Extensive knowledge base
Integration with IBM products, Excel
Cons
Steep learning curve
Limited geospatial mapping
Complex or confusing navigational features
Cognos Analytics offers a free 30-day trial for the Cloud version of its software, suitable for new users. Paid plans start at $15 per user a month for the cloud-based On-Demand solution. For onsite deployment, the company must contact the company for pricing.
How to Pick the Best Business Intelligence Tools
As might be obvious from the reviews above, the best business intelligence tools are primarily about collecting data to create visual reports and generate analyses.
This makes it a valuable tool for organizations because the right data can drive smart decision-making. However, the features a business needs to do that effectively will depend on many factors.
Step 1 – Number of users
In many cases, only one person needs to use BI tools to gather data and generate reports and insights, which then goes to all the stakeholders in the organization. In that case, all software included in this review would be a good choice.
But if you require at least two people to have full access to the features of the BI platform, then you might want to consider datapine or Cognos Analytics for your needs.
Summary:
One user only: datapine, SaS Business Intelligence, Domo, MicroStrategy, Cognos Analytics
Two or more users: datapine, Cognos Analytics
Step 2 – Price
The cost of BI tools is also a big factor, especially for small organizations. Since only two BI tools, datapine, and Cognos Analytics, in this review, provide price plans for SMBs, they would probably top the list. Most people in SMBs would favor price transparency.
Summary:
SMBs: datapine, Cognos Analytics
Larger organizations: SaS Business Intelligence, Domo, MicroStrategy, and enterprise versions of datapine and Cognos Analytics
Step 3 – Data context
The biggest factor for considering a BI tool is the data. If you're dealing with a large pool of data from multiple sources, you might need a tool with the capacity to collect and process them fast and reliably.
In that case, you need software with AI capabilities and custom features. On the other hand, if you deal with limited data, fewer features might be appropriate.
Summary:
Limited data: Basic plans of datapine, Domo,
Large data: SaS Business Intelligence, Domo, MicroStrategy, and enterprise versions of datapine and Cognos Analytics
Wrapping It Up
Big data management can be scary and expensive if you avoid adopting the correct tools.
With these business intelligence platforms, you'll find it simpler and faster to get the information you need to grow your company.